Please be advised that the author is not (yet) a fly angler. Subsequently all information in this section stems from own observations and feedbacks by friends, among them the only IGFA approved fly guide on Praslin.
Fly fishing on or around Seychelles´ Inner Islands can be performed from a boat or wading the flats. Those are not as vast and untouched as the ones of the Outer Islands on the Amirantes Belt that stretches several hundred kilometers south of the main plateau and has gained a reputation of being the Eldorado for fly anglers. But still the granitic islands provide for numerous fantastic and barely fished reefs and shallows.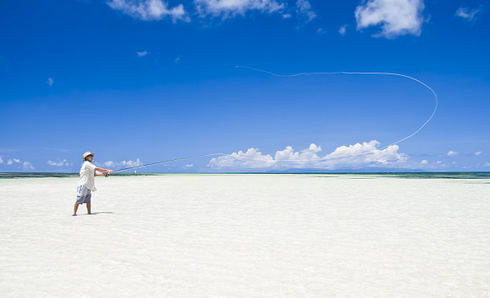 The variety of species for catch is huge and should make even ambitious fly anglers happy. Most sought after is doubtlessly the Bonefish. This `ghost of the flats´ is not abundant in as large numbers as on the Amirantes but sizes of up to 12lb are surely appealing.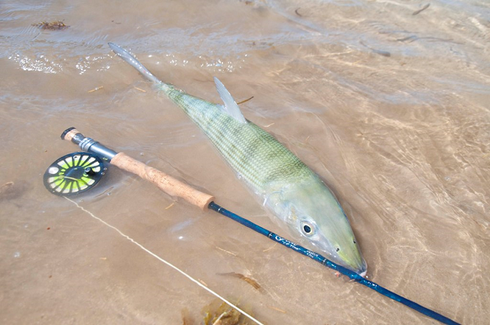 Thus a class 7/8 outfit and sufficient backing is recommendable as it provides some welcome reserves latest when dealing with an always possible GT. Very skilled anglers can use a class 6 also as this naturally increases the fun with smaller fish. Next to many different species like the admittedly rather rare Oxeye Tarpon there are Permit around in good numbers. Have spotted specimen of about 4kg but most are quite a bit smaller.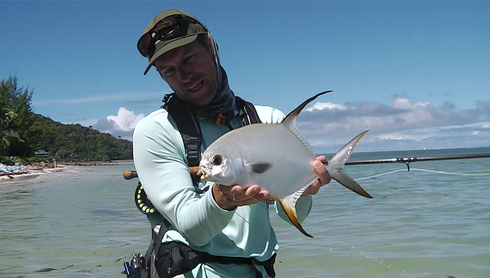 Still it is not recommendable to fish any lighter as the not so rare Golden Trevally can get to 10kg and is as much a strong and enduring fighter as all his also abundant cousins.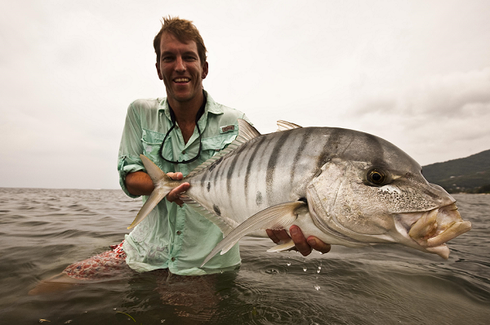 A leader tapering from 30lb to 20lb with the last meter or so being 10lb flourocarbon seems a good choice. Equip your fly box with some crab patterns, Charlies and a few fish imitations between 5 and 10cm and off you go.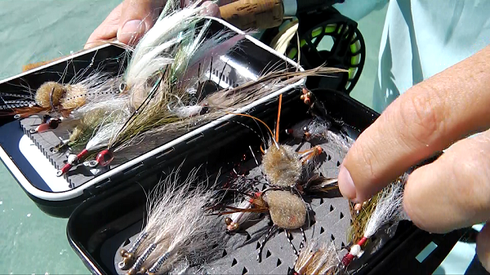 The latter preferably in blue-white and brown-white also work well from a boat as do popper flies at times. Here also a class 7 outfit is a good choice. If diverting from this rather use a class heavier though. With according flyline depths of up to 4m can be reached and thus outsides of reefs can be worked effectively. Also good are rocky coasts and protrusions where currents break as well as submerged rocks. The list of possible catches is extensive: expect Jobfish, Pompanos, Queenfish and all kinds of abundant Trevallies like Yellowtail, Bigeye, Yellowspotted, Bluefin and of course GT.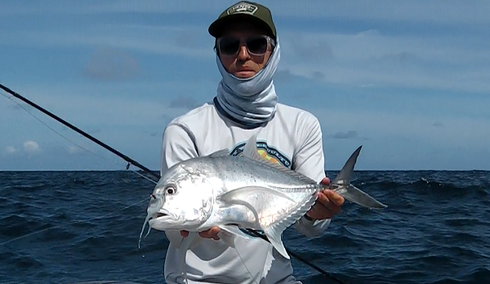 On top there is another specialty on offer: in protected and somewhat calm areas one often finds schools of Milkfish up to maybe 50 individual specimen. Estimated weight must be around 15kg, maybe more. To achieve a hookup seems one of the most tricky tasks of all. The art apparently is to serve a fly representing algae in such way that it sinks in about 5cm just in front of the fish when it comes along. Managing to tempt one results in a fight beyond imagination people say. Going after those requires a boat though as according to my observations these fish are never to be found close to shore in the shallows but instead only in deeper water of several meters. Also the schools need to be found first.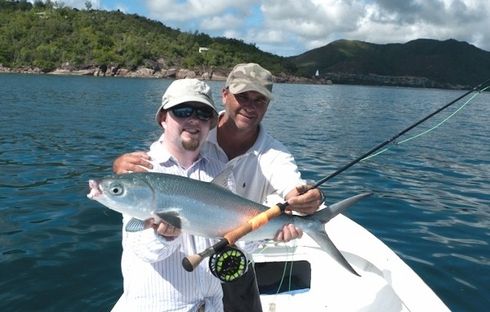 An explicit Thank You for the majority of pictures but especially for so generously sharing his vast knowledge of the Inner Island`s fly fishing potentials and strategies to Fred Davis. Fred used to live, work and fish here for two years until 2013. We happened to bump into each other again now some three years later and spent two days fishing together. Well, rather he fished and taught while I just soaked up. The number of fish and the variety he managed to catch was nothing less but an eye opener. Watch a small video with just a few of the catches here. In case you want to find out more about fly fishing in Seychelles I recommend a visit to the website Feathers & Fluoro run by Fred and friends that also covers fly fishing in many other areas in a very entertaining and informative way.
And if despite all preparation and virtuosity the fish should for once not be cooperative there will still be plenty to marvel at in such a most stunning environment.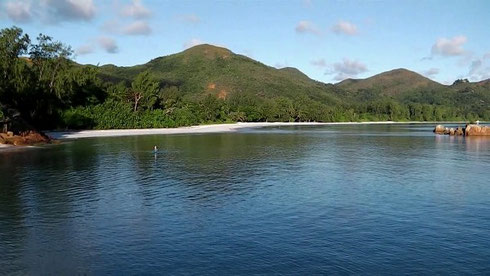 Regarding blue water fly fishing the author so far can not provide any consolidated findings. But with a view to the large number of Sailfish in Seychelles´ waters it seems reasonable to expect that the technique realised by some experts for example off relatively close by Kenya should also work here: the fish are raised by teasers running behind the trolling boat, then the fly is served.

Addition from September 2019
Two and a half years ago in April 2017 I at last started to fly fish. No experience in it at all and with a 99€ tackle set. Was enough to catch admittedly rather small fish instantly, continuously and in a wide variety. Must have been several hundreds by now and some good ones like a handful of Bones but also Queenfish, Trevallies, Bonitos and others caused maximum delight. (Click pics to enlarge)
To keep expectations in a realistic range though it has to be said that probably only about 20 catches exceeded the 2kg mark along roughly a thousand hours spent in the water around Praslin. Bigger fish do not come close to shore regularly and predictably so such catches need a lot of endurance and also simply some luck. A highly important factor is to know where one has chances or can even reasonably fly fish at all around the island with a view to the prevailing directions of winds and currents bringing waves and drifting weeds. I will be happy to share my experience so feel free to contact me in case you want to try fly fishing in this wonderful place.