On the 1st of the month the last shared trip of Jürgen, Bernd and Simon took place on Lady C. As before it was jigging at the Drop Off in a good early morning bite but the Sharks were a headache again. Was getting expensive for the chaps but some point the bite slowed towards plain zero in the usual depths so we diverted to shallower areas in the 50m range which produced some more fish. Noteworthy and no April`s fooling: some point Jürgen brought up an obviously smaller fish when suddenly that one and the rig were gone. Seconds later Simon landed his also smaller fish and that one had his and Jürgens cut off jig in it`s mouth. Check the pic. For the rest of that day we wondered how this could have happened. Chances are pretty good that a Shark was involved one way or another though.
That day also Sandro on Frenzy was at the Drop with an Austrian angler for some trolling and jigging. Apart from the Sharks it visibly was fun.
Simon had booked also the two following days with Mervin but both trips had to be cancelled early mornings due to bad weather and thunderstorms with lightning. Got better along the day each time but who could predict that? Thus Simon enjoyed himself here around the house with his spinning rod as the persitent northerly wind was limiting any attempts with the fly rods. Only one morning it was calm enough for a little while and he got one of those hard fighting Brassy Trevallies on top of the handful he caught on the spin gear along the days.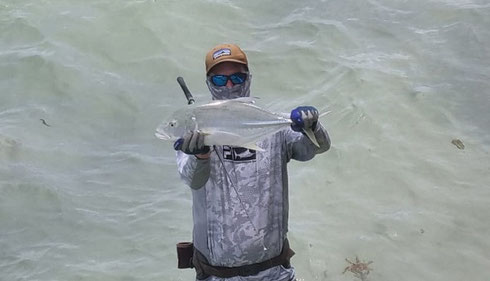 Simon decided to go to the Drop once more but Mervin meanwhile had left for the Amirantes. Thus we had to wait as Sandro being the alternative was booked for a few days. His Israeli guests jigged well as you can see.
On the 6th Sandro was free for us as Simon was nice enough to let me fish with him. Morning topwater casting at an atol in the north was shockingly slow but jigging at the not far away Drop a lot better. Apart from the Sharks of course that even grabbed those admittedly small Yellowfin Tunas we got casting here and there. Had a bit of a bad conscience at the end of that day as about all better fish had come to me.
To make u p for that Simon and I went a few days later on my boat to pop for GTs. Was hot, nearly dead calm and the tide was also no good. We could as well have skipped it as despite maximum effort all day long nothing but a few Sharks, a bored Bluefin Trevally and a few tiny Jobfish showed. This was unaccpetable for what should have been my very last fishing trip on the little boat as a few days before I had bought another one. Thus after Simon`s departure I went alone once more on the 15th. Was much more lively that day but the goal of getting a GT was only accomplished by 50.002% eventually. The first one raised was pretty big but turned away. Nos 2 to 6 came in a bunch pushing and shoving and as usually none got it right to get the lure. No 7 then was caught but turned out this Bluefin Trevally.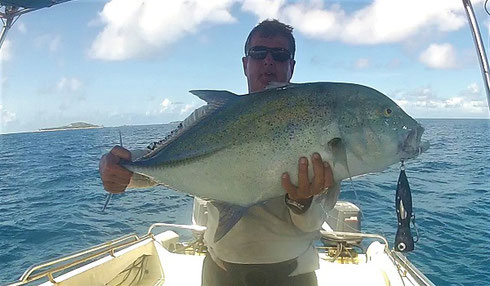 No 8 missed and the next one was ripped apart by Sharks. Had never before experienced that with a GT here and it fuels my impression that these taxmen have either become more in numbers or more aggressive here in recent years. Or both. In any case I felt pity for that decent GT.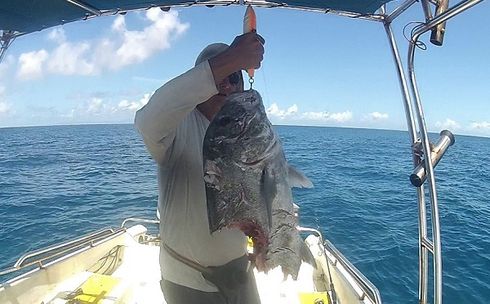 No 10 then missed again but No 11 was safely on and already well off the rocks so nothing more could really go wrong. But it did as the hook came out and up with a tiny piece of fish lip on it. That`s the mentioned 0.002%. So all in all while not overly lucky this had been an entertaining final trip. Thus a big Thank You to the little old yellow boat for nearly 10 years of mostly reliable service, some hefty trips and countless great catches. But above all for always having me brought back home safely.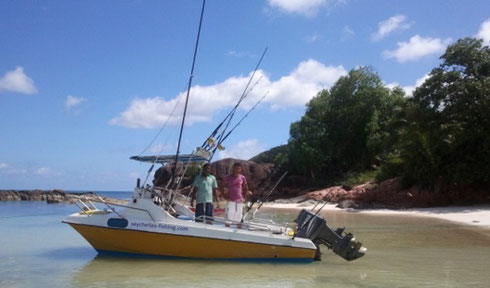 Same time a warm welcome to former Island Rhythm which needs a new name now and will hopefully take me to more cool adventures and safely home, too. Few days on the boatyard were still due though before all that could start.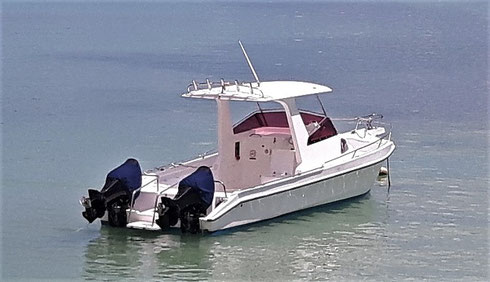 Meantime the Easter tourist had arrived in good numbers and amidst mostly stable and calm weather a lot of the usual trolling trips took place. In those often already too calm and hot conditions catches were admittedly not consitent and a trip like this with 7 Tunas, 4 Wahoos and a Dorado for Slavomir, his wife Martina and their 6 year old daughter from Slovakia was already a pretty good one for those days. Sandro literally went the extra mile or rather plenty of those and it paid off. Was really a fun day for all of us with the nice couple and the little one never moaned but just slept all day. Simply a perfect angler`s child.
Along slow days the other boats as usually diverted to bottom fishing which worked reliably while not necessarily as spectacular as these catches from the 9G Sportfishing Team might indicate. Such a Coral Trout is a dream catch and the same goes for those Ruby Snappers. 

Still trolling could be nothing less but great those days as the boat Alati from Mahe proved. They fished some 50 miles off the island for 7 days raising 52 Marlin of which they hooked 42 and released 21. Tough to do better anywhere on this planet I think.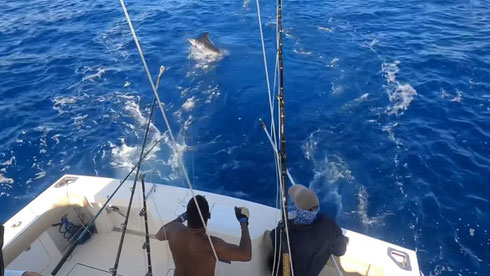 Those days I was contacted by German angler Bernd, who caught this GT jigging off a cat at the southern Drop Off. Still no explaination why those are more abundant there than along `our´ eastern and northern edge. Cool catch.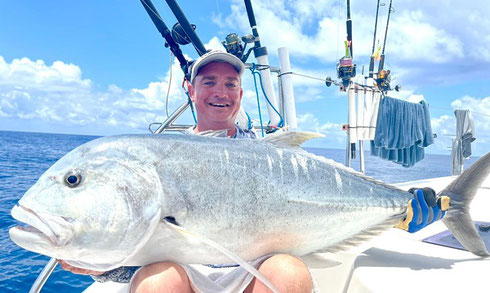 After that and the departure of the Easter guests it got a lot more quiet here. In the prevailing heat and without a boat to use I went for some fly fishing tryouts regarding times, places and tides but without noteworthy findings. Also fly novice Slavomir who I had intended to help to a Permit had to leave without one caught. But no problem at all for him as right on his very first try with a fly rod ever he got this fat Brassy Trevally. Unbelievable start into a fly fishing career and well done.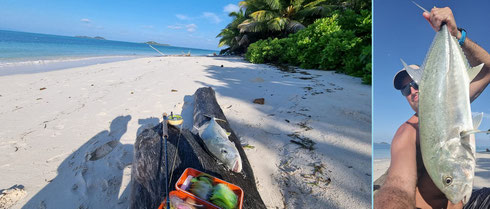 Last week Mervin who is now nearly ready with his new boat gave a four day charter with repeater Erez and his wife from Israel to Sandro and tagged along on some of the trips. Both skippers said that the anglers were fishing much too light and all bigger fish went lost on that PE2 gear. With the the Shark trouble on top the jigs went by the dozens every day. A few pics of the eventual catches sadly did not come through yet. Else I did two trips on the new boat so far. First one was for GT popping to my usual playground in the west and more for learning the boat. The only GT seen along that very lifeless day came away under the boat. Had felt awkward already when fighting it as it seemed the hook was slipping inch by inch and the fish swam at a strange angle so was probably foulhooked. A serious trip quite far south to spots that probably weren`t fished along the last two years was a total disappointment with no GT even just seen. Only meager rewards for 5hrs of casting in a perfect tide were this tiny Bluefin Trevally and that Garfish. Jigged a bit in between to recover but the Sharks inevitably came on each spot after a few kitchen fish caught so nothing special on that end either. This Tomato Hind which don`t get much bigger was already a highlight. 

Thus much room for improvement with the new boat as far as catches are concerned but I look at the positive aspects: so far it does what it is supposed to do, is more comfortable, saves fuel and I seem organized. Suitable fish will come.
For the preceeding reports check the archive.