Right at the beginning of the month we enjoyed a very few most welcome calmer days. The local charter boats made good use of that returning with the common colourful and mostly well filled mixed bags of Wahoos, Tunas, Dorados and KawaKawas. To early still for the serious popping and jigging addicts to appear yet so it was just for a few locals to benefit. Trying myself an hour`s popping did not even raise a Shark so jigging a bit off looked seemed smarter and turned out more successful. Those really tough fighting False Bonitos were around as often around this time and the Wahoo came on a lure trolled between the spots.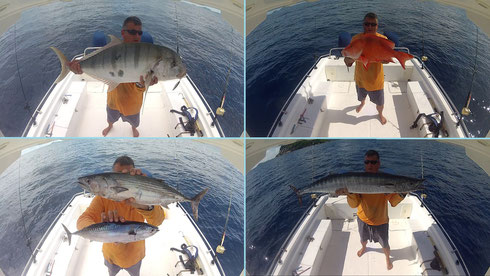 A private boat from Mahe also had a visibly nice trip beyond the trolling.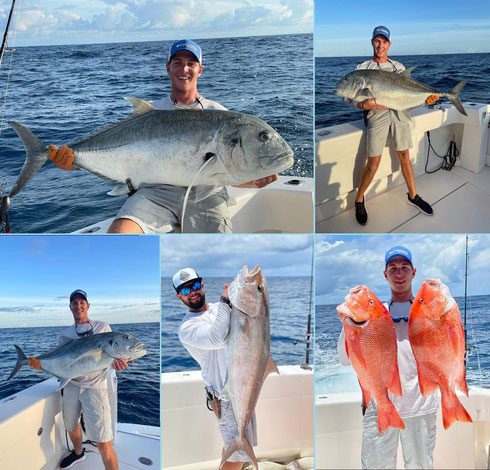 Small hopes for an early end of this exceptional Southeast Monsoon were literally blown apart along the following 12 or so days. The wind hardly allowed to go out and if it just did nobody was keen. Sort of accommodating that just then pretty much everywhere along the Inner Island`s coasts large baitballs of finger size fish appeared.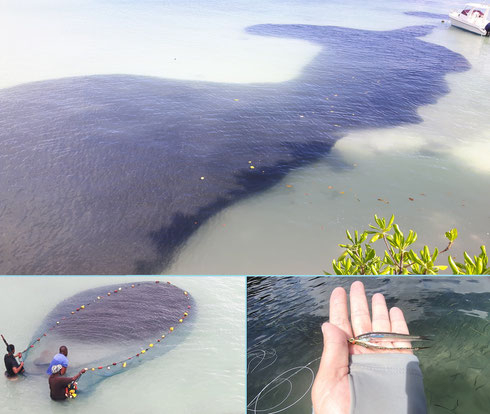 Simply a dream for shore anglers as the predators were of course all over this bait in some places but not everywhere. Unfortunately just the baitball here off my place and thus in the only corner protected enough for fly fishing was not too productive and only briefly in reach. On top quite ill just then I had proper access only once and hooked some good fish but had no luck: one dropped the hook, the second bit the fly off and the third straightened the hook. Especially frustrating as a bit further out three locals hauled about 30 Golden Trevallies into their small boat using the tiny fish as bait on handlines and also chumming with those. But elsewhere and with spinning rods shore anglers had loads of fun like Max from Germany on Mahe.

Only around mid month boat fishing became bearable again so the trolling boats continued to do well as it is common at this time of the year. Tuna made the bulk of catches but also a few Sailfish like this caught on Greg`s Amberjack was reported.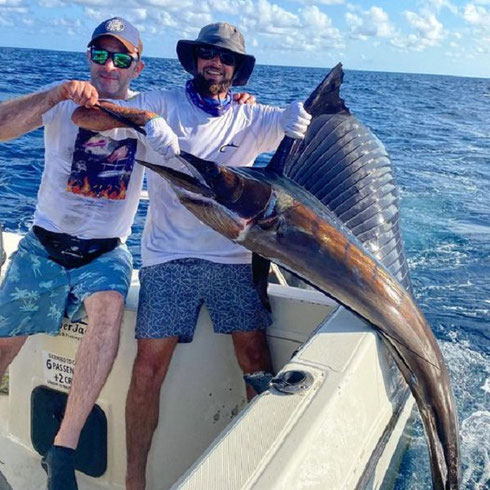 While still a bit rough for that a bit of GT popping was also possible again and Sandro (Frenzy) or rather his guests got this good size GT.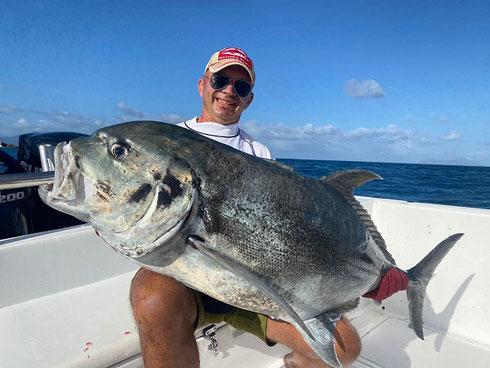 Felt like one of those again, too, and gave it a try on the 19th. Cool it worked but the picture is sadly rather crappy not doing this proper Geet of 128.5cm fork length justice.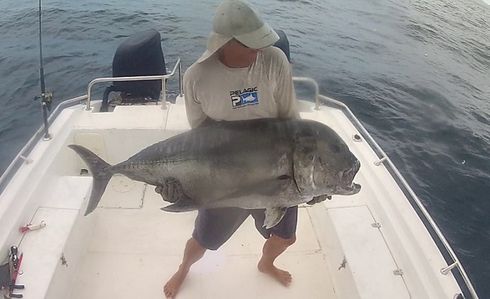 Next day Sandro kicked off into 5 consecutive days of jigging at the Drop Off. Guests were Adam who got a taste of that here a few years back amidst a family holiday and his fishing buddies he brought along from Dubai. Their first taste of things was tough in quite strong Southeast peaking at 15-16 knots around noon, subsequently ever bigger waves and a strong drift topping 1.5 knots. Still around 50 or so fish caught until the bite dropped after noon and a few more good ones lost one way or another. A short popping spell for GTs on the way home produced one that cut off in the rocks, a Shark stealing a popper and some Yellowfin Tuna missing the lures on several attempts. Those morning Amberjacks were decent though.

Same wind and waves in our faces the following morning. Sandro decided to take the hammering rather on the way out than back so it was more than 2.5hrs of wet rock ´n roll to get to the planned destination but it paid off. Weather got a bit nicer along the day while the current was still pumping west. The productive depths around 60m from the previous day did not work any more but instead the shallows of 30-50m that had been pretty dead before did. Lucky as any deeper was hardly fishable. Again around 50 fish caught and nice enough 5 not realy large though Doggies were in the mix and on top evenly divided: one each and two for Faris so all angler`s main goal of getting their first of those was achieved. Good variety also with 4 kinds of Groupers, Black Jack and Rusty & Green Jobfish, Bonitos, Triggerfish plus a few more. The Wahoo also came on jig while Faris got a Yellowfin Tuna within the single and brief casting spell on popper. All in all a reasonably good day out. 
Along that trip a bad knock of the boat had caught me off guard and put my back out of order for the next days so only learned in the evenings how the fishing had been. On the 22nd jigging started slow but turned solid with Amberjacks and the usual other stuff while some presumably Doggies got away. Else they found the Yellowfin and had a blast casting for those. To the point of no-one really taking any pics any more or even just counting them but they must have had around 20 or so. Shame for me as this would have been great action and plenty live strikes for the video cam.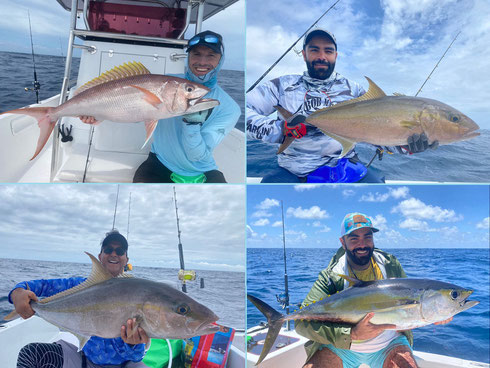 Their following day`s trip was rather average with three probable Doggies lost and some fish caught in even rougher conditions.
The last of their fishing days here though still in no better weather made well up for that though as catches stabilized on a decent level.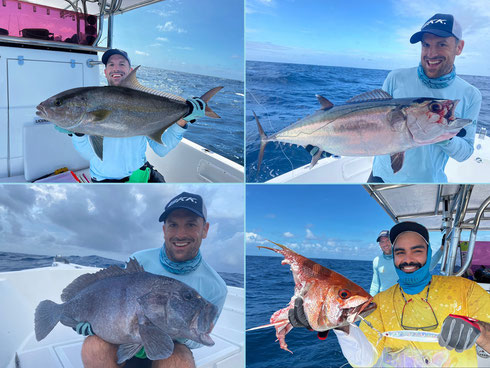 On top the really big Doggie they had been craving came at last. Massive fish while a couple more that must have been of similar caliber got away. Adam, Farus, Mo and Richard really fished hard in challenging conditions along those days and thoroughly enjoyed themselves so I guess we will see them back here before too long. Excellent job by the Frenzy crew Sandro and deckhand Juergen of course.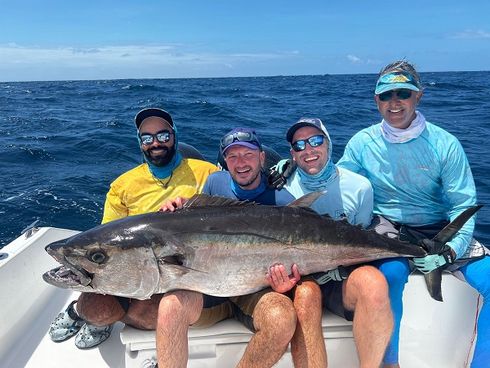 On the 20th also Mervin started with a group of two anglers. Day one they went after the GTs but only Mervin managed to hook two handing over the bent rods but both fish came away in the rocks. In the rough weather the anglers were not fond of heading to the Drop Off but jigging on the plateau produced them some decent hookups. A Doggie of 38kg was caught and bigger ones not to be stopped in the rather shallow with lots of structure and coral. A single trip out to the edge delivered good jigging upon arrival but the bite died completely with the turn of tide late morning. So early return towards the islands where the anglers enjoyed themselves popping for the countless school size Yellowfin Tuna jumping all over the place. Feeding time of those was only afternoon though as returner Matthias from Germany had to find out on the 25th. With Sandro we went for trolling but after 4hrs had only two Wahoos and a brief knock of a Sailfish. Some jigging was neither exciting with Jobfish mainly but along the last hour trolling again the Tuna were suddenly on with about half a dozen caught. The pattern was confirmed the following day when 4 other boats also fished for a half day and came home nearly empty. Meantime we had a flying start with 2 Wahoos and 5 Dorados in the first hour. Then we detected the drifting FAD that had triggered the activity and only had a single knock along the next 3 hours. Jigging as the alternative worked a little letter than the previous day.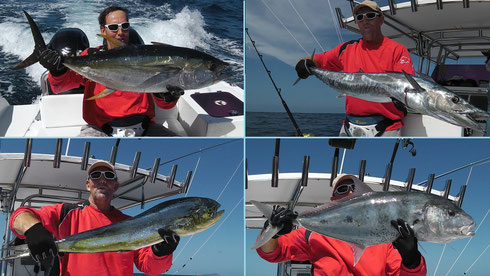 That same afternoon Mervin and his guests once more popped for the Tuna and then again they were cooperative. To meet that feeding window remained critical along the last few days of the month. If one managed they came by the dozens no matter if trolling or casting like here on Greg`s Amberjack.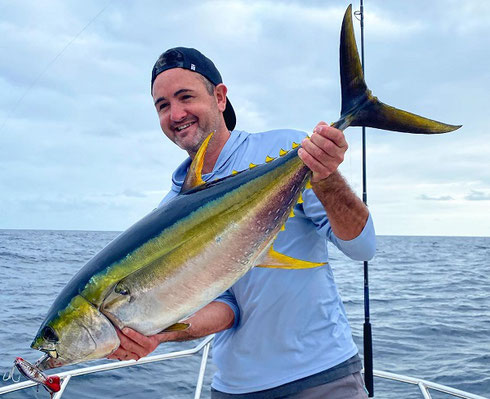 Not to forget this GT caught on the same boat one of those days.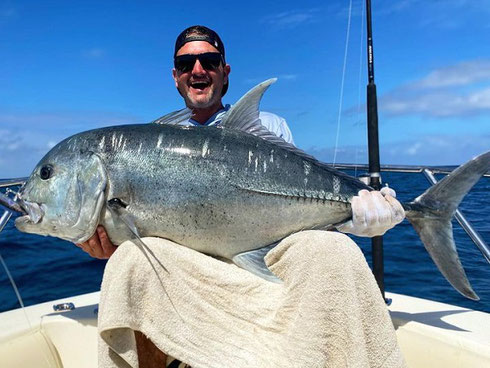 A final word on the weather: the wind is still constantly from southeast without having shown the slightest change of direction yet and every so often still picking up to the 15 knots or more like along the last couple of days. Very unusual.
For the preceeding reports check the archive.