As usually in early December tourist numbers dropped here but still along the first week a good lot of fishing took place. All started with Sandro and guests on Frenzy who right on the 1st enjoyed some decent jigging at the Drop. No monsters but frequency was good with some quality fish in the mix.

Along the following days I twice joined him and once Brandon (Island Rhythm) for trolling with different guests. Conditions were mostly unsuitable for that in hardly any wind or none at all thus a flat calm sea which all led to rather pitiful catches: only a tiny Tuna and some Kawa Kawas along those two half and one fully day while other boats did even worse. That the fish are off to this extend is rather rare here but it can happen when it is so calm and hot for a while. Still stunning though that along exactly one day in between they were full on with Wahoo, Tuna plus two Sails released by Sandro. I have no idea how to explain this as the conditions that day looked exactly the same.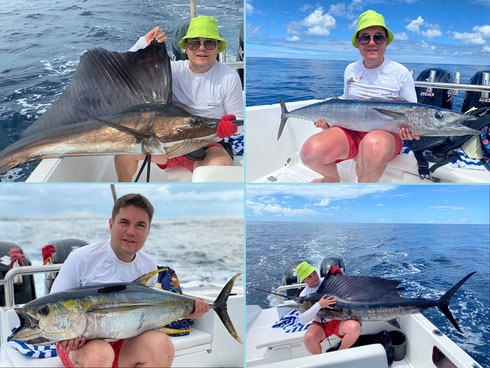 On the 6th I joined him plus guests Ville and Taru from Finnland for a day`s topwater casting at an atol in the north. Along the morniing the usual suspects showed up including those Doggies. Only one of those really attacked to a successful hookup but the impact of that big fish pulled the line on the spool into the other windings so after a second all was over with a crack of a whip. Sad as this was and should remain the only chance for a special catch that day. As the bite slowed there we searched for Tuna in the deep waters to find none and the last hour spent back around the island also produced nothing more. Still it was a fun day with nice people and some not so bad fish.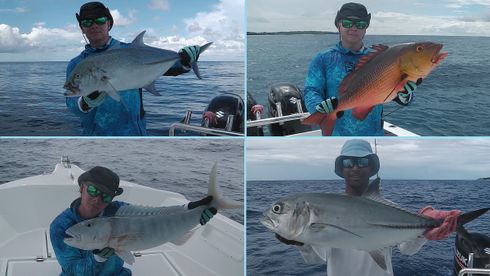 The following day repeaters Lennart, his dad Thorsten and uncle Bernd ventured to the Drop. Two years ago the group along two full days trolling had hammered over 50 Wahoos and this time they wanted to try jigging and popping. Mervin was kind enough to give his boat building a break so on Lady C we went. That day brought the very first northwesterly winds up to 15 knots so one of the anglers became rather passive. But especially along the early hours before that wind picked up and in good activity the three jigging newbies did well. Around noon when that bite slowed Mervin sniffed for Tuna to cast at. Tricky in the increasingly choppy sea to race after those and position the boat for a few hasty casts. First fish turned out a Skipjack but the Yellowfin eventually also came.
Along the following three days the tides would have allowed me to go out on my boat currently moored in the protected shallows of Baie St. Anne. Sadly though the first push of bad weather with strong northerly winds peaking close to 30 knots but bringing some much needed rain from an oscillating system ruined all plans.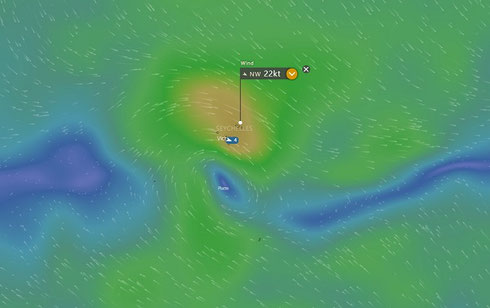 Did not last and after the weather turned calm and hot again. But as here at my place the undercurrent keeps bringing breakers the boat had to stay in that lagoon. To get out and especially back in there at reasonable fishing hours is currently only possible along two very short spells each month. Needs a high tide in the morning and again in the afternoon but this only occures every fortnight and on top the latter come rather shallow at this time of the year. To moore the boat further out is also not really an option. Visibly in the pic the sandy seabed turns into what is actually a foul deep mud just a few meters from shore. Trying to walk this loaded with gear and fuel cans is at best disgusting but can become a real mess if sinking in deep. Which inevitably happens.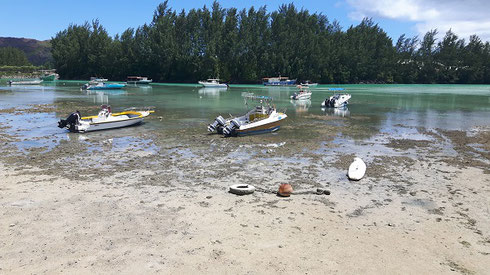 To accept that hassle plus having to get there with all the stuff by car and eventually back home the same way with everything wet and muddy and filthy takes me a while every year. On top the next suitable tidal window coincided with Christmas when I was busy so indeed not a single trip done all month. Tried to compensate with a few occasional fly stints but to no success. Conditions were far from great due to an algae bloom killing some reef dwellers for a while but fishing did not improve after the storm mentioned had blown that away. Nothing of interest even seen and a couple from Estonia who had come here to shore fly fish ten times stated it has been their most unsuccessful visit ever. To catch any quality fish from shore those days it would need a lot of luck and ideally a baitball on top in casting distance is what I told inquiring angler Thomas along with some spot recommendations. Obviously he had the former and followed the latter. A decent Brassy Trevally here on Praslin was followed by the finding of bait on Mahe resulting in some more decent catches like this Yellowspotted and Grouper among others.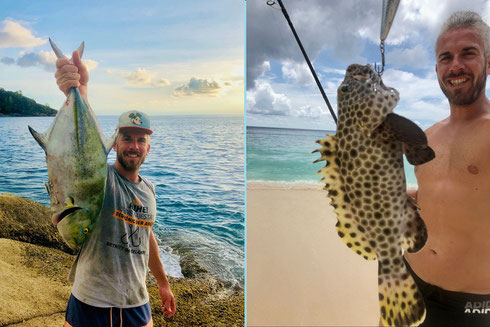 With very few tourists around nothing more than a few and rather unspectacular trolling trips happened here on the fishing side until the festive season. Only Sandro had three more Drop off trips for jigging and trolling with a guest. The former was not all that great by frequency but of course still a few presentable fish surfaced.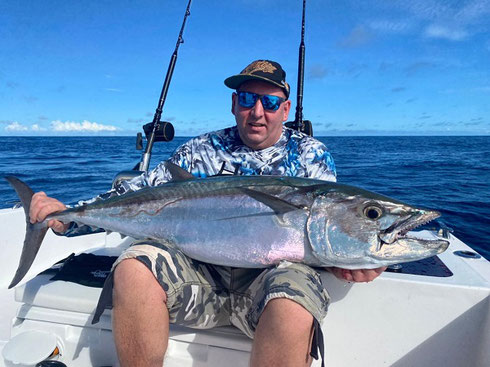 One of those days though that jigging was extremely slow so they headed further out to find the Tuna pulling lures along as the angler was not into casting. It worked with around 20 of usual size caught but at least a somewhat bigger one in between which so far this season have else not appeared.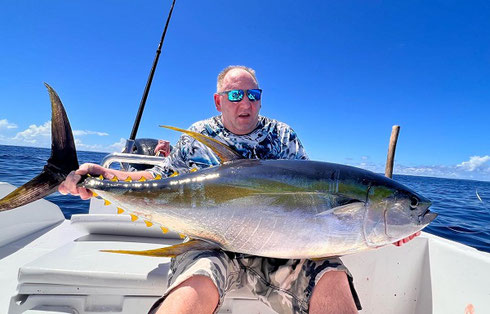 Might be due to this year`s La Niña which could also be responsible for the longest year end transition I have experienced here so far. Yesterday at last we got north wind of about 15 knots and some rain but into the night it died off already. Apart from that it was nearly all along rather nice and sunny here with just a few occasional showers and subsequently flat seas. Quite ideal for Michäas and Christiane from Germany who had booked three days Drop Off fishings with Sandro. Tagged along on their first trip on the 24th and after they got a feel for speed jigging new to them some decent fish came up. Really special and `fish of the month´ from my point of view was that fantastic Coral Trout. One that size I had so far only seen in my wildest dreams.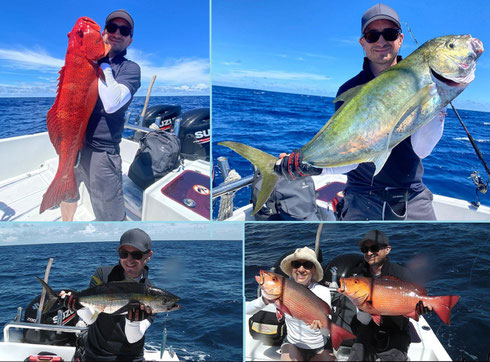 All in all this had been a good bite`s day as also the trolling boats did well. JD on One Love II stood out with this Marlin sadly in beyond release state next to some other smaller gamefish.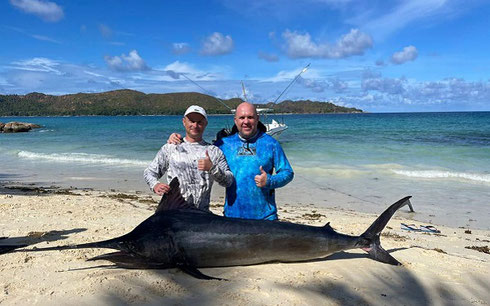 But the following days it was mostly slow again not just for the boats trolling quite a lot with the meantime many festive season tourists but also for jigging. Michäas and Christiane strugggeled on Christmas Day with Sandro as his other guests did the day after. But on the 27th it was all different again for those with a good 60 of the common jigging fish and a few not really large though Amberjacks and Doggies in the mix. Also the trolling boats did a lot better that day and hoping things would have stabilized again we went with that so nice German couple. But no matter which spots Sandro tried searching a vast area nowhere any reasonable fish beyond some Groupers and Kawa Kawas would bite apart from a rather juvenile Amberjack. As the Tuna for casting also let us down completely we eventually headed a good bit inside onto the plateau shallows as to get a bit of frequency and maybe a lucky punch. That at least worked to some degree with these Yellowspotted and Bludger Trevallies among numerous more Kawas and Jobfish.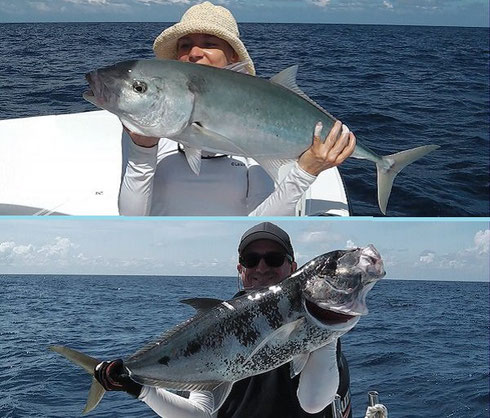 Excitement peaked briefly when a massive Doggie tore apart a hooked Kawa just a few meters under he boat but did not get stuck and never reappeared. Yesterday`s wind and rain will probably have spoiled some scheduled trips and what is happening today I will learn only later. So it is time to close the reports for this year. Many thanks to all of you for your interest. Hope you will stay tuned in 2022 and wish you the best possible New Year.
For the preceeding reports check the archive.