As expected and also normal before the pandemic the number of tourists dropped here a bit in September but still is around 80% of the pre crisis levels and also visitors seem to come here from a lot more different countries again. On the 3rd I had set up Jörn from Germany with Sandro on Frenzy for a half day trolling and in managable conditions the fish were also quite cooperative. A pretty good Wahoo came away on the leader and three Tuna same time hooked brought some action. Even more so as one was eaten by a Shark that hooked itself and was released eventually. Thanks to a Dorado and a Sailfish that was also realeased this trip not only produced some very lively hours but also another Offshore Super Grand Slam. Cool stuff.

Right after that the Southeast came up strong with 20knots or more for days. Even fly fishing was useless as the bay was lying dead anyways.Only one morning a bunch of Trevallies was seen so I quickly scrambled on my rock and was on minutes later. Really enjoyed to see the brand new fly line and some backing go out fast but suddenly the pull was gone. Turned out that the prefabricated loop of that new line had collapsed. Will not buy this product again.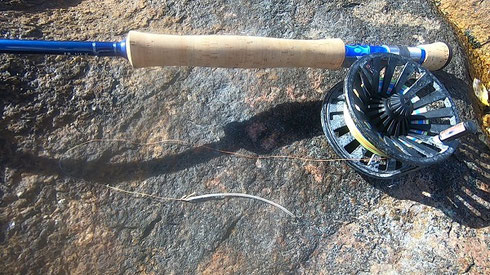 Nothing to be heard from the boats along those days so only catches to report were these two beautiful Bluefin Trevallies caught by Andre`s light tackle guest from last month at Anse Georghette.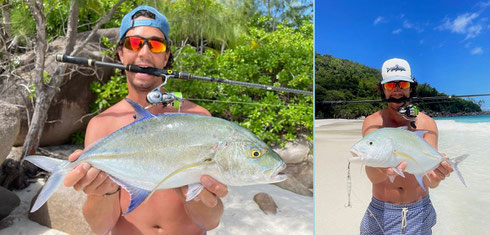 Only by the 10th the wind dropped a bit oscillating around 15 knots and the first charter boats went out again. But Sandro`s guest had underestimated the conditions and after an hour with a Tuna caught revised his breakfast and subsequently wanted to get back on solid ground asap. Sandro`s second trip also lastet only two hours but this time for very different reasons: the angler was just buggered after a Dorado and 8 Tuna in this short time.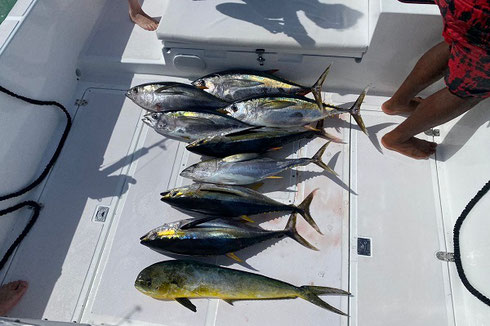 Also buddy Carlos was out with guests for his boss once bagging some Tuna and catching a Sailfish. On the 18th at last the wind dropped into a range that I can fish so the next day I went. Felt like catching a GT but with the popping rod still under repair the stickbait pole had to work a full shift. A rather small Geet was picked up early right at the first rock at low tide to proivede a good start. The following two hours went eventless but suddenly at around midday things burst to life. A really fat Jobfish fell off right at the boat and a similar size one was mutilated by a Shark. A Rainbow Runner leaped frantically to escape these greedy taxmen but managed it safely into the boat and a somewhat reasonable GT rounded off that short activity window as to my wishes.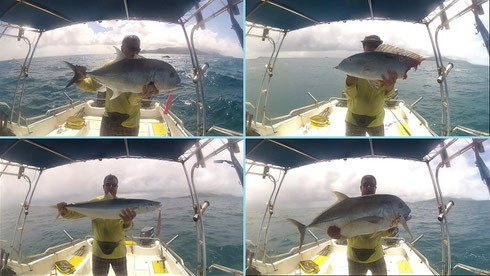 Was happy with that despite nothing more at all showed up along the next four hours until after high tide. Along the following week it got too windy again for me alone on the small nutshell but for the charter boats it was manageable on some days. Only Christian on Djab Lavwal had a half day trolling though with very solid results and another Offshore Grand Slam.
Same day the to regular readers probably still familiar private angler from Mahe kicked off his Marlin season and released this nice Black. Nice start.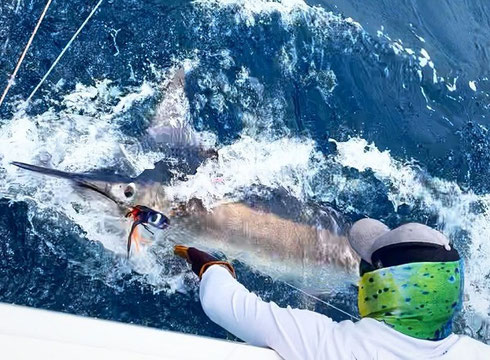 After this the wind came back strong for a few days but slowed down in the course of last Saturday. Prediction for Sunday was an ideal 5 knots SE but 3 of those must have taken a sick leave and the other 2 came from west. Not yet a problem at that briefly visited popping spot that produces the very odd GT and always a lot of Shark trouble. Surprisingly none of either this time but instead this pretty Bluefin Trevally.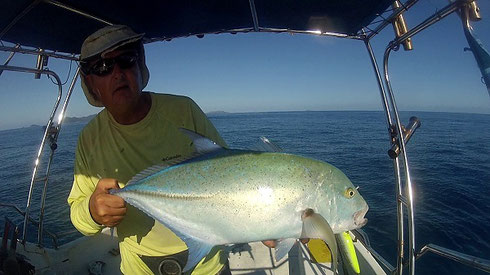 Main plan for this trip was light jigging with the PE2 combo but arriving at the first spot I found the current heading exactly into that bit of wind thus neutralizing the necessary boat drift to some 50m per hour. So motored and tried here and there on that plateau but to no further result than a single little knock. Same picture at the second spot with just three tiny bottom dwellers picked up. Midwater though there was some activity producing 3 of these fish that fought like hell for their size. Teeth and body shape resembled Dogtooth Tuna but the stripes made no sense and once more I was clueless. Walking encyclopedia Faizal though only needed a look at the pic to identify them as Striped Bonitos (Sarda Orientalis).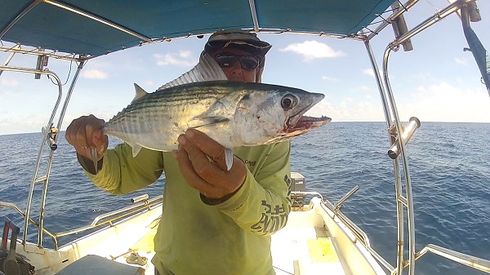 Just those would not have kept me there but a bunch of Yellowpotted Trevallies and Bludgers did. On the light tackle the intense fights stretch to about 15mins and after half a dozen of those in 2hrs my wrist called for a break. On the way to the next spot the wind still coming from the west picked up to some 10 knots so there the drift was fine. But again the usual suspects were either absent or not interested with only a few small fish caught until eventually that reasonable Whiteblotched Grouper came up. So frequency was well below par with I think 15 fish along 4hrs of jigging but as nearly half of them were quality I had no complaints.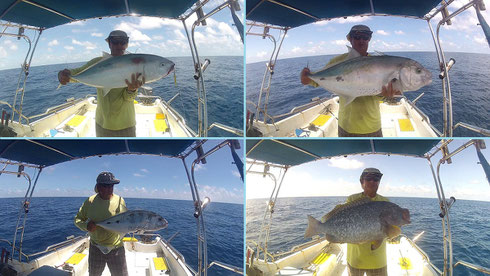 Just all that trolling of 2 lures to and between the jigging spots for around 3hrs had been a disappointment with only 2 Kawa Kawas caught and a Dorado miss. Just before lines out a small Yellowfin Tuna made itself a welcome contribution to my dinner and it all okay. Not nice though that on the last few meters to home the bushing of one prop gave up so the port engine delivered no more thrust above 1500RPM. The next day I had to transfer the boat to Baie St. Anne as for yesterday the boatyard slip was booked for engine service, antifouling and ideally replacement of that prop if there was one to be found. Could only creep along at 5kn or so but still decided to take a handful of stickbaits and a rod to cast at a few places along and a little off the way. Was a bit disappointed to learn at the first of those that since my last visit that home of the elderly had transformed into a kindergarten.

But eventually found granny a mile down the road. The pic is a bit odd and doesn`t really show that this was a decent GT. Under 30kg but not far from that.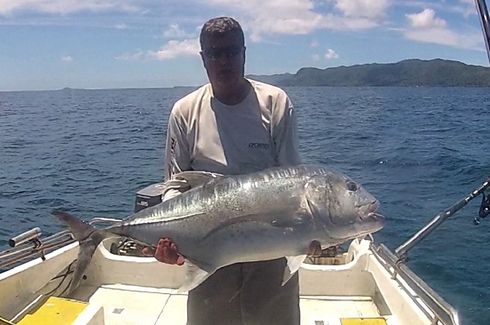 That fat old lady`s 5 roommates woke up same time a little later. All pushing and shoving and trying to grab that stickbait but none managed. Seems all had forgotten their eyeglasses on the bedside tables. But was still a nice boat transfer trip. Two other boats had gone out trolling along these days and returned with the usual mixed bags of smaller Gamefish while a Sail was also caught. The next night the Southeast returned, yesterday`s stint at the boatyard went far from perfect, a fitting propeller was not to be found here so far and I wonder how to avoid being sidelined for the upcoming weeks which are usually among the best for fishing here all along the year.
For the preceeding reports check the archive.