It was an unusual May here in different ways. The full first half of the month we saw rains as I never before experienced such at this time of the year along with noteworthy winds that indicated a very early Southeast Monsoon. The 5th looked just okay for me to go out but Brett and his girlfriend from UK had inquired about a half day fishing which I set up for them with Sandro on Frenzy and I decided to go with them instead. Trolling quickly led to Brett`s very first Sailfish that was released but my cam failed so no pics of that. Embarrassing and I can only apologize to the chap. A brief jigging spell produced nothing special and neither did some more trolling. So nothing more to show you from that trip apart from this Bludger Kingfish. Mea culpa.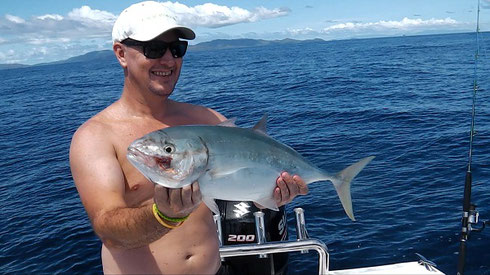 On the 11th the weather offered an opportunity at last so off I went but it was far from glorious. Wanted to cast for GTs at the south coast of La Digue but the quite heavy swell was hitting hard and thrown back. Really choppy and too risky to fish there. Jigging a few miles further south also disappointed. Frequency of bites was actually okay but only small fish came up as anything over maybe 2kg that could not just be winched up was taken by Sharks. Only late as their bellies must have been full or they were maybe busy selling my jigs on ebay this Yellowpotted Trevally made it past the toothy bunch.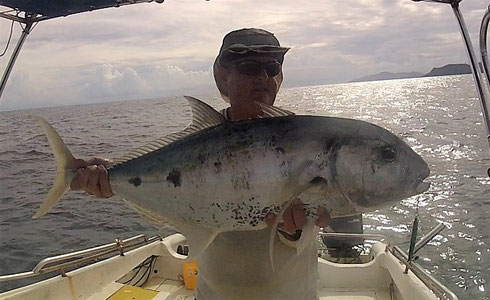 Next retrieve this fish appeared. Had to investigate once more what that was and learned it should be a Longnose Trevally. Welcome to my species list.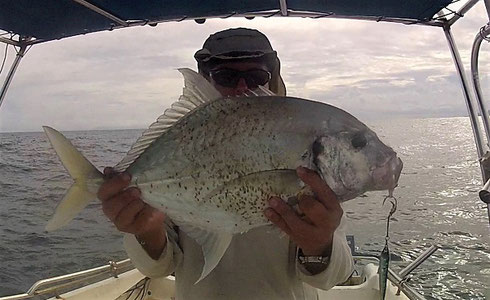 Right after that day two not so great things happened. Suddenly next to the highest vaccination rate in the world we also had the highest CoVid infection ratio per capita at nearly 3,000 active cases among the roughly 100,000 inhabitants. Panic of course and the just a fortnight ago lifted restrictions for locals we reinstated. Bad for the just reviving tourism industry of course and even more so as it all found traction in the international media. About same time and overnight a massive baitball of Mackerel had appeared here at `my´ end of the bay. An area roughly half the size of a football field was just black of fish. Was licking my lips expecting predators to follow and provide for some first class fly fishing but it went bad: no predators came and instead many of those Mackerel became sick to die eventually. Most of them started to rot around the head with usually the eyes going missing quickly. Poor fishies still swam a while and then it was belly up and over. Mervin said such had happened when extreme rains occurred at this time of the year and also the authorities reasoned it was triggered by too much freshwater inflow and a subsequent algae bloom. Either way to have hundreds of fish dying and rotting off the door is not pleasant for eyes and nose.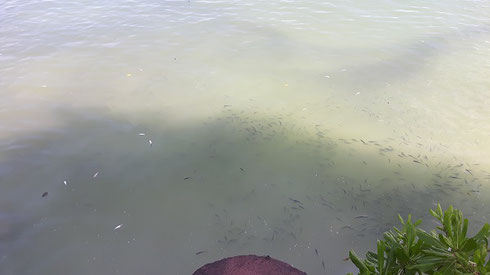 Sort of strange while good same time was that apart from a few dead fish around Anse Gheorgette the mess was limited to the area just off my place and a few hundred meters left and right. By now the baitball has shrunk by about 70% thanks to the locals putting their nets every morning. I suspect they sell or use them as bait in the commercial handlining. Usually I am not too happy about them taking my predator`s buffet away but currently I have no objections as what is still here keeps getting sick and dying. No idea why they do not just swim out a bit where the water looks clean. Had no means to wade or swim through that daily mess to the boat or even just the rock for fly fishing so next day on the water only came on the 18th. Dubai based Nepalese angler Adam had contacted me about a day`s jigging and popping at the Drop Off so I organized this with Sandro. Already along the 28 mile trip out it was pretty rough and upon arrival we drifted at nearly two knots. So tough conditions but it all started with a screamer. No time Adam was on his dream Doggie that by its typical behaviour was of the +50kg category but the fish could not be stopped to eventually cut the braid on a bottom coral. Then the Sharks had already found us and poor Sandro saw his jig pouch going empty at lightning speed. This nice Bohar Snapper Adam managed to get past the Sharks but then we had to motor away.
Along the following hours the wind picked up to the 16 knot range raising the waves a good lot and on top the bite slowed ever more despite the fish were revealed in stacks by the echosounder on every spot fished. The Tuna to cast at also let us down completely and a less tough angler than Adam would have lost motivation but he kept fishing full throttle and was eventually rewarded by a few more quality fish among some small ones.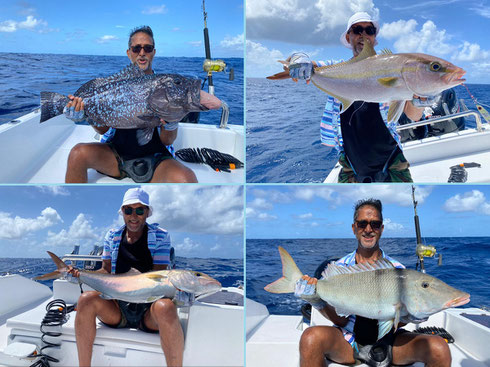 Despite this at best mediocre day he was still happy with the experience and even distributed his high end topwater lures among us. Through my activities here I met a number of great anglers and really nice people along the last decade but I must say Adam was outstanding on both aspects. Really hope he as advised will return soon and then experience our fishing to the level he deserves. The following week the Southeast was blowing solidly. So my hopes to find a day to fish myself looked to go down the drain but suddenly for the final week of the month the forecast predicted perfect weather with winds below 10 knots. So on the 24th I overcame my disgust and driven by the hope for a GT made it to my boat through the dead and dying Mackerel. A not too large though specimen found that worth to be rewarded.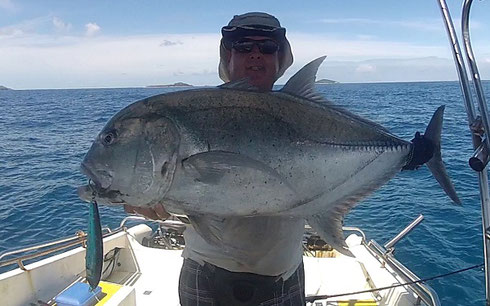 That fish came before noon already and I was optimistic to get another one along the rising tide but recorded only a miss. That GT came vertical from the depth and was fully airborne before crashing back into the sea. Really a cool sight. But I would have liked it better if it had had my lure between the jaws. A bunch of Bluefin Trevallies followed a few times but also missed on the two attempts they made. A few Bonitos to be directed past some Sharks with more or less success and a quite large Jobfish on top still made it a quite entertaining day.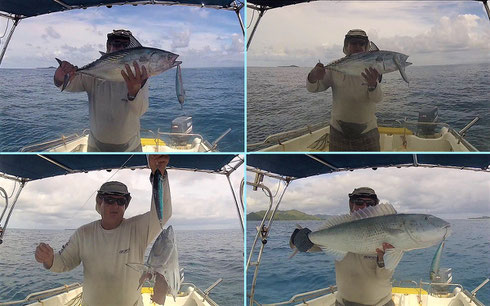 On the 26th I felt more like jigging and headed to a spot in the east that a few weeks prior had worked not so badly in a useless tide. The last 3 miles or so I wanted to troll a small Halco Laser Pro so I let it out, closed the pickup and something pulled. Seemed a good idea to strike just in case and a little bill poked out of the water. The juvenile Sailfish of maybe just 15kg had a buddy as company all the way to the boat. Always a bit of a hassle to release these fish from the two trebles and to revive them when alone on the boat but it was well behaved and all went smooth. So briefly lifted it half up for a quick pic and after dragging it along for a minute it swam away.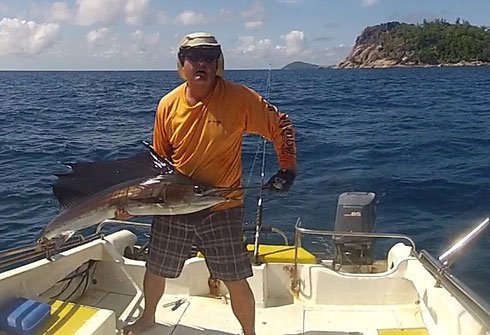 Quickly redeployed that lure and within a minute the next Sailfish was on but it threw the thing dancing on the water. Saw a few more along the next half mile and was optimistic to pick one more or whatever else up but it did not happen. Also the jigging on that spot despite a perfectly running tide did not really work. Searched that rather large plateau for about 4hrs but had to make do with maybe a dozen Jobfish and small Groupers. Changing place looked to make sense but there is not much else in that area. Or I simply don`t know about it. Remembered that years back the ledge east of Big Sister island had produced me the odd fish so gave it a try there again. Along an hour spent it was exactly one bite but that fish kept me busy for nearly half an hour on the light gear. Was surprised eventually that what had revealed itself early along the struggle as some kind of Trevally turned out this Golden. Would not have expected such right there.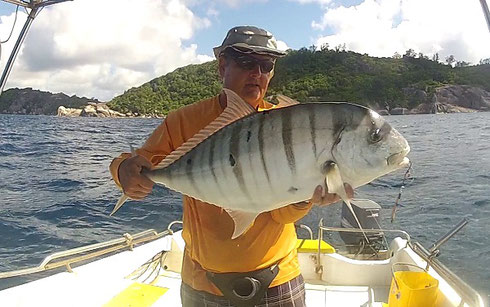 So not great frequency but the two reasonable fish and especially the Sail made it a not bad day. Jigging just before the Southeast has always been somewhat tricky. The fish do not seem to fancy the flatter structures at that time and are rather are attracted to more pronounced ones. On these sadly also the Pickhandle Barracudas and Sharks pile up which makes it rather frustrating as documented. And costly on top. Thus another two days later on the 28th it was casting again. A couple of hours spent at an unproductive place raised only a Bluefin Trevally. So I ended up at the bank fished Monday for the afternoon but this time stayed in the middle part as there was a baitline of Fusiliers stretching over half a mile. Worked those all afternoon and as the wind died completely it was tough sport. On top quite frustrating as fish showed up but would not strike. A not so bad Doggie in the 30kg range followed a stickbait to the boat and again the popper cast next. No good fishing those though as it was just too hot and also as the Sharks would attack those on every cast. Stickbaits were investigated frequently by lackluster Jobfish and Bluefin Trevallies but only the single big GT raised along the hours was determined. That fish I estimated in the high thirties raced in the surface in a curve leading parallel to my line. Had bent the knees already to be ready for the inevitable hard hit, saw the water exploding and – nothing. Incredible that this fish with its huge mouth had missed that stickbait. Or it changed its mind last moment. Especially frustrating as all along to the late afternoon high tide none more showed up. So did a few last casts on the way home at the spot that four days prior had produced the Bluefin follows and that big Jobfish. And it all repeated: those Bluefins only looked at any offer but a similar size Jobfish eventually saved me from blanking completely. Thanks for that.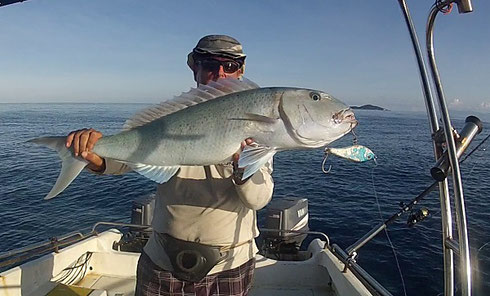 So once more and somehow not unexpected topwater casting just after full moon was not great. But as it probably was the last calm day before the Southeast should properly establish itself any time now I could just not let it slip. Along the month the charter boats were also quite busy. Mostly just half days trolling with newbies or occasional anglers but the skippers were more than happy to have some business again at last. Results were admittedly quite erratic as the smaller gamefish like Wahoos and Tuna were cooperative at times but on some trips only Bonitos were caught.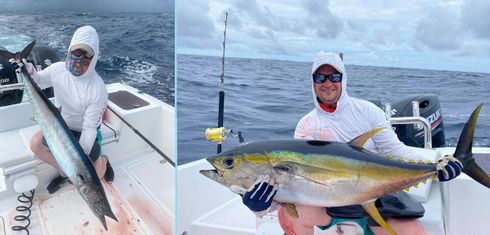 Sailfish on the other hand are already around in good numbers considering that it is still quite early season for them but they are moody. When feeding aggressively and just grabbing whatever offered they saved several trips or rather made the day special for the anglers. But often enough that was not the case and convincing them in those situations demanded skill. Surely no coincidence that Sandro got one each on all his first three trips.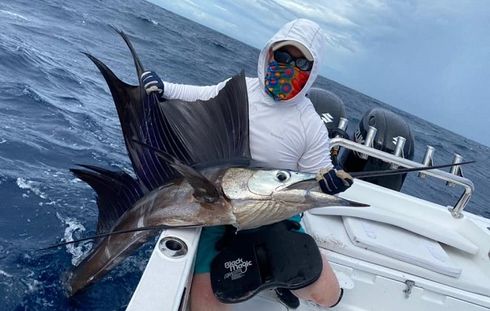 Only along the fourth trip none would show up. Instead they suddenly had a Marlin on the light tackle. According to Sandro that fish had around 200kg so it was about twice our usual average. No chance on the small hook for the inexperienced angler so quickly it was all over. Nothing special heard from Mahe this month apart from an 80kg Yellowfin Tuna caught by the 9G Sportfishing Team. Also a bit early in the year for those but as the water has already cooled from nearly 31°C to below 28°C it looks all moved in this year already. So a not too bad month all in all despite the different adversities. As also the numbers of CoVid infections look to be decreasing and the fully immunized don`t seem to get problems from catching it we all here look ahead somewhat more optimistic these days.
For the preceeding reports check the archive.