Along the first third of August very little had happened here on the fishing side as I learned after my return from Germany on the 10th. Just that afternoon though the wind started to drop but due to some issues along my reinstallation I was only able on Friday the 13th to fetch the boat home from Baie St. Anne and fish along the way. That kicked off as the date would suggest: tested the running pattern of a brand new stickbait at the harbour spot and the thing was instantly hammered by a GT. Nice but that fish dragged the boat over the stern to the rocks and cut the line. Only the well above average ones manage that and the new lure was of course also gone so double frustration. This baby GT caught at the next spot provided just a minimal consolation.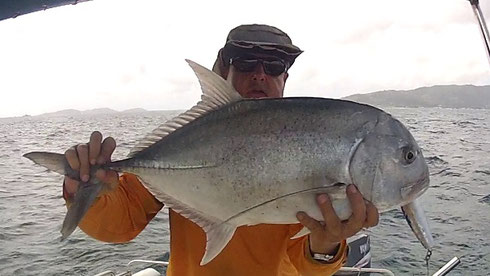 Afternoon was spent light jigging in the La Digue channel. Frequency and variety were good with some 30 fish from 10 different species but nothing special or big. Usually not much of such to expect there anyways apart from those Golden Trevallies but this year I have not found a single one in that area so far. Meanwhile Andre and Greg on their boat Amberjack hat a very decent half day trolling charter with this Sailfish.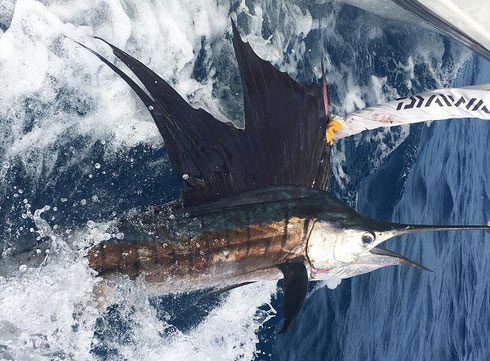 As also a Wahoo and some Tuna were caught they managed to complete another Offshore Grand Slam.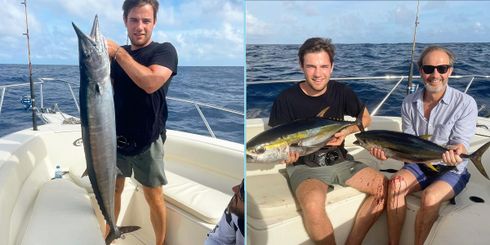 Also some other boats had gone out for these sasonally typical half days and all in all their catches of the mentioned species and some Dorados were usually pretty good. Along the following days the wind picked up again but that did not hamper the catches if one was ready to face the conditions as Sandro demonstrated on the 17th. Again it was a half day and they tallied 6 out of 7 Sailfish in those few hours. 4 of the Sails were caught pitching a bait on top. Fantastic stuff.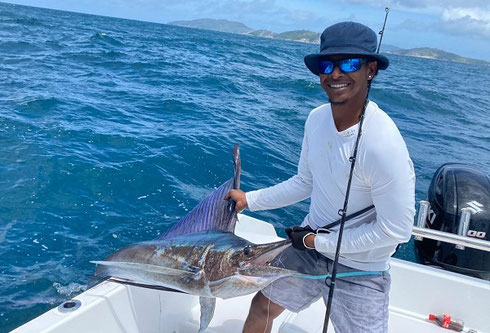 The next day the wind was completely gone as the eye of a circular weather system moving west quickly was just over us.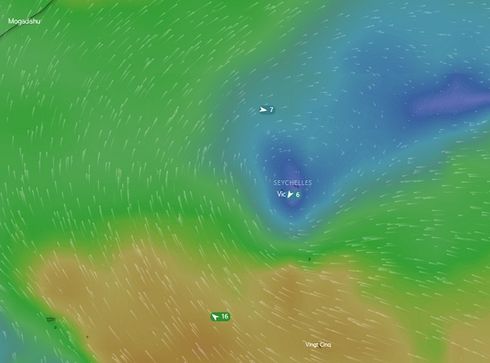 Subsequently it got really hot so a day`s popping seemed overkill and also I was eager for one of those Sailfish. Along 4hrs of increasingly unhappy trolling of two proven lures I actually saw half a dozen lazily tanning in the surface but got not even just a knock of anything. Also the jigging was extremely slow for a long time with just a few unspectacular fish apart from that single Yellowfin Tuna that hit midwater. Fight took a while on the light tackle and meantime a 3.5m Tiger Shark had appeared just under the boat waiting patiently. There was no doubt one of us would enjoy fresh Tuna and that it would not be me. Indeed not.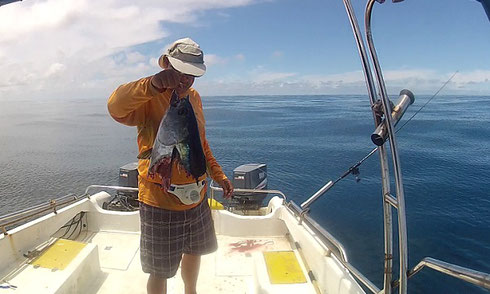 In the afternoon jigging got a little more lively but no luck getting a better fish than this Tomato Hind which was actually not bad considering their maximum size.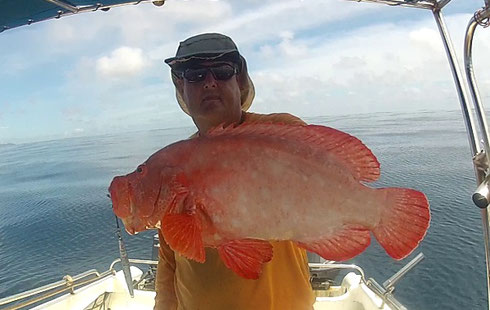 Obviously once more not my lucky day but a boat fishing a few miles further north was no luckier with just a Bonito on the troll and a single jigging fish. Further south and earlier in the morning though trolling had been quite okay for Edwin on Dan Zil with 2 Wahoos and a handful of Tuna. The next day the wind was back strong and on top with heavy rain nearly all along. A dream for Nuno from Portugal and all of us onboard along that half day GT popping. On Sandro`s Frenzy we battled the conditions and Nuno gave maximum effort but for long hours it was only a follow of a smaller Trevally or a Jobfish and a quickly released Shark. Did not get any better after that until at the very last casts this Bluefin Trevally showed mercy and saved the day at least to some degree. Felt pity for really cool Nuno that his dream of a proper GT had not come true but he still insisted he had a great time and enjoyed it all very much. Especially the hot shower after I bet.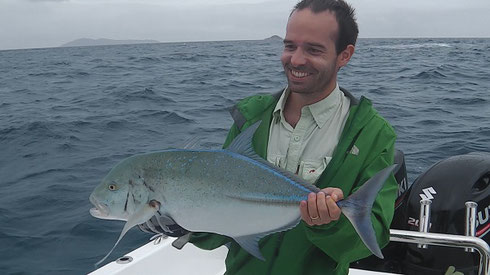 Would have made no sense to postpone that trip as right after the wind picked up further. Only Sandro was out was once more in really rough conditions and some 20kn of wind but it paid off with two more Sailfish. On the 22nd Andre called to discuss where he could go to pop and jig with a guest the next day but even that a little protected area we had worked with Nuno looked unfishable. After the trip we spoke again and Andre said he had never been more relieved than when the guest appeared with his ultralight PE1 gear and wanted to fish with that. This way they could stay just at one of the few protected Praslin shores. A school of Bonitos was also there as on order and they caught fish out of 12 species nonstop.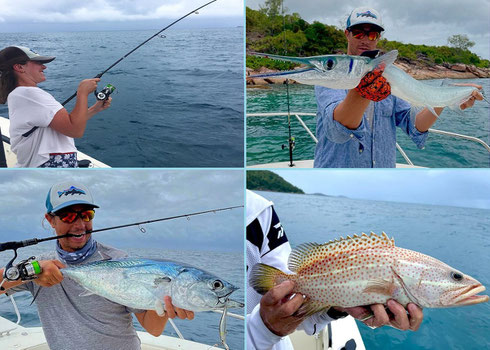 That Grouper in the low right is still unidentified btw. Andre says he found about 6 looking similar but none seems quite right. If anybody can let us know please do. On the 27th at last the wind started to drop and the next day one could fish again. Andre and Greg did another ultralight half day with the same guest and again it was productive though not as lively as a few days before. And Sandro reported this Blue Marlin caught on trolling and succesfully released.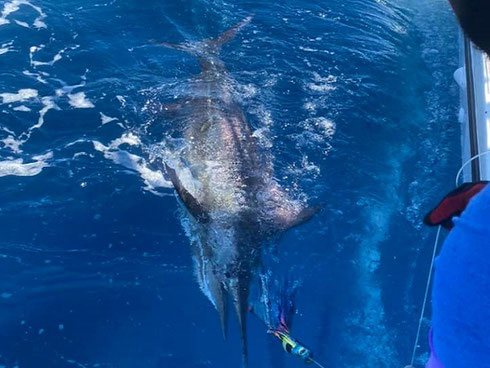 So it was not bad here regarding catches and especially the number of trips that took place. Tourism generally looks to have recovered to about 75% of the pre pandemic level and subsequently faces are much happier than a few months ago. Mine too. But my boat fishing had been just too frustrating and also with the fly gear nothing better than hand size came along here in front of the house being the only place with reasonable conditions. Even went on te boat to a small nearby beach that can not be reached otherwise. The wind should have been straight offshore there but instead it was somehow wrapping around that peninsula and came from 1 o`clock at 12 knots. No chance for me to cast into that but it`s pretty there.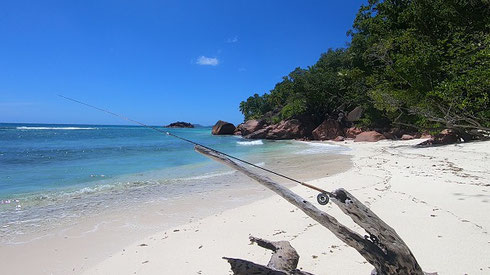 My last chance to make amends came Sunday and it just had to be a proper GT this time. Had a raise and a miss along the first hour and then tried right at a rock. Instantly a bunch of three came pushing and shoving until the smallest one was on. But with well under 20kg not really what I had been looking for while still a nice fish of course.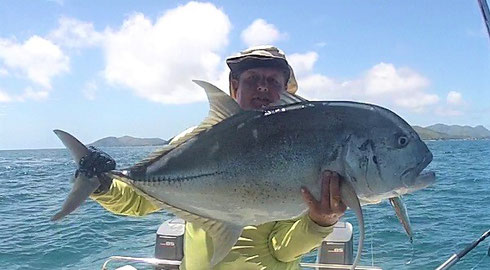 So next cast into that red or rather purple zone and the two others came up instantly again. Prayed for the big one which indeed was faster this time and produced a brutal hit. On – and off a second later as that bugger actually had opened both hooks.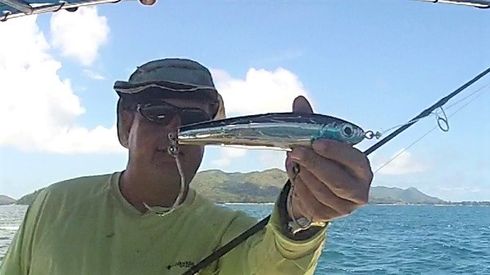 Nothing more there but action continued at the next spot. GT raised, a miss, another raised and eventually a Shark. Easily released though thanks to the barbless single hooks. Right after another GT was on but made it into the rocks and cut the line. This way also the twin brother of that stickbait taken instantly on the first trip was also gone. But while getting my stuff together to re-rig under some swears the lure popped up next to the boat so just a new FG knot done and minutes later a pair of Sailfish came after the thing hitting it several times with their bills without getting stuck. At the next baitball another proper GT got that right but also unstoppably ran into the rocks and this time the stickbait was gone for good. On another one quickly rigged something came in lightning speed from the depth to hit it and leaped meters into the air. Several times actually as against that supertight drag setting this poor Tuna had no chance to gain any line. Wonder what made it come to such shallow water of just 10m.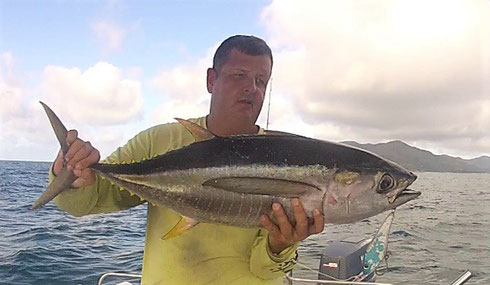 After another good size but obviously half blind GT had missed the lure in ridiculous fashion I gave it a last try at the rock. But with the first cast came an ugly sound and one of the rod eyes had literally exploded. Great finale. With a bit of luck or at least a little less misfortune this could have become a legendary day but as it went frustration dominated. Crazy cool though was the constant level of activity. Especially when considering that it was fishing into the fast dropping and later only marginally rising tide. That`s fishing. And I will start digging now for a suitable rod eye if such can be found here halfway behind the moon.
For the preceeding reports check the archive.