Due to family visiting from Germany and some other private issues I was not so close to the action lately. Does not matter too much though as the activity was somewhat low anyways. For the last fortnight since the most recent report we encountered nearly no wind at all and quite a heat with that. According to internet information the water temperature in the surface area has risen above 30 degrees Celsius and one can easily feel that oneself when taking a swim. With the seas so calm and often flat as a mirror the water does not mix. As the skippers also know that these conditions are far from perfect for trolling most trips went by the following scheme: a bit of trolling in the early and somewhat cooler hours that usually produced some Wahoos, Dorados or Tuna. Later when the sun had risen higher switching for some bottom fishing that was as usually quite productive with Emperor Snappers up to 12kg among other fish. Winding things up with an island barbecue and some snorkeling makes a good day for most people. But bottom fishing also can provide literally big surprises was demonstrated by a local fisherman a few days ago. Even here in Seychelles where we are quite used to large fish of all kinds a Grouper weighed at stunning 202kg is a special catch.
Despite the quite unfavourable conditions trolling was also productive when one was lucky enough to fish in the admittedly brief and rare phases that provided a bit of a breeze. On the 18th Martin had a booking from Mahe. After picking up his guest over there they went to the Southern Drop Off and a few knots of wind from South prompted a good mix of Wahoo, Dorados, Tunas and a Barracuda to have a snack. Just to give that Sailfish in the spread an appetite it was not enough. Last weekend a couple of small rain fronts moved through briefly bringing a bit of cooling and wind. Mervin on a Drop Off trip saw plenty Sails catching two. One was released and the other sent to Russia as a whole by the guest right away. When the guest was filming a Bonito coming to the boat a Marlin all lit up came chasing it and grabbed a lure for a moment but did not hook up Mervin told me. Unfortunately he does not have the pictures. He also did some jigging on the Drop. This was hindered my too many Whitetip Sharks that let the anglers mostly have only the heads of the large Jobfish and Amberjacks - or nothing at all. Losing a double digit number of jigs in a day obviously is no fun and neither is the hard work of jigging in those hot conditions. Same of course is true for popping these days. Tried it twice myself but more than two hours were impossible to stand. First trip was around midday in a far from perfect tide and produced absolutely nothing but a near sunstroke. Yesterday with a better tide and a friendly cloud providing some shade for at least a while resulted in two misses of smaller GTs of about 15kg and the loss of one that felt bigger while our short duel. Could not see it though in the glare. Thus all I can add to my personal records from the last two weeks are 5 Jackfish of around 1kg that I caught on a bit of evening spinning in front of my veranda. So for the time being the transition period keeps a firm grip on us. Further South beyond the plateau things look a lot better though. A really decent Yellowfin Tuna of 73kg was reported.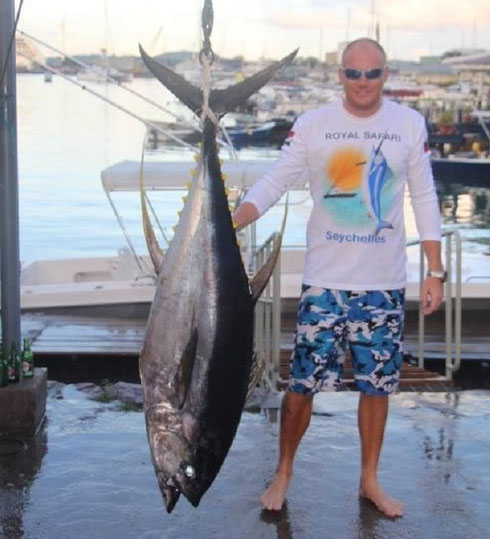 While spending a day on Mahe I met Marc Hoareau from the big boat Island Star that had just returned from an overnight trip. 3 Marlin strikes with one release is something we can only dream of up here at the moment. But I am sure that there is more than enough fish up here on the plateau, too. A Marlin missed by JD yesterday that I just learned of also speaks for that. As soon as we get some wind again the activity should pick up a lot and the Southeast is due to set in this coming month. With a view to my small boat though I very much hope it will not come at full strength right away so I can get my piece of that cake, too.
The first days of April turned out hot and nearly without wind. So conditions for trolling were far from perfect and much better for jigging and popping but as far as I know nobody went. For the 3rd the wind was announced to pick up a bit so hoping for some activity I went with Ted & Peter for a days trolling. This started quite well with a Sail out of the sudden while still on our way to the northern spots. Unfortunately the fish came off while jumping around in a nice display. After this promising start things turned somewhat strange, though. The spot we had aimed at was impossible to fish because of seaweed. The area around produced some strikes on Halcos and once on a larger surface lure but none of these fish stayed on for more than maybe 5 seconds. Somewhere we found  tiny Bonitos of maybe 20cm or so that should have made a perfect buffet for larger predators but we got no strike at all. With the idea that bigger fish should be around and might have specialised on this easy prey we tried to catch some for bait with tiny lures but in two hours we got nothing but a large Garfish. So switching back to lures we recorded a couple more misses from obviously larger fish until some point a Wahoo stayed on that was foul hooked.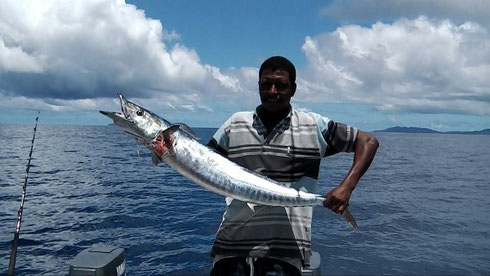 Also after that we had a couple more of those strange misses exclusively on the Halcos. As the birds gave no indication of Tuna or Dorado I suspect that these fish might have been Wahoos as well. Really have no clue why they did not hook up as it was not a matter of the hooks. Checked them several times and some were new anyways. While we kept trying hard for a decent catch my old friend Pierre on the way back from Mahe with his brother on a sailing catamaran caught & released a Sailfish while not even seriously fishing as I learned later. The next day in line with the forecast the Northwest returned once more. Trolling was still possible but far from comfortable in those days. On the 5th Christian (Djab Lavwal) had a half day but on the same northern spot he had his trouble with the seaweed and misses of Wahoos as well. Using surface lures he could clearly identify these fish and ended up with a Dorado. Same time Mervin fished the Drop in these tough conditions with Steffen from Germany. There also the fishing was somewhat sub par that day but a few Dorados trolling and some stuff bottom fishing and jigging it was quite okay.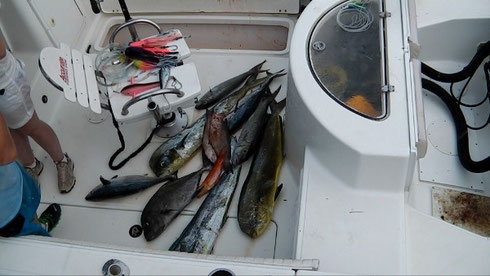 Steffen told me later that on dropping the jig first time something massive came on but eventually went lost after dragging the boat from 50m over the edge. Sad never to know what this might have been but a shark hooked at the tail later gave him enough of a task not to mourn the loss too much. On the 8th then they combined island hopping with some hours of popping in still difficult conditions. This produced two misses by GTs and several more by sharks while one of those eventually pinched a popper. The next day the wind started to drop a bit while turning Southwest. Christian had an unlucky Billfish day at the Drop losing 3 Sails and encountering a Marlin in the spread that would not strike. The 2 Wahoos and a massive Barracuda provided only little consolation. JD also had a half day with a very good mixed bag of fish: 4 Yellowfin Tuna, Dorados, a Wahoo, some Bonitos and a Sail lost. On the 10th amidst further improving but still rough conditions Martin (Venture) fished the Drop returning with 4 Wahoos and a Dorado plus a Yellowfin Tuna. While Bottom Fishing briefly also an Amberjack came up. Those Christian hit perfectly that day on another Drop Off trip for jigging . Next to a large Green Job his guests caught so many Amberjacks that some point they just surrendered.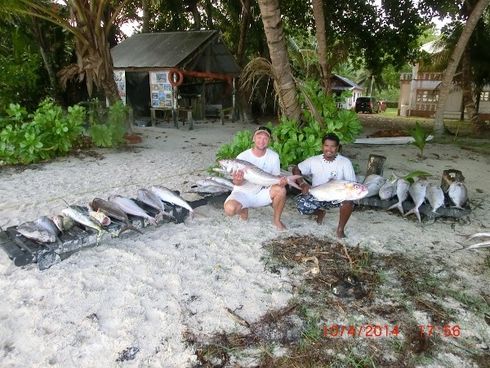 Also his cousin Bertrand had a half day trolling `ìnside´ reporting a Wahoo and - finally again - some large Bonitos. Friday Greg and his brother went for some private bottom fishing and returned with quite a pile of fish while an Emperor Snapper of 11.5kg was the cherry on the cake.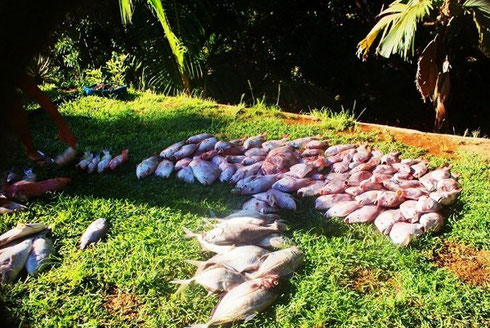 That particular weekend also saw the National Fishing Tournament taking place, as usually under the patronage of the local Rotary Club. This tournament is special in a way that a local fish processing company buys all the catch and the proceeds go to charity. Fishing time was from Friday 9:00am until Saturday 04:00pm and as usually it was about trolling and bottom fishing. The 12 boats eventually brought a good 5 tons(!) of fish to the docks. Even as most boats only trolled to and off the bottom fishing spots Sailfish and Marlin were caught as well as Yellowfin Tuna over 50kg and Dogtooth Tuna over 40kg. Winners of the trolling category turned out Special K with about 373kg of the 11 eligible pelagic species. For bottom fishing 18 different species were eligible. This category went to Island Star with 1,016kg. Doing well on trolling also they took the overall catch price with a total catch of nearly 1,3 tons. The eventual tournament winner is determined by a point system, though. For the two largest specimen of the 29 species 6 and 3 points are awarded. Also here Island Star came first with 54 point but team Paola was beaten only by a single point. Congratulations to the winners and all successful anglers!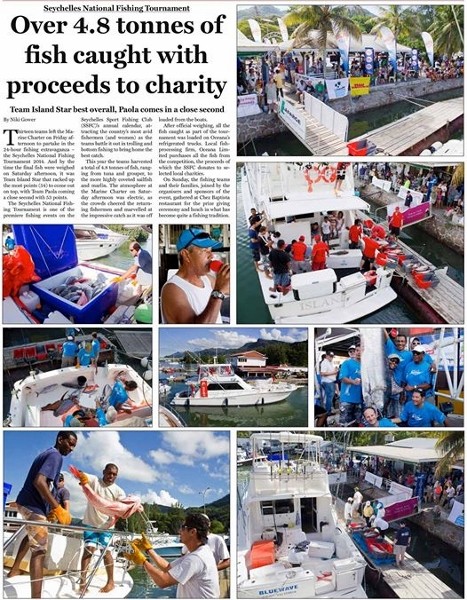 More information on the Facebook site of the Seychelles Sports Fishing Club (SSFC).
Also here on Praslin the fishing continued to be good. Sunday the 13th Christian had another Drop off trip. His client wanted a Marlin badly but a couple of hours trolling large lures produced nothing. On a live Skipjack they had a miss and the distinctive bill marks on the bait left no doubt they were close to get what they were looking for. On a bit of jigging a couple of Amberjacks came up and trolling back home they got 4 Wahoos and 3 Dorados. The following day I went trolling with Ted again. This time my Cousin and her husband visiting from Germany joined us though they never fished. We went to the southern spots this time and right after lines in we saw a Sailfish jumping half a dozen times. Obviously we wanted that one but working the area for an hour only produced us a small Dorado. Also on the way out nothing happened at all for nearly 3 hours. Only on the most eastern spot nearly half way to the Drop already suddenly a Sail was on but shook the Halco off jumping. The same thing happened with another only a little later but disappointment did not last too long as things started to come to live with the tide that just had turned. A quite decent Wahoo put a big smile on my cousins husbands face who gave it a try and succeeded.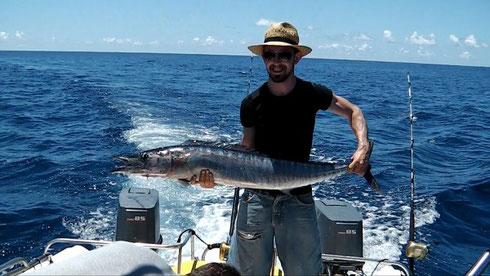 Only a little later as Ted just played another Wahoo again a Sail hit a lure while the boat was just slowing down but this time it stayed on and was eventually tagged and released. With spare hands on board we managed to take some underwater shots.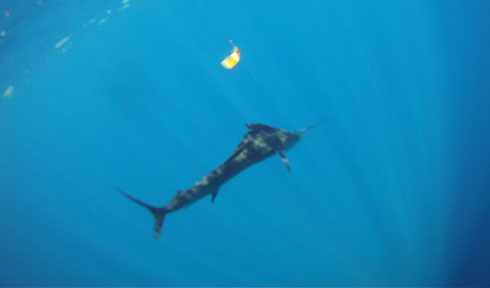 Also the Bonitos finally started biting so we got material for some strip baits. These produced us another Wahoo and a nice Bull Dorado. Some point we got a brief knock on a Halco and I right away started checking the surface lures suspecting another Sailfish. It took only seconds until it appeared behind one of the surface lures. For the next two minutes the fish tested and played with all of the lures one after the other but all freespooling and teasing could not entice it to a strike. Another small Dorado just before lines out eventually rounded up a quite entertaining day.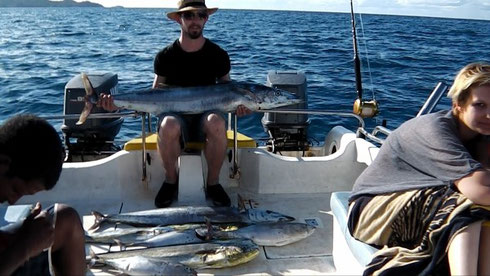 Of course it hurts a bit to lose two Sails but the one we tagged provided a short underwater video sequence. Watch this and some more bits and pieces here.
Today it seems nobody went out though that persisting little breeze should have delivered perfect conditions. Even as the fishing as well as the weather were a bit erratic in those last two weeks all in all the catches were quite allright. As I yesterday figured from driftwood yesterday the current is already going west so this should provide for cooler water and in its wake even more Sailfish.
For the preceeding reports check the archive.