For a start two topics quickly that did not make it into the last edition: firstly the already mentioned National Tournament. Winners for the fifth time in the last six years turned out team Island Star with a total catch of 3.5 tons. Largest released fish was a Blue Marlin of est. around 400lb by Team 9G, all Billfish were released. Largest boated catch was a Doggie of more than 53kg. As every time the proceeds of all catches went to charity. Check out local daily newspaper Today`s coverage for more details if you like. Just click the pic to enlarge.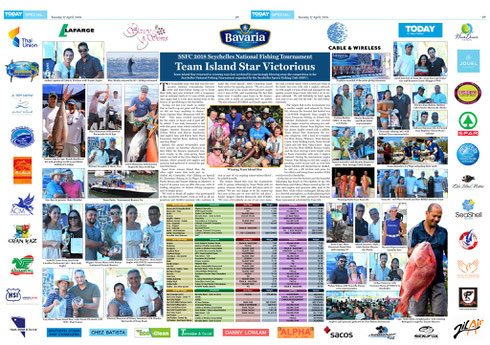 Christian had taken his boat Djab Lavwal to Bird Island once more to jig a few days with his regular guest Patrick up there. As most of the times it went nicely. Here a few impressions.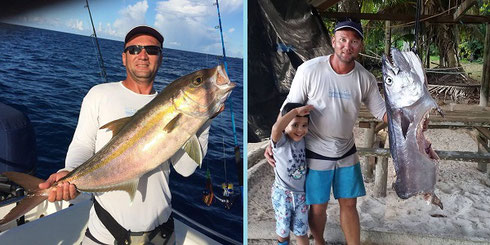 That Doggie was obviously beyond release and the Shark responsible must have been massive. Just check the bite mark. But they also got some big and whole ones.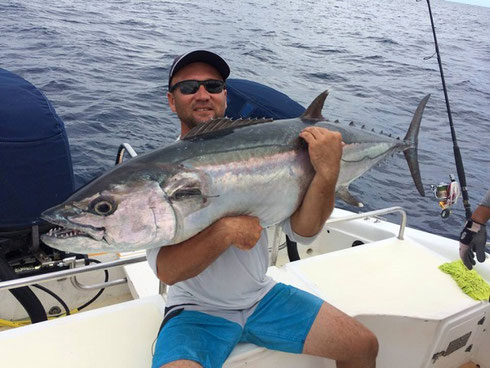 They were lucky with the weather as right upon their return at the day of the most recent report it started to deteriorate. Mervin fishing the last few days with his group had a tough time with all these fronts bringing hard rains and strong gusts but was able to again find the Amberjacks in crazy numbers, five Wahoos, some Yellowfins and feasty Groupers.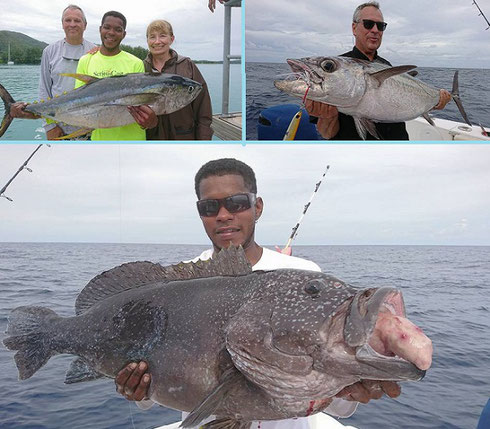 Monday the 16th Andre, his sons Greg & Philip, their cousin Dominique and I had planned to leave in the morning for an overnight trip to the northern Drop Off. Main goal was to find a Broadbill. But it was raining cats and dogs so we delayed the departure until afternoon. Luckily the wind stayed calm so the eventless 11 hours of trolling through that overcast and thus pitch dark new moon night went past without that sort of trouble. The evening before and in the morning we jigged a bit of course always starting with some good fish. This Amberjack in the last light was a nice one and put up a hell of a fight.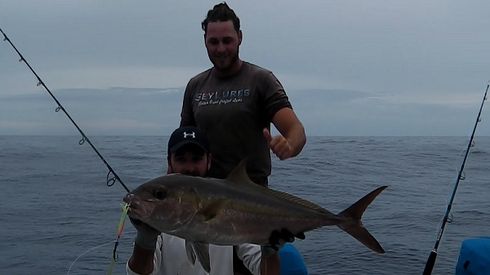 Twice though the activity died with high tide. But in the morning we had an interesting wake up call. Phil had just cranked his jig the last 40m or so when it was taken right beneath the engines. The reel screamed, the fish ran down, after 15secs he asked to reverse on the fish and after another 15secs we heard that ugly sound of a line snapping and 300m of braid were just gone: a Stella 10000 spooled at drag full on. Must have been a really large Doggie. From my experience +70kg.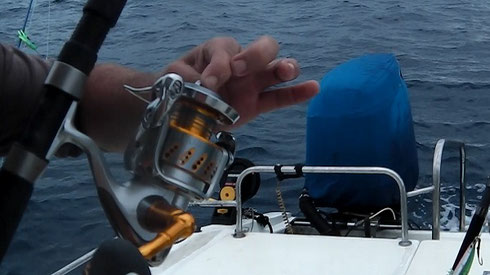 After this incident not too much more happened, the bite slowed drastically after a few more smaller fish. Thus it was nearly a surprise to catch this pretty decent Bek-Bek some point. These seem to like my jigging style as I had been catching quite a few of them recently.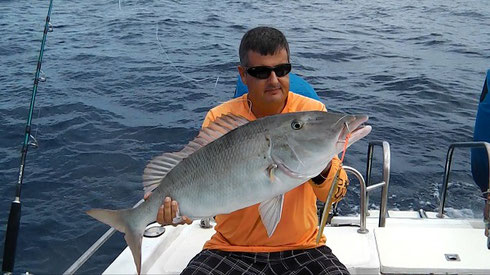 After that we diverted to some trolling along the Drop and only after a few minutes a small Sailfish turned up. We managed to pull all lures away and direct it to the teaser for Andre to serve his fly. The take came instantly, fish was on, jumped and the fly line broke for whatever reason. Frustrating. And like the spooling incident it all happened too fast to get the cam running. So unfortunately not more to show than this still from one of the many more jumps the Sailfish performed to get rid of that fly. Hope it managed.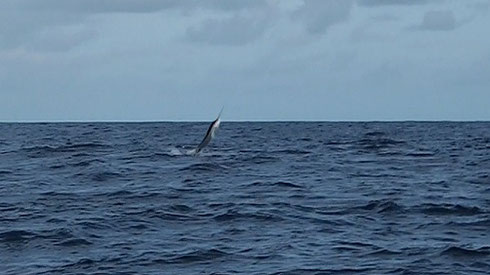 Nothing else except a few Bonitos in the next couple of hours so we set course to Praslin and returned a bit disappointed but safely after 24hrs. At least we had been lucky as far as the weather is concerned as those many fronts often with lightning and thunder kept coming one after the other along the following days. Around the 20th we got that northerly ground swell locally called Rad Mare on top that broke one of my mooring ropes forcing me to evacuate my boat into the safety of Baie St. Anne. The waves got huge and even famous Anse Lazio beach was closed for swimming for a day which is unprecedented as far as I know. To add to misery the water got murky everwhere within a few hours. Few fishing trips since, mostly trolling with rather inexperienced tourists. Catches were more or less as before with Bonitos, Dorados, smaller Tuna and Wahoos. Sailfish continue to show but remain difficult. Here is one of the few caught, good work by the boat Divinity.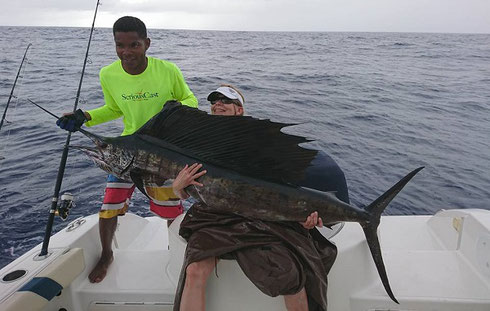 This time it was just Mervin`s boys as he on the last day wit the jigging group had slipped on some spilled sunscreen and knocked a few ribs. But luckily he was halfway fit to fish again on the 23rd for a trolling day with Günther and Martin from Germany. The latter does not fish at all and had given the trip as a birthday present to his father who has some freshwater experience. Thus Mervin had brought only 80lb gear except one single 50 with a view to the anglers´ more than limited experience with this kind of fishing and a few reportings of lost Marlin by the boats that fish rather rarely. Smart move as after a few Bonitos, a Dorado, a Barracuda and a Tuna a small Marlin hit but dropped the hook in the first run. After two eventless hours out of thin air then a much bigger one appeared, grabbed a lure and the fish we initally estimated at 180kg jumped a few times. Of course it had chosen just the single 50lb outfit and the two anglers had to take turns on it every few minutes. The fish was close several times but always managed to run away again.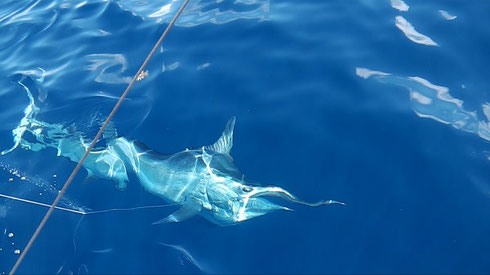 Subsequently mate Steven helped out a few times when both were exhausted but it took nearly 3hrs until the fish could be leadered. Then we figured it was actually a good bit larger then we had thought and we concluded a good 220kg. What a nice Black Marlin.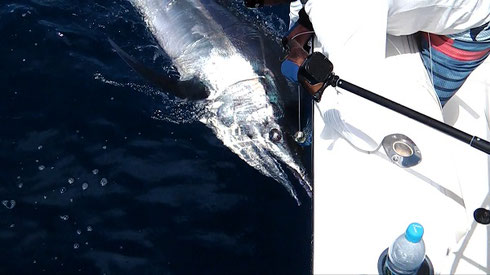 Along the following days in still rather unpleasant weather trips became fewer and fewer with quite some of those cut short by the guests. Greg had one more popping day and with the client giving up rather early he kept casting and eventually hooking up with a GT he considered very big for our standards but the fish escaped into the rocks. Also he had another jigging trip to the Drop with a big Doggie lost and a smaller one caught. Some Amberjacks, Black Jacks and Groupers came on top of which this White Blotched seemed suspicious of a record but eventually turned out a few kg too light. Not even the also hooked Moontail Grouper helped that case.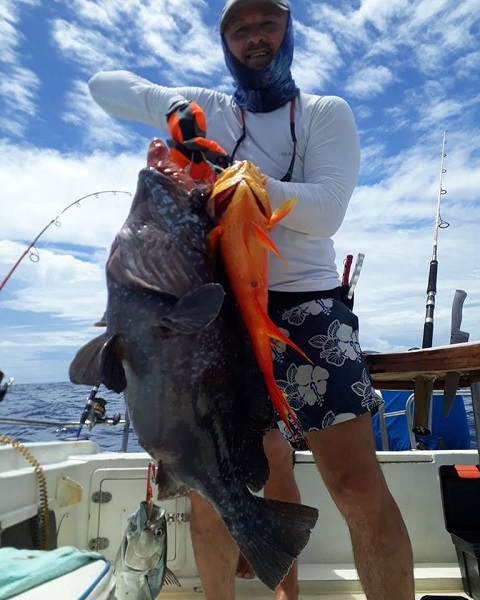 Since the end of last week the shower fronts started to move away but a southerly wind of mostly 10-12kn has already established. This provided Andre and Greg jigging the northern Drop once more with a friend a bumpy ride back but also some good fish like three of these decent Doggies.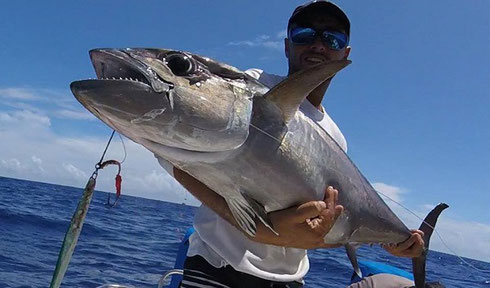 Would have loved some more own time on the water but the sea had to settle and I needed to find and fix my lost mooring anchor. On top came friends visiting that needed to be entertained. So had not more opportunities but a few bits of fly fishing in mostly rather useless conditions: nearly no sun, murky water, wind chop, loads of drifting weed. Thus all one does not want. Small fish came like always but better ones were nearly impossible to detect. Only on the 26th on the flat I found a small clearer pocket and a really large Bonefish in it. Of course upwind and while I tried to sneak around it disappeared into the murk. The next morning in another place I thought for a moment to have hooked my third while small Bone. But it turned out quickly that it was just the Poor Man`s version, a Silver Silago.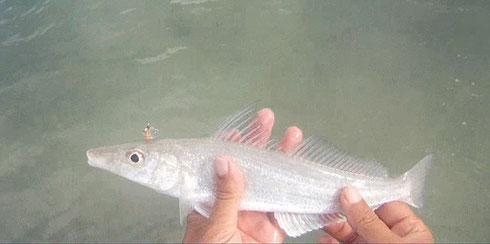 Yesterday morning the wind came from the east so I rushed to the flat again. Just got there when the wind shifted back to south and the ideal conditions became a mess. Still I found that big Bonefish again in the same place. Same situation as last time in the beginning, no hope for a upwind cast. Returning a while later I got a chance but the service spooked it. Checked again another half hour later, proper cast, it went for the fly, dug and tailed, swam away – but my line did not come tight. Smart bugger. I want that fish. Last but not least the monthly video is online here now. With that nice sequence of the one Bone caught and some hopefully also entertaining scenes and fish.
Apart from a few small fronts the weather has been nice to us along this first half or April here in Seychelles and with many Easter tourists around the charter boats have been busy. As usually lots of trips were half days often combined with island excursions and the picture sketched in the last report remained as far as trolling is concerned with school size Yellowfin Tuna, Dorados, Bonitos and especially Wahoos representing the common catches.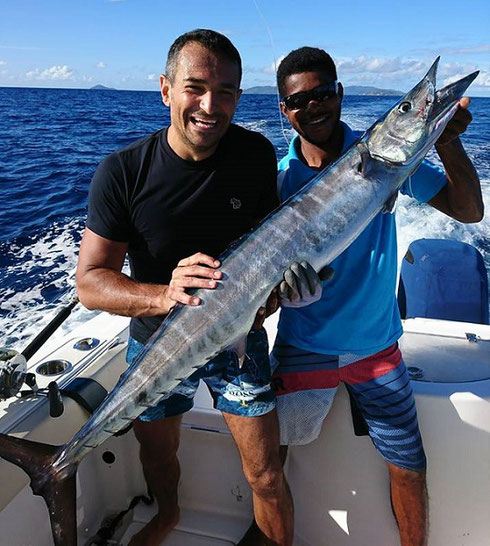 Unusually many Sailfish around for this time of the year but these remain to be difficult. While experienced crews like the guys from A1 on Mahe or here on Praslin Christian (Djab Lavwal) and Mervin (Divinity) manage to catch them at times the boats that do not fish that often mostly report just raises. Similar situation out of Mahe more or less but the large boats fishing far out reported some incredible Marlin fishing. The 9G Sportfishing Team went 4 out of 4 Blues in a day but the boat Alati got into it even heftier: 5 out of 14 on one day, 2 out of 13 raised another and other boats got 9 out of 17 in a day.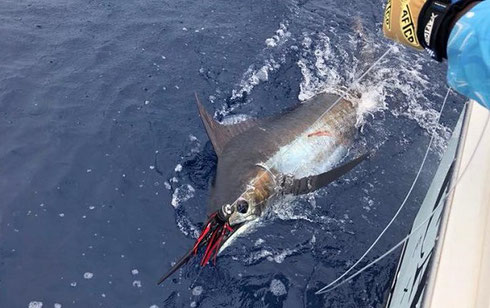 The number of raised Marlin was just breathtaking while as one can see they were not always eager to take. Still with over 70 Marlin raised in just 5 days surely outstanding fishing so late in the season. Enjoy another pic.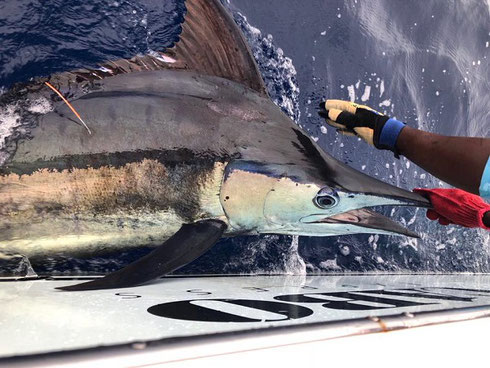 But before all trolling addicts start booking flights: this all seems to have happened in a specific area not accessible to all. The common trips of the smaller boats usually turned out within the described frame and one needs to state that there have been spells and outings that were rather slow, too. Especially on those very calm and hot days. In such instances it really makes sense to be flexible and change the fishing technique. My holiday neighbour from Mauritius and his friends have been doing exactly that switching between trolling, jigging and bottom fishing so I saw them return with good mixed catches and happy faces every day. Here a few smaller Doggies caught jigging and a trolled Wahoo as an example.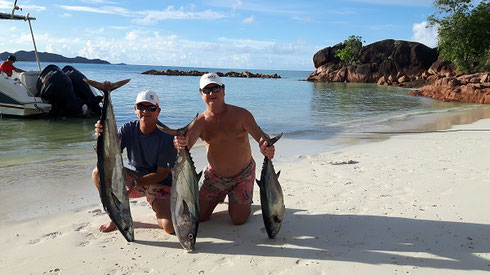 Most guests and also charter boats still are not into jigging at all though so the common alternative is bottom fishing. Went with Ricarda & Christopher from Switzerland fishing with Greg (Aquatic Dream) one morning and the preferred Emperor Snappers were cooperative as so often. The following afternoon the really nice guests got even more and bigger ones.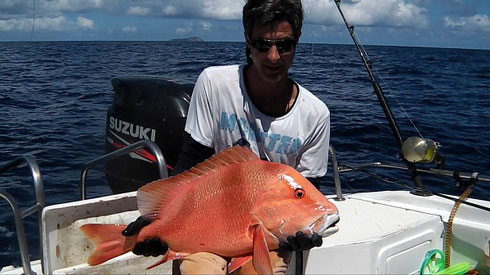 As apart from yesterday this had been the only charter I tagged along with and for a change I had no-one visiting finally there was some time to fish myself again. With the conditions favourable for it fly fishing to a good part and the first couple of stints produced a few new species like this Bluespotted Grouper (upper left) and Goatfish (upper right) while also the common Thumbprint Snappers and Poutmouths were a bit bigger than usual.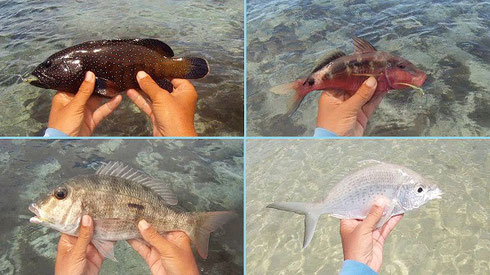 But this was only the warm-up for much better things to come. On the 8th, exactly two days short of a year since my fly gear arrived and I took the first attempts there was finally reason to open a virtual bottle of champagne. Did not really want to go because of a too high tide and some nightly rain that had turned the water a bit murky but picked myself up eventually. Had made maybe 10 casts when detecting that shadow on the seagrass some 5 or 6 meters away. Was not even sure if this was a fish at all and even lesser which side the head might be. Stripped the fly past it very slowly, was stuck in the weed - or not and off it went. Luckily with my hook well set. When realizing that it actually was a Bonefish my heartbeat was a healthy 180 and I opened the drag a few klicks but all came right. My first Bonefish, felt overwhelmed.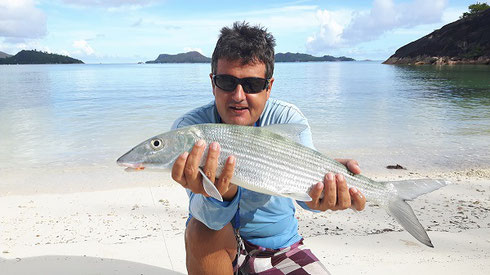 No idea how often I kissed it but the hotel guests having breakfast must have been pretty amused. Could not have cared less though as the first Bone is really special and a rather rare catch here on the Inner Islands even for sophisticated fly anglers (which I am clearly not). Unfortunate though that the GoPro failed along the fight but a hotel employee was kind enough to take some pics with my phone and film the release.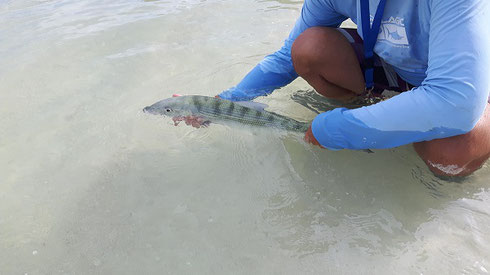 Seldomly I have been happier for a fish. But also boat fishing provided a good time. Went with buddy Stephan at 4am one morning to be at a GT spot in the northwest first light. None of those showed up along the three hours spent there but two decent Bluefin Trevallies, a Jobfish and a Rainbow Runner all on topwater lures were not really a disaster.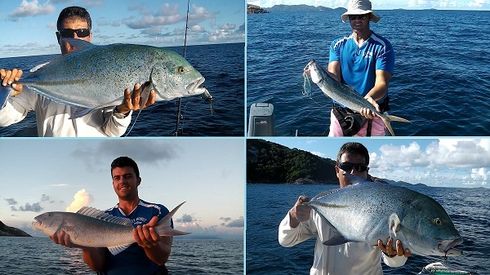 After all that we tried to find a few new jigging spots in that area I had not really explored yet. A Sailfish appeared pretty much right away and played for minutes with one of the two lures trolled but was not fully convinced of that offer. Wherever the sonar showed structure and fish we brought in the lures and started jigging. To lesser or more success in different places and within five hours we got a really nice mix of 40 or so fish. The Emperor Snappers liked Stephan that day but among other catches I was quite happy with a massive Jobfish.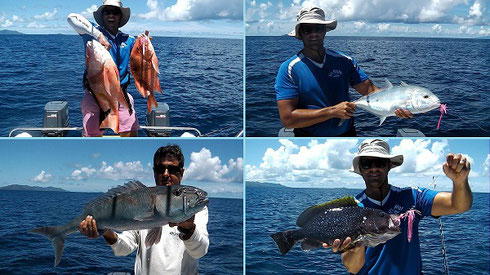 In the afternoon we popped two more hours for GT and after just a few casts the object of desire was on. Quite a decent one at 118cm fork length and according to the formulas just under 32kg. That fish rounded off this day splendidly of course and if Stephan had hooked his raised a little later it would have been all perfect.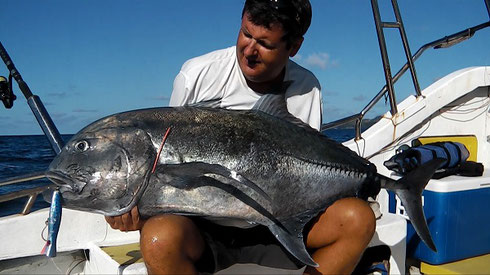 Quite enough pics in this report especially as there is more to come but this portrait of the GT is just too nice not to present it to you.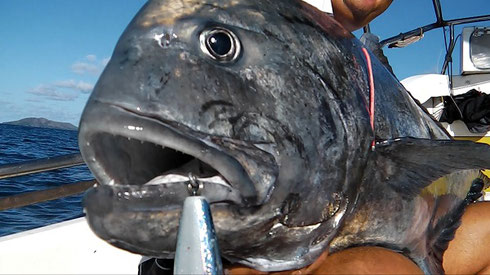 While we were out there Stephan`s new slowpitch jigging gear had been delivered to his home so of course he was eager to try it asap. With pleasure but as I do not fancy fishing the same area two times in a row I went east this time. Very bad decision. Thus this can be covered in brief: just a Jobfish popping in the morning and a small Shark raised in the afternoon. Trolling between the jigging spots led to a single Bonito and the smallest Wahoo I have ever seen. At maybe 1.5kg a star in a home aquarium but else no good. My first two jigging spots produced nothing, no new spots found, on the third we finally got some 20 fish but all small stuff. Only better ones were two Bonitos for Stephan of which one was fairly big and this proper Yellowtail Trevally that made the little rod bend like crazy and provided him with a good experience.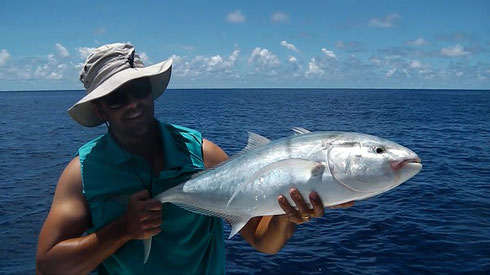 So all in all this trip was a disappointment and even more so when I learned in the evening that other boats had done well up north. Thus a very bad gamble of mine and the only consolation was that my buddy at least got the better of the meager catches. Was still pondering about the lows of our passion that inevitably hit us after every high when without much expectation I strolled the flat on the east of Praslin another morning. After many learnings from all my beyond small catches rather unsuccessful fly fishig attempts now though with a few still unproved theories from that Bonefish catch what might work. And see there: in an area that I had never seen one before but thought it could well be interesting to them there was something between the many Mullet that moved slightly differently. A closer look. Bone! In perfect distance and wind direction for my meager casting skills. First cast, slow strip, a little jerk of interest. Second cast, slower strip, palpable take, off. Damn. But the fish just stayed there, must have been a bit dumb, third cast, even slower strip – on! The initial run was just amazing. Totally different than the one from the first. But again all went well and some four minutes later I grabbed the second Bonefish in two outings.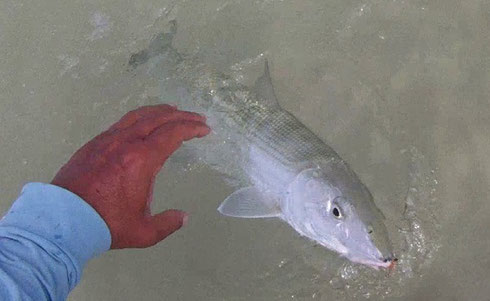 Who has fished for those in other places, especially in the Amirantes, will probably not be too impressed. But to get two in such short time here on the Inner Islands is really rare from all I hear. Even more for a beginner which is what I still am. But to learn from success is so much more helpful than from fails. And feels a lot better on top. Curious now if I might really have found bits of a code but rather stay humble. As a friend wrote: once is luck, twice is coindcidence, thrice is skill. Will probably take a while until the third one comes. Especially if it should not happen soon as April seems to be the ideal time here. Fits with the news from Israeli angler Ben who has fished various Seychelles islands and reported even two in a day. So perhaps just very favourable conditions but this will not stop me smiling.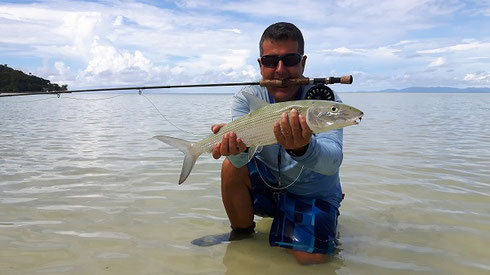 This time also the GoPro did not let me down. The clip is already up on the facebook site but will be part of the monthly YouTube video still to come unless even crazier things happen. And if I ever get the chance again I will try to remember switching the cam on before casting as to also catch that blistering first run. By the way this catch did come on another fly as the one from the first had inexplicably gone missing on the second cast. Luckily I had taken a foto of it. Time for a big Thank You to all the anglers that generously left and even sent me flies. Of course always with the plea to let them know if I should manage a good catch on one of theirs. Unfortunately I lost track who gave me which ones as else I would need to carry along a dozen fly boxes. Maybe they recongnize their flies in the pic and will be pleased.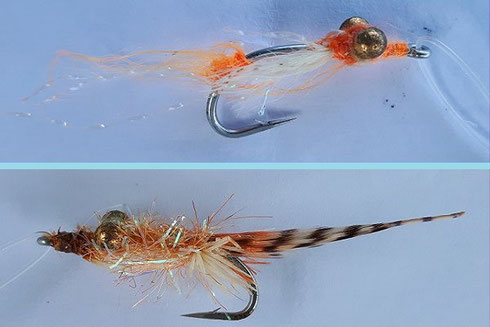 Showing those also for some egoistic motives hoping someone will be able to tell me the names of these patterns as I would like to obtain a few more of those of course. Meanwhile Mervin after all his little trolling trips was eager for some active fishing and thus happy about his two guests from last year coming for a week´s jigging and popping. The first and a bit rough day the two chaps were still suffring from the travel so it was practically just Mervin casting all day. Out of a few GTs raised he managed to get a very big one on but sadly it dropped the lure. On the second day the guests were fitter which was a good thing. The variety at the Drop was not as usual but more than 50 Amberjacks which were all double digits really wore them out.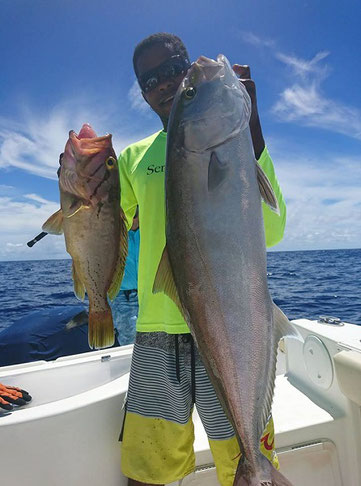 Thursday it went the same so by noon the anglers ached and just wanted to switch to trolling. Mervin dryly commented that it was just too easy: dropping the jigs and instantly all rods were bent. Yesterday extremely cool and very experienced Turkish angler Murat came over from Mahe to fish the Praslin waters hoping for a GT and maybe a Doggie. The latter we picked up between a few other jigging fish. Not such a bad size for one from the plateau.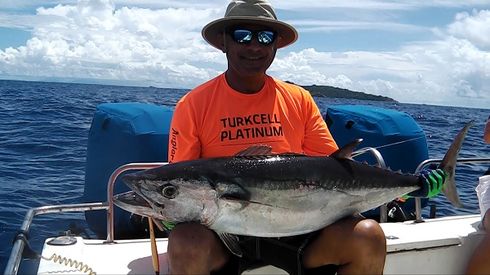 But topwater was really tough: only a raise of a baby GT and a miss of a better but unidentified fish until noon. Nothing showed up all afternoon until at the `last resort´ harbour spot within the final casts this GT came. At slightly under 20kg a bit smaller than average but still most welcome. We had taken it in turns meantime and were so happy for the extremely nice chap. Excellent job by and great reward for Greg & Phil on Aquatic Dream who always go the extra mile.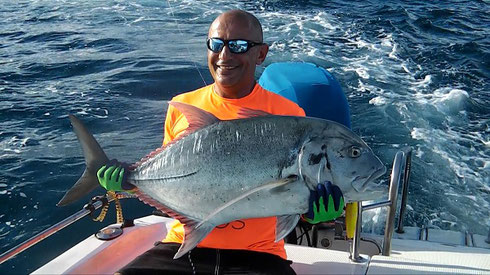 What else? The annual National Tournament took place out of Mahe last weekend. Nine boats fished 57hrs for charity. As usually this should have produced several tons of fish, here a fantastic Ruby Snapper and a Grouper caught on 9G.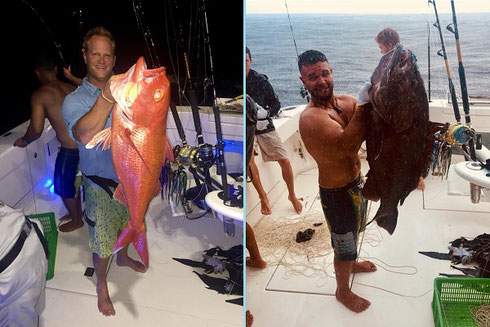 The team also caught a Rusty Jobfish of 8.09kg that will better the current IGFA world record by 1.5kg if approved. Congrats to angler Vernon Voigt and the whole 9G Sportfishing Team.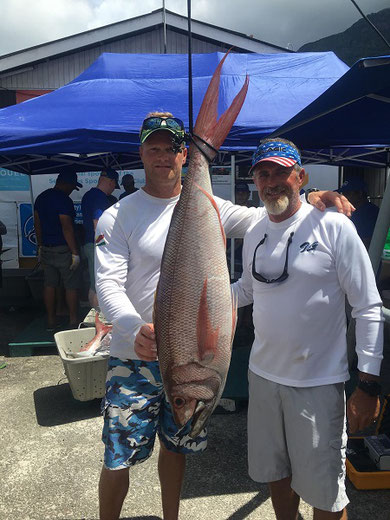 The other catches and final results are as usually kept a secret until this weekend`s price giving but news already leaked that four more different species were caught that exceed the standing world records. But these will not be handed it as not caught in line with the IGFA rules. Thus probably on handlines. So really a lot of different fishing action and catches here along these last two weeks and another cool indication of these water`s potential for about every fishing style. Before acquiring a typewriters cramp and end up out of fishing action I better stop now. Hope you feel well informed and entertained.
For the preceeding reports check the archive.