Along the second half of this month fishing here in Seychelles amidst calm or at times non-existing wind was first class on nearly all fronts. On the 16th the sea was flat like a mirror so Mervin got absolutely nothing trolling the Drop for a few hours but jigging went really well with Doggies of up to 30kg among other fish. The light breeze of the following days triggered the pelagics back into action though. Christian (Djab Lavwal) caught a Sailfish plus several Wahoos while other boats reported similar results with more Sails like for example by Greg (Pipsqueek). Once more the 9G Sportfishing Team from Mahe delivered with two Marlin on a trip and Island Star landed this enormous Dogtooth Tuna trolling. They estimated the fish at 95kg.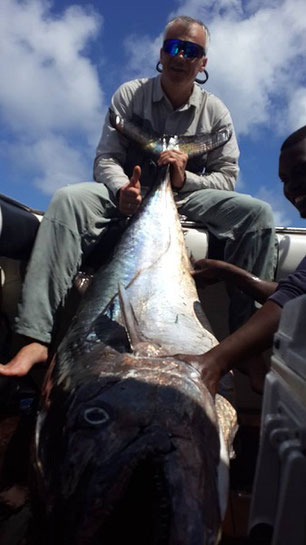 Just in time for the arrival of my friends Marco and Jörg on the 18th the wind fell asleep again. No time to waste so right the next day with a view to the sea conditions and the tide we went popping but the bank was infested by Sharks. Three poppers fell prey to them and several times more we picked them up from the surface after cut-offs. A few of those Sharks we managed to bring to the boat and the helping hands were more than welcome for the releases but the GTs were not active. Only Jörg hooked up with one but the fish managed to reach the rocks and thus cut the braid. So popping catches were apart from the Sharks of course limited to a handful of Barracudas and Jobfish. A few intermezzos of light jigging on the other sider were far more productive with some good size Rainbow Runners among other catches.
The afternoon spent the same way was good fun too, and eventualy we counted 14 different species caught that day. So a decent warm-up for my two mates and the next day things continued in a similar way: the GTs let us down completely and we only managed to raise a Sail briefly in three hours of morning popping but jigging south of Praslin was reasonably productive with a smaller Doggie, Yellowtail Trevallies and an assortment of different Groupers. 
These were substantially smaller though than this massive Potato Grouper caught by Mat on a handline. So not caught sportfishing but we surely would have enjoyed one of those without doubt, too. On the 22nd we went to the northern Drop with Mervin. Popping around an island was unusually slow but jigging just phenomenal with Groupers, Black & Yellowspotted Trevallies and Red Seabass.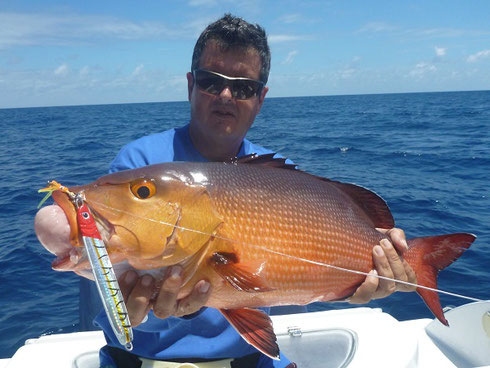 But what made the trip special were the continuous hits of very good size Doggies with the largest one well bigger than 40kg. For more of this brilliant day than these two pics just watch the video here.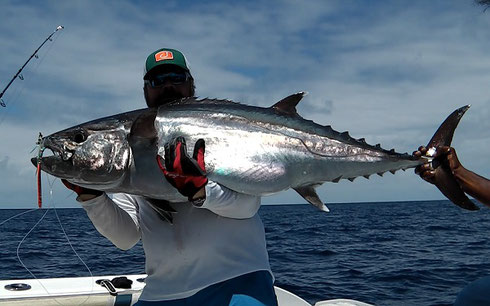 After a few hours of hard work a bit of trolling on the way back was more than welcome and worked well with a few Yellowfin Tuna, a Wahoo and a very first Sailfish for Jörg.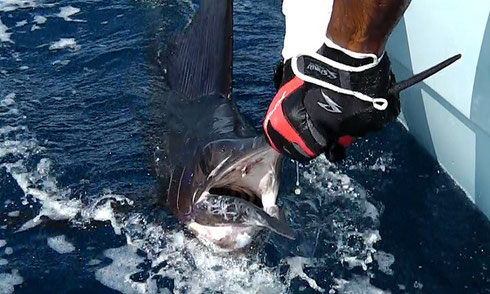 The next day we roamed the plateau again on my boat. Trolling two lures between jigging spots we caught a handful of Tuna and Wahoos while jigging produced the usual Yellowspotted & Yellowtail Trevallies, Groupers etc.  and late afternoon we did some popping again. Once more the GTs were totally uncooperative but a bunch of Bluefin Trevallies instead fully on of which we managed to catch two really nice specimen. This one by Jörg must have weighed clearly more than 15kg and thus is a really special fish for these waters.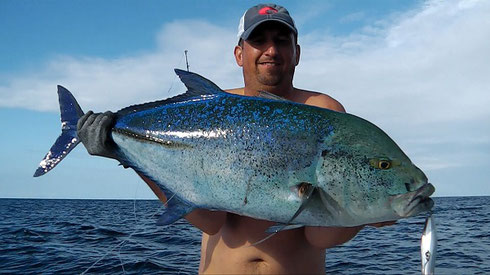 The following day we allowed us a break giving me the opportunity to find out how the other boats had done in the meantime. The trolling front continued to report the usual mix of smaller Gamefish like Tuna, Wahoo and Dorado with a few Sailfish in between. Mervin had four in a day. We on the other side prepared for a pretty mad trip: 36hrs on the tiny boat to the northern Drop as to pay those Doggies another visit. So Friday morning at first light we set course but had to troll the 35 miles due to fuel capacity restraints. Nothing more than a single Dorado and a few Bonitos entertained us and upon arrival at 1pm we had only two hours of favourable tide left for jigging. These were really productive though as right away from the first drop of the jigs we started to catch Yellowfin Tuna, Dorado and of course the Doggies. Not quite the size as with Mervin so probably my estimate for the area was not perfect but with sizes of just over 30kg no complaints were heard. Again Marco who seems to have a special relationship with those fish caught the biggest one.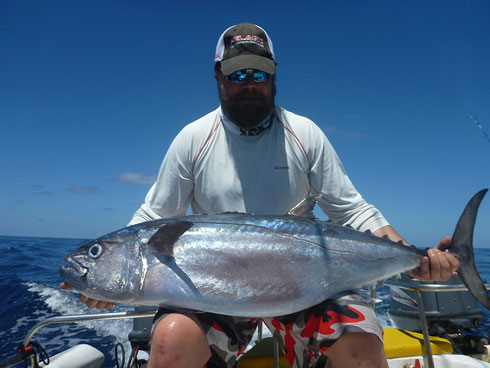 And also the biggest Amberjack was his.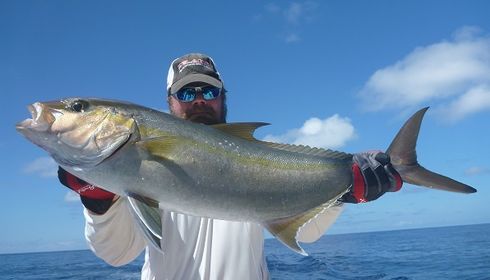 At around 4pm we bustled off towards the island for popping but the falling tide did not help our case so we got nothing out of it apart from a few Jobfish and Shark trouble. Anchoring up there is tricky because of all the coral but on a tiny sandy spot 6 meters deep I risked it for us to have a swim, food and rest. We had planned to jig again in the dark and rising tide but of course the anchor had gotten stuck and so we were as diving there at night did not seem the smartest idea. A little later the all day calm wind started to pick up changing direction all the time and on top unannounced rain set in. It was not dangerous but far from cosy on the open boat and any idea of sleep was wishful thinking under these circumstances. Luckily it cleared up at dawn, the wind died again and the anchor was freed without trouble on a quick dive. Popping in the following hours was quite entertaining with many strikes and hook-ups from Red Seabass, Jobfish and a Doggie of about 30kg but all those Sharks made us stick to the barbless single hooks which cost this one and many of the other fish. We had some two hours of jigging left that produced among other catches another half dozen or so Doggies but none of these reached the 30kg mark again. Still we managed to get some nice underwater shots out of all this.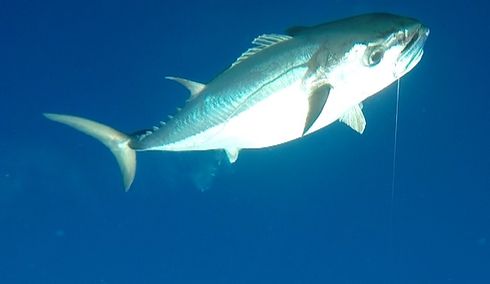 During the first half of the return trip we trolled three lines but again apart from a Dorado for diner and a few Bonitos nothing came up. As careful fuel planning had worked we finally picked up the lines and sped home. The following Sunday was of course all about regeneration after this adventure but in the evening a slightly frustrated Mervin called to report two lost Black Marlin which he had hooked not far from Praslin. Monday my friends and I did a trip down south to Fregate as to finally sort of enforce a GT. We cast the poppers at numerous first class spots until our joints were creaking but only a single GT once rose to about two meters below my popper only to disappear back into the depths. Very frustrating. Luckily the Jobfish provided some entertainment and Marco got a Doggie of just under 20kg on a stickbait. But as this report seems flooded of those already rather take a look at this huge Garfish also caught by Marco on that stickbait. At about 1.5 meters length it is the largest I have seen in Seychelles so far.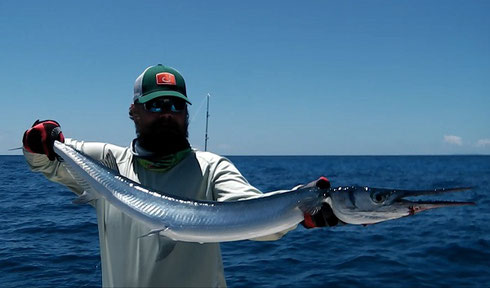 Towards the evening things became a bit more lively. While Marco was undoing a knot in his line the popper floating right next to the boat suddenly disappeared in a swirl but the fish got away. Casting into the glare of the setting sun I saw a triangular dorsal fin so subsequently expected to have hooked another Shark but when the fish jumped it sported a bill. Jörg and I believe it was a small Marlin as no sail was to be seen, the `pencil´of the dorsal fin seemed too short and the fish too bulky for a Sailfish but Marco said he was sure he saw a Sail. The riddle remains unsolved though as on the second jump the popper flew away thanks to the as always barbless single hooks but the push of adrenalin was nice. Yesterday we took it comparatively slow just doing three hours of morning popping encountering the usual Shark troubles and some Jobfish. After a visit to Sister Island and a bit of snorkeling we cast again for two hours in the afternoon when finally an admittedly tiny GT of 60cm fork length showed mercy. But it was one at last and another vial got filled with a small fin clip for the DNA analysis program.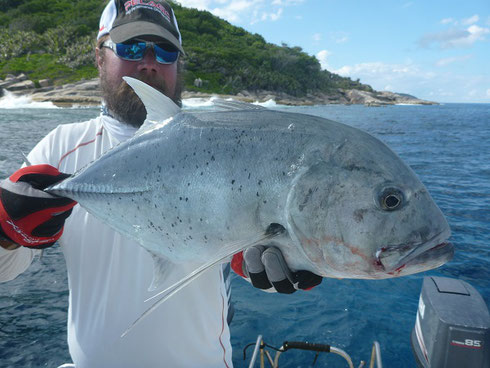 Got four more to fill until the end of the year but if those GTs remain that sluggish it will be a real task. Really hope they come back to normal next month as it has been in the previous years. The earlier the better as I do not know a more spectacular way to fish and miss those fierce stikes and fights badly. Last but not least I received a report from Tim with whom I had exchanged a few emails on fly fishing prior to his holidays on Mahe.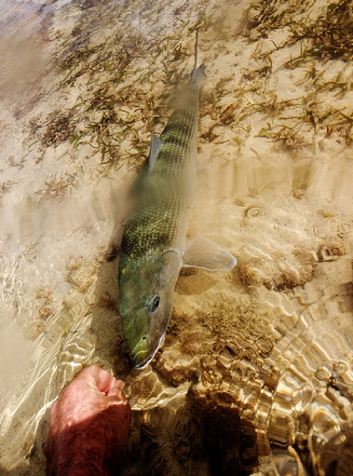 He announced himself as a relative beginner in saltwater fly fishing so I find his results even more impressive. Such a Bonefish he estimated at 6-8lb is of course a fantastic fish providing a lasting memory especially as achieved without a guide and all on his own. All in all that southeastern area of Mahe seems to be quite productive as next to sightings of more Bones, many Milkfish, Golden Trevallies and catches of other fish Tim got this beautiful Permit to put the cherry on the cake.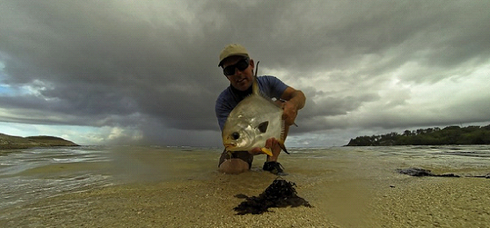 A big Thank You for the great footage and information to Tim. Most welcome as else this report and also the video were so much dominated by Doggies and the always same faces but I hope you enjoy it all anyways.
The beginning of the month provided for the calm conditions typical for this time of the year. On the 1st Mervin (Divinity) went to jig the Drop but it was slow. So instead the party made good use of the suface activity catching Yellowfin Tuna and Wahoos of up to 20kg on poppers. On the way back already far onto the plateau a spot produced large Yellowfin and Yellowspotted Trevallies as well as three GTs of about 15kg on jig to round that trip off nicely. That same day Richard and I went for a bit of spinning and caught several Garfish, Green Job, Bonito and a good size Yellowspotted Trevally on very light gear for Richard. During some serious popping he also got a fairly large Shark of 2m while I had one also. Smaller but hooked on the dorsal fin so it provided me with a good gym exercise. Most important though that my finally back Dogfight took it all without any protests.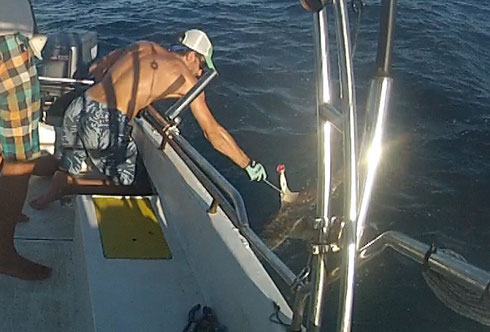 Thanks for the release to Richard btw. A good size GT missed the popper and a tiny one of 3.5kg provided a fin clip for the DNA program so no boredom at all. Along the following days some boats did trolling trips that produced smaller Gamefish in good numbers and a few Sailfish. Christian (Djab Lavwal) had two and other boats also reported some. Greg and a guest on the opposite had a good time fly fishing on Pipsqueek with a nice assortment of Rainbow Runner and different Trevallies.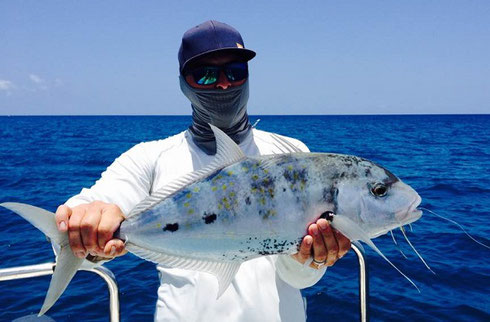 On the evening of the 5th I was picked up by Per-Ola and his Swedish friends. They had done such a week`s long catamaran fishing trip last year already in a slightly different constellation of participants. This time it was all about the islands at the northern Drop Off and I was invited to tag along. What a pleasure. Sunday around noon after an uneventful crossing we reached the southern reefs of Bird Island and popping started in a promising way with numerous Jobfish, Bluefin Trevallies, a GT and this decent Red Seabass.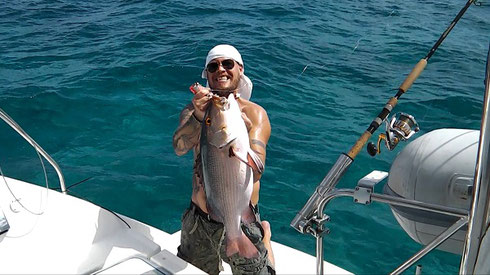 So things kicked off well and and after a calm night on anchor the following Monday developed nicely, too. The wind started to pick up though but while doing a few drifts over a small drop they caught plenty Green Job and many other mid size fish but also the poppers created interest. Especially a bunch of Dorados gave us some action and a decent lunch.
Tried to be useful spotting, tying knots, landing and releasing fish etc. in the first line so did not fish myself too much but when I did it was mostly doing something else than the others to maybe open up something different. A bit tough working a popper over deep water without any visible activity while the rest is catching fish after fish on jigs. But it paid off quite nicely that morning as after a few hours the water suddenly exploded and after a while a Yellowfin Tuna of about 25kg came tail first to the boat. Thought it had drowned itself but as I grabbed it by the tail it went off like a rocket. Looks quite spectacular in the video clip though the footage is a bit wobbly. For the eventual landing and release the cam batteries had packed up and also the foto cam of Per-Ola did not get a good shot somehow. But at least this nice pic exists.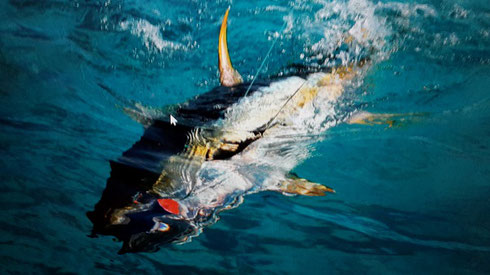 A little later we headed for some real jigging in deeper water. But meanwhile the wind had picked up substantially so depths of just 40m required jigs of 300g already and there was noy way to fish deeper than 60m with the jigs we had. Still we managed to get some good fish like for example this Amberjack.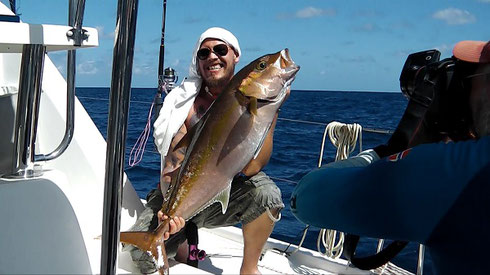 We would have liked to try bigger depths especially for the large Doggies Bird Island holds but we simply could not get the jigs to the bottom any more. So switch to trolling with the goal of finding more jigging spots for another day. The two hours we spent searching the north of the island were very entertaining again with a bunch of smaller Yellowfin taking the trolling lures and seeing half a dozen Sailfish of which we managed to hook and eventually release two.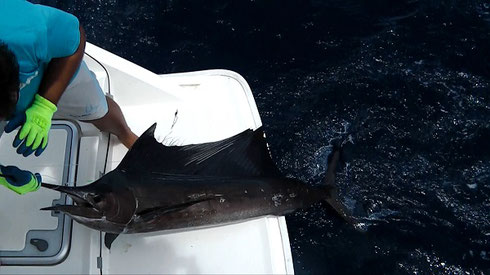 The following night the wind turned to coming from the west and the cat bobbed quite a bit on the anchor. In 17 knots of wind and heavy rain fronts we had to spend that day in the small easterly protection of the island doing some spinning and light popping in the shallows. There of course the fish caught were mostly rather small but still pretty like this snapper by Per-Ola.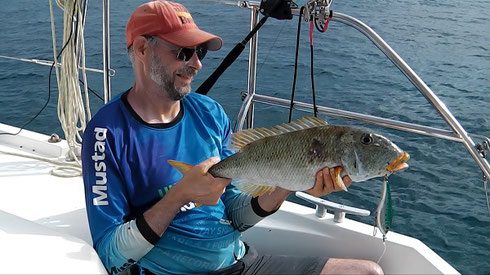 But at least the bite was somewhat steady with a number of Jobfish and Bluefin Trevallies and on top Stefan managed to catch this Barracuda.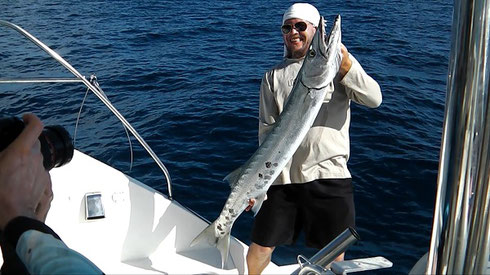 The following day, Wednesday that was, the weather went completely awkward. We were able to increase our fishing area a bit again but strangely around the island it was nearly impossible to raise a fish to topwater lures of any kind any more. On top the wind speed changed all the time between 10 and 20 knots shifting direction every so often and bringing dark fronts from all sides.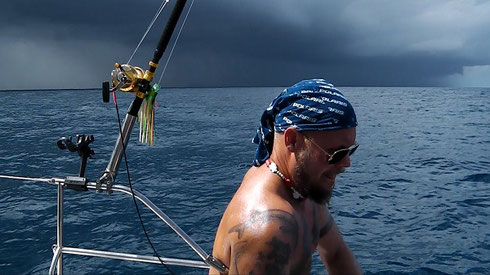 During a few drifts along a slow drop from 7 to about 20m on the inside of the island the others were jigging and catching the usual assortment of mid size fish while I kept popping. Suddenly a black shadow appeared that I thought was the biggest Doggie I have seen so far. On my shout of course everyone jumped to the popping gears and started casting all sorts of lures at that fish still around. It was obviously half way interested and Stefan recorded a nudge on his popper but when the fish turned around we could finally see it was actually a small Marlin of 70-80kg. Really wonder what business that bugger had been up to in just 15m of water. A short afternoon spell of slightly dropping wind made us try deeper water jigging once more but at still 12 knots of wind the cat drifted so fast that again we were limited to depths of 60m at max. Despite this limitation some more Amberjacks, Rosy Jobfish, various Groupers and this Bigeye Trevally came up.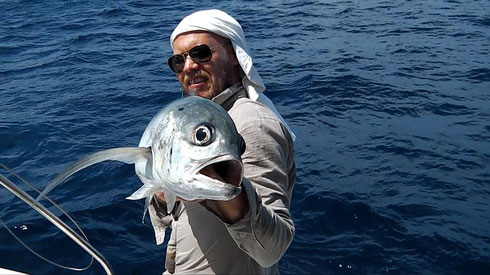 The next morning we started the crossing to Denis Island where we had planned to fish for the last two days. Luckily we had tailwind from the west along the way as anything else would have been a headache in those nearly throughout 20 knots of wind. Initial idea had been to troll over 70-100m of water as to locate some more jigging spots as well as feeding Yellowfin Tuna for popping. But visibility with all that rain was so low that we could not see far and again jigging the mentioned depths was hopeless. So instead we moved along further inside above on average 40-50m and jigged a few interesting sonar echos. Too shallow for the sought after Amberjacks and big Doggies but Jobfish and Groupers provided for some fun.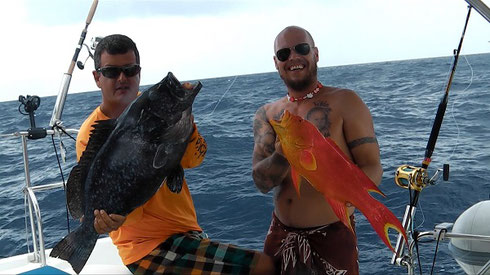 Stefan briefly hooked up with a Sailfish that must have grabbed the sinking jig but it cut the braid main line on its bill while jumping about. Trolling produced smaller Yellowfins but a double strike brought some larger ones on. Per-Ola`s unfortunately was lost close to the boat when I already had the leader but the fish took off once more under the boat and cut it in the prop. Frederick`s though we were able to land against all expectations and admidst much laughter. He had been using a light and very soft rod that he had bought years ago for about 17€ at a Chinese petrol station. The thing bent more than half circle and we all thought it would snap any moment but surprisingly it did not and eventually he held his Tuna of well 30kg happily.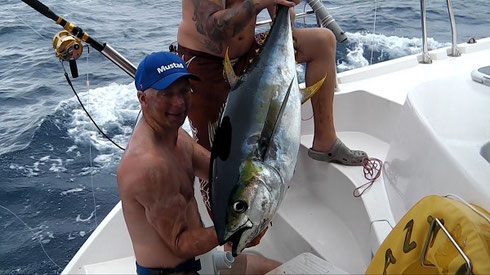 When reaching Denis Island the wind still howled at 20 knots so we could only fish the shallows on the east side a little. More Jobfish and several small Doggies of up to 5kg were the result. Early evening the wind direction shifted once more this time coming from Southeast. This messed up our only anchorage left and we had to abandon our high hopes of finding some reasonable Doggies the next day up there. Instead we had to head into that wind back to Praslin and spent a calm second half of that night in the protection of Curieuse after a bumby ride. That final Friday we then tried to get some GTs on poppers in the area but nonthing could be raised apart from the usual Sharks and a few Jobfish. Jigged a while after noon when finally a small GT of 5kg came on along with a number of larger Jobfish and this decent Yellowspotted Trevally as the final fish of that trip.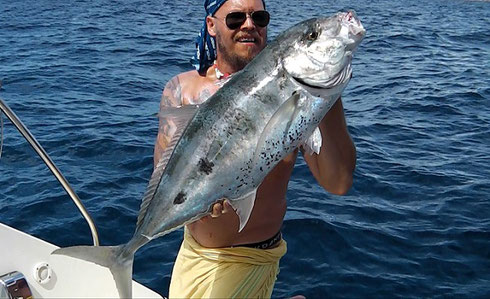 The weather was by far the oddest I have experienced here so far in usually calm and stable November. If it had been normal catches would have turned out a lot better for sure. But still we caught more than 20 different species and all of us thoroughly enjoyed the trip. Okay, maybe Johnny and Roger not so much as they had to fight seasickness a lot of the time. The rest of our brilliant group including pleasant and competent skipper Jeremie would have been happy though to go right again for another week and find the unlifted fishing treasures as the weather had of course calmed down right that day. But of course it was not possible so maybe next year. I would surely be happy to tag along with these guys again. And all in all catches for the group had still been better in quality and quantity then on their previous year`s trip in perfect conditions but without any guidance. So all good I guess and the video clip despite relatively little filming this time is not so bad either I hope. Many thanks again to Per-Ola, Frederick, Johnny, Ragnar, Roger & Stefan for a jolly good time. Saturday then the Billfish Classic Tournament took place out of Mahe. This one is my favourite because it is all Billfish release but time was too short to arrange participation. The Seychelles Sports Fishing Club will keep the result under the blanket until the big pricegiving gala but it smells like the boat Alati was able to defend their title with two Marlin and two Sails on top. Thanks to Faizal Yakub Suleman for this brilliant action pic.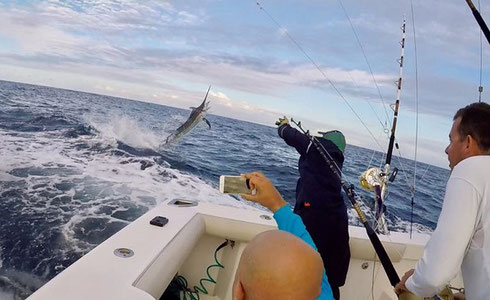 SpecialK also had two Blacks but missed out on filming one of those. Here on Praslin in the meantime the usual bit of trolling had continued and catches were as before. Just a lot of larger Wahoos hat entered the scene as I was told by Christian and Edwin (Dan Zil). Mervin was busy with his fishing crazy French returner who last month had mostly been watching Mervin catch all the better fish. This time it went more equal and he got his fair share of a number of usual size GTs as well as good jigging fish on the plateau and the Drop Off with many Doggies of up to 40kg. When the conditions made jigging out there impossible they resorted to some live baiting getting more Doggies and of course Sharks or a bit of trolling that produced a Marlin in between the usual pelagics. Yesterday Mervin made the effort of getting to New Emerald Cove Hotel in a small boat as the place is only accessible by the water. He wanted to retrieve the load of cool pics and videos from the guest`s Apple laptop but the stupid system would not release the data so we are missing out on that sadly. But I hope this report even without all that has turned out colorful and entertaining enough.
For the preceeding reports check the archive.