The final reporting period of the year went along in rather unspectacular fashion in general and especially for me. Went popping early morning of the 15th but no GT showed up until the evening. Only a really huge Bluefin Trevally rose a few times to check out my different poppers and stickbaits but found none enticing enough for a strike so I had to make do with a few small jigging catches. That morning we still had 7 knots southeast but the wind shifted to Northwest in the course of the day and kept picking up along the following ones clearly marking the shift of the season. On top the islands were pretty much deserted by tourists until just before christmas so very few trips took place here until then that were all trolling and produced the usual mix of smaller gamefish. On the 20th Mervin (Divinity) then had a popping & jigging trip around the Inner Islands with Ben and his family from South Africa. They saw and raised many smaller GTs and also a few big ones but these would not strike. A large Doggie did and sadly dropped the hook a little later while plenty smaller ones and Yellowspotted Trevallies liked the jigs. Two days later I tagged along with them fishing the Drop Off where we were greeted by a really large Manta Ray. That one had a wingspan of more than 4 meters and even turned itself on it`s back for us.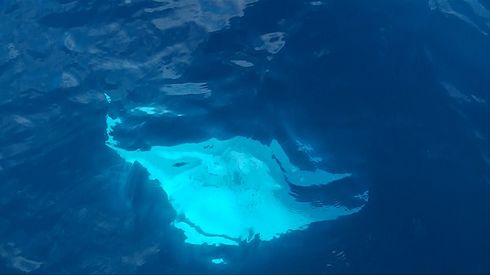 Dropping the jigs early still on the shallows the three anglers caught many Yellowspotted and Yellowtail Trevallies but nothing big. Trying deeper led to no improvement while trolling the edge for a few hours was also slow. Some late jigging while still not matching the usual results by any means at least produced a few nicer fish with this nearly trophy size Rosy Job among them.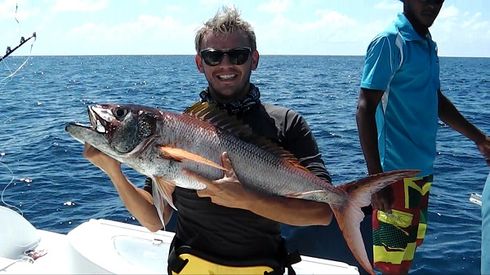 Meanwhile Martin (Venture) trolled the Drop a bit further south which turned out a good decision as next to Wahoos and Dorados he got two Sailfish which had been very skittish recently here around Praslin. The next day Mervin went to the Drop again with his South African party. This time also more in southerly direction and jigging was a lot better there. The group got to enjoy pretty much the whole variety of fish to catch with Black and Amberjacks etc. plus many Doggies of up to 25kg. Some obviously larger ones came off but this did not really reduce their joy.
On the morning of the 24th the wind picked up strongly and the forecast did not look good. So I moved my boat into the protection of Baie St. Anne and popped a few hours outside the port with buddy Richard only hooking up with a few Jobfish while GTs remained invisible. Greg (Pisqueek) and his guest were luckier in the protection of another island getting this specimen.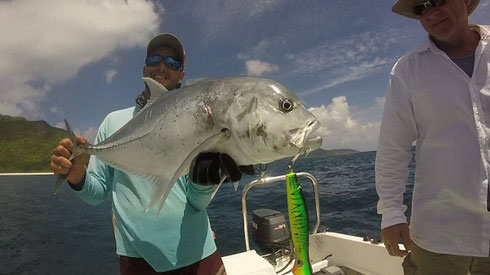 On the 25th contradicting the forecast completely we had only 8 knots NW so around noon I went again to find myself a christmas GT in the south of Praslin but once more to no result. The next morning the wind was back in full strength limiting young Italian angler Giorgio fishing with his father and uncle on Christian`s Djab Lavwal to also pop that area I had worked thoroughly. So I did not really expect much from that trip and was not too worried about their in my eyes for these waters and purposes rather unsuitable tackle. The two older gentlemen had brought gear that I consider okay for light to medium spinning while even Giorgios setup did not fully convince me to be honest but they trusted it. Murphy`s Law of course came into effect after a while with a GT hitting Giorgio´s popper and the main line broke on the strike just at that little weakness I had pointed to him after having undone a wind knot a little earlier. A little later one of the seniors had a fish on his little rod wondering what it might be when a Sailfish revealed itself dancing on the surface. Three or four jumps later the 30lb leader had been bruised enough by the bill to snap but at least there is this pic to serve as a memory.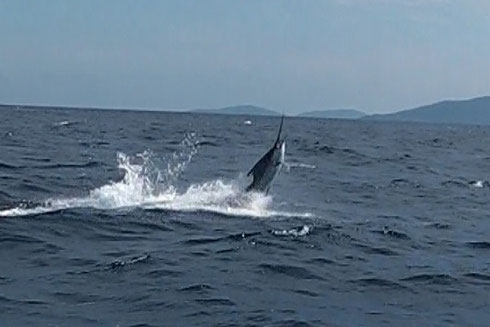 Towards noon the wind picked up further with heavy rain on top so also Marvin was glad to be back on shore after a half day trolling charter with some Bonitos, Yellowfin Tuna and Dorados. The bad weather persisted for nearly the whole of last week stalling the activities of all the smaller and mid size boats. Really frustrating as the islands like every year had filled up with tourists again for the festive season. Only the large vessels fishing out of Mahe were able to go trolling and caught some nice fish indeed. The 60ft Viking Island Star had a Marlin and so did Alati. The slightly smaller boat Special K from the A1 fleet I believe was based at Denis Island for a while and had some good catches with this Sailfish among them.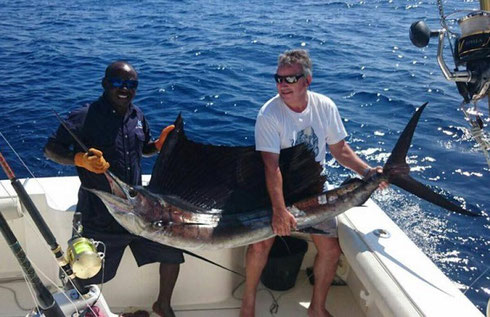 Only yesterday we started to see a bit of the sun again and the wind dropped a little into the area of just under 15 knots. So pretty much duck pond conditions for the huge 9G. The team after a holdiday spell returned in style to our waters and with a mix of Tuna, Dorado and Wahoo plus a released Sailfish on top bagged another Offshore Super Grand Slam. Conditions were very rough for popping this morning when I tagged along with Mervin and angler James taking his only opportunity. Both worked hard and three GTs were raised along the hours but no hook-up unfortunately. Of two other boats we saw going out with trolling gear I have not been reported the catches yet but if anything noteworthy should have happened you will learn about it in the next edition. So much for 2016.  Many thanks to all skippers, anglers and informants having supported this project along the year and of course to all readers. Hope you felt well informed and pleasantly entertained. A Happy, Healthy and Prosperous New Year loaded with fish to all of you!
In the first half of December fishing here around Praslin suffered a little dip while Mahe boats produced some stunning results especially as far as Marlin are concerned. For example on the evening of the most recent report`s publication Seychelles´ IGFA rep Faizal Suleman reported this nice Blue while missing another.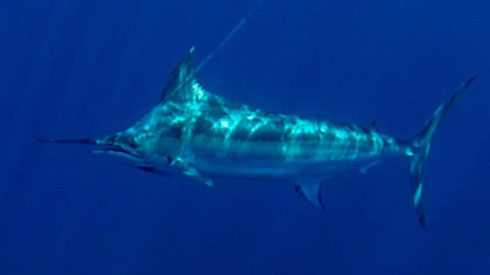 On the opposite together with my friends Marco & Jörg we struggled unsuccessfully to get hold of a Billfish on a day`s trolling east of Praslin. Ctach waslimited to a handful of Bonitos and smaller Yellowfin Tuna each as we did not manage to hook even one of the five Sailfish raised that day. The first four were all just window shoppers but the last one really wanted that stripbait. Inexplicably I was not able to set the hook but upon checking the bait afterwards we saw the pectoral fin of the strip had covered the point of the hook. Never experienced this before and it sucked a bit. How moody Sailfish were here in these days Mervin (Divinity) experienced in that same area also missing all five Sailfish paying his lures brief visits. The next day we went with him to the Drop Off for some nice jigging but this also did not develop according to plan as there was small blue baitfish all throughout the water column providing a much too easy and plentiful meal to the predators. Mervin seeing it moaned right away as he knew what this would mean. Sharks though were somewhat active and I was lucky that the fairly big one hooked close to the bottom decided to bolt to the surface and cut me off in a jump fully displaying itself. Interesting sight. Marco was less lucky and had to sweat bringing his Shark also estimated at around 50kg up only to get cut off close to the boat. The sonar displayed fish all over the place and we managed to bring up Doggie, Black- and Amberjack etc. but just rather sporadically.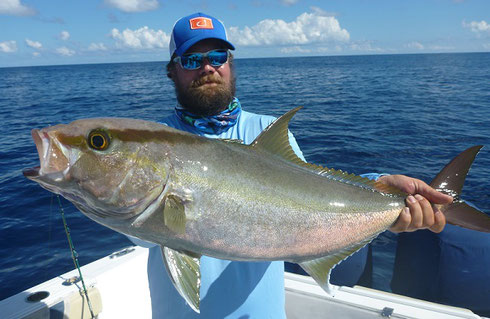 Also searching along the Drop did not improve the situation as that bait was just everywhere. Eventually we decided to troll the edge for a while and then towards Praslin but things remained sluggish: a Wahoo and a few Bonitos were caught but the two Sailfish showing up briefly were not interested in anything but a quick look at one lure. Satrurday the 3rd was the final fishing day with my buddies and we once more tried to force a reasonable GT which resulted into an interesting revelation. We already had worked a number of spots without result when some point already closer to Mahe than to Praslin at a most unsuitable time of day and tide things came to life. In quick succession Marco missed two hefty GT strikes and I got one on. Unfortunately right on top of a rocky structure in just 4 meters of water so losing it was foreseeable first moment. Also Jörg got one on later but it dropped the hook. The whole issue became revealing by the fact that same time Mervin had been popping off the island of Silhouette still further to the west encountering far more activity. He lost a really big GT even diving after it while reporting numerous more strikes and guest Jon caught this black beauty.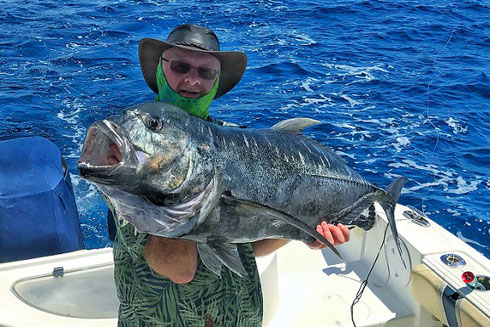 This sort of tendency that fishing was substantially better off Mahe and generally speaking west of Praslin was again reinforced along the following days also on the trolling side. On the 4th the boat Alati produced a real stunner with a Billfish Slam only consisting of Marlin. The fantastic day`s result eventually stood at 5/7 Black, 1/1 Blue and 1/1 Stripey, so 7/9 Marlin altogether. First class fishing.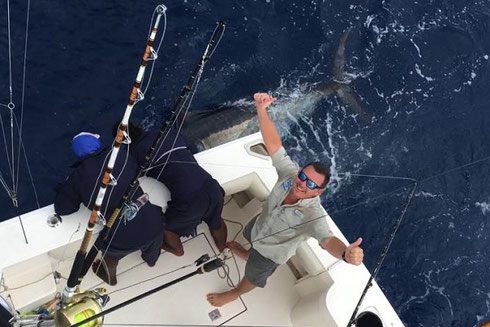 A private boat from Mahe just a few days later also reported another Billfish Slam this time consisting of Sail, Black and Stripey which seem to be around in higher numbers than usually at the moment. Had exchanged emails and provided some fishing information to Oliver from Germany prior to his island hopping catamaran trip. Among some other nice catches he close to Mahe lost a fish that he could not clearly identify. The pic he sent me is a bit blurred probably due to zooming but no doubt this was a Marlin, too. On top of all Jon fishing on the other boat of the A1 fleet SpecialK was able to catch and release a Marlin estimated at around 200kg.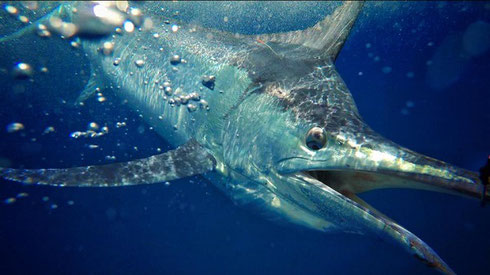 This local difference in fishing results got confirmed once more on the 7th when I went to the eastern Drop with Christian (Djab Lavwal) and his German guest Michael. We briefly saw a single Sailfish and struggled to scrape a few Bonitos, a Dorado and two small Yellowfin Tuna together. Mervin on the other side the following day picked up seven Dorados, a Wahoo and three Sailfish in that area but he had been lucky to find a large debris floating that produced the bulk of these fish. As usual for this time of the year the islands had emptied nearly completely from tourists so there were no trips in the follwoing days. Also the local recreational anglers were not really motivated as the wind had fallen asleep and it became very hot. So no idea what made buddy Richard and myself venture out on Saturday the 10th in zero wind accompanied by a useless tide. Jigging was hopeless as on the spot within half an hour we drifted a mere 30 meters just getting a Fugu and nearly heatstrokes. So we buggered off early towards an island for some later popping and swimming until then. Richard made some casts with light spin gear catching a few smaller fish and through the goggles I could see large Bluefin Trevallies attacking these hooked fish several times. But lures of suitable size they completely ignored as much as the unusually lethargic Sharks. Just towards the evening those became unpleasantly active but as we also got a few half hearted hits from GTs and Bluefin Trevallies we kept trying. On the very last cast of the day Richard finally got a Bluefin Trevally of maybe 8kg on but the Sharks left him only half of his fish.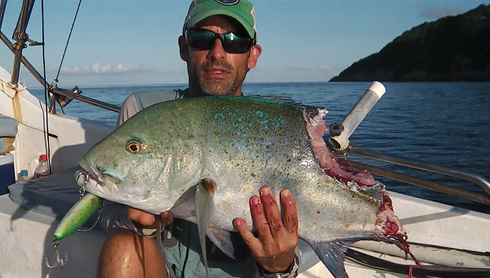 Same time Mervin was popping again of Silhouette with his guest Jon and once more it was a lot better there. Next to a quite large Bluefin Trevally the group caught three nice size GTs.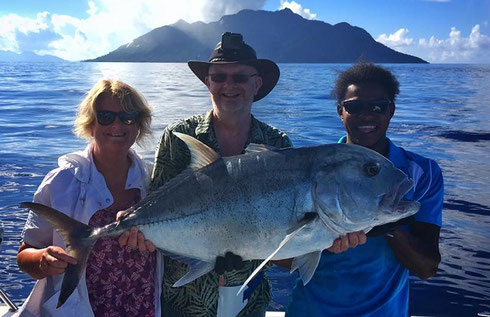 Since that in again very calm and hot weather there were no more trips apart from Mervin and Christian both trolling the eastern Drop again yesterday. The overall picture seems still the same: Mervin lost a Marlin after a few jumps while Sailfish remain difficult but the smaller Gamefish like Tuna, Dorados und Wahoos at least are somewhat cooperative.
For the preceeding reports check the archive.