After expressing my surprise in the most recent report covering June that the Southeast still not had fully set in it came on pretty much right after. Along the following days the wind picked up bit by bit but for a little while still allowed for some fishing. On the 3rd Greg (Pipsqueek) had a fly fishing but for this style was already very much limited to the bay where a good number of small fish like snappers etc. still kept the guest well entertained. On the 4th of July Mike (Alati) fished the Blue Marlin World Cup that takes places every year around the world at this date. Goal is to catch a Marlin of more than 500lb which is the minimum weight according to the rules. The team had 5 raises but all fish were to small so the lures were pulled away from them not to waste time. Quite special I think. Winners by the way turned out a boat from Madeira with a 652lb specimen. A fly angler from Austria that I had been in touch with provided me with some catches and pics he made during his stay in La Digue.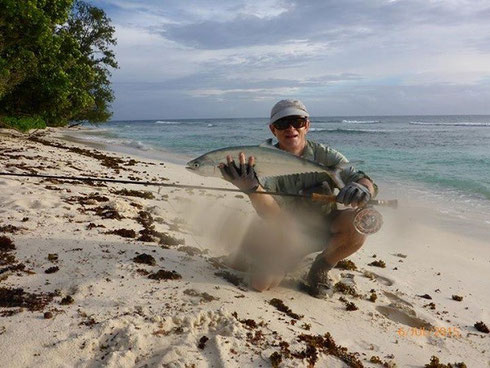 A few days ago I on top received a full report with brilliant pics and some interesting background information for fly fishermen. Uploaded this as a PDF here (at the end of the page / in German). Many thanks Doctor Hülsemann! By the 8th the wind already had picked up quite substantially and gave Martin (Venture) or rather his guests a bit of a hard time. Unfortunately fish were not too cooperative that day so the trip ended with three school size Yellowfin Tuna and a handful of Bonitos.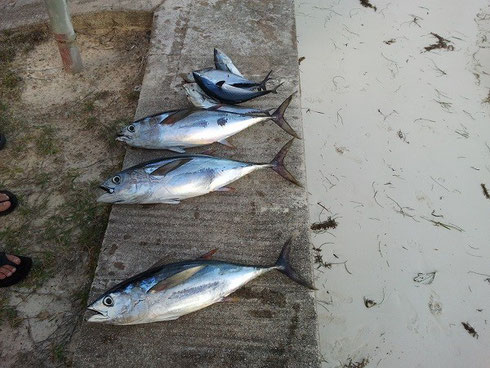 After that the wind allowed for pretty much nothing along the following fortnight. I tried some spinning here in Cote d´Or bay twice but apart from a few half hearted Garfish knocks got nothing. There were two or three charters but not real ones. Either just planned for some 2hrs in the protection of the island to get a Dorado or so for the island barbecue like Mervin (Divinity) did. Or cut short by the weather as for Colin (Aquatic Dream) who after catching a Tuna was asked by the seasick guests to take them back just an hour into the trip. Not really a surprise in winds of around 20 knots and the resulting seas. The rocks on the following pic are about 5 to 6 meters high just to give you an idea.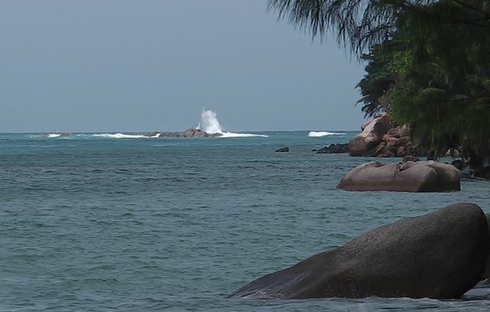 Greg also had such a small trolling trip hiding between and close to the Sisters catching a few Dorados and Bonitos. A few days later he did some light tackle trolling around the rocks in the protection of Praslin that turned out quite productive with a handful of Yellowspotted Trevallies, a nice Bluefin Trevally and two Jobfish.
Meanwhile there were no news at all from Mahe apart from Faizal shining once. This Emperor Snapper is good size though not excatly massive. Still it was a rather special catch as it came so close to shore. Check the coastline in the background.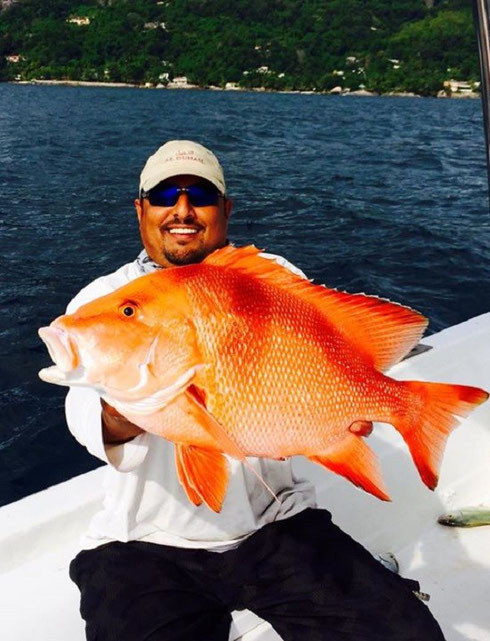 But real charters there had been none as far as I know. This weather made everybody expect the usual tough fishing for the SSFC Southeast Monsoon Sailfish Tournament which was scheduled for July 24th. I was facing my first participation in this one as Ruslan had invited me to join him on his Albemarlin. Even on this fantastic 43 footer that was not to become exactly a sunset cruise but nevertheless I was looking forward to the trip. Actually as that weekend approached the Southeast started to drop at least a bit. Friday afternoon I transferred to Mahe using the Catamaran and the sea really looked not too bad at around 14 knots of wind. While waiting at Marine Charter in Victoria for the skippers´ meeting to begin there were some strong gusts though. On top the forecast predicted 17-19 knots during the night but some drop towards 14 again during the following day. So as we headed into the sea at 03:00am that night we had to deal with quite a swell. We had more or less agreed beforehand to fish the area around Silhouette Island which is comparably close, quite reliable and in the worst weather offers some protection. But Thursday Ruslan had given it a try there not even getting a single Bonito in 4hrs trolling. Subsequently neither he nor our skippr Joliff nor Patrick wanted to go there anymore and sort of a vote determined the southeasterly Drop Off as our area. That of course meant to head a hefty 46 miles straight into the wind and waves. We tried to travel at around 16 knots in the beginning to arrive at dawn and hat to take a bit of a beating. Some point we could feel that the whole boat was airborne. Seemed like 5 seconds or so but of course it was much less. Still enough though for all of us to look at each other wondering what would happen. The following impact was so hard that a hatch under the steering console broke its locks and came down. Pure luck the hinges held on as else all the electronics and wiring attached to it had been buggered pretty much reducing us to a piece of driftwood. We somewhat fixed the thing with line and reduced speed to about 10 knots. This made the ride acceptable but still all of us became ever calmer until nobody said a word for a long time while for the first time in my life I had to fight seasickness. Some point an alarm went off pointing to carbonmonoxide in the cabin up front. Ruslan went to check, found nothing and switched it off. As daylight came finally we figured that all surfaces in the lounge were covered in grey. At this speed so slow for the 1400hp boat the turbos did not kick in and somehow the constellation of wind and the blinds must have been so unfortunate that lots of exhaust smoke had been sucked in to where we were. That was the point when we all admitted to each other that every single one of us had been sick. First time also for Joliff and Patrick who are professionals at sea so this was a pretty odd experience but opening some windows an getting out to start fishing sorted us all out right away. As we were just putting our lures out we saw a big commotion in the water some 50 or so meters behind us and suddenly a whale of maybe 12 to 14 meters in length jumped completely out of the water. Wow! Those are not so common here and we took it as a promising sign. This fantastic creature stayed in our vicinity for about half an hour and jumped twice more but I could not get it on the video camera. It was time to focus on our main issue of fishing anyways because as we trolled along the Drop in westerly direction and thus acceptable conditions we got bites frequently. On the first shallow we hooked a Dogtooth Tuna and a feasty Green Jobfish simultaneously. That one would have most probably won us a prize in other tournaments but in this one it was not a category. Quite a pity.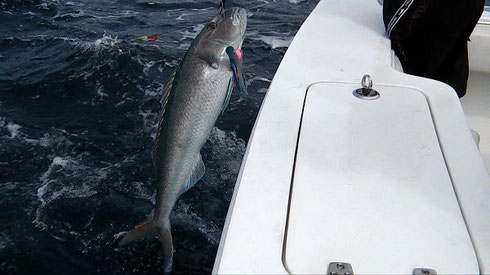 Around and right on other shallows in the following hours we caught two more Doggies, two Barracudas and two more Jobfish of similar size. Between those spots we added around half a dozen school size Yellowfin Tuna on top. So all quite interesting and entertaining but what we needed was Sailfish. Still even though offering a wide variety of proven lures and baits and staring at the water in full concentration we did not even see a toothpick let alone a bill in those 6 hours we spent in that area. So around noon we picked up the lines and sped to a spot some 18 miles off Mahe. There we saw another boat that obviously had made a similar experience to ours though a few more miles west of us. The new area produced us two Wahoos and finally the first Bonito of the day. The absence of these had forced me to sacrifice our smallest Yellowfin for a large Panama Strip and a small Kenya Strip. Eventually I even rigged that rather soft and after defrosting really soggy little Rainbow Runner as a skipbait playing the last card up our sleeves but within the half hour it lasted it attracted no Sailfish which convinced me there just were none. Very late already we got a final strike on the small Kenya Strip and Patrick brought a really decent Wahoo of about 20kg to the boat. Unfortunately right at the gaff the fish bit the mono trace and away he was. We were running out of time already so we picked up the other lines and just that moment we got the glimpse of a Sailfish for a brief moment as just to ridicule us. No ways to fish on though as we had to get back so we went flying to Victoria at a crazy 35 knots making it with a comfortable time cushion of five minutes. All the other boats except one had already arrived and were busy weighing in amidst the usual cheerful crowd.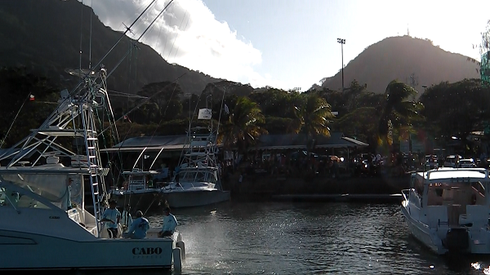 Briefly checking with the other teams we learned that the area around Silhouette had been full of Sailfish. The boats fishing there saw up to twenty each but were at best able to hook one if at all. But at least there were some ... anyways. Great to see that only a single Sailfish came to the scales while all others had been released. Weighing that one had a reason as any Sail of more than 25kg fetched more points than a release and this one turned out at 27.5kg. Right that boat that had arrived just behind us also had towed in a Black Marlin of about 150kg. This one did not help their case though as Marlin was not a category for this Sailfish Tournament. It would have counted for the special category of Most Billfish Releases though but it had come dead to the boat.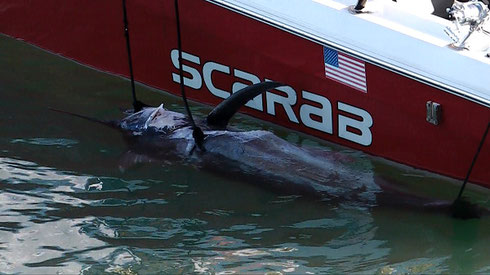 An innovation was the big screen broadcasting the videos of the releases required by the tournament rules. So the crowd instead of just seeing dead fish this time got to witness the action. A great move by the SSFC ExCom to further increase the already growing acceptance of catch & release here in Seychelles. Hats off for that one. Caught a few images on video of all that. Watch here if you like. We also weighed our little stuff that was not all that bad as we learned later.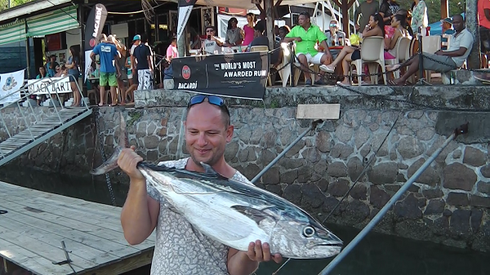 After that we hurried back to Eden Island as we still had to clean the whole boat top to bottom from the carbon that had settled everywhere. Some point even that was achieved and sleep was the only thing we all wished for. The next morning at around 11:00am everybody assembled at Chez Batista on beautiful Anse Takamaka in the southwest of Mahe for the prize giving. There we learned that that boat with the Marlin and the Sail weighed had released another one thus winning the tournament by the margin of those extra points. Congratulations to team B52! Second and same time winner of the Release Trophy on two Sailfish releases became team FinS with Henry Riggs-Miller who actually had fished up north around Denis Island and needed a full four hours for their return trip.

In the species categories we had the second heaviest specimen for Doggie, Wahoo and Barracuda but this way eluding any first prize and ending sixth overall. The 11 boats had realeased 5 Sailfish and as mentioned weighed in one while that Marlin also had been caught. Somehow the Sails had been concentrated in some few areas that day while being really sluggish. Not so that Sunday anymore as our skipper Joliff had a charter while we were celebrating and reported eight Sailfish caught in just a half day on the back of Mahe towards Silhouette. Also my favourite area off the Sister Islands had been full of them as I later learned from Mervin. He had been fishing there on a charter that tournament Saturday and saw dozens but they would not eat so he had to make do with a single Wahoo. Still another confirmation for what my old friend Ton Pierre is preaching for ages and what I also have learned: for Doggies and large Yellowfins one must go to the Drop. For Marlin one should though there are always chances on the plateau. But for Sailfish the areas around the islands tend to be more reliable and especially in such heavy weather it is hardly worth taking the gamble and long trip to the Drop. Wonder if we will still remember that lesson next year. Last week the wind was a bit lighter around 13 knots and the forecast for days insisted it would drop to around 8 knots this weekend. This made a few people go out in recent days. Yesterday Faizal reported from Mahe that he tagged and released two Black Marlin of around 150kg and 170kg. On top they missed two more of about 150kg and 250kg.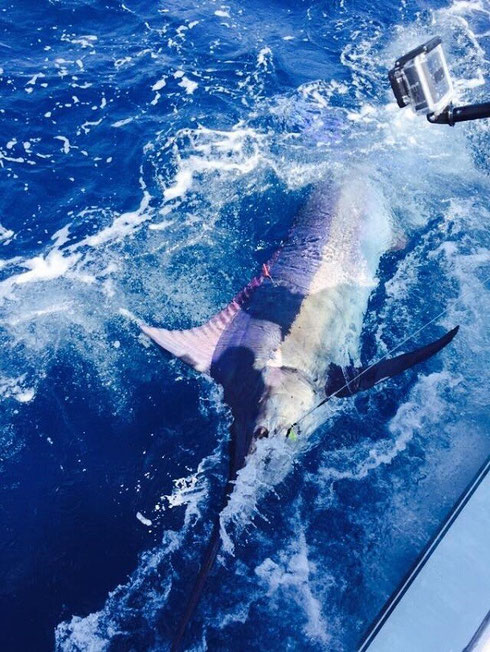 Another boat caught a whopping 40 Tuna, lost a Marlin estimated above 300kg on the gaff and boated another of 200kg that died in the fight. So somewhere the water must have been boiling. Definitely not around Praslin though with two charters resulting in a few Tuna and Dorados but nothing special. As the wind actually was quite calm today at around 8 knots I went for my favourite sports again after a long wait: the triathlon of trolling, jigging and popping. But this also was far from magic. Pulling two lures to the jigging spot did not even produce a knock. That jigging spot which worked so well from November until February but disappointed since did the same today. Nothing but annoying Pickhandle Barracudas and Sharks underneith the big cloud of bait once more. On some coral that I found rather accidentally at least two rather small Groupers came up for the kitchen. Popping finally was plain dead without even a miss. The water was as green as I had never seen here before and in waves of 1-1.5 meters it was more than tough to get the popper working properly. Wanted to do that same wokout again tomorrow west of Praslin but the latest forecast update now predicts 13 knots of wind which is definitely too much for this kind of stuff. Last but not least: The semiannual print format `Meeresangler-Magazin´ of the `Deutscher Meeresangler Verband´ (German Federation of Sea Anglers) published an article I wrote about fishing in Seychelles. In German obviously. Download and read it here if you like.

For the preceeding reports check the archive.