On the day of the last report Mervin´s group of Tadej and friends had been out again without me for Drop Off jigging. That once more went perfect regarding numbers and sizes of fish caught. Outstanding was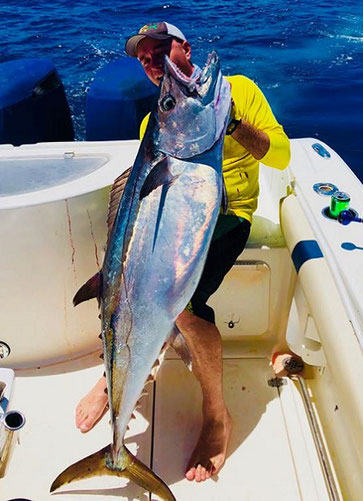 this Doggie of 42kg. Not only because of the size but even more with a view to the circumstances. Martin caught this fish on a PE2 jigging combo and 30lb leader. Epic. Obviously some luck involved as the fish was hooked so perfectly that the teeth could not reach the tiny leader which would have never lasted those 45mins. On top Mervin managed to keep the boat right above the fish all the time. So fantastic effort by all involved. That same day the 9G Sportfishing Team of Mahe reported a Super Grand slam of Sailfish, Wahoo, Tuna and Dorado. Not so uncommon here but a Dorado this size is quite special for our waters.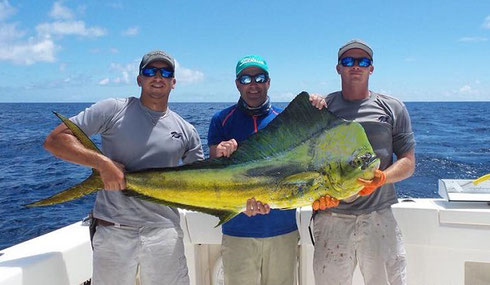 Also they picked up one more of those ugly Black Snoek from the depths. Quite welcome is this much better pic after the one from the last report was not so perfect. And this specimen looks even bigger than the one from the tournament.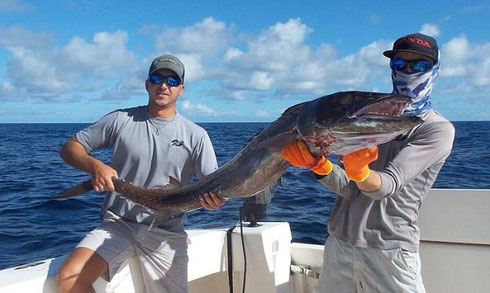 The next day I tagged along again with Mervin and Tadej´s group. This time to the northern Drop for mainly topwater fishing and it was very entertaining to say the least. Doggies of up to 40kg came up every so often at the first spot not far from a small island and they striked. But the big ones just did not get stuck, only a few smaller ones and several Jobfish. A little later we had a whole school of Yellowspotted Trevallies around the boat. These were literally fighting for the lures and could be hooked without any casting. Just pulling the popper along the side of the boat right beneath the rod tips was enough to make them wild. That was a nearly surreal scene and the video is much more impressive than this pic.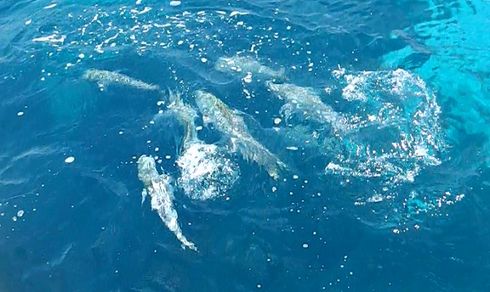 Jigging was inexplicably slow all day despite a rising tide but casting for Yellowfin Tuna produced massive action once more. Every so often those fish hammered the lures another had just missed or dropped. Even just a few meters off the boat and so did also a Wahoo that nearly jumped inside on the strike. Do not miss the video with loads of live strikes. The following day the group fished on Djab Lavwal and skipper Christian proved that he also knows his stuff. In the course of the day the group caught about 30 Doggies of up to 45kg. Somehow there is no really good pic of that largest fish but this one caught by Tadej of around 35kg is also not bad.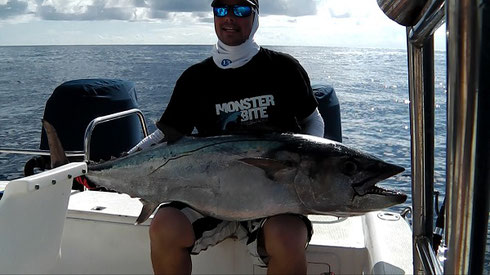 He also had a monster of surely +60kg ripping a jigged Bonito in half and even returned to grab the head thrown back in the sea but was not interested at all in a quickly offered livebait. Bits of popping in between produced Yellowfin Tuna, a Skipjack and a Wahoo on top. The guys fished hard but no-one was willing to cast at that Marlin leaping nearby. While jigging a Sailfish started to jump a few times right at the boat and it took them a while to realize that it was actually hooked. But eventually the fish came away. The other usual suspects like Jobfish, Amberjacks, Black Trevallies and Groupers were of course also around. Among those we got to admire a few of these beautiful Moontails in good sizes. Prettiest fish of all if you ask me.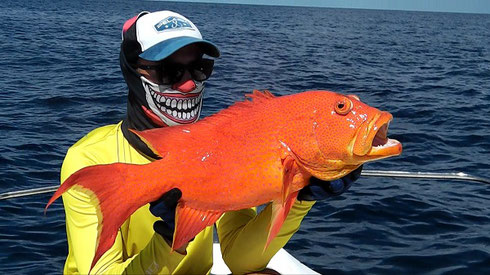 The following day which was Saturday the 18th they should have gone out once more with Christian. But they had to cancel as the wind had breezed up a lot overnight and the conditions were beyond jigging. But I went with Mervin and German returner Daniel to the Drop. A few tryouts of jigging and popping early and in actually too tough conditions produced a couple of Tuna and Amberjacks.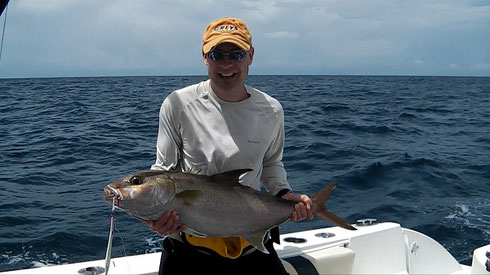 With the windpicking up ever further after a few hours trolling was the last resort. With a handful more Tuna, two Dorados, a Wahoo and one out of three Sailfish raised this resulted in another Offshore Super Grand Slam so no complaints.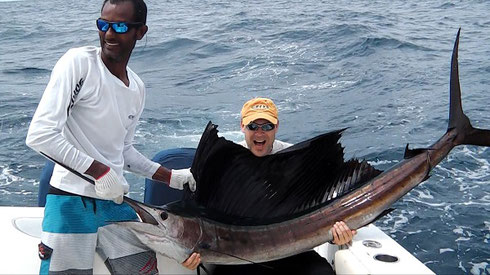 All strikes came close to the Drop though while during three long hours back to the islands nothing at all happened. The area we worked last in which the Sails had been piling up in the preceeding months was simply empty. Seems especially those did not like the drastic change of weather as the following days also showed when German returner Stephan from Blue Water Lures started his series of trips with Mervin. A day and a half raised only two to the teasers. That one morning´s popping was also slow with just one GT raised. Instead many good size Doggies showed up but also lacked aggression and appetite. Things were a bit better further north for Greg (Aquatic Dream) who took some newbies popping and jigging on the plateau. A couple Tuna came off but jigging they caught lots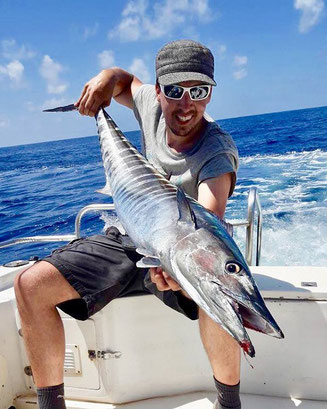 of Green Job and some more fish. On the 22nd and 23rd in still quite strong northwesterly wind he reported some trolling catches of Dorados, Tuna, Bonitos and Wahoos. 
Meanwhile Mervin worked the Drop Off with Stephan in search of jigging fish. They found many but only on the sonar and the bite remained slow compared to the red hot jigging we enjoyed before the weather change. But there was the odd nice one in between like this Blue & Yellow Grouper.
Trolling teasers back home raised two more Sailfish which were both caught pitching and eventually released. Also along the following days they got the odd one but still no match to the previous weeks.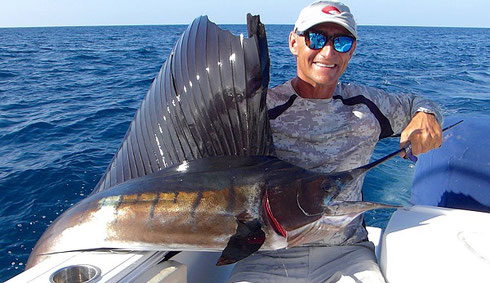 On the 23rd my good old friend Marco arrived for fifth consecutive year, this time again with Jörg. Two days later we went out in search for GTs but despite working all the spots in the west thoroughly we only got to see a single small one. Light jigging was also slower than usual as while we could have filled the boat with Jobfish the other species were sluggish. Thus the best fish of the day was Marco`s Yellowspotted Trevally.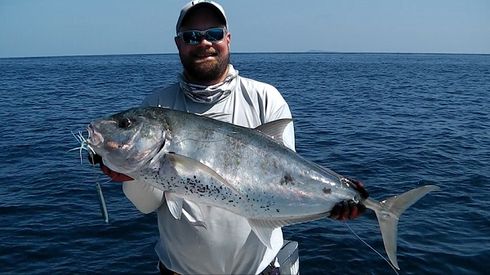 Mervin in the meantime fished south where I had planned to go the following day and got a GT of close to 40kg. So we were pretty motivated despite a much rougher sea and a good bit of wind but along the morning hours which still allowed for topwater fishing on the low boat again had just a single miss. So I was more than surprised as Mervin reported a whopping 6 GTs from the western spots. Know these quite well by now too. But clearly not as well as he does so hats off.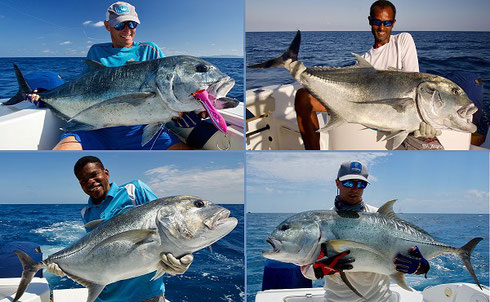 That westerly wind of 13 to 17 and in peaks above 20 knots predicted for this whole week had established itself on Monday so we stayed on shore. Mervin`s guest Stephan still wanted to go and while popping was not possible any more even on the larger boat they still jigged on the plateau with good results. Quite far south they picked up Yellowspotted Trevallies and some Doggies of up to 25kg that day and also on Tuesday when they on top lost three much bigger Doggies to the shallow granite structure. Simon (Island Rhythm) was also out but for trolling and got a handful of school size Tuna plus a Sailfish. A few days before in still calm seas he had been fishing outside the Drop catching next to another Sailfish a series of nice Yellowfins in the 30-45kg range and this real whopper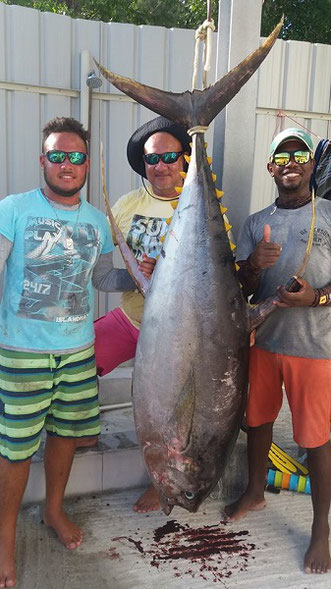 of 88kg which is now the new national record. Fighting time was 1:30hrs. Congratulations!
In about a knot lesser wind yesterday Mervin once more went south with Stephan and again they saw many Doggies of which some were huge but these would not strike and thus they had to make do with smaller catches like Jobfish etc. Marco, Jörg and I are still stuck on shore due to the rough conditions but the chaps keep their spirit up by daily fly fishing sessions. As the island doc instructed me yesterday to expose the still troubling wound from my stingray incident to seawater I am in since today which was joyful. In 4 hrs we had some 50 or so smaller fish between us and on top Jörg enjoyed a hell of a fight with this beauty of a Brassy Trevally.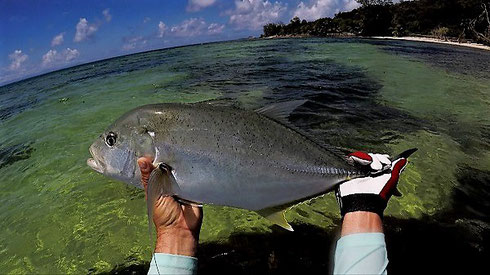 Most welcome motivation for the coming days as the forecast predicts persisting and strong westerly winds to our frustration right until my friends´ departure date. Thus chances to get back on the boat unfortunately look marginal at the moment so one will probably find us on some reef.
The first half of November brought us the usual low and changing winds with only occasional stronger spells around some cells bringing some much needed rain. On the fishing side things also looked pretty perfect which showed already Friday the 3rd for the La Digue Tournament.  This year 16 mostly large boats took part.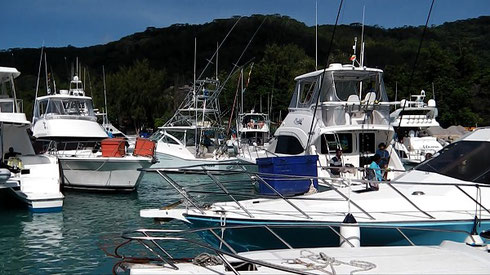 Usually either sad when I could not make it or enthusiastic about the event this time I let it pass rather unexcitedly. The smallest boat in the competition still was above 30ft while the bulk were large sportfishers of the +40ft class. Would have had the necessary sportsmanship to compete against those on my 17 footer but the again extended fishing time to now 29hrs just made it impossible: simply not enough bouyancy and storing capacity for fuel, ice fish etc. But I went over to La Digue Saturday afternoon for part of the weigh-in and got to see plenty of fish with some really impressive ones among those like these Amberjacks of around 30kg.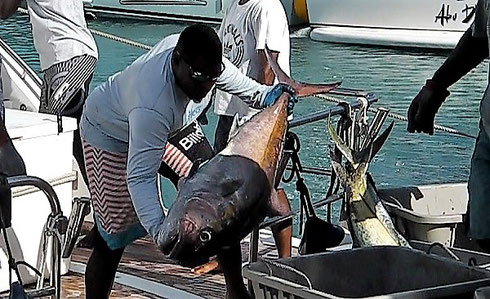 Some Doggies of up to 40kg were offloaded and also one more of those ugly looking Oilfish, also called Black Snoek. This one to the left in the pic was the largest I saw so far and it seems there is another World Record application pending now.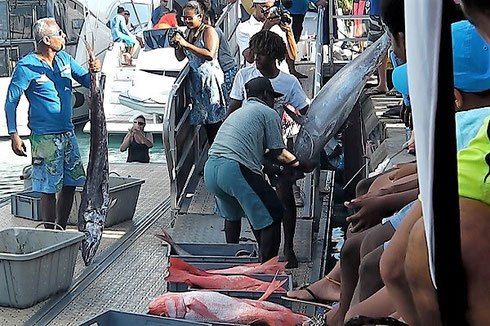 Lots of trolling fish like Dorados and Wahoos hit the dock but pleasantly no Billfish any more as for the first time in the long history of this tournament these were to be released. Good move eventually by the Seychelles Sports Fishing Club. Saw countless Yellowfin Tuna while mostly in school size a few fish that looked close to the 40kg mark were among them and also the largest Ruby Snappers were impressive.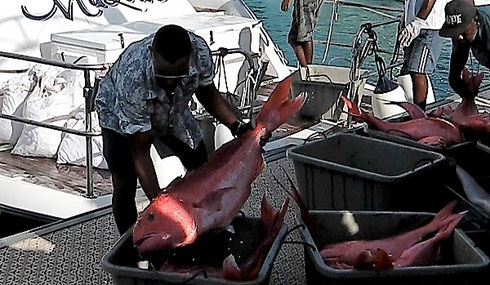 Strangely until now no detailed results as far as the heaviest specimen per species etc. have been published and neither the total catch. But am pretty sure it must again have amounted to 4-5 tons and as every year the proceeds from the sale went to charity. Sunday I just had to fish a bit myself after seeing so much fish and went very early to make use of the last hours of high tide. After that the light jigging was a bit slow but that did not bother too much with already a GT under my belt. At 108cm fork length and thus according to the formulas 24.5kg just an average specimen but surely one can run into worse things in life.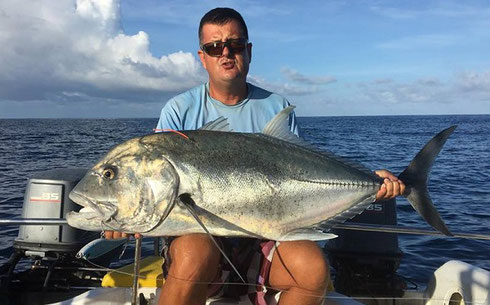 Had another miss shortly after instantly after the lure hit the water but could do nothing about it as the line was still in a high arc up in the air. Strikes often come here shortly after impact but this one I must have cast right onto the head. A Jobfish and a Rainbow Runner also on stickbait rounded off this bit of topwater fishing quite pleasantly. The following day, so Monday the 6th, I tagged along with German angler Gerhard and skipper Greg on Aquatic Dream for DropOff jigging. No monsters that day but with some 50 or so fish caught and two smaller Doggies plus Amberjacks as well as Amacos in the mix it was a solid thing.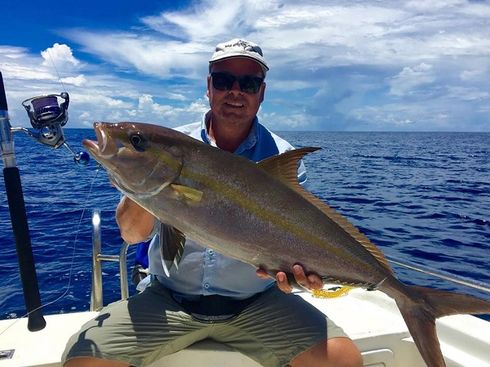 Only the Yellowfins were not cooperative or rather accessible on casting lures that day with the only one willing to take dropping the hook eventually. Still we had great fun out there and many thanks to Gerhard who next to my camera duties let me also fish a little. Goal was to put my light PE2.5 jigging combo to an ultimate test. Did not get to that limit but a good size Amaco on a 75g jig and on 30lb leader from 120m depth told me I should not push it too much further. Next day, same boat and crew but different guests and programme: Marc who had been here a year ago and warmwater newbie Stefan were supposed to exhaust themselves popping and jigging around an island at the northern Drop. Especially the first part worked nicely with the Jobfish full on.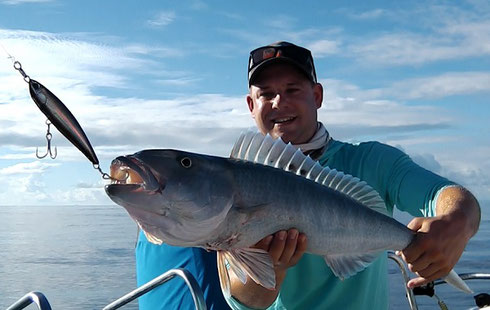 Doggies in all sizes also showed up but from all of those and despite many attacks only the by far smallest one got stuck. All others came away and the biggest one of about 35kg did so breaking Marc`s treble hook. Sad but he was compensated by this really decent Bohar Snapper eventually.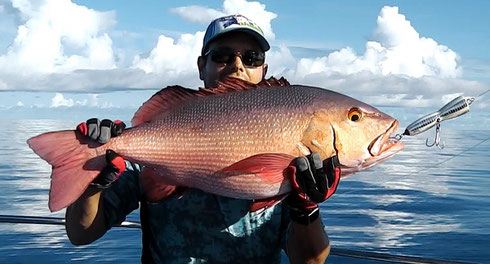 Jigging later in a fastly and very small low tide was a bit slow by numbers but still produced some good fish like this very presentable Doggie.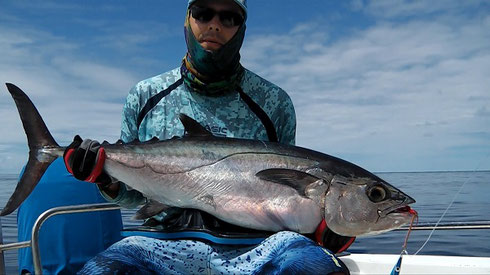 And this Black Trevally is also a pretty big specimen for our waters.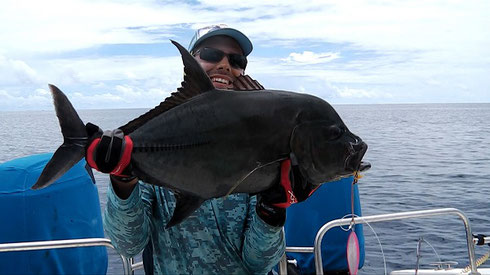 Greg`s proposal to cast at those Yellowfins showing in the area every so often was considered a welcome diversion and the fish were cooperative. The largest one out of the pic below dropped the hook close to the boat and went down slowly and dizzily into the depth when Phil just jumped after it. Not bad catching a Tuna bare handed and on top with a view to the common Sharks that love to munch on hooked fish. So no coward that boy but he did not stay in the water any instant longer than necessary.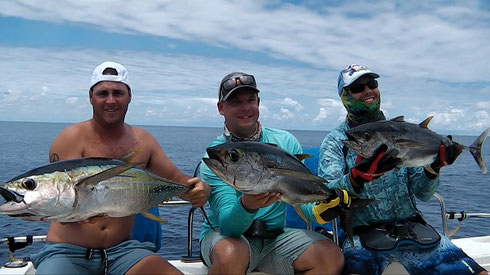 On the way home Greg stopped a few times to give the two anglers more casting opportunities at pelagics and along with some additional Tuna a Dorado on popper for each of them rounded that cool day off in style. Even the ladies on board admitted fishing is not boring at all. Can there be a nicer compliment for your beloved sport?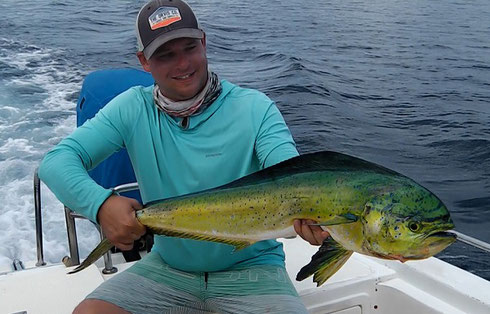 This was a really entertaining trip for all on board and if you like to share the experience to at least some degree jut watch the video. Thursday the 9th we all went out again this time in pursuit of GTs. That was tough as those fish were not active on any of the many placed tried. Stefan had two misses at one spot but apart from that the anglers had to be content for long hours with a Pickhandle Barracuda and a Jobfish each. Only late afternoon Stefan got another hit that looked like a solid hookup but seconds later the fish was gone and the popper came up with the two hooks entangled into each other. How weird that the GT took on just that one and only cast this had happened all day. Still both fishermen got into some fighting action after that unfortunate incident as Marc got a Yellowfin Tuna and both anglers brought a Shark each to the boat.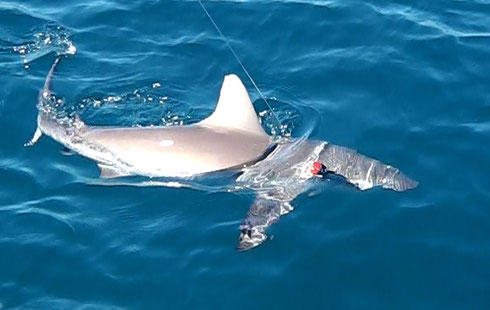 Around those days covered Greg also had taken a regular returner fly fishing. On Friday the 10th the chap was already a bit worn and the wind too strong for fly casting so they resorted to some spinning and a few occasional casts with poppers. Strange how things go: only the second cast already produced a GT hook-up on a spot we had worked intensely the previous day. The fish made it to the rocks and went lost but they had a few more raises on top. So again it showed that the short spells of GT activity remain fully unpredictable. All that works is persistance and of course that bit of luck. But that popping here can still be a great experience even without a GT became clear only a little later as catching a Sailfish on popper surely is a great experience for any hard-boiled angler.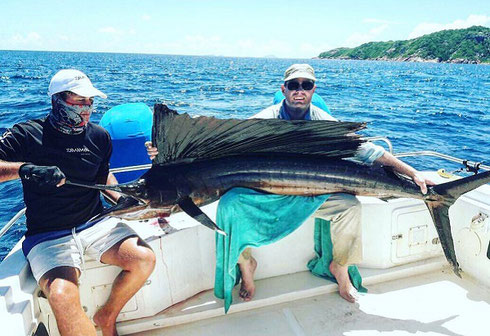 The fish was of course released after the pic. Great on top that the guest also managed to achieve his ultimate goal of catching a Dorado on fly after many years of unrewarded trying.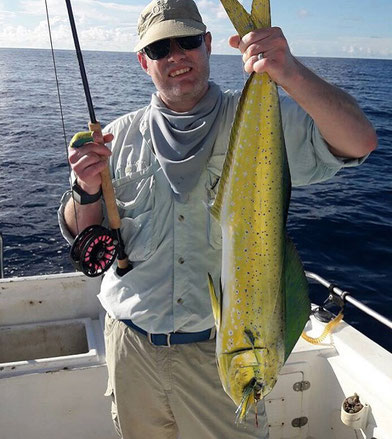 Not trolled but instead on proper casting at the fish. Only mentioned by the way as to point out one more of Seychelles´ literally endless fishing options. All along that week Mervin (Divinity) fished with a group from a French tackle company. The lads were armed to the teeth not only with gear but also cameras and captured footage of many great catches but keep it exclusive for their own marketing. So only bits to show you here are a few pics from Mervin´s and crew Stephen`s cell phones unfortunately. Jigging at the Drop produced over a hundred fish during the first day already. Along Amberjacks and all the usual suspects they released a Sailfish on jig while a Marlin took another right under the boat. That one was not to be controlled on 80lb leader though and got away after a stunning aerial display. Several Doggies up to nearly 50kg came on top.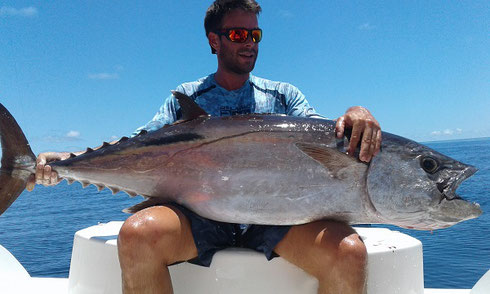 The second day went in similar style. Outstanding catch not by absolute size but in relation to the species´ maximum was a massive Rusty Jobfish that must have at least challenged the standing World Record but was not weighed. One day the group focussed only on casting for Yellowfin Tuna catching 28 of up to nearly 30kg. Some larger ones came away as against Mervin´s advice the group kept fishing too light. This also gave some GTs the chance to reach the rocks on another trip but still 5 fish of up to 35kg were released and a much bigger one broke a hook.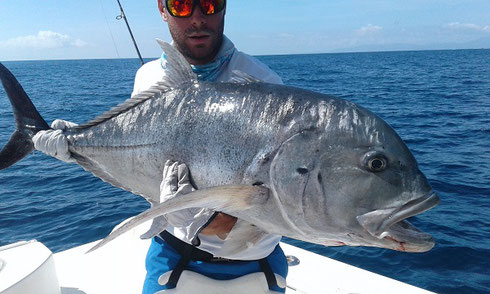 Towards the end of the week the current at the Drop came apart but they managed to get some really fat Groupers. Bringing these up from more than 150m in windless conditions and blazing sun surely makes any gym appearance obsolete for a few days.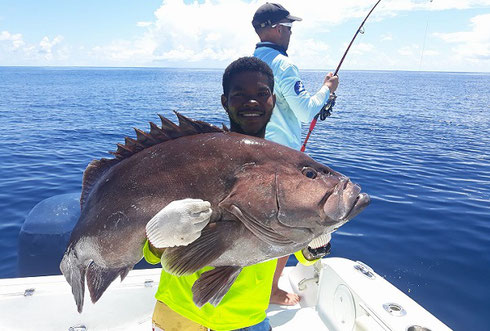 All in all the anglers were more than happy and eventually so worn that they cancelled their last day for a bit of recovery and sight-seeing. Actually makes sense to enjoy and soak up the outstanding beauty of this place at least to some degree. But to let the very last chance to fish slip away? This I think one really only does when exhausted completely and all fishing dreams have already come true. The last weekened presented us with lots of rain and a stronger spell of southeasterly wind. Was somewhat surprised that Mervin had actually gone out for Drop Off jigging with his new group led by last year`s guest Tadej. Was worth it though despite the pretty rough conditions. This Amberjack was by far not the only great catch among the 70 or so fish recorded.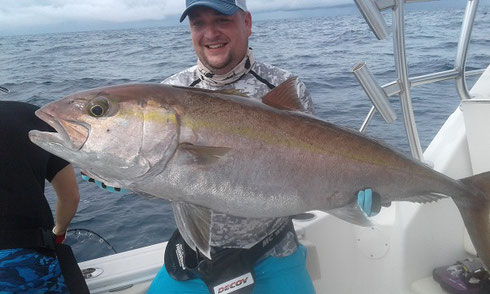 The Groupers were also cooperative once more.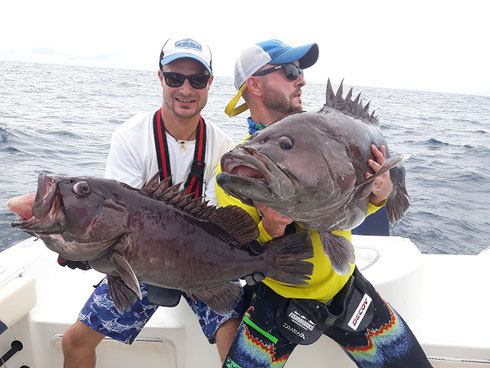 And some of those tasty Ruby Snappers which bear their name for a good reason were in the mix.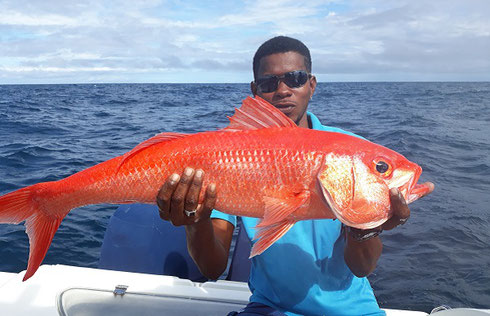 Monday I tagged along with them and had the pleasure to witness another great day`s fishing. The Yellowfin Tuna would not show up on the surface but jigging worked.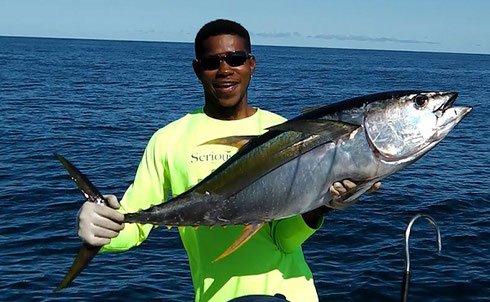 Current was very weak in dead calm conditions so the bite in the depth was a bit slower compared to the previous day but there was no reason at all for complaints. As this report will else just burst here a small collage of a few cool fish caught until noon.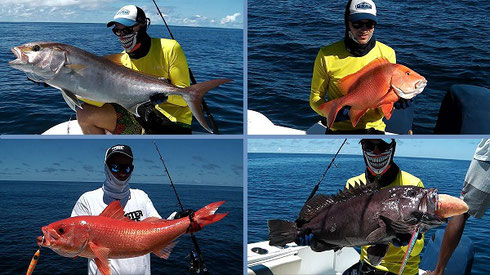 Along the afternoon and around a small elevation things then really came to life: about every second drop of a jig produced bites by Rainbow Runners, Bonitos, Jobfish and different Trevallies.
The Sharks with some big ones like a nearly 3m Hammerhead among them would not miss that feast though and took their toll of fish, assits hooks and jigs. But some had to pay the onboard dentist a visit eventually.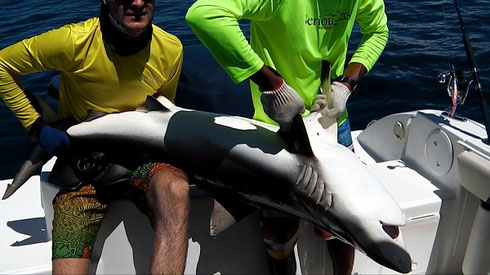 Yesterday then it was the same group topwater fishing around the islands. Bit of an unlucky start as early two Doggies of around 35 and over 50kg missed the poppers. The Sharks on the opposite aimed much better depleting the angler`s arsenals by stealing a few not so cheap lures. From then on though things developed nicely: a spot produced two baby GTs of around 5kg before a teenager of maybe 17kg was caught. A couple Yellowfin Tuna and a mid size Doggie were next after a big one got away and a Sailfish on popper followed.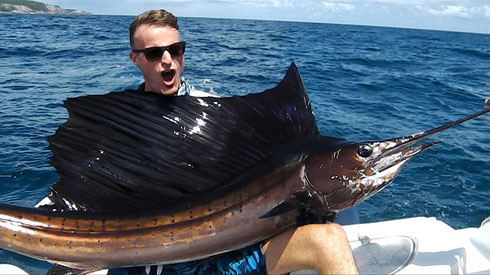 With several smaller fish like Barracudas and Grren Job also caught the only thing from the wish list still missing was a proper GT but after another of the kindergarten ones it came.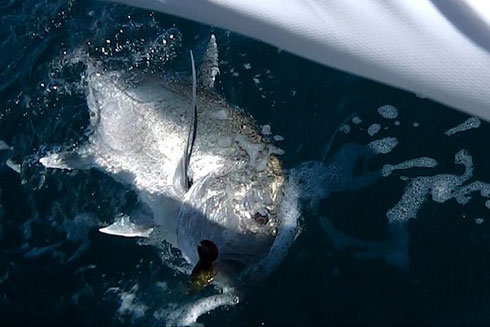 At around 24kg an average specimen but it rounded that day in very mixed weather conditions off perfectly. Get a lively idea of this day`s events by watching the video clip and find plenty more pics of those last two weeks on the facebook site if you like.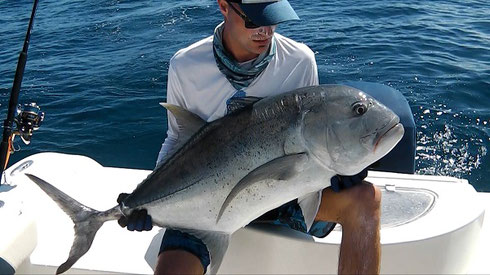 The nice group of anglers is all happy so far and deeply impressed by the stunning sceneries they enjoy here during their fishing trips. Today they are out again and I sitting here over this report am curious what they will have to report tonight. Last but not least a brief glance at the trolling side of life: the really hot days with flat calm seas as usually did not really make the pelagics queue up for the fishboxes but with a bit of wind fishing was good. A few Marlin catches and misses were reported and the Sailfish show as soon as the wind comes from southerly directions. But even without those the plenty Tuna and Dorados as well as the other smaller Gamefish like Wahoos and Barracudas provide for lots of action and happy anglers. Here two of the latter caught by Christian (Djab Lavwal).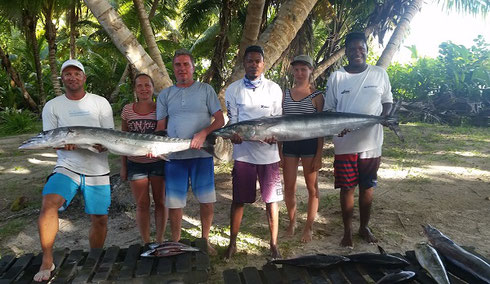 Only so much for this time but this good dose of pics and catches should feed you well for a bit I hope.
For the preceeding reports check the archive.