As mentioned at the end of the last report Seychelles was expecting some pretty bad weather in the days after. Luckily it did not get all that ugly but I was nevertheless glad I had taken my boat into the shelter of Baie St. Anne. On the way I popped a spot a bit for an hour or so recording a GT strike which was my very first there. Along the following wet and windy days a few more news from the preceding weekend came in. Mike (Alati) had a trip to remember that among lots of other fish produced this mountain of Amberjacks.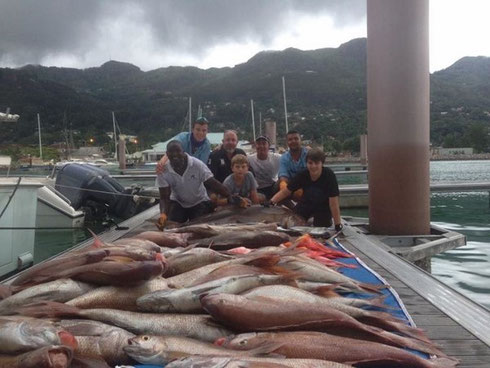 The largest specimen hit the scales at 31kg. On top the team released two Marlin among which was this one of about 80kg caught by a 13 year old junior angler.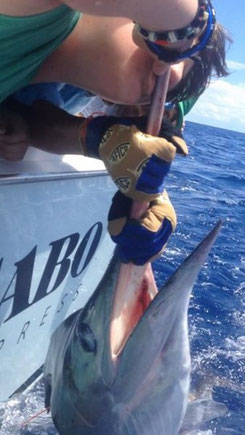 Also Charly (Squalo Uno) had been fishing a spot close to Praslin and lost a Marlin only a few meters from the boat. He estimated that fish at over 200kg and when telling me about it his face was as dismal as the weather which continued to be unfavourable for the following days. As the Christmas tourists also only started to appear in Seychelles from the 20th onwards nothing at all happened on the fishing front for a while. Only on the 23rd the sun came out again and on the 24th conditions seemed okay enough to try a bit of popping around noon. Not the best time of the day for such stuff and also the rising tide was only small so expectations were rather limited. Still in about 2.5hrs I recorded 4 GT hookups of fish between about 18 and 35kg. Three dropped the hook which tends to happen occasionally due to the barbless singles and the last one stole the popper. On top some point I saw a huge silvery shadow behind my lure and thought of the mother of all GTs. But when the popper came closer to the boat I figured that there were actually 4 GTs of about 20kg pushing and shoving each other away in their pursuit so none did strike. First time for me to witness this and quite impressive. Eventually I had to call it a day without the Christmas present I had been hoping for and to add to misery also one key broke off in the ignition lock. Still I was not really unhappy as finally popping had produced some reasonable activity again after a long drought. And the spectacular strikes had set free quite some adrenalin also.

Already the next day the wind returned and Greg (Lil Red) had a half day fishing in the morning that produced 7 Dorados and a lot of Bonitos. Mat went for some bottom fishing with friends with a good return.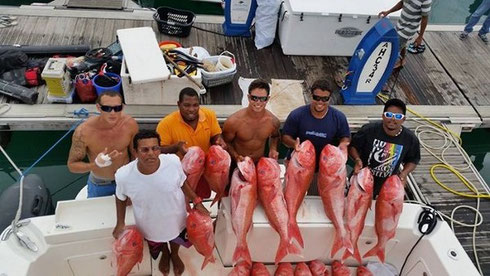 That evening word went round that not far from Mahe Seychelles´ very first Grander hat been caught. Along the next two days details surfaced. That Marlin had got away on the gaff breaking the leader and was estimated at a 1000lb. In the end the footage was not clear enough to confirm its weight above the mark without doubt. But if eventually just below or above it is in any case an outstanding fish and same time clear evidence that Seychelles´ waters hold Grander potential.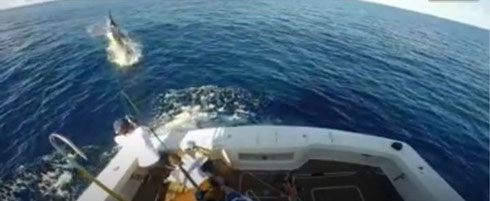 Since Christmas the weather allowed for fishing most of the time but was not really tempting to do so. Rough and wet spells took turn with calmer ones every so often. While it was allright Praslin saw a couple more fishing trips. Mervin (Divinity) had a reasonable day with plenty Dorados and a small Sailfish of about 10kg. Christian (Djab Lavwal) missed one as well as a decent Wahoo but made up for that while bottom fishing with some nearly trophy size Emperor Snappers and Groupers. Christopher (Ella) had a really great day trolling with 3 Dorados, 2 Wahoos, a Tuna and two Sailfish. Also a few days ago a dead sperm whale drifted past Praslin. As I heard a lot of big Bull and Tiger Sharks had a feast and a couple of those were caught. Yesterday I went for 2hrs of popping again recording two decent Jobfish following the popper and a brief hookup of a silvery fish of about 3kg that I believe was a small Dogtooth Tuna. Eventually I got on a smaller GT of maybe just 20kg but lost it to a broken hook. Andre (Lil Red) same time had been out for a couple of hours jigging on the plateau. This produced him plenty Pickhandle Barracudas, a mid size GT and two nice Bludger Kingfish in the 10kg area. Last but not least Mahe reported 4 more Marlin catches of which two were released.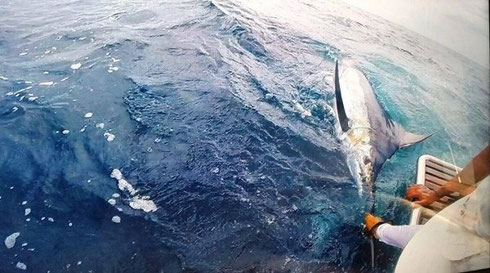 The underwater picture below I think resembles the perfect and proper termination of a great fishing year that so far provided a remarkable Marlin season.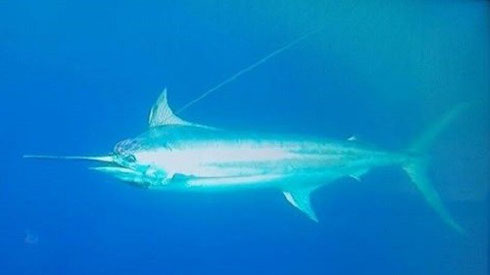 Many thanks to all readers for your interest in these reports during the year now nearly gone and of course a Happy & Prosperous 2015 to all of you! Tight Lines!

The most recent report already announced some coverage of the Billfish Classic Tournament held off Mahe on November 29th. This event was quite special in a number of different aspects. For one it was only the second edition of an All Billfish Release format in Seychelles. On top it represented the first ever International Great Marlin Race (IGMR) in Seychelles. The Seychelles Sports Fishing Club managed to get sponsorship for an impressive total of 12 satellite tags priced at around 4,500US$ each so nearly all the boats competing were equipped. My German friend Marco and I jumped for the opportunity to fish with Henry Riggs-Miller, owner of FinS Tackle (www.fins.sc), on Albemarlin. This fantastic 41ft Albemarle with all bells and whistles is owned by Ruslan who was kind enough to accept us in the team together comprising also of his father. Even without any catch fishing on such boat would have been a great experience but thing turned out better. A lot better actually after the whole trip had been in jeopardy until noon the day before due to some repair on the boat. But at 3am Saturday morning we actually ventured out into the dark and travelled those 40miles to the southern Drop Off comfortably and fast helped by 1,400hp. I do not remember who selected our spot to start fishing but whoever it was definitely deserves some laurels. We placed 4 larger Marlin lures for a start and then wanted to make a plan. Got no chance for that though as after only a few minutes 3 lines went same time. Marco and I each played Yellowfin Tuna of about 20kg but Ruslan had a Sailfish on. As this one was worth a lot more points we buggered up the Tunas for classification in the bit of chaos that evolved. Not so easy to coordinate a team that had never fished together before and on top had to produce video evidence of all releases with an identification card visible that had been handed out before the trip. But somehow we got it right and bagged our first points early.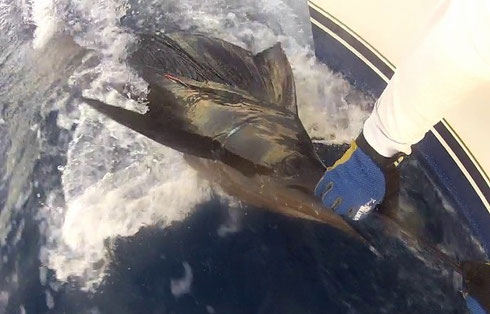 Within the next half hour we recorded two more Sailfish strikes but unfortunately none of those stayed on. Little time to mourn though as only briefly later Marco had a Black Marlin on. We estimated that fish at around 70kg and he managed to bring it close to the boat and the wind-on leader through the guides quite quickly.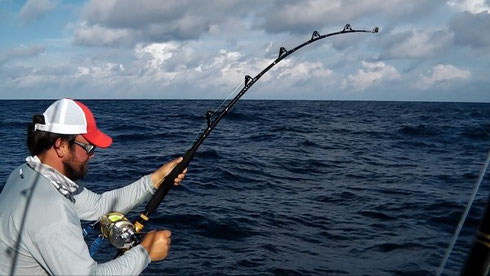 This meant an eligible release according to IGFA rules already. But the Marlin took off once more and also on the next attempt a little later it pulled the leader out of Henry`s hands and went deep. Down there the fish must have died unfortunately. Despite all tricks and attempts applied in the next hour we were not able to bring it up or even just move it at all. Some point after having increased drag pressure gradually the 50lb main line collapsed. This was sad in every way, for the fish in the first line. But also with a view to classification as we had seen the fish clearly but were doubtful if the video footage would be good enough. After that things calmed down and we only caught a small Dorado while losing a Wahoo. About an hour short of Lines Out we got another strike on the shotgun Cedar Plug and everybody shouted `Sailfish!`. On my short way to the rod I already thought that this is the most stocky Sail I ever saw and also the fight on 50lb gear was pretty unusual. So I was not really surprised hearing Marco shout `Hey this is a Marlin` when he wired the fish up. It was actually a small Blue of about 40kg and Henry tagged it ideally.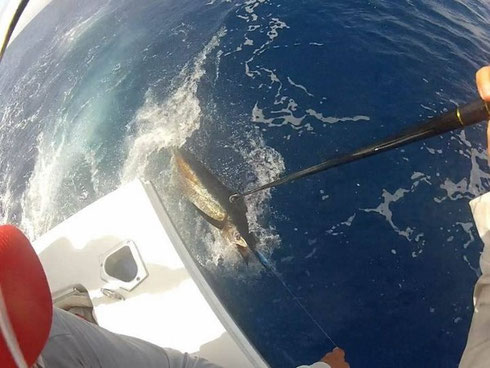 The release also went perfect as the fish just shook itself and the lure came out so we excitedly watched it swimming away. Watch the youTube video here if you like. With a Blue and a Black on top of the Sailfish we felt we should be in the race so Ruslan made sure we would reach Marine Charter in Victoria in time: absolutely no problem for this impressive boat and we created quite a bit of attention with our flags flying on the outrigger.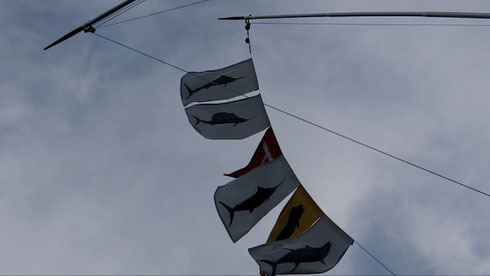 We had nothing to weigh but our skinny Dorado but the other boats had brought some decent fish home. Among those were these beautiful Yellowfin Tuna by Alati that weighed around 50kg.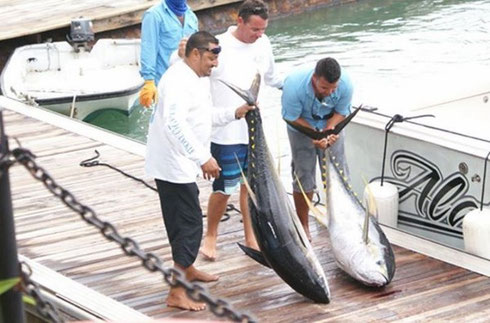 As the prize giving was only to be held the following weekend as part of the annual SSFC gala evening at Kempinski Hotel on Mahe no results were released yet. But the flags on the other boats put us in an optimistic mood when taking the boat back to the mooring. Later that evening SSFC already communicated though that we had achieved the first ever official Billfish Grand Slam in Seychelles and also BillfishReport.com posted this. So Marco and I the next morning could travel back in a relaxed mood to Germany and Praslin respectively.
The next afternoon Mervin (Divinity) phoned me while still at sea and asked me if I would come to the jetty with a camera later. This was worth it as his guest, a quite renowned German angler, had caught this impressive Yellowfin Tuna.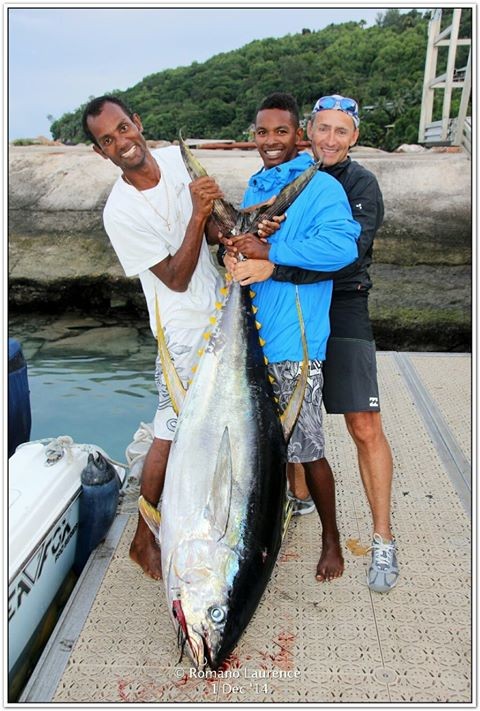 This fish weighed at a whopping 83.5kg and would have been a new official Seychelles record if only the scale had been certified. In the following days there were only very few trips due to the traditional touristic off season until Christmas. But big fish were still abundant as a boat off Fregate Island released 3 Marlin in a day and another of 250kg was brought to the Mahe docks.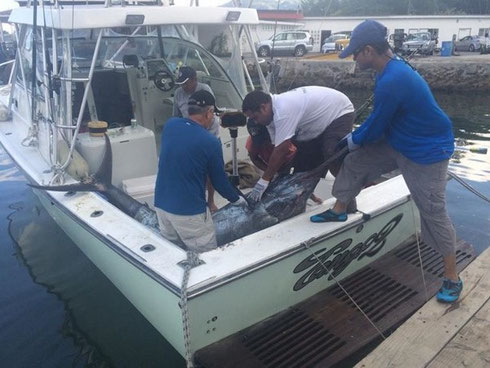 The following weekend I travelled to Mahe again to attend the prize giving gala. After some excellent food we learned that our team had a lot more to enjoy. We won the Most Sailfish Releases prize as the only other one caught had not been eligible. On top we shared the Most Marlin Releases prize along with two other teams as for our Black as somehow expected the video evidence had not been sufficient. But that did not really matter as we had still produced enough points to turn out overall winners.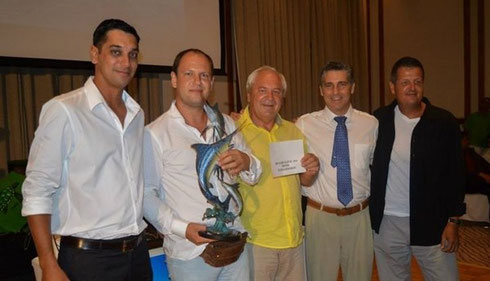 This was of course as fantastic as the fact that 3 sat tags had been deployed and were perfectly placed as the videos showed. One more Marlin tagged was this 70kg Blue from team Blue Lady.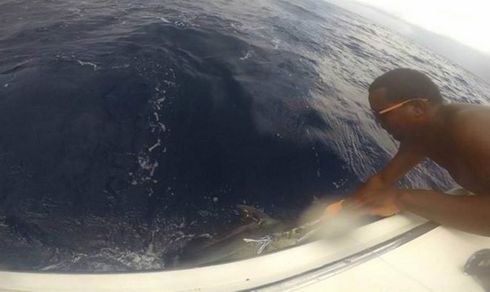 Last but not least the third was this beautiful Black of around 250kg by Island Star.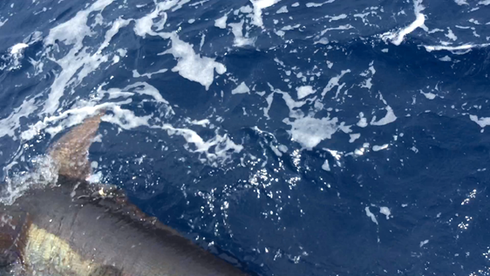 This team also won the Team Of The Year trophy covering all tournaments of 2014 and top there were plenty other prizes awarded. It really was a very nice evening with pretty much all the fishing community having joined in. Many thanks to the SSFC ExComm for this, the whole tournament organization throughout the year and lots of innovations and progresses on the conservation side. It really seems that tag & release here in Seychelles is making its way even as it will still take time until it becomes a natural habit. But the steady drop shapes the stone.
Since this event or rather even since just before there was very little fishing activity to report for the reason mentioned. Some skippers as usually this time of the year took leave and also the wind had dropped to nearly nothing some of the time resulting in quite a heat. In the meantime my old friend Manfred had arrived from Germany and due to the not so promising conditions for trolling we tried some jigging close to Praslin for a start. A first trip to a spot that was advised to me for occasional Dogtooth Tuna produced quite some fish but not the target. On the way back we trolled a Halco without much expectation over a spot that had jumped my eye on the plotter and seemed worth a little detour for closer investigation. There we received a hefty strike on the 30lb outfit and funny enough the fish actually turned out to be a Doggie of nearly 20kg that made 73 year old Manfred pant.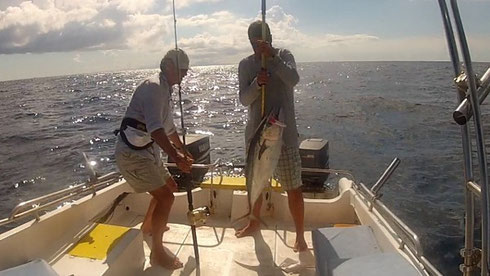 Of course I dropped a jig a couple of times right away and the sixth or seventh retrieve was stopped in mid water. After two seconds of mutual surprise that fish just went down and away in an unstoppable run until after 50m or so the 32kg braided main line got cut on something down there. Unfortunately that had been my last suitable jig and also it had gotten late already. But I got two very revealing learnings from this: Obviously there are large Doggies to be found even far inside and close to the inner islands as this I am sure was not a shark. Had too many of those by now and know how these feel. On top a jigging rod for up to 270g with a 8000 size Shimano Saragosa can be insufficient even on the plateau so I will have to rearm once more. Wednesday the 10th we tried this spot again and also two more that also seemed interesting. But a strong outgoing tide along with no wind at all and thus nearly no drift did not help our case. Next to a few Pickhandle Barracudas and small Groupers we only hooked up to 3 sharks. Mine stole a jig and Manfred´s two I managed to release. At least on the way back through the La Digue Channel trolling that Halco again we got a strike of a nice Bluefin Trevally hat was released after a quick foto. Quite strange as at that place never produces me anything.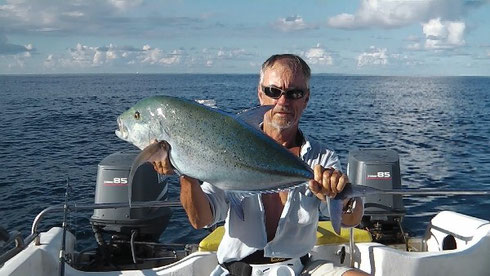 For the next day the wind was forecast at a reasonable 4-5 knots so we went trolling. But we got fooled as that breeze did not materialize. In again a sea like a mirror and blazing heat it was difficult already to just get some Bonitos. On top a problem with my port engine forced us to troll all the way back. Also between the Sister Islands and Praslin I pretty much never caught anything reasonable and while I was on the wheel Manfred and Ted had already dozed off. Suddenly we got a hard knock on a tiny red & white Iland lure and saw a small Marlin of 60 to 70kg briefly before it disappeared. Circled the area for a while but were not able to raise it again. Maybe it had acquired a bit too much of a tooth pain on that first knock so we ended up with nothing but this Wahoo for the day.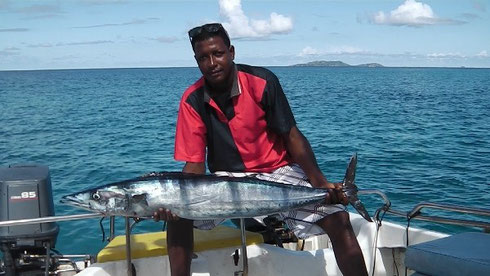 As I learned later Christian (Djab Lavwal) had fished for a half day a bit further north that day but was not much luckier. After missing a Sailfish early he had to work hard to catch a single small Yellowfin Tuna and a couple of Bonitos. Seems that day the activity was further out at the Drop as another German angler fishing on Lily caught 6 Wahoos, 2 Barrcudas and 3 Dorados out there while missing 3 Marlin. Since the weather remained hot and the wind calm apart from some gusty spells in the wake of occasional rain cells. The rainy season is right ahead now and the weather forecast also predicts a very wet week to come along with more and at times quite strong wind. We will see what the effect on the fishing will be or rather what will happen eventually as recently the predictions had not been too accurate to say the least.

For the preceeding reports check the archive.