Thursday the 24th was the last chance to go out with my friends once more. Goal was to get a Sailfish for Charly so we went to the area off Sister Islands once more that had been so reliable for those recently. Getting the Sail on quite early was obviously ideal. This time I was ready to tag it but no chance. The fish had wrapped itself into the line coming tail first and drowned so we had to take it. This can also be watched in the video. At least both of my friends now had a Seychelles Sailfish under their belts so it was allright that the rest of the day produced nothing more than a rather small Tuna and a Dorado plus some Bonitos.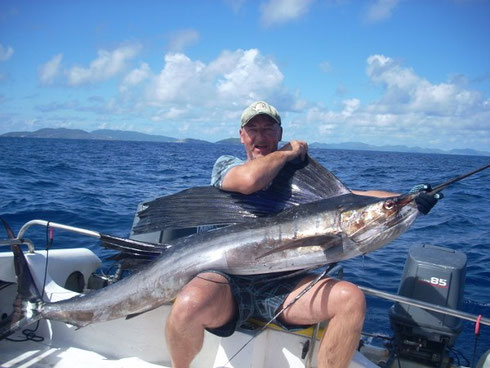 All in all the fishing with my buddies went quite well I think. Of course it can always be better and more: one of these big Doggies would have been nice and we did not get to the Drop Off nor had we time for some live baiting as I had planned. But my lucky streak for Sailfish continued so it is 9 of those between the last 8 trips plus two missed. Strange enough these came on each of the only two trips to the north I did. So looking only at the 6 trips to the east the Sailfish average is 1.5 at the moment which makes me very happy. I have the impression that this area is more productive for Sails these days while the larger numbers of other gamefish seem to be up north. In any case fishing these days was very entertaining and about all species seem to be around. Only exception is Marlin. That none was caught or even seen during the la Digue tournament is rather unusual. Also for quite a while there were no reports of Marlin around Praslin except for Charly (not my German friend but the local skipper of Squalo Uno) losing one that broke the line after nearly taking it all. Around Mahe though in the last couple of days they seem to have appeared. Some hook-ups were reported and a 120kg fish was brought in. Maybe for Marlin this year it is going to be as it was with the Sails: First they were only around Mahe and then moved over to Praslin. Would not mind to have them here by mid of November when I am back from Kenya. The German Championships are on the agenda so I have to travel to Malindi tomorrow.
The last few days were busy producing this quite long report and also the newsletters as there are German versions for both. Also a video clip covering this month´s events is finally online. Watch it here.
See a sequence of tournament boats at La Digue waiting for their weigh-in as well as my friend`s two Sailfish and some bycatch plus the gigantic Wahoo loop. Hope you will enjoy it.
Besides all that I tried to catch up on other catches that might have slipped my attention. Findings were: Greg fished two ´half days´ with guests on Princess Praslin last week catching Tuna and Wahoos in good numbers. He also told me that Edwin dropped two Sails in a day. Also I briefly met with a group of 4 Austrians and Germans that had been fishing with Mervin nearly all of the last two weeks. Their main focus was popping for GTs and it started well with two fantastic fish of 37 & 40kg the very first day. Unfortunately things went slower over time. Ever lesser fish raised, these were increasingly difficult to hook up and if that worked they went lost in the rocks. Also this style of fishing is extremely exhausting so there was a bit of suffering.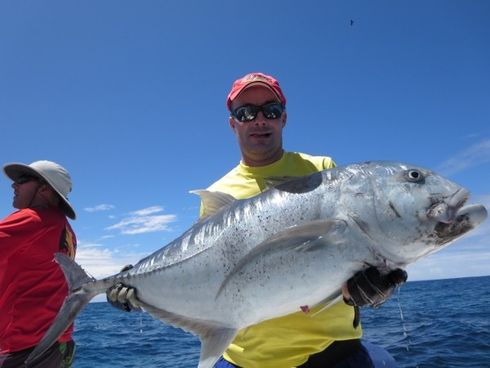 As the two GTs were fantactic specimen you should see them both.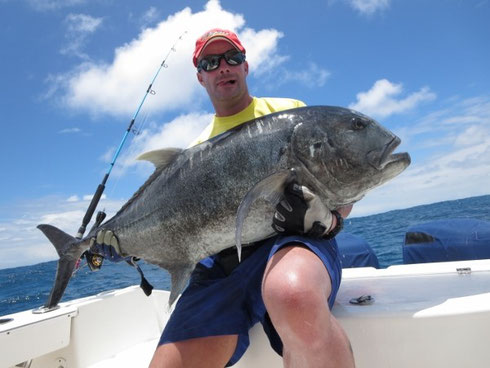 They also had two combined trolling & jigging days at the Drop. Day one was very good with two Sails of around 25 and 37kg among Tuna and Wahoos. Also the jigging went well. I saw some pics of a 20kg Doggie and a couple of decent Amberjacks. Day two only last weekend turned out considerably slower, though. Mervin reckons this is due to the quickly rising water temperature that is now already at 29 degress. Seems he has a point as Christian on Monday got no activity at all except a single Sail that came away. Also Martin back from a month abroad missed two Sails and caught only a Bonito. It seems though as things are already back to normal: Mervin`s guests did another trip today. While trolling a bit they got Wahoo and Rainbow Runner. On top they had a big Shark and a Marlin attacking a hooked Bonito. Mainly they were jigging, though, and apart from Amberjacks and Yellowspotted Trevallies they caught 8 Doggies of up to 40kg.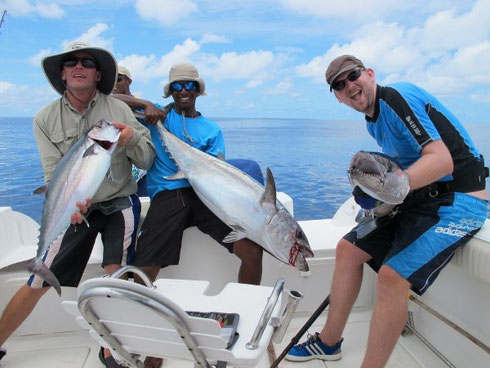 That´s it now for this month. But should be enough to display that apart from these recent few days we enjoyed excellent fishing here once more. Tomorrow I am off to Malindi now for 10 days. Hope fishing well be as good there too as it is here these days.
The days after the La Digue tournament had been rather calm. On the 15th Greg (Princess Praslin) had a trip with guests that were somewhat inexperienced. A Wahoo and a dozen Bonitos may seem entertaining but Greg complained they had lost a lot of fish due to the anglers giving slack every so often. That this particular day had better to offer was demonstrated by Christian once more as his guests bagged the full assortment of Tuna, Wahoos, Dorados and a Sailfish.
That same day I did a first little trip with two German fishing friends that had come to visit me here for a fortnight. We have known each other for more than 30 years from our hometown fishing club and did trips together to Norway, Sweden and several other places so they are experienced anglers. For Big Game though, they had only a handful of trips under their belts and these just as charter guests on regular Big Game boats. So I thought I´d better get them used to my tiny nutshell step by step. For a beginning we went for about two hours of sightseeing along Praslin`s beautiful coastline trolling just two smaller Halcos on their spinning gear. This went nicely as Frank caught a rather small but beautiful Grouper only after minutes.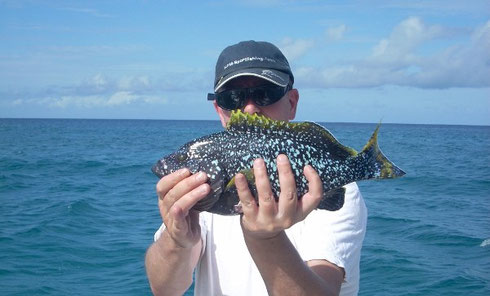 A littler later Charly hooked up with a common size Green Jobfish but 15min later he had a bigger fish on which eventually turned out to be a decent Yellowspotted Trevally. As they got a Pickhandle Barracuda each briefly after that they were right away convinced of Seychelles´ fishing potential - and obviously wanted more. The next day was too rough for trolling so we fished bottom just outside Cote d´Or bay. This produced only a couple of obviously smaller fish but the Leopard Shark of about 1.5m that followed a rig right up to the surface left them quite impressed. The before that briefly discussed idea of taking a refreshing dip was suddenly off the table ...
Friday the 18th we planned for trolling as 11kn of wind seemed very promising. Ted was supposed to join us but had to cancel short notice for professional reasons. So only the 3 of us went and I had a busy time doing everything from skippering, rigging, wiring, doing stripbaits etc. and same time teaching them the basics. With a view to that I was not so unhappy that the bite was not exactly red hot. Still already after about one hour a Sail took a lure with stripbait and Frank brought it to the boat. We took it in briefly for some pictures and then released it. Only after that I realized what I had forgotten: To tag it! But it did not really matter as my main goal for the two chaps was already achieved so early.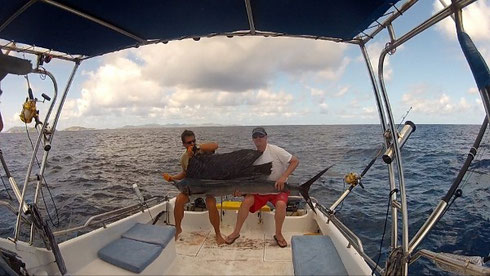 About an hour later a Wahoo hooked up but somehow spat the lure just before I was grabbing for the leader. Real activity we only found a couple of miles further out and Charly had his turn with a nice Bull Dorado.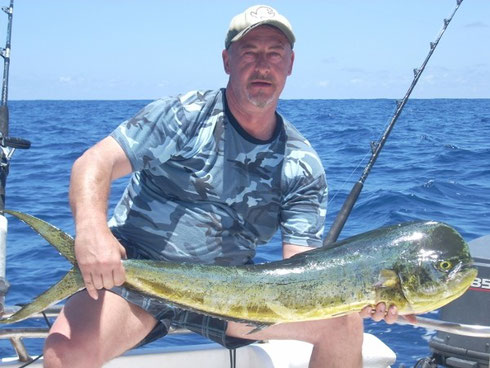 The two of us then would have liked to stay there but Frank felt uncomfortable with being so far out on such little boat without any other boats in sight. So we headed back closer to the islands but subsequently got nothing more than a few Bonitos. We were more than happy, though, and I even more after checking the video footage. 
Two days later, on Sunday the 20th, I had planned to go to the Drop off with them but Frank said he would not come that far. So change of plan: start fishing on the most western of the common northern spots and then move north as far as we would get. At the starting spot we quickly got a Tuna and a Wahoo but about 2 miles further out we really hit the fish catching Tuna, Wahoos and large Bonitos in quick succession. There we recorded numerous double strikes and even a quadruple strike. Luckily Charly had learned quickly and was a great help already. Really spectacular was a Wahoo that after hook-up leaped a few meters up into the air. The GoPro caught this perfectly, watch it in the video. The Wahoos that day were really mad and also quite big buggers up to about 18kg. After a while my little fishbox was already nearly full so we ventured further for two elevations about 10 miles from the Drop that at times are good for large Doggies. Unfortunately these pinnacles are by no means where my Navionics Gold chart says they should be. Searching the area we received a hard strike but the fish came off before anyone could get to the rod. A little later Charly caught a really decent Jobfish that must have been close to 10kg and also features the video. As we neither got more strikes nor found the two elevations some point we headed back catching another Wahoo and some Tuna. Already briefly before Lines Out we got another hard strike on a Halco but the line went only for 2 or 3 seconds. While I still wondered what the problem was I saw a Sail just coming up at the small lure running behind that Halco but it would not strike again. Then I realized that the reel drag on that Halco rod was not on strike but half open. Charly who had handled that rod just before cursed himself as that would have been his Sailfish and I learned that I must not drop attention to what they are doing. With that fish it would have been a perfect day. But with a view to double digit Tuna, half a dozen Wahoos and the Jobfish there were no complains - until it was to clean all those fish ...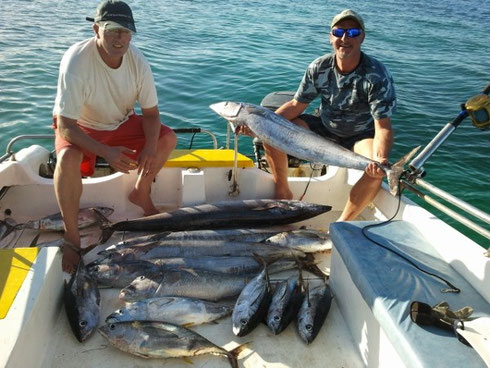 As I learned from him the day after Christian had been fishing bottom that area not far from us. This was very successful as he bagged among other fish some nice specimen of the so much sought after Emperor Snappers.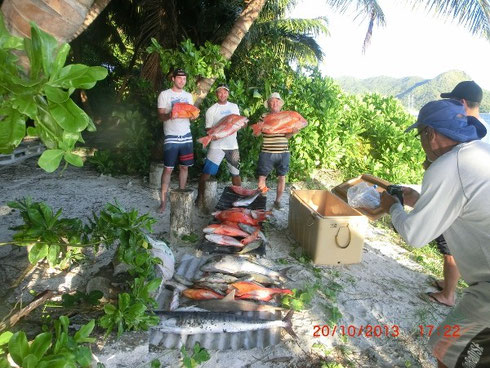 The next day Charly and I also wanted to go for some bottom fishing at more distant spots but we had to accept quickly that it was far too rough. So instead we decided to hide north of Praslin for whatever little fishing. On the way there he trolled a smaller Halco on his spinning gear. On a strike close to Curieuse the fish ran away like mad until after 30 seconds or so his 28kg braid was cut. As I had set the drag for him before I estimate that fish at around 10kg, perhaps more. Probably a larger Bluefin Trevally or a smaller GT just wanting to get back into his home in the rocks which braided line can not resist. Our little bottom fishing was very slow in the beginning until the tide turned at midday. Right then we started to get bites and in the next 3 hours caught about 40 fish up to 3kg of various kinds: Groupers, Snappers, Coral Emperorfish, Captain Blanc, some funny Barbels in yellow and purple and one of the highly toxic Fugu. See it here: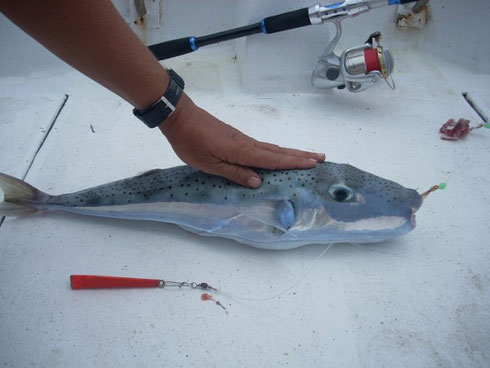 Yesterday was still quite rough but Christian reported a decent Sail of 32kg and some bycatch.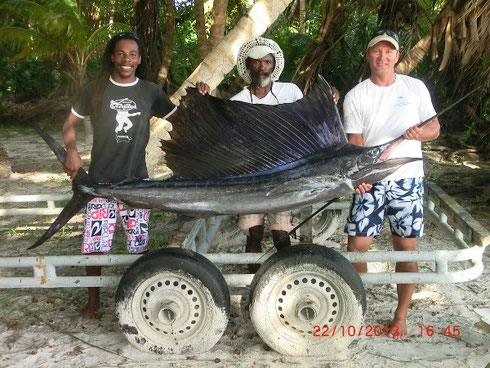 We found it too rough, though, and thus stayed ashore. Maybe we should have gone, too?
It seems the Southeast Monsoon finally starts to cease. We finally had some calmer days at the start of the month that were welcomed by all. Due to non-fishing family visitors I could unfortunately not participate in the beginning and probably was neither fully up to speed as far as fishing news are concerned. Christian (Djab Lavwal) had a `half day´ on the second tallying a few Wahoos, large Bonitos and Dorados. A full day`s fishing two days later produced these species also, but on top a handful of Yellowfin Tuna and a Sail. Carlos had been out with clients for his boss on the 7th reporting 2 Sails and some bycatch.
So it looked very promising for 11th which was the starting date for the annual La Digue Offshore Tournament. The days before, as everyone was busy preparing the weather also was calm and pleasant. This tournament is the largest in Seychelles, allowing for trolling as well as traditional bottom fishing. For this year`s 10th anniversary fishing time had been extended to hefty 22(!!) hours - from Friday, 5pm to Saturday 3pm. This is fine for the guys fishing from big boats with sufficient fuel capacity and amenities like cabins and toilets. With a view to my tiny open boat I must admit I felt somewhat uncomfortable. This even more as obviously no one else had figured that ridge of hefty winds shown to pass our area that night by one of my forecasts. But when the port filled with boats and the island started buzzing all worries were forgotten - for a while.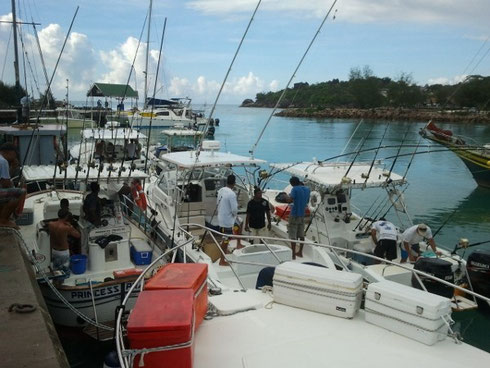 Friday 5pm on the signal we - that is Carlos, Ted and I - ventured out as one of the 25 boats competing. While most of the others put foot right away towards the northern or eastern Drop Off we could not do that simply due to fuel and buoyancy restraints. So after cruising only for about 20min we started trolling just off Sister Islands in order to maybe get some trolling fish before dusk. Trolling had to be our focus as the Drop was out of reach for us. Also it iseemed useless trying to compete in the Overall Bottom Fishing category with the big boats, their experienced skippers and many hand line fishermen. These crews usually return with a few hundred kg of fish or if it goes well even a ton. Such load would just have sunk my little Angel. Accordingly our strategy was - or rather had to be: stay around the islands, troll as much as possible and hope for the luck of maybe getting a good specimen of one or another priced bottom species.
In the beginning this all worked out quite nicely. We wanted to reach a certain spot before darkness and getting there 4 lines went same time. It was a bit of a mess but eventually we boated a Wahoo and 3 Dorados for start. Among those was the bull and we had the feeling that this fish could be worth something. As it went dark we trolled only two Halcos towards our first bottom fishing spot catching another Wahoo. Then the wind came - and it came with force. In the beginning we could still fish but that first spot produced only 2 Pickhandle Barracudas. The distances to the next spots we could only cover very slowly and there were no fish. When we finally found something promising on the sonar we figured that we were drifting much too fast and the sinkers did not reach the bottom any more. Anchoring was no option at that stage as even drifting water came over already. Also it had become trouble standing in the boat at all and going overboard in pitch black night - it had started to rain on top - is obviously nothing one would want. Around midnight we discussed what to do and unanimously decided: useless to go on and just too dangerous. Better to find a protected anchoring and pick up again in the morning. Getting there took us another hour. Then the three of us cowered on the little open deck in the rain and stink of fuel and fish - perfidiously just in front of one of the luxurious 5 star hotels. I guess I will never forget that night.
Same is true for the next day. At dawn around 5:15am we first fixed the outrigger that had collapsed, tied everything up and headed out into the rough seas again. In the beginning going north it was quite ok and we caught another Wahoo and a Tuna. Then it was time to head back to La Digue meaning to go straight upwind. This turned out to be too tough so we changed course a bit easterly towards the successful spot of the evening before. Subsequently we were splashed only about every thirty seconds but even better was that all along the way the fish were biting. We kept catching Tuna and Wahoos working like horses. Despite the conditions Carlos produced one stripbait after the other and all of them were taken within minutes. Unfortunately we hardly caught any Bonitos to make more. Some point in this mess we had to bring up jerrycans from under the deck to refuel via a pipe and pump water out of the hulls as the deck did not drain the amounts coming over. On top of all this some point it started stinking from burning plastic out of the control box. So we had anything but a dull time. But when the very last stripbait only about half hour from lines in produced us a Sailfish we knew: whatever our catch would turn out to be worth concerning the competition we in any case had done a great job. It was very pleasant to find out that the crowd in La Passe port felt the same about us. We came in as one of the last teams and queued up for our weigh-in amidst all these big and shiny boats.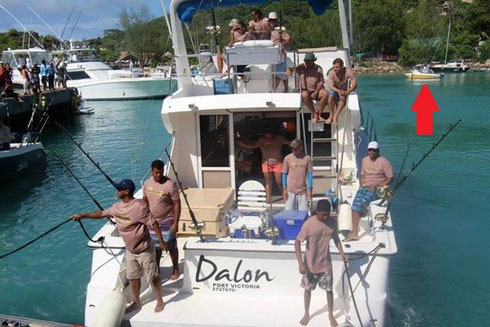 The port was buzzing from people on the jetty, the new radio station broadcasted live with DJs and TV was also there.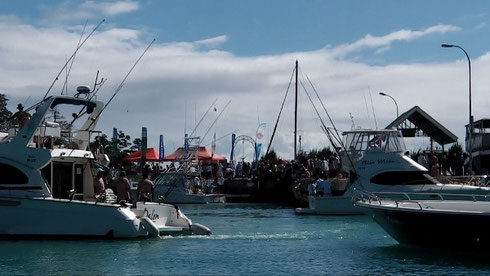 When it was finally our turn to get to the dock the DJs shouted `look at these guys in their little boat - 22 hours fishing out there in this weather´ and the crowd cheered. That gave me goose pimples and alone was worth the drudgery.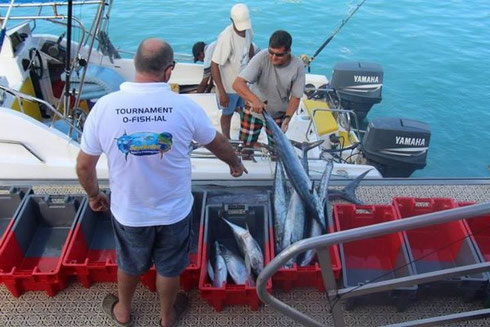 Can not even remember exactly all we unloaded but in any case it was a lot more than anyone would have expected from us and the Sail brought us an extra applause. Quickly signed the from with the weigh master and a little later we went back to Praslin: cleared up, took the boys home and then slept like a log.
The next morning we headed back to La Digue for the price giving. This was held at La Digue Island Lodge and was fabulous. Setting, food, atmosphere - all just perfect. Embedded into all sorts of entertainment some point the price giving went ahead. Prices were awarded for the largest specimen of 9 trolling and 12 bottom species. Latter ones were out of reach for us obviously. Also our Sail was too small as I had seen right when we boated it and same was true for our Tuna and Wahoos. Only realistic chance was the Bull Dorado but unfortunately it was only the second biggest. We were a bit disappointed as I felt we would have deserved something for all our efforts. But happy faces returned quickly when the special category prices were awarded as it turned out we actually with 167kg had become second best trolling team! That was pretty unbelievable with a view to all the large boats we had beaten. Just the pro boat `Special K´ with Ali Al-Harazi from Kenya had edged us by some 16kg which I think is nothing to be ashamed of. Obviously we were somewhat lucky that no boat had caught a Marlin which is very unusual. Still I have to admit for a moment I was a bit sad we had missed the probably unique chance to win that category. Especially with a view to that moment when Carlos played a heavy fish that was eventually cut off by probably a Wahoo going for the swivel. That one might have given us the edge. But it is no use regretting when it comes to fishing and taking a big cup only the second time participating would have been a bit too much. So eventually we buggered off more than happy with what we achieved even as there was nothing to carry home.
Not to forget the real winners: best bottom catch was brought in by team Paola with 371kg and best overall catch went to Island Star with more than 400kg. More than 3 tons of fish were caught between the boats and eventually bought by a local fish processing company. All proceeds went to a charity project on La Digue.
Overall tournament winners turned out to be team Djab Lavwal. This is due to the points awarded for the largest two specimen of the 21 priced species. As they had plenty first and second places among those they took home the biggest cup. I am happy for Christian as he had been open and welcoming from my beginnings here and continues to give me valuable advice. On top he is a first class angler. Four tournament wins in the last six years speak for themselves - congratulations!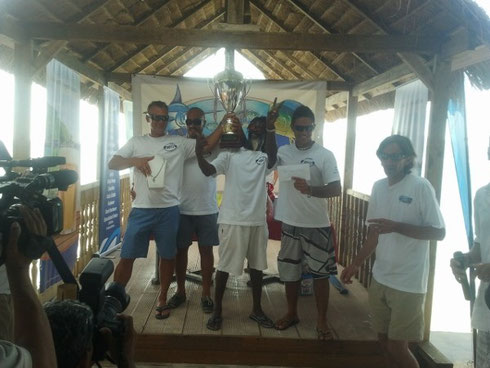 Last but not least a big Thank You to the committee of Seychelles Sports Fishing Club for the perfect organization and also to everyone involved for the great atmosphere. Anyone who has the chance of being around for a future edition should make sure to be part of this really special event.