The first part of this reporting period until about Christmas is dealt with quickly: hardly any tourists and pretty steady and hefty northwest led to nearly no fishing activity at all. Only few calm days were from the 17th to the 19th but right then I was on Silhouette. Really a beautiful place but would not be able to bear it for more than 3 days as the island is surrounded by a marine park so no fishing at all within 200m from shore. Bit of a pity as some of the reefs look quite promising for fly fishing. On top I saw several large fish of more than a meter in length swimming around in a freshwater lagoon and eagerly feeding on bread. Those looked like Milkfish and I asked the concierge. First answer fully convinced was Jobfish. Surely not so the friendly girl phoned around and came up with Tilapia. Knew that was not right either so bustled off, checked those fish against some quickly googled pics and info that Milkfish actually spend time in freshwater. Here is a foto for you and I will tie a bread fly one of these days.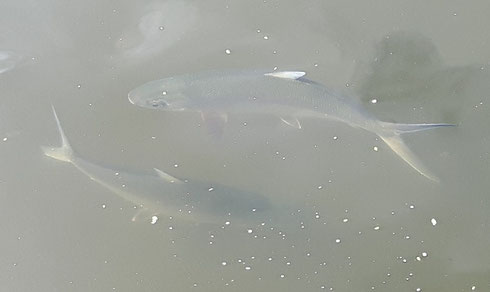 Along those days Greg (Aquatic Dream) had two trips in as said nice and calm conditions. Popping around that northern atol was a bit slower than usual but jigging went nicely with several good size Doggies while a few larger specimen could not be stopped. On top they caught a load of Jobfish and several other cool fish like this Golden Trevally.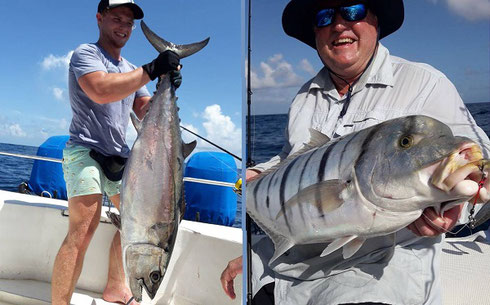 Christmas Eve in again much rougher conditions he was out again with different guests. Jigging at the eastern Drop was tough with the boat drifting very fast so really heavy jigs required. The guests not used to such after a handful of Amberjacks asked to rather troll which produced a Dorado and 10 Yellowfin Tuna so not bad all in all. Have not even put a foot on my boat for weeks and try to keep that fishing urge under control by a few fly fishing attempts in somewhat protected corners. The usual small suspects continue to provide fun but it seems about all bigger fish have deserted the shallows. Pretty much all to detect is Sharks, Rays and Mullets even in good spotting conditions. Such were rare but then the setting was just stunning.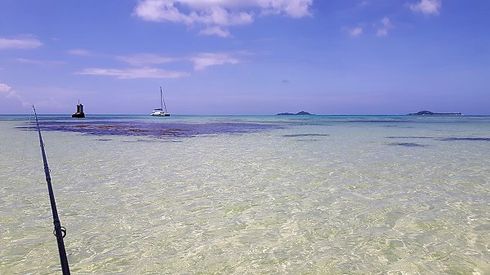 By mid of last week we finally got a bit better conditions if one wants to call it that. On the 27th I went to the eastern Drop Off with Mervin (Divinity) and Francesco from Italy. Early jigging on a shallow close to the edge provided for lots of action, mainly Jobfish and some Yellowspotted Trevallies. Like it had been before the wind set in the deeper waters did not really produce so a handful of Amberjacks and Doggies required hard work. That small activity died off complete after we surpassed high tide around noon and also back on the shallow it was a lot slower then before. With some 50 or so fish caught that day we surely complain on a high level but are simply used to and spoiled by better stuff. Frustrating on top that just the best fish were badly taxed by Sharks.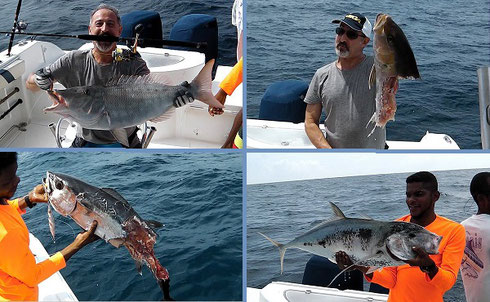 Just before heading home we met a boat from La Digue that had only caught a Wahoo and a few Bonitos trolling. A Praslin boat fishing closer by got a small Wahoo and two Dorados at the FAD while other boats had only a few Bonitos or not even those. Same news from Mahe that day so the Plegaics must have been off or gone in a large area. Thus I was surprised by Greg (Aquatic Dream) reporting Thursday evening that they got a good lot of smaller Gamefish when just trolling two lines for some relaxation south of Praslin. Jigging also worked well in that area with some Doggies and Trevallies while topwater had been pretty dead. To the opposite in the west with Mervin and Francesco we saw a lot of action on poppers and stickbaits that windy and rainy day, in part by Sharks as usually.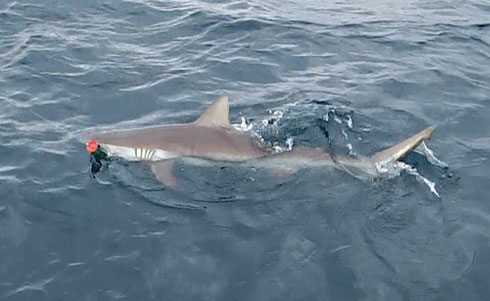 But as so often with those also the GTs were somewhat active. The two anglers raised about a dozen but unfortunately only a baby and a teenager got hooked. Meanwhile crew Stephen and I brought up countless Jobfish, Trevallies, Doggien and other stuff jigging in turns to fight the cold. Francesco really gave it all until the end and would have deserved at least one of our normal size GTs but it would not come and he was still visibly delighted by the one he got.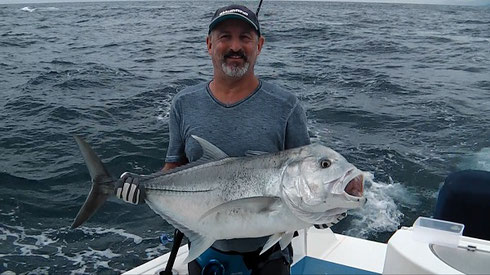 Friday the 28th I had planned to finally fish a little myself again but the wind was above my safety threshold for fishing alone and many rain showers did not really motivate to violate it. Still Greg had gone out with guests for a half day trolling and reported another good mixed bag of Bonitos, Dorados and Wahoos. Also Francesco went for an afternoon`s popping and jigging wih Mervin once more. Especially the latter went really well again with the usual suspects caught and this beauty of a Golden Trevally.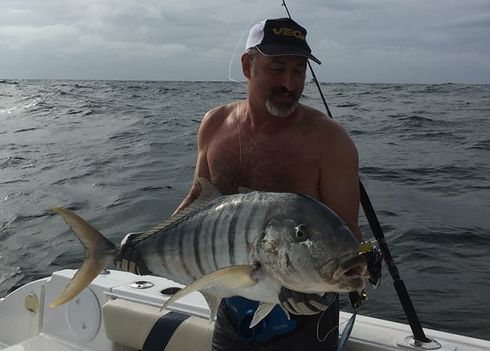 And on top even the sought after treasure, a good size GT, surfaced. That is a nice way to round up this report that due to the conditions limiting fishing activities so much was else a bit meager for this usually very productive time.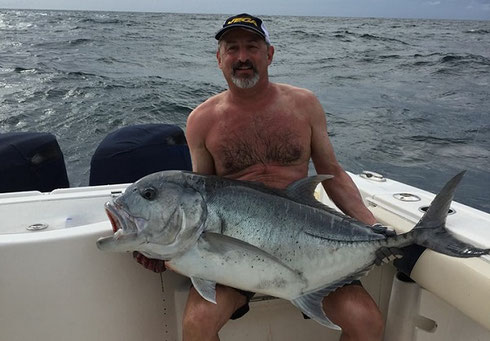 But the weather had really been exceptional pretty much all along this year. All seasonal and typical weather patterns had set in a lot earlier than usually and the water around the islands never really cleared up since July. Still in a retrospective fishing has been simply great again along this year now ending. Am full of expectations what the next one will bring us. Hopefully some nice weather in the first line and this rather soon. So a Happy New Year 2018 to all faithful readers, health and of course plenty great catches.
As already indicated at the end of the last report it remained very windy here for the time being. On the 2nd at least there was no rain so with buddies Marco and Jörg we went on the boat to fish a little in Praslin´s protection. The area was pretty minimal in those 25 knots of northwest that came with gusts of more than 25 knots. A bit of popping at the harbor spot raised plain nothing but at the southeastern tip we had a nice surprise. Mervin had insisted that the place holds good size GTs while despite my two dozen tries I never raised any but a juvenile. Jörg spotted a baitball and announced to get a GT from it. Before I could even mock him he had cast, popped once and … bang!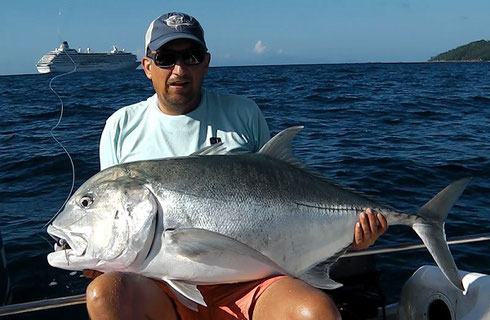 At 119cm fork length and thus according to the formulas 32.5kg a really decent specimen. Along the next quarter of an hour my friends raised three more but no further hookups unfortunately before all efforts were ignored. So again that incident of a short activity windowjust met right. Then we worked the outside of a reef for two hours with countless different spinning lures to the meager result of a Garfish caught and a Barracuda miss. But light jigging a few drifts along a not so much protected shoreline proved an excellent idea. Next to a few Jobfish, two different types of Groupers and some Yellowtail Trevallies it produced four of these fantastic and hard fighting Golden Trevallies. Fantastic fish.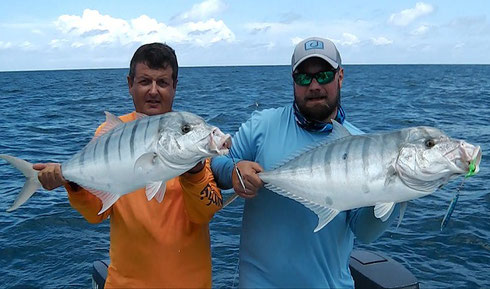 So all in all for a bit of improvisation pretty great fishing. Even more so as all those catches came within 300m of the shore. Different story of course for the boats participating in the annual Big Game Classic Tournament held out of Mahe that day as these naturally ventured far out and got hammered in those hefty conditions. Well worth the effort for some though. Winner by a distance turned out team Island Star on their 60ft Viking by tagging and releasing three Marlin. Among those was this impressive Black estimated at 900lb by skipper Antoine. Many thanks for the cool pic.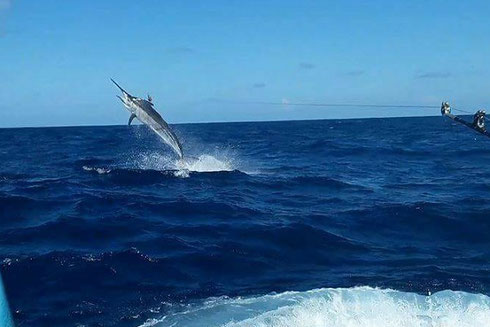 Along the following days the northwest persisted. A few boats usedshort calmer spells for bits of trolling while a few tourists were still around and most were successful. Christian from Germany fished the southern Drop Off out of Mahe on the large Dalon and reported a good mixed bag of Tuna, Dorado and Wahoo. Greg (Aquatic Dream) tried the northern Drop with similar results, missed two Sailfish but caught this for our standards pretty big Dorado in a very rough sea.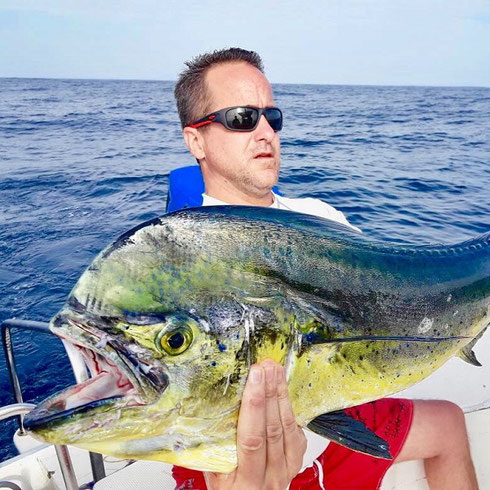 Sailfish showed up every so often but were mostly difficult those days. My buddies and I would have loved to take a shot at them but it was much too rough for the tiny boat and on top Jörg is not too seaworthy to say the least. So instead they went pretty much every day to whatever somewhat protected corner for a few hours of fly fishing. Rather occupational therapy though with all this wind, chop and drifting weeds. The usual small fish were caught in good numbers but nothing bigger at all. At least they both now have a number of new species in their records like this one we still have not identified.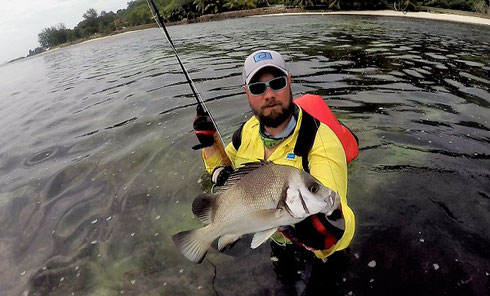 Wednesday the 06th we tried inshore from the boat once more. Of course the GT trick did not work again but small jigging was even better than last time. Some big Bonitos, Yellowspotted and Yellowtail Trevallies provided a good warmup for those Goldens around again.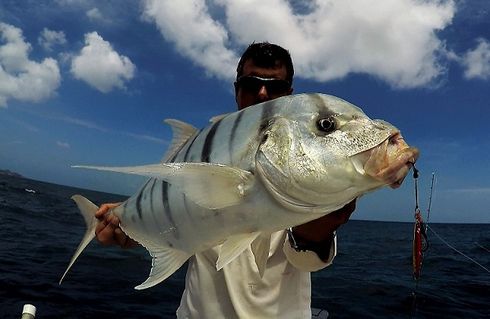 In the end we caught 11 different species as on top we had Jobfish, Barracuda, Queenfish, Garfish, a tiny Lizardfish while Jörg contibuted not only a Threespotted Pompano on fly but also this beautiful small Diamond Trevally that I have been after for ages.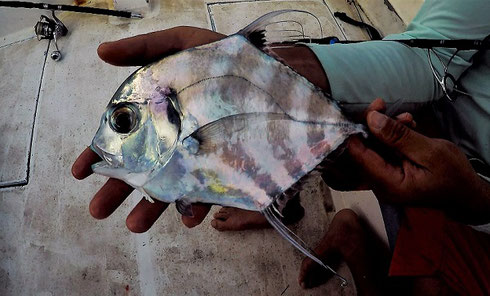 So once again a really nice little trip. For the next day the wind was finally forecast to drop towards the afternoon so Marco and I went for Drop Off jigging with Mervin (Divinity). Like before that wind had set in the depths would not really produce. Nothing but a few Groupers to be earned there but above some 30-40m shallows hell was loose. Countless Jobfish, Yellowspotted and Yellowtail Trevallies made it nearly impossible to bring up the jigs without a fish.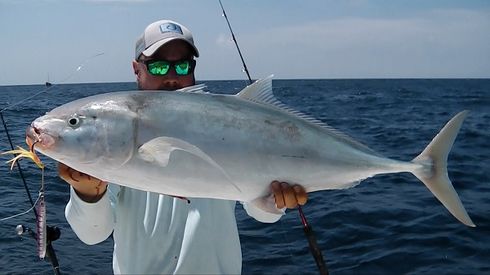 Some local handline fishermen fishing from their anchored boat probably never had a chance to watch this kindof fishing before. Not sure if their cheers meant they were impressed but well entertained for sure. The variety was smaller than usual but a few good size Emperors were around that either liked my jig or my technique.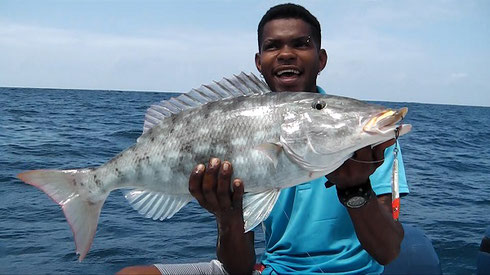 After some 70 or so fish caught back in port I bumped into formerly mentiond German angler Christian who had come over from Mahe for the day to experience some popping with Greg. They raised a few GTs without hookups unfortunately. But already impressed by the sightings and fierce attacks they were happy with a few smaller fish caught and some jigging catches. Not exactly true for us the next day as in finally pleasant conditions and this time with Jörg we went to a bank at the southeastern Drop with Mervin. Jigging was a okay in the morning with some Black Jacks, Amberjack, Doggie and others with the bite slowing along the hours.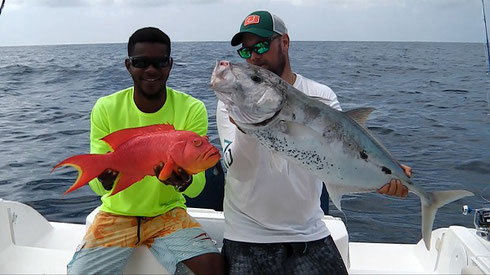 A few Yellowfin Tuna were around but the only one hooked on jig was badly taxed by a Shark and only Mervin managed to get one on popper.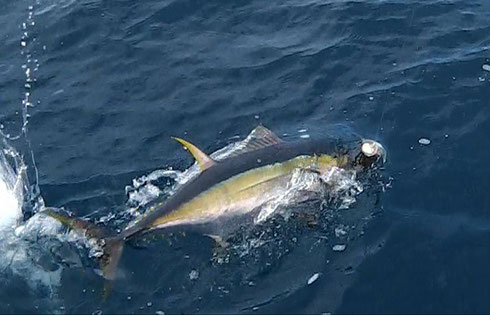 As the jigging activity dropped to zero around noon after `only´ about 20 fish caught we diverted to trolling but this tuned out a frustration. A Tuna went into the fishbox and a Wahoo came away. But the worst part was that neither the one Sailfish nor any of the two small Marlin raised got hooked. So no jubilant ending of this year`s visit for my two friends after having been able to fish so little this time. Right after that trip the wind returned an keeps blowing since while many rain showers on top discourage the last few remaining tourists from going out. So all fishing on hold, only Greg was out once more. Bycatch was a bit slow that day but this one Sailfish caught and released out of three raised same time still made it a pleasant day for the guest fulfilling one of his fishing dreams.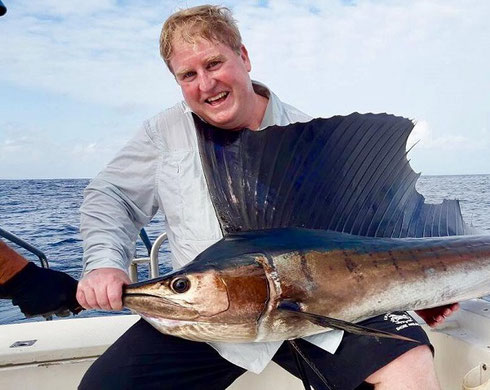 Only yesterday we got a noteworthy bit of sun again and today the wind has dropped a little bit. But the forecast is looking good for the days to come. Hope it won`t change its mind as it is about time.
For the preceeding reports check the archive.