As long term readers will know June reports tend to come rather short due to a lack of tourists and the Southeast. While former applied also this year the wind has not yet played its usual role. Neither it is steady so far nor did we encounter much beyond 15 knots. So for example right on the 1st it was really calm but a dedicated try to pop for GTs only raised a dozen Sharks while the two Jobfish hooked came away. Jigging at the close-by coral was hopeless due to the Pickhandle Barracudas stealing about every jig dropped. Luckily none at the emergency spot not far away but as usually that one produced only some unspectacular kitchen fish and a few funny ones like this Goatfish.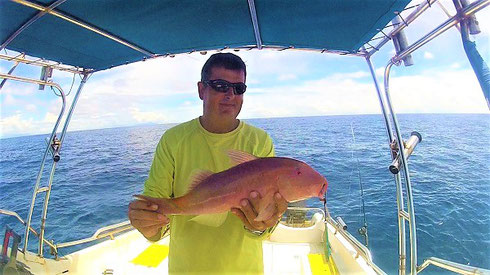 Bit of a shame nobody went trolling those days as this should have been successful. I assume so as Christoph with whom I had discussed his options during a catamaran trip in between the Inner Islands already months before mailed a little report and pics. Catches were really not bad considering that his fishing was limited to one or two lures along the crossings.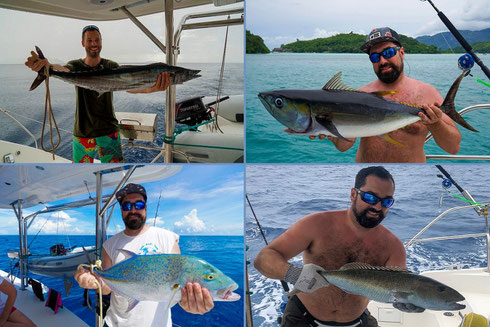 A few windier days with lots of rain took any boat fishing off the agenda and also for fly fishing no calm and clear area was at hands. Even the downwind bay at my place is very murky as the locally called Rad Mare undercurrent sends quite strong waves in. Lacking alternatives I still gave it a try on the 4th and it turned out brilliant. Thought it could not get better after this decent Brassy Trevally that gave me a really good fight.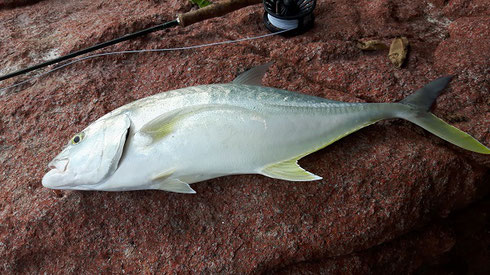 A little later though something was pulling even harder and after 20mins this fat Trevally came in sight. Still no idea if it is a GT as I first suspected or another Brassy but it does not really matter as either way it was a most pleasant experience on the #8 outfit. Luckily even a tourist was at hands to take pics, thanks for that.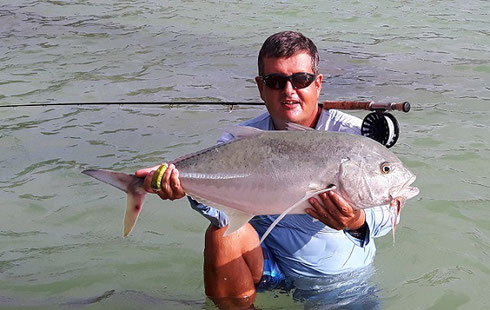 Of course tried again the next day but not so lucky this time. Catches were limited to rather small stuff like Trumpetfish, Pompanos, Blacktip Trevallies of about 1kg and a Permit of the usual size. Missed a really good one of about 50cm that rolled on the fly but on my strip strike a little Pompano came flying in my face. Also the for our standards large Oxeye Tarpon of about a meter in length that jumped within reach was not to be convinced. Two days later with Markus from Austria it was again just small Snappers and hand size GTs, same story plus another Permit the day after. So that spot and fishing is unfortunately not as stable any more as it was during that splendid week in late May. On the 9th the sea was flat as a mirror so went to pop a quite far away spot for GTs once more in the afternoon. Only kind of success was to avoid all of the at least 20 Sharks that turned up without a GT even seen. Don`t know any really good jigging spots in that area and a few tryouts on little structures produced nothing better than two dozen Jobfish and Groupers for the freezer. Thus that trip would have been another disappointment if it had not been for that Sailfish grabbing a Halco trolled between the spots.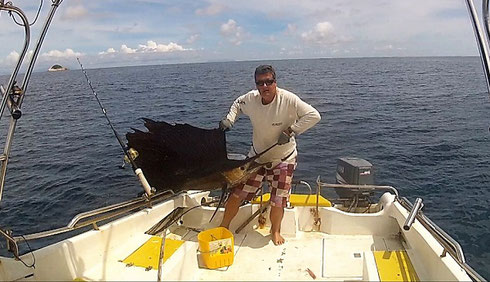 Playing the fish while manouvering the boat after it to keep the fight short, tagging, reviving and the release alone on the boat required a good bit of acrobatics. But as it was not the first time all worked out nicely so the beauty eventually swam away. Hopefully pleased by its brand new shiny orange spaghetti tag. That day at last a report from a charter came in. Greg (Bite Me) had been popping with a guest and after long dull hours this GT triggered happiness.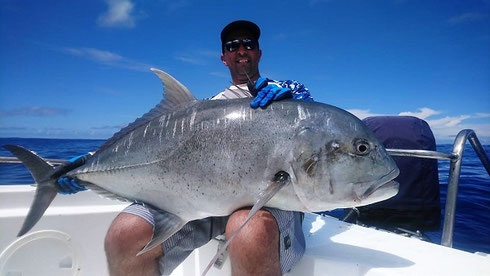 On the 12th Julian from Germany managed to squeeze in a few hours fly fishing and this time it was good again. Even the weather was sunny for a change so he and his Queenfish caught after only 10mins of fishing both look good.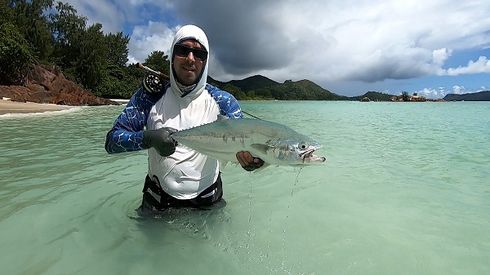 After that we found nothing big but instead the Oxeye Tarpons in a patch that was really murky from all the soil the massive rains had washed into the sea. Good fun, especially the crazy leaps. Click this pic to see it properly.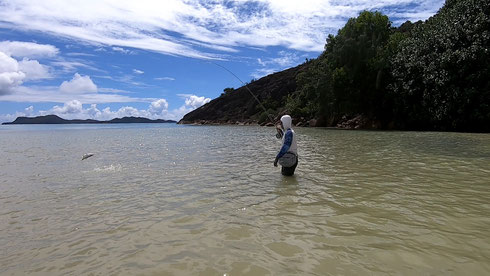 The following night it rained like mad and my neighbour`s boat drowned. Was thrown around by that undercurrent and damaged my transducer so the following perfectly calm and sunny day I could not go out scrambling to fix the problem for the time being. Next day it was pouring again but not too windy so I went. No good as briefly after reaching the spot the wind picked up massively. Too dangerous alone on the boat at more than 12 knots so had to called it a day. But bevor that I think at just the fifth cast a really fat GT hammered my favourite popper and unstoppably ran to the rocks to cut the line. Was not in the best of moods for the rest of that day and this Threadfin caught on fly of my doorstep to at least fish a little was a too light remedy.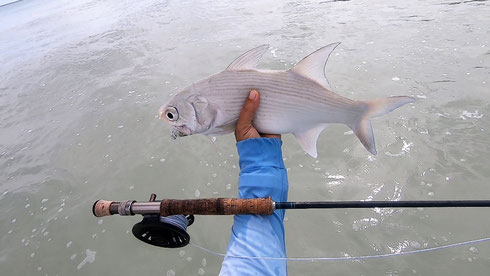 On the 17th after some windy days it was somewhat calmer again so Greg and guests headed out to the Drop Off for trolling. First fish of the day only 10mins after setting the lures was a small Marlin. The hook had gone into the gills unfortunately so it spilled bllod when leaping around and came dead to the boat quickly so it had to be taken.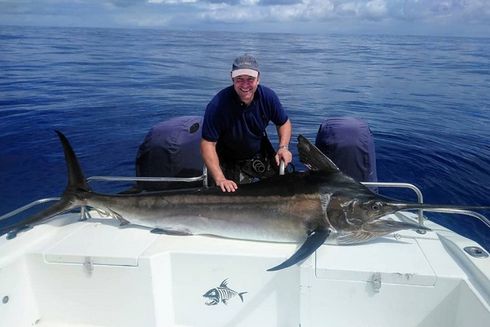 Nothing more caught after that apart from a Dorado and a few Bonitos. A bit away Bruno also trolled on Island Myst and bagged some Yellowfin Tuna in the 40kg range as he told me. Next day was windy and wet again but the morning after totally unexpected by any forecasts the wind had dropped. Had to get boat fuel and thus only reached the area just before noon at low tide. Thus was not expecting much until maybe later but after only a few casts the popper was smashed and this time all went well so the by then quite strong GT trauma was eased. Not huge at 114cm fork length and about 27kg but a proper fish just above average size. At last.
Well motivated I dropped the plan of spending the afternoon jigging but instead fired the popper relentlessly at several spots. Nothing more even just seen though for long hours apart from the countless surprisingly small Sharks all less then a meter that could not all be avoided. Late some promising bait surfaced and right away the GTs came to life. Raised a whopping 6 in a quarter of an hour of which another two were massive again. But no matter how they attacked even trying to hit the popper several times none managed to grab it. Was close to madness and kept casting for two more hours for nothing more showing up after this brief activity window. But at least I know now they are still there and have survived the algae bloom without harm. Well, apart from having lost their aiming skills. On the 23rd I spotted a small baitball from my veranda again and ran for the fly rod. Good move as the predators were after the small fish and such Queenfish is good fun.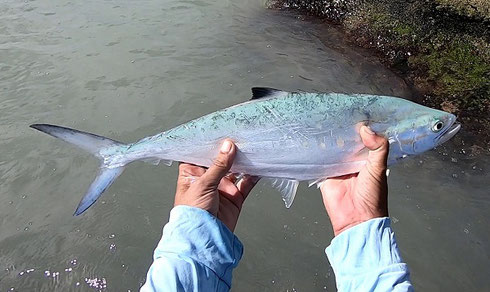 Bit frustrating though that a bigger Tarpon of about 3kg threw the fly leaping around and another larger fish cut off that very productive pattern in a coral as I had only one of these. Two smaller GTs around 1,5kg rounded that stint off. These though did not make it into the at last finalised video packed with just some of the plenty and in part I think quite spectacular fly catches of those recent weeks. On the 26th the wind was low again so I headed south on the boat to ideally check on the GTs down there. Bit of an ambitious plan as that spot used to be my most reliable one but had not produced a single quality GT since the big algae bloom four and a half years back. Just baby ones like this one caught on jig that afternoon.
But last year we started seeing the big ones again occasionally and at last a catch came. Bit below our average at 104cm fork length and about 22kg but I had no complaints.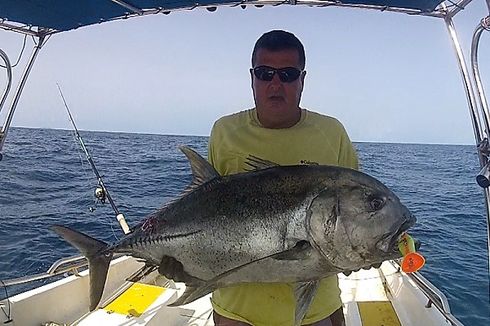 Raised two more proper ones but they missed. One again most pitiful running after the popper trying to grab it trice but probably also requires a visit at the optician like the bunch from the preceding week. Small jigging on all seven usually productive spots in the area was very slow producing just a few small fish. Only on the way back at the edge of the GT spot and thus in rather shallow water things came to life with a decent mix of fish that was dominated by a dozen of these Yellowspotted Trevallies. Was an excessive workout and as also the weather started to look dubious in the shape of a dark front building up I skipped the afternoon GT popping into dusk.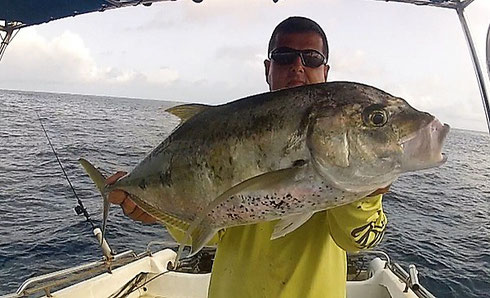 Since it was quite windy again. Only yesterday suprisingly conditions would have been okay for another trip. Was busy otherwise though and also am so prominent already in this edition that it feels a bit embarrassing. But with no-one else doing it I obviously had to scrape the fish for this report together myself. Life is tough at times.
For the preceeding reports check the archive.