Not all that much fishing took place along the last two weeks in but there were still a few highlights. Had mentioned in the last report that the weather had been exceptionally good for this season and right away it turned ugly for a few days. On the 18th though it was better so a trip to the Drop Off with Mervin (Divinity) and guest Jürgen from Germany could take place.The latter took his first steps in tropical jigging which turned out difficult in the deep but improved a lot later in the shallower areas (click pic to enlarge).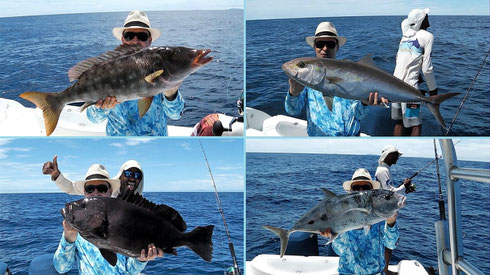 Not much to complain about with around 70 fish caught but the chap was pretty stunned when Mervin considered the day rather slow. Had indeed been a lot of Jobfish and nothing really spectacular. Also the Tuna hardly showed but we still managed a few topwater.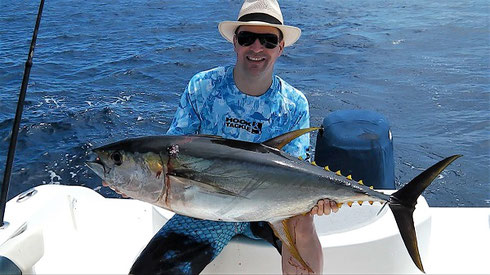 We saw Martin`s Venture covering the area trolling but learned later that all the effort along and outside the edge had produced only a single Wahoo while the rest of the day`s catch mainly consisting of Dorados came along the way back in. The pelagics generally seem to be rather inside those days which was good for the usual half day tourist charters. We saw relatively few of those though as there are not many people around these days and while the results were solid as far as the smaller gamefish are concerned there was nothig really special with the Sailfish hardly showing. Marlin worked well though as the annual Marlin Slam Tournament held out of Mahe revealed. The 10 competing boats raised 15 Billfish of which 4 Marlin were caught. Biggest one had the team 9G with a 190kg specimen and as they released another plus a Sailfish this made a well deserved tournament win. Congratulations!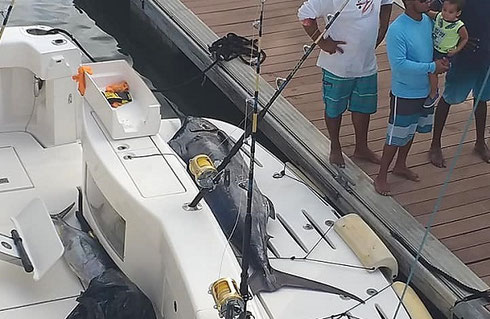 Along the following days nothing really happened on the fishing side due to the mostly bad weather but on the 22nd it was okay again for another Drop Off trip with Mervin and Jürgen. Went very much like the preceeding trip: a couple Tuna popping in between difficult jigging but eventually a not so bad mix of 60 fish (click pic to enlarge).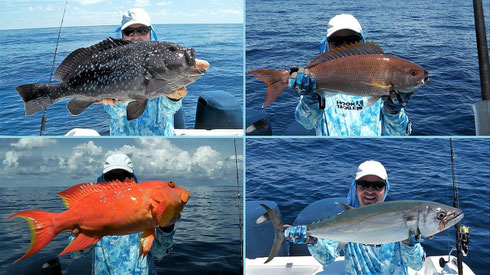 Unfortunately the handful of Amberjacks and Doggies were rather small so the best fish of the day was no doubt this indeed massive Rainbow Runner.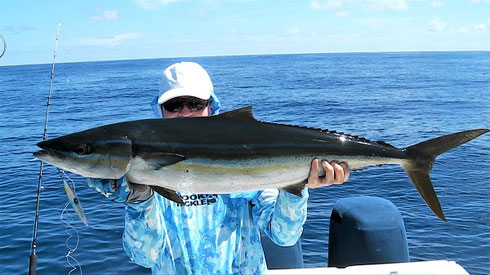 Funny: Jürgen had mentioned that he would love to catch a Dorado. When applying sunscreen a little later he ordered me to his jigging rod and I hooked one right away. So he got the bent rod back of course and thus his wish fulfilled. Nice when things work out like that.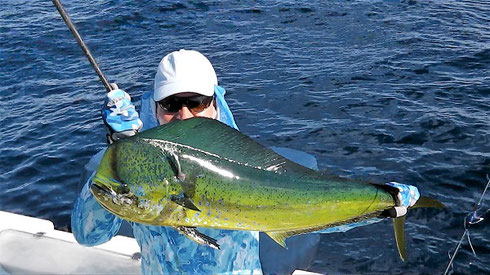 Were really two cool and pleasant trip with the nice very nice guy and I am sure we will meet again. Either here or I am going to some point follow his invitation to fish for Lake Trout at Germany`s largest lake, the Bodensee. Same time Andre had a fly fishing on Bite Me Too which went very well with a lot of fish. Especially the many Rainbow Runners provided excellent entertainment.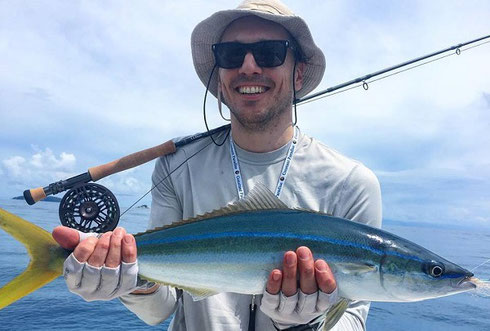 Also went fly fishing  a few times in whatever protected corners to be found. Results were as always good in numbers and variety but remained rather small (click pic to enlarge).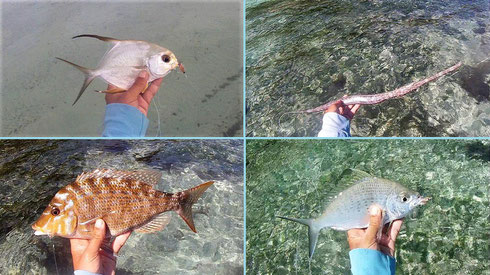 On the 23rd though at last something better turned up again. But first had my so far smallest catch on fly which was this tiny Lizzardfish.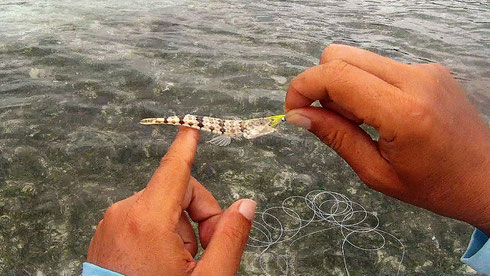 Perceived this as a bit of provocation and fished on with the funny feeling that there was something special still to happen and it did. Had to wait since April for another Bonefish and not yet caught one on that particular reef but this time it came. Sadly no-one around to take a proper picture so there is just this GoPro still from the beauty that of course produced its blistering run on the take and a good fight.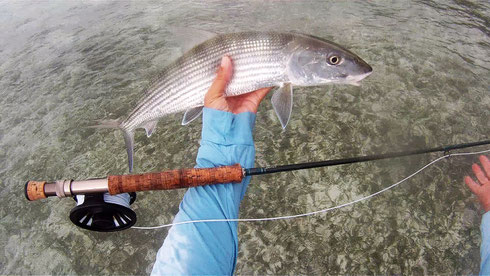 Interesting: after the release in admittedly moving water and under an overcast sky  after it had swam just 3m I could only detect it because I knew it was there. Another half meter further and it seemed it had never existed. Just check yourself as there is a little facebook clip to watch here. Their camouflage is simply incredible. Next day it was Drop Off with Mervin again. This time with German jigging newbies Jochen & Thomas as well as Mark from Malta who we already knew from last May. Was tough to jig in the depths as the current was running right into the wind. Thus while hardly moving even in relatively shallow water it was heavy metal time. Subsequently the overall catch of maybe 50 fish between 3 anglers was well below par and again there was nothing really special for our standards (click pic to enlarge).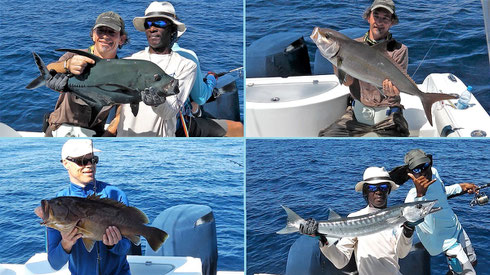 Two days later in a rougher sea it was nearly the same story again except for Willi from Austria replacing Mark. Again the wind pushed the boat very slowly into the even stronger current. Difficult to handle for the beginners and the only place to fish were eventually the real shallows of about 30-40m. Lots of strikes and fish there but mostly Job and Bonitos apart from these shown here (click pic to enlarge).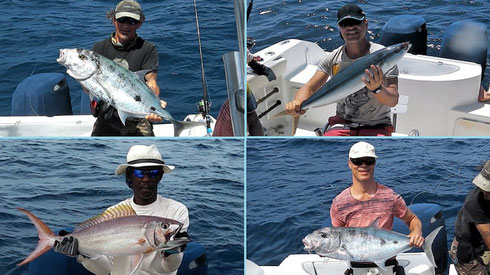 After that the weather at last became really nasty for a few days. But Tuesday to everyone`s surprise it was dead calm so after more than two weeks I hopped on my boat again. Turned out a waste of time and fuel though. Before the northwesterly wind started to pick up the boat drifted at least a bit into that direction and about a dozen not really spectacular fish came up. The wind then neutralized the boat`s motion after a while so there was hardly another fish to be caught and losing 9 jigs to the omnipresent Pickhandle Barracudas did not really increase the fun (click pic to enlarge).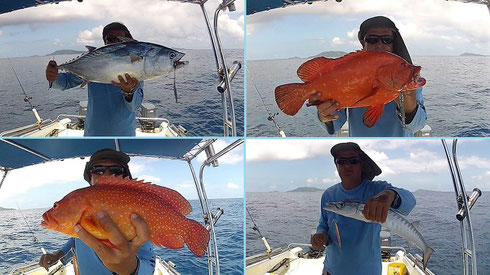 So also this usually very nice and reliable kind of fishing is not an all safe bet. Should rather have gone Marlin fishing as Greg (Bite Me) reported in the evening that they had lost two and seen another. Much better it went for the 9G team out of Mahe with an incredible 9 Marlin raised of which they managed to catch and release a handful of up to 700lb. Magic fishing.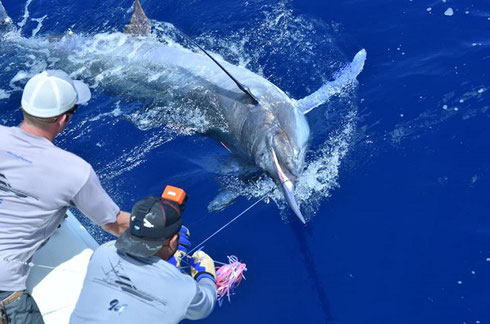 Since yesterday the weather is now bad again with wind and rain and unfortunately all the forecasts agree it will stay like this for the time being.
As far as the weather is concerned the new year started exceptionally friendly with little rain and mostly calm winds. Ideal for all the many holiday tourists in general and of course for any fishing ambitions, too. Those as usually around the festive season consisted mostly of half days trolling close to the islands and some bottom fishing. The latter usually produces plenty and colorful catches but an Emperor Snapper of 12kg like this one caught on Martin`s at last back in service Makaira is special.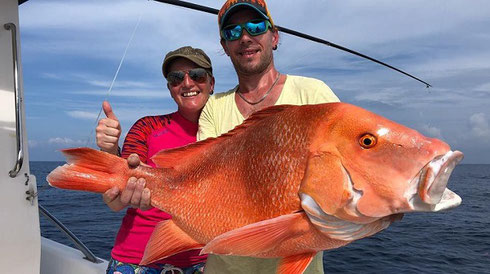 Trolling also was solid. The Tuna on the plateau are relatively tiny these days and other smaller Gamefish like this Wahoo landed on Greg`s Bite Me are of course ideal opponents for the many beginners and occasional anglers often in family company.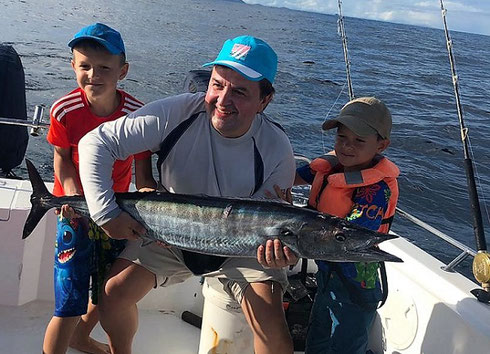 Same is true for the standard size Dorados but there were some good ones too, like this specimen again caught on Venture.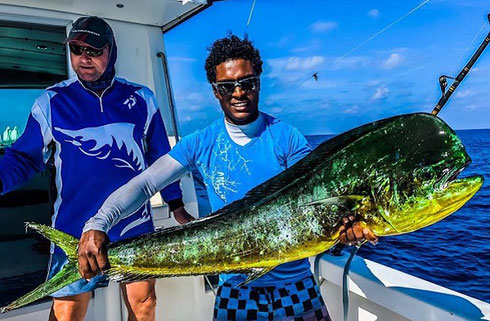 Also this splendid Wahoo ended up on that boat. Bit more to crank for that fierce bugger.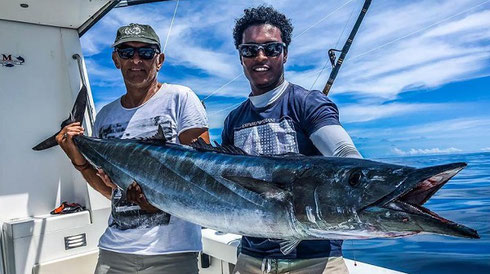 Meanwhile the Sailfish remained a bit of a headache. The first week they seemed completely missing while in the second they were seen jumping again and occassionally showing up in the spreads but would not take. Only the boat Century managed one and Mervin (Divinity) released two.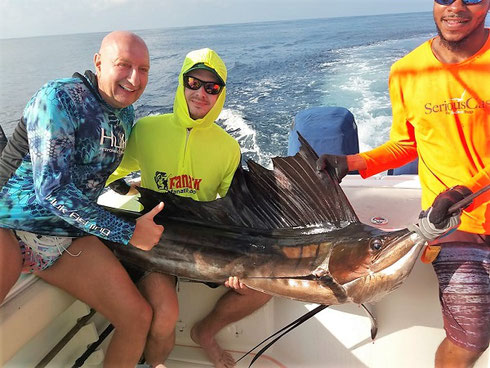 Beyond all that bits of other fishing of course also took place. On the 3rd Greg as well as Andre (Bite Me Too) had a fly fishing each so I tagged along with the latter and his guest Christian to learn more about it. In no wind at all it was tough for both boats so only a few smaller fish between them like this Green Job. Usually there is more in that.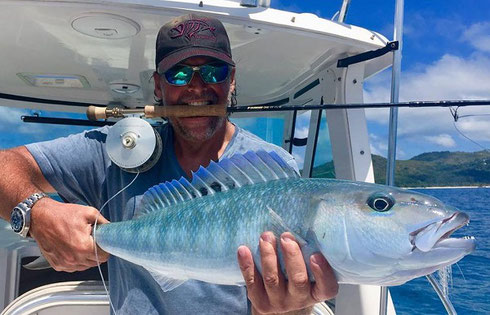 Far more spectacular was this monster of a Jobfish that ate a popper on Bite Me.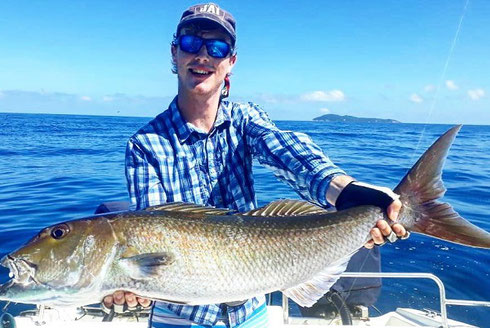 That tour on the 5th also produced this GT that had been left very much in peace those days apart from a few unlucky attempts of my own.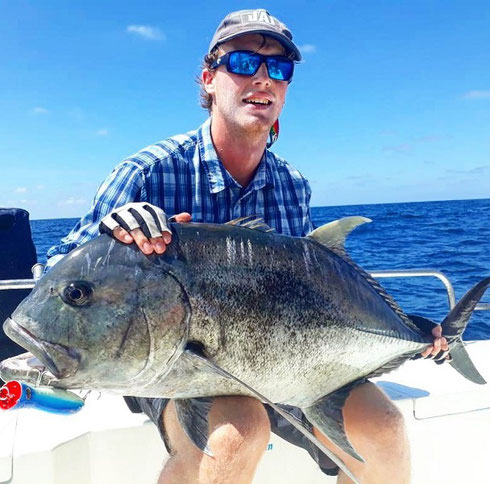 Thus fishing was reasonably solid around the islands but meantime quite erratic at te Drop Off. The Tuna are everywhere but about not at all to be tempted. Stomach checks on the few that grabbed a trolling lure revealed loads of very tiny fish not to be resembled by any poppers, stickbaits or jigs. Marlin were seen in the wake of the Tuna but the few hookups lead to nothing as the unexperienced anglers were unable to cope and in their excitement made all sorts of mistakes. Jigging did not work at all at times when that tiny bait was presumably swimming deep while on other days it was good. Makaira obviously hit one of those. (Click picture to enlarge)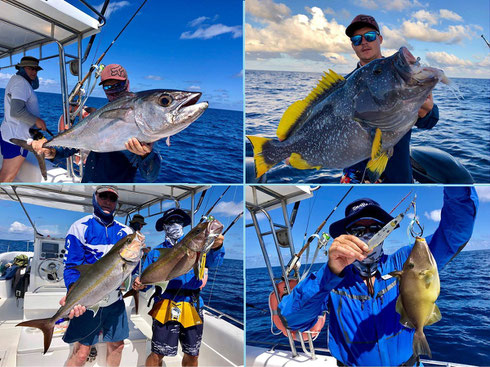 Also Mervin reported on trips with Amberjacks and some not too big though Doggies. Other times the result was just long arms and faces. And my own fishing? Was limited for various reasons beyond the usual new year admins and off fishing obligations. My GPS is a full write-off and despite trying for days would not even come on long enough to retrieve all my fishing spots. Maximum frustration. Also the boat had several issues but on the 2nd local buddy Jason and I still went for a few hours close to shore. Started well with Jason`s good size Yellospotted Trevally on his third cast. I never managed one on the big poppers but a smaller one seems to work.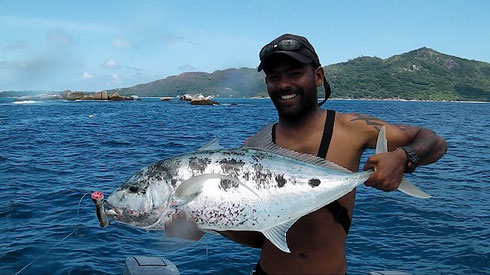 Could have been a really good trip if Jason had hooked his GT and I had landed mine but the line broke on the spool for no explicable reason. Second time the stuff failed me so it was instantly retired and the final test result is a full fail. Small jigging was decent after we found the right drift with about 50 fish and one of those cool Golden Trevallies is always nice to catch.
On the 9th after miscellanous boat repairs we did the same trip once more. Again jigging was good by numbers but without a special fish worth showing. Popping should have produced that but neither the two GTs nor that Doggie of 30-40kg raised showed enough determination for a proper strike. On the way back an impeller gave up so trouble never stops. Was a quick fix though so yesterday I went again this time alone. Well, except for the bad luck still somewhere on board: raised 5 GTs in the morning but only the last really fat one took properly. Had no chance to get stuck though as just on that cast the two hooks had inexplicably caught another. Incredible. Another hour in the afternoon produced nothing more than a Barracuda and a Shark luckily avoided. Jigging in between was again very productive but three big fish in a row could not be stopped on the light gear and cut the line in the bottom coral. Probably those plateau Doggies typically in the 15-25kg range. Also a big Emperor Snapper that would have been a new PB came away after a long fight just dropping the hook. But all in all the mix of about 40 fish was pleasant and it was a far from boring time. Bit unlucky of course but others like that poor Trevally in the right bottom of the pic had a far worse day. (Click picture to enlarge)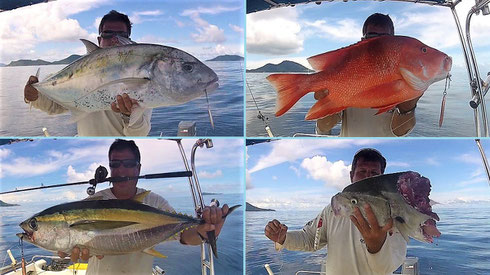 Also went fly fishing a few times but as usually not to any spectacular result. The common small fish were reliable as always but this Brassy Trevally represents the top end of catches.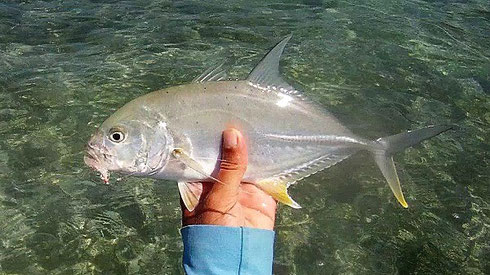 Saw two Bonefish in a pothole full of broken coral on one occasion but fast strip triggered no reaction and on a slow try got stuck in the rubble instantly as expected. So need to find a few patterns with weedguards now or try to attach them myself. Thus all in all the 2019 fishing could have started better for me but am sure to be on the sunny side again sooner or later. 
For the preceeding reports check the archive.