The days after the last report pleased us with good weather. A bit too good at times actually especially along the first few days as there was mostly either just a breath of wind and current or absolutely none at all. Such conditions do not help the jigging much which on top becomes very exhausting in the subsequent blazing heat. Even Mervin`s jigging group that had seen it all struggled on Divinity. Especially those big Doggies seen every so often that were not be tempted drove them nuts. Of course nice fish of various pecies came up here and there but some days they just quit early as the heat was just unbearable (click pic to enlarge).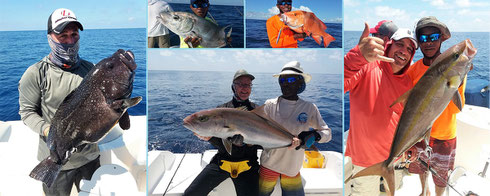 On the 17th I tagged along with Greg & Phil on Bite Me and Austrian guest Markus. A bit of wind, swell and current helped the fishing but not Markus who kept a close eye on my rigs and knots that I did on the way out so he was a bit pale when we got to the Drop Off. Thus this for him new kind of fishing became even more difficult and in the beginning it was the boys and me catching the majority of fish. But after Markus had coughed out the bug he felt much better and started catching fish jigging. Also or rather especially that his very first cast produced him a not too big Tuna caused a lot of delight among us all (click pic to enlarge).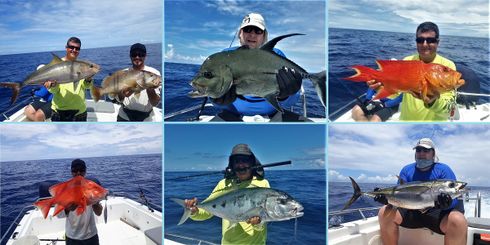 Not a bad start of his tropical angling adventure but things should get even better. This Rusty Jobfish Markus caught in the afternoon was weighed by Greg at a stunning 12.5kg on a non-certified scale and thus was 500g over the current pending World Record also from Seychelles still to be confirmed by the IGFA. But as there was no certified scale available on Praslin that Sunday evening the fantastic fish just got eaten.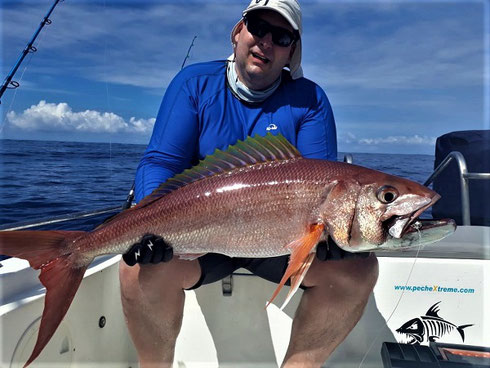 The following day Danish angler Stefan familiar to you from the last report did another Drop Off trip with Greg but in again dead calm conditions it was tough fishing with relatively few and unspectacular catches. Meanwhile Mervin trying further north had a similar experience apart from a somewhat better Doggie in the mix. Markus on the opposite must have lit a few blessed candles as that same day his trip with Martin on Venture turned out nicely. Trolling they found a drifting FAD that as usually produced Wahoos and Dorados in good numbers. A few jigging attempts in these conditions did not lead to many fish but as one of those was a small Sailfish that was eventually released he had plenty reason for joy. No pic of the Sail unfortunately but this decent Moontail Grouper is also worth showing.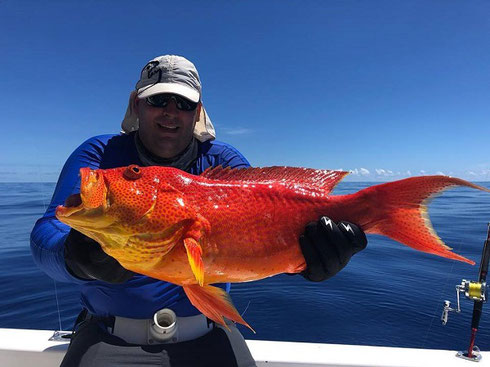 Another day later thus on the 19th Stefan from Germany and Christian from Austria who I had managed to match for the occasion did a half day popping on Bite Me. We went for the afternoon as the tide looked better and despite a sea again as flat as a mirror and no wind at all it became a lively few hours. Three Sharks plus a few Jobfish and Barracudas provided a good warm-up for the popping newbies. From an ever and ever again chasing group of very big Yellowspotted Trevallies they unfortunately managed to hook only two which both came away. But quite late already Stefan managed to get a GT. Not huge at around 20kg but all in all it could hardly have gone better.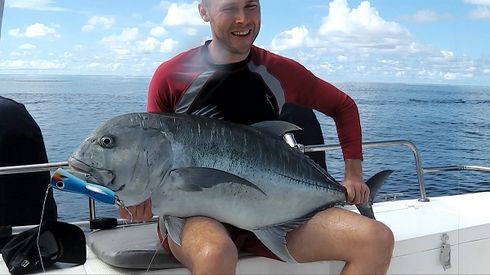 Next day it was Drop Off on Bite Me with Markus once more. The very nice chap insisted again that I should bring my gear and fish. Worse things to happen especially as recently I fished hardly or rather not at all so despite once again hot and windless conditions motivation was high. Paid off to a good degree for all of us (click pic to enlarge).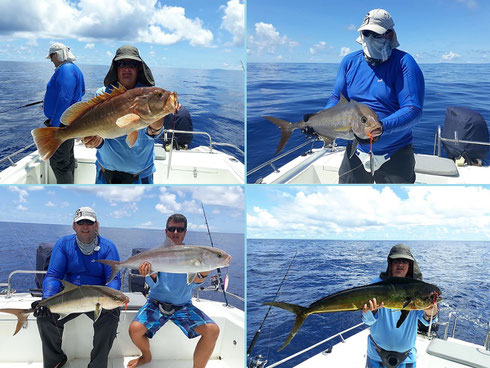 Meanwhile a whopper was still to come. As Markus had been suffering a bit with his quality but quite heavy gear along the first outing and we did not see any massive fish recently I lent him my medium heavy PE5 outfit. And of course on that he received a big hit in midwater after he had jigged up about half the way from 80m. The fish produced a long but for those mid size Doggies around 30kg unusually slow run until only about 40 of the 300m 60lb braid were left on the rather small Saragosa 10000. Greg put the engines in gear so we followed and after a few minutes when we were right on top of the fish we were back to a soothing 150m on the spool. But the bugger down there unstoppably just swam along the bottom into ever deeper water so despite staying right above we were down to a few meters again when the sonar showed a depth of 240m. Had already said good-bye to my line when the fish suddenly stopped and Markus managed to bring it up inch by inch.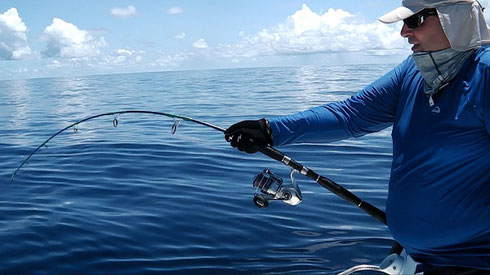 The poor chap really gave all he had and after another short sprint of the fish in midwater he handed me the gear. Luckily nothing went wrong and quite a monster of a Dogtooth Tuna eventually surfaced. Except for that one everybody was cheering of course. Markus about this massive catch, the boys as it was the largest Doggie so far on their boat. Was also utmost happy. Less because of my few shares in the catch but more as it showed me that the comparatively little gear could indeed handle such a massive fish. Admittedly with a good double dose of luck though.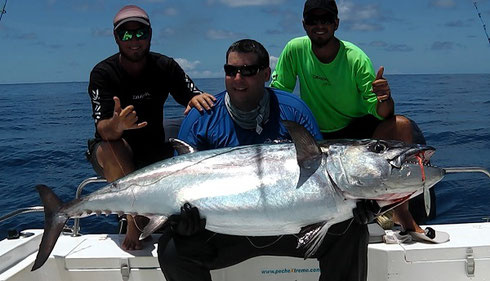 Double dose as firstly the fish had stopped right in time before it had spooled us and secondly the hook sat perfectly in such way that the mean teeth could not get to the rather thin leader. The whole incident was quite nerve tearing and I think the video clip reveales that quite well.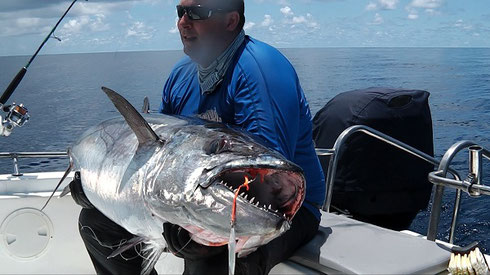 Had estimated the Doggie at around 50kg or so as it was not all that long and when coming up from large depths they are usually quite inflated. But Greg reported later that the scale had shown 61.58kg so it was a real fatty. Next day we were out there again but this time with guests Aleks and Christina from Croatia and in about 8 knots of easterly wind that had come up from nowhere. The two anglers love slowpitch jigging which as usually prodcued well but among the roundabout 50 or so fish mostly consisting of small Groupers etc. were few noteworthy ones. Just one of three Amberjacks was better and this BekBek pretty nice.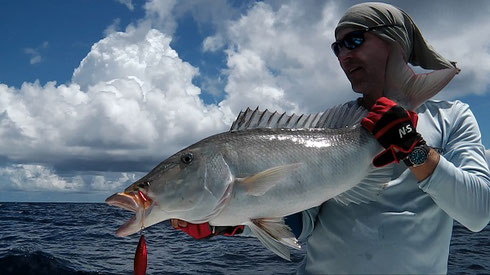 Fish of the day though was no doubt this beautiful Diamond Trevally. In all those years here I had only seen that single one I caught close to Praslin but this one was a good bit bigger. A rare and indeed fantastic catch!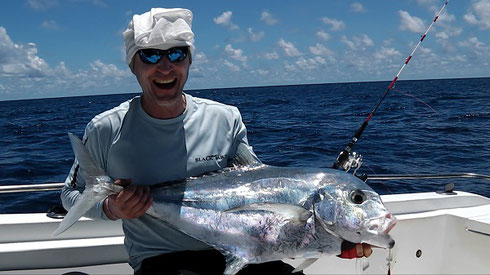 On the 22nd Mervin and guests had intended to fish the northern Drop Off but strong wind from that direction made it impossible so they had to divert east. There they found out jigging in larger depths was simply impossible in 2.8 knots of drift and also on the shallows it was still a total headache. So they turned to trolling which produced a handful smaller gamefish while raising a Sail and a Marlin to the teaser but these disapperead without a take. On the 23rd the so far blessed Markus got to know the other side of our fishing when chasing GTs around the islands teaming up with Christian. Despite all effort by the two as well as Greg & Phil plus myself the afternoon`s hardore popping raised no GT. To be precise we saw nothing at all apart from two rather lackluster Sharks. Seems this was rather a day for Marlin fishing as JD`s boat One Love ran that day by his two young staff landed a Marlin of 107kg. Would have preferred that fish to be released but it was the very first for the youngsters to I think we can excuse them for boating it. Also regular Stephan from BlueWaterFishing currently holidaying at Denis Island reported this nice Black tagged and released.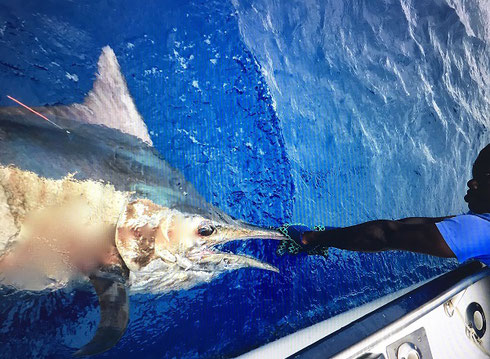 The fish had first attacked Stephan`s jig, disappeared for a moment and then was pitched. Cool stuff. Jigging up there was much better that day compared to the ones before with about all the usual suspects caught. That Sunday evening the weather changed bringing very strong northerly wind  with heavy rains on top. Monday morning it was dead calm again to everyone`s surprise but a few trips had been cancelled the evening before already as such weather right after the full moon usually persists for a few days. Tuesday the 26th I went with Aleks and his wife again this time fishing with Mervin. Jigging on the plateau was unusually slow only improving a bit by numbers around noon but still just a few presentable fish out of the around 30 caught. Popping on the other side was really good: on the first spot Mervin raised a bunch of Sharks and Doggies hooking one of the latter but it cut him off in the bottom coral. Next spot he managed 2 out of 4 Bluefin Trevallies. At then next place which was a rocky island he got a small GT on and missed a big one (click pic to enlarge).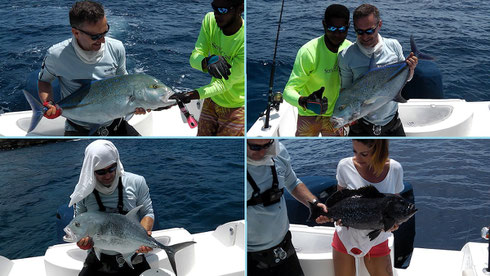 After some jigging that produced among other fish that Grouper also in the pic we returned there and on the first cast he hooked a big GT. With engines in gear we got it away from those shallow rocks. Measured a whopping 142cm. Pretty big even for our standards.
Back there Aleks asked for mercy but Mervin had none for him hooking four casts later a standard size one of about 23kg. It dropped the hook right at the boat but crew Steven just grabbed it and swung it into the boat. Crazy stuff. Really don`t miss the video. All Trevallies were released of course.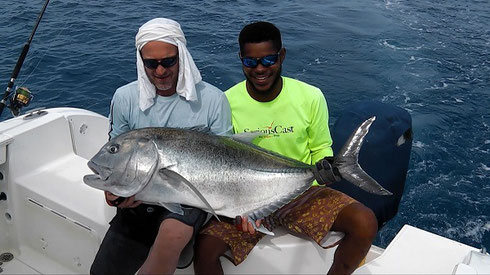 That evening Stephan sent further news from Denis Island. Jigging was solid with all the expectable suspects showing up in average sizes while a bit of teaser trolling lead to a pitched Sailfish.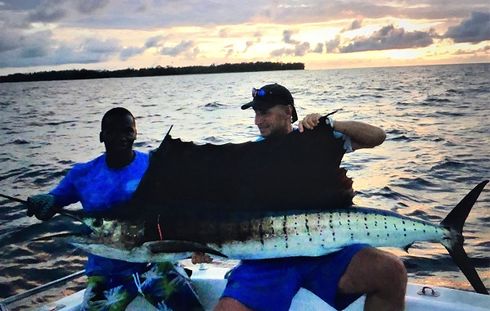 And this formidable 22kg Wahoo came on top.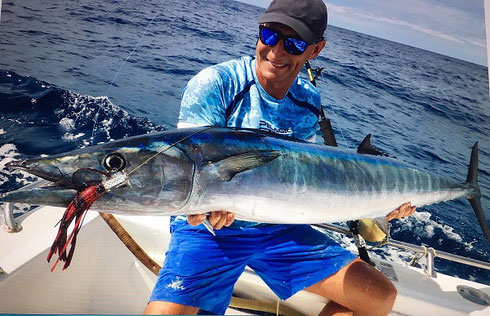 This confirmed that Greg & Phil would take Markus there for his last fishing so in the morning we went. The popping along the reef was a bit slower than usual. To be precise the fish seemed to like only Greg`s particular stickbait producing him two Bluefin Trevallies, two Doggies and a couple Jobfish while we others no matter what we offered had to share a few of the latter among us. For jigging we then headed to a bank about 12miles east which is often very productive as to find something special for Markus. But this did not really pay off with around 30 fish caught of which the Amberjack in the pic was already the best one (click pic to enlarge).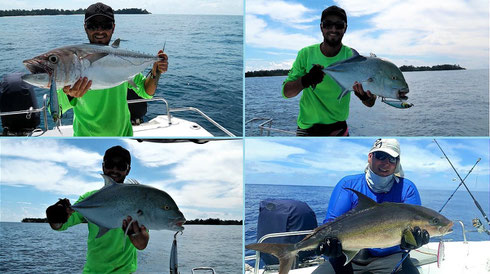 Still Markus had another good time and left us quite impressed by the new fishing experience and learnings he gathered along this fortnight`s trips and it was just great to share his joy. Seychelles was beyond his expectations in every way as he stated and I hope we will see him back. Stephan not to miss out on that sent me this pic of a Doggie caught on his light slowpitch gear that afternoon off the island. Bit of salt rubbing.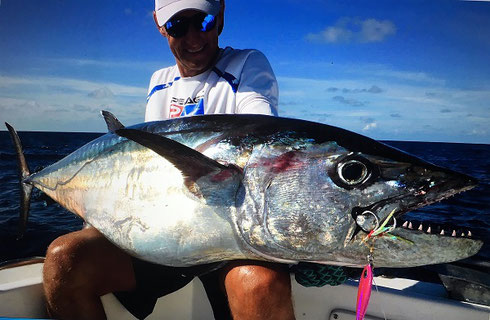 A little later that night Mervin called to report four GTs caught within three hours fishing with his repeater guest Jean-Daniel. He said three of the Geets were terribly skinny. Did not know what to think of that until I received this pic and then was unsure whether to laugh or feel pity.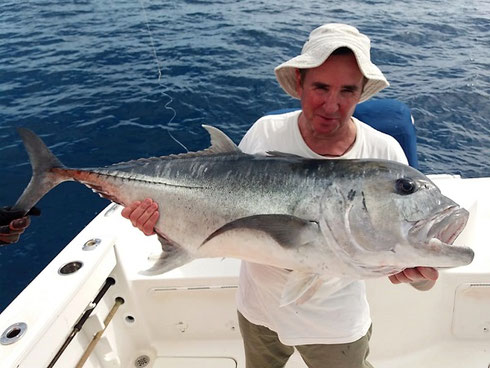 Such fish at 127cm fork length should weigh close to 40kg but this one according to Mervin was not even 30kg. We discussed a bit what the reasons might be and with a view to the always plenty baitfish could only suspect spawning. So if you think of doing the same make sure it won`t become excessive or your clothes won`t fit. Okay, am getting weird. Too much time spent in front of this screen today I guess  and this report is long enough anyways. So Tight Lines and cheers until the next one for now.
Am quite grateful for two little news from late January: firstly the boat Alati reported a Billfish Slam consisting of Blue and Black Marlin of 350 & 400lb respectively as well as a Sailfish of about 70lb. Definitely a day not to be forgotten for the happy angler and made possible be the very skilled crew. Of course all the Billfish were released as it is custom on that boat.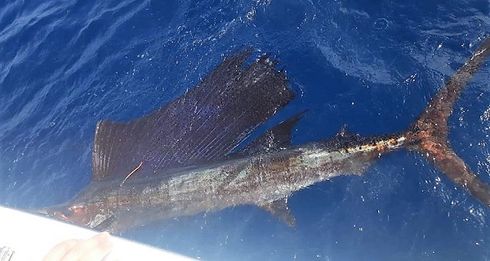 Secondly Manfred from Germany sent over this nice catch pic from Mahe where he spent his holidays. Often enough I emphazise how tough the shore fishing can be here but with some luck and endurance a cool fish usually comes round some point.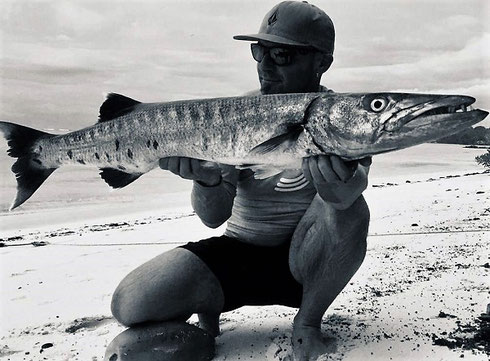 Without these two little notes nicely resembling the versatility of our fishing options this report would have come along rather skinny. The problem was simply the weather. First few days of February brought heavy downpours and strong winds oscillating around 20 knots. Got sunny again after a few days but that Northwest stayed and kept everyone from going out until last weekend those two cyclones that had built up northeast of Madagascar moved off into southeasterly direction. Made a few fly attempts in the most protected corners but still quite ridiculous conditions. Without much success though. Most interesting fish was this one locally called Baton Longue. Must have caught at least 40 of those before but only one of them in that cool green suit.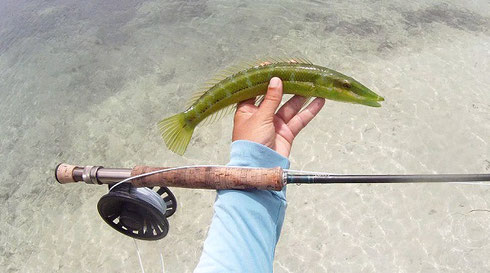 On top unusual was that the fish while in play was followed and attacked by a very aggressive Shark quite big at well over 4 feet for that shallow just knees deep water. While taking the hook out the Shark loitered around so to protect my new little green friend but also my calfs I gave it a tap on the head with the rod tip and the bugger bolted off. Only last Sunday the wind dropped or rather was cut off like someone turned a switch in the afternoon. Fortunate for Mervin`s group due to start fishing with him on Divinity the following day. Mervin´s report on that first trip sounded far from perfect though as without wind and current jigging in the deep was tough. Still a few good fish with some Amberjacks among those surfaced.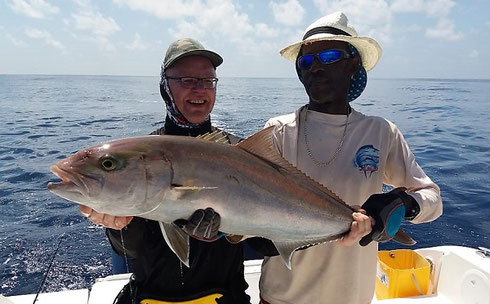 He informed me that out there the water must have been boiling from bait and birds along vast areas. The group thus insisted to troll and cast for Yellowfin Tuna against his advice as he had figured already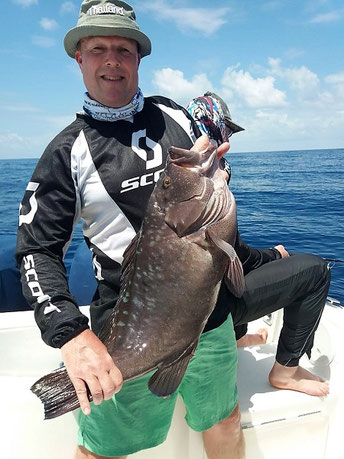 the commotion was caused by just Bonitos and Skipjacks. After a few hours without even a knock eventually everybody was ready to resort to jigging again. This time in the shallows which produced around 80-90 fish in the afternoon. Most of them Green Job as usually but with some better ones among those like good size BekBek and Groupers like this one. The next day I tagged along with Greg & Phil on Bite Me as well as guest Stefan and his wife from Denmark. No wind moved the water and in about no current jigging was tough business. Sort of a déjà-vue for Stefan who had experienced exactly this szenario two years ago already. Most on the boat took several dips in the sea to be able to fish on or just survive the blazing heat. The bite as usually in such situation was rather slow and every fish caught was hard worked for (click pic to enlarge).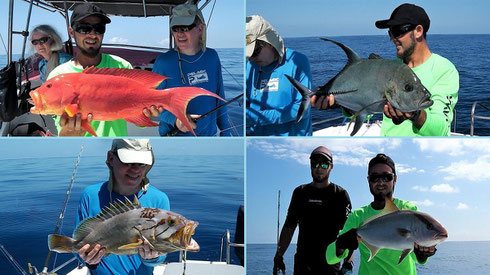 Changing spots trolling lures along did not only produce most welcome windchill but also a Sailfish that must have been immune to the hot surface water. Was not fully determined but Greg like always fully motivated had not only done a stripbait but also skillfully freespooled the sceptic bugger until the fish was on. Excellent job from there to the release after this quick foto.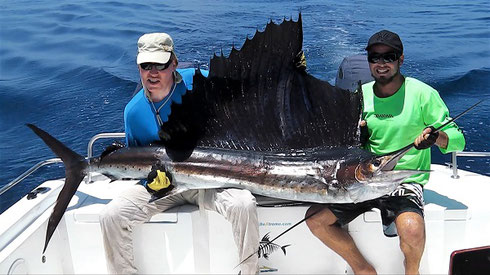 Mervin that evening reported similarly difficult jigging a bit further south but they found Tuna on the surface picking up a handful on poppers. One on jig was eaten by a Marlin but the line broke and a large Doggie spat out a Bonito that it tried to steal from a jig. So quality fish are there no doubt. But the general situation of wind, current and bait is just unideal. Wednesday in a very light breeze and a bit of drift it was slightly better while still not spectacular. Yesterday it was flat calm again and extremely hot so I suspect not much worked as I did not hear from him. Also Stefan who did another day with Greg & Phil this time around the islands quit popping quite soon and also rather went snorkeling after two eventless hours of trolling. Things went a little better for very nice Austrian fly angler Wolfgang during a half day trip with Andre on Bite Me Too with about 10 Green Job, Bluefin Trevally, Coral Snapper and Trumpetfish caught. No big ones though but good fun (click pic to enlarge).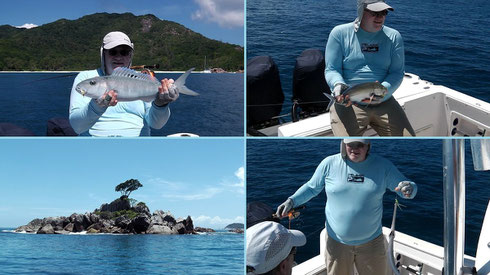 Early afternoon we were all well cooked but he as well as his wife still enjoyed it all. Firstly as fishing in these unique sceneries is simply stunning as such and secondly as fly fishing from a boat was a new experience to him. I also learned a lot about it again and as the new fly reel and sinking line have arrived will give it a go as soon as the backing is also here. So be ready for some future reads about probaby inevitable beginner`s mistakes and funny fails.
For the preceeding reports check the archive.