Still no international flights so no tourists and subsequently no fishing on the charter side here in Seychelles. Often enough I was lucky in May to somewhat save such a situation for the report but not this time: the Southeast has established itself rather early this year reducing the opportunities on top of all and the results of the handful trips done were rather erratic. For example the last opportunity to try north turned out a waste of time and fuel with just a handful of small jigging fish caught while a lure trolled between the many spots tested produced a single Bonito. At least in the pitiful catch a new face showed that Faizal identified as a Glasseye Snapper. Many thanks for the assistance once again.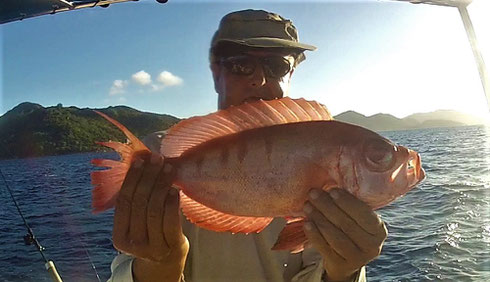 Else it was a bit better at times but all in all rather average. South of La Digue on the 8th jigging was quite allright but during some popping only this overoptimistic Rainbow Runner shown in the low right turned up.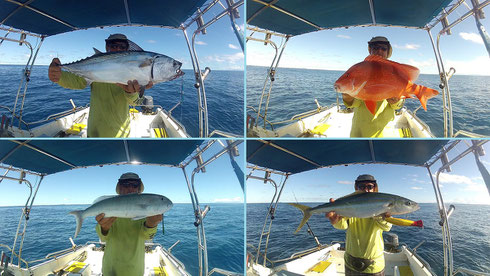 Also went west twice and learned at cost of many jigs that Sharks and Pickhandle Barracudas had infested the area completely. Only presentable jigging catch was this small GT that is rather rare to get here this way.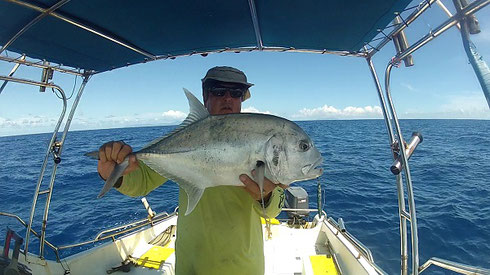 Popping was a bit better but really went unlucky along the first stint: a bunch of Trevallies pushed and shoved running after the popper not managing a proper strike, a miss by a quality GT and a massive one came bolting from the depth mouth wide open at me just to decide against the popper already nearly between the engines. Instead it swam under the boat and when appearing starboard I just slammed the lure dangling on 2m line on its head as it so often works fly fishing. The take came and nearly pulled me out of the boat but no hook grabbed so I was left behind with a heartbeat like a squirrel. Crazy moment. A week later same place I had misjudged the conditions and faced a really rough sea. But the work at least paid off a little in the shape of two small GTs.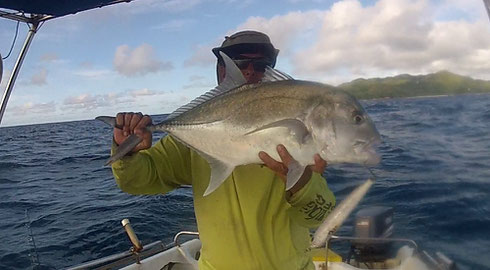 On top came this good size Bluefin Trevally so I was not unhappy with a view to the conditions. Sorry for the unnoticed water drops on the lense.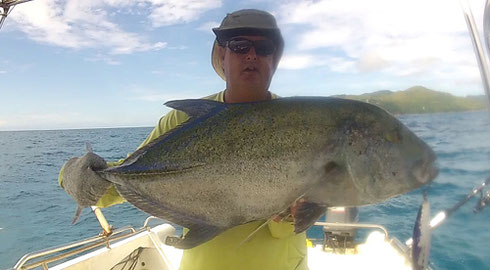 Since mid month the Southeast gained strength in pushes and twice already blew at 20 knots for a few days while most of the time it is around 14 to 15 knots. When dropping by 2 or 3 this allowed for a bit of jigging in the La Digue channel.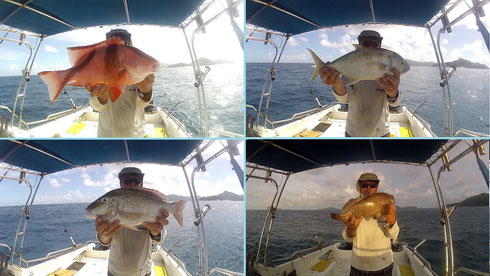 Usually it is an entertaining thing to do as frequency but also variety tend to be good to the point of producing new additions to my personal species list like the Grouper in the upper left.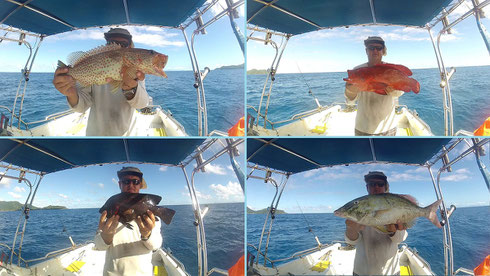 Not huge stuff but there are better fish and those Golden Trevallies this size provide a quality fight on the small PE2 jigging gear.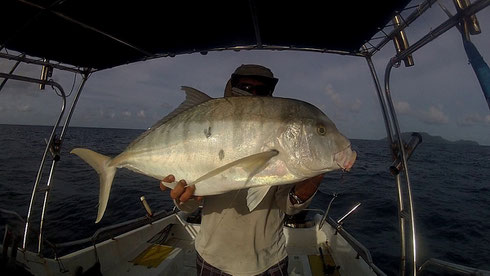 One was substantially bigger forcing me to follow it on the engines for a good 10mins to stay vertical on top and stand a chance but the bugger that must have been in the 10kg range eventually found a coral to cut the line. Bad enough but that it happened twice more with probably Groupers of similar size that same day really frustrated. Must admit though that the terrian with those many rocks at the bottom is tricky. Might make sense to substitute the light stick for a PE5 but find the idea to use such a crane in just 20m of water still a bit awkward. Chances for such trips become rarer with every week now and can not really be planned as the wind occasionally drops slightly for just a few hours which is beyond what the weather forecasts here can predict. Thus it comes down to peeking out of the window in the morning and if it looks allright grab the gear and run for it while praying the wind will not come up. That latter part starts usually a day before already if a rare opportunity should indeed be on the forecast like it is the case for tomorrow. That explains why this report is coming a day early. Fly fishing unfortunately is no exciting resort these days. Already the first push of the Southeast ruined the Grand Anse flat by pushing in endless supplies of drifting seaweeds.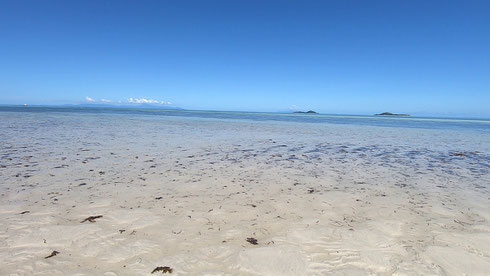 No chance to find Bonefish in this mess so I was grateful to bump into that school of small but adventurous Permit behind a sandbank.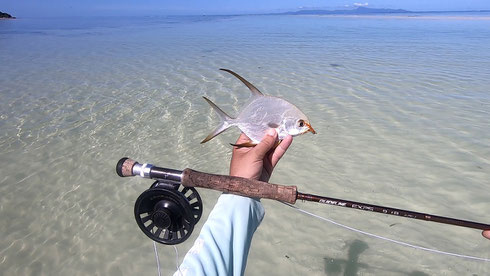 Only area with reasonable conditions is the bay here at my place but since Easter all predators are gone apart fom the odd small Shark and also the Bonefish must have moved out. Still tried every so often at different times and tide levels but never even just saw anything of interest. So nothing beyond hand size to earn here these days and when it eventually happened once length was the only acceptable aspect.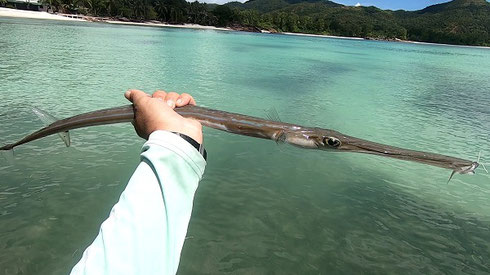 The locals have been doing bits of their beloved handline fishing to stock up their freezers thus also no contributions from that side. Only Brandon (Island Rhythm) reported a Sailfish caught trolling when heading to the spots. Some more were seen by different people so they are here already and this one next to two more was released on a private Mahe boat.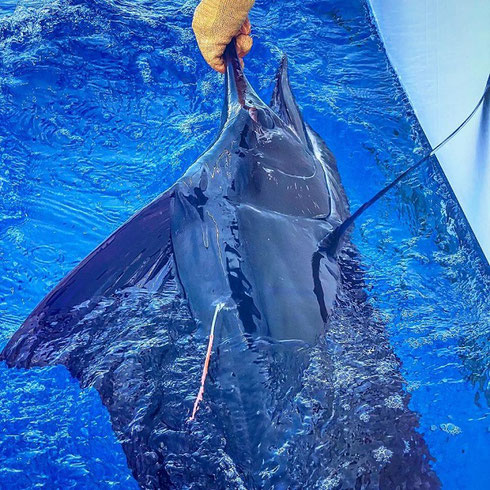 Same destiny for this really cool GT caught by the same angler.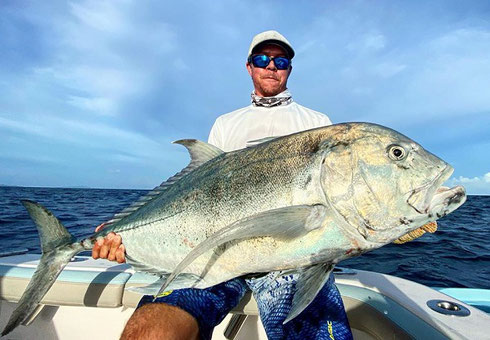 Generally though the trolling season is approaching with Sailfish the main target but also Marlin is always a possibility. How it can go when all comes right once more the 9G Sportfishing Team proved with a Billfish Slam consisting of a Black and a Blue Marlin plus 4 Sailfish in a day. Excellent stuff!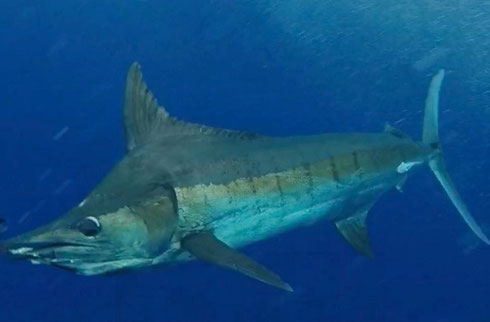 So as usually plenty of fish here. Would be really nice to soon welcome guests and anglers again to share the fun.
For the preceeding reports check the archive.