Still few tourists on the islands and on top the Southeast has set in so there is rather little to report. The weekend 17th & 18th the wind was still moderate so Greg (Pipsqueek) and his guests could bag some Dorados and Bonitos on short trips of about 3 hours. Would have liked to do some trolling then, too, but my lads hat to work. After that the wind came up strong. Edwin (Dan Zil) tried anyways on the 21. but it was very tough to fish and catch also some Bonitos and a Dorado. The forecast predicted a somewhat calmer spell for Friday so early at 6am I went for some popping with Robin. 7 knots from Southwest seemed allright but the sea was still quite rough. A spot with some rocks reaching above the surface I would not have fished on my own in such conditions but with always one man at the helm we tried there for about an hour. Little reward though as a Jobfish following the popper was the only activity. Conditions were a little bit better on a plateau about 2 miles further out so there one could keep the poppers working better. I received a knock from a fish I could not identify and somewhat later a pretty spectacular miss of a smaller GT I estimate at  maybe 15kg. Not much of that to see on the GoPro snapshot but as I have not much else here it is.
The following weekend conditions continued to be acceptable for trolling but again my friends had obligations. This was sad as my suspicion for some good fishing materialized. My neighbours from Mauritius were around again and fished both these days. Saturday they returned quite upbeat after next to a Sailfish releasing a Black Marlin which they estimated at 400lb and getting some Dorados on top. Sunday produced them another Sailfish but the next day the wind was back already so no chance to go again. On the 27th I went with a friend for a little bottom fishing just at the exit of the bay for her to get an idea of fishing with rod and reel. In these two hours some 30 obviously smaller fish of all kinds came up. She had a lot of fun fishing while I was baiting the hooks, unhooking the fish etc. and catching one here and there in between also.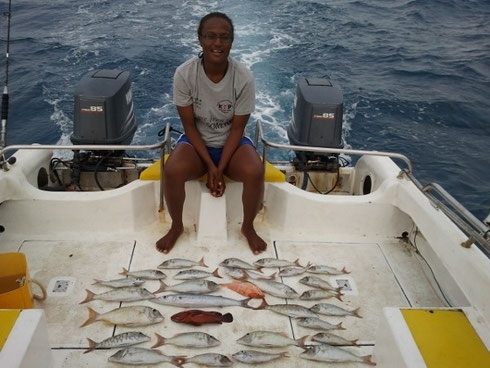 The following day Greg had a Fly Guiding with a South African angler. With a view to his very light tackle (class 4) and the strong wind they had to stay close to shore and ended up with a handful of Snappers. Thursday afternoon I happened to watch something chasing the school of small Mullet in front of my veranda so I made a few casts with spinning tackle. After a couple of misses a fish was on which turned out to be a Trevally of around 3kg.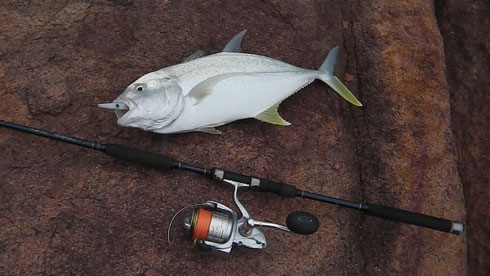 I phoned round the last couple of days to make sure not to miss out on any catches but nothing more came up. Martin is abroad, Christian did not have any trip and JD a bottom fishing that ended rather quickly as his guests became seasick. We will hear more of such in the months to come for sure. Faizal reported that for the reasons mentioned also few people went fishing out of Mahe. But as the island hosts more tourists and also provides more larger boats there were at least some trips. These showed that especially since the wind came up fishing activity also did so: Wahoos, exceptionally big Dorados, plenty Sails in the area and also Yellowfin Tuna - very small ones though.
Like every year after the Easter holidays we now see a lot lesser tourists on the islands. Most guests still come from Europe where the warm and nice season is now approaching so few people travel. Here the weather we encountered in April presumed though the Southeast is already sending first signs of life. On the first of May we already had a breeze which Greg (Pipsqueek) made good use of for his guests. After losing a Sail after a couple of jumps it only took minutes for the next one to come and solidly hook up.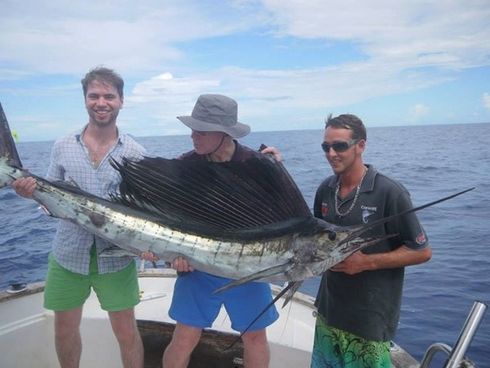 As that day also produced some Wahoos and Bonitos as well as a good bottom catch everyone was happy. The following day brought the first real Southeast blow with gusts exceeding 20 knots and heavy rain. The day after things already calmed down somewhat and again Greg on a pleasure trip with his brother and a friend bagged a decent Sail of 38kg plus some Dorados. Also they lost a huge Dorado close to the boat that must have been between 15 and 20kg. In the course of the 4th the wind dropped completely so I went for some popping in the afternoon even as the tide was anything but good for that. When going out I met Lady Caroline, the boat of hotel l`Archipel which just returned with 3 Wahoos and some Bonitos. My popping produced no activity for about two hours until late already I had a miss. Two casts later into the same area I had a hookup but the fish did not pull as hard as I had hoped for. Quite quickly I figured that I was dealing with a small reef shark of about 1.20m and probably around 17kg. Being all on my own the release was somewhat tricky but the barbless hooks helped it eventually.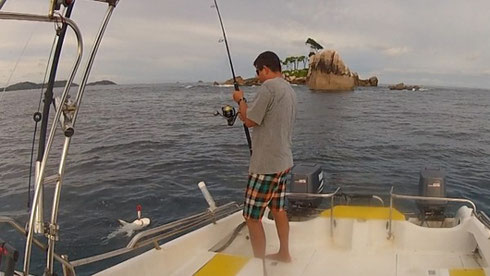 If you like watch the spectacle in the video clip here.
The days after were hot and calm again. Apart from a Sail caught by Mervin`s (Divinity) guests and a lost Marlin by JD (One Love) on the 7th there were no trips as far as I know. That evening I watched from my veranda tiny fish being chased for a while. Some point I grabbed the spinning rod and on first cast and maybe two cranks retrieve with a small Icecream lure I had something on but it felt odd. A little later I figured what had happened: The hook at the end of the lure had been grabbed by a Jack of maybe 1kg but on the upper hook was another fish. It turned out to be a Striped Threadfin which surprised me. I had caught such with a grub pulled along sandy patches before but was not aware that they feed on the surface also. Besides all that I think it is quite a statement for the richness of these waters to catch two different species of fish on one cast with a single lure.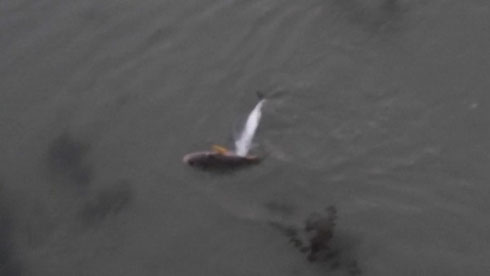 For the next day a promising breeze was forecast so we went trolling even despite moon and tide were not in our favour. Ted brought once again his friend Peter who had not provided us much luck twice before while we did substantially better without him. Right after lines in the southern area in we caught a rather small Dorado and had a knock on a Halco plus a loss of another Dorado a little later. We started to have hope for Peter but after that things calmed with the wind settling against the forecast. It took about two hours until the next fish which turned out to be another Dorado of better size this time. Just my underwater pics seem to leave room for improvement.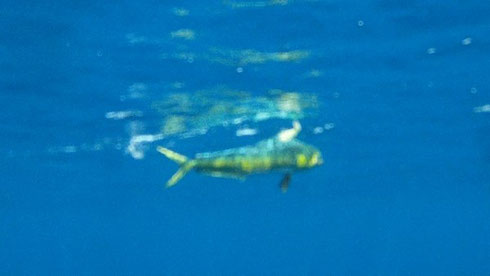 The next area already half way to the Drop which is usually very reliable turned out all lifeless this time. So after a while we decided to troll all the way up to the northern spots. Somewhere in the middle of nowhere we encountered a double strike on the Halcos eventually boating two really fat Bonitos. Just arriving at the first northern spot I happened to see a rod tip being pulled briefly. Right away looked at the lure and there was the Sailfish. Ted teased it a little and got it on but after a few seconds running the line became slack. So gone our chance to turn a rather slow day into a good one as the following 3 hours searching a by then flat calm sea produced not even another knock. Was it the conditions or was it Peter? By now even I start to believe the latter because the next day amidst the same unfavourable conditions Bertrand (Aquaholic) returned with a 125kg Marlin plus a Sail and some Wahoos - excellent job!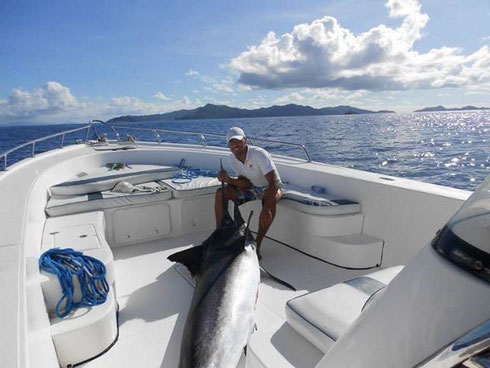 Subsequently Ted and I decided to give Peter another chance in perfect conditions and then do a counter test without him. Depending on the result the chap will have to find himself another hobby ...
No clue what made me go popping noontime of the 10th in blazing sun and extreme windless heat. All that spoke for it was a bit of a high tide after days nearly without any amplitude. Still I went the few miles to Booby Island and gave it a try. Something following the popper early provided some motivation. The fish was about a meter in size and its broad back was blue. If this had been in the open waters I would have suspected a huge Bonito but so close to shore I have no idea what this might have been. After nearly two hours of exhausting work I finally had a nice Green Job of maybe 7kg on but a second one same size came up to also attack the lure knocking the first one off - too bad. One of those a little later followed a smaller spinning lure twice somewhat later but was not willing to strike again. So this trip left me with just some exercise. The next couple of days with calm and heat only interrupted by an occasional thunderstorm with heavy rain showers pretty much nothing happened. Only Christian went to the Drop with his brother in law for some jigging Sunday catching some Groupers and Amberjacks but no Doggie this time. Would have liked to do some more popping but the boat had a few issues. These eventually were sorted out at the boatyard on the 14th and also the new transducer I could finally mount. On the way back home I fished two spots in perfect conditions: No wind, calm sea, high tide and a slightly overcast sky. So I was somewhat disappointed that the first spot produced no activity at all. The second spot also held none of the usual Fusiliers but therefore lots of Sardine-like fish feeding on the surface. After about half an hour I recorded a miss. Usually these fish do not raise a second time - at least not for me - but this one did and got hooked. Despite being in already shallow water the GT this time did not make it down into the rocks but instead came onboard for a short visit.
At maybe 9kg this really was not a huge one when considering that they can be up to 50kg here but still I was very pleased. Watch the live strikes, fight and eventual release in the video.
A little later I had another miss but that fish would not to be tempted again. Yesterday it was trolling once more with Ted and Peter - his `last chance` - at full moon, a perfect tide and 7 knots of wind forecast. Unfortunately this wind must have had better things to do so we bustled about on a sea flat as a mirror and got cooked. After an hour we got a fat Bonito which was unfortunately too big for making a Panama strip but at least provided for some small Kenya strips. One of those was fancied by a Dorado about another hour later and only minutes after we caught a rather small Wahoo. Some point we saw a pretty huge dorsal fin appear some 150m behind the boat. It looked somewhat sickle-shaped at first so I suspected a Whale. But when the angle changed a bit it was clearly triangular. Am not an expert in this stuff but believe that this shark must have been at least 4m if not more. In any case none of us wanted to take a swim. Around noon already half way to the Drop - same area as last Thursday - we found some activity. While dealing with a double strike of Wahoos on the Halcos an Iland Lure was taken by a Triggerfish. Was a bit of a mess but eventually we managed to boat them all. Catching Triggers while bottom fishing or even jigging is not unusual but while trolling?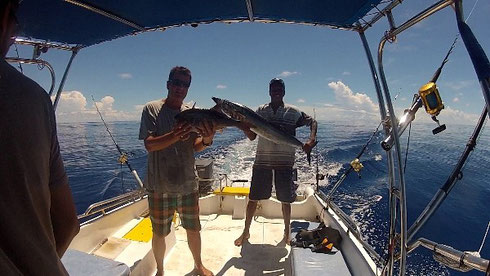 A bit later we recorded another double strike providing us with two more Dorados but unfortunately that was pretty much all for the next 4 hours until lines out except one incident: Was just doing a larger Stripbait out of a Dorado belly when a Sail came in from portside. It first tested the 25cm diving softplastic Bonito which I had given a chance with a view to the countless small real ones in the area. It knocked the line out of the outrigger clip but got not hooked as this thing has only a single hook sitting rather deep in its belly. So the Sail turned to the Ilander on the other outrigger also knocking the line out of the clip but Ted could not hook it. This has been the 4th time in a row now that the `daily´ Sail came just when I was doing stripbait so not being at the rods. Do they have periscopes these days? Can not say if I had been able to hook these - or even just one of them - but I really would like to get an opportunity myself again ... Check in the pic above how flat the sea was and probably anyone would say that in these conditions we did not have a so bad day. Even more with a view to water temperature rising from already hefty 30 degrees Celsius in the morning to 32 degrees in the course of the day. Nevertheless fishing this May has been somewhat below par compared to the years before as this is usually a very productive time. The Yellowfin Tuna and normal size Bonitos which usually provide a lot of entertainment are completely missing. my old friend Pierre suspects the large Tuna trawlers as these boats are going out again with the pirate problem seeming dealt with. This year a shocking 40 licenses have been granted and it seems quite possible that this might play a role. But maybe catches will return to normal when the Southeast sets in and the water cools down. It should not take much longer, actually it can happen any day now. Today it already blows a little and just now Greg reported a good size Dorado. 
For the preceeding reports check the archive.