The last two weeks were pretty crazy here in mostly ideal weather allowing for numerous fishing trips. Tagged along on many of those thus time was little for this report and thus it comes a bit in a stakkato mode with some copy & paste from the facebook posts. No chance to cover all that happened in full detail and present the hundreds of fish & pics but I will try my best. On the 15th Mervin with Tadej & friends fished the Drop Off catching a few Amberjacks and Black Trevallies while the focus was on Tuna popping. With a view to the over 50 caught I think that worked.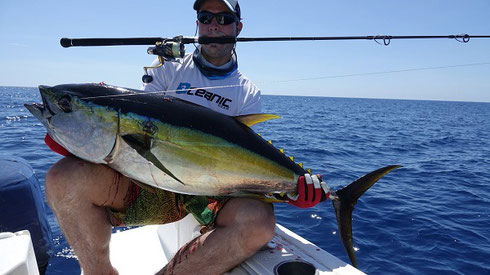 The next day was intended to chase GTs popping in the south but an unexpected and unusually strong southeasterly wind made them divert to the Drop Off again instead. Not a bad idea as jigging was very good with more than 30 Amberjacks of which 10 were over 20kg and 2 over 30kg. They did not run after the Tuna but at times these were close enough for a few casts and with some caught on jigs also the tally was about 10 that day.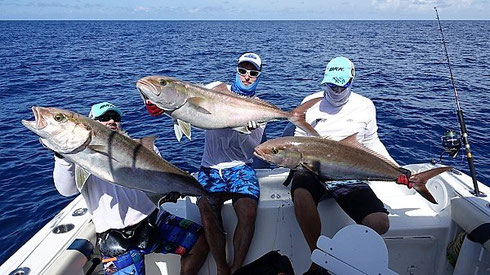 On the 17th I went with them again. This time indeed south for the GTs but only a few juveniles and a decent Bluefin Trevally turned up. Bits of jigging produced around 25 of the common suspects to be expected on the plateau.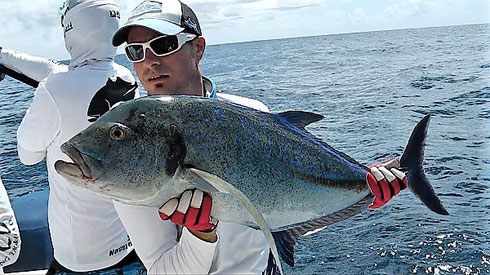 The following day was their final one fishing for this year and it was best for last. Jigging at the Drop where the current had switched to north was first class with a good mix of species and finally also the Doggies turned up.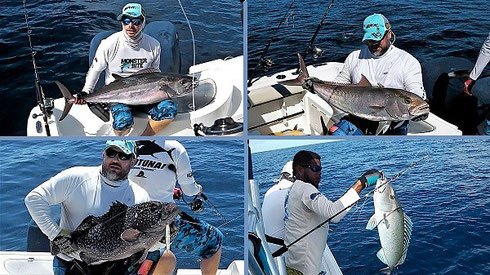 Sharks were a headache most of the time mutilating and stealing fish frequently. First time I saw one even feeding on half a floating Doggie.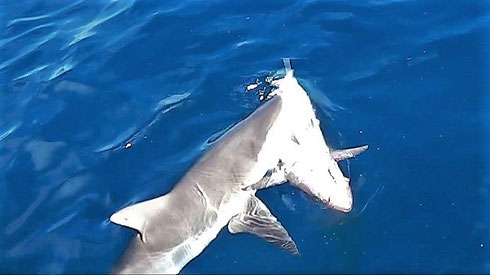 Still several of these tough fighting fish were caught among other species while a few visibly big ones came away. But one did not. Matheusz fought it for 45mins in which Tadej caught two smaller ones and when the huge bugger came up it was that usual hysteric laughter all over the place as while everyone knew this had to be a big fish no-one expected anything like this.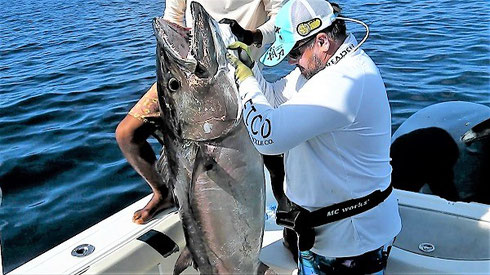 The fish measured 183cm fork length and weighed at 72.1 kg. This way the group`s visit this year came to a spectacular finish and having become friends over time I hope we see them back in 2019. Their catches including the massive Doggie of course make up a good part of this month`s video clip. Comes loaded with Tuna live strikes, GTs and jigging fish so not to be missed. Click here to see it all and of course the catch of the monster.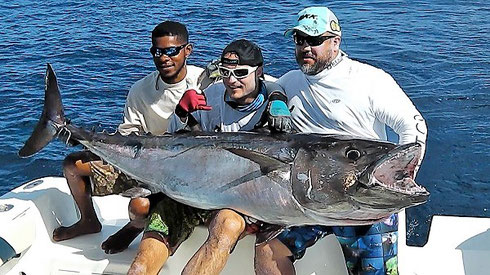 The following days were calm in different ways: no charters apart from a couple trolling trips in neary windless conditions. Used these for bits of fly fishing but stepped into a sea urchin and two stings even penetrated the sole of my boot and of course my foot, too. When trying to get them out they came apart. To have them taken out by a doc and ending up with around two weeks off sea and boats was no option with all that was coming up so resorted to pouring vinegar and lime and pressing the foot on an oven heated stone every so often as it has been done here traditionally. Was fun. Also kept fly fishing on a daily basis as to keep the wounds open for the acids to work. Fishingwise it was rather disappointing. Found no Bonefish on any of the spots and had to make do with the usual small catches. A few Permits and this better Poutmouth were standing out a bit but all in all it was frustrating after waiting so long for good conditions.

Meantime Brandon (Island Rhythm) reported losing a Tuna estimated at 85kg and a Marlin when trolling the Drop Off. The latter seem to sit there feeding on that endless buffet of Tuna as along a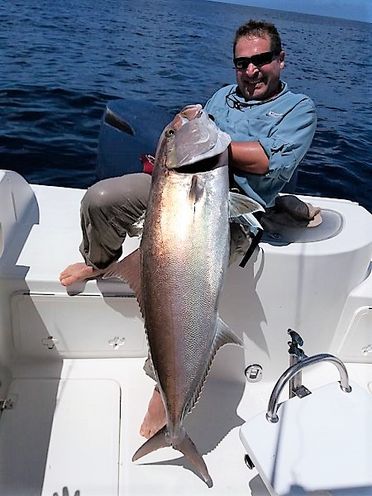 jigging trip Mervin also lost more two Marlin. One had grabbed a jig and the other a hooked Amberjack right under the boat but both broke the obviously too small shock leader. Lots of other fish were caught and the largest Amberjack of the day was this one at 34kg.
The 23rd was the first of five planned fishing days for the Aquafish group that travelled all the way from Argentina. Company owner Mariano and his 9 eager anglers hopped on three boats and off we went to the Drop. It was not the very best jigging on a windless and thus very hot day after the current had switched to east again. Still all boats caught a reasonable number of jigging fish with some quality ones among them and the Tuna casting provided loads of fun once more. Just the Doggies which were one of the group`s two priorities would not show that day except in the first few minutes on Greg`s Bite Me where I was present. During the very first drift three reels screamed simultanously and after some 30 seconds all three lines ended up cut in the bottom coral. Clearly Doggies in the +40kg range. With that in mind the group jigged like crazy but no more of those turned up that day.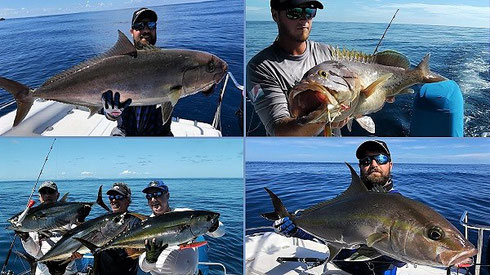 Still the groups were happy with their first Seychelles fishing experience and fully motivated the next morning to chase the second priority which were our mean GTs. And these were indeed very mean that again windless day so hot that it must have been chilly in hell in comparison. All boats raised some GTs and all had a single hookup but the three fish came away in the rocks. Tagged along on Martin`s Makaira that day and we saw a bunch of 20 to 30 big buggers cruising in a channel but they would not raise no matter what we did. Thus catches between the boats were limited to two small Geets, a good size Bluefin Trevally and some others like Jobfish etc.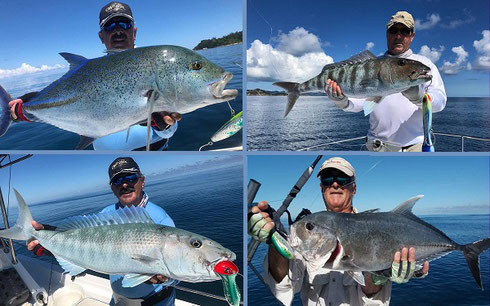 After a day`s rest and excursion to some smaller islands in the vicinity deeply impressed by the outstanding beauty of this place the group resumed fishing on the 26th in drastically different conditions as the wind had picked up to 12 knots from north so it was a bit rough. This time it was Drop Off again and I went on Divinity. Learned that these three anglers prefer popping a lot over heavy jigging so while getting some fish that way most of the time was spent on the Tuna. Meanwhile the other boats enjoyed good to first class jigging with at last Doggies in the mix. While Greg`s Bite Me had one Makaira got seven.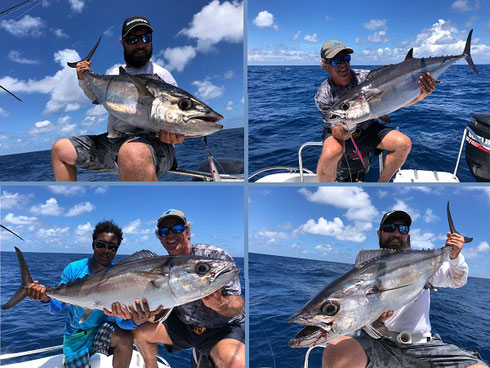 It was clearly that boat`s day as earlier when trolling for just a little while they managed a Sailfish next to some other pelagics and also good size Amberjacks and Tuna on the jigs.
The group was highly excited that evening and fully determined to get GTs the next day. But this time these were a headache. Until early afternoon just on Divinity one had been caught while Bite Me and Makaira did not even get to see a single one all day. Maximum surprise when Mervin`s group came in a little later having four under their belts. They just hit one of the always short and these days rare activity windows late that afternoon which produced them the three additional ones. The Bluefin Trevally was caught on Bite Me btw while we on Makaira had to make do with a Bigeye Trevally and a Greater Barracuda despite relentless casting.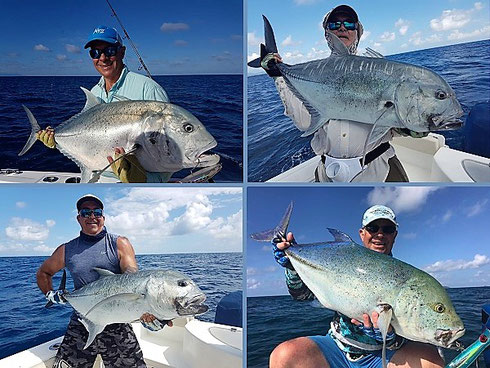 That evening another boat that had come over from Mahe reported this hefty 70kg Yellowfin Tuna caught on a popper at the Drop Off.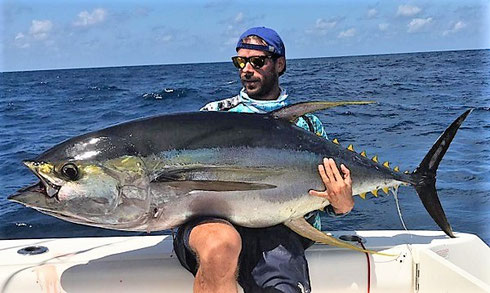 The 28th was supposed to be another rest day but two groups had other ideas. Makaira went after the GTs once more but again saw none. Meanwhile Bite Me was at the Drop enjoying good jigging in the morning with another Doggie among other fish. That bite slowed when the tide turned so they resorted to Tuna popping catching more than 30.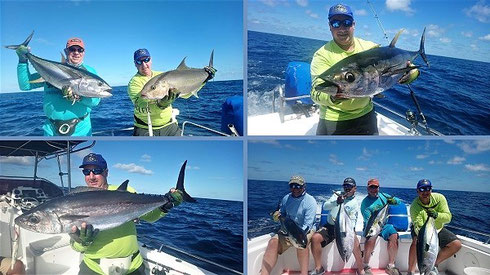 Yesterday was the group`s last official fishing day but I had to stay behind as to put the video and this report together. Greg`s group on Bite Me went after the GTs again and had good action with 4 hookups out of 8 raises. Three dropped the hooks but one was caught at last. Good job. Somehow these chaps are a magnet for the Bluefin Trevallies as again they got one and this Jobfish is more than decent, too.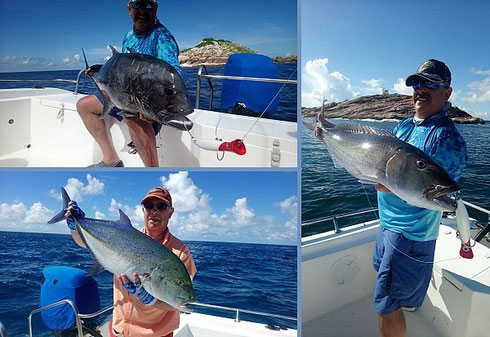 Meanwhile Mervin and his group aimed to the most southern granitic island for GTs too, but more or less there the anglers rather wanted Tuna again. Heading towards the Drop Off cut into fishing time but they got some Tuna and on top found the Doggies. Just that several hookups could not be converted due to all sorts of mishaps. Mervin some point grabbed a rod and caught a 30kg specimen instantly. Was a helpful demonstration obviously as after that the anglers managed a few more. Last but not least Martin on Makaira first trolled a bit bagging an Offshore Grand Slam of Tuna, Dorado and Wahoo. Then they jigged and hammered the Doggies. Not the biggest fish in sizes up to 20kg but after catching a total of 15 of course at last night`s farewell Creole style barbecue it was smiling faces all over.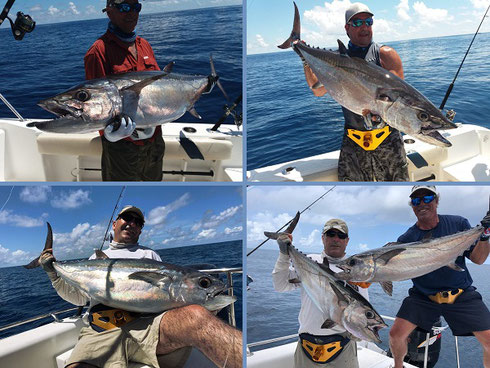 Was or rather is great to have them here as they only leave tomorrow and of course this last full day here scheduled to undwind a little was used by most anglers to go out once more on two boats. Won`t get the results before closing this report but if anything spectacular should happen it will be covered in the next edition. And as happy as they are with how it has all gone chances should be good to see them back next year. Am delighted too as all went without glitches so a big Thank You to the skippers and crews of the three boats as well as the team of l`Hirondelle guesthouse who accommodated the group and looked after all their needs beyond the fishing. With so much going on my own fishing activities naturally fell short. Have not even been on my boat in this period let alone gone out on it. But all the groups I went with had a full understanding how tough it is to just be there and film. Thus every so often I was given the opportunity to drop a jig or cast a popper and catch a fish, too, just to calm that addiction that we all share. Thanks guys, really appreciated that.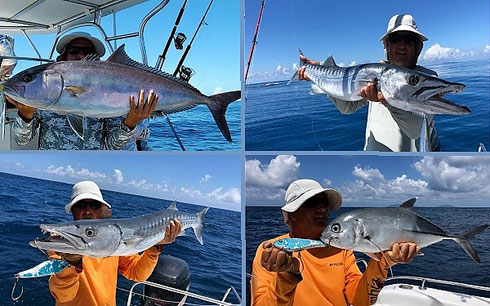 Funny btw that no-one got any Greater Barracudas on their poppers while these stinkers seemed to like just me. Should get my fair share of fishing again along the next two weeks though as tomorrow my buddies Marco & Jörg arrive. Weather permitting this will mean hardcore fishing and what we get done or not you will find out in the next edition. Or via the facebook site on a more or less daily basis if you don`t feel like waiting. 
This first half of November pleased us with quite calm weather and light westerly winds most of the time that picked up only occasionally and along the last few days it was only a southerly hint. So at first glance pretty perfect conditions but right at the beginning of the month a strong eastgoing current set in which had an impact on the fishing. On the 2nd during a popping trip for returners Sara and Stefan from Germany with Greg on Bite Me the activity was extremely low. About nothing came up at all and only mate Phil managed to get a smaller GT.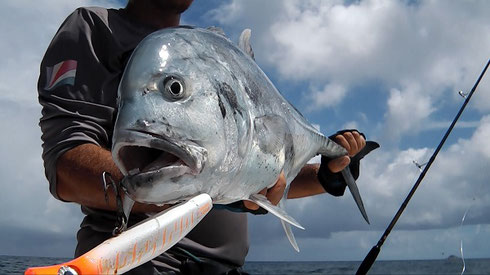 Stefan worked hard casting and popping relentlessly but just once a big black GT raised only to watch the popper pass and drop back into the depths. That day also the annual La Digue tournament kicked off. Since extending the fishing time to 27hrs a few years back the number of participants kept shrinking  from formerly over 30 boats to now just 10. Really sad but for smaller boat anglers the new rules are not fun any more while also many of those simply can not bear the increased expenses that come with the current format. Thus many of the former enthusiasts nowadays perceive themselves just as welcome prize money sponsors for the big boat guys as competing against those large vessels with all amenities, pretty much unlimited resources and range is effectively absurd.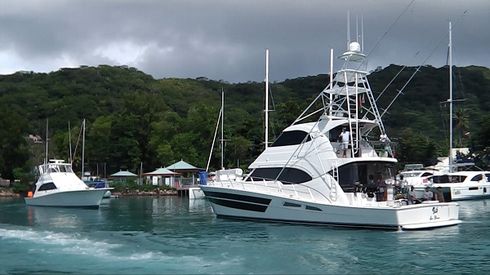 This tournament used to be my personal highlight but for the reasons explained I also only went to witness the weigh-in for the last few years. While formerly about a thousand people crammed La Passe jetty to watch were only about 60 this year. Really hope the the SSFC ExCom will now and at last take the right measures as else this well established event that just had its 15th birthday will probably go down the drain rather soon. The few still participating boats all had their problems with that pumping easterly current which lead to a much lower and less spectacular catch than usually.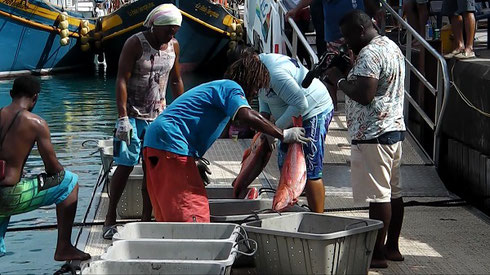 Trolling had been allright though with I think at least a ton of Yellowfin Tuna of which most were the usual school size of 10-20kg. Some were bigger but much fewer than I had expected and the maximum was around 40kg. Similar for the rather few Doggies btw of which we were used to see many more and much larger ones. Dorados and Wahoos were offloaded in good numbers while the boats had four Sailfish and one Marlin between them which were all released. Anyone interested in more details like the largest fish caught in the prized categories can just click on the report of Seychelles Today daily below.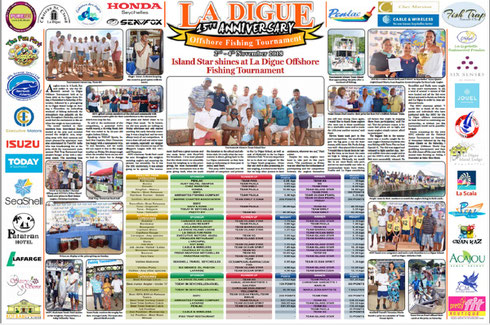 Winners as usually since the rule changes turned out team Island Star on their 60ft Viking beating team 9G on the 76ft Riviera. All nice guys that I like a lot but with a view to the discussions about the current format and recent development of the tournament this is food for thought I believe. The next day it was time for buddy Stephan`s annual birthday fishing trip. The present was supposed to be a GT but these probably were still adjusting to the shift in current or were too busy. He got a single strike popping and his knot gave up. Jigging was also below par which was no surprise as easterly current is never useful for catching bottom dwellers. We had some 40 or so fish but mostly smaller Groupers and Snappers with a few better ones in between like these Yellowspotted Trevallies or Stephan`s Bohar Snapper and Whiteblotched Grouper.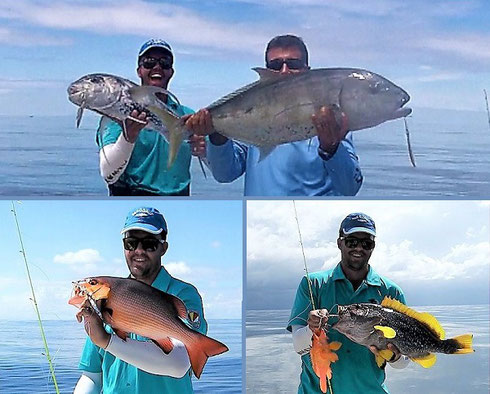 Another day later, that was the 5th, I went to the Drop Off with Mervin and a few friends. Jigging in depths over 60m was nearly impossible in that current pumping at 3 knots and if one got down the bite was slow. On top for a first time in months we hardly saw any Tuna on the surface to cast at. Generally the group was rather interested in trolling and that went okay. Could have been great actually with a view to those briefly raised Sailfish and small Marlin and the much larger one of about 200kg that dropped the hook when bolting away.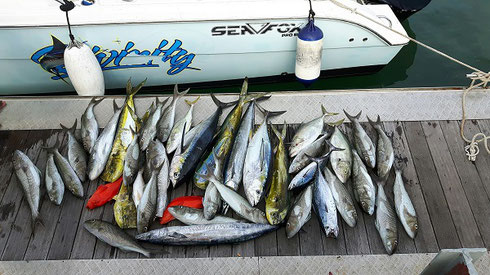 A learning from the trip was that the next day´s jigging trip out there with Sara and Stefan would be tough. But luckily we found the Tuna early a few times bagging a few and also a Dorado on Stickbait. Jigging in the depths was again a hopeless endeavour but on the shallows it went really well by the numbers while the spectacular catches did not come.
Stefan and Sara were still happy despite this not so perfect fishing as they got to see a lot else from Dolphins and Manta Rays to a quite large Whaleshark well 10m long. So it was not boring at all and a big Thank You to Sara for the cool underwater pic.
The next day at noon right on low tide I met with the two on the southeastern reef to flyfish a bit with Stefan. Conditions were nearly perfect for a change and for the first time there I was able to spot a pair of Bonefish. But those already jerked when I shouted and waved at Stefan so subsequently a few clear casts produced nothing more than a little knock and a silver blink. Another day later it was all about GT popping with Mervin for English guests Helen and Vance. The whole morning passed pretty much eventless. On top Helen could not get the necessary casting distance so I took that job and then gave her the rod. To film people all the time doing what I like most – fishing of course – is a bit masochist already but this was even harder. Got lucky this time though as at noon and low tide things came to life right when both guests took a little break. So for a few minutes I did not just cast but also retrieved the popper while Mervin worked Vance`s rod. We raised a bunch of GTs and were both on. Of course we handed over the bent rods instantly and all came right: my GT was not too big thus just perfect for rather petite Helen while strong Vance got Mervin`s big one and both managed to land the fish that were of course released after a few quick fotos.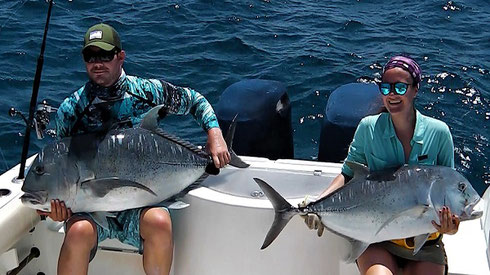 A little later Helen got a small GT on jig and managed another one by herself on popper while Vance lost a big one only to at last catch another in the 30kg range on the final spot. After the slow start this was of course a perfect way to end this cool trip with very nice people.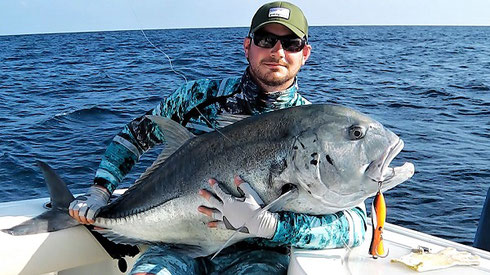 Must have been a good day for the Geets anyways as Greg reported two more for his guest that evening. See the bigger one: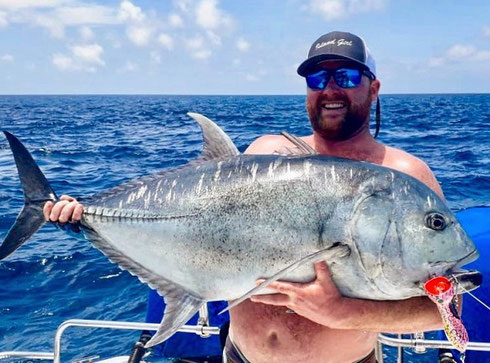 Again a day later I wanted to go out as to catch one myself again and spontanously invited Sara and Stefan who did not encounter the best of fishing luck here this year. No amends unfortunately as on the first spot I raised 3 big but lackluster GTs in quick succession and on the third spot a whole bunch. Called Stefan to cast there and he got the strike but that moment his main line broke. Frustrating and now he will have to wait for his first Seychelles´ GT until his next visit that is of course already in the planning. These fish are not easy to get by in many ways as the next day demonstrated. It was the first trip for Tadej from Slovenia who fell fully in love with our fishing during his honeymoon two years ago and now returned for his third time again to enjoy a week´s hardcore fishing with friends like last year. Due to the strong current the Drop Off made no sense so we stayed around the islands but bad luck was with them. Along the day they hooked up with 7 fat GTs but 6 came away in the rocks and the other dropped the hook. So did also a decent Yellowfin Tuna while a Wahoo stole an expensive stickbait and several more circling the boat on multiple occasions just produced a few misses. Especially sad about the first one that was simply huge at around 2m in length. No idea what it might have weighed. Only late that afternoon Mateusz managed to get and most importantly keep two GTs on in quick succession. Here is the first one.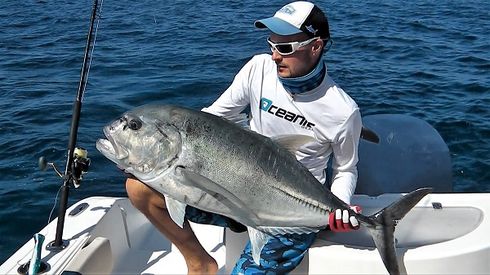 Due to a technical boat issue the group only went again on Monday still fishing between the islands and it while a lot happened catches again did not really match the high hopes. Only a handful of GTs showed and the only one hooked again made it into the rocks. They caught numerous smaller fish topwater like Rainbow Runners, Barracudas and even a Unicorn on popper between all those Sharks that were very active Two could not be avoided but were released. It could have been really great if at least some of the well two dozen raised Dogtooth Tuna in various sizes from 10 to 50kg had been caught but these were hopeless that day. Only two made a half hearted attempt and it was eventually Martin who got two on jig. Unfortunately no proper pic of the larger one so you get to see only the smaller specimen. But the fight was great on a PE1-2 outfit.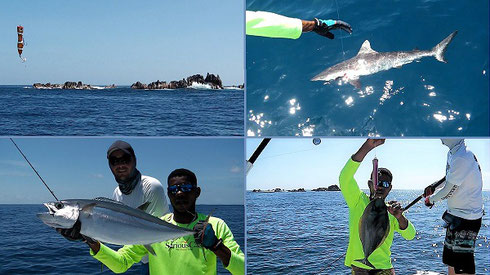 Tuesday the 13th they had their first Drop Off trip for this time. The guys were feverish for Yellowfin Tuna and that worked at its finest. In the beginning we chased them and this already produced numerous of those.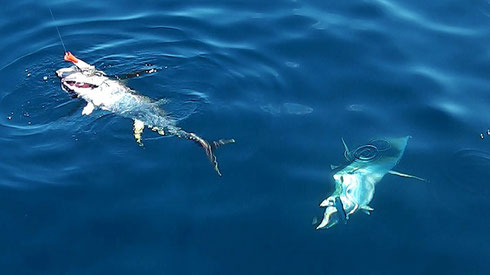 Later during the not all that perfect jigging with still some 30 fish and a couple good ones in between it was just casting and following the Tuna when they appeared nearby. Several strikes per cast, double, triple and quadruple headers were common and behind the cam it was real work to catch at least a good part of the crazy action. Just a pity that neither the Sailfish nor the Marlin each circling the boat for a while could be tempted to strike. But this was rather neglectable as it really was just great fishing.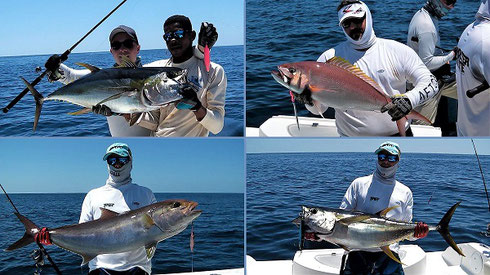 Yesterday was the fourth trip for them but it turned out rather disappointing. We went further south in quest for Doggies and on the first retrieve of the jigs a 50kg or so specimen tried to steal a Bonito from the hook right at the boat. The instantly bridled Bonito and another were ripped off the circle hooks, two hits on jigs leaving the typical toothmarks and one that came off on the run left everyone electrified but from then on it got pretty dull. Just few small Groupers and stuff were caught jigging for hours with not a single Tuna to be seen in the area that was instead flooded by Skipjacks. Only at noon and funny enough just before low tide jigging activity picked up somewhat with one small Doggie and a handful of other nice fish in between the smaller ones like Job etc. All in all around 50 fish were caught.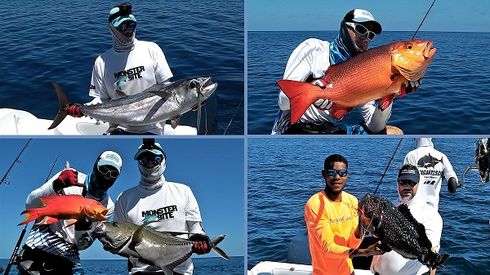 The Tuna continued to sit further north in the area fished the previous day as I learned from Greg that evening. They caught loads popping and trolling there missing a Marlin on top. Of course we also saw several more trolling trips taking place along this report period. These usually produced the common mixed bags of Tuna, Dorados and Wahoos in good numbers as this fishing remained solid to say the least. Sailfish are also still around and among the catches like the one from Bertrand on the small YamSing. A family had a great day with Greg last week catching 28 of the smaller Gamefish so they insisted to again the following afternoon for the just 3hrs he was available and that was still enough to hook up with a Black Marlin. On the tiny 30lb Penn Squall reel it took a long time to bring the fish to the boat and despite a half hour spent on reviving the fish it sadly did not come back to life so it had to be taken.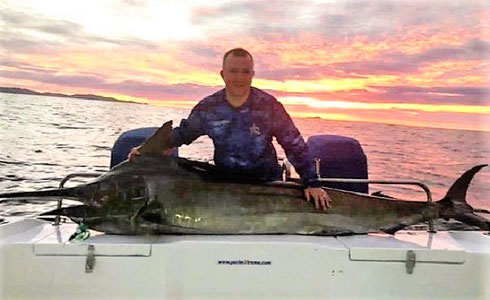 Am most curious already what the second half of the month will have in the bag for us. If you are too, and don`t feel like waiting until the next report you are welcome to connect to the facebook site here and be informed as things happen. Now after all the work with this report I will bustle off for a bit of fly fishing as the tide push is just ahead.
For the preceeding reports check the archive.