As expected the Southeast gained strength once more after the few calmer days around mid month. On the 17th the holidaying neighbours from Mauritius gave it a try anyways and got a Dorado and a Wahoo each along with some Bonitos while missing a Sailfish. Must have been anything but a comfortable ride in that narrow cigarette type boat with its 3x250hp engines at the back. Towards the following weekend the wind started to drop gradually. Saturday it was still rough so Mervin (Divinity) had to abandon his trip after only an hour as the guest was seasick. Sunday the 20th allowed for some successful fishing by buddy Ruslan on his large Albemarlin. Next to a Dorado of 5kg and a Wahoo of 15kg he brought home 18 Yellowfin Tuna. The largest had around 35kg but lost its tail to a 3 meter Shark while being pulled to the boat.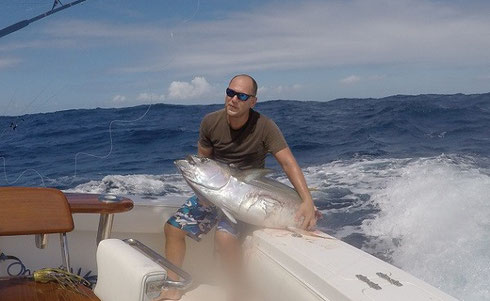 That same day Mervin (Divinity) caught around 30 large Bonitos off Sisters. A Marlin popped round to take a look but could not be enticed into any action. If it was the same one another Praslin boat lost that day remains unknown. Along the following days the wind continued to drop knot by knot but the swell remained massive. Got a feel of that when moving the boat around the island for a hopefully final repair of my steering. Also my neighbour said his ferry trip from Mahe back to Praslin was the roughest he had for years. Despite the conditions Mervin fished off Marianne with an obviously seaworthy guest catching a small Sailfish and plenty large Bonitos once more. The next day these were gone and after missing another Sail they returned with 2 Dorados, a Wahoo and 16kg Tuna. For Friday the forecast predicted only around 5 knots of wind. Faizal made great use of that and the genetic sample kits for Billfish that the Seychelles Sports Fishing Club had handed out the evening before. Samples of 4 Sailfish can now get analyzed by scientist in order to find out more about different tribes of Billfish abundant in this area. Here is one of the Sailfish.

Definitely worth mentioning that this sampling still allows for the fish to be released which was done with all four of these Sailfish. I went that same afternoon to check the sea conditions and test a few structures off Curieuse if these are any good for jigging. They were not at all providing no fish but the sea was surprisingly calm. On the way back I caught a Bonito so had some flesh for finally trying out these Inchiku Jigs that had been lying around for a while. This only though at my emergency spot for strong winds just outside Cote d`Or bay which holds only smaller fish. But the jig works nicely producing about two dozen fish of different species. Largest one was this Grouper.

Unfortunately I only learned later that it was a juvenile of those that can grow really huge. If it had told me right away it would not have ended up in the kitchen. That fish spat out a funny little creature so ugly with its little devil horns that one can be nearly tempted to like it. By the shape I would think it must be some kind of trunkfish.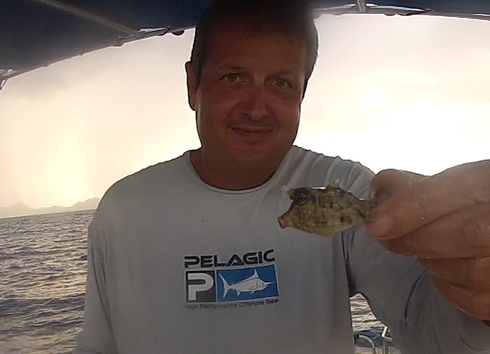 Simon (Island Rhythm) also was out catching 2 Sails along with a couple of Tuna, a Dorado and 2 Wahoos. The following day he got 2 more Wahoos and a dozen Bonitos in 3 hours. Greg (Pipsqueek) had a charter for popping and spinning and reported a decent Bluefin Trevally and another GT.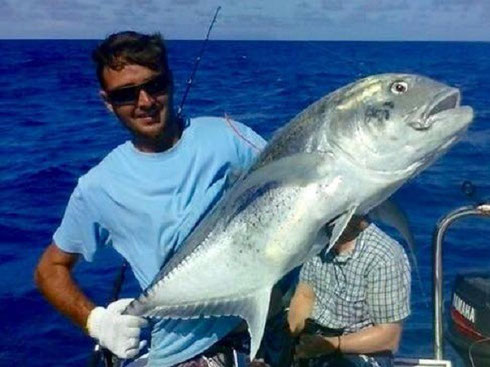 Sunday the 27th the sea was still calm with a southeasterly wind of around 5 knots. In heavy rain showers a couple of boats were fishing out of Praslin. Had planned to do some trolling off the Sisters as usually but as I had learned before that Simon and Greg were going to fish there, too, we instead started at the middle area called Bar Ed. Found absolutely nothing there though so we changed area firstly to the east and later towards south. But on the whole of that long trip pretty much nothing happened apart from an occasional Bonito. Have never experienced seas here seeming so lifeless: no bait, hardly a bird and just a single Flying Fish all day. So it was nearly a surprise when some point we managed to get a Wahoo and about an hour later we lost a big one after stunning run of 200 meters and big splashes in the distance. Our hopes of getting a Sailfish at the end of our large rectangle when approaching the Sisters coming from Marianne also did not materialize. Funny enough just after lines out already inside the Sisters in the La Digue Channel I suddenly saw two Sails finning on the surface.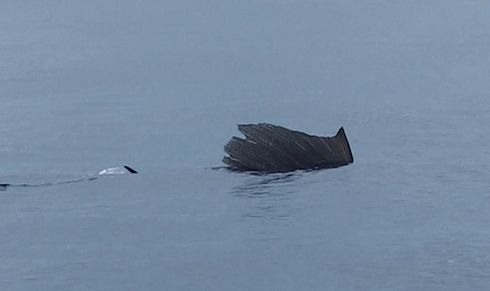 One went down straight away but the other stayed up. We offered a lure but it did not even bother to look at it. Instead it was very interested in the boat circling us a couple of times while we tried to circle it. In those minutes it came very near a few times. Ted said he thought he could have grabbed it if he tried and I had the impression it grinned derisively.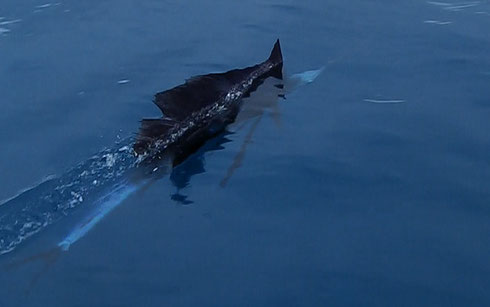 After a little while we had to accept this would not be our day and feeling somewhat ridiculed went home. But at least this little incident provided a few nice scenes for this month`s video to be watched here. Later I learned that Greg and Simon also had not found any activity inside that area we had orbited. Simon had turned north early and started catching fish on a spot a few miles north of where we had started. The further north he went the better it became. At the end of the day he had 2 Sails, a few Dorados and Wahoos plus Bonitos. Greg had followed him a while later. As time was running out he did not make it all the way up there but getting near he also got a decent Dorado and this Sailfish.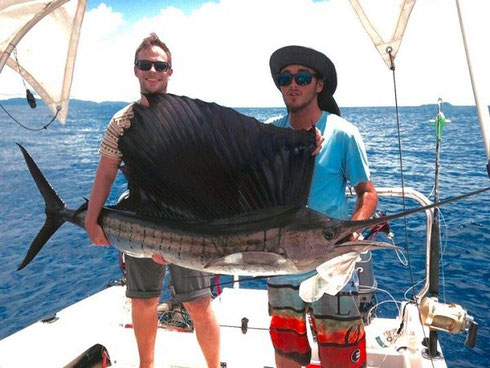 Obviously we had made the wrong decision going south. But still this was a good indication how much of a difference just some 10 miles can make. The bait was up north and with it the predators. Could be a useful learning to rather move up current the next time an area seems deserted. That same day a new trolling tournament out of Mahe took place that had been added to the calendar. 10 boats paticipated and winners turned out team Kuki with a Marlin and a Sailfish. Was somewhat surprised that only one more Sail had been caught. But eventually this is good as it was not a release tournament. The bulk of catch consisted of Yellowfin Tuna. One boat brought in about 300kg of those. A couple of boats encountered Marlin though as those stole Tuna from the hooks.  Same time buddy Jan went fishing out of Mahe with friends ending up with 1 of 3 Sailfish, plenty bycatch of Tuna and a fairly large Marlin missed.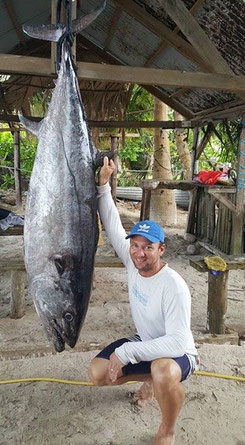 In the evening news spread that Christian (Djab Lavwal) once more returning from a 5 day trip on his commercial fishing boat had again brought home a massive Dogtooth Tuna of 82 kg. Unlike last time this one was caught on rod and reel trolling a lure and produced a hell of a fight on 80lb gear. He told me that they had a few more strikes of fish similar size on lures trolled on handlines but the Doggies just pulled the hooks straight. Would love to fis that area one day but no way getting there on my little boat of course. Monday I had planned to do some popping and jigging as the forecast predicted calm weather again but a morning glimpse first out of the window and then into the internet made me call it off. The Southeast had picked up and the sea was rough again. Mervin had gone out for trolling but after just an hour the guest was so seasick that he wanted to return and another boat had the same experience. Greg had a fly guiding from the boat that day but was limited to the inshore areas. Still his guest managed to enjoy a number of catches like Trumpetfish, Queenfish and a decent Yellowspotted Trevally. Yesterday afternoon the wind had calmed a bit so I spontaneously invited a good old German friend who is on Praslin for a diving holiday to come along for a bit of popping. He is one of the most prolific German jigging and popping anglers commonly known as `Maxima Rolf´ being the agent for this brand of fishing line. The first GT was on after just 10 minutes but unfortunately the fish came off a few seconds later. This start made me optimistic but in the about two hours we had left we recorded just a Shark following, two misses that I beleive were Jobfish and 3 Barracudas caught. To round thing up for this month Mervin got a Wahoo and two Dorados today in 2 hours fishing preceeding an island barbecue. But he reported that yesterday a sailing cat circled a rock between Mahe and Praslin to catch a diner. These folks must have had an opulent one as suddenly they were fighting a Marlin of 125kg that was eventually boated after a long struggle. 

Way into the month the unfavourable weather continued with strong southeasterly winds of around 20 knots and heavy rain showers stopping all sportsfishing activities. Was lucky myself that just those two days the boat went to the yard remained dry so it was back at the mooring on the 6th and all ready to go. At least I thought so ...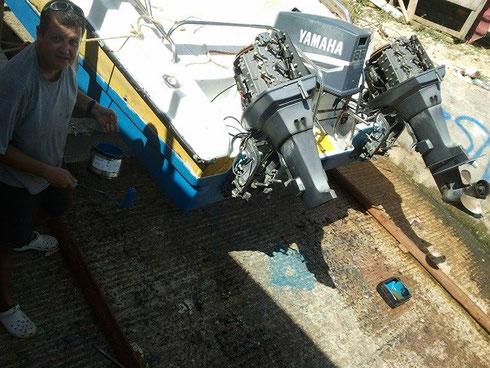 Only towards the recent weekend the situation calmed. Greg (Pipsqueek) already Wednesday the 6th went for some popping with a guest from Sweden. That spot in the northwest of Praslin is a bit protected but still the sea was really rough. To brave it produced them rich reward though. Firstly by this decent GT that Greg estimated at around 35kg.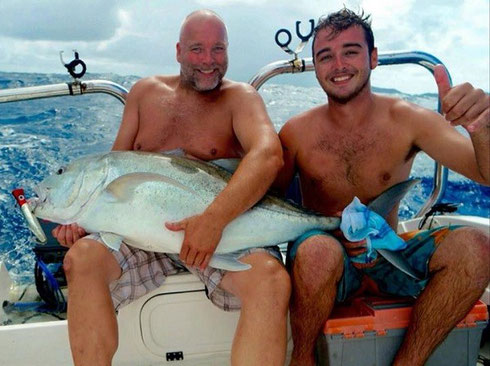 Another even bigger one got lost in the rocks. But still they got a cherry on the cake as this Sailfish took the popper and was eventually released. Great stuff!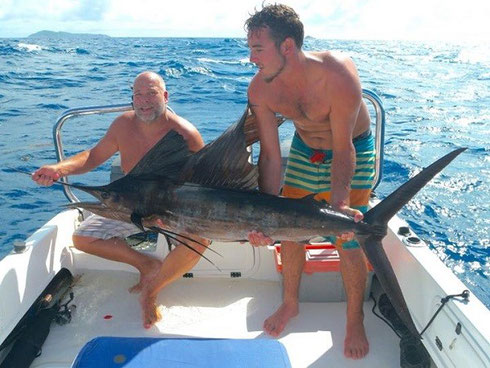 Friday I also wanted to pop and jig in that area but already when taking off I felt my steering had gone soft again despite new seals in the ram. Refilling the hydraulic liquid did not last as there was a leak again. Can steer by the throttles to some degree but the precise navigation required for this kind of fishing does not really work. Even lesser in that still quite rough sea so sadly had to turn back. Just before and only maybe 150 meters off Anse Georghette though I saw a bunch of small Garfish racing and fleeing on the surface right towards my boat. A Sailfish was after them coming at full speed and I nearly expected it to poke its bill into the boat but only a meter away it tuned away and disappeared. Later I saw it again or another one finning briefly under a Fregate Bird. As I was able to see Greg was fishing the area again with his guest. Learned later that they got a smaller GT that he estimated at 10-12kg while losing another big one to the rocks and recording a few more misses.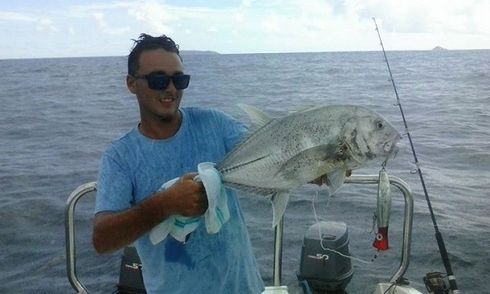 Saturday morning the mechanic diagnosed my problem in the supply inlet and put a new seal there. By noon my stuff was on the boat but the steering was soft again. So another of those rare calmer days lost. In the afternoon the mechanic found the problem but could not fix it while the boat is in the water. Luckily he showed me a little trick so I at least could fish the next two days. As the forecast was reasonable for Sunday also I went for popping and jigging south of La Digue. But already in the channel things did not look good and at the southern tip of the island I had to give up on that plan: waves of more than 2 meters rolling in and a crazy current made this kind of fishing out there just impossible. Travelling to that northwestern spot I abandonded because of distance and not to pressure it too much after Greg had worked it for two days already. Instead I cast two hours at the reef in front of Anse Source d`Argent for a start but without any activity. A bit of jigging in the protection of La Digue and the Sisters also produced only a few small misses until I finally found a bit of structure new to me at the northern tip of Grand Soeur. There I caught some smaller fish like 2 Job, a small Trevally, a Bonito and this pretty thing in pink and orange that I learned later is a kind of Barbel called Goatfish.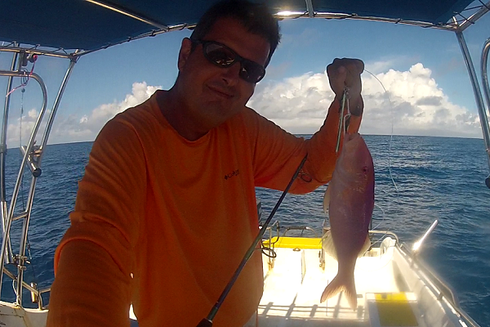 The lousy Pickhandle Barracudas also were there but two of them I made pay for the stolen jigs. Later I cast the popper for another two hours north of Small Sister but only hooked and lost a Job of about 5kg and saw another bigger one following the popper without taking. Saw Sailfish hunting Garfish 5 times though with big splashes very close but unfortunately always still too far to cast at them. Back home I learned from Mervin (Divinity) that the day before he had lost a small Marlin estimated at 60-70kg a few minutes into the fight at the Drop Off. Despite or maybe just because the area was full of different bait they got no other fish out there apart from a plague of Bonitos. But they were lucky enough to find a huge tree drifting on the way back that produced them a dozen Dorados and Rainbow Runners of decent sizes. Christian meanwhile had returned from a trip on his commercial fishing boat and this pic of a Dogtooth Tuna they brought home spread in no time. Was not caught on rod & reel of course but with a handline. Still it gives a good idea of what is possible here when jigging with persistance.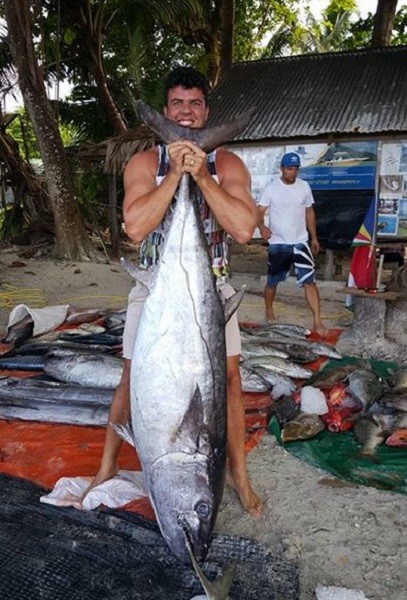 Monday the 14th I finally went trolling again with three local friends. Of course it had to be the area behind Sisters as I had seen all those Sailfish there the day before. We got three misses quite early there of which two had actually been Sails. One left its characteristic marks on the trace and the other we saw swimming away after missing the hook. After that nothing happened for an unusually long time. No birds, no bait, no activity at all. Already a good 15 miles out we found a bit but only got 2 Bonitos there despite it being one of the most reliable areas I know here. Already back about 2 miles off the Sisters we got a strike on a just deployed stripbait Ilander combination. While I freespooled and eventually hooked that Sailfish another grabbed the small Bonito I had also just put out as a skipbait. That one came off while jumping and running away but Mathieu brought the first one to the boat. Just as I wanted to tag it it shook its head and dropped the hook. The pic is from just a moment before that happening.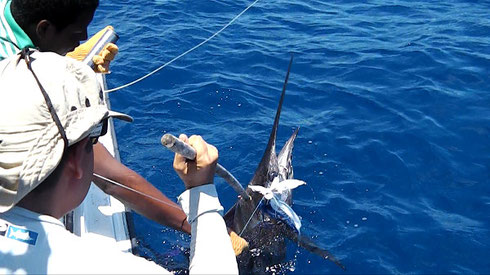 For the sake of science I think it could have waited that moment as it was going to be released anyways. But maybe we just did not look trustworthy enough. Half hour later another Sail came to inspect one specific lure for minutes but no trick made it touch the thing and it was not interested to cast even just a look at any of the others. A third Bonito eventually completed our rather meager catch brought home. As mentioned the whole area seemed empty of any bait and other predators. So am still wondering what kind of business all these Sailfish had there and why they were so fuzzy with so little alternatives to feed on. The bait and other fish seemed to have been further north. Martin (Venture) fished up there reporting also a Sailfish as well as Dorado, Wahoo, Rainbow Runner and some good bottom fish on top. While talking on the phone to him I checked our video recordings and found a short but nice underwater sequence of our Sailfish. Here is a snapshot for a start: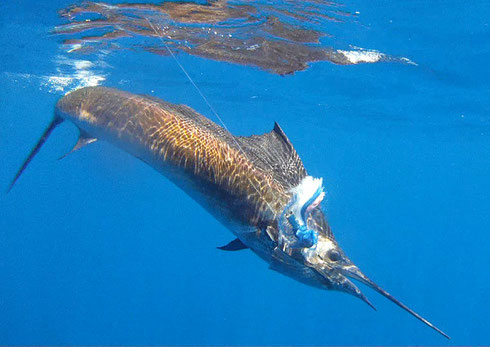 Due to lack of time and as it is just short bits there is no video yet but I hope for some more footage until the end of the month so there can be one then. Some fishing news from Mahe also came in: buddy Ameer caught and released a small GT spinning from shore. Nicholas (Mimi II) on a three hour trip lost a small Marlin and returned with a Wahoo and Bonitos from the Silhouette area where a few other boats also had good days. Faizal went to the southern Drop Off on Sunday to catch some Tuna. In the course of that trip they hooked an astonishing 4 Marlin (all Blacks) of which they released two and lost the others due to the small hooks. On top they saw another following a hooked Tuna right to the boat and a couple more jumping in the area. Of course they headed back there yesterday with heavier tackle but as things go all those Marlin had disapperead. Instead they got a Sailfish plus the complete set of smaller Gamefish like Dorados, Tuna and some fairly large Wahoos. So fishing here in Seychelles is more than solid - if the weather allows for going out. Unfortunately today it is blowing at around 18 knots again already and the forecast predicts this to persist. Simon (Island Rhythm) anyways did a half day charter this afternoon and found out that the smaller gamefish are also missing completely at the middle spots. But he got a Sailfish and a second would not strike. Most spectacular must have been a Marlin that grabbed a large hooked Bonito just meters from the boat but got not hooked. Great of course though that like last year there are so many around again at this early time. Now we would really only need the Southeast to cease but I guess this will unfortunately not happen yet. 

For the preceeding reports check the archive.