First thing this time is to hand in the pic of Greg`s (Lil Red) diminutive Sailfish that reached me just too late for the last report.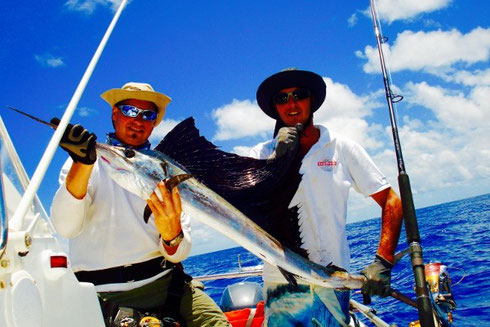 Hope the nice little bugger will have learned a lesson and become really big eventually. As to the time since: These last two weeks were somewhat calmer here in Seychelles as far as fishing is concerned. Not so much the fish to blame though as we entered a traditional tourist off season. Subsequently the number of fishing trips dropped substantially. Nice enough my German friend Marco and his lady came to visit me again like last year in November providing for quite some time on the water with me. After a few days of unsuitable weather we did a first quite intense popping trip on the 17th but did not get much. Only late Marco caught a decent Bluefin Trevally that was released quickly after the foto.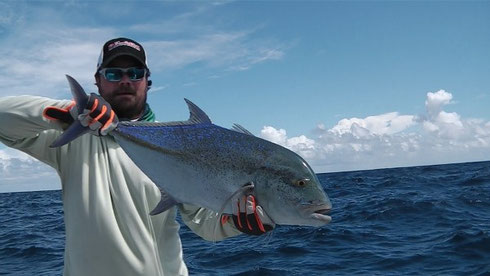 In between all that casting we briefly trolled a tiny Bonito lure amidst some birds as we were looking for some bait required for the following days. When Marco was just bringing in a small Garfish it was grabbed by a Sail that tail danced away with it. But with the tiny hook in the Gar there was nothing to win for us and that show as impressive as it was only lasted a few seconds. The following day I went to the Drop with Mervin (Divinity) and his guest Daniel from Cologne who had contacted me through this website before his visit. An early Yellowfin Tuna of about 20kg went lost early and already close to the boat. Mervin switched to a bit of live and skipbaiting a while later. Two lures with birds stayed in the water just behind the boat as teasers.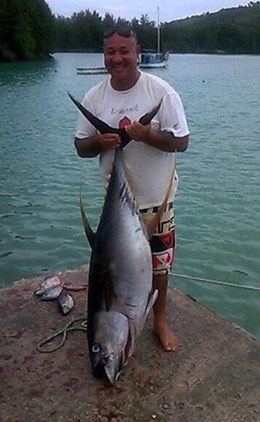 One of those attracted a very small Sailfish that for minutes tried to grab the lure but just could not succeed despite all effort and gave us something to smile about. Just after that one had disappeared in frustration a larger one popped up and grabbed the skipbait but the hookup was not successful. Same procedure a couple of hours later with another so that day eventually tallied 2 Tuna and a Wahoo plus numerous Bonitos. We had met Simon (Island Rhythm) out there who went much better with two Sails, three Dorados and this nice Yellowfin Tuna of 49kg.

The 19th it was fishing with Marco again. We worked a number of promising spots south of Praslin with poppers for hours but recorded only two half hearted attacks of small GTs under 10kg and a good sized Green Job that added to our misery by coming off right next to the boat. Between the spots we trolled a teaser to maybe raise a Sailfish and pitch it a bait on a circle hook. Eventually a small one of perhaps 12 or 13kg appeared briefly but was gone before we could do anything. At least we found a jigging spot that Mervin had recommended to me and Marco caught a Dogtooth Tuna of about 8kg right away.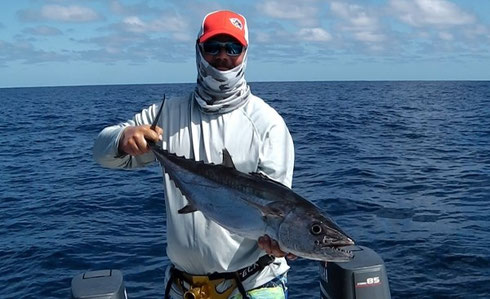 Two more came off on the way to the surface of which one Marco confirmed it must have been substantially larger. Also in these two hours we had left there we picked up some smaller fish like Pickhandle Barracuda and Yellowspotted Trevally. That same day Edwin (Dan Zil) trolled an area north of Praslin. This produced him and his guests a nice mixed bag of Dorados, Tuna and Wahoos out of which a good specimen of 35kg literally sticked out. Again a day later Christian (Djab Lavwal) had a trip to the Drop. A bit of trolling resulted in two Tuna and a Dorado of good size for these waters. Jigging was allright with a dozen Amberjacks and lots of other fish, especially many groupers in all colours. On the 22nd Andre & Greg (Lil Red) trolled a couple of hours for pleasure. After catching 7 Dorados in quick succession they released some more and bagged 4 Wahoos and a Yellowfin Tuna. The next day Marco did a trip to the Drop with Christian. The start was perfect as a Wahoo was on after just 5 Minutes. While Marco brought that fish in Christian spotted a small Marlin checking out one of the other lures but did not found that one interesting enough to strike it or even just stick around. Again only a few minutes later a Yellowfin Tuna of maybe 17kg gave company to the Wahoo in the fishbox. So it looked really promising at that stage but from then on things slowed down a lot for a long time except some Skipjacks. Putting out one of those as a livebait also produced no action. Only already on the way back we hit the Dorados and boated six. So again Marco after having caught quite a few Marlin in his life was once more eluded by the Sailfish he had been wishing for. These that day must have liked Mike`s Alati much better as they released half a dozen in short time not too far from us as I learned later. So we pretty much had to try again the next day. This time on my little Angel and with buddy Ted fishing east of the Sister Islands in weather nearly too rough for the small boat. Again things started off very nicely with a Barracuda and a Wahoo in quick succession.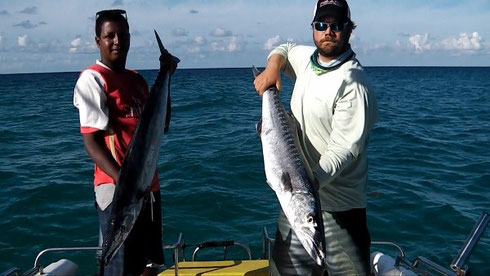 After that for some two hours nothing at all happened until a Sail grabbed a small Iland lure but shook it off in its first immediate jump. Had not much time to mourn that one as only a little later we got a strike on a Halco hardbait and it was a Sailfish again. We were quite surprised that Marco despite all his experience had to fight that fish for nearly 30min on 50lb tackle but the reason became evident when the fish eventually was close to the boat. Only one point of the back treble was sitting dead center in the bill but that fish had wrapped itself into the trace in such way that it was sitting like in a perfect halter. So the release again was a bit tricky as always when these treble hooks are involved. All this can be watched in the video clip here that I took with the head mounted GoPro but eventually after some reviving the Sail swam away apparelled with a tag.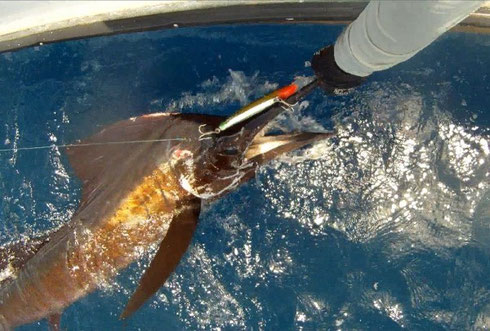 Quite strange though that during both these fishing trips we did not catch even a single Bonito. Usually I do not really mention these in the reports as they are ever present but to catch none at all is noteworthy. On the 25th I took Marco and Susanne to Sister Island for a snorkelling trip but we took the popping rods as the tide was good early morning. After just avoiding some Sharks Marco finally hooked up with a GT that by the brief impression during the attack I estimate at 30kg or so. Unfortunately the fish made it down into the rocks where the braid cut. But at least it should have come rid of the popper quickly due to the barbless single hooks. As Marco still had not got his Seychelles´ GT that I had made his mouth watering for we tried again the next morning west of Praslin. I had an attack of a GT pretty much similar size but it missed the popper and we could not raise it again. Instead a little later I had to perform the release of Marco`s Whitetip Shark that must have weighed around 18 or maybe 20kg. For a total of nearly 20hrs of intense popping in turns during those days this was a somewhat disappointing result. It is true that on the first trips the tide was anything but good but at the end of the day the sluggishness of the GTs might really be the result of the greenish water. This is what Mervin sees as the reason and with accounting for his long experience he is probably right. But it seems a regional phenomenon as Michael Arnephie was able to prove on a trip down to the Amirantes where he caught this massive specimen.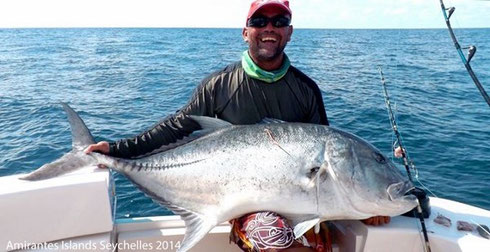 This trip obviously also produced some great trolling fish like this massive Yellowfin Tuna. A shame that it got so badly mutilated but still good that chunk did not go missing from Michael.

Fishing out of Praslin Simon (Island Rhythm) had another trip raising numerous Sailfish but they all were unwilling to strike so he had to make do with Dorados and Wahoos. The next day Mervin (Divinity) found them in a more cooperative mood as he spoke of 8 and on top a small Marlin missed on light tackle. Doing a lot of trips these days with a German regular client he confirmed that the GTs around here continued to be fussy. They raised increasingly more fish which is a good sign but these seem unwilling to perform real attacks. Around noon of the 26th the wind started to pick up and kept blowing the following days at around 15 knots. In these conditions I believe only Martin on large Venture had another trip that ended with a handful of Dorados and 33 Bonitos. So no more worries about these ones missing. An early Sailfish in the spread had not been in breakfast mood though. Mike fishing on also large boat Alati reported another Marlin estimated around 100kg that was released after 1:15hrs on 30lb tackle. That morning I travelled to Mahe as on the 29th at 02:00am the boats went out for the Seychelles Big Game Classic Fishing Tournament. Marco and I fished on Albermarlin together with our team captain Henry Riggs-Miller as well as boat owner Ruslan and his father. It turned out to become a memorable fishing day in many aspects. But as nothing is official yet as far as results are concerned this will be covered in an upcoming report when all is under hand and seal. But a pic of our flags flown upon return must be allowed and might create some curiosity.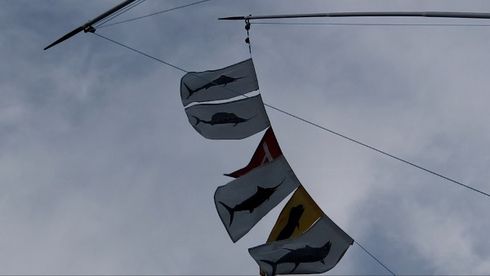 Seems we might have added a small chapter to Seychelles´ sports fishing history books but there are far more historic aspects attributed to this event. As said all details will be given here and on the associated facebook site soon.

Only minutes after sending out the last report Christian (Djab Lavwal) phoned me from sea. If I had a chance to pop round with camera and scale? Did so and the massive Yellowfin Tuna that was balanced from the boat was well worth it.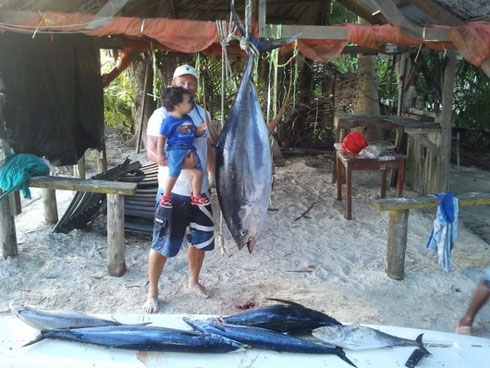 The weight turned out to be an impressive 68kg. The other fish in the pic among which was another Tuna in the mid twenties look so tiny in comparison. Next to those that day`s catch consisted of some Amberjacks caught jigging as well as Dorados, Wahoos and a Sailfish that was tagged & released. Just fantastic fishing! This was obviously promising with a view to the spontaneously initiated Praslin Offshore Tournament due to kick off only a couple of hours later. Actually pretty crazy to organize this in just two weeks from absolute scratch for just one week after the big La Digue one. A Praslin hotel manager with zero involvement in or idea of fishing found it a great conclusion of the Creol Festival week and the local fishing community was so eager for a Praslin tournament after these long years without that we just did it. So a total of 10 boats eventually headed into the dark night at 3am Friday morning to make best possible use of the following 13 hours: to catch some fish trolling, jigging or bottom fishing. We on my little Angel did not too well. Had to work hard to get a Tuna, 2 Dorados, 3 Wahoos and a few Bonitos together as I obviously had made a bad choice of area. With this catch we came pretty much last as the other boats did much better. Despite a front of bad weather for many hours eventually a stunning 1.7 tons of fish were hauled to Cote d`Or beach. The huge crowd of local people and tourists so had a lot to marvel at like around a dozen Sailfish.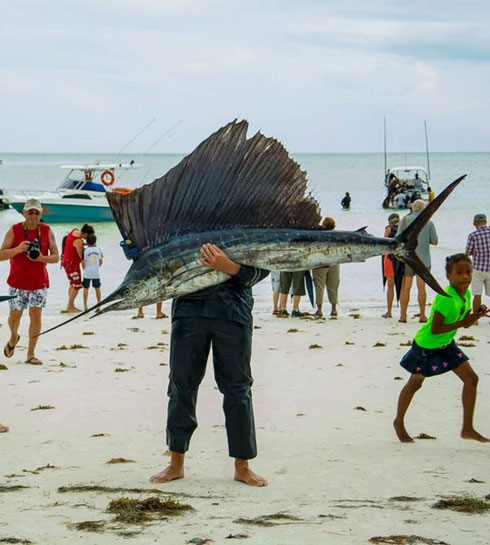 Huge attention also produced 2 big Dogtooth Tuna of 43kg and 50kg respectively.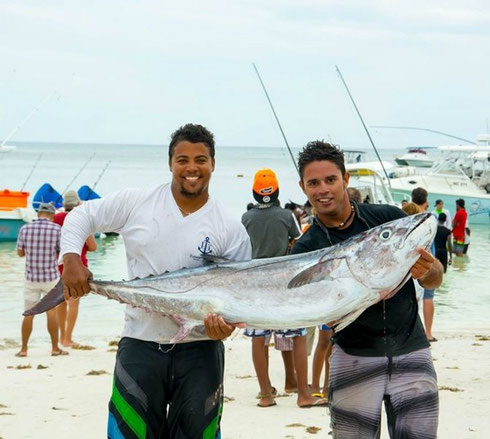 But the whopper of the day was without doubt this literally fat Black Marlin. This fish of 223kg was nearly too much for the gantry.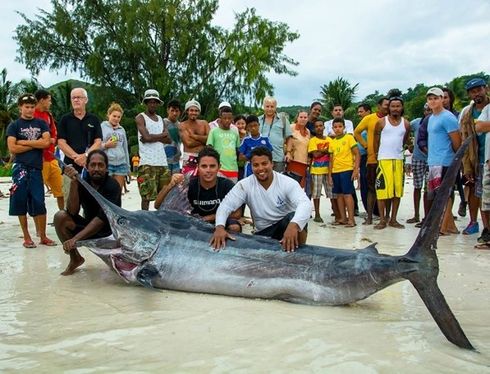 Especially the tourists were very excited and I had to grin when I heard a German girl saying to her parents that she would not swim anymore as here were so many so huge fish. The whole catch by the way was bought by Praslin hotels and restaurants and the proceeds went to a charity project. Later that night there was a small and quick prize giving ceremony in the context of the festival. Most of the prizes went to team Peggy as they had not only brought the Marlin representing the largest fish of the tournament. With the help of the two massive Doggies they also won the Trolling Overall Weight prize and became Overall Winners. Really an excellent performance and a well deserved victory. Also a big Thank You again to all sponsors that made this tournament possible. All in all this was a good event even as there is room for organizational improvement. For now the hopes are that this will only have been the kick off for an annual event to be established. We will see what happens and next to me also a few other people plan to push for future tournament rules that will involve Billfish tag & release. The days right after all that it was a bit calmer here on Praslin as far as fishing trips are concerned but from Mahe this pic of a nice trolling catch popped up: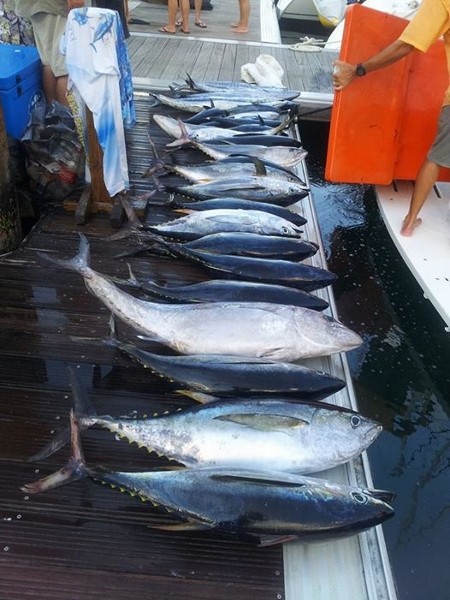 In those days Greg (Lil Red) as far as I got aware was the only boat fishing around Praslin. His guest despite having lots of popping experience lost 3 GTs to the rocks. On top Greg released a diminutive Sailfish that he estimated at 10kg. Kind of sweet. Would have loved to see the pics but they are with guest unfortunately. For Wednesday the 5th I had planned for some popping but the night before Christian asked if I would like to join him on a charter. So instead I went with him and his guest Pekka from Finland who is an experienced fly and spin angler but a novice to tropical saltwater fishing. After warming up with some Bonitos he was up to quite a task early as a Doggie of about 12kg that was belly-hooked gave him a good workout.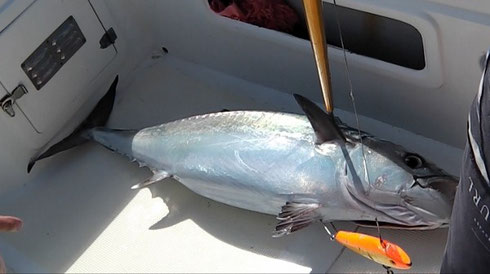 After that it took us a while to find new activity but a useful flock of birds provided for some Dorados and a little later a Sailfish performed its spectacular dance on the surface of the sea. By then Pekka had accustomed and so it did not take long to tag and release that fish.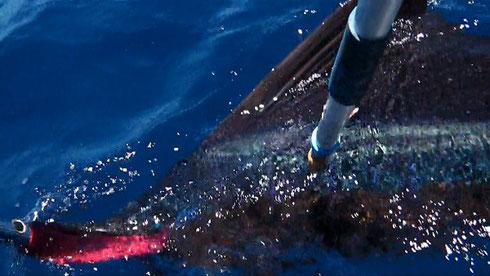 Now only fish missing for another Offshore Super Grand Slam was a Wahoo. Very nice that one eventually turned up as required also. This of course was just perfect and I guess there are not many places but Seychelles on our planet to start a Big Game fishing career in such exquisite style.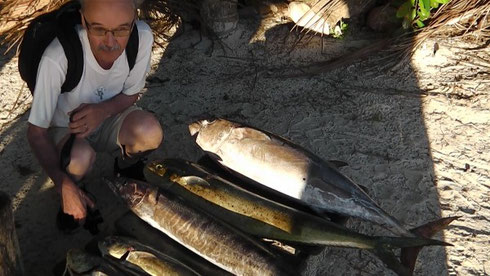 The following days activity stayed on a high level. At the Drop a boat lost another huge Yellowfin Tuna and Simon (Island Rhythm) missed a Marlin. A private boat lost another close to the boat already. Had a chance for a glimpse of the head mounted GoPro sequence and estimate that Black at a good 150kg. Friday the 7th I finally went popping into the La Digue Channel but that turned into frustration quickly. Avoided a Shark early and only a few casts later a large one stole my popper. Again a little later another was on and I had to boat it briefly to get the popper back. Was quite glad to manage the release while still be owner of all my fingers.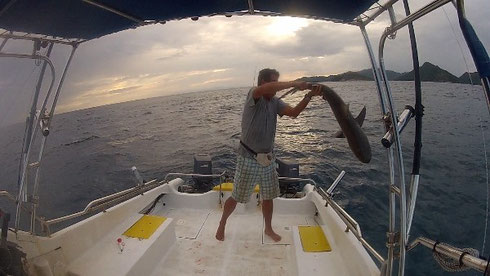 The following weekend Mervin (Divinity) on a 3hrs fishing close to Praslin lost a Marlin a few seconds after hooking up. Mat (Whiplash) got a few Wahoos and 2 Sailfish. Also he did some night fishing catching about 300kg of Bludger Kingfish each time. Julien (Peggy) fished far outside the Drop and was rewarded with a Blue Marlin of 115kg. Christian went to the Drop on Sunday for jigging where his guests caught average size Amberjacks and some Groupers. As this was a bit below expectations they trolled for a while which produced some Skipjacks and Wahoos plus a 23kg Doggie. Monday he had a half day charter with lots of action. Next to 15 Bonitos they accomplished another Offshore Super Grand Slam with Wahoo, Tuna, Dorados and a Sailfish. That one was not in a good state for a release so they took it. But so many strikes and fish in such short time obviously took his guests over the moon.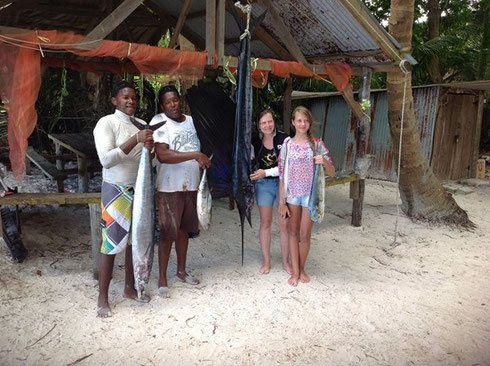 Really great that the fish stayed so active despite the change of weather. While before blowing quite steadily at 6-7 knots from changing directions the wind that weekend had dropped to pretty much nothing. Along with nearly cloudless skies it got fairly hot. So going out for some popping that Monday afternoon once more I got cooked. On top the water temperature had gone up by a full degree Celsius. When popping in the west of Praslin my Shark curse stayed alive. Managed to avoid 6 or 7 but 2 got hooked. Unfortunately these had inhaled the popper with both barbless hooks so the releases definitely resembled a higher level of surgery. Did not even see a single GT but at least managed to catch a really fat Jobfish that had about the same fighting power as a GT twice that weight. I was impressed.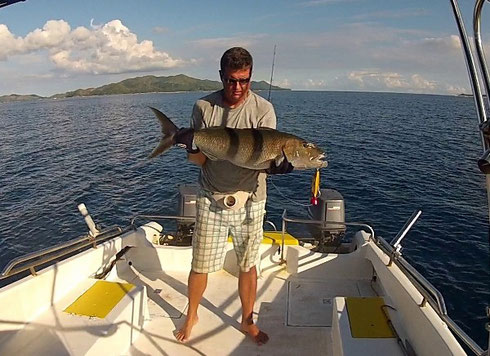 Back home I had a bit of an angry shock. The second Shark I had hooked after casting at a big splash behind me. Checking the GoPro footage at home I detected that the jumping fish actually had been a Sail. Would have preferred that one very much to the stupid Shark. While cruising home I saw Martin (Makaira) returning from sea with fishing rods. Learned later that he had been out for private pleasure catching some bottom fish but also a Dorado and a Doggie of 21.5kg. Tuesday the 11th a private boat trolled the Drop a bit using jigging tackle and receiving a triple hookup of giant Yellowfin Tuna. Two lines crossed so these fish were lost but they managed to boat the third after 1.5hrs. Already gutted that Tuna weighed at 75kg so it must have been well over 80kg before. Wednesday nobody went fishing I believe but the wind had turned coming from the Southeast again at about 10 knots. So when I went popping once more the next morning the water already had cooled by that one degree again. This time I tried an area south of Praslin wishing for no sharks for a change. But already on the second cast I just managed to avoid one. Luckily it stayed the only one that day but for two hours nothing happened apart from a few smaller Jobfish following the popper. Just before high tide though the strike came - finally a GT.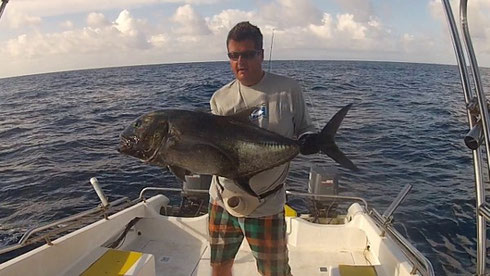 At around 23kg not really a trophy fish for Seychelles´ waters but still I was happy. Only sad thing was that the Go Pro had fogged as the spectacular attack was perfectly on with the water literally exploding. Henry Riggs-Miller, owner of FinS Tackle in Mahe (www.fins.sc) reported a few more catches he had come aware of: a boat had a good day with a Sail and many other fish, among those 22 Tuna. The boat Big Guy returned with a Marlin of 132kg from a trip. Mike (SpecialK) did some switch baiting one morning around Denis Island raising 4 Sailfish and 3 Marlin in that short time. One was a small black of about 30kg while there was a Stripey of about 50kg and another black around 90kg. Also I figured that Island Star had a fantastic overnight trip on which they missed two more Marlin, released a Sail and caught numerous big Dogtooth Tuna. The largest one was estimated at enormous 80-85kg and was to large to fit the fish box of that big boat.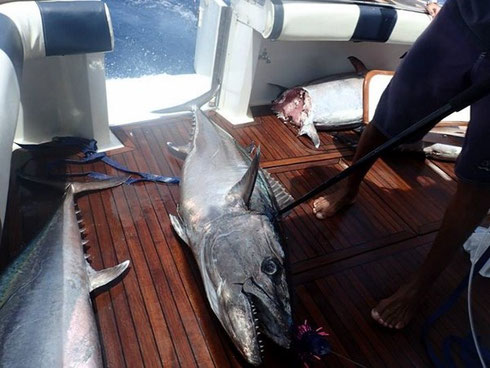 That is all to report from the first half of this November. But I hope it is enough to demonstrate that sports fishing in Seychelles is red hot these days.

For the preceeding reports check the archive.