Too optimistic again: the reasonable fishing conditions announced in the most recent report did not come but instead a nearly steady and strong blow from northwest with lots of rain. The only day fishable on the absolute limit went unfortunate for Mervin (Divinity) with two hookups out of three raised Marlin but both came away. No pics of the handful Wahoos and Dorados caught so only documented and as I think actually made catches from these days are the following ones scraped together fly fishing. All from the usually not very productive but at least as the only protected place Baie St. Anne. A small sandy delta already produced Snappers and small Permits in reasonable frequency along the last NW season is doing so again. Nice enough to have found a few slightly better fish when just trying long casting and fast stripping of bigger patterns.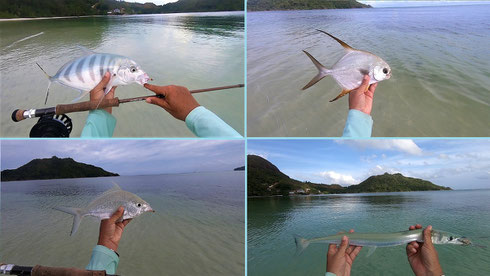 Unfortunately on one of the three stints the GoPro failed and of course that was the day of the best fish with a 60cm Barracuda and a larger Trevally plus a substantially bigger one lost in the dense weed growing around the sandy patch. So the place has some potential and is not so bad as a last resort. But it is also frequented by the locals for barbecues so no good for weekends and along the recently many holidays. Only after Chrismas the weather slowly improved and the boats came into play again. A trip with Mervin and jigging newbie Balazs from Hungary to the Drop on the 27th was still a bit of a bumpy affair. Lots of fish on the sonar at all the many spots we tried but they would not eat properly and also turn of the tide at noon did not help. Thus the around 35 fish caught that day were hard worked for.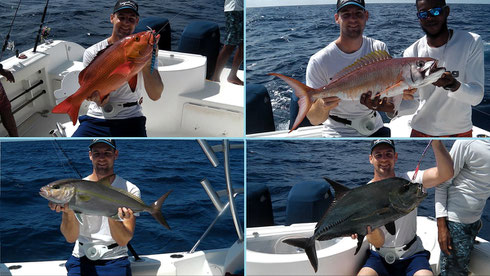 Apart from that quite a number of trips took place along the recent still somewhat windy but at least sunny days. As usually with the Christmas tourists it was mostly trolling along just half days. Not ideal as currently it is not easy around the islands. The usual mixed bags of smaller gamefish were not quite as well filled as usually and often the boats diverted to bottom fishing. Trolling was better at the Drop Off but few boats went there. Billfish do roam the plateau but are neither easy to raise nor to catch. No coincidence I think that it were mostly the often fishing skippers and boats like Greg on Bite Me or Mervin that managed hookups. The latter had a Marlin of about 140kg a few days back and lost a slightly bigger one yesterday but released two Sailfish along that half day.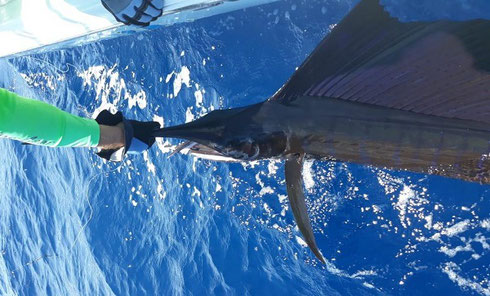 Today also a few boats are out but I will close this report now and grab the fly rod for a final bit of fishing this year. Anything noteworthy will feature in the next edition. Leaves me to thank you for following in 2019 and I wish you a happy & healthy 2020!
Mentioned candles and hopes at the end of the last report but nevertheless our southeast heading cat trip to Ile Plate and Constance Bank from Nov 29th until Dec 7th went all different than planned: a tropical depression held us back for days under official orange alert allowing for just scraping together dinners off Mahe`s shore in ridiculous northerly winds of more than 30 and gusts up to 40 knots and a few (not so legal) catches inside the marina.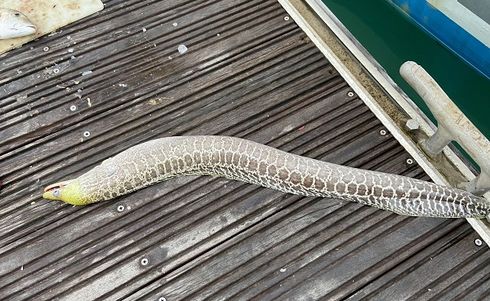 Only Tuesday afternoon the wind dropped a little while predicted to settle at around 15 knots and the system to slowly move away southerly at last with calm setting in from north. Too late though to cross and fish our orginal destinations so we made a plan B. This was going north to Bird Island as the only option to get at least a few days reasonable fishing out of the week.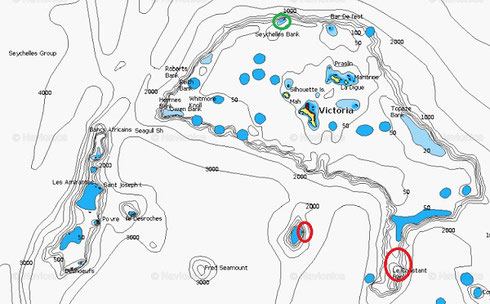 Our skipper Keven wasn`t too happy that we insisted on a nightly crossing of some 55 nautical miles into the mess but eventually we went. That night was sort of special and the next day we figured the inflatable life raft had somehow gone. But we were there and happy enough to see a flat island even as it was not the intended one. Brilliant drone pic by Marc and really worth clicking to enlarge.

Lucky on top to find fish instantly. Already that first day my friends managed to catch about every species one can expect here when jigging. Counted over 25 that day and a few more came along the next two fishing days of which the latter was the better. While the big ones were missing we had somewhere between 25-30 Doggies and I guess between 150-200 fish overall. Most released of course.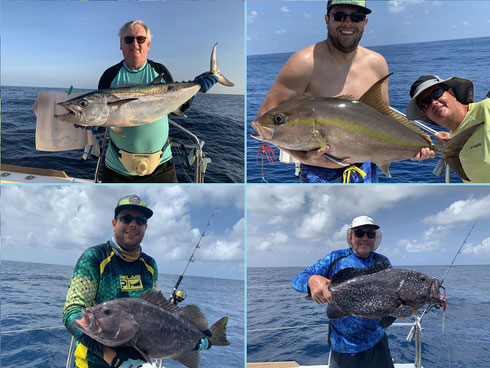 While catching the Yellowfin Tuna on jigs and seeing them every so often they were not interested in any topwater offer when they occasionally happened to come in casting distance. Only along the very last fishing hour of the trip and literally the final casts Marc managed one on the edge of a reef where we tried to catch the missing Bohar Snapper for the list which indeed had come up but never got stuck. The resume of this trip depends very much on the perspective I think: of course it was disappointing to lose half the planned fishing days and having had to divert from our planned destination to one we had fished before some six months back. But on the other side after all had looked doomed for the whole week we got the maximum out of the remaining potential as the little foto gallery indicates.
Thanks a lot to Ad, Eric, Harry, Marc & Mark who left us ill before we sailed as well as skipper Keven and our fabulous cook Damien who kept the spirits up with his mouthwatering creations.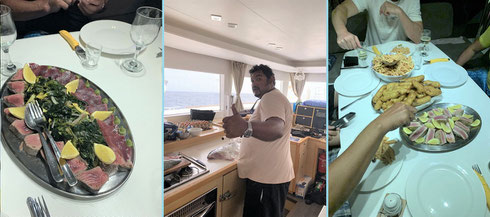 See you again in a few months time for a new adventure in hopefully friendly conditions time guys! Since our return the weather has been perfectly calm but little use was made of that. As usually around this time of the year the islands are about empty from tourists and only Mervin had a day trolling. The targeted Marlin did not show up so the party had to be content with the usual smaller gamefish and a released Sail. Went Wednesday but those all calm and hot conditions did not help. Only a few Sharks showed interest in the poppers and without any drift also the light jigging was tough with around 20 kitchen fish. That 1.2m Greater Barracuda would have been worth showing after the bugger inexplicably did not cut the thin leader along some 20mins fighting time. But alongside the boat and ready for grabs it managed so I only have a White Snapper for you that has been seen rarely in this format.
Fly fishing unfortunately was neither an alternative as the storm and the undercurrent left no place to fish within reasonable conditions. Only along the last couple of days it improved in some areas but the Bonefish and handful of Permits spotted on the western flat were not interested at all. The house bay is still murky and on top empty of any activity as there is no bait. Also yesterday on the southeastern reef with appreciably chrystal clear and not too choppy water it was just the usual small catches. Forecasts predict westerly but not too hard winds to establish along the coming week and with the first holiday season tourists to come in fishing should become more lively again.
For the preceeding reports check the archive.