This report period started with reasonable weather and a bit of fishing took place though not too much. Trolling on the plateau around Praslin was surprisingly slow but at the Drop Off fishing was better and two boats got a standard size Marlin. Well beyond that was this impressive Yellowfin Tuna of 92kg that the 9G Sportfishing Team brought to the Mahe docks.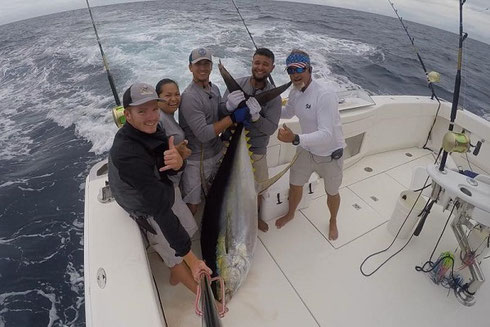 Mervin should have jigged a few more days with his group but Divinity had acquired a gearbox problem that took a while to fix. On their last day the group insisted to fish against Mervin`s advice so they all went on Simon`s Island Rhythm. Already when arriving at the Drop conditions were pretty much useless. Around noon an unannounced storm from north rose and their return trip was more than rough. Many people on the Inner Islands were caught wrong-footed. Until I realized what was going on it was too late to even just climb on my fully exposed boat to take it to safety. Could only pray that the ropes would hold and it would not turn turtle. Luckily all went well and along the night things calmed down. Not eveyone was that lucky though with four big sailing cats and a monohull thrown on reefs and beaches. Along the following days it remained windy but at least it was blowing from the seasonally normal south again. Lots of rain on top but on the 22nd I just had to at least jig a little at the edge of the bay. Next to lots of useless stuff like Fugu, Barracudas and Remora two more decent Golden Trevallies came up.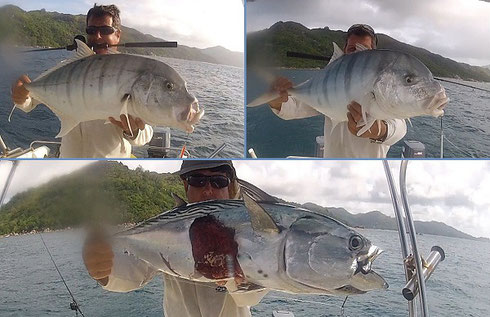 Sorry for the low picture quality due to salty spray and rain on the GoPro. The Bonito in the pic must already have had an issue only recently. Did not look too yummy so I let the double fortune soldier go with best wishes for a long life. Due to the weather fishing resumed only by the 25th but then at full throttle. Hans from Germany had been given a very first trolling trip by his son, daughter and their partners. The boys, both named Florian, tagged along and all three were total newbies. Had announced them fishing with a high freuency of strikes by beginner friendly fish but it all went the opposite way. After working the Drop for more than three hours the meager tally was a Bonito and tiny Wahoo that on top came off at the boat but out of nothing a reel went screaming. Visibly a massive fish on the 80lb outfit. One Florian bustled into the chair where he remained for the next hour under some moans and groans. But in the mandatory harness he did well and eventually a big Yellowfin Tuna came into sight that was eventually boated.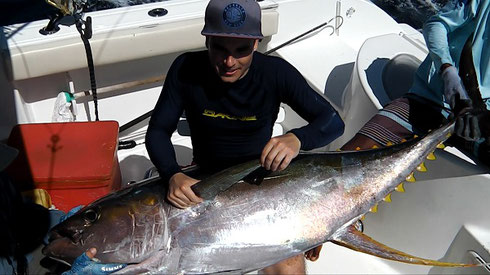 This fish weighed later at 71kg. Not bad at all for a very first saltwater fish. For Hans we had all wished for a Sailfish but instead a Marlin took. It was the other Florian`s turn but the fish came off in the first run. Maybe better for the a little seasick chap as this Marlin had been massive. Mervin estimated it at around 400kg. Only an hour later the next one was on. More managable at around 140kg so Hans got his first Billfish after handling it perfectly despite a little tackle issue. The fish was released under cheers in perfect state.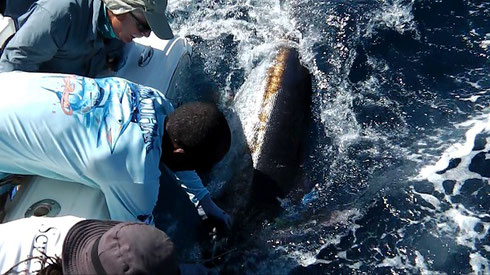 The following day I went to the Drop again with Mervin, new guest Chris and his young son Lukas. Chris had fished several places and also Seychelles before but without much luck. This time though it went just great for him. A few early Dorados for warming up and then we really hit the Tuna. Next to a few single fish twice all rods went same time. But the strong guy just calmly brought them in one after another amidst the chaos around him. Not small fish these btw with the biggest around 40kg.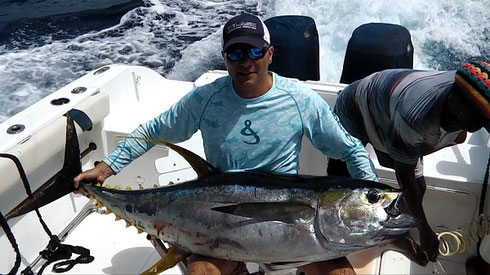 Already quite late that day after missing a Marlin suddenly a Sail was on. No trouble with this one for him either so it was released after a quick foto.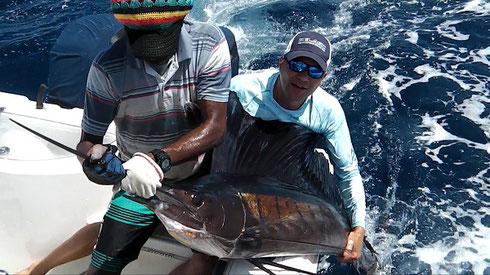 The last strike of the day looked to be a Wahoo and actually was. Not a big one but it completed the Offshore Super Grand Slam for obviously cheerful Chris. The next day he went with Mervin again putting the cherry on the cake with this released 130kg Black Marlin.
Fishing at the Drop was really red hot those days. Christian (Djab Lavwal) also reported a 100kg Marlin and Tuna in the 40kg range. A lot smaller were the catches that Hans and I recorded flyfishing that morning. Would have loved him to enjoy a Bone but conditons were pretty useless. Only the bay here at my place was protected from the wind but very murky due to the preceeding strong rains. So there was nothing more to see or earn except from the usual smaller suspects. But at least Hans had a sweet little Permit among them which pleased him visibly.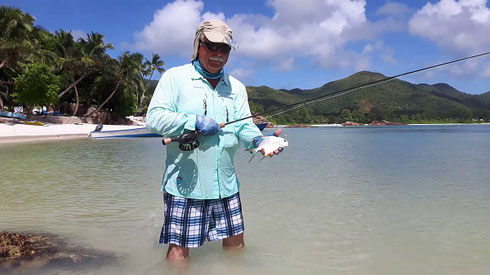 For the next day which was Monday the 28th the forecast predicted conditions just good enough to go popping alone. Around 10am and low tide I started to work a rock that holds reasonable Bluefin Trevallies. That lousy bunch drove me mad raising at about every cast but would not take whatever popper or stickbait. Instead a couple Jobfish and three junior GTs in quick succession made up for that though. At about 4, 7 and 11kg not big fish but one had a very funny face.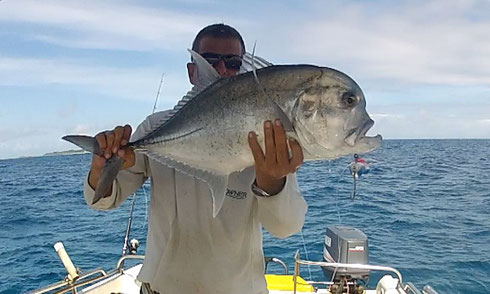 Never seen such before. Just compare to a normal one of this threepack.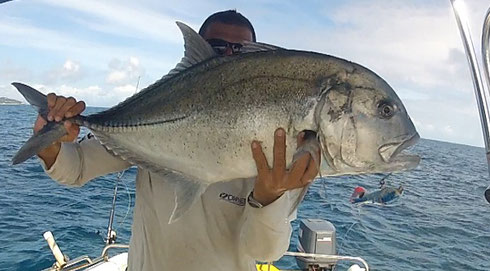 A little jigging around noon created mixed feelings. Found a coral full of fish that probably few people know but the Sharks do. Hooked about 20 fish of which some felt decent but only got the four smallest out that I could winch up fast enough. The rest was stolen in part or whole, then mostly with hook or the whole rig. Afternoon popping with high expectations due to the perfect tide is a short story. Just three Sharks raised along four hours of hard work, no big GT seen. Again a day later it was Chris´ last trip with two of his sons and Mervin. It had become so rough that we started trolling just behind the Sisters already. Good move as a very sporty Sailfish was on right away. No trouble again for the by now well trained angler.
That was a good start but then things slowed down. At the Drop and as well as on the way back nothing more showed but a Tuna plus two Dorados and Bonitos each that the boys shared among them. This is fishing: one day great and suddenly not any more for whatever unknown reasons. Practically no more fishing here beyond all that and also Mahe has been very quiet apart from a few Sailfish on Special K. Only the 9G Sportfishing team rang the bells once more. Firstly there was this Broadbill of 77kg caught in 450m meters of water.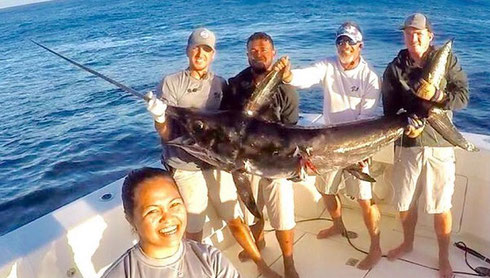 But that trip also produced something totally different. It is supected to be a Gulper Shark which at about 29kg would quadruple the standing world record. But things are pending at the moment as there seems to be some unclarity about the exact species.
Either way this is surely an another unusual catch from these exceptionally fascinating fishing grounds. Last but not least do not miss to watch the video clip of the fantastic and plentiful trolling catches. Lots of action. Enjoy it here.
With small breaks but unmistakably the Southeast Monsoon season is approaching, the Easter tourists are gone and many skippers take a break like Martin (Venture) or refurbish their boats like Greg (Aquatic Dream). Thus little is happening on the trolling side with the few trips producing smaller gamefish like the usual Wahoos and Dorados as well as school size Tuna and the odd Sailfish in between. Not much news from Mahe either apart from Alati reporting two Black Marlin along consecutve days. Three local guys handlining commercially from their Mini-Mahe (the common local sort of a bit larger rowing boat with a small outboard) for Yellowspotted and Yellowtail Trevally though hooked a short but massive Blue(!) Marlin just off Anse La Mouche. That extremely fat fish at a fork length of just 3.2m weighed at 380kg after being gutted so should have been quite close to Grander size before. Another of these small fishing boats ended up with a Bowmouth Guitarfish estimated at 250kg. The pics of this one are somewhat blurred so here is one from Wikipedia as to give you a better idea of this bizarre creature.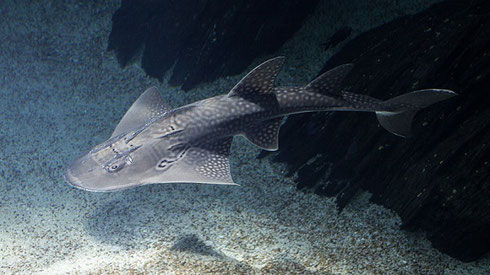 Great news that it was released and quite stunning what kind of stuff swims around here close to our beautiful shores. Somewhat less archaic were the opponents that Dutch anglers Erik, Harry & Job plus their Maltesian friend Mark fishing 5 days with Mervin (Divinity) had to deal with. Tagged along trice and it was great fun with the cool bunch among pretty solid fishing. The first attempt at the Drop Off right away produced about 60 fish from at least 15 different species.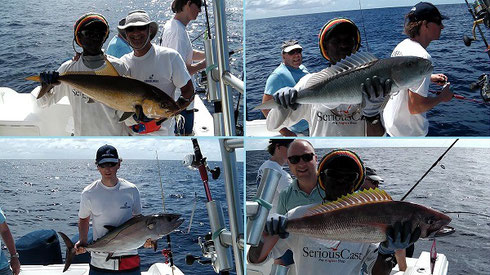 So far so good but towards the end of the day I could just not believe my eyes. They had asked me beforehand regarding the chances to catch GTs on jig out there and all I had to say was that I had never seen a single one in that area. Voila, Harry did the trick. And on top with a very light setup that was tested to the absolute limit.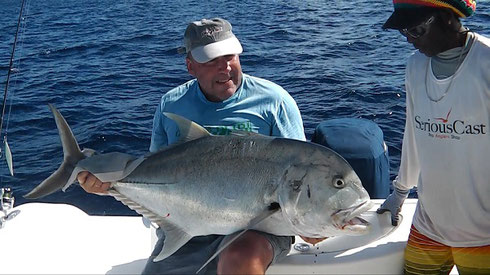 That was a brilliant start of course and all were eager for more of such stuff. The next two days some obligations kept me ashore while they enjoyed reasonably okay jigging and bottom fishing on the plateau along the first of those and on the second dedicated to GT popping Erik next to a smaller one got this proper size specimen.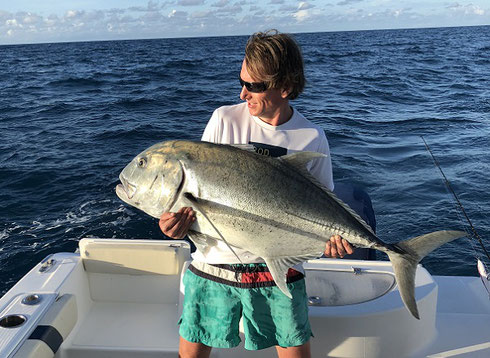 The day after I was with them again and once more the jigging went well with some 50 or so fish caught. Groupers, Amberjacks and pretty much all the other usual suspects surfaced more or less continuously and also a few pelagics like such Yellowfin Tuna were in the mix.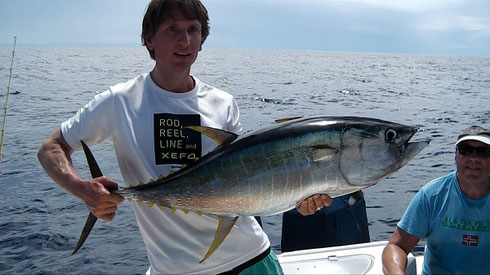 Just the Doggies were not up to our standards with only the odd one caught. As usually some point I got itchy just having to drop a jig once and one was on right away which was a bit embarrassing. Luckily not a big one as these did not show at all along those days but it was enough for Mervin to instantly ban me from his rod and send me back to the camera. So funny.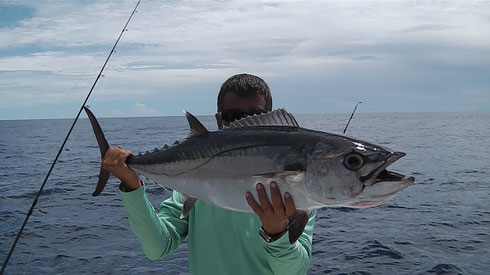 Only frustration was provided by the countless Sharks out there stealing many fish and often enough the jigs on top. Especially Mark was cleaned out regularly but eventually got compensated. He had longed for a Wahoo on jig but of the first he only got the head after the fish was ripped apart on the surface in a quite spectacular scene. But the second was boated unmutilated and on top he got the biggest Almaco Jack of those trips.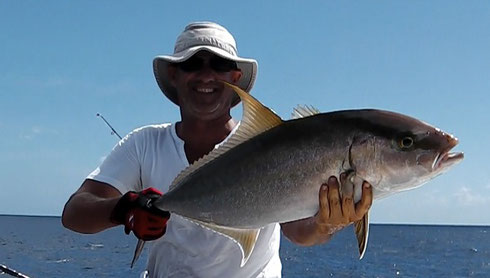 But that was not all. While Harry had to deal with another Shark suddenly a Sailfish leaped close to the boat with Mark´s jig dangling from its mouth. Was a brief tricky moment as both anglers would have liked the boat follow their fish that were heading into opposite directions but eventually all came right and mate Leslie released the Shark on the port side of the boat.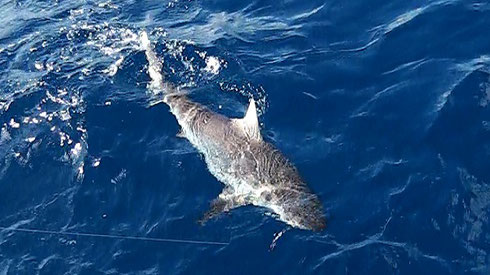 Meanwhile Mervin on starboard dealt with the Sailfish that was allowed a brief visit for a quick foto.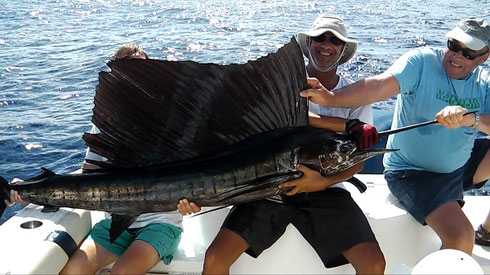 Bit of a headache for the camera guy to decide what to film but also this part turned out reasonably okay eventually I think. The video clip with just a few of the all in all over 200 fish caught and some good laughs should be quite entertaining and can be watched here. All in all the guys were very impressed with the fishing they enjoyed here and their statement that it was their best trip so far of course left us as happy. Nearly forgot: possibly we released a world record Goatfish. Not sure which exact kind it was but none of the ones in the IGFA list seemed bigger than this one.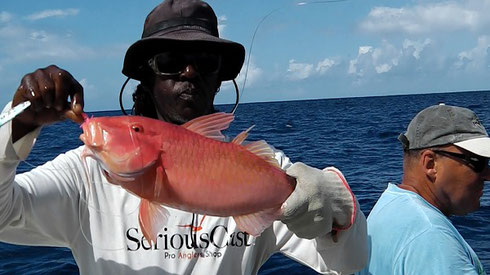 With all these trips, afterwards somewhat unsteady weather and a few obligations in my neck I had sadly little time to fish. With visiting friends we spent two hours at the edge of the bay one afternoon for a little jigging course that produced the usual smaller Groupers, Jobfish and Jacks. One of those beautiful Golden Trevallies turning up pretty much on call was obviously appreciated.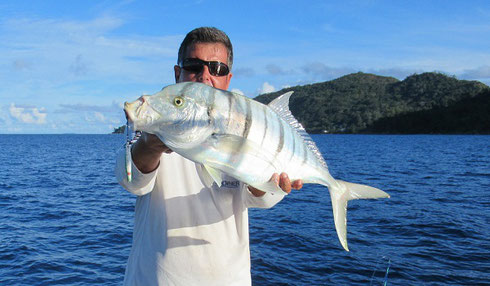 And a few days after when after a few kitchen fish for an old friend I got another while a bigger one could not be stopped with the small gear. The pumping current of that day was just too strong and the fish tore the assist line. Then I knew why these Chinese assist hooks that looked proper when ordered online were so incredibly cheap and retired them instantly. The with a view to the approaching Southeast probably final popping trip on my own boat  for months turned out a disappointment. Was in place at first light but only a single GT and a bunch of three reasonably good size Bluefin Trevallies raised without a strike. So ended up with just this pretty big Garfish. Good size indeed but a GT that length would have been far more welcome.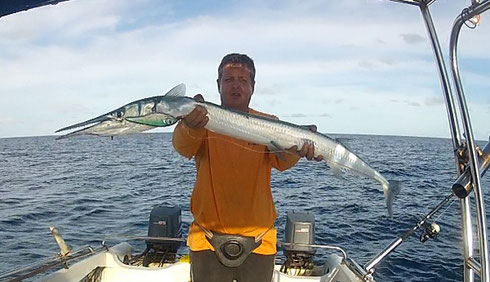 Beyond that I made a few rather short and mostly useless attempts with the fly rod. Fishing the flat in the west is hopeless since the southerly winds have set in. Lack of sunshine is bad enough but waves, wind and especially tons of drifting seaweed make the area a mess.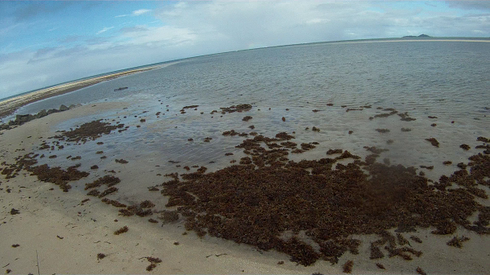 In current conditions the only somewhat reasonable option is the bay here at my place but also with certain limits. The really promising corner with Bones and other quality fish is too deep for proper spotting and stalking except around very low tide levels. On top one can only fish there early morning before the adjacent hotel and its guests start their watersports activities. That constellation arises only for about three days every fortnight and this time there was persistant stretch of murky water continuously fed by the many rain showers. One morning standing in that murk and scanning the cleaner water outside a real torpedo of a Bonefish swam past me lazily in just 2m distance. Close to 80cm, unbelievably large. Am not that familiar with Bones yet and let alone with such big ones but the European Barbel has a similar physiognomie and at that length we are talking about 15lb or so. Of course I went again the next two mornings but it had gotten even murkier, rain on top and nothing to be seen of it or anything else. So just a few small fish instead like a handful tiny Bluefin Trevallies and this funny Makrel with strangely big eyes caught blind casting a streamer into deeper water from a granite reef nearby.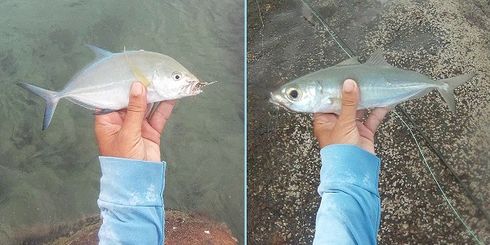 This morning though the sun was out and the water while still far from perfect a bit clearer. So grabbed the fly rod and buggered off into that corner. Water level was actually still too high and I was late with a view to the hotel guests already finishing their breakfast but it turned out a good decision to still go picking up another Bonefish. Not quite along the rules as I did not spot it in the deeper water. But as by now I believe to know halfway where exactly to insist and how to approach I account it with 80%.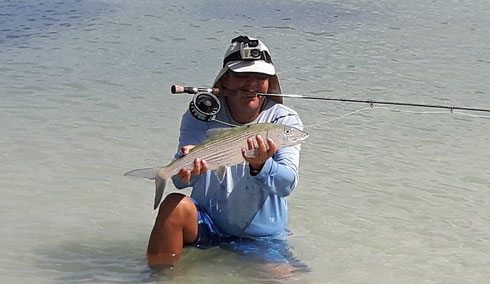 Apart from that as mentioned there was little fishing activity so all eyes on Mervin once more to finish off this report with some spectacular stuff. After just a day`s break he started and is still fishing with a returner group from France and as usually delivers until the anglers surrender. Already the first day jigging was phenomenal with more than 80 fish and countless Amberjacks among them.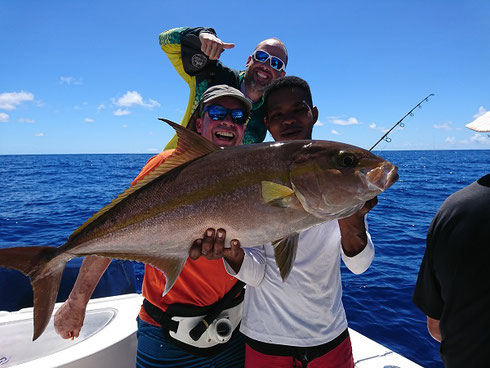 The tally was rounded off by a dozen Doggies of up to 25kg while the big ones kept swimming around under the boat without any motivation to feed on whatever. The day after popping around the islands produced them about 10 raises of mostly black GTs, 3 hookups and one of these boated and released.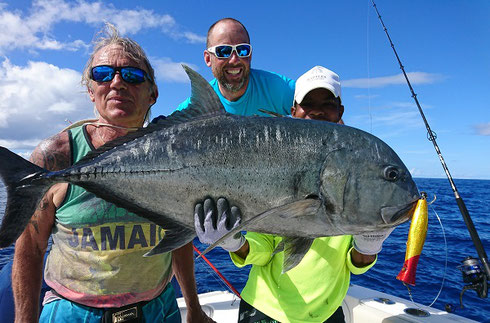 The next day jigging at the Drop again was even better with fewer Amberjacks but 25 Doggies up to 30kg, a nice Grouper and pretty much all the other usual suspects. 

Sunday he called me surprisingly early. The anglers had waved the white flag after a real popping orgy at the Drop: Doggies, massive Bonitos and countless Yellowfin Tuna of up to 40kg had just worn them out. At times there was no need to even move the poppers and on a few occasions they had two fish on the same lure despite using single hooks. I was so much fish that some point the boxes were full despite Mervin always releasing anything possible except the Yellowfins and they had to release even those. Most frustrating that the foto transfer from his phone failed partly so I got no pics neither of the big Tunas nor of the double catches. Here is one of the Doggies instead.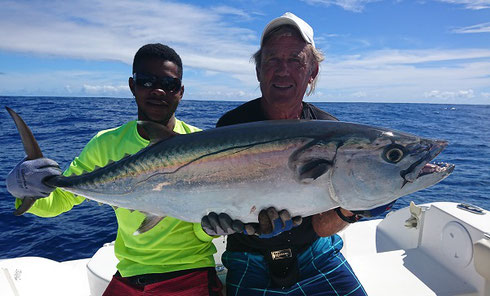 Yesterday it went even more extreme despite this seems impossible. About 120 fish were caught and Mervin said that among roughly a ton of fish released had been a good 400kg of Yellowfin Tuna. A big Marlin followed a popper to the boat trice while jigging to take a break was hopeless as anything dropped was taken instantly. With Mervin himself being stunned it must indeed be a total carnage out there. And meanwhile I am sitting here at home over this report.
For the preceeding reports check the archive.