The second half of January brought Seychelles some very unsteady weather and also a few days when the bite was slow no matter which way one would fish. This unfortunately also applied to my two German friends Thomas & Thomas who fished for 8 consecutive days. Still apart from these difficult days mentioned all fishing styles produced some really good catches. On the 16th I accompanied Andreas from Austria and Mervin (Divinity) for a day`s jigging and popping. Andreas dreamt of a Doggie and a GT but the latter were only willing to raise to Mervin`s popper without a hookup. Andreas though managed to catch this nice Bluefin Trevally.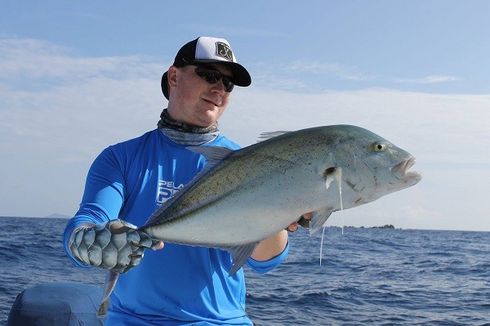 The jigging spots on the plateau were full of fish as the sonar clearly indicated but something kept the their mouths shut tightly. Pretty much only a Doggie felt like having a snack and sensibly chose Andreas` jig for that. So goal one achieved.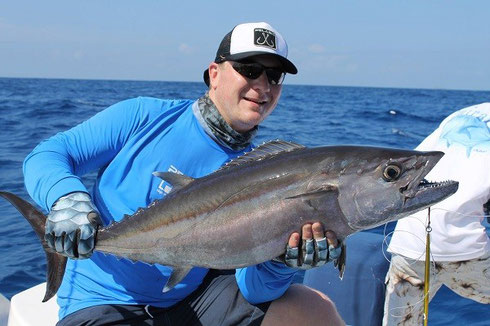 Jigging on the Drop those days also did not work too well. Mervin tried the next day with a guest and despite 3 Groupers in excess of 20kg the number of bites was low. Pretty much same game the following day and again the fish caught vomited lots of small Calamari. Seems they were completely focussed on that kind of diet. Not much trolling was done along those rather calm and nice days but Julien (Isabella) got a Marlin. On the 19th it was jigging with Andreas and Mervin once more but this time at the Drop. With only 16 fish again the result was below par by numbers. But a decent Doggie close to 20kg came up and only a little later Andreas had a lot of work to do. Two long and hefty runs brought his 16kg max drag reel close to burning already but luckily the fish lost power then. A little later this fantastic Doggie of nearly 40kg appeared on the surface and Andreas was able to hug the fish he had been dreaming of.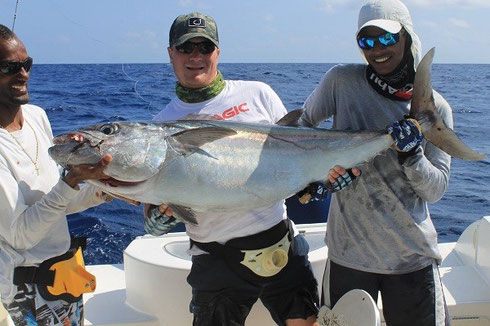 The video clip of that is quite spectacular. Also the GT frenzy from the week before is now included. Watch here if you like. The next day despite a rather useless tide I went popping with buddy Stephan for the afternoon. As expected the early hours produced nothing but a miss of a GT we estimated at around 10kg. Only already late and close to dusk Stephan got a mighty strike but that nice fish did not hook up. Trolling was decent that day as Martin returned from the Drop with a good mixed bag of 3 Wahoos, 2 Dorados, 2 Yellowfin Tuna and a Barracuda while missing a Sailfish. Same day the boat Delfino got 2 Sails and 2 Dorados out there. But all this was clearly topped out by the boat Alati fishing out of Mahe with 6 Billfish raised. Out of 2 Blue Marlin, a Black Marlin, a Stripey and two Sailfish the Black and a Blue were caught and eventually released. Great stuff.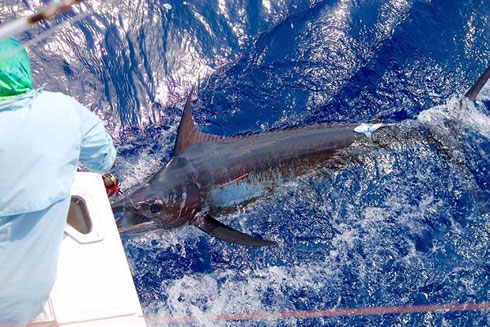 So all looked very promising for my friends ThomasR & ThomasU and in a very optimistic mood we ventured out for their first day on the 21st with Christian on Djab Lavwal. After merely two hours of fishing  in already miles deep water far off the Drop an obviously not so small Marlin checked out and eventually grabbed a lure offered directly behind the props. On the first run that fish took about 650m of line leaving just 150m without jumping even once. Another run would probably have left the angler spooled but instead only about 10mins later we were right above that fish sitting motionless in a depth of 100-120 meters. After an hour of hard but useless effort by ThomasU it was clear to us that the Marlin must have died down there. Have been part of such incidents a few times already which tend to end with the line popping eventually due to the gradual tightening of the drag. Instead Christian instructed his mate Versange to run the boat in tight circles while he started to lift the fish hand over hand hoping to get it into an upward spiral.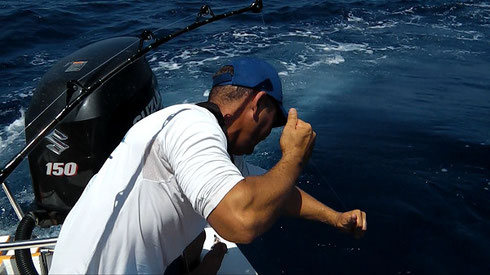 Considering the depth, the size of the fish and the rather thin 50lb line I would not have bet much on this to succeed. But on every half circle downwind he and the angler gained some line while going upwind losing a bit again. Despite a number of deadlocks when the momentum of the rise went lost doubtlessly a trend to our favour established and eventually the Marlin surfaced after 2 hours of hard and persistant while still sensitive work. Unbelievable.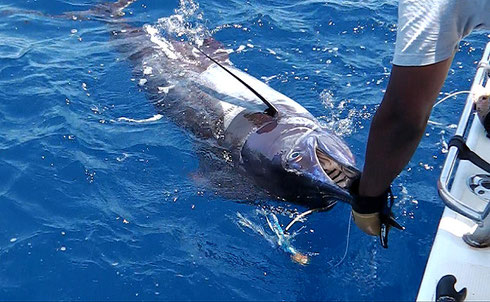 It was quite a nice Blue that we had our troubles boating and that weighed in at 170kg. Really a very special effort by Christian. Big compliments to angler, skipper and crew.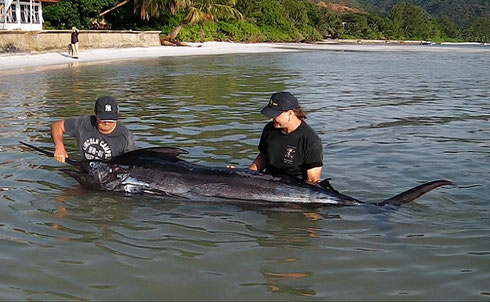 Found it quite a task to convey all this in just a minute of video but I hope it worked somewhat. In the course of the afternoon we were able to boat a Dorado and a Wahoo while a Sailfish was tagged and released in excellent state.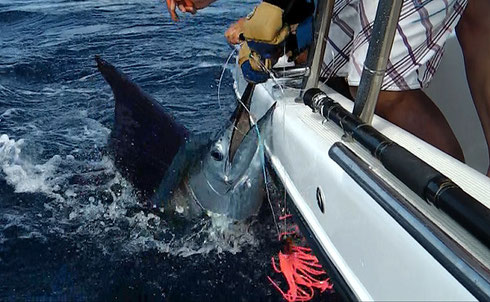 So the best start possible for my friends. Learned later that not far from us Delfino got 2 Sailfish but lost a Marlin that fell on the line. Also Andreas had a good time popping around Praslin with Mervin as he eventually caught his much desired GT.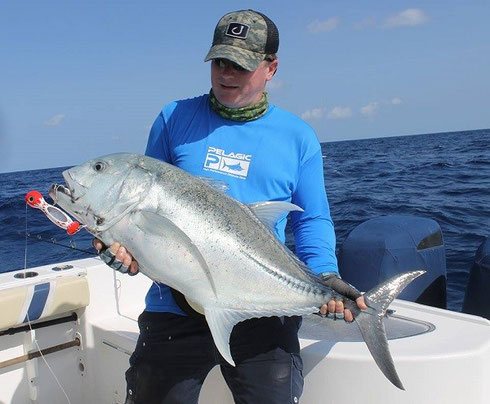 One day later Martin and his guests hooked a Marlin in that same area we got ours that also ran deep and died. As that fish had produced a few jumps they were able to estimate its weight at around 80kg. On 80lb line it had been retrieved already about 2/3 to the surface when the hook fell out unfortunately. Meanwhile we were out with Christian again in bad weather with heavy rainshowers and a good bit of wind that picked up ever more. So already by 11am we had to slowly troll back into the direction of Praslin with just a few Bonitos and a small Wahoo. Getting no more strikes all along the way until we missed a Sailfish already close to the Sisters confirmed it was not our lucky day. Things went much better for Mervin who released a Sailfish and got some decent Yellowfin Tuna of around 40kg.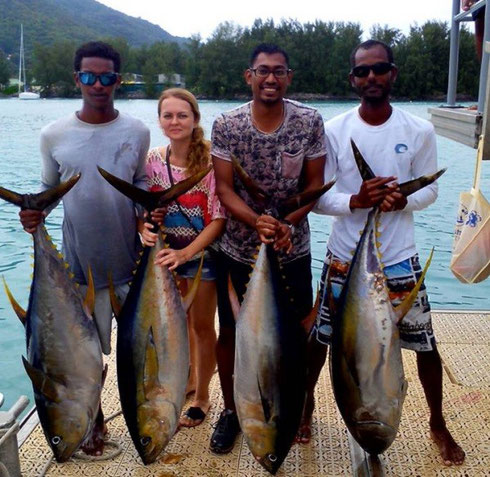 The next day, Saturday the 23rd, the annual Marlin Slam Tournament took place on or rather out of Mahe. The goal is to catch the biggest Marlin. Christian had been invited on a boat and reported afterwards that they raised 5 small Marlin that day hooking up but eventually losing a couple of them. The 13 boats fishing in rough weather brought 4 Marlin to the scales of which the heaviest one weighed at 179.5kg. Congratulations to the once more victorious team Island Star! Same time my friends wanted to continue fishing despite still worsening weather predicted. Here on Praslin currently Venture is pretty much the only boat advisable for such conditions so I was thankful Martin was willing to take us out anyways. He really had to take a few beatings up on the flybridge but Martin is a tough guy. He can easily run the boat from the protected inside helm while cruising out to the Drop and back but instead always stays up there no matter what. Despite all his efforts though he was not able to overcome my friends´ unlucky streak as we did not even see a Billfish those days and also the other catches of Tuna, Wahoos and Dorados fell somewhat short of the usual by numbers. Still it had been a handful of those on each of those days.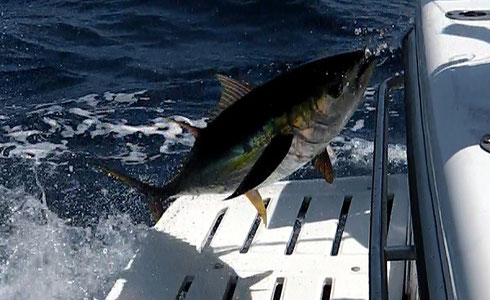 On the 25th which was the third day with Martin instead of again fishing the Drop we tried working the plateau into northerly direction for a change. Conditions were surprisingly pleasant that day but absolutely no activity lifted our spirits for a long time until eventually persistant work at two structures provided us with half a dozen decent Doggies of up to 20kg.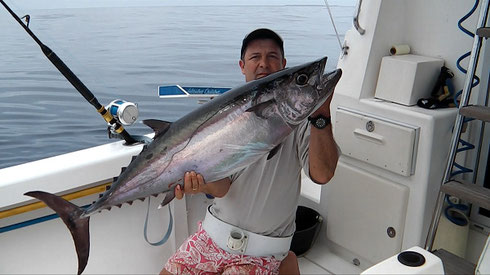 Also while trolling all the way back along those usually very productive areas we did not get a single strike of a reasonable fish indicating that those days the plateau was literally deserted from all pelagics better than the odd Bonito. Luckily we were already only about 5 miles off Praslin when a real storm hit us on top of all. Felt that it was no use going on like this for now and it seemed reasonable to instead switch to and make use of the other great fishing options these waters offer. So faithful in calmer weather predicted for the next day I set up my friends with Mervin for some popping and jigging at the northern Drop Off. The chaps despite being very experienced in trolling never had a taste of this stuff so I hoped to enthuse them for such new adventure. It all started off quite nicely with a proper Red Seabass of around 9kg grabbing a popper early but it threw the hook right at the boat.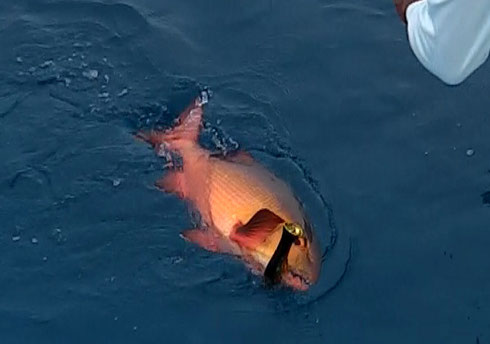 Unfortunately the large Jobfish were not present that day and also those Doggies were rather lackluster producing only a few half hearted attacks. Eventually ThomasU had a strong fish on and we all expected it to be one of those. But after a hard fight the culprit revealed itself as a Shark that was released quickly after a short dental treatment to free it of the popper. Looks all fairly nice in the video and despite also coming unusually slow this time the two guys really enjoyed this spectacular way to fish.
Jigging turned out quite a disappointment. Had been up there on several occasions already and only once it had been slow on an all calm and hot day. This time though the activity was pretty much zero. Best fish of just 3 alltogether in two hours was this small Doggie.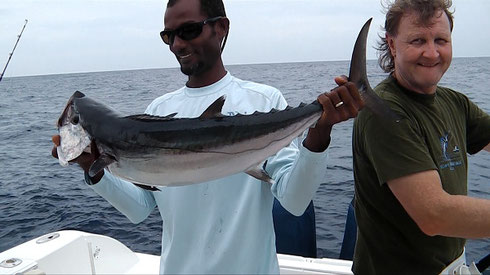 Apart from that one only a tiny Grouper came up and Mervin caught this Black Trevally.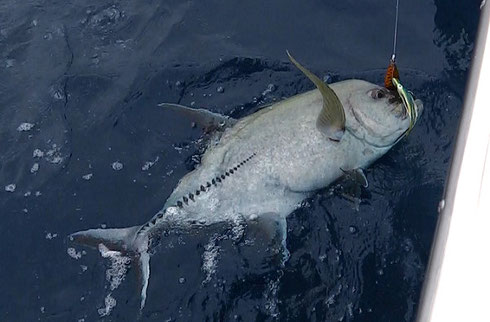 With a view to the trolling results of the recent days switching back to it did not seem too promising but at least this way of catching nothing is not all that exhausting. Actually all along these nearly 30 miles back to Praslin we did not get a single strike once more apart from this Wahoo right after lines in.
So my nice plan B also had not really worked out and subsequently the next day it was all trolling the Drop Off with Christian once more. Got pretty clear my buddies must have sinned badly some way before the trip as we had worked an area for an hour when Martin`s Venture appeared. They started to fish only a few hundred meters off us and after just 5 minutes they had a Marlin on. We did not begrudge them at all for that fish but of course had to find ourselves another now. Pretty needless to mention we had no luck in doing so. That Marlin was badly hooked thus boated and eventually weighed at 80kg.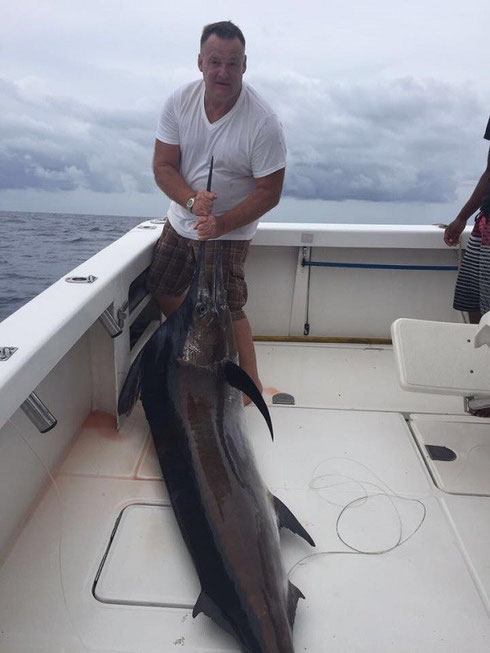 Martin also missed a Sail and caught Dorado, Skipjack and 5 Yellowfin Tuna that day. To the contrary despite trying everywhere we just got 2 Dorados and 3 Tuna. On top on the way back once more we were hit by a bad storm front turning strong wind and waves right into our faces. This really was no fun at all on Christian`s open Center Console and I would have not liked to be the skipper in these conditions but his skill of mastering the boat is impressive. Thursday then was the last day out for my friends. Again it was trolling the Drop but with with Mervin this time. The goal clearly was to get a Marlin for the other Thomas. So big lures were dropped to be pulled over the deep water when only minutes later still at the edge a Sailfish took and was released after a quick foto.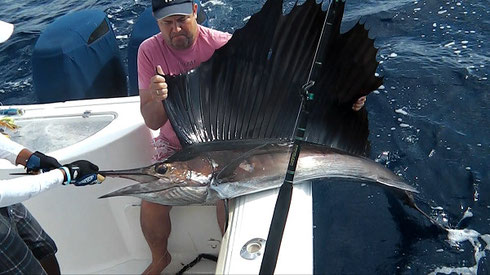 Trolling was sort of a headache most of the time as the previous day´s storm had pushed a lot of seaweed out there covering vast areas. Also the much awaited Marlin seemed to have other obligations. But eventually it came. Slowly and nearly sedately it moved in, checked out a lure for a moment, grabbed it, jumped right away - and was off. That had been our chance and it remained the only one for the day. Hitting the Drop again in the afternoon we picked up a Tuna and a Wahoo but as far as Billfish are concerned we saw none more apart from a tiny Sail surely smaller than 10kg chasing some bait. Trolled far onto the plateau without activity again when already at lines out with only two lures still in the water finally the center rigger clip popped. Prayed for a however small Black Marlin but instead another Sail gave us a brief display of its artistics. On 80lb gear this one  despite being good size at nearly 30kg was not a real opponent and enjoyed a quick and healthy release.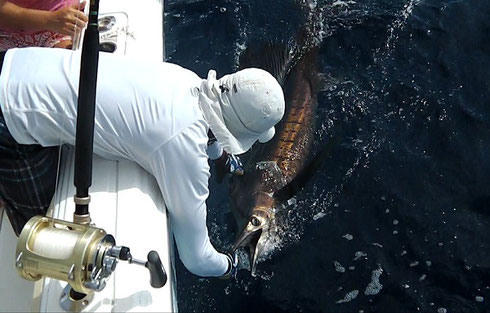 This at least was a pleasant finale for my friends´ 8 days of fishing in Seychelles and the video of all this turned out fairly opulent I think. Still all in all results were quite a bit below expectations. Especially as those had been high fueled also from my side with a view to the great Billfishing we had enjoyed here along the previous weeks. Particularly the Sails that I had counted upon really kind of let us down and jigging on that single try was unusually slow to say the least. Adding the bad weather plus a bit of bad luck even here in Seychelles hampers the fishing `a la carte´ we tend to be used to. With a bid of good fortune though even in those days it was still possible to catch the fish of one`s dreams as Andreas proved in just two and a half days fishing catching that Doggie and GT both in formidable sizes. Congrats to that achievement again! That Thursday by the way the boat Sailfish reported 3 Sails as well as a Marlin and a big Tuna both lost. How erratic fishing is these days Martin´s Marlin catching guests had to experience Friday when returning with just a single Wahoo from the Drop. Also on the plateau around Praslin the fishing drought seems to continue as Christian on two half days got nothing but 4 and 2 Bonitos respectively. But luckily still no lack of promising options if one is flexible as fly fishing worked nicely for Greg (Pipsqueek) and his guest.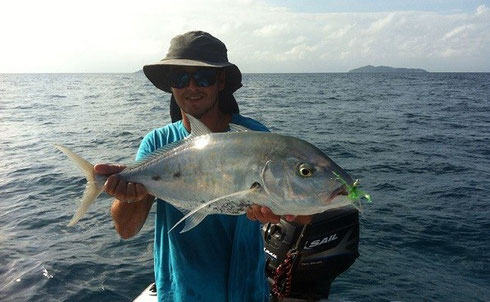 Not much news from Mahe since the tournament probably due to the low number of tourists and the mostly bad weather. Trolling round the island also is not up to the usual these days but still a bit better than here. Also the southern Drop seems to work better for jigging as buddy Jan`s catch indicates.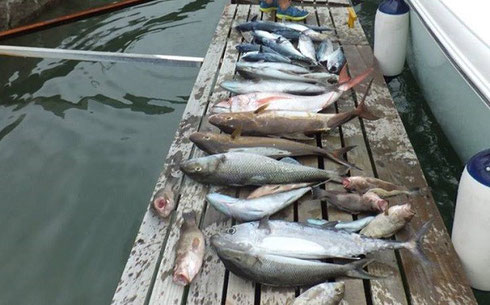 Last but not least Faizal informed me that there are lots of juvenile Yellowfin Tuna and in their wake Marlin at the southern Drop. A small boat lost a big one estimated at around 300kg after 4.5hrs of fighting time right at the engines due to the line breaking. This must have really hurt.
The new year kicked off here in Seychelles simply in fantastic style as far as fishing is concerned. With as usually many tourists around for the holiday season we despite some heavy weather saw a lot of trips of which many were just half days though. On New Year`s it was generally about recovering from party hangovers but already on the 2nd things really got going. The boat Delfino as well as Lester (Lazio) and Christopher (Ella) got Sailfish of up to 40kg. Mervin (Divinity) fishing only a half day meanwhile caught a Marlin of about 80kg and a private boat from Mahe also got one.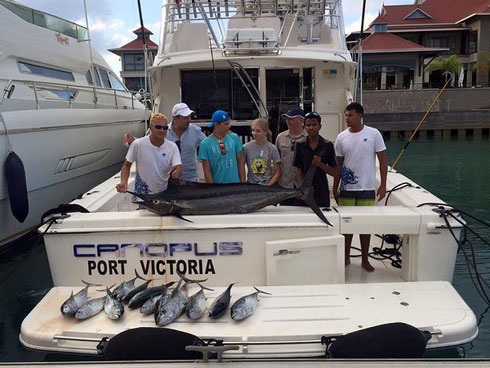 The next day confirmed the great abundance of Billfish with again Lester and Mervin reporting Sailfish as well as the boats Delifino and Lily. Mervin headed out a second time in the afternoon with a little boy as guest for 3 hours of Bottom Fishing. Trolling two small lures to the spot they suddenly had two Marlin on same time but unfortunately both went lost.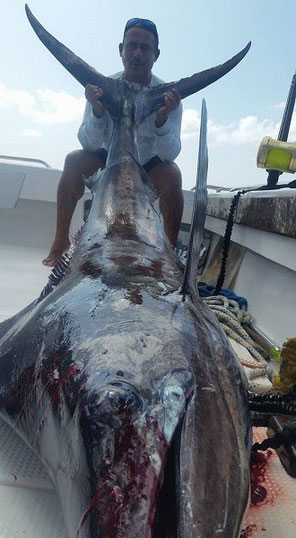 On Mahe that day the boat Empress took this impressive specimen of 200kg to the scales. Think the perspective of the picture is pretty cool. Also Island Star brought one of about 160kg in though they would have preferred to release it but it was too badly injured. Still the good will to do it should be accounted for. I definitely do so and am happy to see that slowly but steadily ever more skippers release but we still have a way to go until it becomes the common habit as it has done in most other places. Along the following days the wind picked up and became quite strong on the weekend but the Billfish Bonanza continued. Simon (Island Rhythm) shone on consecutive days with Sailfish and this Marlin on top.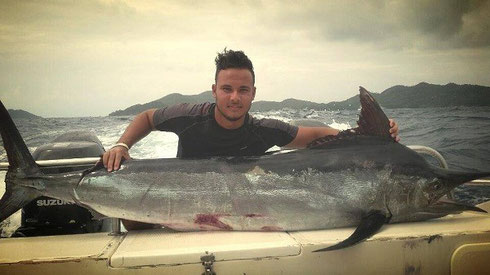 Christian (Djab Lavwal) got one Sail each on two half days and missed a few more while Daniel (Blessed) reported a couple also while adding this Marlin to his tally.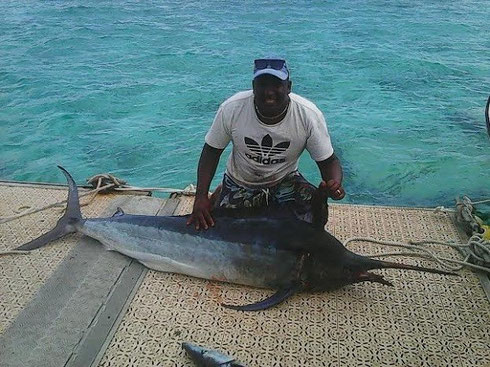 It was absolutely crazy. Apart from two trips I heard of really any outing was blessed with at least one Billfish even if the trip was just for 3 hours. JD (One Love) caught one each on two such short trips, Delfino added another couple etc. Probably there were quite a few more as I think I did not get aware of everything especially from the Mahe boats. Really cool. Would have liked to go trolling myself but either was busy or the boys were unavailable. So my own fishing was reduced to 2 short popping attempts when the weather allowed for it. First one went rather dull with buddy Stephan missing a smaller GT that we estimated at 12-15kg and a few Jobfish strikes shared between us. The second on the 11th this time on my own turned out pretty bloodcurdling. Bad enough to miss 3 average size GTs of about 25-30kg in just a quarter of an hour. Then suddenly a baitball of maybe 2-300 hundred brown fish appeared and was hammered by a bunch of GTs within a minute or so. Some of these big barrels jumped out of the water full size and were rushing on the surface like mad. This all happened a mere 20 meters behind the boat and my popper cast a few times right into that frenzy was completely ignored. That all was extremely frustrating and fascinating same time.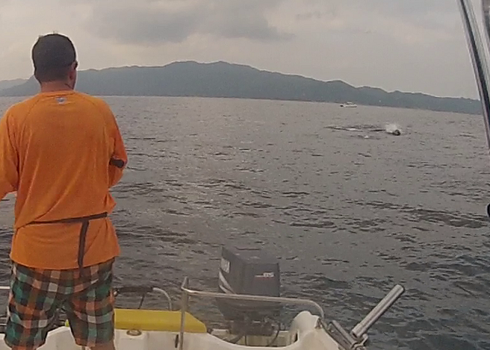 Unfortunately I had to zoom the video sequence so that picture quality suffered quite a bit despite it was recorded and rendered in HD. Also it is too short for the usual monthly clip but I intend to present it along some other footage hopefully to come at the end of the month. Who is not willing to wait for that can already watch it on the Facebook site here. Had never experienced anything like it here. But at least I know now that this spot holds quite a few more big GTs than I thought. That same day Mervin had gone to the Drop Off for some jigging but the catches did not really match the usual results. The anglers caught the common assortment of Groupers, Amberjacks, Doggies etc. but the fish were rather small and the bite not at its best. A huge Doggie as well as some good size Yellowfin Tuna followed different offers right to the boat but would not strike. Not even on livebaits offered. On top they missed a Marlin on jig. On the 13th amidst windier and rainy weather the situation and catches were pretty much the same. Probably due to the unfavourable tide that was extremely low around noon those days. Not to forget though that day they lost an obviously massive Grouper due to the rod snappng into 3 pieces. Meanwhile a very interesting contact with a private skipper fishing out of Mahe established. Randy has not only been fishing very successfully in this first half of January but also provided some excellent fotos that I am happy to present you. For a start this brilliant Sailfish portrait with even the tag in the picture. Absolutely love it.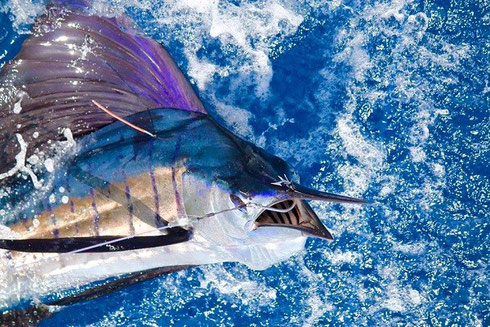 His catches beyond Billfish also were superb (which is true for most other boats as well by the way) as the following picture more than sufficiently indicates.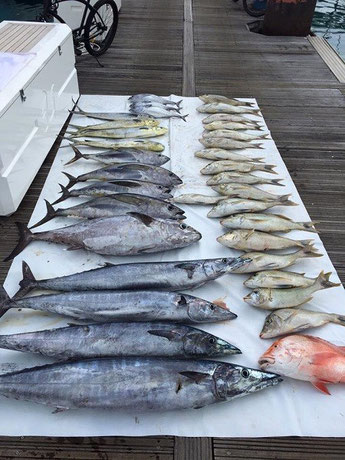 Since the mid of this week the number of fishing trips declined sharply. Partly due to the steadily strenghtening wind and partly because the holiday season tourists by now have left Seychelles. Did not get aware that anyone went out for trolling from Praslin in the last few days at all but must admit not having been tuned in to `radio coconut´ to the usual extent because of other obligations. In case I missed out on anything remarkable you will learn about it in the next edition. The Billfish still seem to stick around though. Happened to get to know a skipper on Mahe yesterday who runs two boats similarly small to mine. Marcus braved today´s really rough seas on his Lady Trinisa and reported this Sailfish a few hours ago.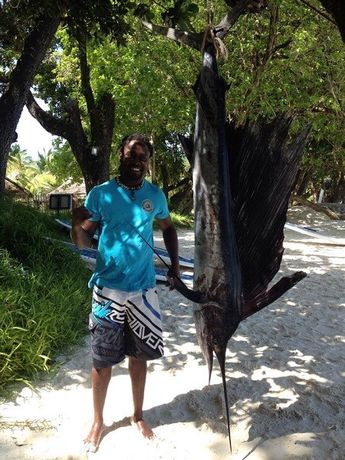 While chatting yesterday I got the impression that he really knows his stuff so I am happy he proves my assessment right first opportunity. Hope the contact establishes so as to receive more news from Mahe for you in the future. Just had a phone chat with Mervin before press date so to say. He went popping with his group yesterday but their tackle is too light for our demanding spots. A few GTs got hooked but none could be stopped from the rocks so all went lost. Jigging at the Drop today was pretty much impossible in high waves and with the boat drifting at around 3 knots. Thus catches at the bottom were far below par. But the really big Yellowfin Tuna are out there feeding. However they would not accept any offered jig whatever color or shape. Would be most welcome for that wind to settle as to offer a chance for a real go for those. Would reckon that getting one of those on a popper will deliver a really memorable experience. 
For the preceeding reports check the archive.