The most recent mid month report came a few days early as that day my German friends Marco & Heiko were to arrive which meant fishing about every day. Due to favourable tides the first topic on our agenda was GT popping. Suitably buddy Jan fishing out of Mahe reported this great specimen of about 35kg to increase our motivation.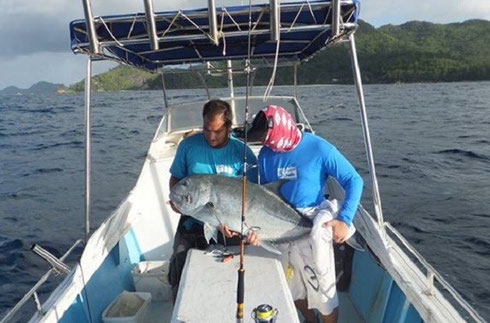 So without wasting time already early on the 14th we headed for Fregate. Southerly winds provided for a bumpy ride and already at the first spot about half the way my friends were in trouble standing and fishing on the deck without anything to lean on. I managed to raise two GTs of about 15 and 25kg but got no hookup. Pretty clear that it was useless to travel further so instead we jigged a couple of spots on the way back. These had proved rather unproductive in recent months though so no real surprise that we got nothing there apart from a few Bonitos, small Groupers and the everpresent Pickhandle Barracudas. Between those spots we trolled a stickbait equipped with barbless single hooks as we had no trolling lures with us. Still suddenly three Sailfish showed interest but on two strike attempts we got none on. At least we were able to catch a small Yellowfin Tuna on that thing to secure diner. Sunday morning I went with just Marco to find GTs on that productive bank northwest of Praslin but we did not even see a single one. During a bit of jigging on a pinnacle nearby we caught two Bonitos and a couple more Pickhandles while trolling a small Halco for a while produced two Jobfish and a tiny Doggie. Monday again we tried to reach Fregate but once more had to abandon the trip half way there due to a front of bad weather and strong wind coming up from south. That day Hyacinthe on Belle Petra fishing out of La Digue reported two Sails and a few Dorados. For the following two days the weather remained bad and only for Thursday wind of around 10 knots was predicted allowing for some trolling. That morning the wind was already a lot weaker though and early we recorded two misses of a Dorado and a Wahoo respectively. Along the following two hours the wind died completely and with it all the activity making it tough to at least catch a Bonito here and there. Subsequently a Sailfish with a healthy interest in our stripbait was a most welcome guest and saved our day.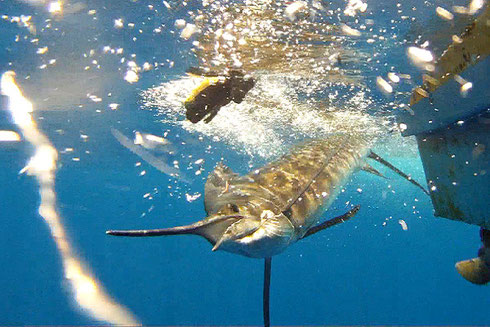 It was cooperative enough to swap a little piece of its dorsal fin (for genetic sampling) for an ABF tag without much arguing and swam away happily with that deal a little later. As indicated conditions turned out to be pretty useless for trolling that day but came perfect for Greg (Pipsqueek) who had another successful fly guiding. He and his guest caught some Groupers and Bonitos as well as two fairly large Jobfish and even Rainbow Runners.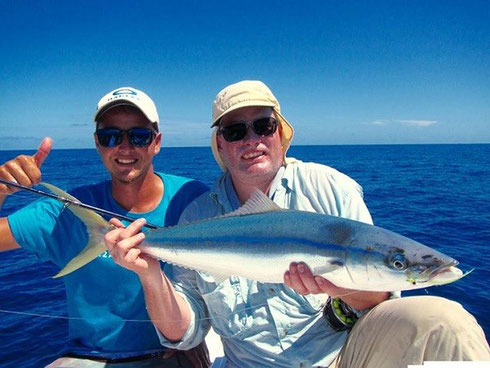 Friday the 20th Heiko, Marco and I went to Mahe to fish the Big Game Classic Tournament with friend Ruslan on his Albermarle and defend our title won the year before. At 2am Saturday morning we headed out reaching the southern Drop Off at dawn in seemingly ideal conditions finding some early activity: a large Jobfish and a Barracuda made company inside the fishbox for a start but a Doggie came off close to the boat. In the course of the following two hours we caught half a dozen Yellowfin Tuna of up to 20kg. While just gaffing one a Marlin of maybe 70kg came to check both teasers and then grabbed a lure briefly but as the boat was hardly moving did not hook up. An hour later or so another one about the same size did better but when already near the boat after some 10 minutes of fight it unfortunately dropped the hook. After that once more the activity died completely along with the wind but it was still a joy fishing on this great boat.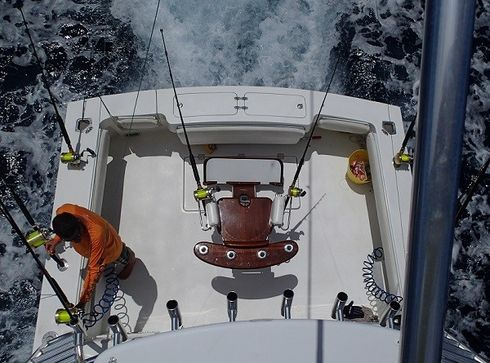 Towards Lines Out we saw a Sail jumping and tried a bit of live baiting but without success. So no thoughts of defending our trophy but maybe it was better that way as due to a problem with the fuel indicator we ran out of gas just a mile short of port. That meant disqualification and we did not even witness the weigh-in. So no pics of that this time unfortunately. Learned later that the 14 boats had equipped 3 Marlin with satellite tags for the IGFA Great Marlin Race and released a total of 11 Billfish. Number 12 did not want to be released for unknown reasons as that Sailfish just jumped into the boat Ti Joe. Watch a pretty cool and spectacular video of that here. Thanks also to Faizal for providing the following pic of Alati`s Marlin caught in that tournament.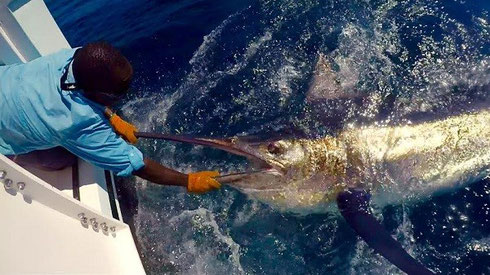 Sunday we badly needed a break but Monday went trolling again. That turned out another rather dull day though as the selected area northeast of Praslin held next to no activity at all. Only after long hours Heiko could at least catch his very first Dorado which I find unusual for someone having already a dozen Marlin under his belt.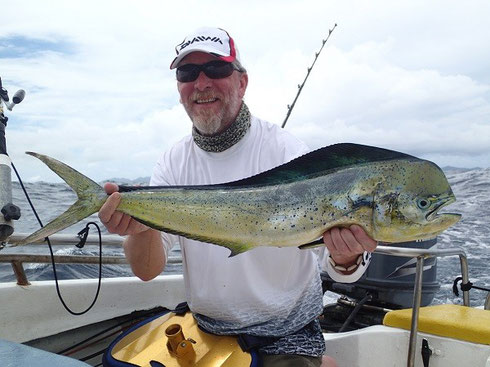 It had become afternoon already when we finally found a large Bonito frenzy hoping that there might be larger predators enjoying such a buffet. But also there we got no strikes on our lures apart from the Bonitos. We offered a few as live baits but also without any activity except one getting cleanly cut in half.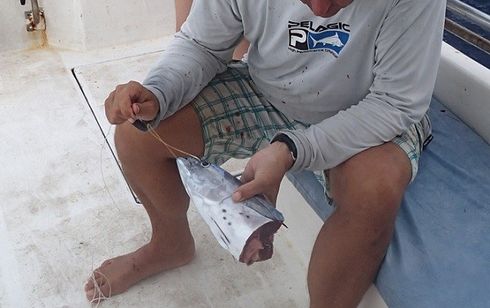 Just before Lines Out and already in usually `dead´ water a large Sail of maybe even over 40kg grabbed a lure only to throw it in its first jump to add to our misery. Martin (Venture) fished that same area also finding nothing there. For a while though he went a few miles further north getting a few Dorados and a Wahoo. Had planned to also go up there but a front of bad weather had not allowed for it. The next day the weather continued to be ugly but on Wednesday at least trolling seemed possible again. This time we went to an area southeast of Marianne but again did not find much there. Travelling along a weedline we nearly ran over an obviously sleeping Sailfish and picked up 4 Dorados. Another Sail really wanted a specific lure but unfortunately the outrigger clip did not release despite it had functioned normally when tested before and of course after that incident again. At least we found some interesting sonar echos at a structure and were able to catch around 100kg of large Bonitos and Yellowtail Trevallies in 2 hours which gave us a reasonable workout.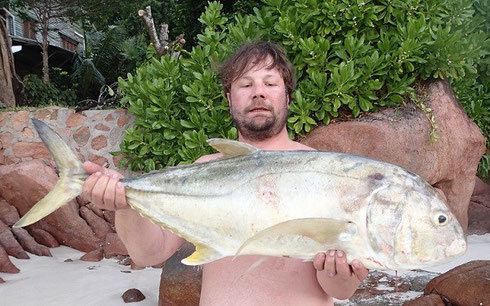 Thursday the 26th we eventually managed to get to Fregate. On his third cast at the ususal spot half way Heiko got a GT on but his drag was set far too soft so the fish was lost to the rocks within seconds. The first jigging spot northwest of Fregate was full of fish according to the sonar but these would not eat except a miniscule Grouper. More popping at different spots produced nothing but a single Jobfish and a few Bluefin Trevallies following the lures without great interest. At the second jigging spot south of Fregate again the sonar indicated lots of fish but we managed to get just half a dozen Jobfish. Popping at two other structures in the afternoon also led to nothing more but 3 poppers lost to Sharks and major frustration. That same day Mervin had a trip to the Drop with a German guest but also there jigging was extremely slow. They managed to scrape together a few small Amberjacks and Doggies losing two hours bringing up a Manta Ray that got hooked accidentally in its wing. At least they were able to release a Sailfish and catch a few more smaller Gamefish after switching to trolling. To eventually provide Heiko and Marco with some reasonable fish we went with Mervin to the nothern Drop the next day. Topwater fishing and jigging ususally are a safe bet up there and we had a promising start as at my third cast a 30kg+ Doggie followed my lure bringing his friend along on the next. But they as well as the numerous large Jobfish would just not strike. Only aggressive fish up there were the Sharks so Marco at least could enjoy a hard fight for once.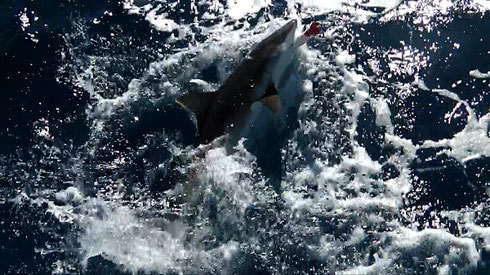 It often works to get those Doggies on a jig but it did not work this time as the Jobfish were faster. Only the small ones of course. Early noon we headed further out for the real jigging spots. The wind had meanwhile dropped to nothing and the heat did not make it more pleasant jigging numerous different spots and depths of up to 150 meters. It was sort of a torture especially as success was limited to say the least. Some point this decent Yellowspotted Trevally came up to give us a bit of motivation.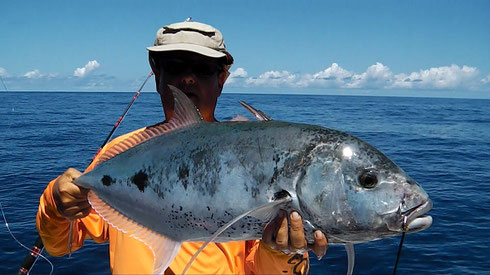 A little later I was lucky to catch my first and long sought after Black Trevally that had so far always eluded me.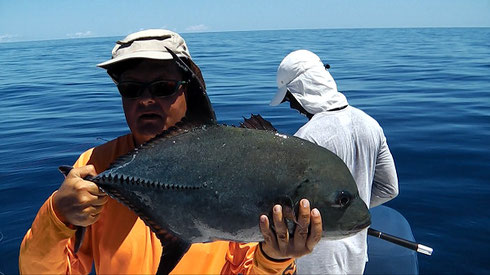 Highlight of the day was without doubt the huge Manta Ray that seemed to have fallen in love with the boat circling us for about an hour and allowing for some really nice video footage above and underwater.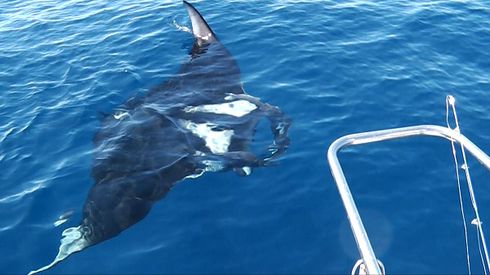 But all in all also that day´s fishing was far slower than ususal and we had to accept that even here there is no way to force fishing success. Saturday morning Marco and I once more went for a few morning hours of GT popping but again raised and caught nothing but a single small Jobfish. Also other boats trolling around Praslin had their troubles of catching a few smaller Gamefish in those days and only Christian (Djab Lavwal) managed to get a Sailfish. Meanwhile trolling was first class for the boats fishing at or even beyond the Drop Off. Stripper caught a Black Marlin, Mantra reported a Stripey and Island Star managed to release 4 Blues while taking a damaged Black of 160kg on a single day in the south. Mervin, Sandro and Julien went on a fun trip far beyond the northeastern Drop that Saturday finding first class activity there also: 2 Marlin missed, a Sail released, 10 Yellowfin Tuna of up to 30kg caught and on top this massive GT right at the edge also on trolling gear.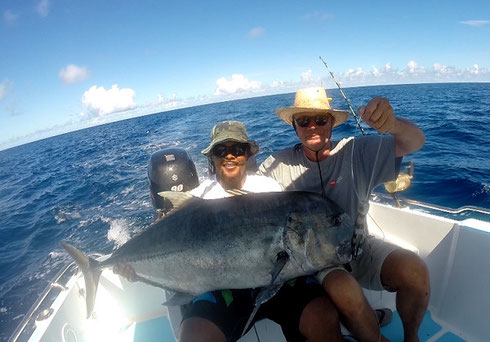 Clearly the Drop was the place to fish these days but unfortunately no way getting there on my small boat. So the last chance for Heiko & Marco to get some special fish was another trip with Mervin yesterday. Jigging was slow again though I got a decent Barracuda on the very first retrieve. Then it was Marco once more testing his strength against another fairly large Shark that was released eventually.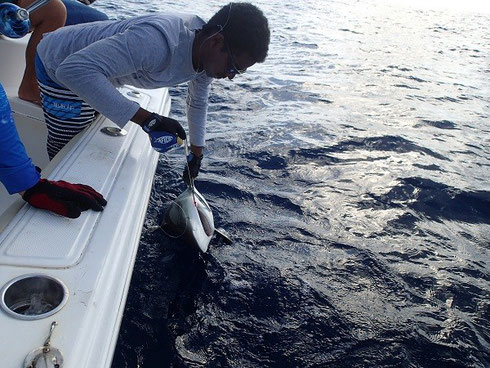 Apart from a number of Jobfish nothing more came up until Heiko finally got the first and same time last Amberjack of that trip.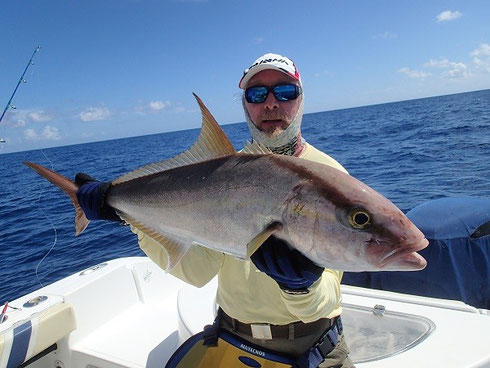 But by then it was already obvious that jigging would not make that day special so we resorted to some trolling as the wind had picked up. Not a bad decision as after an hour Marco got a Sailfish on that was released briefly after.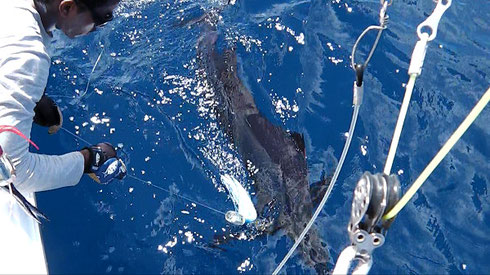 A little later a large group of maybe around a hundred dolphins crossed our path and while we were watching them in awe chaos broke out. The water behind the boat literally exploded and four lines went same time. One of the fish was a large Marlin of  surely more than 200kg that unfortunately managed to break the main line moments after striking. The other three fish were large Yellowfin Tuna. When Marco brought the first one to the side of the boat with Mervin already handling the leader that fish of well 45kg somehow went around one of the other lines pointing vertically down and got rid of the hook. Sandro a little later brought the second close and that massive specimen was gaffed and eventually heaved into the boat.

This also worked out finally with Heiko`s fish that was a bit smaller and I was happy to have caught all this on video quite nicely. Actually we all were pleased and it did not really matter that along the following hours we only caught one Wahoo and missed another Sail. Back in port the two Tuna were weighed at 36 and 50kg. Really great action and fantastic fish.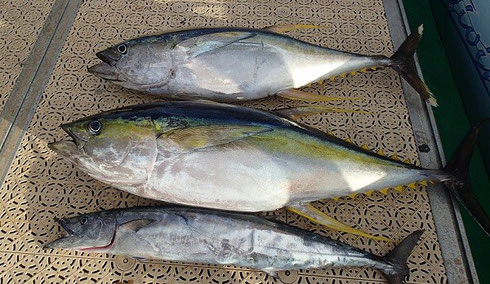 With these under their belts my two friends contentedly left for Germany this morning and also my temporary depression about our at best mediocre results was gone. Even here in Seychelles great fishing results do not always come as wished for but flexibility and persistance pay off eventually. Quite unusual though that even now at the end of November southerly winds still persist and at times are quite strong. But this does not seem to disturb the annual run of large Tuna along the drop which is as good news as the large abundance of Marlin and the absence of any signs of further algae bloom.

Among suitable weather conditions especially the first two week of November provided for some excellent fishing in Seychelles. Mervin (Divinity) did his last trip with the French group on the 1st reporting lots of lackluster Sailfish from the Drop Off along some excellent jigging once more. That evening I spent an hour on a sailing cat with a group of Swedes who I had provided with some information to prepare their week of jigging and popping that was about to start. On the way from Mahe to Praslin they had already caught a Sailfish that unfortunately came dead as it had entangled itself in the buoy line of a traditional fish trap. A private boat from Mahe (I think it was Kuki) on the 3rd had a Sail, 6 Yellowfin Tuna and 3 Wahoos while missing a Dorado and a Marlin.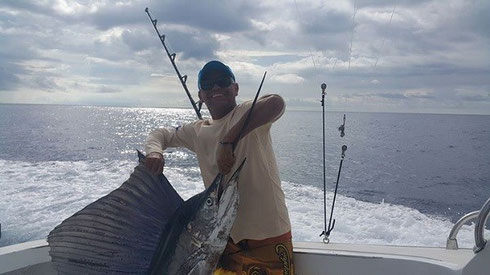 Island Star also fishing out of Mahe returned with 15 Tuna and had two Marlin strikes. One fish of about 80kg was tagged and released. The next day around noon I met Edwin (Dan Zil) sporting a somewhat long face: his half day charter had only resulted in a Bonito and a Tuna while two Sailfish seen were not interested. Christian (Djab Lavwal) fared much better at the Drop Off that day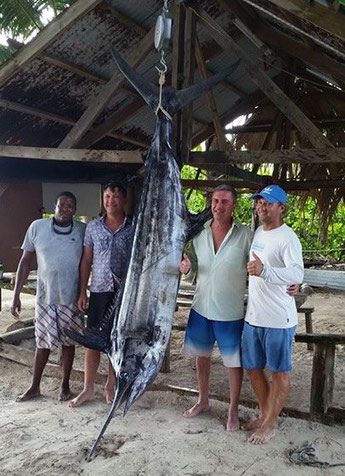 After catching an early Wahoo and missing a Marlin still a few miles inside the edge right there they got a nice Blue Marlin on. Unfortunately that fish died deep about an hour into the fight and it took them nearly two more hours to bring it up by hand. But luckily this worked so there is at least a picture to show from that 160kg specimen. Friday then went excellent for Island Star once more: Marlin 80kg tagged & released, Marlin 180 kg released, Dogtooth Tuna 85kg released, Wahoo 30kg and Yellowfin Tuna 45kg caught. It can hardly get better than this. Saturday the 8th I went for some popping and jigging with Christian`s brother in law Stephan. The unfavourable tide did not give me much hope for popping. So no surprise that after quite a while without action he first fish appearing was a fairly large Shark of about 2 meters. Was quite happy that it let the popper go but the next moment it was sucked in from underneath. Luckily it was not that large Shark that would for sure have provided us with release troubles but this small GT instead.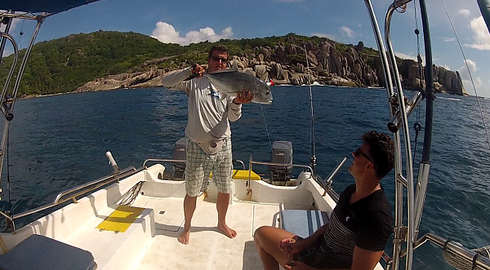 In the course of the following hour Stephan had a few misses from decent Jobfish while I got a strong fish on. For the first two minutes I was sure this was a Shark but then the behaviour of the fish changed towards what I had been looking for. Eventually the fish revealed itself as a decent GT lady of about 26kg which I think is a nice start for my tagging project.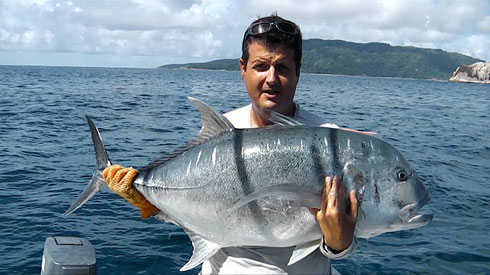 With a view to the by then really unsuitable tide I did not expect such a fish at all any more but even the better. A bit of video from the fight, landing and release can be watched here. We then tried a while around a rock that looks promising but tends to be Shark infested. True this time again as I first caught and released a small one of about 70cm while Stephan had a group of 4 same size following his popper. Panicking small Garfish let me suspect a Sailfish but when we saw a pretty large triangular dorsal fin cutting the surface we decided to bugger off. Doing so I let out a small Halco plug when the line suddenly accelerated. On closing the drag a Sailfish jumped but did not hook up. Same result on a Wahoo strike a little later and another strike unfortunately. The jigging spot produced nothing but a Bonito for each of us in two hours so we tried popping at another spot in the afternoon. There Stephan finally got his very first popping fish - this beautiful Bluefin Trevally.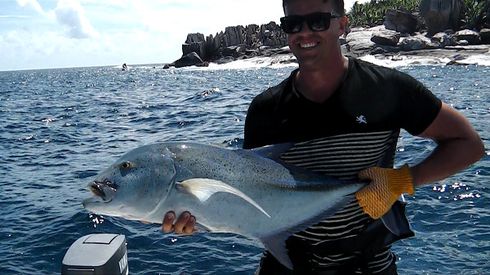 This one also features in the video here. After that we only had a bunch of a bit smaller Bleufin Trevallies following the poppers so we called it a day. Sunday hotel l`Archipel boat Lady Caroline called to report a Wahoo and a 80kg Marlin caught at the Drop Off. Lothar from Germany on the 9th did a half day trolling off Mahe getting Bonitos, 2 Wahoos and 2 Sailfish on top. On the 11th Greg (Pipsqueek) had a fly guiding from the boat that turned out very entertaining with Bonitos, Rainbow Runner, Groupers and Bluefin Trevally. Same time I also went out again. A bit of popping in low tide early noon produced a small GT of not even 5kg that looked a bit tousled. Parts of the tail fin were missing and it had a fresh wound. Would guess a Shark had a go for it as within the next half hour quite a few showed up. Luckily the trick of stopping the popper dead still to avoid a hookup worked on all of them but still I rather left. Decided to troll two small lures to the first jigging spot and after maybe just 500 meters travelled I found myself in the middle of a huge area of the Red Tide. Not a nice thing to see at all and it felt uncomfortable though I did not see any dead fish or other animals. A few days before I had heard that these algue are actually toxic though there had been other opinions and test results (see most recent report). Now everybody is eagerly awaiting new information from another laboratory. Catching a seemingly healthy and active Bonito in the middle of that stuff did not lift my spirits. Just looked to bad that water like red lead.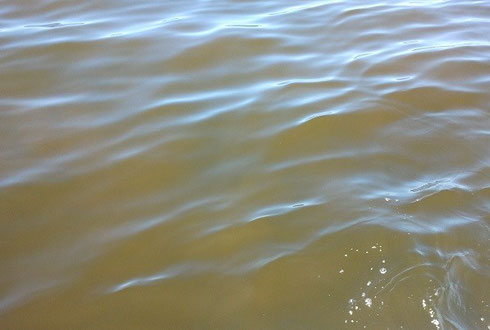 Jigging once more was a disappointment. After about 2 hours on the first spot I had a strong fish on but was cut off cleanly seconds later by what must have been a Shark. As a little later my special friends, the Pickhandle Barracudas, entered the scene it was time to save jigs and hooks trying two more places instead. These produced nothing but a few smal bites by probably hand size Groupers or so. In the afternoon at high tide I was back at the popping spot that had been passed by the Red Tide in the meantime. Got one more of those small GTs there and recorded a miss by another. Sort of strange: caught 3 of those little ones now in just 5 days which is as many as in the last two years altogether. That algue bloom has obviously spread a lot meanwhile and currrently stretches around the Praslin - La Digue group out to the eastern Drop Off. Andre on a private tour briefly had a Sailfish on in the middle of that broth and caught some Wahoos in clearer areas. Also Greg on a 3 hour trip caught Bonitos as well as a Dorado and a Wahoo each. So it does not seem to shy away the pelagic fish so far which is good news but of course everyone here wishes for the stuff to disappear.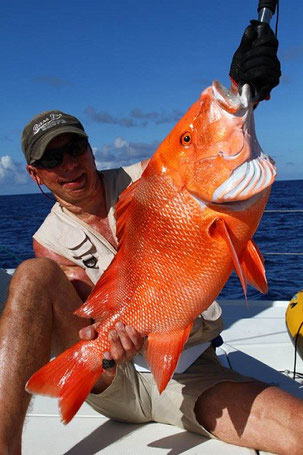 Also the already mentioned group from Sweden encountered it on their cat trip. Still they caught a lot of nice fish especially on the bottom spots of which the skipper must have had excellent knowldege. Not abolutely perfect did the GT popping and Drop Off speed jigging turn out though. These fishing styles are still relatively new to most here so it seems the cat skippers still lack experience with that. For trolling and especially for bottom fishing they pretty much all seem to be very good though as they grew up with it.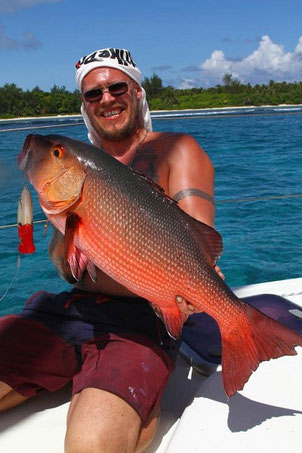 So none of them had to starve for fish dishes of all sorts of species as the many pics mailed to me clearly prove. Here is one more of a beautiful Red Seabass or Vara Vara as it is called here in Seychelles. Just a brillinat sight if a bunch of those chases a popper and they are strong fighters on top. Finally Greg was out again for 4 hours this morning finding Bonitos, some Tuna and even better chrystal clear water. This is a nice bit of good news and I really wish I will have not to see more of that ugly algue stuff.
For the preceeding reports check the archive.