Along mostly calm winds from changing directions fishing here in Seychelles continued on a good level. All fishing styles were productive and especially the abundance of Billfish remains stunning as the Marlin season should actually end now and the one for Sailfish has not yet started. But those fish do not seem to live to the calendar and also popping and jigging went very well. The number of trips though is decreasing as always this time of the year due to much lesser tourists. On the 16th Bartosz from Poland with whom I had been in touch before his visit did a half day popping with Mervin (Divinity). It was a very first try for him and he told me afterwards that there is still a lot to learn for him. Partly due to the fact that Mervin managed to raise 3 GTs getting this one of around 30kg.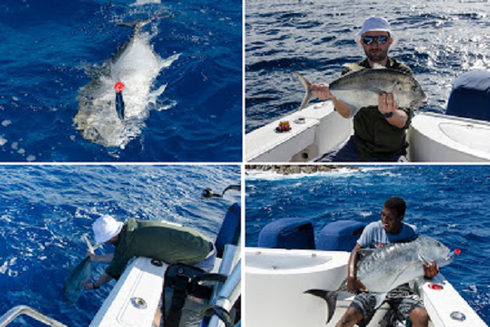 But Bartosz as you can see also did not return empty handed and next to a Shark caught a small GT of around 5kg. Actually this is a far more unusual catch for our area than the 20+kg specimen and hopefully will mark just the start of a long and successful popping career. That day I gave my visiting German friends a break to fish a bit, too. On the way to the favourite jigging spot somewhat surprisingly this small Dogtooth Tuna took a trolled Halco and found its way into the boat.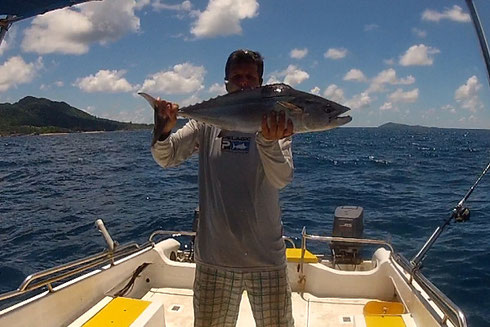 That lifted my expectations but jigging turned out a disappointment. After gotten nailed by several large fish there around the end of last year recently and again that day nothing worked. These days that spot seems to hold nothing but Pickhandle Barracudas and Sharks so after two hours I decided to rather save my last handful of jigs for another time. Luckily popping once more saved the day. Had to give it an effort as the water was a bit rough that day so the fusiliers were difficlt to spot and access. But eventually the GT came. At just a bit over 20kg this one was substantially smaller than the previous one but it was a real fighter.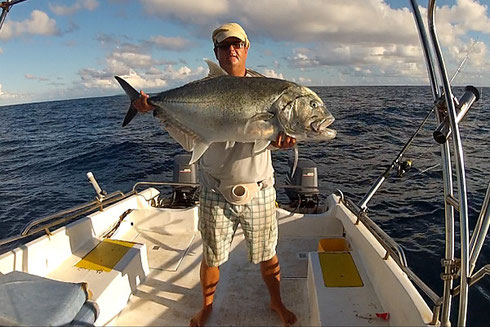 Watch a video sequence of this one as well as the bigger specimen caught about a fortnight before with both live strikes, landings and releases here if you like. Those days Christian (Djab Lavwal) had three half day trolling charters. These produced the usual mixed bags of smaller Gamefish but he was unfortunate with with Billfish. He saw only one Sailfish but that one came off as the Marlin did they hooked up with. Two more Marlin were not to be enticed to strike. That was a real streak of bad luck as on the 17th Andre,Greg & JD family fishing on the latter`s One Love reported next to Amberjacks and Groupers jigging also a fat Barracuda and on top three Sailfish.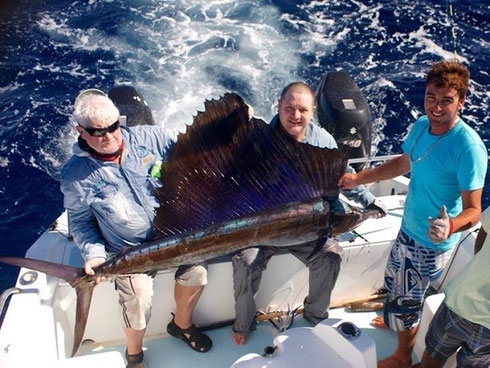 On the 18th Ted and I took my German friend Macus who had never fished before in any way for some trolling. Billfish activity was high but we could not really make use of it. The first Sailfish appeared only 10 minutes after lines in but I failed to hook it on the freespooling. The next one an hour later was on but the reel blocked costing the fish. A little later we missed another and we had to be content with a few Bonitos and Ted`s nice nice Wahoo for the time being.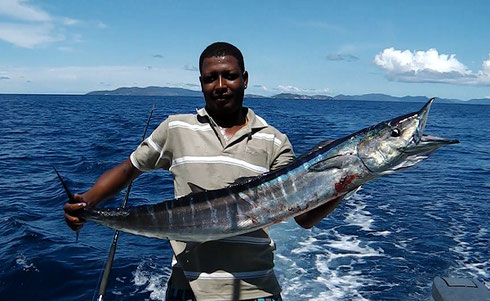 The bad run unfortunately continued. I had fixed that reel or at least thought so as it blocked again with another Sail on. While struggling with it and losing that fish also the skipbait rigged on a circle hook had dropped deep below the drifting boat. Suddenly the outrigger clip popped as something had grabbed it. Closed the drag slowly feeling solid resistance and next thing the rather small Black Marlin of maybe 60-70kg jumped - and got rid of the hook. Quite frustrated we deployed the lure that all those Sailfish loved that day on another outfit. Nearly needless to mention that from that moment not a single more was interested in it. A smaller lure also in orange which was definitely the color of that day eventually found a customer and luckily we were able to tag and release at least that Sailfish. My friend Marcus filmed and was deeply impressed as you can hear in the video but I am still not sure if this was not rather a day to forget.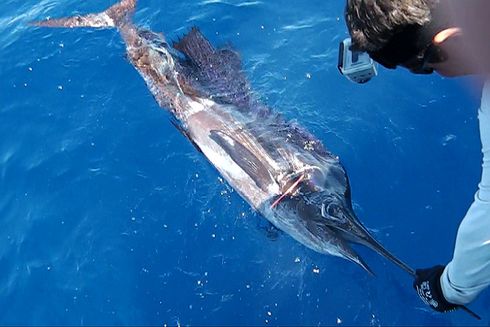 Meanwhile the competing boats of the National Fishing Tournament returned to Port Victoria on Mahe after 33 hours of fishing. As always the proceeds of all catches went to charity so the highly prouctive bottom fishing played a major role. The 13 boats brought a total of around 5.5 tons of fish to the scales.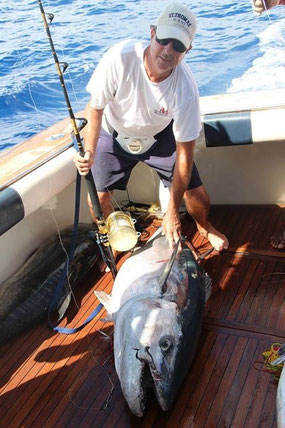 If one has a chance to watch that one day I can only recommend to do it and get an idea of the species and amounts of fish these waters hold. It is just incredible. A Rusty Jobfish of 8kg now awaits confirmation as a new world record. Also this Doggie of 73kg caught by the eventually winning team Island Star stirred a lot of attention. The team´s win in the category of Best Overall Weight came at a lot smaller margin than in the preceeding years. If team Alati had not lost their Marlin of around 300kg they would have easily won that prize. 
I was on Mahe the next day for a sightseeing trip with my friend Marcus. When were just sipping a drink on Eden Island a small boat loaded with rods came in. I checked and got to know Vernon and his friends who had been fishing the southern Drop Off. Along a Wahoo caught trolling they offloaded a good jigging catch consisting of Emperor Snappers, Jobfish and also had three Doggies of which they released two. This is the smallest one that was badly hooked.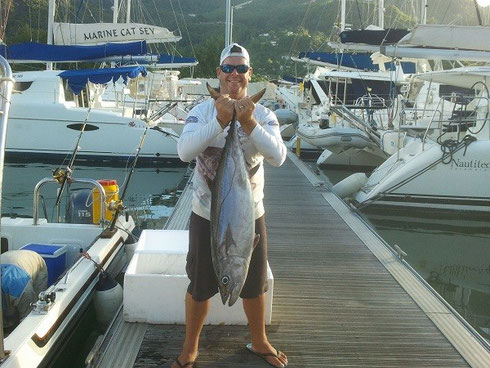 Also I learned that down there must be some productive spots for big GTs on popper. This is interesting as here on Praslin one hears nothing of such as far as our northern and eastern Drop Offs are concerned. That might be due to nobody really trying so far but I will do so as soon as I get a chance. Here on Praslin at the beginning of the following week Mervin lost his biggest plateau Doggie that he estimated at around 60kg right next to the boat and with the leader already in his hands after a long fight on trolling gear. The Sailfish they released later could not really make up for losing that extraordinary fish. To add to misery the next day they missed several more Sailfish and a Marlin on top. Even worse things went for Edwin (Dan Zil) who lost three Marlin in a day. Greg had a number of half days that produced mixed bags trolling. Also he had clients who loved ultra light tackle popping and spinning inshore and were rewarded with the usual suspects like Bluefin Trevallies etc. Mike (Alati) tagged & released a Blue Marlin estimated at 200kg and provided this nice pic: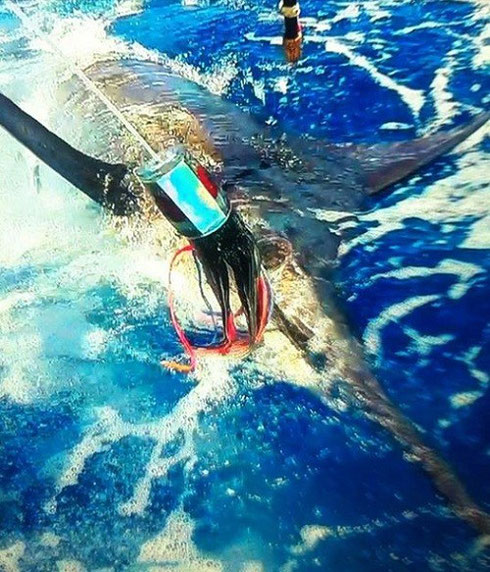 After that the number of trips dropped. Also we had the International Carneval of Victoria the last weekend and pretty much everyone able to walk or at least crawl went there. So did I and found it a colorful and happy event perfectly resembling the local spirit of life. Am aware that the following pic does may not really belong here. But at least there is some connection between the floats and boats. Hope you buy it.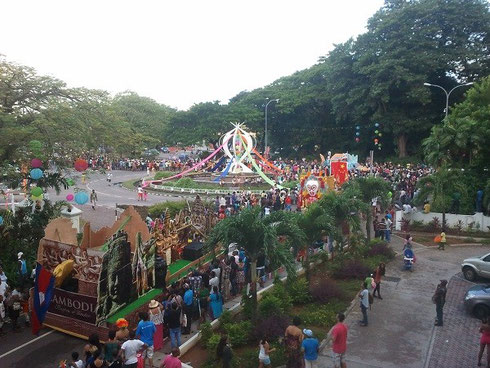 What else was on in the meantime and after? Christian had three days fishing in a row with a group mostly focused on popping. Close to the islands they got a few GTs representing our normal sizes. Jigging at the Drop also was productive as they hit the Amberjacks next to the usualy assortment of catches while a Sail on a little light tackle trolling was most welcome on top. Also Simon (Island Rhythm) added one next to the usual bycatch. Mike (Alati) released another 3 Sailfish and at the beginning of this week took a British TV team out. A Black Marlin of again around 200kg was nice enough to feature and rewarded with a satellite tag for its cooperation. Last but not least I received an email from Kenya a couple of days ago. While transferring a boat from there to Seychelles end of March the sender caught, tagged and released a Broadbill Swordfish of about 50kg close to African Banks. As far as I know this is the first of its kind caught on rod and reel in Seychelles. Here is a pic: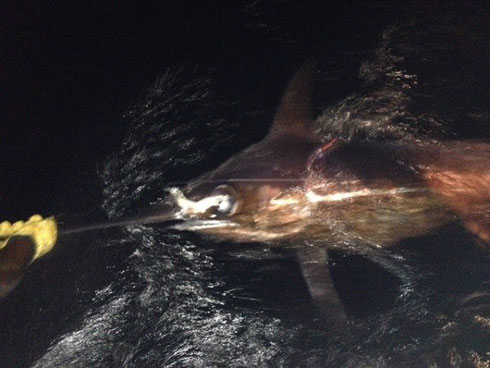 So this job is done. Congratulations to Russ and many thanks for the information and the foto. Talking to Faizal about it I learned that another of the large foreign boats able to travel far caught two more in the last couple of days. Will have to change the according text on the website now and do so asap.
The start of April brought westerly winds once more that persisted until a few days ago. Most days that wind dropped in the evenings but during daylight hours it blew with up to 15 knots on some days. This is a bit unusual for April but a cyclone building up some 1,500 kilometers southeast of us really sucked some air. Fishing went on in the meantime with quite numerous trips as Seychelles enjoyed a lot of tourists for Easter. The overall picture as far as catches are concerned remained pretty much the same as last month. Trolling was productive most days with the usual suspects like Wahoos, Dorados and Tuna. Also Billfish are still around in good numbers but more on that a bit later. Especially the still calmer days at the beginning of the month allowed for some good other fishing. For example Greg (Pipsqueek) enjoyed some flyfishing that was great fun.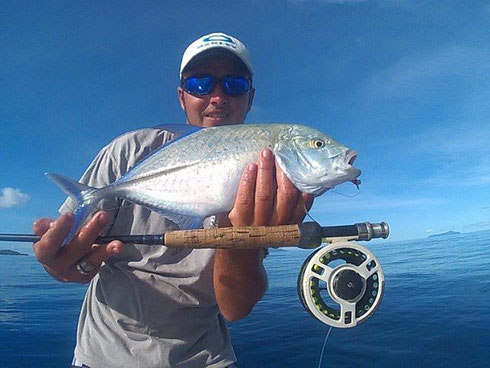 On Ester Saturday the water started to get a bit choppy already but I still went popping nortwest of Praslin. Early I tested to spots jigging that had looked promising on the plotter. The first turned out quite a steep pinnacle. This one according to the sonar held fish but there was virtually no chance of getting the jig down due to the lousy Pickhandle Barracudas. After losing a handful of jigs to those while getting just two Groupers I gave it up trying the next spot. This one was pretty dead though with just two more small Groupers. When resorting to popping on a bank the first set of submerged boulders produced a reasonable Barracuda of 8kg right away. As a bunch of those swam with it while it came to the boat the best thing seemed to leave. The next set of rocks turned out a much better choice. Only after just a few minutes I recorded a hookup of a visibly quite large GT and also the subsequent fight was extraordinaly long and hefty. Even against the very hard drag setting of my Saltiga Dogfight the fish managed a couple of times to take quite a few meters of line so I thought I would lose it in the rocks. But eventually it came up and it was big.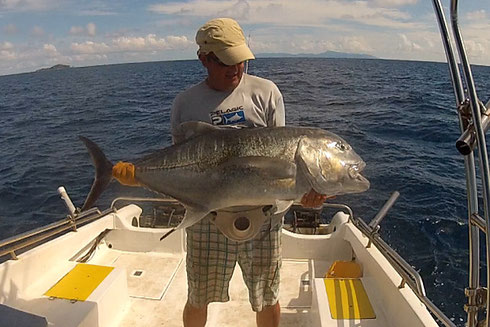 The usual single handed landing was tough. First I was convinced by weight and visual impression that this one must be over 40kg. Found two length-weight relation tables on the web later. One confirmed it actually was while the the other said just under. But as the fish was flat at the back and the belly I now think the latter is right for this one. So the goal of a 40+ is still to be achieved but nevertheless this was my biggest Seychelles GT  so far and it felt great to watch it swimming away after the release. Despite having strained my back when lifting the fish out of the water I went on for a little while but the already setting sun brought the Shark activity up. Managed to avoid a few by stopping the popper dead still at first. But when three chased it same time they were so greedy that one grabbed it. That little trick of just let it run without striking and thus setting the hooks worked fine once more. This allows the Shark to just cut the line and spit the lure for me to pick it up. Matjan, son of a friend, managed to catch his first Seychelles GT on popper two days later. At 28kg also a very nice specimen.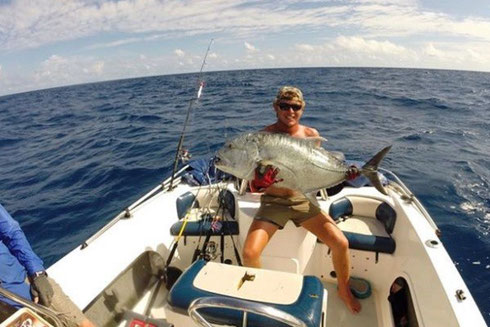 As said already the troling anglers also enjoyed good fishing most of the time. During the few spells of lower activity there was always the option of resorting to alternatives like bottom fishing or jigging. This worked nicely even on the plateau as Mervin (Divinity) proved to a Swiss guest and his sons. Next to some nice fish boated like a Dogtooth Tuna of about 15kg two monsters came away that presumably were large Doggies. All that funny enough on a spot that had produced me nothing at all a few weeks ago. The Swiss anglers fished every day that week on different boats. Going with Edwin (Dan Zil) a couple of times they caught the usual mixed bags of smaller Gamefish and a Sailfish on top. Martin (Venture) also fished pretty much all week with different guests. Next to the bycatches of Wahoos, Dorados etc. he reported four Sailfish hookups but three of those came off until Thursday the 9th. The following day then became special: after boating Tuna, Dorado, Wahoo and Sail they had two Marlin strikes within just 10 minutes. The smaller first one dropped the hook on the first jump. The second estimated at 200kg produced an extended fight of 2.5hrs before it went lost. But as the boys had already gotten hold of the leader this counts as a release. Splendid day! All in all these days a number of Sails were reported and a few more Marlin also. Christian (Djab Lavwal) missed one while this one is from Bertrand (Yam Sing).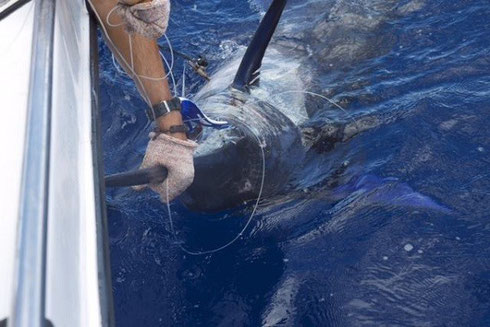 Already two days before Mervin had a booking for a half day but the guest found his boat too small. So a Riviera was ordered from Mahe for these few hours. Briefly after lines in a Marlin was on and boated finishing off the angler so the boat was back after just two hours already. Those days also some more trips turned out shorter than planned due to angler`s stomachs turning inside out. That cyclone down south had developed to full strength as the weather chart of those days shows impressively. Am really glad that the Seychelles (the little red circle) are outside the cyclone belt.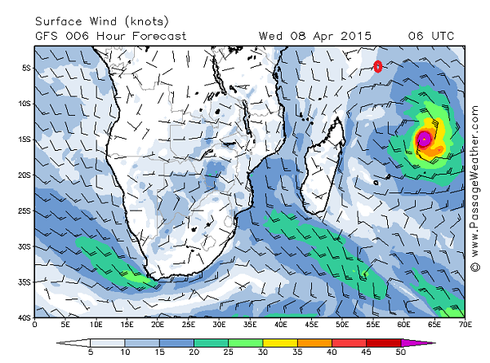 Last weekend then the Easter tourists started to leave and all including the seas became calmer. Mervin still managed to shine once more though. On a trip to the Drop off or rather even beyond he found the Yellowfin Tuna. After a total catch of more than 430kg they had to leave the area because the fish boxes were more than full. The largest specimen were in excess of 40kg.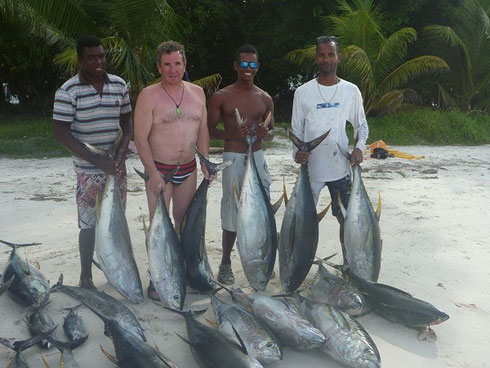 Such fish of course are also nice snacks for large Marlin so it was no surprise spotting a Blue they estimated at about 300kg in the spread. But it just took a brief look and dropped away. Must admit that I would also prefer a fresh feasty Tuna to a lure peppered with a hook.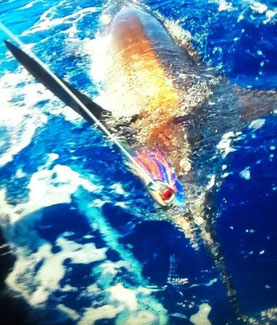 Out of Mahe fishing was somewhat slower as Faizal reported. But the boat Alati still had a cracker day with a Sailfish and three Marlin of 60, 100 and 180kg a few days ago. That of course is abolutely fantastic.To round things up Greg reported mixed bags for the last two days while losing two Sailsfish and Mervin just now phoned in a couple of Wahoos and another nice Yellowfin Tuna of 45kg.

For the preceeding reports check the archive.