The month just passed only allowed for offshore fishing seldomly due to the Southeast blowing with strength. While little use was made of the rare opportunities due to the usual lack of tourists around this time of the year there were still a few highlights. Not really such represented the farewell outing right on the 1st with buddy Richard who was due to leave Seychelles a few days later. At 12 knots of wind we could not really go far but at least a bit of topwater casting and light jigging in the La Digue channel was possible. The latter was productive as most of the times with some Green Jobfish, Groupers, a feasty Bonito and a Yellowtail Trevally. On top Richard got two proper Jobfish and this nice Bluefin Trevally on stickbait.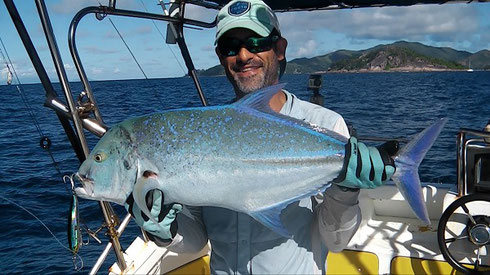 So with a look at the conditions this went quite well and represented a reasonable closing of our conjoint trips along the last year. All the best for the future and Tight Lines my friend. Saturday the 3rd offered calmer conditions very suitable for trolling and while on Mahe I met Faizal and Michael just returning from a private trip on Special K. They had raised three Marlin to teasers and pitching for them got this Blue of about 120kg on a circle hook and heavy spin gear which was tagged and released.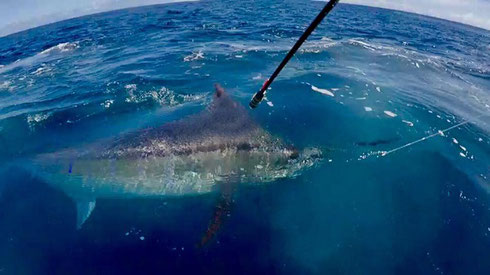 On the 6th in the morning the wind had dropped a bit so in conditions just within my limit I went to the Cousin Island area for light jigging and popping. In a fully unsuitable tide and very green water the casting turned out a useless effort with just one Jobfish and a small GT raised. Even jigging was slower than usual in that area. Caught about 20 Jobfish, Gropers etc. in the end plus had a Sailfish following a Yellowspotted Trevally on the way up but had to make do eventually with this Doggie as the best fish of that day. Still great fun on the light gear.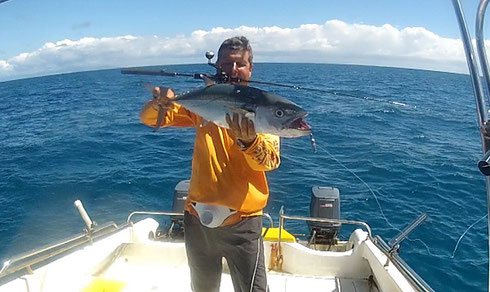 Rather unusual and simply perfect were the conditions along the two following days with just 5 knots or so of windbut unfortunately I was busy otherwise. To go fishing would have been well worth it though as Bertrand (Yam Sing) had a Black Marlin trolling and also Andre & Greg on Pipsqueak hooked a Black not far off Praslin. The fish went deep and died down there but by patient circling they brought it up. Gutted the scale still showed an excess of 160kg so a very decent specimen.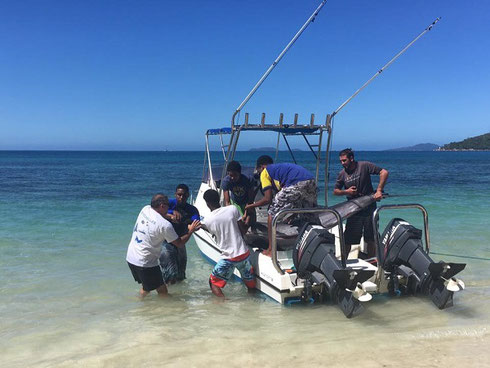 As so often when the Yellowspotted and Yellowtail Trevallies circle the plateau`s pinnacles in schools of thousands those Black Marlin loiter around that buffet and can be caught. The 9G Sportfishing Team also made excellent use of that calm spell tagging and releasing two Broadbill on an overnight trip.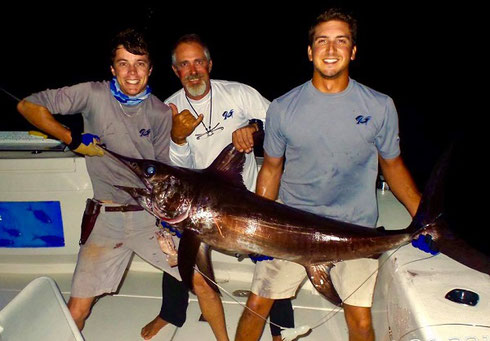 Lucky to end up with them was also this Blue Marlin that surely would have tackled the standing national record but was also released. Hats off to the team that lets such fish go instead of sacrificing them for the fame of a record.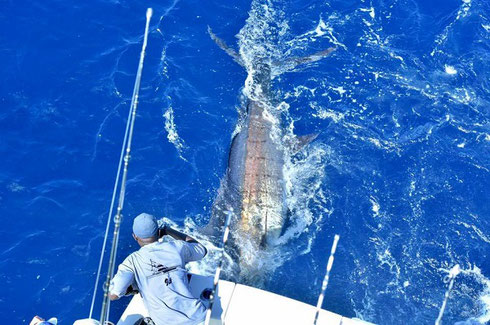 On the 9th they enjoyed some great fishing once more wth 9 Blues raised of which again 2 were pretty big. After that wind speed oscillated at around 17-20 knots most of the time with only slightly calmer spells of a few hours here and there so nobody went out. Made use of such a moment on the 15th to move the boat a bit and jig just outside the bay catching a few Groupers and Jobfish but nothing special. An obviously larger fish though which was probably a fairly big Grouper got on but was not bothered at all by the light tackle and came off eventually. Quite annoying as that one should have been in the 20kg range from what it felt like. But this is the price one has to pay here every so often for using light gear as big fish hang around places at times where one would not expect them. Speaking about Groupers: news went round that IGFA has accepted that Brownspotted Grouper mentioned here a few weeks ago and caught be Aaron Lyle-Manes weighing 6.1 kg as a new world record. Great fish.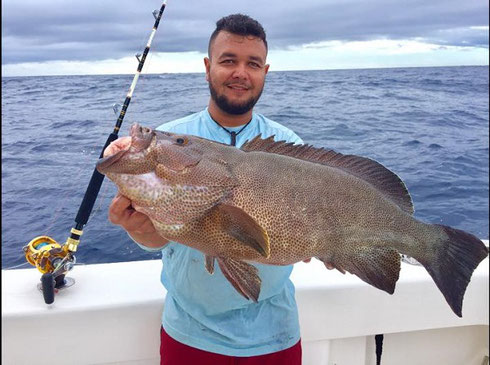 With the wind blowing strong along the following days Andre & Greg went on the 19th as guests of a friend but a small boy on board turned pretty green soon so they called it a day after just a half hour of fishing. Same time Mervin (Divinity) had a half day trolling but also was back after two hours as the angler`s wife likewise turned sick. But in the short time fishing they managed a raise of five Sailfish resulting in a triple hookup and the tagging & release of one of those fish. On the 24th the annual Heineken Slam Tournament was held out of Mahe but am not in the picture about that as I had flown out the preceeding day for the usual month in Germany. Thus I also have no idea what might have happened along the last week of June but with a view to the weather forecast that I keep an eye on would presume that is was not much. Anything noteworthy will not go missing though but find its notion in the report for July. As the Southeast had set in quite early this year pretty much bringing my boat fishing options down to zero I am absolutely glad to have started fly fishing. Really a nice way to fish without lengthy preparations and on top in most stunning environments.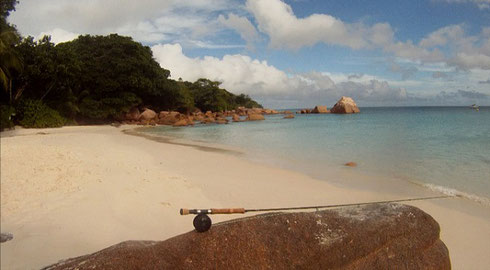 Not easy in those windy conditions for a total beginner as somewhat calm and free of drifting weeds are only the bay in front of my place and Anse Lazio. The Southeast should blow parallel to the reef on the east side of Praslin as well as to the flat in the west but in both those places it somehow rather curls in bringing loads of weed and a very disturbed surface with at times not so clear water on top. Nearly impossible to spot something in such conditions and many fish I only saw when they bolted away. If I spot one it usually sits upwind so being safe as there is no way for me to cast into 15 knots or so. Thus 99% of the casts are blind just combing the area casting in a maybe 60 degree angle with the wind. So while acting under very limiting conditions it still works surprisingly well. Since beginning of May I fished about 2 to 3 times a week for on average three hours at different tides, times and weather with the nice result of always catching something. Most of the times the tally is around half a dozen or so fish but nothing big yet. By weight this Bastard Mullet of maybe 1.5kg is so far the limit.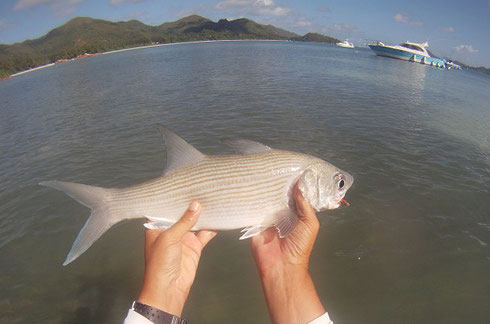 Would not mind at all a big catch rather sooner than later and had a chance at a Bonefish tailing downwind of me. Found my cast quite allright but unfortunately the fish was not impressed. Still bit by bit a picture of what fly patterns to use and how to strip them for particular species evolves. The variety of catches is absolutely stunning with so far more than 20 different ones caught. While playing a fish I sometimes managed to switch on the GoPro on the hat getting some admittedly a bit wobbly video footage but hope that the clip with after all 17 species will still be enjoyed. Maybe it will even motivate one or the other among you to give it a try here. And ideally when doing so provide me with a better idea what the real potential of fly fishing around Praslin is plus how to exploit it better than I currently can. No doubt there are fantastic fish here to catch this way: have seen so many already of which I am sure some would even make very spoiled and experienced fly anglers happy but so far they are just too smart for me.
For the preceeding reports check the archive.