For a good part of this final report period of the year it looked a twoliner would do. Two cyclones in a row were building up in the south and dragging northwesterly winds of 20 knots and at times heavy rains over our paradise.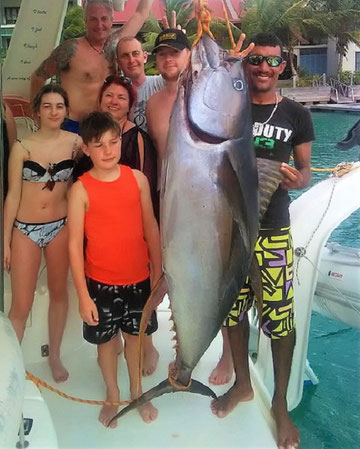 No chance to fish for quite a while but right into the developing depression news came of a 135kg Yellowfin Tuna had been caught in this mess on a sailing catamaran just off Mahe`s east coast. Stunning enough but the monster took a lure trolled on 30lb line and still was landed after just over 20 minutes. Could hardly believe it but talked to the skipper myself and he confirmed it all. Trustworthy guy btw and I know a good part of the family for years so I have no doubts. Really anything can happen here when you wet a line. On the 21st at last the wind started to falter and right the next day I tagged along with Mervin to the Drop in still quite rough seas. Guest was Marc from Germany who had fished here with us the last two years already. Jigging was slower than usually but still Greater Barracuda, Black Trevally, Jobfish, Grouper and a decent Rainbow Runner came up. One drift produced several strikes of not too large though Doggies but countless Sharks swimming with those mutilated or stole all of those but one so no use insisting there much. At noon finally the Tuna surfaced and while it was tough getting close enough half dozen of up to 40kg were caught topwater (click pic to enlarge).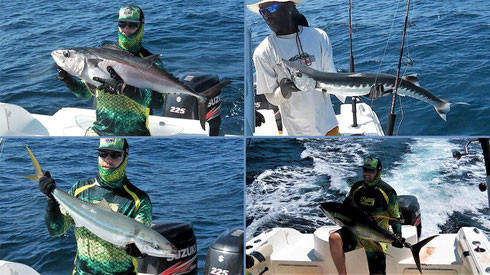 On the 23rd we were out there again. This time with Jan-Phillip and his father who are frequent visitors to La Digue and had fished with Mervin already last time round. They wanted to try jigging and popping on this trip but also like trolling so the morning was spent on that. To unusually not a single knock though. But when it came to jigging Mervin found a good drift right away and when I showed JP how it works and he copied the moves we were instantly on with a Tuna each. The chap is a real talent finding the groove right away and managed some more of these, a Shark and even two Doggies in quick succession.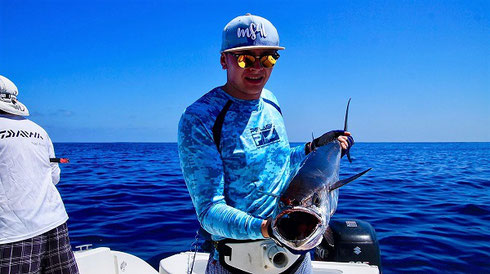 Again a little later the Tuna showed but they ran like crazy. Mervin gave it maximum effort at the helm and so again casting produced 10 or so. All just school size but this was perfect for the angler`s first tries on those. They were abolutely fascinated by the new fishing experiences of the day and trips for their next visit are already on the agenda.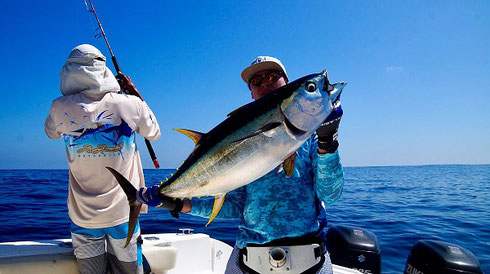 Then it was all about Christmas. In really pleasant weather but all the invitations and visits left me no time to really fish except short bits of fly. Had received news of a Golden Trevally caught on fly from a German angler at a certain spot in else rather hopeless Baie St. Anne and as it was protected and clear there checked this out on several occasions. That Golden must have been lost though as there was never another one. Saw a really cool Permit around 50cm swimming around there a few times though and once it followed a tiny pattern but did not take. Same frustration came at another place and at an outer reef edge I hooked two bigger fish but they remained a mystery as one snapped the 20lb tippet on impact while the other broke the hook. Leaves me wondering if I will ever catch a quality fish on fly again but guess I just have to stay humble and keep trying. Thus it was again just smaller fish like these but at least numbers and variety were really good (click pic to enlarge).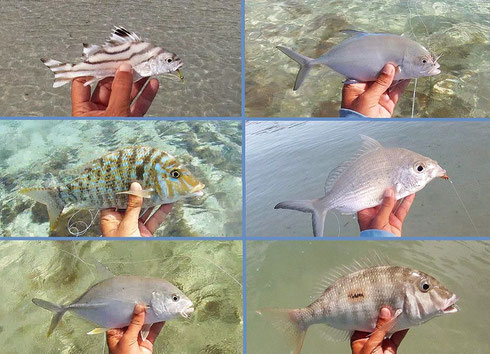 On the 24th Greg (Bite Me) had a popping trip around the islands and the Bluefin Trevallies were cooperative with two of this beauties caught.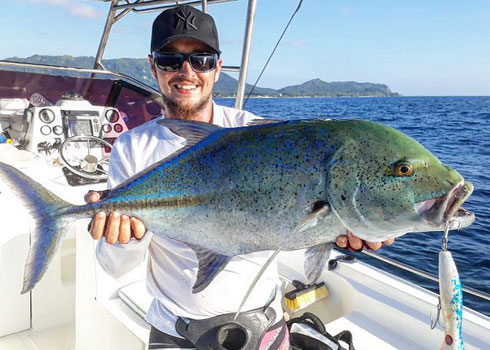 Main goal of course were GTs though and mate Phil demonstrated once more it can be done with the neccessary effort and luck.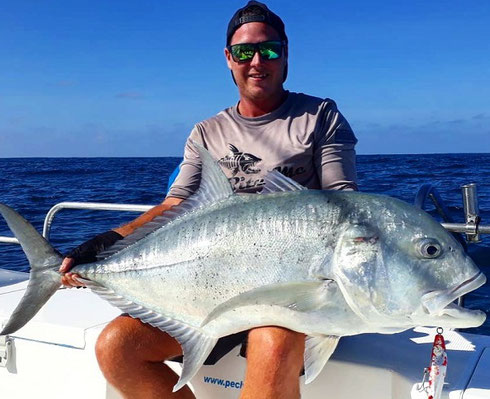 For the 26th another trip to the Drop with Marc and Mervin was planned but had to be postponed by a day as the latter was terribly unwell. Right the first drift was really good with Doggies striking the jigs and thus was repeated seveal times until about 10 were caught and the Sharks again entering the stage in crazy numbers killed it all.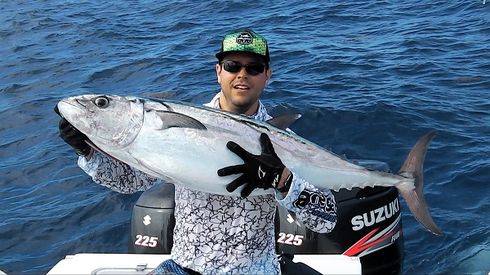 After that jigging this current pumping at nearly 3 knots was tough in every way no matter where. Usually Mervin also jigs more or less all the timebut he had not yet fully recovered so I supported Marc in trying different jigs and motions. Not really fun with those ultraheavy jigs required but hard work produced a few Black Jacks, a single Amberjack and a few more Doggies until again at noon the Tuna surfaced. This time running even faster but still we managed to pick up another half dozen (click pic to enlarge).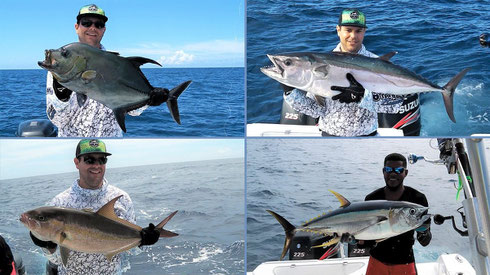 Due to the many Christmas tourists also the trolling boats had several trips. Mostly half days with those as usually but it was all relatively slow. Smaller gamefish like Dorados, Wahoos and at times really tiny Tuna were of course caught but not in the usual numbers. The preceeding strong winds had turned the water all green and murky seem to have pushed the Billfish away and on top weed drifting everywhere caused additional headaches. On the 29th I just had to run my boat a bit that had been sitting in Baie St. Anne for three weeks but it was already too late and various issues had already developed. Steering leaked, a fuel line is clogged and one alternator delivers far too much voltage which I guess might have ruined my GPS. Luckily even without the machine I managed to find a nearby popping spot and Marc who I invited for those few hours was fully motivated. Lucky again that we hit one of those short GT activity windows so after a miss for each of us Marc had to pull hard and moaned a bit before eventually hugging this decent Geet of about 27kg.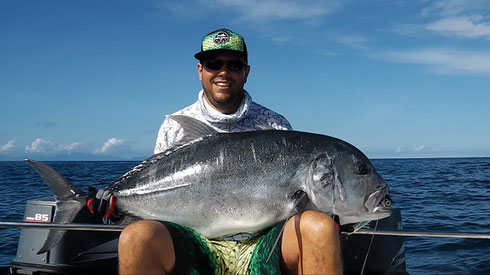 Perfect that after his unlucky attempts in previous years he managed to get one of those just a day before heading home. Was most happy, too, to return his favour of letting me fish with him at the Drop in such way. So much for this time except to hint you to this month`s video clip. Thank you all for attending and hopefully enjoying this format along the year that will come to an end in a few hours time. A happy, prosperous but above all healthy 2019 to all of you. And lots of big fish on top of course. 
The 30th of November so the day of the most recent report was well used by our new Argentinian friends from Aquafish to fish their last day here on two boats really making the most out of their stay. Martin`s Makaira stayed between the islands and went after the GTs once more but again had no luck with these getting some fish jigging in the areas. Meanwhile the group on Greg`s Bite Me at the Drop Off had the adrenalin pumping again with Tuna up to 43kg on poppers as well as Doggies and Amberjacks on jigs.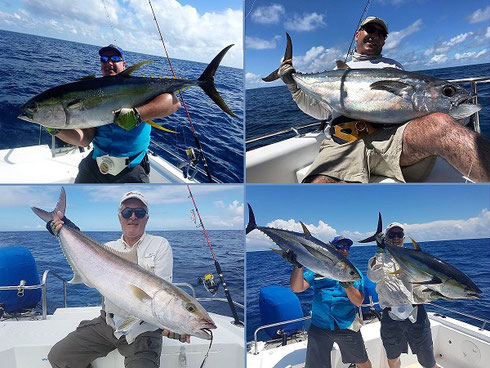 On the 1st of December I saw them off in the morning. All were totally excited about the experience they enjoyed here and planning for next year is already on which is nice of course. That afternoon also my two buddies Marco & Jörg arrived for their annual two weeks hardcore fishing but the weather put the breaks on all early ambitions. A first push of northwest with heavy rains kept us ashore as Jörg is not too seaworthy anyways. Only on the afternoon of the 4th we could at least warm up a bit catching 20 or so smaller fish light jigging and and later popped for GTs for an hour. Those were lazy though just swimming below the hyperactive Sharks. Luckily the releases all went smooth. See the Bluefin Trevallies in the background, nice pic.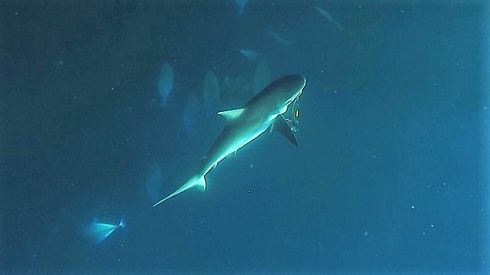 Mervin (Divinity) and his four guests that had caught the 70kg Tuna a few das earlier on another boat braved the conditions at the Drop Off. Not a bad idea as on the evening of the 1st he reported around 50 Tuna up to 30kg and 10 or so Doggies.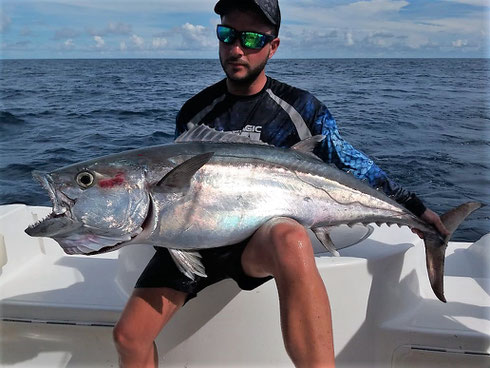 The next day they did not run after the Tuna but these while jigging came close often enough to pick up another 10. Some came jigging which was the focus and after a good 40 Amberjacks of up to 35kg the anglers had their fair share of that, too. On the 3rd again they had plenty school size Tuna losing a +50kg on the poppers and also a small Marlin in the 60kg range on jig. Quite similar on the 4th but Mervin estimated the big Tuna lost at over 100kg and the Marlin at 130kg. That one had grabbed an Amberjack coming up on jig. They had the leader twice but it snapped eventually. And that big Tuna simply melted a brand new Dogfight. On the 5th again they caught around 50 Tuna and 20 Doggies up to 40kg. Insane.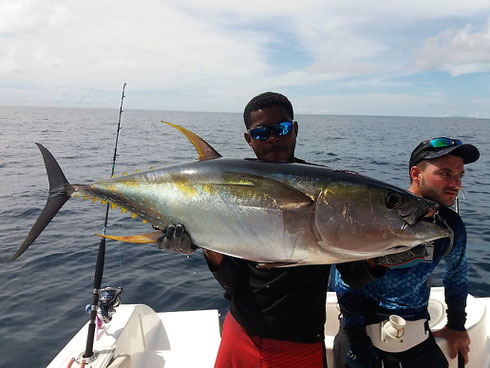 That day in conditions still too rough for Jörg I went with Marco to fish a bit on the plateau. Small jigging was okay with about 50 fish and a few better Yellowtail Trevallies in the mix. A Wahoo liked a stickbait trolled on a popping rod between the spots but the GTs as main target were lazy again just swimming below the Sharks which caused the usual troubles.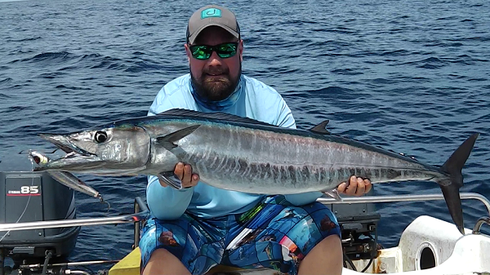 The next day which was the 6th it was calm enough also for Jörg at last. A few drifts along a little edge some 5 miles out were quite good and right my first fish was this beautiful Diamond Trevally.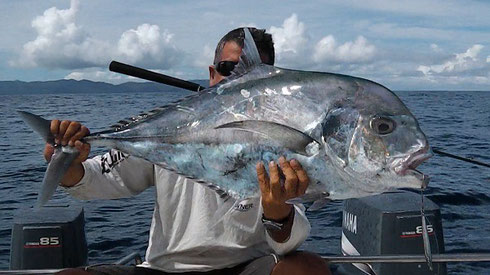 Marco a little later got his Yellowspotted cousin.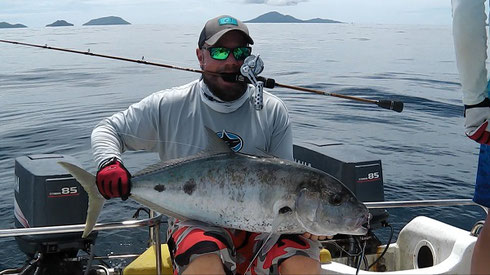 And between the all in all 50 or so fish caught Jörg brought up this Tomato Hind that eventually was just 200 gramms short of the current wold record. That was close.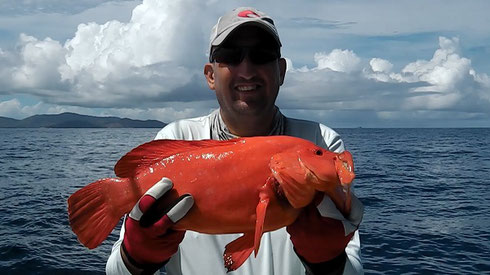 Later that afternoon we popped for GTs again and at last hit one of the short activity windows. The raises resulted in a hookup for Jörg but at the landing the fish of just over 20kg came away. At least a step forward though.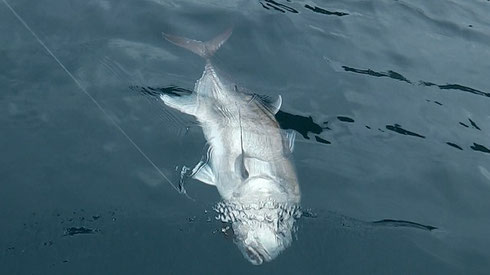 This all was quite nice and we sat at home that night contently when Mervin called: 86.2kg Yellowfin on popper. Wow. The angler nearly got spooled twice but on both incidents the fish stopped with just 30m of line left on the spool. Definitely some luck required to win over such a monster.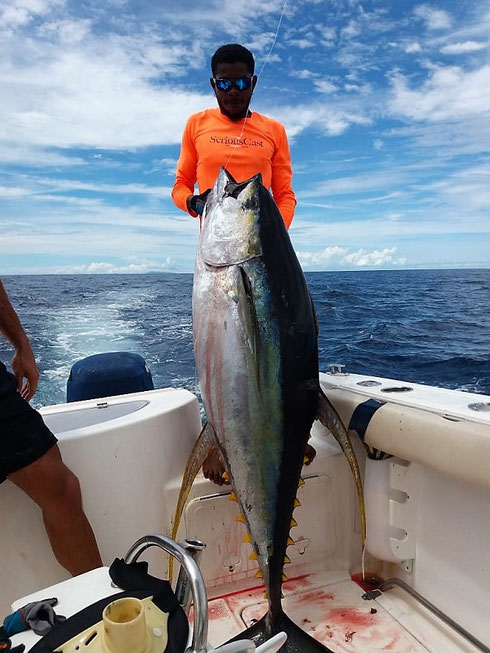 Greg & Phil did not really have it that day popping out there for fun on their Bite Me as they also hooked a couple of these massive Tuna but something always broke. Still they had plenty in the 40kg range. Obviously my two friends did not sleep too well that night with a view to our Drop Off trip with Mervin scheduled for the following day. Expectations were sky high but in flat calm and windless conditions it turned out a disappointment. Only Mervin managed to raise and catch a single small Tuna on popper as these simply did not want to come up into the surface that heated up by 3°C along the day. Jigging also was slow with another three small Tuna and about 50 other rather small fish with just three of the 15 or so Amberjacks bringing some delight es they were +15kg.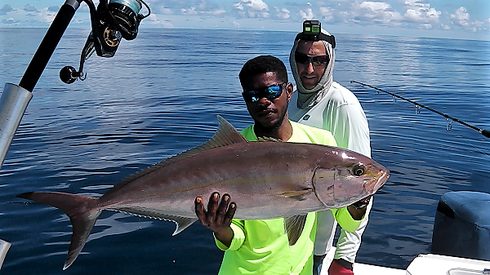 Greg & Phil on the hunt for big Tuna also were out there again but encountered the same issues and had to make do with a few trolled Wahoos. The next day which was the 8th Mervin did the last trip with the group in windier and overcast conditions which got the Tuna going again. `Only´ 25 caught that day but all were in the 40kg range except those eight that were +50kg. Malicious. The three of us instead had gone fly fishing on the flat in search of Bones. None seen though in nearly perfect conditions. On the 9th we went to fish the plateau on my boat once more but an issue with the GPS limited us to one jigging spot easy enough to find without. Too many Pickhandle Barracudas there stealing lots of jigs and just a few other fish caught in between. One was a small Amberjack though which is a most unusual catch so far inside and in such rather shallow water. Eventually we popped most of the time for GTs and again Jörg was the lucky bugger with this specimen of about 24kg.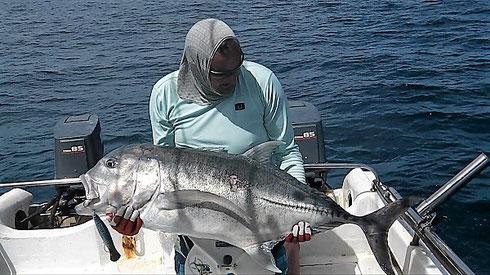 We recorded a few more misses of good size ones but only a baby and this pretty massive Jobfish got stuck.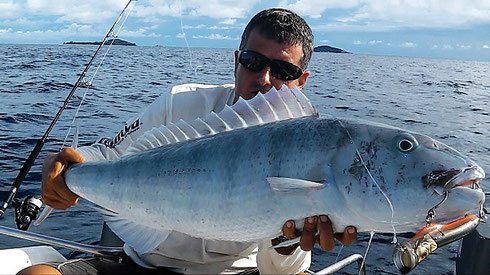 On the 10th it was too rough and rainy again to go out on the boat or fish at all but the chaps insisted on some fly fishing so I dropped them at the reef in the southeast of Praslin. Jörg had a good variety of smaller fish there while Marco got reefed by something larger that remained unindentified.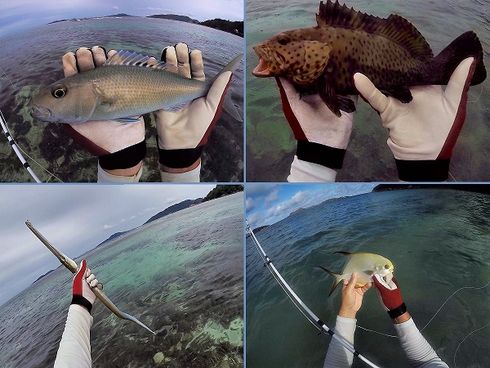 On the 11th we went to the Drop again with Mervin and in high hopes. The rough conditions let us expect difficult jigging and indeed this it was with the boat drifting at 2 knots. Nevertheless Jörg caught a reasonable Tuna, a Black Trevally and a good size Yellowspotted Trevally in quick succession while we others had to make do with just a few small Groupers. So we went to search for the Tuna and despite Mervin covering endless miles along the next hours we only found them twice. Small ones on top and we bagged half a dozen before they disappeared for good. Afternoon jigging also was terribly slow except for a brief stint that produced a handful of better Amberjacks. Again Jörg picked the raisin with this 28kg fish.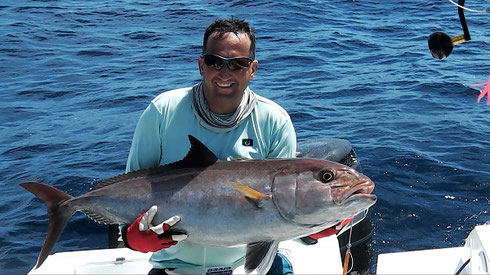 Greg & Phil also were out there again this time with a guest. Also no luck finding the Tuna for a long time so they trolled eventually hitting them late picking up a dozen on the lures. Meanwhile their dad Andre also trolled out there with a friend on their second boat and reported 4 Tuna, 9 Dorados, 2 Skipjacks plus two out of three Sailfish which were of course released.
On the 12th in even more wind and waves I went with Marco again for some light jigging. Even on the plateau we drifted at 1.8 knots catching around 50 fish. Nothing too special though with just this Moontail Grouper sticking out a bit.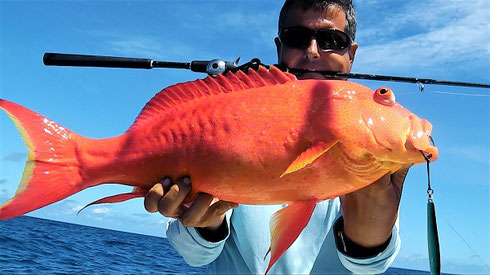 Jörg stayed behind for some more fly fishing in quite impossible conditions but was on such a lucky streak that he managed something special again. After losing two better fish he ended up with two of the rather rare Oxeye Tarpons. Incredible. Am waiting for one to catch or even just see it for ages already.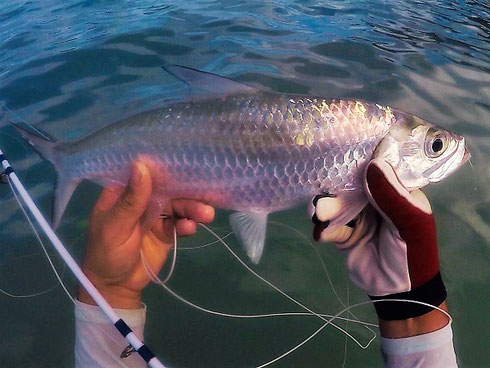 Since the wind has picked up successively and we were looking out the window onto the sea whipped by 20 knots northwest if the at times tormenting rains allowed a view at all. The guys are now in the plane back to Germany and my boat sits in the safe protection of Baie St. Anne. Probably for a while looking at the two cyclones currently building up in the south. Nothing more left to door say now but to wish you all a Merry Christmas.
For the preceeding reports check the archive.