Had been euphoric about the great fishing on all fronts in the last report and promptly things turned around to the worse a bit along the last two weeks. A day of hardcore GT popping with Jörg on the 15th produced only a bored follow and a few Sharks raised. The next day at the Drop Off with Mervin and then also Marco plus the two of us jigging started somewhat slow but got better along the day. A handful of Tuna topwater helped things. Just the Sharks were a constant nuisance.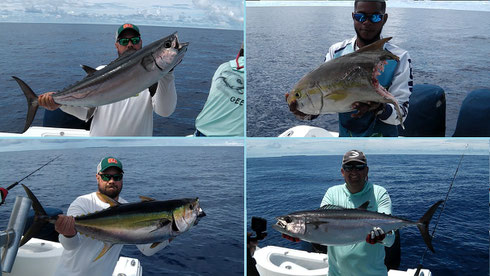 The following day my friends fly fished off the house rock and had fun with in total 5 Trevallies of good size. On top Jörg was reefed by a much bigger one in the 15-20kg range and got bitten off by a large Barracuda.
So they were happy to do it again on the 18th but the activity was gone. Same along a half day GT popping for German angler Max with Mervin. Have rarely seen a popping beginner fish that hard and good so was really sorry his efforts did not get rewarded. Mervin was so impressed that he stretched that trip to 7.5 hours but neither he nor Max were able to just raise one of those stubborn fish that day. Along those days both Greg on Bite Me as well as Brandon on Island Rhythm fished the Drop with groups. For the former it was mainly popping for the still  moody Tuna and jigging that worked reasonably well while not totally constant.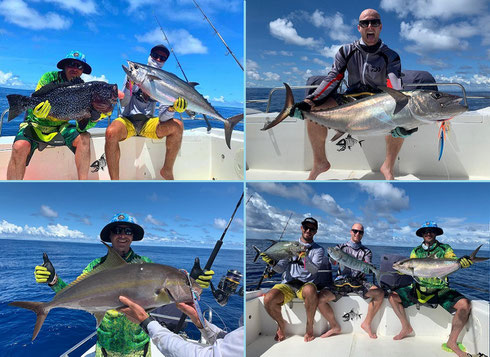 Top fish between the many more nice catches was no doubt this formidable Doggie.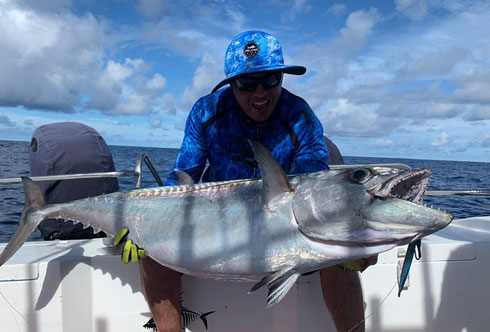 Brandon on the other side is working himself into the jigging ever better. In between they trolled at times catching Sailfish every day and three of them on one trip. Am most pleased that the youngster releases them. Received a bunch of video clips from all that but unfortunately via WhatsApp so the resolution is too low to retrieve a still for this format. But I fully acknowledge his development and the jigging catches were also nice.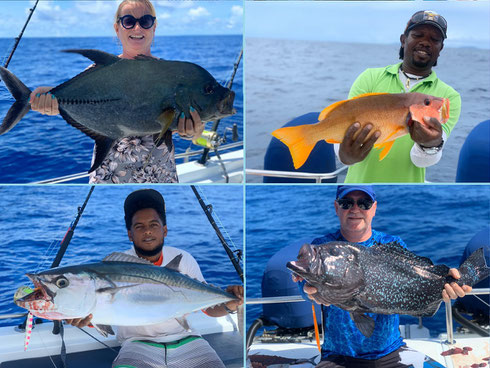 On the 20th I went with buddy Marco to fish a little south of La Digue. We popped only an hour in the morning and again in the afternoon with a little activity: one miss by what should have been a proper GT, follows of good size Bluefin Trevallies and another miss of a Jobfish that looked record size. Light jigging was nice as far as the bite frequency is concerned but the Pickhandle Barracudas and Sharks were a total headache. Apart from two Golden Trevallies we got only the smaller fish of up to maybe 2kg that we could bring in fast while all the better ones and nearly 20 jigs got stolen.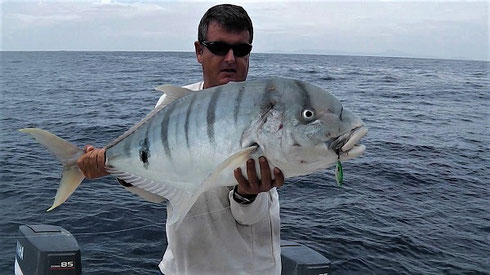 Next day it was Drop Off again for my friends and myself with Mervin and high hopes but things turned tough in very hot and humid weather. Until noon we had jigged only about two dozen small Groupers and it looked to become about the worst trip ever when Marco out of nothing got a first better fish in the shape of this still not excatly huge Doggie.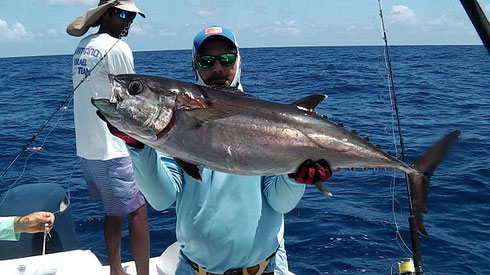 Was not a breakthrough though as after the whole jigging efforts produced only two reasonable Yellowfin Trevallies, a few Jobfish and a Yellowfin Tuna for Mervin on Marco`s slow pitch rod in between more Groupers. Topwater was also not at its best with a lackluster Sailfish raised to my popper and a single Tuna caught on the thing at last while Jörg got one on stickbait and Marco two on a lure trolled between the spots. The second of those grabbed the lure right at the boat when Marco was lifting it out and he was lucky his popping rod in the holder did not snap.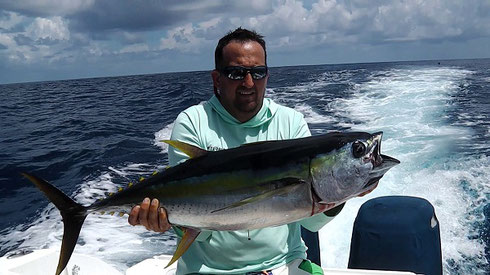 In erratic weather and at times stronger winds on top of all blowing in an onshore angle the fly fishing here at my place did not produce any more so we tried other places. Anse Lazio one beautiful morning had only a few small fish for us and on the flat working a baitball that Mervin had hinted us it was a 30cm GT and one single better fish. Quite nice that Brassy Trevally though and on top the first good one I ever caught there apart from Bonefish. Bait is the key.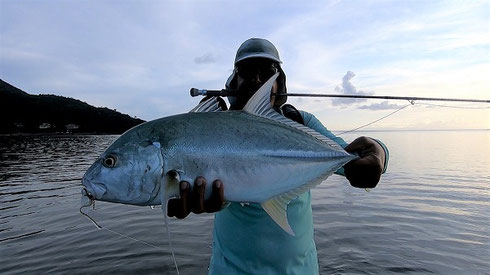 On the 25th my friends returned to Germany. The fly fishing was really nice all in all despite the dips but the rest rather mediocre for them this year. That day my old German friends Thomas & Thomas here again for family holidays this time went trolling the Drop with Mervin. Tuna everywhere totally ignoring the topwater lures but accepting the trolled ones so they got eight plus two Wahoos of up to 20kg mainly on the way back in.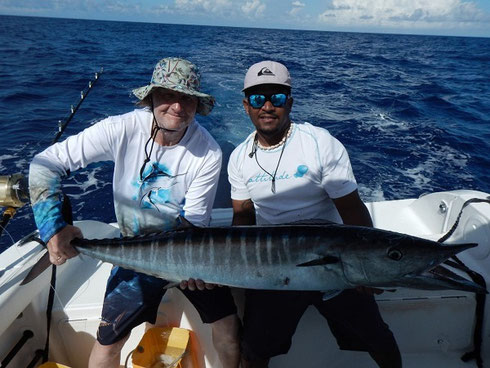 No Billfish seen to everyone`s surprise and it looks the activity of the smaller gamefish is moving back inside towards the islands which is good news for the rather touristic trolling boats that had a rather hard time recently. The following days I was busy getting the house ready and prepare for my not fishing dad`s visit but the weather was crap anyways. Not even the option to fly fish a little at the house as heavy rains, the first unsteady but at times strong northerly winds plus the lousy undercurrent that has returned made the bay a huge cup of crazily stirred Cafe Latte with loads of drifting weeds coming in.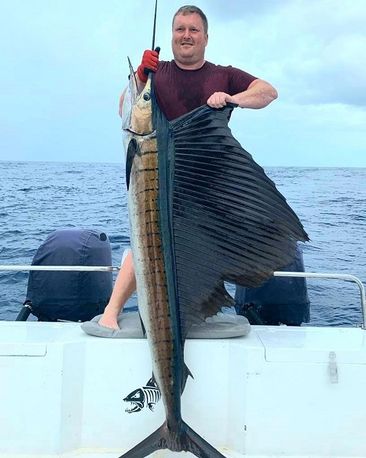 Greg made good use of that in the shape of a nice mixed bag of Tunas and Wahoos plus this released Sailfish.
Mervin fished the Drop with two guests Tuesday and Wednesday. The Tuna still jumped around every so often but were not interested in the topwater lures while jigging was solid with about everything except Amberjacks but numerous mid size Doggies.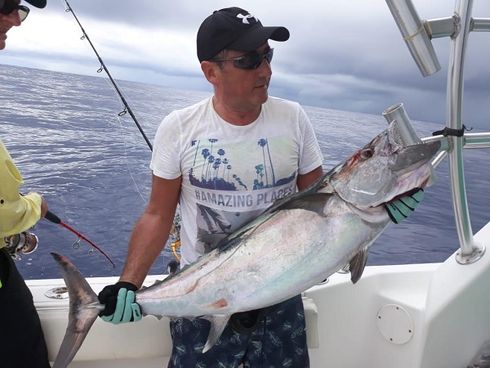 One estimated in the 60kg range grabbed a jig on the slow pitch rod right under the boat and broke the small leader after some time while a few other big fish could not be stopped even on the proper gear. Bigger Groupers we also quite active he said. Funny enough in the single one taken they found a jig that was very familiar to Mervin as he had lost it a while ago.
On the way back they trolled with success like for example a fat Barracuda among other smaller gamefish. The shift of pelagic activity towards the islands was also confirmed by Brandon who trolled the Drop one day without any bites apart from a few Bonitos so they had to save the day bottom fishing. Another day though he released four Sailfish inside. Yesterday German regular and by now friend Jürgen`s six days of fishing with Mervin kicked off so in company of his buddies Tom and Andreas we headed to the Drop in rainy but still relatively calm conditions. Travelling downwind we found ourselves in 20 knots northwest and 2.5m waves upon arrival. After a small handful of minor jigging catches in pretty much unfishable conditions the guys called for port and we headed back nearly straight into the mess for 3.5 hours. At that slow speed we could as well troll a couple of lures which produced three Wahoos and a few Bonitos plus the cognition that at least today`s trip would not take place. Andreas´ Seychelles holiday come to an end tomorrow already but he could take the bad weather perspective more lightly as he had achieved two exceptional catches on spin gear from Mahe`s shores already. This Golden is already a dream while the Queenfish is far beyond anything I have seen in Seychelles.

Also regular and friend Stephan is on Denis Island this week and reported at times good but at others slow jigging and trolling done about daily in the afternoons for a few hours. The latter can not have been really bad with a Sail and a small Blue Marlin though. Still the most pleasant catch was this Bonefish on fly he had worked hard for. Really cool pic.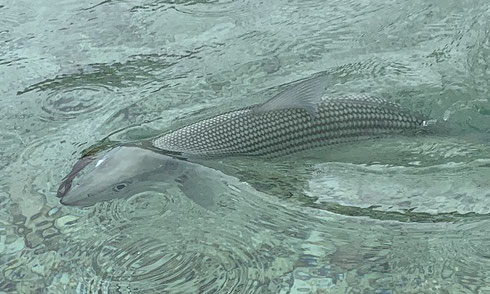 Today again and as expected the weather is awful and I can only hope this is going to improve soon. For the benefit of the various anglers in place here now but also with a view to the cat trip to Ile Plate and Constance Bank that is supposed to start tomorrow with friends. Looks not good though as the US forecast model insists on a cyclone building up just there this weekend. The European model also predicts it but far more to the west and moving away quickly with perfect weather at our destination. Some candles burning for that option here and probably also at my Dutch friends´ homes.
Due to time constraints on my side this edition comes a bit short looking at the amount of first class fishing that took place. Along the days after the last report Mervin (Divinity) continued with Kobi and his Israeli friends until the 4th. Jigging was average with the groups`s affinity for slow pitch jigging producing many small Groupers in between the Amberjacks, Black Trevallies and other usual suspects. Big Doggies were seen but not to be tempted. The Yellowfin Tuna were also difficult and unresponsive at times but when it worked it looked good.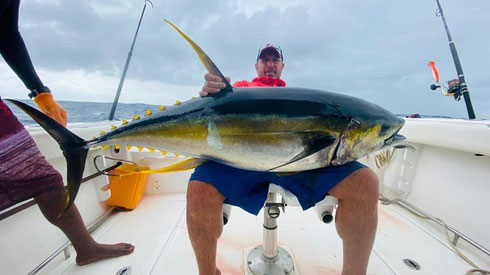 On the 5th he started with a new group and sent this picture just a half hour after they had started popping. Very nice GT of 134cm fork length.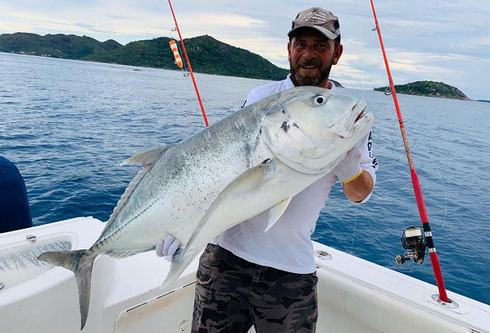 Along the day they added two average size ones. Here is one of those.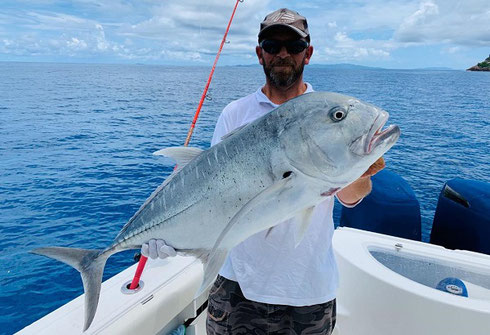 Greg (Bite Me) meanwhile was less lucky the preceding day with his German guests. All started formidable with a proper Tuna popped on a GT spot on only the second cast.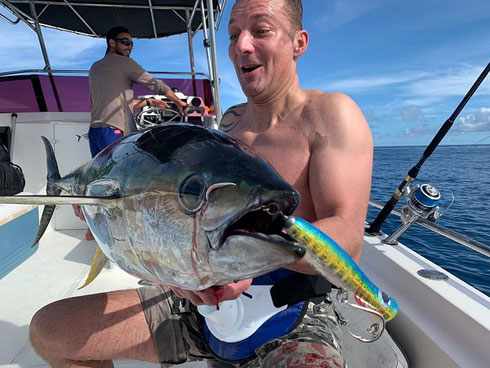 But after that things turned dull. Just one GT showed up along the day damaging the cup of the popper in a fierce attack but it missed the hooks. The next trip for them was to the Drop getting a few school size Tuna on poppers plus raising a bunch of Dorados and two Sailfish on top. One of the latter got stuck on a lure trolled between the spots.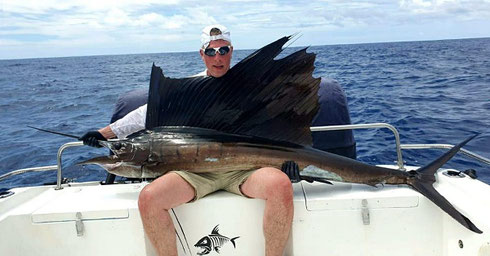 On the 08th Mervin returned with his group and a handful of Tuna. These apart from one had to squeeze in the one fish box as the other was fully occupied by this massive specimen of 83kg. Massive catch on popper and a substantially bigger one had missed.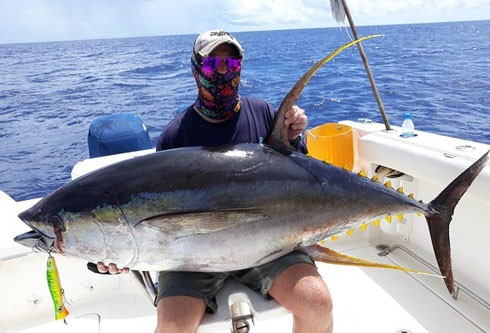 The next day the Tuna were nowhere to be found while jigging was solid but unspectacular. Meanwhile the trolling situation had changed quite drastically as all the smaller gamefish look to have deserted the popular areas north and east of Praslin giving the rather touristic charter boats are hard time. Only the Sails seem to have stayed around. Christian (Djab Lavwal) got one each on three half days and also Greg managed to pick up one more.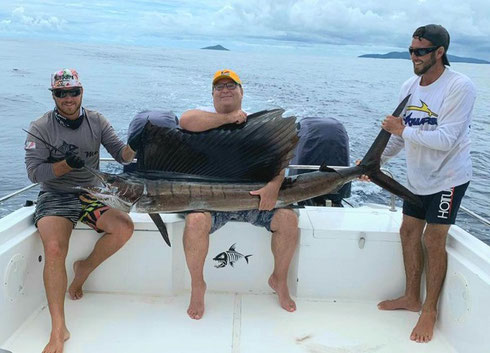 Sunday the 10th I took my annually visiting friends Marco & Jörg out for the first trip. Small jigging on the plateau produced the usual mix of 40 or so Snappers and Groupers with a few nicer ones in between plus two Tuna. Another took a popper but a Shark left us only the head. We managed to avoid half a dozen more Sharks popping and raised a handful more fish but into the glare I could not identify those. Jörg was sure though to have seen two GTs among those and at last we got a small one very late already. As his cam was in some funny sort of dark mode the pics turned out useless. Much worse that the port engine had issues again so the next day we could not go out but with the fly rods just limped to stunning Anse La Farine which is only accessible by boat.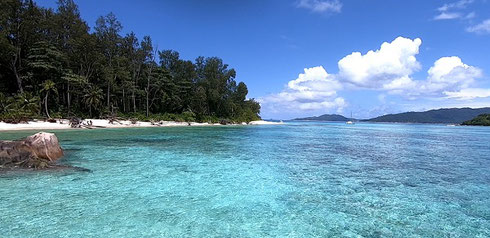 The former hotel there was closed about a year ago so the area is quite untouched these days. Unfortunately the water was shallow enough for a short time and in a small part of the vast reef to wade and spot fish. While numbers and sizes of Thumbprint Snappers were hefty we only saw three better fish which was a bit disappointing. But I am pretty sure that from a skiff of something fly fishing should be really good there. That evening Greg reported no Tuna from the Drop but a Sail raised on popper and another caught trolling. That also produced Wahoo and Dorado while the single jigging rod on board that day was worth gold in the shape of a Doggie and nice Amberjacks among other fish.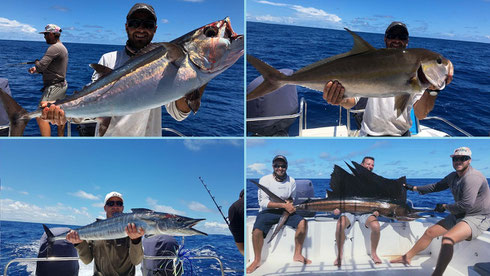 Mervin and guests meanwhile hammered the GTs with 4 caught. Fantastic result for just a half day.

As the new carburator kit for my coughing engine was only due to arrive Wednesday my friends and I had to survive fly fishing. The house bay had been pretty dead along the preceding neglectable half moon tides but now just before full moon luckily life returned to it just in time. Tuesday was really cool with couples of Permit, Oxeye Tarpons and reasonable size Trevallies.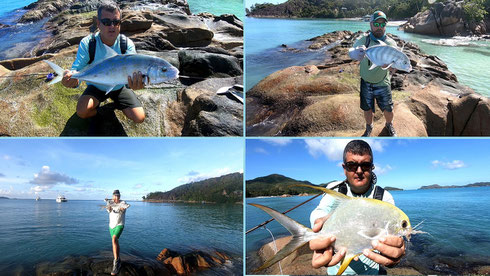 We saw several more and bigger ones of the latter smashing the quite fat Bigeye Mackerel that had come back in and also greedily took the flies. Good fighters for their sizes and all of us caught around 20 each.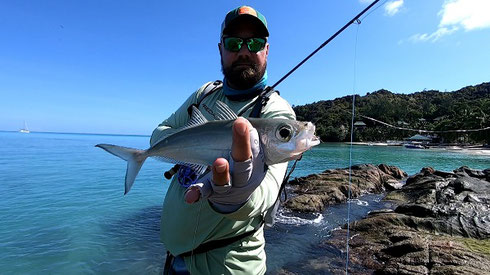 Add the numerous common catches like Threadfin, Trumpetfish and Thumprint Snappers so we had action nonstop. That day Sandro had been on the Drop reporting around 10 raised but lackluster Sails, a missed Marlin and a big Tuna that got away. The pelagic activity clearly shifted from inside to the Drop for the moment. Today my friends fly fished from the rock again catching a few more nice fish.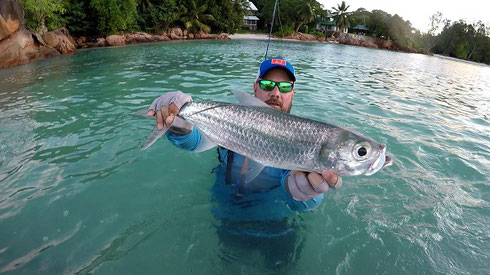 Meantime I was busy fetching the arrived engine spares and getting the mechanic on the job. Also this report needed to get done so tomorrow we can hopefully start proper fishing from the little semi wreck without new issues.
For the preceeding reports check the archive.