After the Southeast came so late this July was quite normal as far as weather and also the fishing are concerned. The usual spells of strong winds at times exceeding 20 knots kept the boats on the moorings but we had some or actually quite a few short windows that allowed to fish. After such a wind peak it was just allright for me to go alone on the small boat on the 4th so I went to find GTs. But on one of the first casts a rod eye inlay went so jigging was all left to do. That part though went very nicely with around 50 fish from I think 16 different species caught.

Largest of the day was a Whitetip Shark of about 1.4m and 25kg that kept me busy on the light PE3 outfit but also beyond: badly needed to retrieve that hook as it was my last one after the lousy Pickhandle Baracudas had cleaned me out. Managed that somewhat tricky release eventually only to see the hook along with the last jig stolen just minutes later. Makes a new PB of 15 lost jigs and rigs in a day. Next morning I tagged along to the Drop Off with Mervin (Divinity) plus anglers Niko, Aki and Petri from Finland. Jigging was nothing else but terrible with just a tiny Grouper and a single Tuna in two hours. But luckily we found the Tuna on the surface so the chaps had fun with about a dozen of these caught on poppers.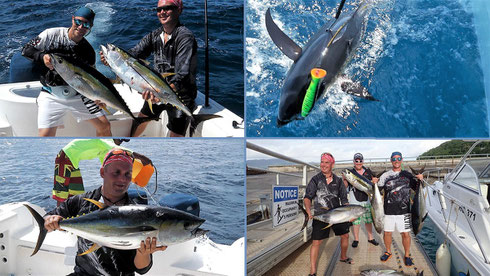 The day after it should have been one more trip but the wind had picked up again to over 20 knots so no chance. Diverted to a bit of fly fishing that produced new record casting distance plus again one of these cool Queenfish so not all was lost.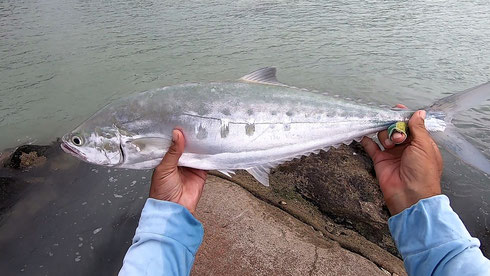 On top next to  handful of small fish this Threadfin gave me another opportunity to check on my backing.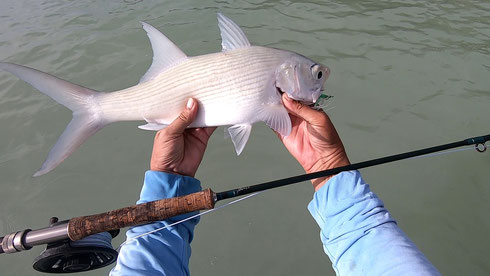 We had to wait until the 8th for that postponed trip to the Drop where we found Greg and Phil on Bite Me who had ventured out there very early without clients thus for fun and just lost a Marlin. Learned later that until noon they picked up half a dozen Tuna. Meanwhile Niko and friends enjoyed not so bad jigging in the beginning before that slowed. A few more Tuna made it into the fishboxes jigging and trolling while a handful got away one way or another. Not a really bad day but definitely a bit below our expectations while the anglers still enjoyed it.

After that the wind stopped everything for several days until at the 12th trips though a bit on the limit were possible again. Tried to pop for GTs in the protection of Little Sister but it only went half way according to plan. Always too many Sharks there but managed to avoid more than 30 which was the part that worked. Frustrating though that in between all of these two large GTs missed the popper in most clumsy fashion again. So once more jigging had to save the day and did so with a few kitchen fish and this decent Golden Trevally. Sorry for the blurred pic but it rained heavily just then.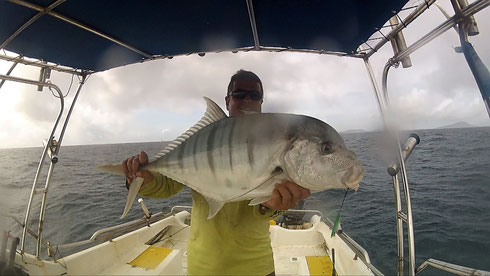 Along those days the holiday tourists started to drip in so we got to see more trolling trips of the according boats again. At last also the so far at 30°C much too high water temperature started to drop which helped the catches to the typically good level of this time of the year. JD (One Love) reported two Wahoos and Tuna each plus several Dorados from a half day while Greg had six Tuna of up to 35kg and a day later on a half day two more of those plus this of course released Sailfish.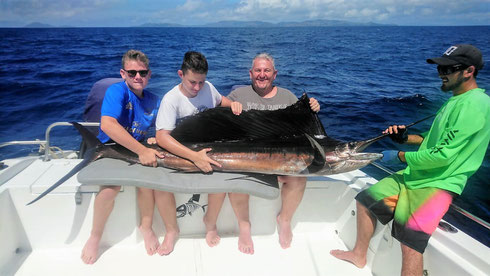 The next five days were again very windy with lots of rain on top. Looked to at least clear up by noon of the 17th so I hopped on the boat and went to the edge of the bay. Just there one rain front after the other with gusts of more than 25 knots raced through but as the light jigging worked well I stayed. That still somewhat protected spot just 300m offshore is really worth gold to me at this time of the year.

On that really rough day the big boat Alati from Mahe had gone out and later reported 2 released Black Marlins. Just those the US angler had been chasing for years and in multiple places to complete his world wide billfish slam. Seychelles made it possible at last. Double on top. Cool story and a fantastic pic.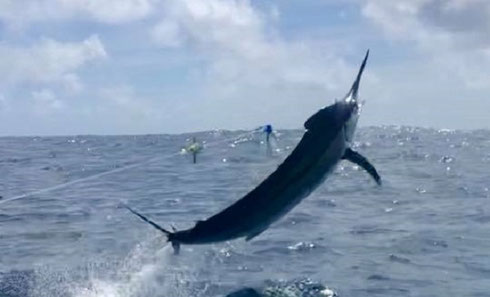 For the 19th a trip was on the agenda with Mervin and Swiss angler Simon who is a real lucky bugger. Not only the wind had dropped to very unusually low 7 knots but also his fishing experience here kicked off more than well. Personally I found the jigging start not so bad with a couple Amberjacks, a Tuna and this fat Rainbow Runner along the first 1.5hrs but Mervin was not too happy.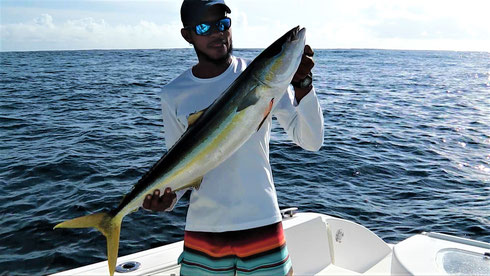 So we did a large turn beyond the Drop to find the Tuna but saw none and neither even got a knock on the three trolling lures pulled along. Back at the edge we found an old and nearly disintegrated jerry can drifting. Too small to attract anything I thought at first but actually hundreds of Dorados and smaller Wahoos were around it. A few of each got caught out of many strikes on the stickbaits before the not so stupid fish had enough of this.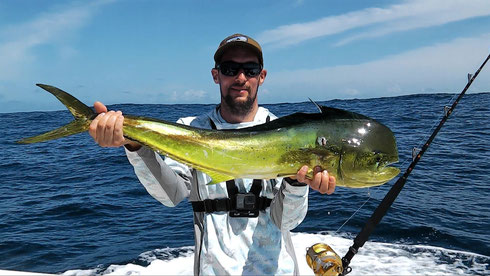 But just then and at last we finally saw the Tuna and the crazy game was on: at full speed in front of them, cast, hook-up, play and landing, then flat out after the racing fish again. Five or six of the torpedos were caught after numerous and spectacular strikes. Might not sound much but at these sizes of up to 43kg one simply does not winch them to the boat just like that and at some point Simon surrendered.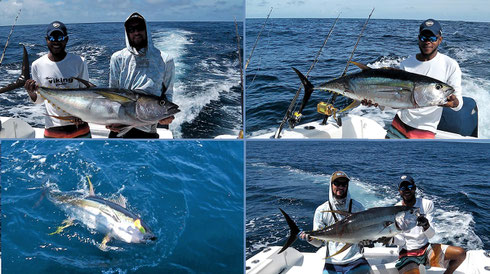 No activity at all during 3 hours of trolling back towards Praslin apart from a Sailfish window shopping for a split second but a little later we saw one playing on the surface in front of the boat. Stickbaits and poppers did not only interest that one but also three more. All followed several times and even produced seemingly proper takes but strange enough no hookup. See a short clip of that on facebook here. Last half hour was spent GT popping. Simon raised one but it did not take while instead this Shark gave him another workout.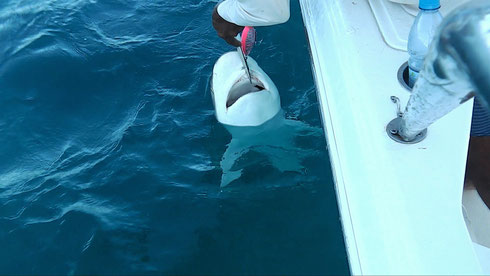 Thus he enjoyed a very versatile and entertaining first day of fishing in Seychelles´ stunning environment.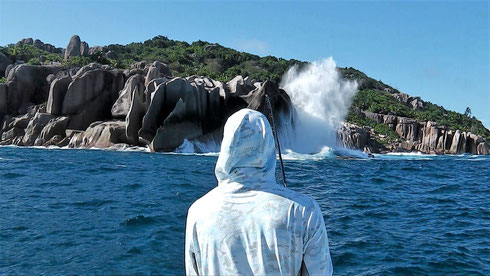 That day was interesting as our trolling had not produced while Greg and Phil doing so closer to the islands bagged a dozen Dorados and released another Sailfish in just 4 hours.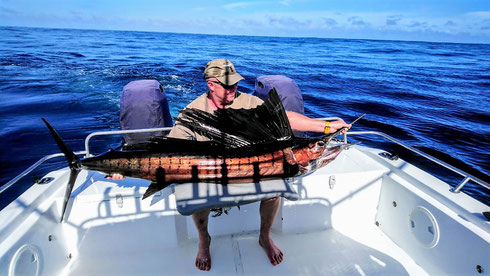 They reported later that in that short period he had seen more than 40 Sails and JD that morning also released two so at last they are here in the typical Southeast Monsoon numbers. On the 20th the three of them went to the Drop for fun catching around 30 Tuna of up to 40kg casting and trolling with bigger ones estimated in the 80kg range seen occasionally. Out there the boat Zero early had caught exactly that but later also found the Tuna bagging similar numbers plus catching a Marlin in the 100kg range on top. On the 21st Mervin went again with Simon. This time also his girlfriend Aline was on board while I sadly had to stay behind due to other duties. Really missed a special day. Or rather a half day as it was only that. But with more than 30 GTs raised, a very big one lost to the rocks and 8 caught it was a memorable trip. Some look to be a bit smaller than our usual average but who cares. They were just all over the place. Simply fantastic.
That day the wind had picked up again quite a bit and the following one it was back full on. Nevertheless a boat went to the Drop again for private fishing to get a few Tuna for restaurants. Tough stuff in those conditions but well wort the effort looking at more than 40 Tuna of up to 60kg caught. So also the big buggers are here now. Unfortunately right after the wind came up mightily again hitting rarely witnessed 30 knots. Pretty mad to meet with Simon at 6am in the morning of the 24th and just bringing the fly rod along. Still we shared a few Trumpetfish and small stuff in ridiculous conditions. No long face at all on his side though as the day before he had caught this decent Brassy Trevally on his spinning gear already so a quality shore fish also came to him.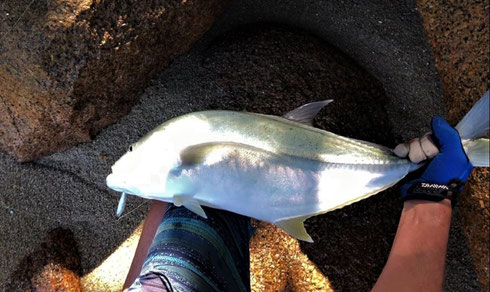 Next morning we tried here in front of my accommodation as it was the only place protected from the still very strong wind. Had not seen any activity at all except the inventory Garfish and Stingrays along the preceeding days so expected nothing and was right. Knowing that out there the sea was boiling from fish everyone nervously waited for the wind to drop and towards the weekend it did. Greg & Phil with guests were the first to dare a trip on Thursday harvesting about 20 Tuna trolling.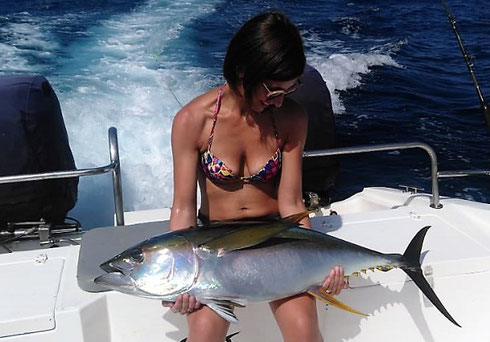 Friday it was Mervin and Simon once who enjoyed good jigging at the Drop with Amberjacks and the other usual suspects plus a dozen or so Tuna on casting lures. Same story for him yesterday with a new guest while Brandon (Island Rhythm) who did an overnight out there just with friends also got Tuna and some bottom fish. Meanwhile Greg, Phil and a guest went for GTs raising 5 alltogether out of which a baby and this one were caught.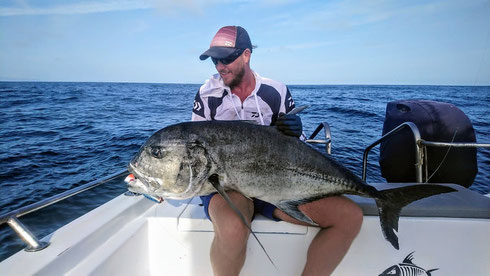 Was of course also eager to go but Friday morning when already on the boat with all the gear and ready to take off not only the starboard starter gave in but also the steering bar connecting the two motors. The latter was sorted out along the day by a quick weld but the starter due to the lack of spares looked to become a major project again. One can start the engine with a rope that is part of the onboard emergency kit but for any drift fishing this is of course a mess. Thus the two fishing trips had to be abandoned and same for the scheduled bits of more GT popping on the way to Baie St. Anne this morning. Boat had to get there due to my few weeks absence starting tomorrow as here at the usual mooring the undercurrent keeps sending in big waves crashing on shore. Just too risky to leave it unattended in this so got the engine running with the rope, shut it down after arrival and for whatever reason turned the key: wroooaammm - it started. Seriously? Tried six more times, always worked. So not only some ideal fishing days wasted but on top an erratic failure on the boat which will be an extra headache. Hope  the little semi-wreck will at least be safe there until I am back. Next to me stands the packed suitcase ready for grabs so now you know why this reports comes a few days early. Having to go without any fishing done before feels really frustrating. On top the forecast predicts calm here for the next week while in Germany temperatures had topped the 40°C regularly along the last days. What a great swap.
For the preceeding reports check the archive.