The last two weeks allowed for nearly uninterrupted and quite productive fishing here in Seychelles. On the 16th I went with my old German friend Thomas who finally managed to visit Seychelles with his family for a day`s trolling. His wife and little daughter also joined to get an idea of this but unfortunately Ted was not available. Not so much a problem at first as the day started slow with just a few Bonitos. Only with the change of tide and already about half the distance to the Drop Off the activity picked up with a small Yellowfin Tuna and two Wahoos. After that the Sailfish got mad. First one came just checking the spread. Another a little later got lost on the first jump. After two more window shoppers that knocked a lure slightly we suddenly had 3 on dancing behind the boat and found ourselves in a nice bit of a mess.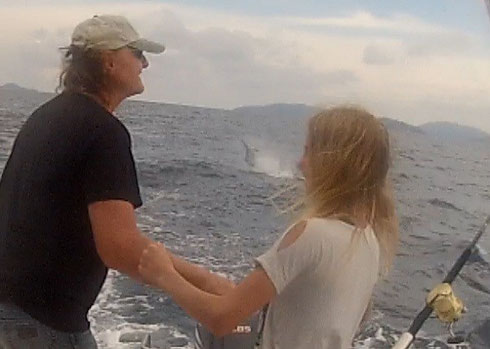 Two came off pretty much right away and the third one dropped the hook close to the boat when I had the tag stick ready. To get none out of seven is obviously somewhat frustrating but at least my friends got proof that Seychelles actually is an excellent fishing ground. Also from the picture with their smaller Gamefish one can see that they were not too unhappy with the day.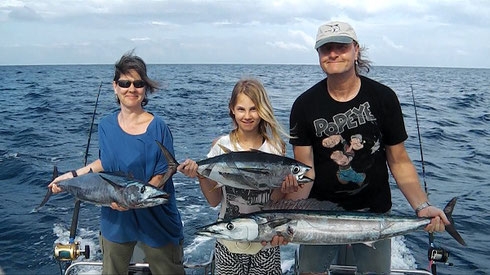 Ted had not been able to join us as he had a charter with his uncle Reginald on Pti Merl. That trip inexplicably only produced a single Bonito but they saw Charly (Squalo Uno) catching a smaller Sailfish. Fly angler Peter meanwhile spending the rest of his holidays on Mahe did a fly guiding there. He reported that the guide was competent but the overcast weather made spotting fish difficult and also the according to the guide very reliable Bonefish must have had other business that day. On the 18th a German family that I got to know here a few years back already went for a trip on Lady Caroline. Bottom fishing produced them some Emperor Snappers but trolling was the better part. They lost two Sailfish of which one broke the bill already held by the crew but Wahoos, Tuna and Dorado as well as plenty Bonitos made up for that at least partly. Many thanks dear family B. for sending the nice pic right after returning home to Germany.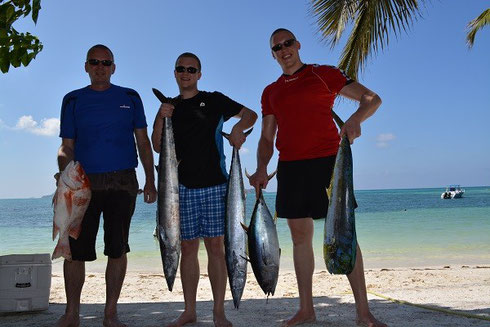 On the 19th Mervin (Divinity) reported some Dorados and Wahoos. The day after Thomas and I went for a bit of jigging and popping. He had brought himself an upscale 7ft/20lb travel rod as well as a spinning reel from a quite renowned brand out of the tackle shop he runs in Denmark and I was curious how that combo would deal with a possible GT. But it did not even get to that. Jigging was very much sub par on all 4 spots we tried with just a few smaller fish coming up. Only on the last spot where I so far always lost out to the large Doggies he got one of those on. After a few seconds there was a very bad sound and his rod had broken to pieces.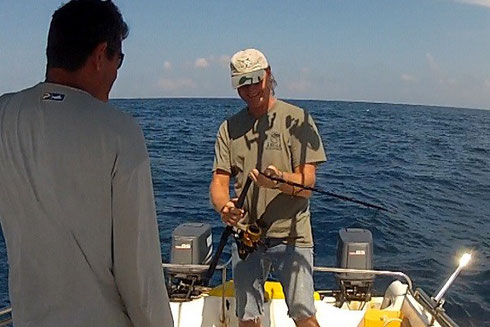 Gave Thomas my rod for a little popping later but except a really large Jobfish coming up several times nothing more happened. But at least Thomas now knows that my warnings of insufficient tackle were not exaggerated. Must have been a better day for trolling as Edwin caught a Sailfish fishing from his smaller boat Barracuda. Same time Greg (Pipsqueek) released a small Sail and lost a Marlin of estimated 100kg after a short fight while his guests boated Dorados, Tuna and Bonitos.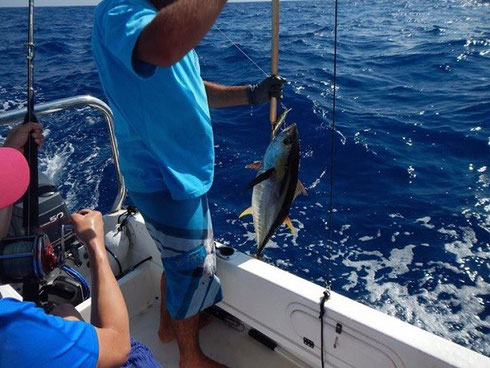 The next day with another group on a short trip he also bagged Dorados and Bonitos. Michael also reported a good catch from Mahe with 2 Sailfish released and plenty other fish caught. Take a look: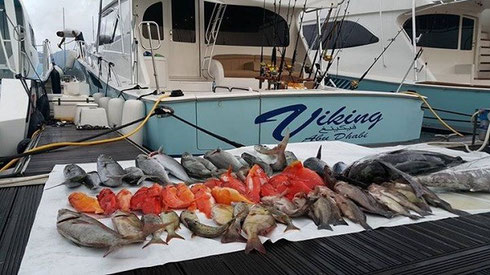 Sunday the 22nd I tested a new jigging spot. That went fairly well as already on the 3rd drop of the jig the line stopped in midwater for a moment. When retrieving I saw a Sailfish following it that stayed suspended a few meters under the boat. Dropped the jig again quickly and got a knock. On the next retrieve I had fish on but to my surprise the fish turned out a feasty Yellowtail Trevally.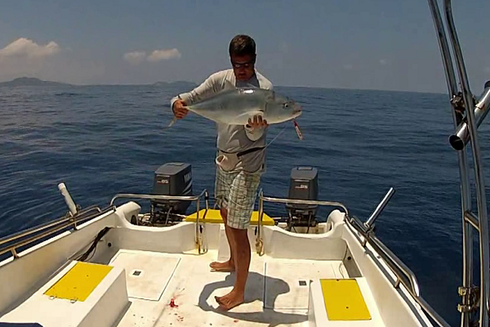 With eventually 5 decent specimen of those, 2 Yellowfin Tuna, 2 Bonitos and a Grouper, a Jobfish and a Longmouth Snapper these 2.5hrs turned out quite busy providing a good exercise. Some of this can be watched on the video here that also presents catches from the first half of the month like a GT caught on popper. Just wonder if that spot will continue to be so productive as nearly all the fish were semi-pleagic maybe just being around because of the small bait the birds also fed on. Will have to check on that but that first tryout was for sure a good one.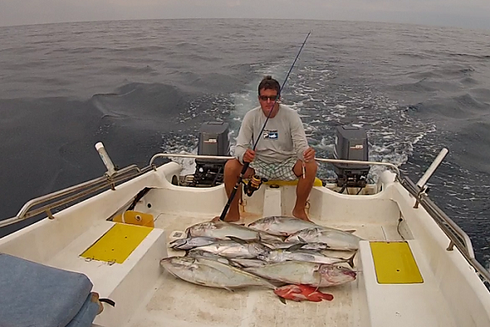 Same time Edwin and also Christian (Djab Lavwal) for a half day got mixed bags of smaller gamefish trolling. Christian managed a similar catch the day after though this time fishing further south. Interestingly he reported that the fish caught were full of larger bait while the day before up north the bellies were stuffed with tiny baitfish. That same day Greg skippered a spin angler that was happy with a number of fish from which 3 Bluefin Trevallies stood out. On the 25th the wind started to pick up. It did not reach the forecast 20 knots but still it got rough enough not to go out. Yesterday it started to drop and the days to come look promising as far as the weather is concerned. Would be nice if the fishing would continue as it was: quite solid I think even as the spectacular catches were missing. But the unusual amount of Sailfish for this time of the year is of course very welcome and we all hope they will stick around. Last but not least African Billfish Foundation informed yesterday that they received a tag that my friend Marco and I had placed in a Sailfish last November close to Praslin and that was now caught again more than 500 miles southeast of Seychelles.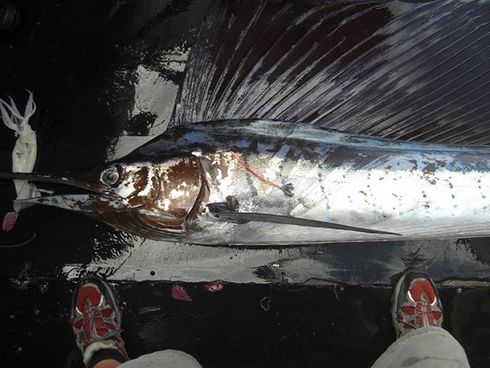 A longliner on a Tuna tagging trip had handed the tag in. Read the full ABF report on this on our Facebook site here. Somewhat sad that the fish could not be released once more though the crew had wished to do so. But on the other hand it is quite motivating to learn that that somewhat tricky release and the long effort to revive the fish really allowed it to survive at that time. So please release your Billfish whenever possible.
Due to a severe hardware problem only a small report from the emergency device: The Marlin Slam tournament held out of Mahe on the 31st of January for the first time featured a point system allowing for smaller Marlin to be released. Great invention by the Seychelles Sports Fishing Club but unfortunately none of the 14 boats could catch one. Quite surprising with a view to the excellent Marlin season we enjoyed so far. Maybe this was due to the still rough seas the preceding storm had caused as other catches also were a bit sub normal. Next to a few Sailfish released Dogtooth and Yellowfin Tuna of up to around 20kg as well as Wahoos and Dorados were brought to the dock. Team Island Star turned out the eventual winners – congratulations! Funny enough though that same day private boat Peggy brought a 217kg Marlin to Praslin`s shores. The weather throughout the following week was pleasant but with so few tourists around there were hardly any trips. These mostly resulted in the usual mixed bags of smaller gamefish. I tried a new jigging spot on the 5th catching a handful of those beautiful and tasty Longtail Groupers and a Yellowspotted Trevally. Once the jig got stopped half way up by something big but the hook did not set.  Another spot produced two Pickhandle Barracudas and a Yellowtail Trevally. Popping a bit on the way back home was rewarded with a GT of around 20kg.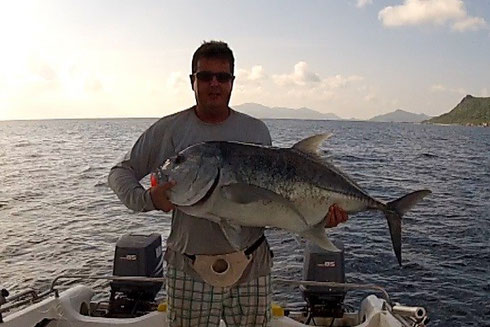 Beyond that there is not much to tell. Bertrand (Yam Sing) lost a Marlin after short play and Mervin (Divinity) reported large Wahoos in the area of 25kg. Peter from Switzerland did some spinning from shore and with Bertrand catching Garfish, Snappers and Groupers. Faizal reported a few Sailfish and many Dorados from Mahe. Since the beginning of last week the wind picked up towards 20 knots once more seeming to settle only now so from that period there is nothing to report.

For the preceeding reports check the archive.