In the days right after the most recent report all angler`s eyes were set on two issues here in Seychelles. Firstly the massive cyclone that was moving around south of us appearing unusually strong, late and far north.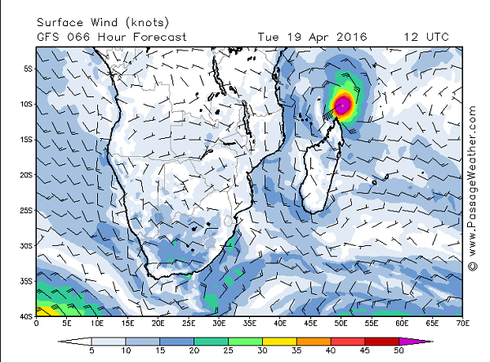 Farquar atoll got fully hit and wind speeds of unbelievable 345km/h were reported.
On its way the storm passed the atoll twice more in the following days. It had weakened by then already but anyways the island got all flattened apart from two cyclone proof bunkers and snapped palm tree trunks. This all happened a good 700km south of the main islands but still especially all those due to set seas for the annual National Fishing Tournament that weekend were not too relaxed. Luckily weather conditions up here remained quite okay so the tournament scheduled for 50 hours of fishing time could go ahead. Of the 9 competing boats all but one already returned Saturday though. Not so much because of the weather as mentioned but rather as the boats were running out of storage for their catches which amounted to a whopping 6.8 tons altogether. Might make sense to point out that this tournament allows for trolling as well as bottom fishing and that all proceeds from the catch bought by a local fish processing company are traditionally for charity. No chance to enlist all catches but at least this feasty Doggie of 65kg that produced Cecile Savy the prize for best female angler shall be shown here.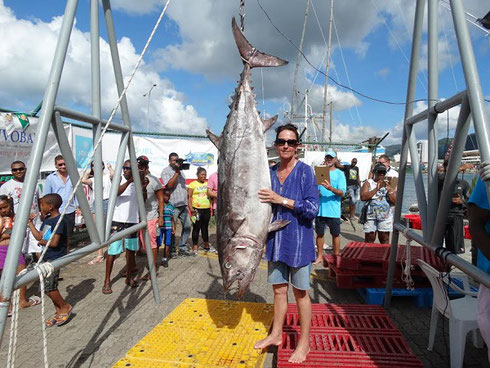 There was another even 10kg heavier specimen also caught by the eventually along the applied point system once more victorious team Island Star - Congratulations! Was a bit of a surprise though that this team for once did not claim the prize for the largest overall catch that instead was won by friend Ruslan on Albermarlin with just under 1.5 tons. Personally I salute a change of rules limiting the number of Sailfish and Marlin to be brought in to 2 per boat as Billfish catches were quite good. For example Albermarlin had 3 Sails and Alati even 5 plus 2 Marlin on top. But they released all of those despite this costing them in the tournament. Hats off for that.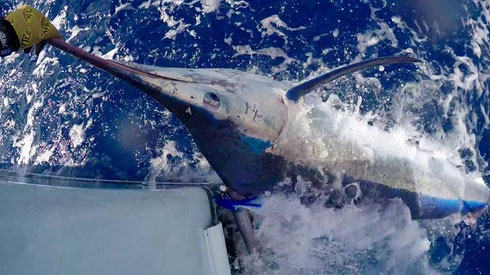 Quite a bit of stir caused two fish that eventually were identified as Snoek (Thyrsites atun). Not just because the are rather odd looking but also as these were pretty close to world record size.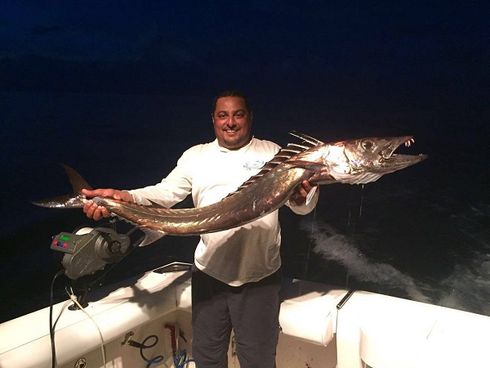 The following days were rather calm as far as the weather but also the fishing are concerned. While the wind was blowing at least a bit trolling was a bit unspectacular but still quite solid as this Sailfish reported by Christian (Djab Lavwal) indicates.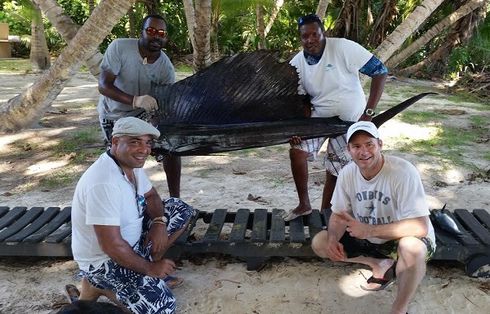 Most days the wind was very calm though or even had dropped to nothing at all so it was better to switch fishing styles. Most popular option here is of course bottom fishing as enjoyed with much success by Bruce from Mahe and his guest.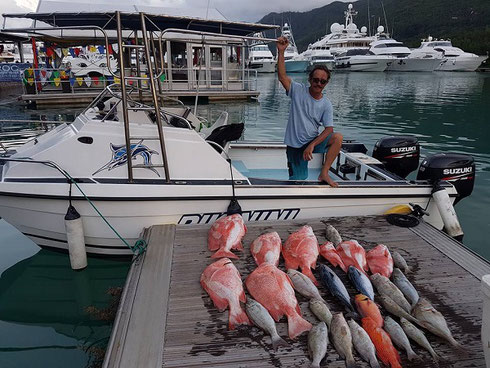 Felt more like less sticky fingers last Sunday but got them anyways as 3 hours of jigging resulted in a decent series of Bonitos, Yellowspotted and Yellowtail Trevallies from a coral found a while ago in some 40 meters of depth.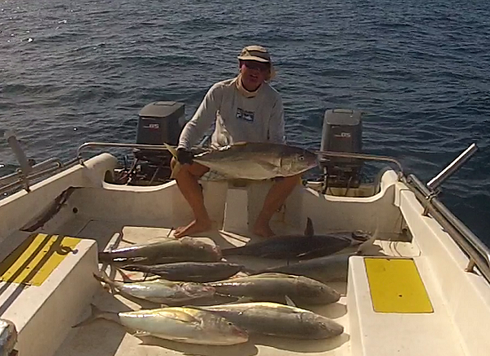 Also a bit of popping late that afternoon produced a nice surprise. After avoiding at least a dozen Sharks one finally grabbed the popper. As usually I then allowed some slack and also as usually the Shark spat out the popper. When retrieving it while still below the surface it was grabbed again and I calmly swore at the stupid Shark but along the subsequent fight I increasingly wondered. The stubborn circling of the fish under the boat and the fierce shakes of the head made me hope for a GT and actually it turned out one. At about 12kg surely not a trophy fish but after a long drought really a pleasant surprise. Hope we will meet again and she will then still sport the quickly set tag.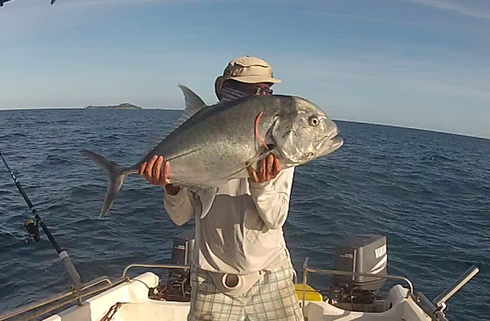 This nice day produced a bit of video for the monthly clip that can be watched here and also includes the sequence of that unruly Sailfish from the first half of the month. April with the low winds also is a very good time for fly fishing so Greg (Pipsqueek) and his guests made the most of that during a couple of successful trips.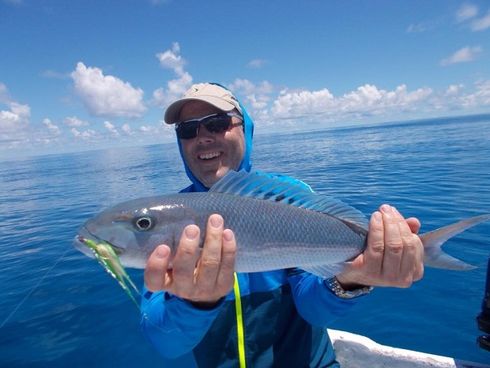 But even without a boat one could catch really decent fish those days as friend Ameer from Mahe proved. This splendid Yellowspotted Trevally caught from the rocks weighed more than 10kg and it took a quarter of an hour to land it on 12lb line. Great fun for sure and diner secured on top.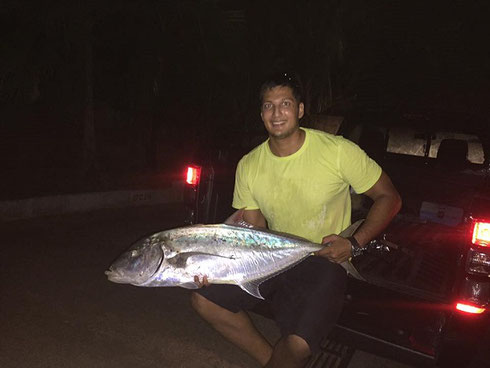 Last Thursday German fishing forum friend Lucas went popping for the first time in his life with Mervin (Divinity). That half day turned out very entertaining with Mervin raising 5 GTs hooking two of them but unfortunately losing both. Lucas meanwhile did not raise a single one but persisted in his effort and got rewarded eventually. Starting ones popping career with a 25kg GT is fantastic and the happiness shows on his face.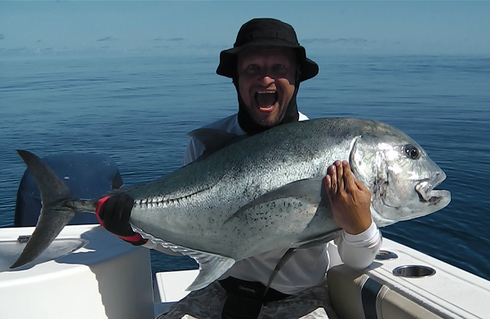 That trip also produced some really nice bits of video. Even more so as I was lucky enough to catch a couple live strikes on the cam. All fish shown were caught within 5 miles around Praslin so the clip again delivers good evidence of the quality and variety the fishing in the vicinity of this wonderful place provides.
While the first days of the month had another short spell of strong winds and high seas on offer right after we seem to have entered the transition period. Most of the time the wind is calm and on some days completely gone so the sea is flat like a mirror. Those days are of course not really ideal for trolling but on the others it went fairly well and the Sailfish have returned to the waters around Praslin. Right at the beginning of the month though there was quite a bit of excitement among local anglers as the 9G sportsfishing team had returned with a Broadbill caught trolling. While not the first one here any more such is still an usual catch so the fish was weighed on a certified scale setting an new national record at 29kg. Wonder how long it will stand as the potential for more is clearly there.
Not to forget that boat`s trip beyond this catch was pretty successful as next to an assortment of other fish a Sail and a Marlin of about 90kg were tagged and released.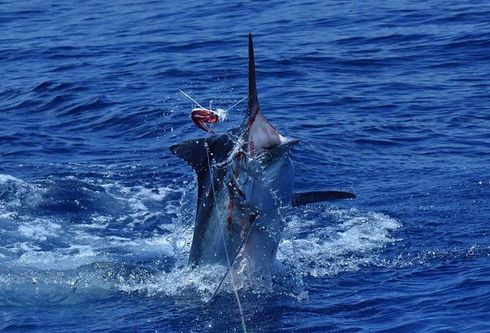 Along the following days the wind died completely and it became very hot. The boats that went trolling subsequently had a hard time scraping a few reasonable fish together. Martin (Venture) on the 4th caught 3 Wahoos and some Bonitos while Ted fishing with his uncle on Petit Merl reported similar results. Those days Mervin (Divinity) saw many large Yellowfin Tuna at the Drop but also these were not to be tempted by whatever fishing method. Instead jigging was really great especially as far as the Amberjacks are concerned. On top they hooked up to something massive that must have been one of those huge Groupers. No chance to lift that fish off the ground and when they managed a bit it went down again and eventually the line broke. The next day they got this one which while substantially smaller is still impressive.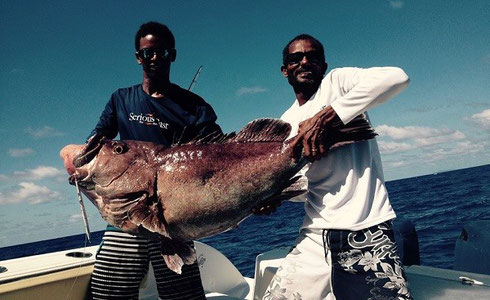 After all that a bit of wind returned improving trolling results right away. The boat Victoria reported a Sailfish of whopping 52kg and also Christer from Sweden had a good time. We have been in touch for a while meeting here last year and now he was fishing with Damien (Lone Wulf) out of La Digue again. Part of his agenda was to try out hooks from bone he carved along the example of such from stone age and he actually caught bottom fish of different kinds with these. But trolling was also part of his outings. Along the days he got 3 Sailfish and on the Drop a decent Marlin of about 250kg.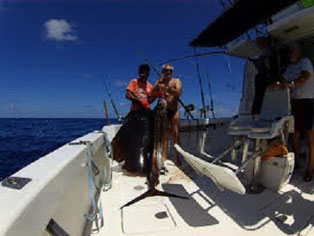 Especially the Sailfish presented themselves fairly cooperative again. Martin next to 2 Dorados and a few Wahoos got this nice specimen. Meanwhile Mervin was fishing with a new group and the guys were very impressed by the top class jigging they experienced. Catches were not only fantastic by numbers but also by the quality of individual fish like this Doggie that every so often made them sweat.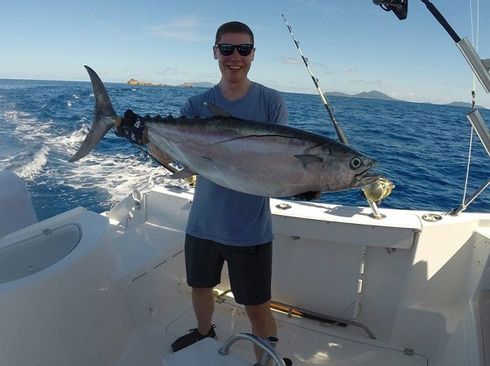 Last Thursday visiting German friend Kathrin along with another lady and of course Ted came along for my first trolling trip since November. On a very calm day we had only half a dozen Bonitos in the fishbox and lost a single Dorado until just before Lines Out a small Sailfish grabbed a diving plug. On 50lb gear that tiny thing of maybe 17kg was alongside the boat within two minutes or so but then really came to life providing for a nice video sequence of jumps. Unfortunately too short for a full monthly clip but anyone on facebook can already watch it. Here is a quite nice pic of the little acrobat though.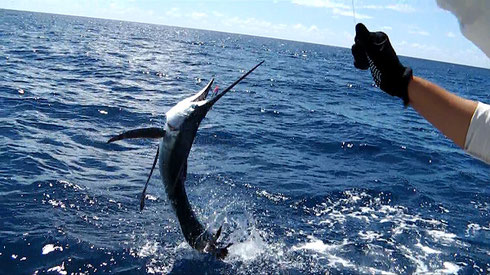 Rather busy with my friends to look after I was not all up to date during the following days but apart from Martin catching a few Wahoos on a trip not much else seems to have happened. Just Ben from the UK sent me an email after he had inquired about spinning and kajak options around Port Lunay in Mahe and Denis Island some time before. Was glad to learn that my due to the lack of own experience in those places rather speculative information was not too far from reality and that nearly the full variety of species to expect made themselves available for him.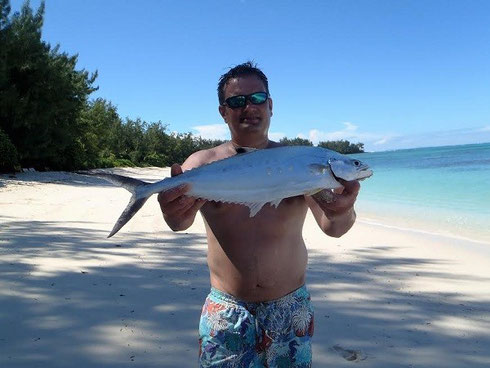 Last Sunday I was a free man again so off right away for a few hours of popping in a perfect tide. Quite frustrating though that the throughout last season so reliable spot not far from La Digue remains plain dead as apart from about a dozen Sharks running after the popper nothing at all happened. Another attempt on Tuesday in the west of Praslin came to a more promising start as around noon at low tide first a small GT of about 10kg missed the popper despite trying hard and a little later there was a raise of an average specimen. So I was fairly optimistic for the rising tide in the afternoon hours but again things went different than expected. Was very surprised to see a Doggie of about 20kg following my popper, later a second one and a bit further off a third. One point there was even a bunch of 5 or 6 pushing and shoving for the lure but none was able to grab it so they disappeared right at the engines. Really strange as I had fished that place about 20 times before without ever seeing even a single one of those before. GTs seemed to have disappeared or were completely inactive that afternoon so my misery with those continues for the time being. Not a general problem with these fish though as Mervin`s group the day before got this decent one.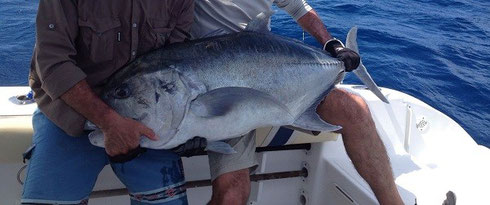 Also another day of popping yesterday produced them 3 more boated and released GTs of which one even broke a rod. All in all this was a very reasonable start into the transition and whoever was flexible enough to chose a fishing method that fitted the weather conditions surely had a great fishing experience.
For the preceeding reports check the archive.