The week after the most recent report was very rainy and windy to say the least. Ugly would be far more accurate. Just Mervin (Divinity) sort of madly did a trip in that weather but after a dozen Bonitos got rewarded by catching and releasing a Saifish. Only at the following weekend the weather improved and Martin (Venture) did a first trip with Stefan vom Austria that produced him next to Bonitos two Wahoos and a Sail missed. On the 29th then I travelled to Mahe together with Mervin & Sandro and a massive amount of gear as to fish on a liveaboard cat for a week around Ile Plat with the Shimano Israel Pro Team. They had been here on Praslin last March already in a slightly different composition and were totally excited that time by the quality of fishing the Northeastern Drop. Thus expectations were sky high and we wanted nothing but to leave the beautiful Eden Island Marina with some really impressive boats.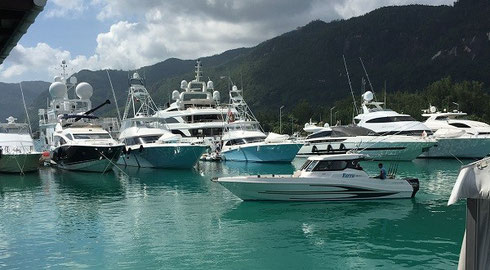 The start was somewhat spoiled though as our port engine had issues that could only be repaired the next day. Not difficult to imagine our long faces I guess. This though offered me the chance to pay Randy and Jared a brief visit as they returned from a day´s fishing on that fantastic Riviera 9G with a Sail and a Marlin released plus Wahoo and Dorado if I remember all that correctly. Our group was offered another boat for that following Tuesday so we could at least jig and pop a little around Mahe while our engine was fixed. Little consolation of course as we should have been at Ile Plat already instead but better then sitting around. In very hot and calm conditions this warm-up only produced some smaller fish. Towards the afternoon the tide got ever better though and it was JJ who got this decent GT on popper.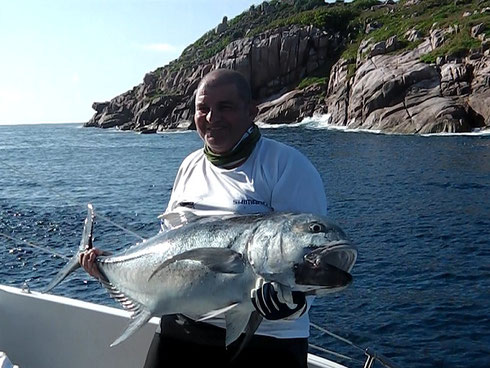 Am pretty sure we could have caught a few more in those ever improving conditions but we had to head back and enter our meanwhile repaired expedition boat. That 47ft Leopard cat was stuffed to the limit with provisions and our group of nine in total armed with fishing gear to the excess but the bit of chaos settled eventually. Only major bug was that the fishfinder from the description was not existing. Instead we only had a depthfinder. This should prove a real disadvantage along the trip but there was nothing to be done about it at that stage.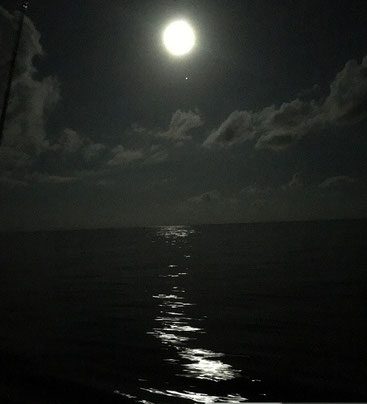 So at 7pm we finally threw the ropes and took course south. The crossing was uneventful in perfect conditions under a nearly full moon and pretty sleepless due to all the anticipation of what was to come and in the first light we reached Ile Plat. The island of maybe 1000x300m represents the small leftover of a large sunken atoll elevating from several thousand meters. We passed it heading straight another 10 miles or so to the southern edge when a Sail came to investigate the lures offered meanwhile but found none of them worth it`s breakfast unfortunately. We were very surprised to find no surface bait at all on that southern reef and subsequently did not to get a single strike on our poppers along the first drift. As the water started to get deeper we changed to jigs and a small hooked Bonito was attacked but missed on its way up by a massive Doggie right next to the boat. That poor little thing had not much time for relief though as offered on a circle hook it got swallowed within moments. The subsequent fight with this fantastic fish of about 65kg imaginably took a while and on top it was followed by its even larger buddy all up to the boat. Welcome to Jurassic Park - what a fantastic start.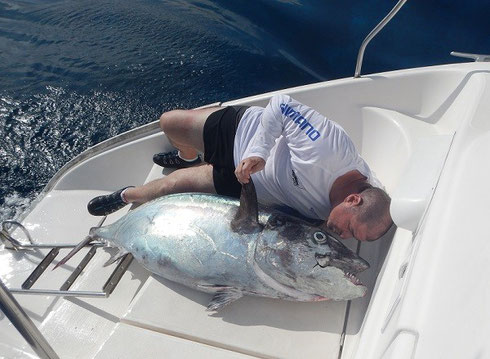 Of course at that stage we did not know that this one was to remain the most spectacular catch of the whole trip so we were over the moon. But that southern reef presented itself rather stingy that day. During a lot of popping we caught a few Jobfish and Bluefin Trevallies but no GT at all. The so to say blind jigging with just that depthfinder working only up to until 80 meters on top of all meanwhile produced us lots of fish in a large variety: many Groupers and Snappers of different kinds, Jobfish, Red Seabass as well as Bluefin, Black, Yellowspotted and Yellowtail Trevallies etc. Just size was a matter as hardly a fish exceeded 5kg or so. We were eager for bigger fish of course but these unfortunately remained rare. Instead rather two went for the same jig.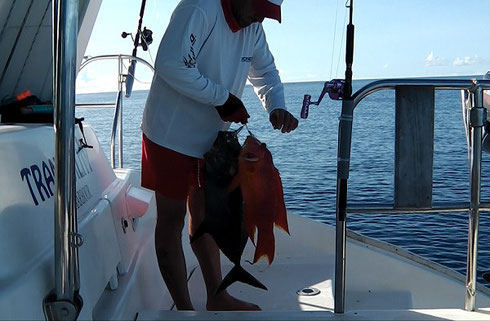 That night slightly desillusioned we anchored on a small shallow in a very strong current that proved benefitial for some night baiting. Next to numerous Red Seabass of up to 10kg also two pretty large Nurse Sharks of more than 50kg were caught and released after long fights on the light tackle.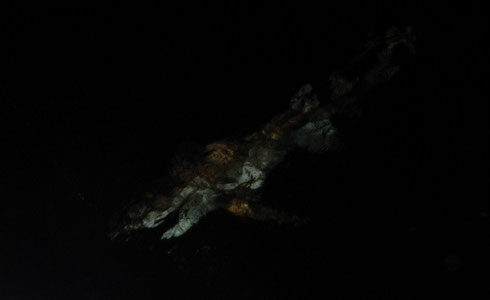 Along the following days we worked the atoll on all sides popping in the shallows and switching to jigs when it got deeper. The popping gradually improved and besides Bluefin Trevallies and some decent Groupers the GTs started to enter the scene. Most attacks were rather inert but still some nice ones were caught. Just for me things would not improve. My preferred Halco Roostas hardly raised anything. A Sebile Splasher worked a lot better but the fish would just not hook up. Not even on the treble hooks I some point attached in frustration. Would have really liked to hook up to that Saddleback Grouper of well 1.3m in length that lazily rose from a deep hole but did not strike. Only a little later a huge dark shadow slowly followed and investigated the popper but on a little knock again did not get stuck. When that fish turned away it revealed itself as a Napoleon Wrasse of around 40kg. This would have been the fish of a lifetime and I must admit it still pursues me in my dreams. Instead the others caught reasonably well and once more it was JJ who picked the cherry from the cake with this GT close to 40kg.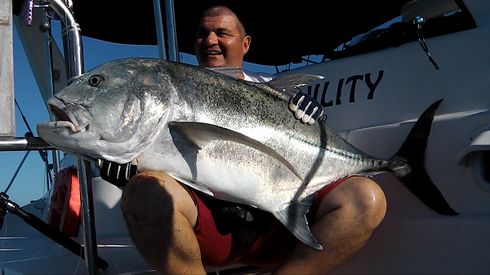 Jigging on the opposite remained more or less as it had been. Fish over 5kg were seldom and Amberjacks seemed to have disappeared with just skipper Ron catching the only specimen of that whole trip. Even his and Mervin`s vast knowledge of the area could not help it and also the small commercial boat handlining there in those days was not able to catch reasonable fish as the blokes admitted. Smaller catches like for example this Napoleon at least continued to come up in good numbers thus at least we never got bored.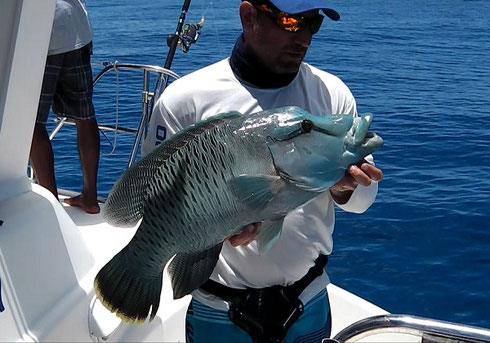 Occasionally a better or unusual fish stirred things up a little like this decent Rainbow Runner.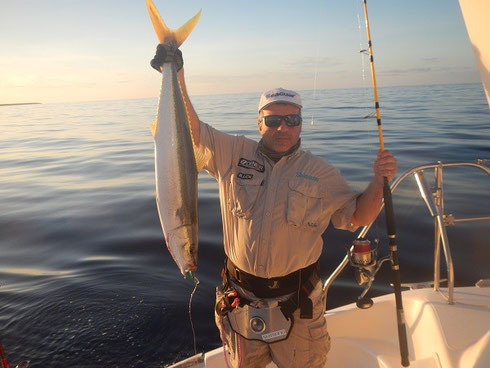 And also the Groupers gradually started to become bigger.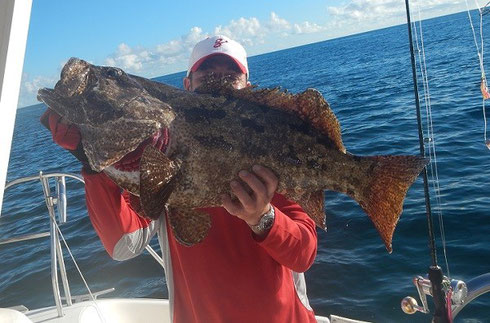 We got the impression that the fishig was improving little by little every day but all in all it remained below of what one else hears from the area. Especially the Doggies let us down a lot. On popper we did not raise a single one and jigging produced just two mid size specimen in the last days of which I could at least contribute this one hooked in a depth far more than 200 meters and thus hard worked for.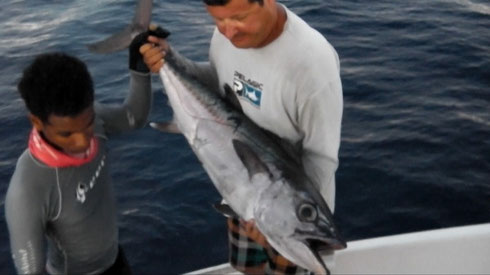 Also during the nights jigging to everyone´s surprise apart from some Bigeye Trevallies produced nothing but Pickhandle Barracudas that infested the area from the shallows until the 150m depth line. Deeper we did not try and these buggers really depleted the jig stocks. Sunday we could still fish until about 4pm before having to head home. Until that day we had scraped together a dozen GTs or so of which only few exceeded 20kg though. But along that day we were able to add quite a handful more and on top large Barracudas suddenly became very active. Nearly everybody caught one while mine stole the popper of course. Jakob was obviously luckier getting this one on ultralight jigging tackle.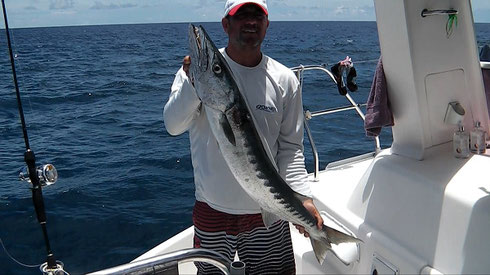 This fish took that tackle to the absolute limit but still and despite some losses it was just ideal for that trip. He as well as some others similarly equipped could fish continuously thus catching in high numbers. The rest of us in expectation of large fish was quite overtackled treating ourselves to maximum exhaustion meantime and had to take our breaks. This even more so as the the weather remained nearly windless and extremely hot. But that afternoon that special sort of torture came to an end and refreshed by one of only two brief rain showers encountered all week long we set course to Mahe leaving remote Plat Island behind for this time.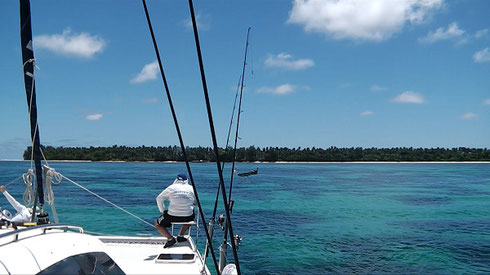 The nightly crossing again was calm and pleasant allowing for a first analysis and reflection. We trolled lures over deep water only for about 8 hours altogether raising 2 Sailfish and a small Marlin while catching a Wahoo, plenty Bonitos and Rainbow Runners. In the shallows when changing spots especially plugs produced numerous Jobfish, Bluefin Trevallies and other small stuff. Not impressive but still okay I think. As said though casting as well as jigging being our main activities remained far below the known average to expect from that area. But the huge reefs no doubt hold tremendous potential for popping when the fish are on as the many lackluster raises clearly indicated. Those mostly very drastic drops around the structure on the opposite make jigging quite a tough job especially in the all over very strong current we had to deal with. The lack of a Fishfinder we considered a real handicap and when going down there again I will make sure there is one at hands. Definitely I want to return some point not only as I have a few issues to settle with some specific fish but also as I think it is not possible to finally judge on an area after only a single visit in obviously a time of rather slow bite. Apart from that it was really a cool trip full of useful learnings in nearly ideal weather on a good boat and most important with a great group. Many thanks to the team, guide Mervin, Sandro and last but not least our skipper Ron who did a perfect job in absolutely every way.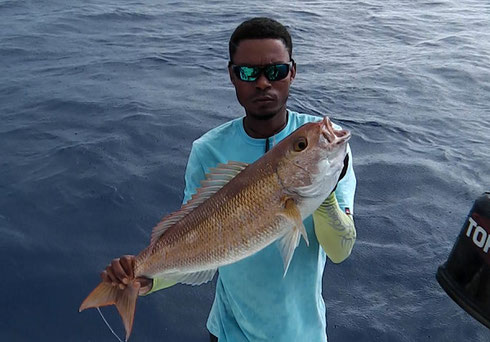 Of course that trip provides for lots of video material but until I have sorted and edited that it will probably take a few more days at least. Only returned to Praslin last night and do not want to delay this already belated report so much longer. Back on Mahe yesterday I bumped into Randy again who in the course of a tournament held there last Saturday released a Sail and a Marlin while raising four more with his 9G sportsfishing team. Great pic by Faizal once more.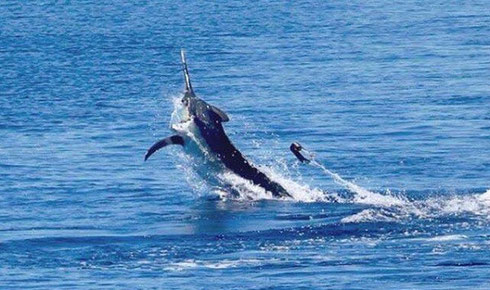 Today I checked briefly what had been going on here on Praslin during my absence. In also very hot and calm conditions surface temperatures had risen sharply to over 30 degrees Celsius. This hampered trolling a bit but a few catches were sticking out. Martin fished another one and a half day around Denis Island with Stefan who spent the rest of his holidays there but not to much of good results. Especially the Sail Stefan had been wishing for so hard along those months we exchanged emails before his trip would just not come to him. Only after they had left him on Denis and while returning to Praslin they caught a whopping three and yesterday another one.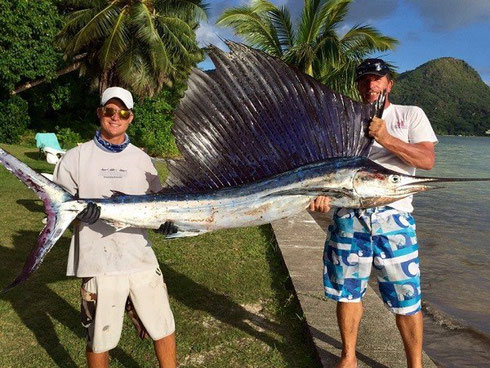 Christian (Djab Lavwal) had a few half days with mixed bags of Wahoos, Dorados etc. and a massive Jobfish. On top he raised some Sailfish but these lacked motivation to strike. A day`s jigging on the Northeastern Drop went so great though that his guest some point had to retire for a while and eventually one of these many and large Amberjacks even broke his rod. Probably there were a few more trips but about these I will only learn in the coming days. If anything spectacular has happened you will learn about it in the next report.
As usually around this time of the year we see very few tourists in Seychelles. But who was here was somewhat lucky as we uncommonly for this period did get hardly any rain. On top along the first week the wind was quite accomodating so allowing for a handful of fishing trips at least. On the 1st Mervin lost a Marlin of about 80kg just behind the Sisters but caught a few Tuna. The next day after an hour into the fight at the Drop Off a much bigger specimen estimated at around 250kg broke the hook. Alati fishing out of Mahe was luckier with 2 Sailfish and a Black Marlin tagged & released. Along with Yellowfin and Dogtooth Tuna as well as a Wahoo this resembled another Offshore Super Grand Slam.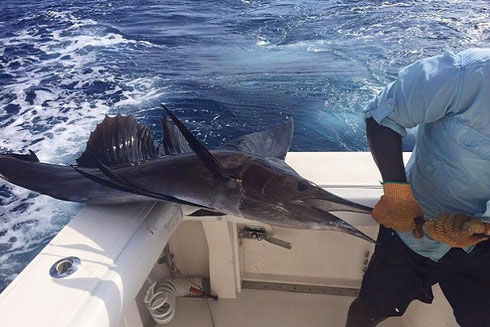 That day news spreaded that two Yellowfin Tuna of 85 & 105kg had been caught on a liveaboard. Really nice but what makes it special that they came on casting tackle. Someone must have been a bit sore that evening. Here from Praslin there is little to tell. Trying a bit of popping one afternoon in an unfavourable tide produced not even a raise of a GT but at least a few Green Jobfish provided a bit of entertainment. JD (One Love) found a few Tuna and this Sailfish trolling off the island.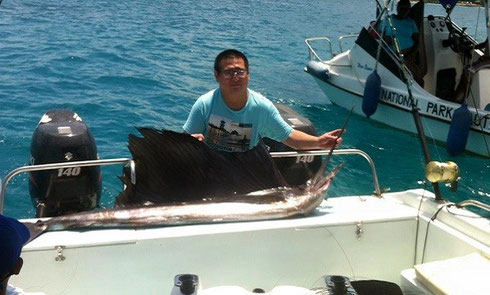 Special K also had an entertaining day going 2 out of 4 for Sailfish and raised 2 Black Marlin of which one got hooked but came off after an hour. Bycatch also was very good that day. Even better did Randy and his G9 sportfishing team as they achieved a Billfish Slam consisting of a Black and a Striped Marlin as well as a Sailfish. Great stuff.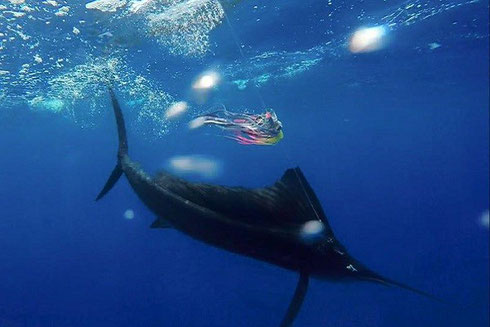 Sailfish could be found pretty much anywhere those days and also were quite active. Mervin fishing the Drop on the 6th released four that day which all must have been of good size. That day I went with Stephan to fish a bit south of La Digue. A few hours of jigging produced us a fairly steady flow of smaller fish like Green Job, different Snapper and Groupers etc. Rather unwanted but sticking out by size was this Shark that gave Stephan a good bit of a fight before we could release it.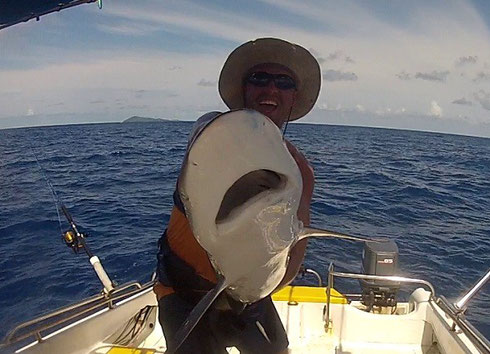 Also did two hours of popping that afternoon but again could not raise a GT apart from a little bugger I caught that weighed probably about 4kg and looked very untidy on top. Again Stephan got the better out of this attempt in the shape of this decent Bluefin Trevally.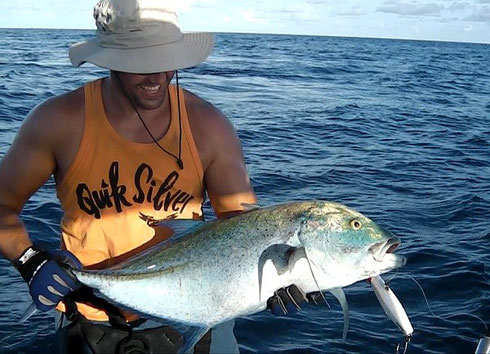 Along the following days the wind continued to pick up and fishing pretty much came to a stop. Mervin tried anyways on 3 consecutive days with different guests. The first two trips resulted in the clients demanding return to the island after just half an hour while the third group, from China this time, at least lasted until the first Bonito before having had enough of all that. Seems just the large boat Mantra fishing out of Mahe did another trip those days. Was well worth the effort as the releases of 3 Sailfish and a Blue Marlin clearly indicate. Only this weekend the wind started to settle at around 12 knots but the sea is still rough. Martin (Venture) did a half day trolling this morning and returned with a dozen Bonitos, a Barracuda and a Tuna. But this was all to report from the first half of the month. 
For the preceeding reports check the archive.