Now the second half of the month has passed already and along the usual changes of wind directions we encountered two short spells of a few days when it blew from north at up to 15 knots. From my experience this is unusually early and had some effects on the fishing, too. Those incredibly many Sailfish we saw close to the islands for months have made themselves pretty invisible during those spells while else they were still caught in reasonably good numbers. Christian (Djab Lavwal) reported two on the 16th, other boats got some and the smaller Gamefish were very cooperative throughout. Marlin fishing is good along the Drop south or east. The new 54ft Riviera skippered by Graham out of Mahe released this one and a Sail on top on the 17th.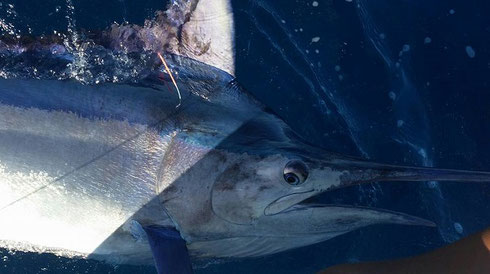 Here around Praslin Lester (Lazio) had a small one, other boats hooked or at least raised some, and Roman from Poland fishing on the boat Wahoo lost one estimated at over 200kg that straightened the hook. But at least the group got Sailfish plus loads of Tuna and other Gamefish on their first two trips. On Mahe the 9G Sportsfishing Team released another Broadbill and weighed in this Blotched Grouper at 13.1kg which tops the current world record by a stunning 60%.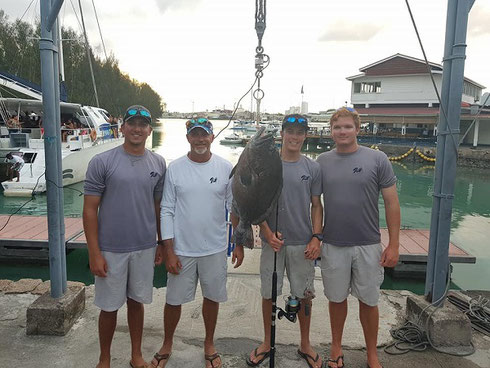 Mervin gave me a call from the cat he had spent 10 days on around African Bank and Remire Reef as soon as he had network. Summing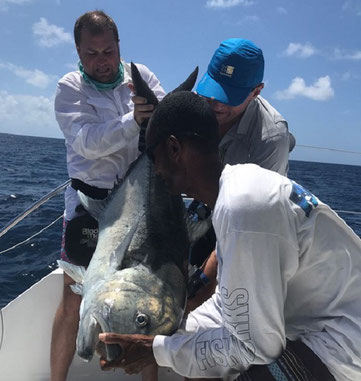 it up in short style: jigging was rather tough despite many huge Doggies seen but these would not even accept livebait. Popping was great though and produced an average of about 20 GTs per day of up to 40kg. Casting for Tuna and Sailfish worked nicely too and was topped out by a 200kg Black Marlin caught on casting gear and of course released. Three rods broken and two reels burned so all in all what you would expect from such a trip.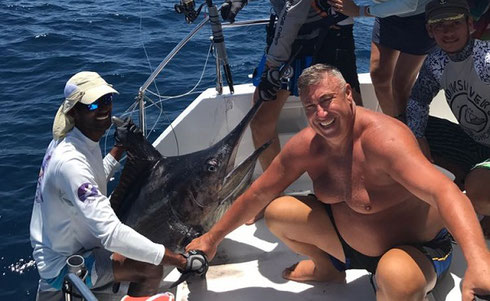 Here around Praslin topwater also went quite well apart from the fact that the GTs were sluggish for a few days. On the 25th popping north of Praslin I did not see a single one but instead hooked a Doggie out of a bunch of 25-30kg fish for a moment and two Rainbow Runners instead. The first one of those was eaten under the boat by a huge silver shadow nearly my size and the subsequent run was unstoppable despite closing my drag from the standard 13kg to I don`t know where. Was sure to finally get spooled for once but with some 150m of line out a coral `saved´ me from that humiliation. Uploaded the short GoPro clip of that incident on the facebook site and with volume full up one can just hear the scream of my poor old Dogfight. Was a hefty experience. Think this can only have been a +60kg Doggie as any GT that length would have been an 80 or so kilogramm fish and I guess even we here probably do not have that to offer. Of course I would have loved to present you the culprit but no chance at all so you have to make do seeing the other Rainbow Runner from that day.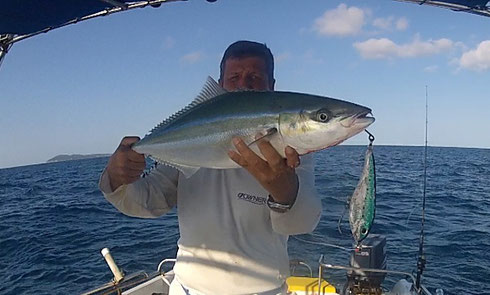 Two days later I forced myself on the boat at 4am to be on a spot at first light. Conditions were from the textbook and I was sure to pick up at least one good GT from that area a good bit south of Praslin. Full disappointment instead: only raised one, a Bluefin Trevally and a few lazy Doggies in the 20kg range without getting a single clear hit out of those. After 3hrs in already falling tide switched to the light jigging gear and this was what those Doggies wanted. Even with just a 30lb leader it might have been possible to prevail with patience in open water but not in between those rocks. On top of all at the second cut-off the spool of the tiny JiggingMaster overspun and the line irresolvably went behind it ending that fishing day early and made it one of the worst I had here so far. On the 26th in still pretty much perfect conditions I tagged along with skipper Greg on Aquatic Dream  taking Roman and his group for GT popping. But no matter what and where we tried only a single one came up without hitting. But at least the group was totally excited to get to see the largest fish of the oceans as this Whale Shark paid us a visit.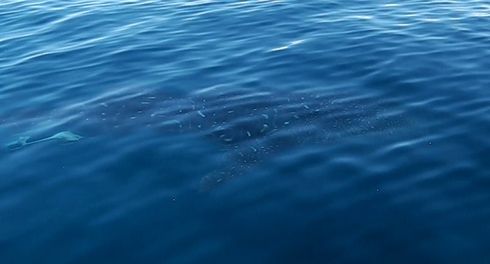 Coincidence or not: in the wake of this always and again fascinating creature the activity soared for a short while. A few Sharks gave the anglers something to sweat and moan about until the usual cut-offs, a reasonable Doggie of around 30kg raised several times and a few smaller fish were caught. Only better one caught to save the day though was this Yellowfin Tuna picked up with a flock of fishing birds on a popper later.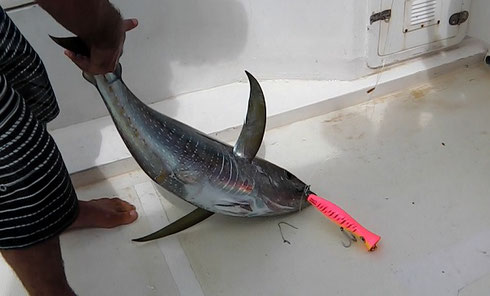 The next day again with Greg on Aquatic Dream it was Andreas from Germany who wanted to experience one of our GTs. He had one on for a moment early that morning within his first 10 or so casts but after that promising start all places we tried were completely lifeless. Jigging near islands around noon and despite low tide worked nicely though with mainly large Bonitos and Yellowtail Trevallies.
With the water rising again in the afternoon and amidst by then pretty hefty wind from north some popping with the birds over deeper water produced good action. Bonitos and Tuna were eager for the topwater lures and the taxman for his share.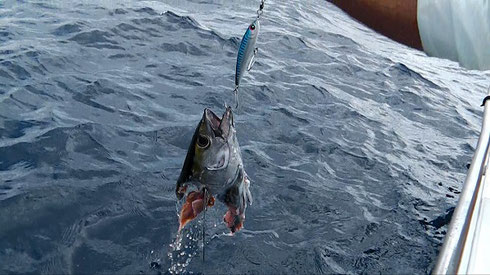 Same time Roman and his group were venturing the rough seas on Wahoo again enjoying some really great trolling: two Sails, a Black Marlin, Wahoos, Tuna, Dorados … just great fishing. Sad though that this boat`s crew takes everything which spoiled Roman`s experience to a certain degree as he would have preferred to release. Along the following night the north wind blew at around 15 knots so his jigging trip to the Drop planned for the following day had to be postponed. Going on Aquatic Dream once more we were there at 6:30am Sunday morning but after only 20 minutes or so it was clear this was going to be a tough one. Firstly Roman and Oleg had their troubles with the jigging technique new to them. And secondly it was not one of those days when it does not really matter how you animate you jig: the sea was flat like a mirror, no wind and worst of all an ever changing current. In such conditions the fish do not feed steadily in a drift while the boat was going all over the place. So it took quite a while until the first Longmouth Snappers and Groupers surfaced. But this Tomato Hind was a bit suspicious at first glance with a view to the current world record standing at 2.35 kg. Back on shore the scale showed 2.2kg so pretty close and thus a really cool fish.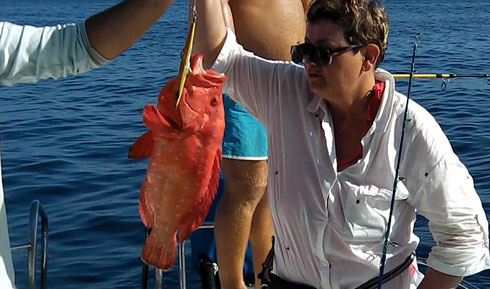 Along the following hours it required hard work by skipper and anglers to pick up the odd fish here and there. Also the Tuna surfacing to feed occasionally stayed up only for moments so hardly a chance to come close enough but Roman managed to get one eventually on popper. Else the marine life was stunning though with Spinner and Bottlenose Dolphins, even a few large Whales and those countless Manta Rays leaping into the air around us. We must have seen around a hundred along that day. Found a dead Sailfish some point or rather a half one as the back half was missing and also the remaining body showed some halfcircle bitemarks. The kill must have happened only a few hours earlier as the remains were still fresh and we checked for a tag but there was none. Neither visible injuries around the mouth so probably not a released fish but instead an all natural incident. Thus no boredom at all out there, just boiling hot, and eventually a few presentable Amberjacks and another Tuna took the jigs just before high tide to reward the tireless anglers. With some 10 or so fish caught  it was clearly a slow day far below the usual but with a view to the various obstacles I would have signed this right away if offered to me after the first hour.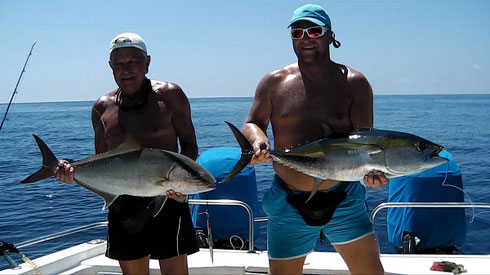 Roman not too disappointed due to his pleasantly realistic view of fishing was determined to try for a GT once again the next day. Was unavailable but met him in the evening after Greg had already informed me: on a formerly very hot spot I hardly managed to raise a GT recently they raised six in half hour of which some were 40+ and later elsewhere another two. Unbelievable that there was no hookup despite some of those fish went down with the popper clearly in their mouths. But again my theory got confirmed that even on spots that seem deserted the GTs are still around. The tricky thing is to be there at the right time for one of these activity windows so short because of the excess amount of bait. To decode these patterns would provide some GT fishing beyond imagination. Still working on it. Also interesting: with the light Southeast of the last few days the Sails made themselves visible close to the islands again. Mervin (Divinity) raised a handful on a half day this morning. The only one hooked came away though but still good news. Some more boats were out today but their results will only hit my newsticker tomorrow or so and of anything noteworthy from those you will learn about in the next editon.
Apart from a few windier days we enjoyed mostly calm conditons along this first half of the month here in Seychelles that finally allowed for all kinds of fishing again. Most pleasant on top that it all produced nicely. Mervin (Divinity) had a half day on the 2nd with unusually little bycatch but four Sailfish released. The day after I spent a few hours fly fishing and next to the usual smaller suspects managed to catch these two new species plus another two Bastard Mullet. Again and to my pleasure not blind casting as the visibility improved further but instead on proper spotting. Good fun as these are great fighters for their size.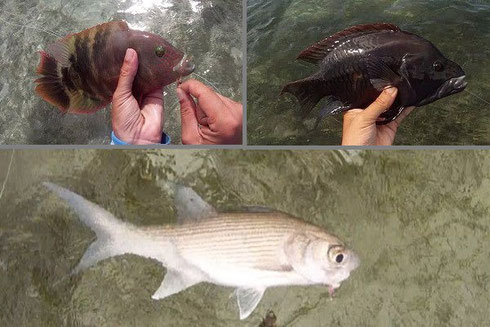 Captured one of these catches from the service to the landing on the GoPro and placed a short clip on the facebook site. Just click the link and scroll to Oct. 3rd. Might be worth doing so as along the way you will see numerous more pics of fish caught since in different ways that simply can not all fit here. No foto of another Broadbill this time though caught and released by the 9G Sportfishing Team out of Mahe that day. And absolutely nothing to show from the 4th when six boats fished out of Praslin. `Winner of the day´ was Mervin (Divinity) with a single Wahoo foul-hooked as the other boats did not even catch a single Bonito despite seeing Tuna, Dorados and Sailfish all over the place. Strange indeed. Kept busy by a visitor and the finally due stint of my boat at the boatyard I had no chance to check myself. But already the next day things had returned to normal and the boats reported the common mixed bags of smaller Gamefish and Sailfish in good numbers again. Mervin was ordered by a Chinese guest to return home after only 1:45hrs of fishing with two Tuna, a Wahoo and a Sail that the guy insisted to boat as he was adamant to take that Sailfish in whole back to China. Must have had a pretty big suitcase. On the 9th finally got a chance to test the boat and early morning after just 10 casts got this presentable Bluefin Trevally on my favourite stickbait.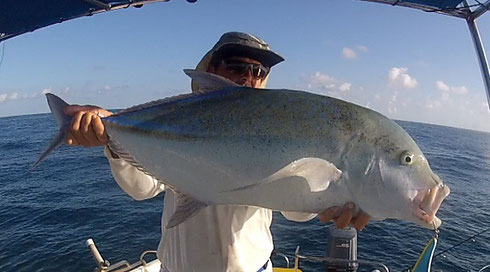 Along the following hour and a rapidly dropping tide a GT aimed poorly, another head butted the lure mouth closed and the next two just raised to drop back down lazily without further interest. From then on things slowed completely with the tide dropping, wind coming apart and zero current. Even the usually so entertaining light jigging produced hardly a fish and only with the water rising again in the afternoon the usual bunch of Jobfish, Groupers and Snappers came somewhat back to life. The GTs did not though without even another raise along two more hours of late popping. Just the Garfish were on.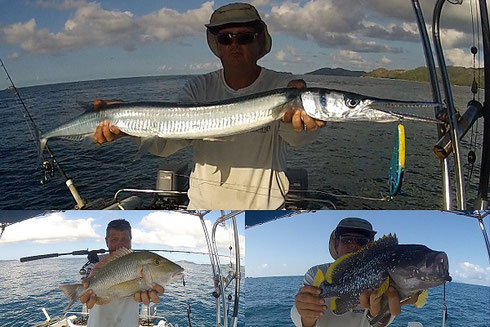 But was still glad as finally the boat worked all fine again and the new Raymarine Dragonfly sonar seemed a good investment. That good mood did not last too long though as the next morning stepping out of the house and as usually checking first thing if the boat is allright I found my outriggers missing. Some pricks (sorry for the wording) had actually demounted and stolen them that night. Clearly aimed at those as they brought the necessary tools and did not take anything else, not even the spare fuel can. First time something of my stuff went missing here in all those years but it still sucks a lot. Informed my local network of friends and hope some point the poles will stick out of the bushes or appear on some boat as such are impossible to obtain here (legally…) and getting new ones from abroad will be a lengthy and costly affair. Later that morning I went for a bit of filming with Erez from Israel who had chartered Greg & Phil for Drop Off jigging on their newly acquired boat Aquatic Dream. With a view to my pervious day´s experience I expected it to be slow until afternoon but no way: from the very first drop of his jig Erez kept catching fish upon fish. He is totally into Slow Pitch Jigging and it worked impressively, especially those Groupers were mad for it.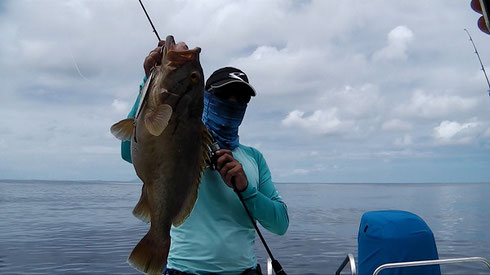 Phil on the other side tried the usual speed jigging with heavy gear for quite a while hardly recording even a knock and falling behind 0:20 on catches. Then Erez offered him his spare rod. Right away Phil started catching fish too and became the usual cheerful chap again.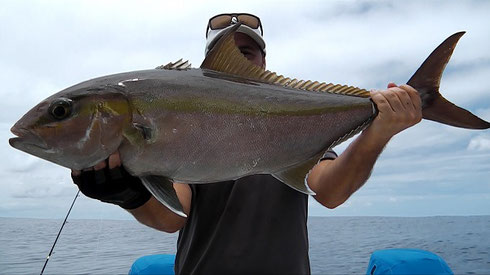 That jigging went on all day with hardly ever even just five minutes without a fish on and most of the time both rods were bent. Pretty much the whole assortment of fish surfaced: two not so large though Doggies, Amberjacks, Black Jack, Rosy & Green Jobfish, Snappers … you name it. Among those 60 or so fish caught I counted 15 species of which eight alone were different kinds of Groupers. What made the day really nice were those Yellowfin Tuna feeding around us every so often and not diving down when the boat approached. Three out of four fish up to nearly 30kg hooked on poppers and stickbaits were landed successfully.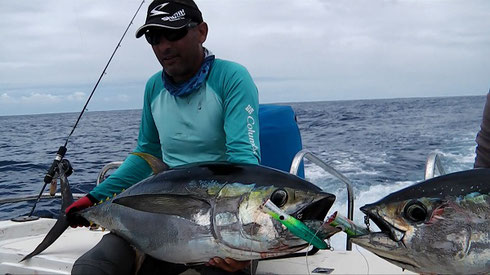 Not enough for a really cool fishing day? Well, there were also these two Sailfish playing around the boat for a while.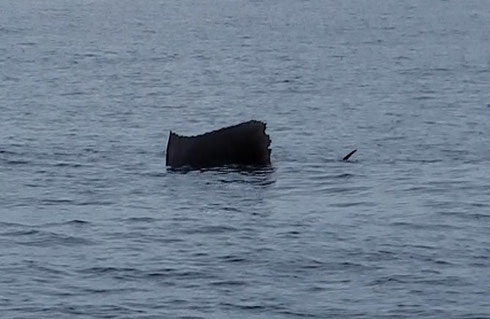 Casting for those after a miss Erez hooked up on with one that we released a little later. While reviving that fish his buddy came splashing crazily along the boat as if checking on us if we were doing all that properly. Nice on top that I caught all this as well as some of the live strikes on the cam so the clip turned out not so boring I think. Just click here to watch. Erez was pretty much over the moon and said this was his best fishing day ever. Quite a statement with a view to the impressive catches he showed us on his smartphone from other times and places. That Sailfish caught also performed nicely for the cam btw jumping a lot and even seemed to smile for a quick onboard pic.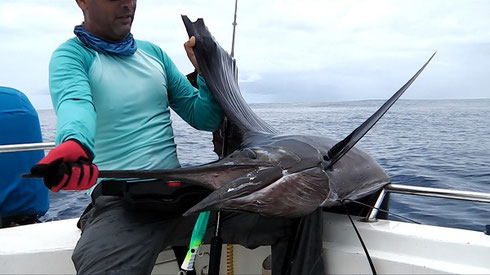 Topwater which still is and probably will remain my absolute favourite also worked well around the islands two days later. Had invited good buddy Stephan for an early birthday trip as to finally tick off his first GT and we were in place at first light. Took me about a dozen casts to be on with a good one that just towed the boat to his rock and the line got cut. Same game unfortunately an hour later and another great lure was gone. Never had such issues at that spot before and it shows again how important and recommendable those barbless single hooks are as to let those fantastic fish get rid of the lure. Would have taken all that with a grin if I only had hooked up with that enormous Bluefin Trevally raised briefly. Was a real monster of easy 25 if not rather 30kg and this one is high on my bucket list now. But what about Stephan? Was finally lucky after a few misses but in what special way. When that GT came up instantly there was no doubt: 40 plus!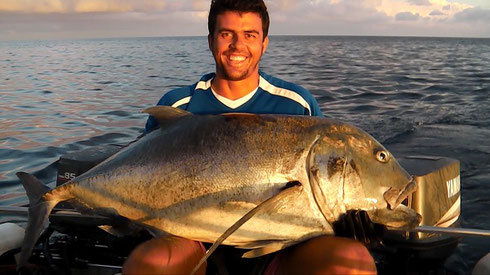 Hardly managed to lift it in, had to use both hands. The measuring tape showed a whopping 134cm fork length which according to the scientific formulas equates to a formidable 45.5kg. Such a barrel for a first ever GT is surely not common and I think most anglers will have to perform a lot of casts before having such a specimen under the belt if they ever manage at all. Admittedly the pic does not really resemble the size properly as Stephan is a strong broad shouldered guy and the fish`s head and tail are hanging a bit towards him but the measuring tape does not lie. Also we did not put the fantastic creature under too much stress taking the usual perfect pics so a quick pan shot had to be enough before releasing it with a tag. Still here is a pic from the GoPro to give you another impression.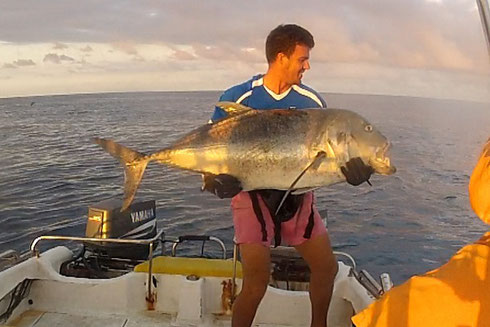 In not too bad a mood we started trolling two lines towards a jigging spot but had a sad encounter a little thereafter. Spotted a buoy that was moving along so we went to see what this was about. A young Manta Ray about 2m wide had entangled itself in a rope attached to the bouy and the other end of that rope dangled deep in the abyss. We picked up the buoy twice in an effort to free the poor thing but it panicked and there was no way to hold on. On the second attempt it dived deep with the bouy and all and we never saw it again despite waiting for quite a while. Really hope it manages to get rid of the mess somehow. Hooked up to a decent size Dorado on a small Halco Laser Pro a little later and when reeling in the other lure a Sailfish came behind it. But neither this one nor two more later liked that lure enough to grab it and also stickbaits cast produced no action. Just another Sailie some point really wanted that Halco and gave Stephan another blast on the light 20lb outfit. The release on those two treble hooks turned out a bit messy but eventually it swam away hopefully proud of its shiny new tag.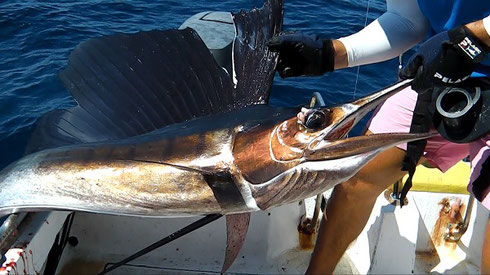 The ensuing jigging did not go according to plan though as the place was infested by Barracudas and Sharks. We caught a few of those plus some Yellowtail Trevallies and Jobfish but after losing half a dozen jigs stood there depleted and had to give it up. But at least I learned that my light jigging combo can deal with a Shark of 20-25kg which is good to know. But the main goal was achieved and all in all there was little reason to complain. Same was true for the charter trolling boats that also kept fishing and catching solidly. Mostly with Sailfish like Martin who reactivated his smaller boat Makaira and sometimes without despite one usually sees many leaping about all over the place. But if none could be caught by a boat the smaller Gamefish well made up for that like for Bertrand (YamSing) with 10 Tuna and 3 Wahoos or Greg with 6 Wahoos and 2 Dorados caught along respective half days. On top Martin reported a small Black Marlin so no boredom here around Praslin. Surprisingly little was heard of the Mahe boats though. Only Andrew (BlingBling) mailed a few pics of a good day´s jigging.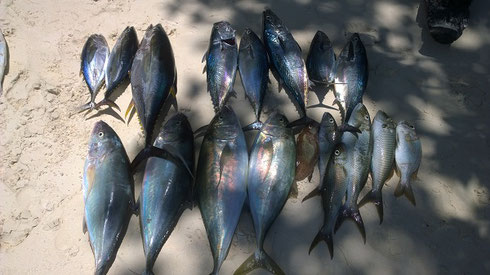 Maybe the guys over there are just fishing all the time making best use of the pleasant conditions as we had to wait so many months for those. Last but not least I gave it another try with the fly rod yesterday morning but had to work hard for just a small Pompano and a baby GT. Some point though a school of about 20 fat Bones around 4kg along with a few better Permit came out of the glare and settled right under the rod tip looking cunningly at me. The most decent movement of the rod made them bolt away though. Had pressed the record button on the GoPro before that but must have hit it twice. So unfortunatly no pic of this spectacular sight that would for sure have left some of you pretty nervous. 
For the preceeding reports check the archive.