After my long absence without any fishing at all a few calmer days right at the beginning for this month were obviously welcome. Right on the 1st I fetched the boat back home from Baie St. Anne and took a bit of tackle along. Could hardly have gone any better: already the third cast of a popper at the harbour spot produced a baby GT of about 8kg and a while later came another better one of around 17kg.  No monsters but a pretty perfect comeback to my fishing ways in Seychelles.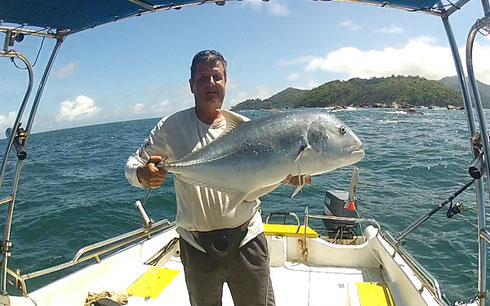 Next strike at the next spot seemed at first the father of all GTs. Just massive and black. Fish did not hook up unfortunately but came swimming along with the popper right to the boat revealing itsef as a Sailfish. Just 30m offshore and in 10m of water. All in all not bad for a quick boat transfer. Next day I tagged along with guest Russel and family for an afternoon`s trolling on Greg`s Bite Me. Was a bit slow with a small Wahoo, a Tuna and a Bonito plus a better fish getting away. Fishing in that area had been better in the morning as JD (One Love) had reported several Tuna and Wahoos while missing a Sailfish. On the 3rd Greg, Phil and their cousin Dominic went to the Drop, found the Tuna and caught 10 or so on poppers and stickbaits. All good size averaging 35kg. Again next day I figured in the morning that the wind had gone completely and the sea was flat so no time to waste. Unfortunately a bit late to hit the productive high tide but this smaller GT of maybe 10kg was in for a second breakfast.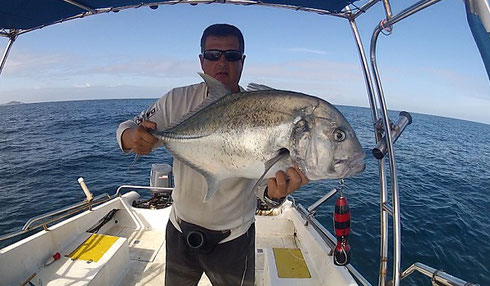 Did not really trust the wind so abandoned the idea of heading out to the further away jigging spots and stayed with a coral that often holds nice fish but is usually infested by Pickhandle Barracudas and Sharks. Most pleasant to find all these absent for a change so had a good time there after retiring the brand new jigging hooks bought for testing. These were abolutely useless hooking up only about 30% of the strikes and on top most of these fish dropped the hook some point. Same story with various hooks from the box so returned ruefully to my standard ones. That instantly helped to the usual suspects of Groupers, Snappers and Trevallies with this rare Threadfin as a bonus.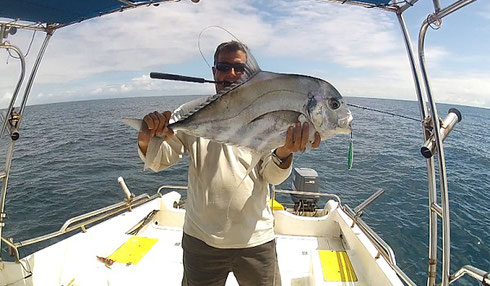 Had a chance to top up on that fish while popping again in the afternoon. Massive GT strike, rod bent and next moment the fish was gone. Realized only a few casts later that the belly hook had gone and a closer look revealed that the belly eye on the popper was also missing. Sheared off cleanly as there had never been one. Very disappointing, such should not happen with quite costly brand product. On the 6th the sea was still fairly calm so ideal for a trolling Drop Off trip with Jarna and Kimmo from Finland on Mervin`s Divinity. After a few rather unsuccessful trips in other places Kimmo`s dream was a Marlin which turned upearly but revealed itself as a real asshole (excuse me). That Black of around 200kg ran away deep and straight backwards of the boat taking nearly all the line only to suddenly leap in front of the boat. The fish tried that same trick later again, else stood deep most of the time and whenever we managed to get more or less on top of it the Marlin passed underneath the boat. Mervin was handling steering and throttles frantically to avoid a cut-off and when the fish realized this would not work just sat deep. It had picked the lure on the single 50lb outfit out of all the other heavier ones so Kimmo could just keep the pressure up to the line`s limit which eventually snapped after another hour. Bad enough but it should come worse. Only a few minutes after the lures were running again the next Marlin appeared. Mervin teased and hooked it, the fish turned to bolt away, the lure slid up to the swivel and next moment a Wahooo bolted for it cutting everything off. Two Marlin and two expensive lures gone within minutes. Poor Mervin was not happy. Trip ended with 8 Yellowfin Tuna all in the 30kg range by the way.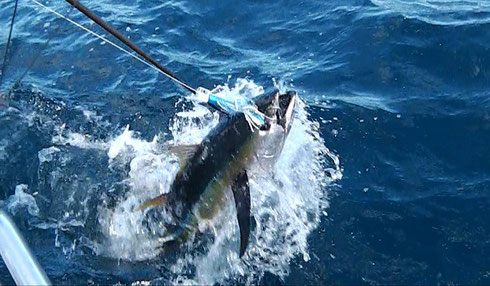 On top we got to see a Manta Ray, Whales and thousands of Dolphins out there so not a boring day at all. Next attempt to get Kimmo a Marlin was on the following day in meanwhile rather unkind conditions amidst rain, strong winds and high swells. A Wahoo, a few Tuna and a couple of Dorados had completed an Offshore Grand Slam when the Marlin hit. Visibly smaller this time and on an 80lb setup on top. That friendly Stripey was very cooperative and even seemed to enjoy ending up on delighted Kimmo`s lap for a quick foto session before it was released.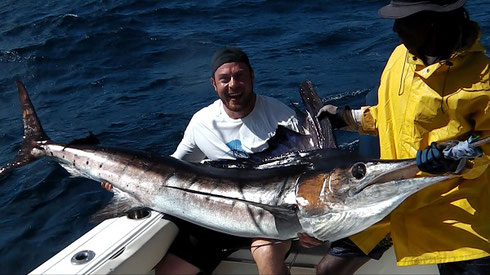 After that successful but quite tough trip especially for brave Jarna I was surprised by their inquiry for another trip. So on the 9th we all went once more in rather rough conditions but it paid off. Again a handful of Tuna and a Dorado provided a bit of a warmup when suddenly the shotgun lure was hit hard and the line went running. Luckily it was an 80lb outfit again as else this would have been trouble. We all were wondering for a while if this was a lazy non jumping Marlin or a doubtlessly big Tuna. Turned out the latter and after an hour Kimmo had to provide a helping hand to Mervin and Leslie for hauling that real barrel of a whopping 85,2kg onboard.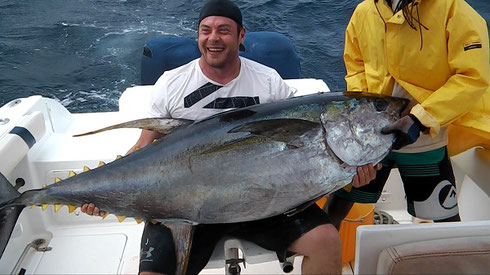 It was an absolutely massive fish and along with the Stripey features in this month`s video clip. The so pleasant couple kept smiling as we all actually did for the rest of the day despite not much more happened. We had seen many Sailfish on the surface already in the morning when heading out and it was the same story trolling back. But whatever lure offered they did not even bother to come window shopping. So these were nice and interesting fishing days along the first part of August triggering hope for more. But the Southeast really came up and settled around 20 knots for most of the month left. With so plenty tourists around boats still went when it dropped just a little bit but many trips ended early. Half way to the Drop Mervin was ordered to return by a guest so they played around a bit in the La Digue Channel and Mervin managed to hook not just one but two GTs. Unbelievable as living close I popped that place I don`t know how many occasions without ever having seen a single one. The guy is really a phenomenon.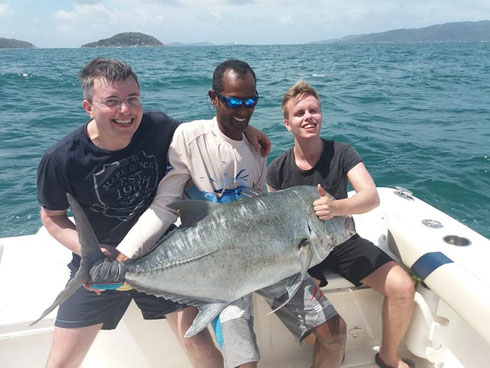 He and Greg did two more Drop Off trips each and every time it ended with a good catch of Yellowfin Tuna. No more giants but good size fish mostly in the 30-40kg range. If these continue to stick around until the Southeast settles we should be up to some real cool Tuna popping. Also some of the so often cut short trips closer to the islands produced nicely with a Sailfish every so often and one boat had four along a half day. Similar story around Mahe with Tuna stacked at the southern Drop Off. Also bycatch is good with Doggies and other stuff trolling the elevations along the edge.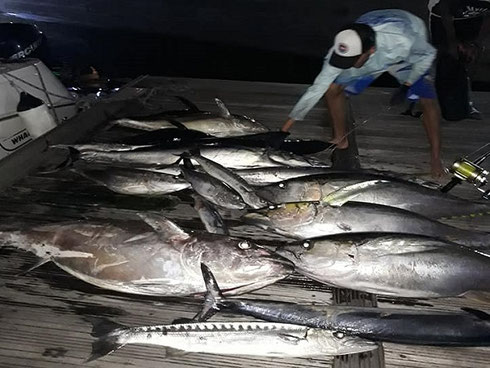 So going out is worth it if one can make it. Am sporting a bit of a long face though as heading out there alone on a small nutshell is just too risky. But last week I had to move the boat a bit and charge the batteries. Hopes for reaching the La Digue Channel eroded right away when reaching the exit of the bay. Nothing left but to jig a bit which was tough enough in nearly 20 knots of wind and a 2.5 knots current. Just better than not fish at all and after grooving in it turned out okay. The Fugu for a start was not on the bucket list but in due course a not so bad mix of fish came up and was welcome at my old friend Ton Pierre`s kitchen.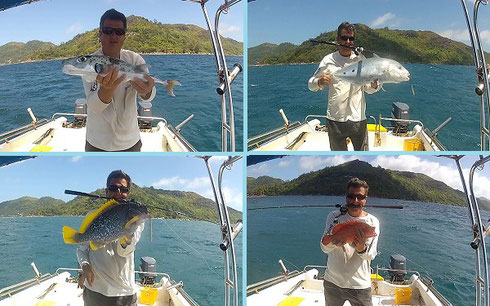 Nothing special but hard worked for. Options of resorting to fly fishing were also extremely limited. In these winds the flat in the west of Praslin can only be fished at very low tides in the lee side of then fallen dry sandbanks for a little while until the water runs over those again and brings the weed. Tried twice but found nothing more special than those small Snappers when stripping above the turtle grass. Generally difficult Anse La Blague is fully exposed to the wind. No chance to cast beyond the reef and not recommendable to go there anyways looking at the size of the breakers. Only little corner left to somehow fish there these days is at the south end where the inside is protected a bit from the waves by the slightly elevated outer reef. Had never caught or even just seen a better fish there though. Still tried once more yesterday craving a bit of fishing and lacking any alternative. Seeing that quite decent Permit provided motoívation and eventually catching it was a real delight.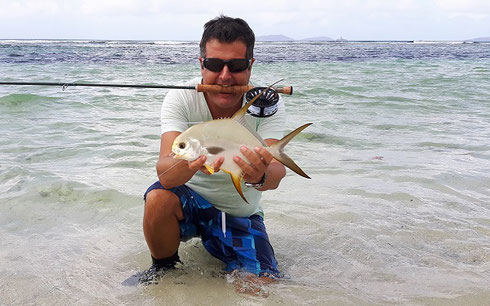 Only area somewhat protected from the wind these days is the south end of Cote d`Or bay but sadly the whole month an undercurrent turned the water very murky and brought in loads of weed that stuck around. Still tried a few times getting the usual tiny Snappers, small GTs and other Trevallies. Bigger fish were splashing and chasing further out occasionally but stayed beyond reach. No good wading in that murk without being able to see one`s feet and thus neither the stingrays. Despite these odds I managed to catch my so far biggest fish on fly. Had the impression that something was moving in the thickest soup close to shore, got a hookup and the fish while heavy was rather slow and lazy. Had a suspicion already which turned out correct when the Shark eventually showed. It was hooked just outside the mouth which explains why it did not cut me off and makes me believe the bugger also did not see too well.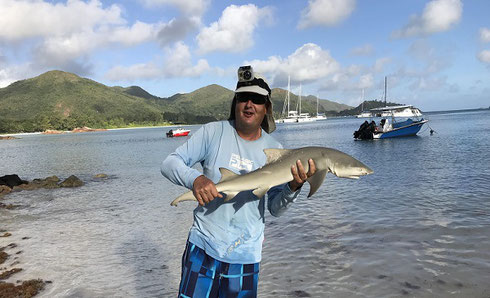 The hotel guests enjoying their breakfast got all excited, came with expectable questions and cameras clicked a lot. Kind enough of one of them to mail me his pics so you get to see the fish too. Was unsure about the exact species but Mervin identified it as a Bull Shark. Nothing wrong with catching such once but don`t need more of those. This morning it looks as the bay would clear up at last and for the weekend even the wind is forecast to drop. Hope this will materialze. Boat fuel is standing ready.
For the preceeding reports check the archive.