The last report had just gone online when only hours later that strong wind started to drop and from the following day onwards we were pleased by calm conditions and winds mostly between 2 and 10 knots. Only small cells of bad weather brought a few stronger but shortlived blows and as the islands have filled up with Easter tourist quite a lot of fishing took place. My German friend and former table tennis doubles partner Daniel usually does not fish at all but along his visits here over the years started to like little bits of jigging during sightseeing and snorkeling trips. Visibly some talent in that guy.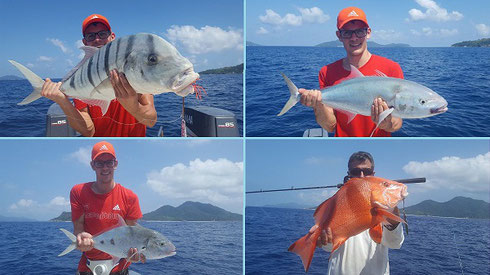 Those days Greg had a group of anglers from Belgium that were running a jigging and popping competition among themselves and as they were too many for just one boat Simon`s Island Rhythm skippered by his son Brendon were part of the event. During their tournament the group caught good amounts of fish but as before the big ones were missing at the Drop Off. Same time Mervin and our Israeli friend Kobi who had come over from Mahe after his cat trip were dealing with the same headache.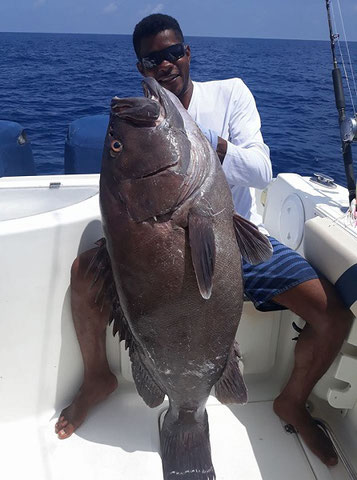 No lack of Jobfish and the other smaller stuff but about the only good catch within the first couple of days was this admittedly hefty Grouper of 42kg.The Yellowfin Tuna provided some variety turning up here and there but most of the time only briefly so topwater fishing for them was not really consistent. Thus it was not long faces but without the Amberjacks and Doggies neither real excitement as far as the jigging was concerned. On the 19th though Venture reported a great day`s catch of exactly these sought after prospects.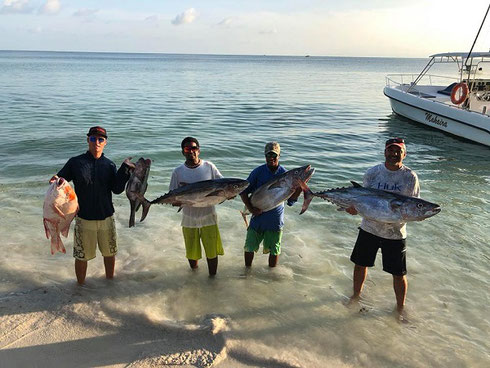 In Martin`s absence his son Pierre had skippered the boat and nice enough he made no secret out of where he had found the honey pot. So the next day Mervin went just there with Kobi and myself as camera guy. Good move as indeed the fishing was red hot and Kobi on his final day really got going. The Doggies were not huge at up to 25kg but the variety was there and the numbers too with some 60 or so fish caught of which most were decent.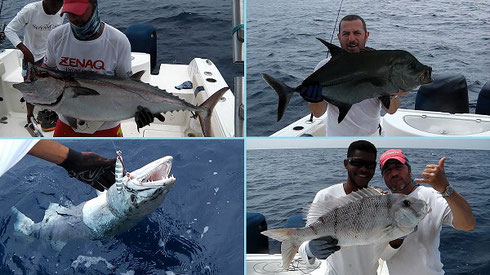 Was really entertaining and I think the video is, too. Watch it here if you like. Some of Greg`s Belgians had stayed for a few more days fishing and also got what they were wishing for in that area. Doggies, Black Jacks and especially nice size Amberjacks of up to 27kg provided excellent fishing and ensured the bunch left happily.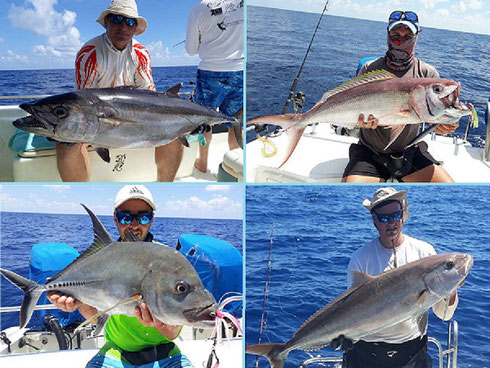 On top the good mood was fueled by good results during two half days GT popping around the islands.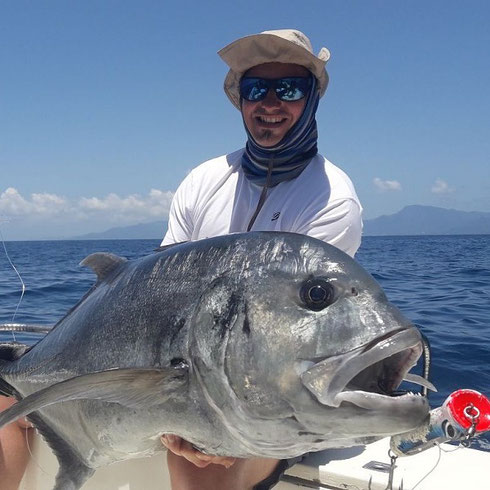 Out of numerous GTs raised they managed to get three eventually. Here is another one.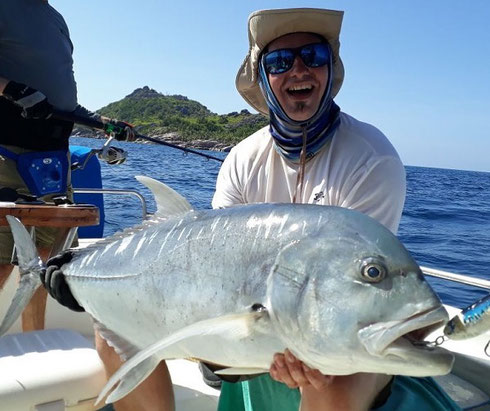 Meanwhile Mervin kept on jigging with repeater German guest Herbert and his son Marco. That particular area at the northwest Drop Off continued to produce and also a bit southwards round the corner fishing was first class. On the 28th though when I tagged along we started a bit further west and it was slow. Moving eastward we got Doggies, Amberjacks and the other usual stuff again but not in the sizes and numbers as before. Was blistering hot without wind that day which might have played a role and every single of the 30 or so fish had to be worked hard for.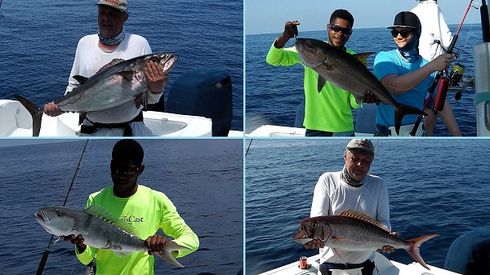 The 29th was Herbert`s last fishing day and this time they tried the southeast area of the Drop but there again the loads of fish visible on the sonar and on the shallows even bare–eyed under the boat were not willing to feed. A bad weather front cut that day short on top of all forcing them to troll the long distance home. Trolling trips we saw quite many along the last two weeks with all those tourists around and as usually with those many were half days often combined with some snorkeling and island barbecues. Catches were the common mixed bags of Yellowfin Tuna, Wahoos and Dorados every so often topped up by a Sailfish which are around now in better numbers again while quite moody. This one is from Special K caught and released out of Mahe where the situation was about the same.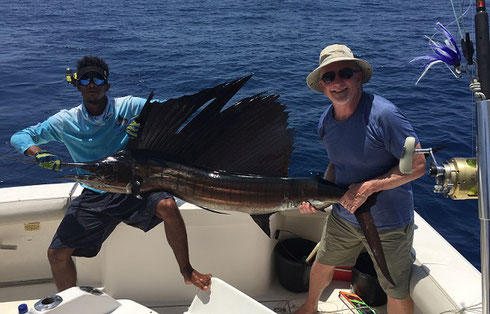 So this fishing also produced nicely. Just the Marlin let us down a bit. Some boats reported raises and a few hookups but I have not heard of any catches apart from the usual suspects of the 9G Sportsfishing Team. As right after my mentioned guest from Germany I hosted another from Mahe unfortunately  I had little time to make use of the good conditions. Was able to fit in a few flyfishing stints though. One of those was with Mario mentioned in the last report. When I arrived he had already caught a few not so bad Trevallies and I lost one of those. A few days later this time meeting up with last year`s visitor Rob from South Africa it worked better.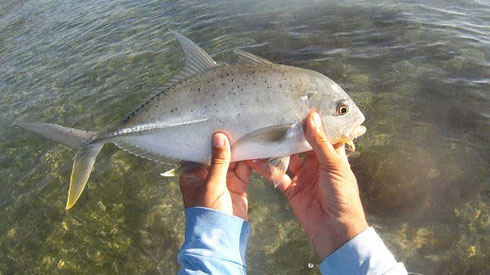 Not a big fish but great fun on the light gear. At twice the weight those will be a real job and at twice the length definitely trouble. Can`t wait for that. In the bay off my place the water is still quite murky but for a few days it cleared a bit and revealed that those Permit often feeding on a particular rock have grown substantially. The largest one of the bunch is now close to 60cm and thus a proper target. A first attempt got me there half way.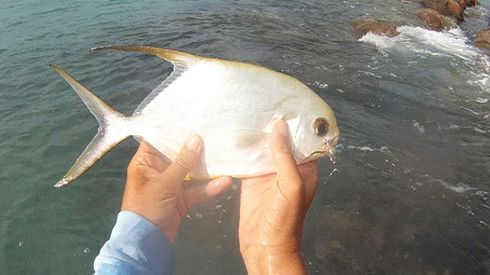 Also those Queenfish roaming the area every so often became visible again and remain another task. So far their only reaction was to bolt away but this time one followed twice which gives me a bit of hope. Two Bonefish though were not at all convinced by my service or offer while small fish came plenty as usual for everyone. Also spin anglers did well here recently. Oliver still familiar from the last report was nice enough to send a few pics of his catches.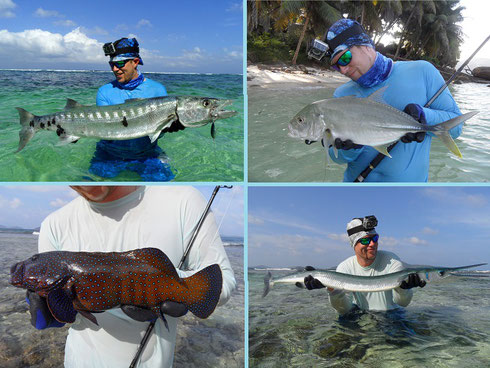 Visibly with persistance and a bit of luck fishing from shore or wading can produce nice or even really cool fish. So pretty much the land of milk and honey here these days. And possibly things will even get better in the future. The IOTC (Indian Ocean Tuna Comission) stated that all by-catch of the Tuna trawlers fit for human consumption must not be discarded any more and these catches will be part of the quota. Not sure if my information is fully correct but I would assume that the loss of biomass interesting for us anglers should reduce by roughly half now. A few years ago when these boats did not dare to go out at all for a while due to the now subdued piracy threat the effect was remarkable. If we should get just half of that effect but now on a continuous basis this should drive the allready not so bad fishing here to an even better state. Would have no complaints at all about that.
Since last Sunday and as indicated by the forecasts the wind had been picking up and is blowing at 20 knots these days. Reason is a Cyclone building up in the South that works like a vacuum cleaner creating this late northerly blow.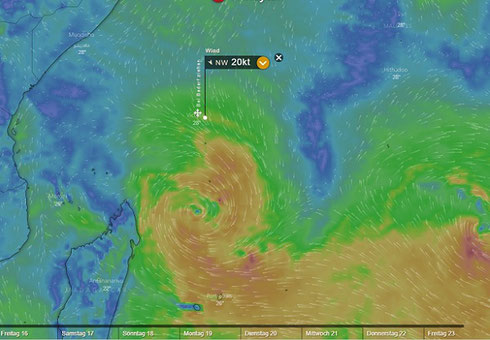 Thus there is no thinking of fishing these days and I would have had time for a detailed report. But despite quite a number of trips there is not that much to tell unfortunately. Jigging at the Drop Off is still not back to normal. On the 2nd Marcel hat a reasonably okay trip with Mervin (Divinity) but nearly all better fish came from the shallower areas and had to be found between countless and crazy Jobfish.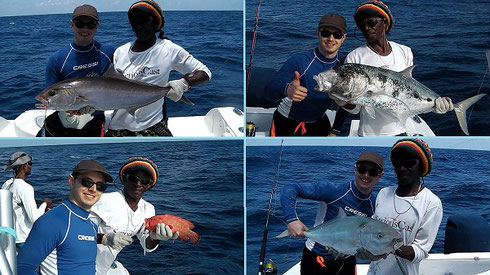 On the 5th it was pretty much the same story for him and his fishing partner Oliver. Not a single Amberjack all day but at least we finally got to see a not so large though Doggie after a while. And again the Jobfish were nuts so the total tally added up once more to 50 or so fish caught.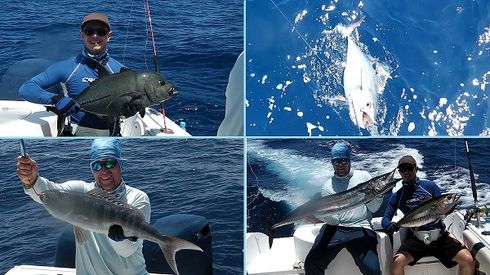 The day before I had also tagged along with Mervin. This was for popping on the plateau with Finnish angler Markku. The outcome was two Dorados and a tail hooked Garfish on Stickbaits but only a smaller GT showed along that day. Another half day for Markku with this time Greg on Aquatic Dream did not develop much better with a Shark raised and underneath that one a silver GT silhouette turned away. Thus the only catch of that trip was eventually this Greater Barracuda caught by Greg.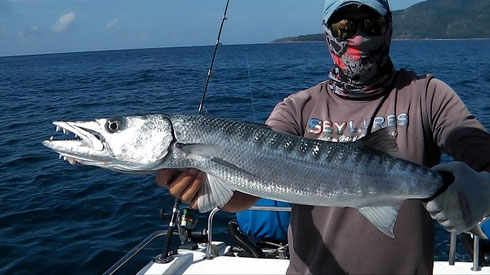 Markku who is an avid angler and extremely nice chap really was unlucky here. One fishing day fell prey to a technical boat issue and the last one, this time with Mervin at the Drop, neither turned out the way I had wished for him. With some 70 fish caught it was not really bad but once more the deeper waters did not produce and the variety had to be picked from in between those thousands or rather millions of Jobfish.
At least the size of those was reasonable but the Doggie he was wishing for or at least an Amberjack would just not come to him. Really hope he will return some day and can experience our fishing potential at its best. Or at least at normal levels. On the 11th, thus just before the wind became strong, it was the Drop again with Mervin. Bit further south this time and with Mario from Germany who is a versatile and experienced angler but has never jigged before. Not so sure if this will become his new addiction now because there and then it neither worked in the deep nor on the shallows with just a few Groupers and a tiny Amberjack in several hours. Most welcome that the Yellowfin Tuna came up even as it was just for a little while. Long enough though to get two on popper while a clearly bigger one got away.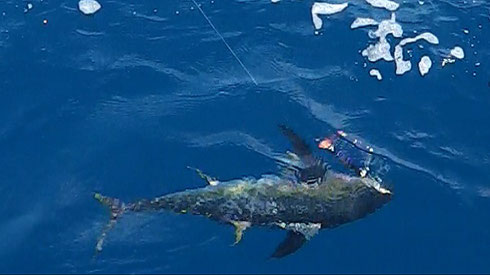 A little later we siwtched to trolling for the last few hours and that worked reasonably well: two Sails raised and despite these were only window shopping it was good news as they had been pretty much invisible here for the last few weeks. Another Tuna, a Dorado and three Wahoos ended up in the fishbox so this way Mario at least got a little taste of some of our many different fishing options and was happy with the overall experience.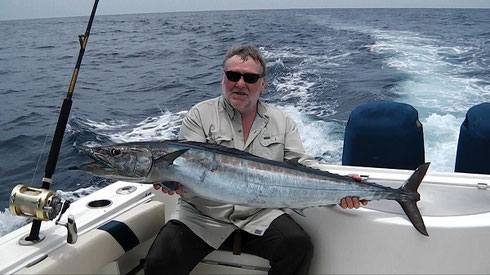 Generally trolling has stabilized a bit along those last two weeks. Smaller Gamefish have become more reliable again while numbers continue to be a bit erratic. Greg fished two consecutive half days and while the first of those ended with a pretty full mixed bag a single Dorado on the second must have felt pretty lonely in there. Other boats also started to see Sailfish again and a few catches were reported as for example by Bruno`s boat Eve while all in all the Drop Off remained more productive than the plateau. Not much news from Mahe also beyond the usual catches except from the 9G Sportfishing Team once more that had 4 out of 6 Marlin again on a trip. Wow.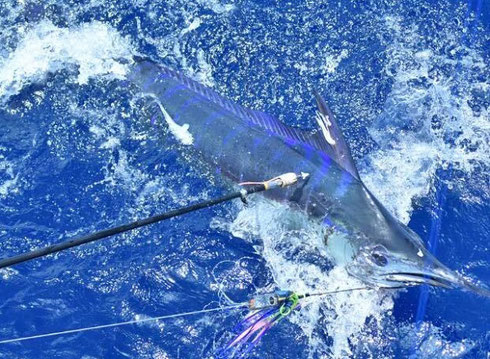 My Israeli friends had been on a catamaran trip to the northern Amirantes and the western Drop Off. Could not come along and neither Mervin. Suspect that the latter missing had a bigger effect on the this time not quite so brilliant catches but some good fish surfaced and a number of bigger ones could not be stopped. Must have been Doggies of the +80kg category as I know the quality of their gear and how well the guys fish.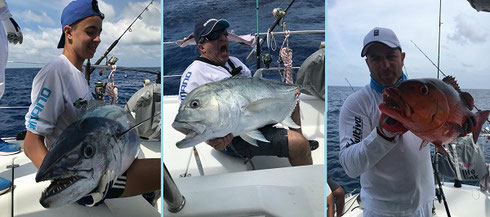 Last but not least a glance at my own fishing but this will be the shortest part: after the fingers had healed the many trips I accompanied only left time for two short fly fishing stints. These produced the usual small catches while this one Thumbprint Snapper stood out a bit. Seemed pretty large to me but probably just because all recent catches had been so small.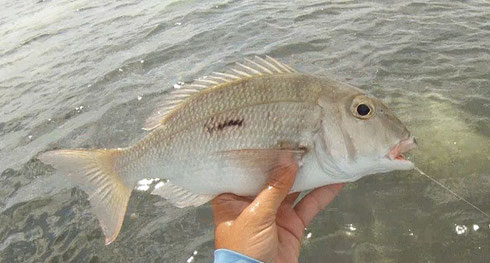 Forecast predicts the wind will drop by the weekend so am curious if I will finally get a chance to fish properly again or what this time will bugger my plans.
For the preceeding reports check the archive.