This final report for 2015 also comes rather short due to very few outings. On the 15th Alati fishing the Drop Off reported a Black Marlin missed and a Blue of 120kg tagged & released. On the 16th fetching my boat back to my place an early hour of popping the harbor rocks produced no action at all. Another spot held a bit of activity but neither the handful of smaller Jobfish nor the 2 GTs of around 20kg got hooked. Greg (Pipsqueek) and his to guests fared better fly fishing and had an entertaining day with some nice catches.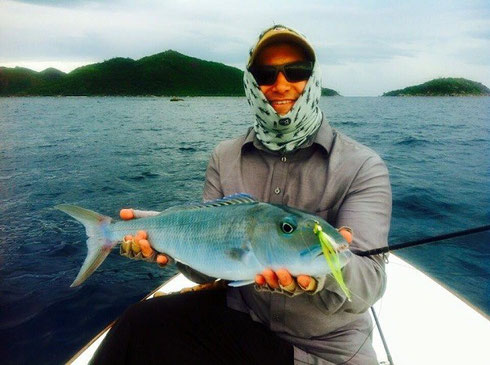 Manfred from Germany went out on th 17th with Daniel (Blessed) for Bottom Fishing which produced them some Emperor Snappers and a large Yellowtail Trevally. The following day they went trolling wrapping up his holidays in style with Bonitos, 2 Barracudas and a Sailfish that was released. Same time I tested some aeas with bait to find out if those had any potential for jigging. The first place produced some smaller fish but with a current of nearly 2 knots it was tough to fish even with a sinker of 300 gramms. Another place a bit shallower worked better. Among several small Coral Snappers I caught 3 Emperors of which this one was the largest and most welcome for our Christmas Diner.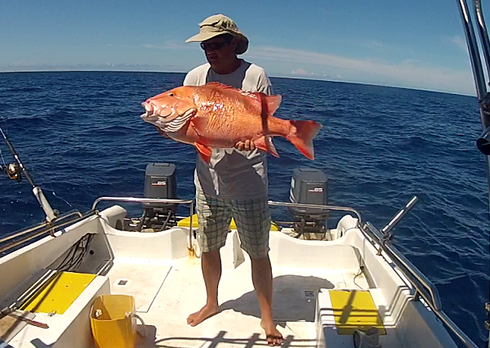 Just after getting this one I dropped a jig and hooked up to another same size. Unfortunately it threw the hook just 5 meters beneath the boat. Along the following days the weather remained calm and nice but due to so few tourists there were no trips out of Praslin. On the 23rd I went to check those jigging spots south of La Digue that had been productive until February but fairly dead since then. Drifting with bait produced about 20 smaller fish but apart from the usual Pickhandle Barracuda infestation that was all. Also the usually productive popping spot does not work these days as far as GTs are concerned. Sharks seem to have taken over completely for now as I raised about 10 instead. Guess I will leave the area alone for a while. On the 24th I tried the west of Praslin instead to get a proper Christmas catch. A few rather unmotivated casts at the double rock around noon surprisingly produced a massive GT strike but it did not hook up. Maybe better that way as there I have not been able yet to keep a fish this size away from the rocks. The bank further out held quite a bit of activity and in the course of the following hours I caught 3 Jobfish and a Barracuda while missing 3 solid GTs all around 25kg. The attacks again were rather half hearted though and only late already I got this tiny bugger on. Not really what I had aimed for but still better than nothing.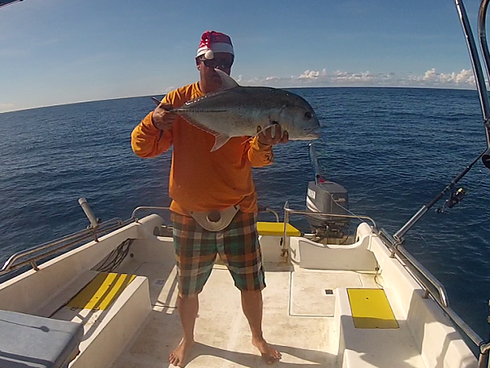 That same day Faizal fished on Special K out of Mahe. It seems to become a standard in Seychelles to catch 2 Marlin in a day as he released a Blue and a small Black on top. Many thanks for this brilliant foto.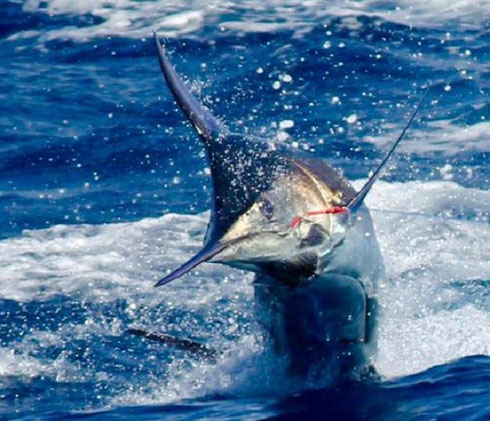 As the forecast predicted rather bad weather for the days to come I took my boat back into the protection of Baie St. Anne on the 25th. The usual hour of popping at the harbor rock resulted in nothing but a cut off by a Shark. Along the following days the weather indeed turned quite ugly with northerly winds exceeding 20 knots at times and lots of rain. Most unfortunate as for the holidays the islands as usually had filled up with tourists. Saturday the weather was just bearable so Mervin (Divinity) went for 3 hours bringing home some Bonitos and a feasty Wahoo while the larger boat Sailfish on a half day was lucky enough to get a Marlin of around 120kg. Only on the 29th conditions started to calm just enough for Martin to do a trip on large Venture. Fishing was really good though with 3 Tuna, 2 Dorados, a Wahoo and a Doggie each plus two missed Sails on top. Special K also braved the still very rough seas and was rewarded by another smaller Blue Marlin.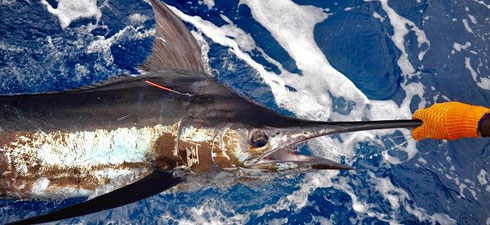 Yesterday the wind had dropped a bit more but it was still too rough for me to go popping. Mervin went to the Drop but had some troubles as the whole area was covered with seaweed and he caught only two Yellowfin Tuna out there. Luckily on the way back a Wahoo and two Sailfish took the lures. One of those got away close to the boat while the other was released. Bertrand (Aquaholic) went for some Bottom Fishing mainly which went very well looking at the amount of Emperor Snappers that should last him for a good while.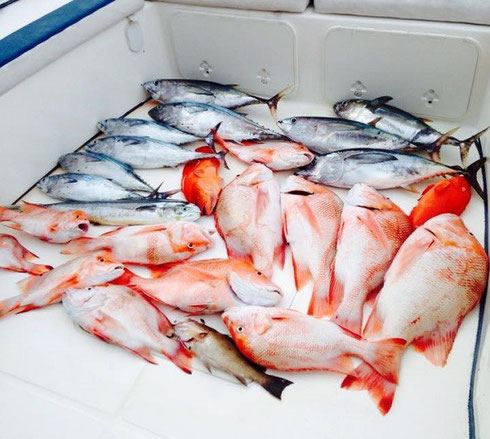 Today the wind had calmed further and Mervin went out again. Probably some more boats are out today and you will learn about any results in the next edition. Would have liked to find myself a proper fish to end the year in style but it is report`s day so no chance. Hope that the weather will now stay nice for a while and that this swell hitting my place will finally settle as I really want to bring my boat back and go fishing properly again. So that´s been it for 2015. Remains to send out a big Thank You to all readers and of course all the skippers and anglers that have contributed information, catches and footage for this format along the last twelve months. And of course to wish you all a Happy and Prosperous New Year!
Certainly this year`s beginning of December we see more tourists than usually around this time. But still it is the annual off season touristwise so the islands are comparatively empty. Nice weather along the first week of the month still made some anglers go out and right on the 1st Manfred from Germany had a good time. Fishing with befriended skipper Daniel on the new boat Blessed his first outing for 3 hours produced a Dorado and a Sailfish to give his holidays a good start. A lot more action encountered Greg (Pipsqueek) on a half day catching a Dorado and two Wahoos that had seemed disappeared for a while until then. But at least that day they were around as they missed 4 more on a trolled deadbait and lost two close to the boat. On top a Sailfish and a Marlin showed interest in that offer but did not hook up so Greg`s guest had a very entertaining time.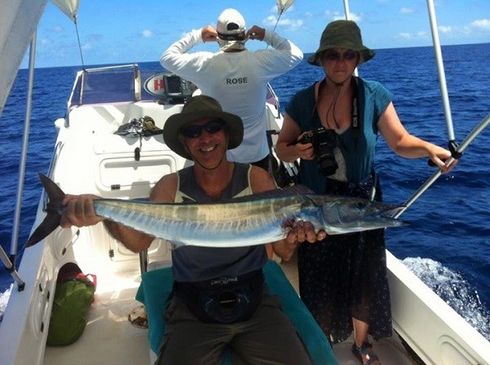 On the 3rd I went with Manfred and Daniel to find out how the guy fishes. As far as the results are concerned there was little to learn though as in 3 hours we only got a single knock despite the area being full of birds, bait and visible activity. Must have been one of those days as two other boats working the area also reported only a single Bonito each. Lester (Lazio) fished further south catching 2 Dorados and 4 Skipjack Tuna there while Delfino also had to work hard for 2 Dorados. That boat the next morning just after Lines In hooked up to a Marlin of 180kg though needing the whole 4 hours of fishing time left to bring it to the boat. The smaller Gamefish became a bit more active again: Mervin (Divinity) reported 2 Dorados and so did Greg along with another Wahoo on half days. Seems the Drop is still the place to fish as Alati released a Blue Marlin of 80kg and a Black of 150kg. On top Eric who I had been in touch with prior to his trip had a good day`s jigging at the Southern Drop. Fishing out of Mahe the boat Aque Vita returned with the usual suspects like Black & Yellowspotted Trevallies, Doggie, Jobfish, Tuna and so forth.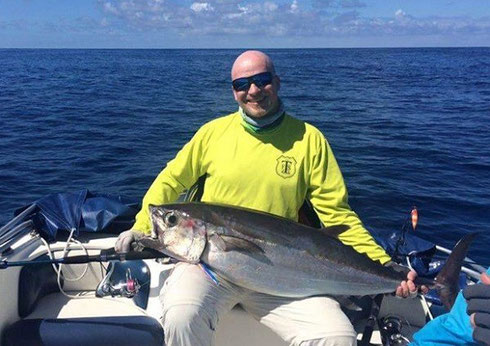 Quite interesting: a few days before that area had been as unproductive for jigging as the northeastern drop. On the 7th the wind started to blow from Northwest picking up steadily and the following day wind, waves and prediction were such that I moved my boat to the other side of Praslin into the protection of Baie St. Anne. 2 hours of popping a sheltered area on the way produced mean 4 misses of a large Barracuda, a massive Jobfish and a small as well as a normal size GT. Very frustrating. These fish were not really `on` though as all strikes came only in the danger zone very close to the rocks. Only a few meters away nothing happened at all. That same day Faizal was out trolling on a private trip in already pretty rough conditions but the Billfish seemed to like it. 4 out of 7 Sails released and this pretty Marlin seem a reasonable return for a bit of rock `n´ roll.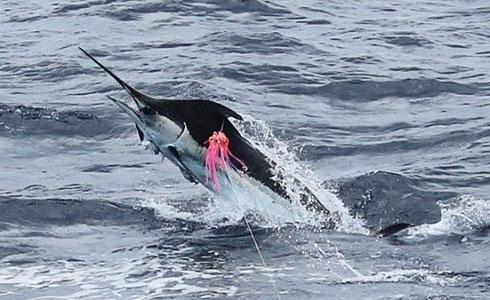 The forecast had predicted the Northwest to pick up steadily and reach up to 25 knots but it did not happen. Apart from a few short but intense spells it was actually quite calm. Still and probably due to quite some rain nobody went fishing out of Praslin those days. Only this weekend Mervin and another boat (I think it was Holiday) fished a half day each catching some smaller Gamefish and Bonitos while Greg also got some of those along with 2 Dorados and a Tuna today. Mahe also reports few trips but Sailfish seem to be around the island in good numbers and lots of Yellofin Tuna at the southern Drop. With a view to the settling wind I would have liked to bring my boat back but at high tide still huge waves run in smashing the rocks at my place. During the extreme low tides of these days it would furthermore slam the sea floor every couple of seconds so no way yet. So I am sidelined for the moment as swimming the murky water of Baie St. Anne or hauling my gear throug the mud at low tide is not appealing at all. But probably I will have to do it sooner or later as apart from those few casts I have not fished at all in the last two weeks which starts to feel unhealthy.
For the preceeding reports check the archive.