Seychelles are open for tourists from about anywhere and weekly visitor numbers while still substantially below the pre-pandemic level look encouraging. Nice to see some charter boat activity again though many of the trips were just half days by occasional fishermen. Along the first few days of April they had fun though as the trolling reliably produced the usual mixed bags of pelagics. Andre and Greg on their new center console Amberjack even managed to get this Sailfish on fly for their guest.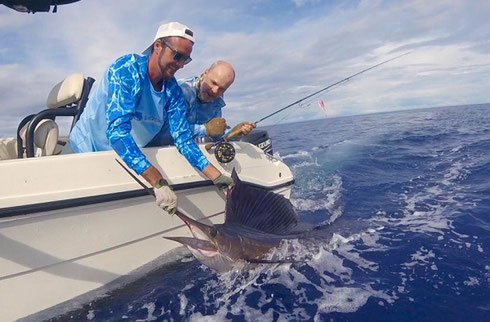 Weather conditions turned unfavourable for trolling though as the wind came totally apart and it got really hot here. Occasionally the sea was gently rippled but most of the time it was flat as a mirror as the air was not moving at all.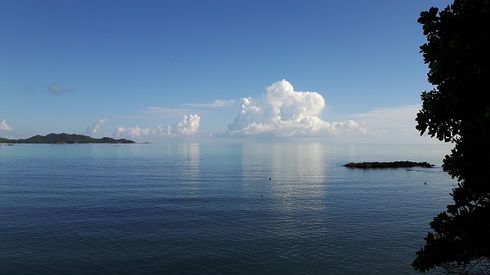 Thus success was to be found along different kinds of fishing. The fly angler had some more enjoyable days fishing from the boat with Andre and Greg. Once they found Dogtooth Tuna on a structure catching a few of up to decent 12kg. Sadly no pics from that day but the fights on the fly gear must have been mindblowing. Other catches were Bluefin Trevallies like this one while bigger ones of up to 8kg got away.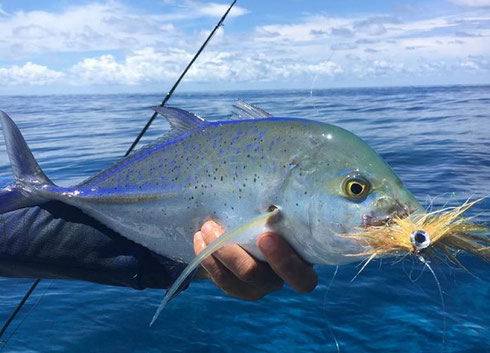 What worked simply fantastic despite the heat and calm was jigging at the Drop Off in a solid and stable current. Brandon`s guest on Unreel after some eventless hours of trolling switched to cranking jigs which turned it all into a great trip for him.
Nothing less but perfect was the situation also for Sandro on Frenzy as he had two jigging groups from Israel in succession each fishing with him for several days. The early days still produced some Tuna and Dorados topwater casting before it got too hot for that. But jigging was simply great throughout with not just many but also some really cool fish. Simply screen through the album.
Mid month the weather changed a bit. Still about no wind most of the time but it got much wetter here. Nearly every day we encountered heavy rain showers with at times thunder and lightning while occasional days were completely grey and rainy with even a bit of wind in those fronts. Right one of those days blessed us fishing with young German angler Dominik who I had set up on Frenzy on the 19th. His dream was to catch a Sailfish and also he wanted to try jigging. The forecast was for another furnace day so I predicted small chances for the former but quality for the latter. But in the cool, wet and somewhat windy conditions all turned out different. Dominik had just one rather touristic trip out of Mahe with a few Bonitos under his belt and after reeling in one more of these he suddenly found himself battling a Marlin of about 120kg. The fish jumped twice and then ran 150m deep. Down there it took a little bit of line once more but showed no sign of life after that. Looked like the unlucky classic of a Black dying in the deep and pretty much no chance to bring it up on 50lb gear. Dominik gave everything he had though and indeed managed to retrieve line slowly until the fish surfaced after 45mins. But it came tail first and dead as the leader had wrapped around the tail. There was nothing to release so the Marlin was boated.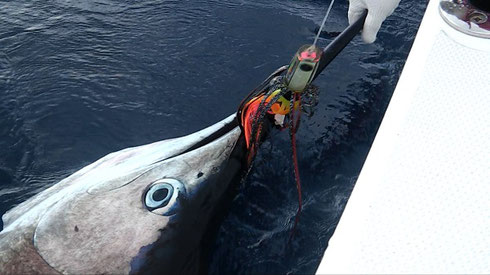 Along that we had two more surprises. It was a Blue Marlin that probably acted so untypically due to the tail wrap. On top we figured that the fish was not hooked at all as the double hook assembly also had just wrapped round the bill but no hook gripped in the flesh. Incredible luck for the angler whom I recommended to instantly play the lottery when back on shore. The poor chap was completely done and a smaller Doggie caught on jig plus a few minutes battling a much bigger one that twice nearly pulled him out of the boat and eventually broke the solid ring finished him off. So rather soon we trolled back towards Praslin hoping we might pick up a Saifish to round things off. None appeared but instead a few other nice fish did which Dominik generously left to be caught by a local friend and his son from Mahe who he had brought along.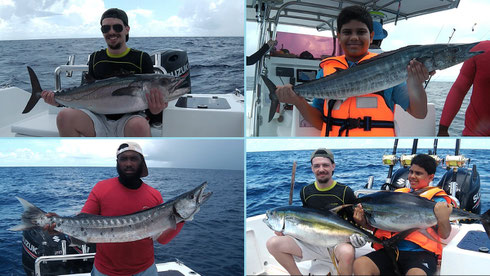 Apart from that trip I kept abstinent from further trips because of my girlfriend`s visit after not seeing her for more than a year. But soon after her departure I headed east on the 23rd to test a new jigging area. Especially early that day in a little breeze that soon though died fishing was okay out there as far as frequency and variety were concerned with some 35 fish in a little less then 5 hours. Just that nearly all of those were rather small and unspectacular. The exception was this fine Threadfin Trevally. Not a too common catch and thus always a delight.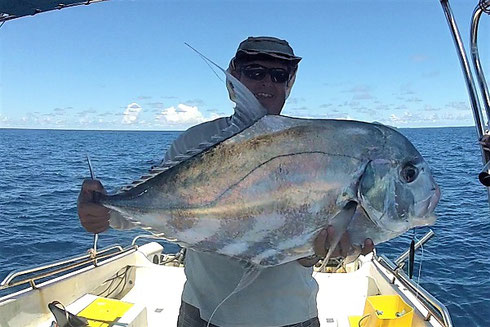 Tiny but also pleasant was this little bugger. Simply as I had never before caught or even just seen such. Turned out it is called Moontail Bulleye.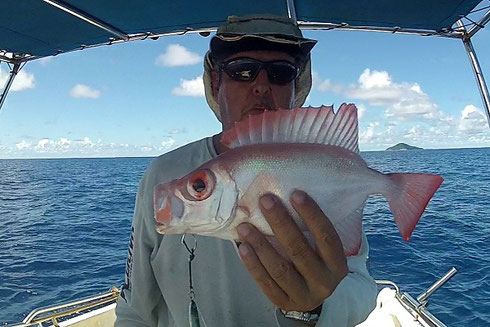 Was a bit tricky to find the right day for some GT popping after that trip but on the 27th it worked more or less though the morning breeze again died towards noon. In place at low tide I was lucky to meet the not reliable but at times occuring short activity window. Firstly a GT missed but a little later another one aimed better. Bit below the average size but just before noon and after having been unlucky with those for months it was very welcome.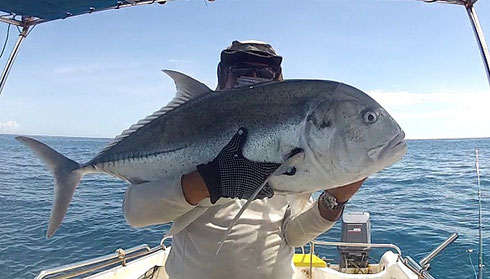 As somehow expected the following hours of maximum effort popping went along eventless apart from a few rain showers badly needed to cool down a bit in the extreme heat. Still I persisted until late as a perfect big hight tide later afternoon looked so promising for another Geet but apart from a few too small Bluefin Trevallies nothing more showed any interest. To close this edition a few words on fly fishing that usually dominates those April reports: Right on the morning of the 1st another Queenfish had joined the two familiar resident specimen here off my place and was instantly cooperative when I briefly tried for it. Sadly the cam failed though. Those Trevallies feeding fiercly on the baitballs here around Easter sadly did not turn up this year despite a few groups of Mackerel indeed came in after the patch of algae I mentioned in the last report had dissolved. But it were really few, their usually well organized swimming formations looked untidy with some specimen tumbling and for days dead ones floated about. Obviously intoxicated by the algae. Tried briefly from the rock every so often but only caught small fish like Permits, Snappers, Trumpetfish etc. Also Christopher who spent part of his honeymoon at the adjacent hotel caught plenty of fish but nothing much bigger.

A few tryouts at other spots also produced nothing noteworthy as also these places usually holding bait and predators at this time were lifeless this year and some also had algae issues. Only on the morning of the 22nd I witnessed a single proper chase here off my veranda so quickly grabbed the rod. Was worth it as you can see so at least one decent Brassy Trevally caught. But none more along a few more stints and by now nearly all of those anyways just few Mackerel have disappeared.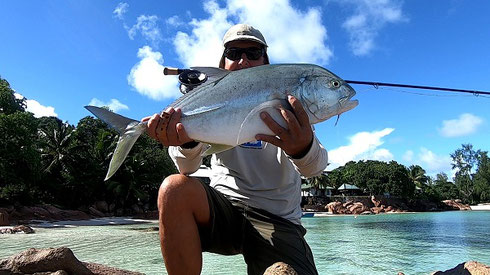 A real pity of course that this usually great fishery did not take place this year. Also that the last few days pleasing with a steady breeze were not used for any further fishing as the charter boats had no more guests and I need to cure a small but inflamed hand injury inflicted by that GT. Despite that this edition still comes rather lively, colourful and opulent enough I think. Hoping now it will go on like this and that the Southeast due to set in along the coming month will take it`s time as to allow for some more trips before it gets too rough.
For the preceeding reports check the archive.