Little news from Praslin this week. There are very few tourists and thus hardly any fishing trips. A pity actually as since Sunday the weather was perfect for all styles of fishing: sunny, dry with calm winds and pleasant seas.
Only yesterday Martin had a trip on the smaller boat Makaira. Trolling produced nothing but a few Bonitos which were turned into stripbaits. These eventually lured 2 Sails into the spread. One stroke and was on briefly but the other was not cooperative in any way. A little bottom fishing in the afternoon resulted in some Emperor Snappers, Groupers and 2 Green Jobfish plus some smaller fish.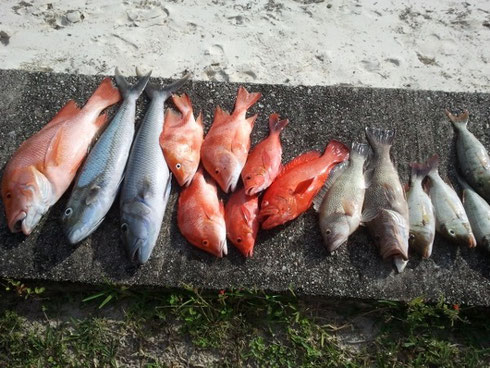 Also I just learned that a private boat had caught a Marlin one of these days but I got no more details on that.
Last but not least there were some good news from Mahe. Around midweek this massive Yellowfin Tuna was brought in after a fighting time of 3 hours.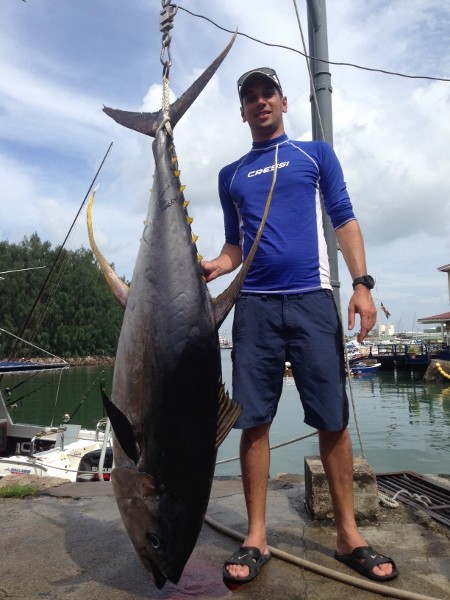 The fish weighed impressive 80.5kg. A few days before another specimen of 70kg+ had been caught. So big fish are around now and as Mahe boats lost 3 Marlin it seems taking the heavy tackle is no mistake these days.
The days right after the most recent report were rather uneventful. Also the Russian tourists which are often here until mid of the month due to their orthodox festive season have mostly left by now. Christian had 3 half days with mixed results: day 1 he finished with just Bonitos in the box as they lost a Sail and another came just window shopping. Day 2 produced two Wahoos and a couple of Bonitos while day 3 turned out somewhat better with another two Wahoos (one over 20kg), a decent Dorado and more Bonitos. The weather was quite unstable in these days with hard rain and fairly strong winds that made fishing uncomfortable.
The 16th Mervin reported "only" a Sail and 2 Dorados that day. The day before still fishing with the guest that had caught the big Marlin on the 11th they had released another decent one he estimated at around 150kg.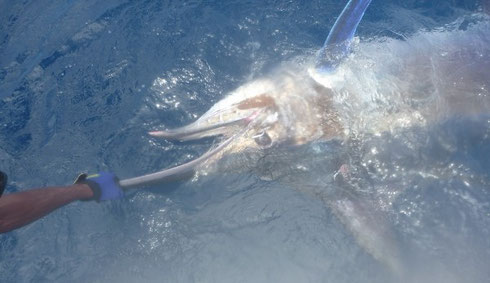 On the 18th the annual 250,000 SR (app. 22,000 US$) Marlin Slam Tournament was held out of Mahe. Simple rule: the heaviest Marlin takes it all.  To participate on my tiny boat is out of question (If getting a big one where to put it ...?), even more with a view to that hole in my leg. Luckily Martin had invited me to join them and with his large Venture, a 41ft Guy Bonnet Flybridge Sportsfisher offering retreat from the wet I was delighted to come along. On the last two editions I had flown over to Mahe to video the weigh-in (click 2012 and 2013 to view the clips). But really being part of it this time was just great.
On the afternoon of the 17th martin took us - that is him, his son Pierre, Jacquelin, Bernard, George and me - over to Mahe just arriving in time for the skippers´ meeting at Eden Island Marina. As the chic lounge Boardwalk is obviously the nightlife place to be on Fridays we enjoyed great entertainment after: Good music & atmosphere and a cool crowd. As the party finished at 02:00am there was just enough time for final preparations.
On the signal an hour later the 18 competing boats raced down south along Mahe`s eastern coast to split up towards the individual fishing areas at the island`s southern tip. We arrived where we wanted just before dawn and started trolling large lures. A small lure put for that purpose after a while produced us two Bonitos that were used as live baits. Unfortunately nothing happened for a while and neither on another try with fresh ones some 2 hours later. Briefly after we had changed to lures again the starboard corner reel screamed and same time the starboard outrigger clip released. Downstairs they were shouting `doublestrike´ but sitting upstairs on the flybridge I had seen the Marlin speeding at the corner lure on the starboard side of the boat coming from the direction we were travelling. On the take it made a 180 degree turn. Doing so it clipped out that outrigger line and jumped maybe 2 seconds after some 30 metres just sideways of the boat. Next moment both lines came slack as it was off and gone. Very bad. Only a little later we boated two Yellowfin Tuna of ideal size so these were quickly Catalina rigged and went into the water.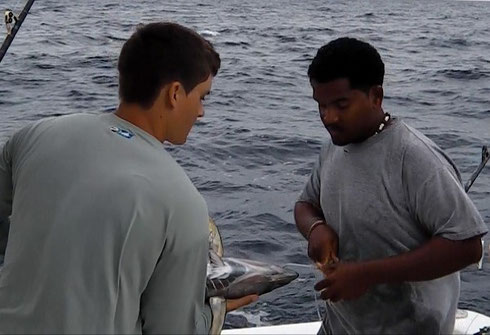 For the next minutes we were all virtually breathless as everyone thought `now or never´ but the tension dropped as nothing happened and after an hour or so the baits were done with. Some point we were hit by heavy rain and I had to retreat to the cabin because of my bandage. In the aftermath we had one more massive strike on an outrigger lure bus even as the fish seemed solidly hooked it also came off briefly into the fight. As nobody had seen it the culprit remained unidentified and around 3:00pm we set course back to the Marina.
According to a developing problem with one of the diesel pumps we arrived a bit late after the 5:00pm deadline and were disqualified. Did not matter, though, as we had no Marlin anyways. This just gave me little chance to video the weigh-in and I could only capture the winning Marlin of a decent 211.5kg and a few more impressions of the event.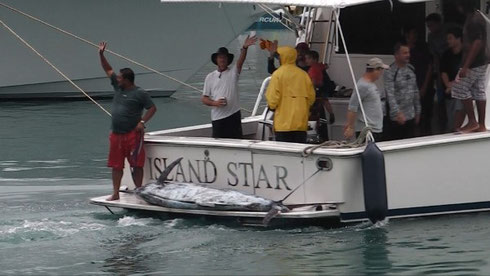 As the rain was still pouring down the crowd was a lot smaller than usual and also the party mood of those that had come was somewhat reduced. Still a bit of footage for a short clip I gathered. Watch it here if you like.
At least we had no more reason to mourn the Marlin we lost as it would have been far to small to win. Martin and the youngsters took off a little later. So after enjoying the amenities of the modern and gentrified Eden Island Marina I had the whole boat to myself and even free choice of beds. Sunday morning Martin picked me up by car and we went across the island to Chez Batista restaurant at beautiful Anse Takamaka for the price giving. It turned out that next to the 5 Marlin that were brought in there had been several more hookups. Here is the final results table:
Team Island Star  2 Black Marlin 211,5kg & 119kg
Team Top Gun  Black Marlin 94,5kg
Team Kuki Black Marlin 52,5kg
Team Cheers Striped Marlin 30kg
Next to those there were some other nice catches as for example a few Doggies close to the 40kg mark. The two smaller Marlin seen at the gantry produced some headaches among many of the crowd. It is obviously a general problem of this tournament format that even the smallest Marlin will be taken as it could be the winning one if nobody else gets one. Tarak Patel, chairman of Seychelles Sport Fishing Club, admitted that such happening spoils their efforts of encouraging catch & release here. I can only agree and so did many others. Thus I guess we will see a change of rules for next year and sort of a minimum threshold weight for Marlin brought in. If this is determined reasonably only one or two specimen per event should end up at the gantry. This is, to my personal opinion, acceptable. After all stories were told and bellies well filled it came to the price giving. Not an extended affair this time as there was only one team to be honoured. Winning team Island Star received their trophy, a valuable pendant from local jewellery company Jouel and the in all aspects huge price money cheque. Congratulations!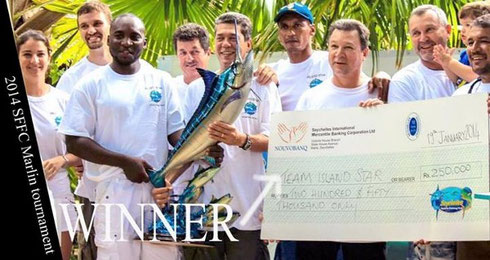 A little later we buggered off. First by car back to the Marina and the on Venture back to Praslin. Even as we did not win it was a very enjoyable weekend. Many thanks again to Martin and the boys for taking me along.
Due to wind and rain not much has happened since the beginning of this week. We are just around the peak of the rainy season now so this is what to expect and only Wednesday conditions were ok. Charlie reported a Wahoo and half a dozen Bonitos on a half day while Christian returned with a good mixed bag of Dorados, Tuna and Wahoos from a trip. Last night I sat for some hours with Mervin who finally could take a break from fishing as his high roller Russian guest had departed after some very successful days out there. During our tournament weekend they did some more trips losing another Marlin and releasing a couple of Sailfish next to the usual bycatch. The guest has more pictures and also some video footage that Mervin hopes to receive soon. Yesterday and today the weather was such that nobody would go out who did not have to. Some lower areas of Praslin slowly turn into swamps and the little streams are swollen while their waters turned the colour of the sea along the coastlines into the likes of milk coffee.
The beginning of the new year was somewhat mixed as far as fishing is concerned as wind and rough seas stopped many from going out. A few boats still went but until the 5th it was quite slow compared to what we are used to. On the 2nd two boats even had trouble getting a few of the ever present willing Bonitos. Also a unusually strong Southeast going current was reported. Only remarkable fish was a Dorado that Greg got on a half day that weighed over 15kg. This size is rather rare here.
Right for the first weekend of the new year which traditionally coincides with the islands emptying from festive season tourists fishing picked up. Ameer spending a few days on Denis Island at the Northern Drop Off reported a very nice 58kg Doggie caught by a resort guest jigging.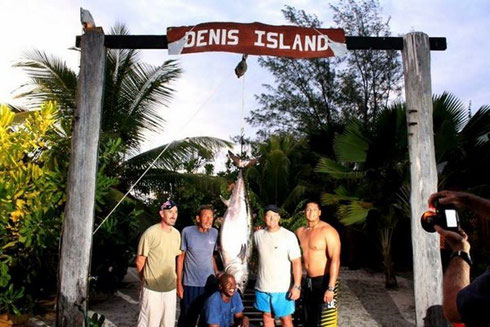 Also here around Praslin the activity returned all of a sudden. On the 5th Christian unusually hooked up to a Shark while trolling and returned with a Wahoo plus some Bonitos. The following day Greg had a trip that produced Wahoos, Yellowfin Tuna and Bonitos in good numbers.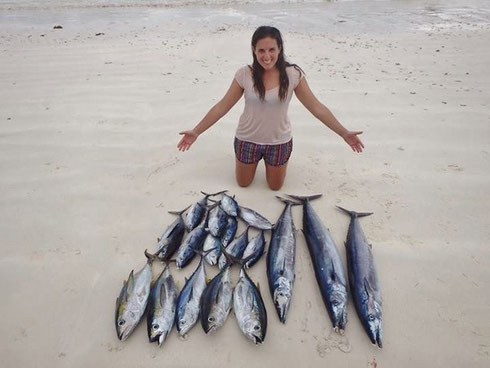 The 8th Greg reported a comparable catch and saw a marlin jumping on one of the Northern spots around Praslin. Also I learned that Julien caught another on a spot close by. Martin was at the Drop same time ending up with 2 Sails. Two days later he had another trip. When trolling towards the bottom fishing spots they caught a Wahoo and some Bonitos while the bottom fishing produced among other stuff some Emperor Snappers. Christian that day went to the Drop with a guest for jigging. This went a bit slow as he said: 2 decent Amberjacks, a Yellowfin Tuna, a nice Green Job. No Doggies though. He reckons some professional fishermen might have cleaned out his spot.
The evening before yesterday (the 11th) Mervin phoned me in a still quite excited mood. He had reason for that after a really fantastic day out there. Early his Russian guest lost a small Marlin after a short fight. But as in the course of the day they caught 3 Sails and a very decent marlin this was no trouble. The Marlin unfortunately was hooked in one eye and came to the boat in very weak condition so they had to bring it in -  as well as one of the Sails - and weighed 186kg.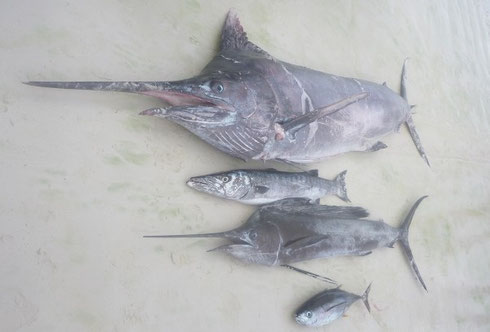 So the fishing here seems back at its best and I think this was a good start into the new year.
For the preceeding reports check the archive.