Right after uploading the most recent report I grabbed the rod tube plus a few really heavy bag to make my way to Mahe onto a Catamaran heading southeast in the evening. Ile Plat was the destination together with the friends from the Shimano Israel Pro Team, Mervin as our fishing guide, last year`s skipper Ron this time as mate and the boat`s skipper Ronny. This time despite unfavourable weather we intended to fish the ifrst few days at Constance Bank and reached the place the next morning. The bank is somewhat legendary here not only for the amount of fish but also for the often severe conditions and proved its reputation right away. Jacob tried the lightest of his three jigging outfits and was on right away. After a good half hour we saw the Doggie of about 40kg a few meters under the boat but only seconds later the small 30lb leader gabve in. Enough for me to store my fine cuttlery away: clearly not a place for the rapier but the heavy sabre instead. The number of bites and fish caught while jigging was simply unbelievable and tryouts with a double assist hook produced double Doggies and Jobfish catches right away.
The countless Jobfish were of an impressive average weight around 7kg with numerous sbstantially larger and the variety was also there. Pretty much everything abundant in these waters came to light in good sizes like Yellowspotted Trevallies as this one by Jacob.
The Groupers also were not small at all and the Doggies seemed endless in numbers. We did not get a real trophy size that day but fish of this category were many.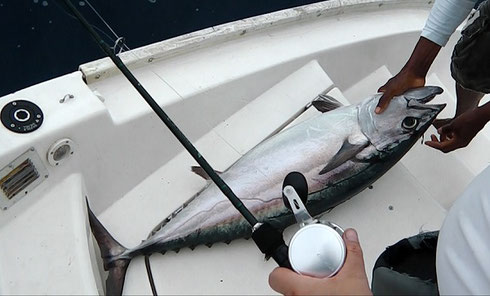 This was fantastic fishing for a start while in tough conditions. The bank of about 60km in length comes up from around 3000m like a wall and already moderate wind and current off it leads to very choppy water and  hefty currents. Thus some of the group were not too well that day to say the least and fishing was not easy at all especially as far as topwater is concerned. Still poppers and stickbaits produced numerous nice Jobfish and Bohar Snappers.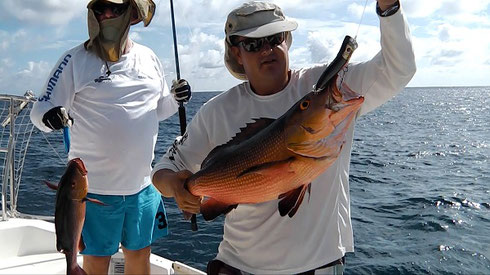 Our main targets for this kind of fishing could rarely be tempted to the surface though. We recorded just one Doggie caught on the casting lures by Mervin and only a single but decent GT was tempted by David`s stripbait.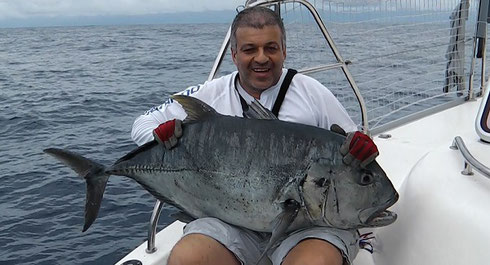 Thus we planned a new attempt the next day on the shallower southern part of the bank that is divided by a channel stretching from east to west. But the further we moved south that evening the stronger the north going current became and at around 10pm when just having crossed the channel we read it at more than 4 knots. Hardly doing any speed over ground despite high revs of the small cat engines Mervin to everyones initial disappointment decided to divert the boat to Ile Plat. But eventually he did the right thing: no way to anchor on the bank for the night and keeping the boat in position via engine use plus the perspective of long runs back up the drifts against that current would have eaten to deeply into our fuel while of course no-one of us would have been happy with an early abandonment of the trip. So in the first light of the following morning we saw Ile Plat at the horizon and some two hours later started to work the outer reef with topwater lures. Had the strike of a quite big and black GT after a few casts already but it missed while others had misses too, and Ron caught this fine specimen a little later.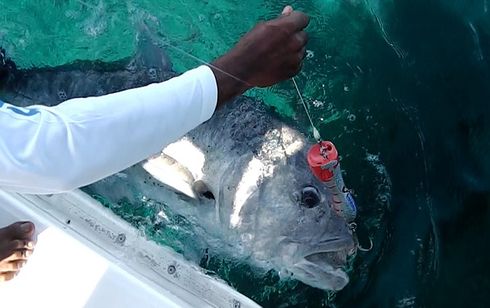 Bohar Snappers seemed to like mylure choice those days as after landing a reasonable one a real biggie got but sadly off again a few seconds later. After that and until noon the shallows would not produce any more but a try over already deeper water provided Fabrice with this Yellowfin Tuna on popper.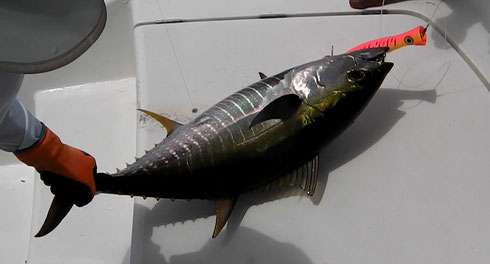 This one must have been a loner though so after a while we moved the boat to the northern reef and started to jig. Worked nicely right away and JJ was happy with this Rosy Jobfish.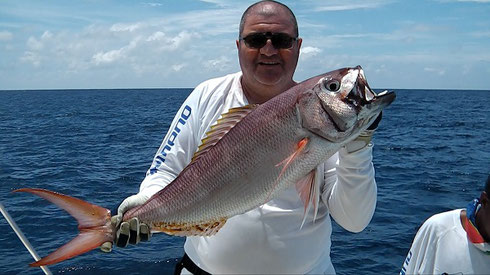 Amberjacks were not really active but the odd one came up here and here.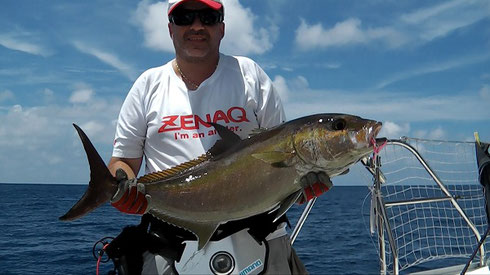 Also in the mix were Black Trevallies as well as many different Groupers like Moontails and these ones I think being called Comet.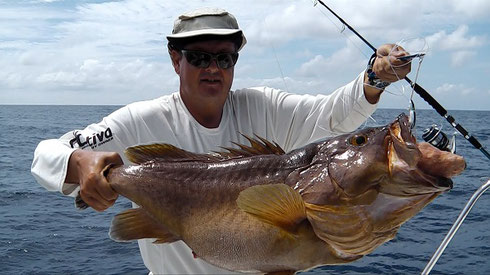 That first day spent in the vicinity of Ile Plate thus was quite promising and after a pleasantly calm night inside the lagoon the next morning we headed to Pearl Reef. This large coralline structure south of the island seems perfect for topwater action but last year it did not really produce already and it was the same story this time. After several hours only this single GT had been caught.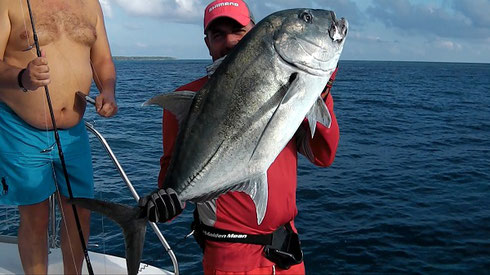 So we switched to jigging along the edges of the reef which worked nicely. Again the full variety was there with plenty of Black Trevallies.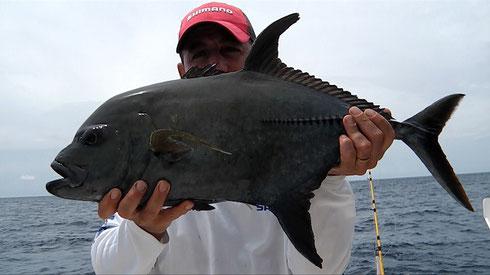 And with some of their yellowspotted cousins in decent sizes we also had loads of fun.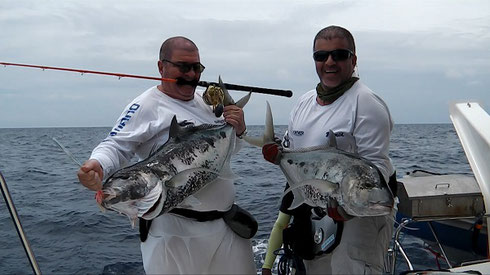 With a few successful drifts done already me moved back up to the starting point when suddenly a bunch of Sailfish came to play with the lures trolled along but not taking. One though got stuck on a Halco plug.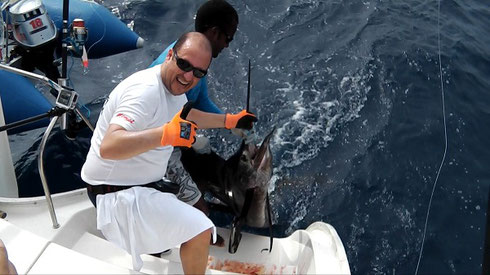 As right after the release some more showed up we dropped the idea of jigging for trolling on and cast at them whatever we found in our tackle boxes. Those Sails must have found that wide display really interesting following the stuff often right to the boat but none would take a bite, The next day the weather had changed drastically. Suddenly we faced an easterly wind of 15 knots with gusts up to 25 inside the fronts of heavy rain. Already on the way back south to Pearl Reef activity was high. Again the Sails were in paying but not in feeding mood. One though could not resist a small bridled stripbait on a circle hook while the smaller gamefish were full on. This way we hooked up with Wahoos and this really big Rainbow Runner that came off on the landing attempt.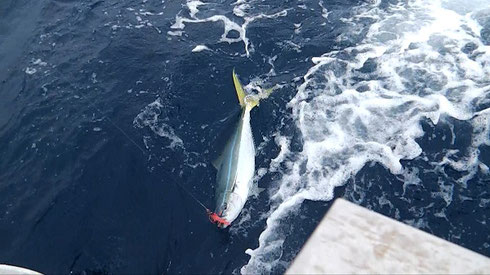 Conditions that day remained unfavourable for jigging so trolling seemed the best option and we stuck to it as the bite remained on all day. Eric really enjoyed playing this decent Yellowfin Tuna on light tackle and provided us with endless Sashimi on top.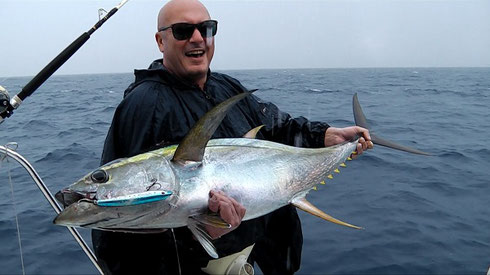 Smaller Tuna also were eager for the different lures and some point I started casting a stickbait while the guys were playing the fish which worked out nicely. The only bigger one probably the size of Eric´s dropped the hook after a mighty run to the bottom. Swearing I cast again and got anotheron right away but it was only school size. Still this kind of fishing was great fun. The following day we went there again but jigging the spots that had been good before was not too productive. Fish were caught here and there but it was not what we really wanted.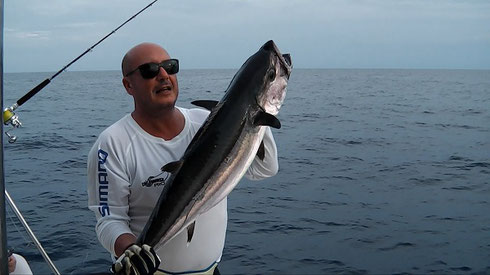 Popping the structure for a few hours also lead to nothing noteworthy so we resorted to trolling again. Again we teased many Sailfish to the boat but could not convince them of the casting lures but whoever got too frustrated just served a bridled stripbait and could enjoy playing those fantastic fish and their artistic performances.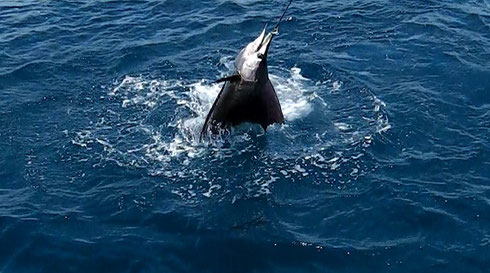 Meanwhile the others kept casting and catshing Tuna. None quite what we had planned to do in the first line but still most entertaining. The following day most of he team did not fish for religious reasons so there was plenty of roomfor casting. Thus we combed the outer reefs of the island once more but to very meager results raising a Bluefin Trevally and a few GTs. The Groupers ad Jobfish seemed to have disappeared completely so a hot and hard day`s result was actually just this single GT.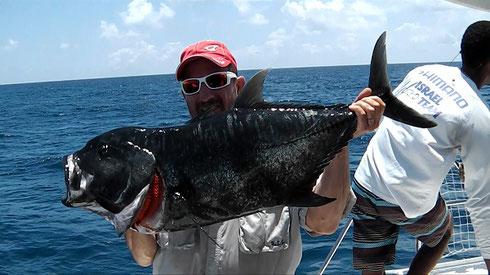 Sunday morning we all visited the island briefly. A wonderful place and to a good part still in its natural state but construction of a 5* resort is supposed to begin by the end of this year. Of course some of the group took rods along but apart from a small Barracuda and some Shark attacks to no result. Sort of strange as from the boat we had nearly no encounters with these for a change.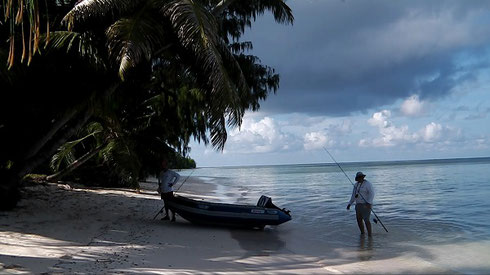 Back on the cat we had some 6hrs left for fishing before we had to head home. So we worked the outer reefs again raising half a dozen Napoleons but these to our frustration just followed the lures to the boat and a few GTs of which Eric got this one.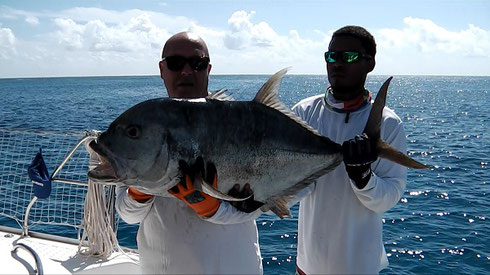 While drifting along the Drop again some Sailfish showed up. One got tangled in the popping leader and was released a little later. Jigging had come back to normal with Amberjacks and all the other usual suspects that have been presented here before. So for a change a few of those pretty Moontail Groupers.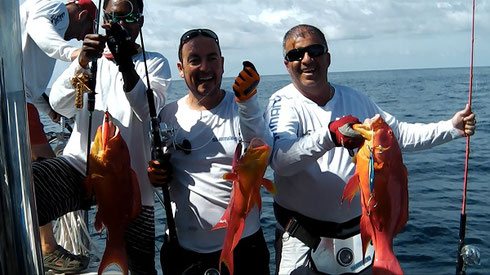 In the afternoon we set course for Mahe and it was time for a resume of this trip. That first day on Constance Bank was fantastic even though we did not catch any real trophy fish. But am positively sure that class would have added to mass if had been able to fish there a few days more as initially planned. Trolling around Ile Plat was excellent as well as jigging in the beginning and in the end. Topwater fishing apart from for the pelagics was at least 80% slower than the year before as especially the then so active Groupers were missing completely. Only that final day I was able to catch the only one on the reef und was happy about it as this Coral Trout I had been after for a while.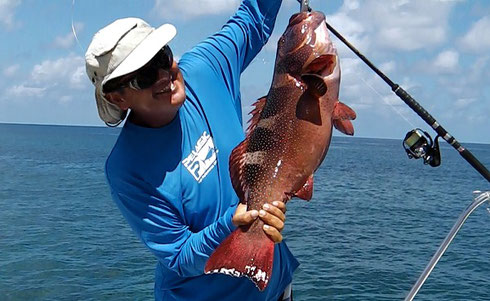 So again the island has not revealed all its treasures yet but no reason for disappointment I think as the video reveals. Especially with a view to those Napoleons I definitely want to to return some day hoping for third time lucky. While we had been out there of course fishing had gone on elsewhere. One of the large private boat had gone to African Bank and caught a Grouper that might be a world record. But it seems still unclear if it is a Dot Dash or a Comet. The experts are discussing. The large locally owned Viking Island Star had a trip with 4 Black Marlin of up to 250kg released.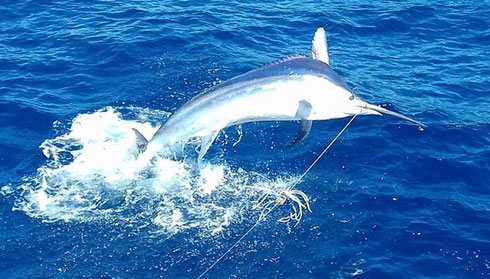 As if this had not been splendid enough they also got this very nice 45kg Grouper presented by skipper Antoine who kindly provided the pics.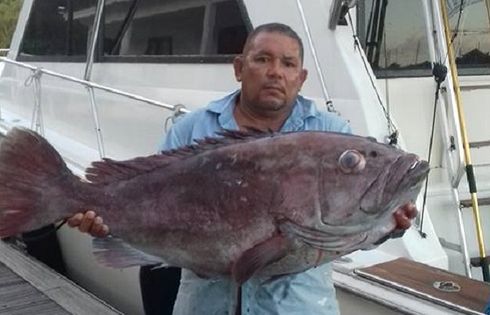 The Praslin boats of course also had been going out to some degree and trolling had improved in those days. The sailfish seem to have returned with Martin (Venture) catching two one day and another two that came off another. Mervin (Divinity) went back on the water on the 22nd and reported after the second day jigging the northern and eastern Drop that this also had come back to normal. Not too many Doggies but the mix from Jobfish, Groupers and the different Trevallies was good especially as far as the Amberjacks wre concerned. Sadly of many fish well over 20kg only the heads came up as out there the group encountered even more Sharks than usual. Tagged along with the group on the 24th and can only confirm this. In blistering heat and no movement of the air at all until afternoon slow jigging and live baiting was recommendably simply for health reasons already. Still it became a solid day with about 50 fish caught. But with all these Amberjacks and Groupers etc. already presented in this edition I rather show you this one here that to me was the catch of the day anyways.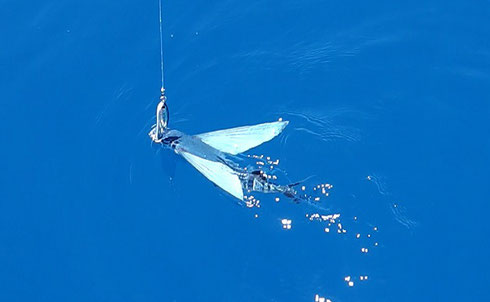 This Flying Fish was cleanly hooked in the mouth on a casting jig while trying to get a small livebait Bonito. On the 25th the northerly wind hadcome back to life and fishing went even better for the group. On top of the common jigging catches with again decent Amberjacks etc. came some Yellowfin Tuna and two Sailfish caught on jigs when the Tuna started boiling close to the boat and even on stickbait they were able to catch one each. Great fishing. The next day they went popping for GTs raising about a dozen but the strikes came half hearted if at all with only a Bluefin Trevally caught. The 26th was the last day fishing for the two really nice chaps and I tagged along once more for some Drop Off jigging. Again it was solid with some 50 fish caught out of the usual wide variety. This time on top a few really big Emperors came up, too.
The Yellowfin Tuna also were around again and produced many strikes on stickbaits. Unfortunately mainly misses and a few fish dropped the hooks but some nice ones were landed, too.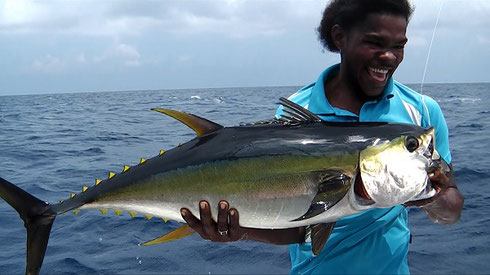 On the 27th it was Marcel`s turn to finally fish with Mervin. Focus was on jigging but the fish were not really cooperative with only a handful of Amberjacks and two Bonitos caught in several hours. One of those came to the boat with two Sailfish on its heels but they would not swallow it. The poor thing was all battered by several bill strikes and it seemed to me it rather wanted to end up in the fishbox than being released back to those bullies. Already when checking out some jigging spots trolling two lures early morning we had raised two and released another.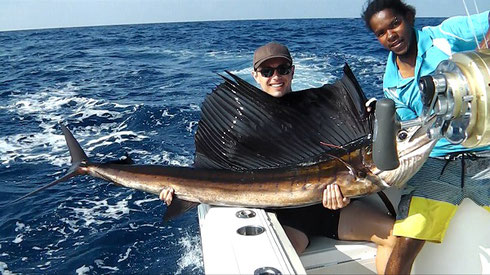 Also trolling lures between the spots raised them ever again but no more hookups apart from a handful of Tuna and a Wahoo. So that day did not go quite as planned but Marcel was still happy with a view to his first Gamefish and his first Billfish of course with the whole catch representing an Offshore Grand Slam on top. But I would really like to know what stopped the jigging fish from feeding so suddenly after the bite had been reliable all the days before. Same game the following day at the northern Drop with a new group by the way and also a half day popping on the 30th only raised two small GTs so Mervin sounded a bit depressed on the phone last night. There were a few interesting things from Mahe, too: The big private Riviera 9G had some technical issues finally sorted out after a while so the team is back in action and had a great comeback with a few Sailfish and three Marlin released plus bycatch and this 205kg Tiger Shark in two days.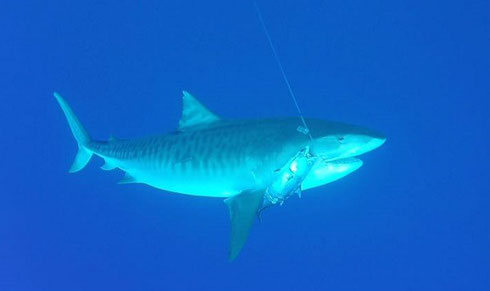 Yesterday though even they had a slow day for a change. The boats Alati and Black Widow went for an investigation trip and the latter reported three Broadbill released in a night. Matthias from Germany who had contributed a nice fly fishing report a while ago is back on Mahe and had great success with a pretty Permit and this Golden Trevally.
He also went jigging to the Southern Drop yesterday and it was solid with Doggie, Amberjacks, Groupers etc. so the mentioned slow jigging bite of the last days seems to be a local phenomenon of Praslin`s side. For this also speaks Martin`s brief report on a five day jigging trip to Bird Island. Must have been pretty cool but we phoned only very briefly. So all on that and hopefully some nice pics in the next report as this one really has turned out long enough now.
Right at the beginning of the month and with another cyclone building up in the Madagascar area a front of bad weather was predicted to pass Seychelles. Here on Praslin we did neither get the torrential rains nor winds of up to 27 knots while Mahe was hit harder. But fishing was off the table and only last Monday the messy sea started to calm. Tuesday the 7th I went with Mervin (Divinity) and his repeater guests Wolfgang & family to the eastern Drop. A small half hour of trolling to check out a few jigging spots produced four Yellowfin Tuna and hope for a fine day. But once more jigging after a reasonable start slowed with some Groupers and Jobfish that mostly had to be convinced with bits of baits on the assist hooks. A really big Whitetip Shark some point ate a hooked fish and was brought up under grueling effort on a meanwhile snapped rod just to cut the line close to the boat. While changing spots we briefly raised a Sailfish but it would not take and only in the afternoon we found some cooperative Amberjacks.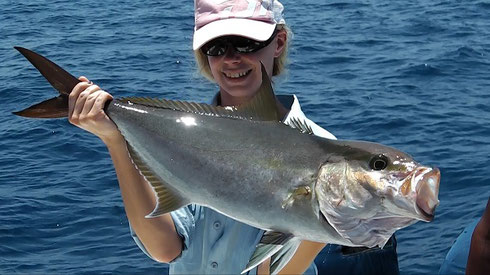 The following day in a nearly flat calm sea I tagged along with Mervin and guests again. Tom took his first steps into popping & jigging and this time destination was the northern Drop. Popping at a small island up there did not meet expectations with only a few half hearted attacks by Jobfish and Sharks. We saw the Doggies under the boat but no way to attract them to the surface lures nor a jig and even a small Jobfish hooked on jig they just looked at. So after two hours we moved on to the Drop. Another two hours later just a couple of fish had been jigged and I was expecting this day to turn out the slowest I have experienced up there. That was correct considering just the number of fish caught by the end of the day which accumulated to fifteen or so. But as among these had been two Doggies of about 30 and 40kg we were quite happy with the way things had turned out.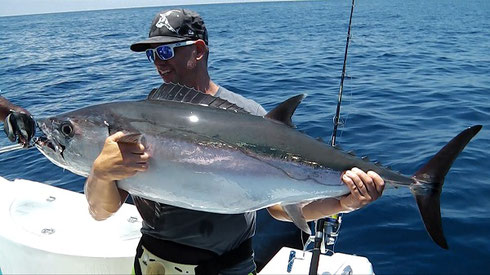 Even more so as Tom missed what must have been a real monster. He had just brought up a Doggie similar size as the two caught some 20 meters when that fish dropped the hook. His disappointment turned into glee as instantly the jig was taken again and we marveled at a run that even here we do not get to see too often. Sadly though after a minute of crazy reel drag screaming the line broke. The video sequence of that already found big interest on facebook and of course features in the new YouTube clip. Note that Tom who is a strong guy had set his drag set at around 15kg and no issues with the not so small Doggies caught before. Clearly that one was a different league and must have been well over 50kg, maybe a lot more. When touching the spool after the fish had broken off it was so blistering hot that I burned my finger. Mervin tested the drag then and found it at about 25kg due to the reduced diameter from the lot of missing line and probably also the heat extended discs. Crazy. Sharks provided some more rather unwelcome entertainment. Some point we saw up to six big ones moving about under the boat so it was not too suprising that some fish hooked came up in bits and pieces. This Doggie also had to pay taxes.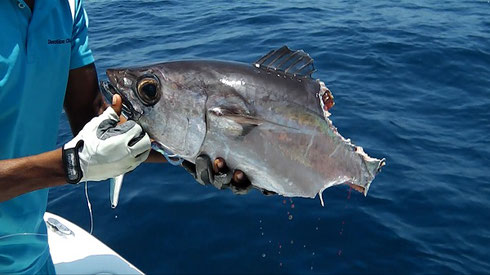 On the way back in a sea by then flat as a pancake we saw incredibly many big baitballs of Mackerel. Maybe this immense source of food is the explaination for the unusually bad bite of the pelagics. For whatever reason the trolling boats were still having trouble to catch even a few smaller Gamefish these days. First hand confirmation came on the 9th when trolling for 3 hours on the way back from the area fished the day before produced just a Bonito and a small Yellowfin Tuna. A group of these though had been hanging around the boat while jigging so a few ended up in the fishbox. Mervin even got one on popper. Would just have been nice if those had been a bit bigger.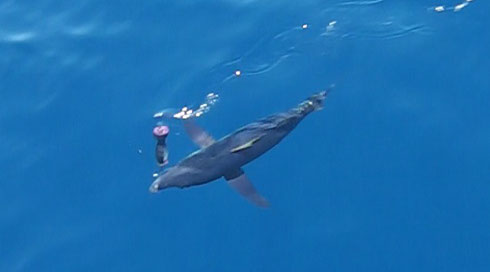 Jigging along the day was below par once more considering variety and total number of fish caught. A Black Jack here, a Shark there but luckily the Doggies proved reliable again. Like the day before they just accepted jigs merely trembled close to the bottom while the usually productive high speed retrieve produced nothing at all. Surprising but not unwelcome as nobody except Mervin of course would have been able to speed jig for long in depths of at times far more that 100m in those super hot conditions with no wind at all. This way though the anglers even after hard fights had the energy to smile a bit.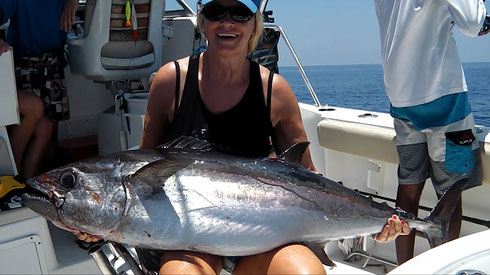 Intense heat and a sea like liquid lead paired with no action gave Tom a hard time Saturday no matter what lures Mervin recommended and where he tried. Around noon though with the rising tide, a bit of northerly wind and Mervin`s insistence on a spot again far west of Praslin things came to life. Two GTs unfortunately dropped the hook and a Shark was released for a start. Then Tom caught this decent Bluefin Trevally.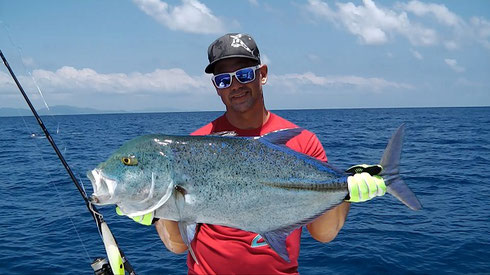 On Tom`s bucket list there was only a GT left to tick off so as always Mervin gave it all to achieve that feat, too. And as in most instances he succeeded eventually. That GT took worryingly close to the structure but with some skillful support of boat manouvering Tom managed to direct it away into deeper water and a little later hugged it happily.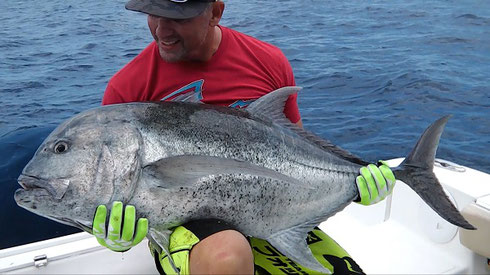 Was so glad for the really nice chap and even more so as on both those difficult and terribly hot days he had kept his efforts up tirelessly. Really cool to see this being rewarded with such great fish and I think we can welcome a new saltwater fishing addict amongst us. On top the video clip is rounded off nicely now so things could hardly have gone any better. Yesterday Mervin and Wolfgang went to the Doggie spot once more but apart from a Bullshark it was as abandonded by jigging fish as many others in the area. Some 19 Yellowfin Tuna and a Dorado provided for great stickbait action though and also the trolling boat`s catches have picked up a little along the past two days. Even a bit of Billfish was reported after quite a while.
For the preceeding reports check the archive.