Not too much to report from the second half of the month but first thing due is a small correction. Had mentioned a trip by Alati resulting in three Sailfish in the last report but the boat was Special K instead and angler George from the UK caught and released two Sailfish out of a triple header.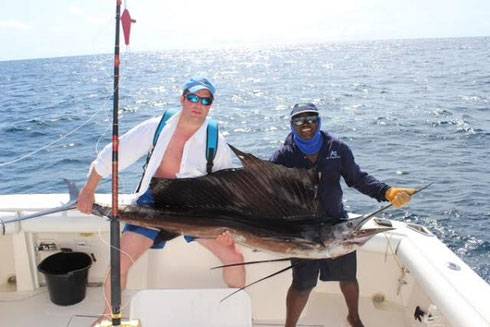 There were a few more raises that day along with lots of smaller Gamefish and on top George whom I had been in touch with for a while prior to his Seychelles trip also fought hard with a quite massive Shark. From this pic sent I would estimate that fish at around 2.5 meters. Can not figure out the exact species though.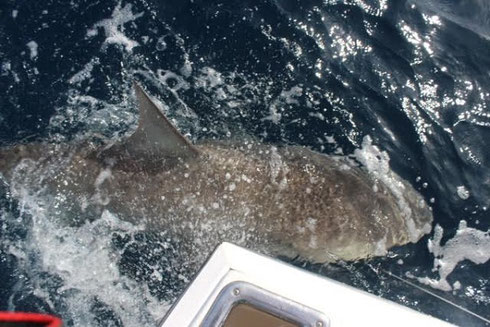 While producing the most recent report the Southeast was blowing at around 20 knots and these conditions persisted until the 19th. That day the wind dropped in the morning and nearly died in the following hours. Greg (Pipsqueek) made good use of the opportunity and reported a Sailfish caught on Ballyhoo and a few Dorados. The following day I went to check out a larger structure only a few miles north of Praslin for its jigging potential. Found lots of interesting sonar echos at the bottom but no chance getting the jig to those. Four drops produced four clean cutoffs by Pickhandle Barracudas already on the way down. So I left that expensive place to investigate two other small areas that looked interesting on the plotter. Finding neither fish nor even just any structure there made me end up quite a bit further north than initially intended. It paid off somewhat though catching 6 Bonitos, a Longmouth Snapper and 3 larger Pickhandles and Yellowspotted Trevallies in three hours. Had numerous knocks, a few fish dropping the hook and quite a bit of trouble with Sharks stealing hooked fish. The first produced a clean cut of the leader while the second was content to keep the fish plus my assist hook. The third eventually displayed some manners not only letting me have my rig but also half of my fish.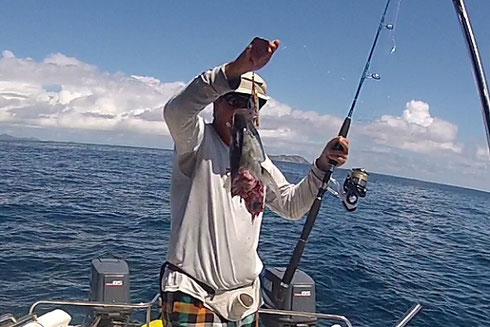 Meanwhile Greg had done a few circles around me on another half day trolling and I learned later that he caught a Dorado and a Wahoo along with some Bonitos. Did some afternoon popping close to an island that I had only tried once some three years ago without finding the structure. This time I found two. The first one in deeper water seemed very promising but two hours of intense workout produced absolutely no activity. Not even just a raise of a Jobfish or Shark. Closer to shore there was another granite reef and on the first cast a GT of probably 15kg or so was on. But the moment the line came tight it snapped a few meters above the knot. Very annoying as I had attached a new shock leader the night before and disposed of a few meters of main line. Obviously there had been a damage just a bit further up. Despite it was already quite late I re-rigged but a final half hour only raised half a dozen Sharks. So this Yellowspotted Trevally caught on jig earlier was the biggest fish of that trip.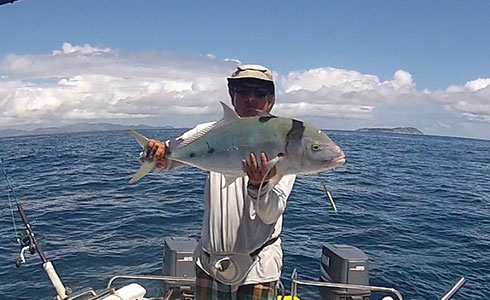 Not the best result but things were to become worse. The next day Ted and I went trolling for a change and we were optimistic to find clear blue water and Sailfish east of the Sisters. Starting just north of the islands the water was still green but quickly we had a knock by a Dorado and caught one only minutes later. No more activity in that area during the next half hour so we headed east. But for the next ten miles the water remained green and we got no bites. On top the wind picked up along with rain. No use travelling further in these worsening conditions so we changed course to south right into the mess hoping for clear water and some fish around Marianne. There the water actually seemed a bit clearer and a small Bonito rigged on a circle hook and offered as skipbait was attacked after only a few minutes by what looked like a Wahoo. The Bonito went missing and the bridle cord was cleanly cut so we were right in what we believed to have seen. Apart from that neither while working that area nor on the way back to our starting point we received even just a knock. Circled schools of small Bonitos, offered Kenya and Panama strips, plastic Ballyhoo, plugs and skirted lures in all sizes and colors to absolutely no result. Seemed like a bad choice of area but in the evening I learned that the larger boat Sailfish as well as Mervin (Divinity) both did not catch a single fish on their trips. So it was just a bad day and it is quite incredible to end up `best´ of three boats here in Seychelles with just a rather small Dorado. Even worse it needs to be displayed here due to the lack of any other footage.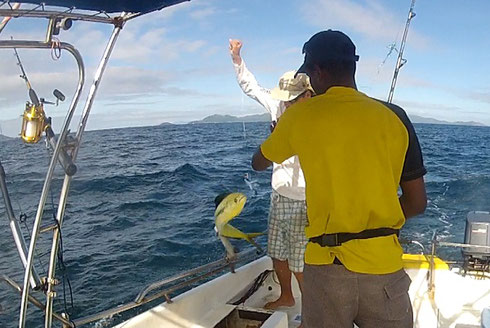 As mentioned already the wind had picked up that day and continued to do so. Thus the 10 boats participating in the annual Southeast Monsoon Sailfish Tournament had a bumpy time on Saturday. On top catches were disappointing to speak bluntly. The boats got some smaller gamefish like Dorado etc. but two Sailfish released were enough for team FinS fishing on Special K to win the competition. Actually these were the only Sails caught between all boats though some fishing in clear blue and thus promising water raised up to five but none of those could be enticed by whatever offer or trick. The 9G Sportsfishing Team released this Black Marlin though that could not resist a quickly offered Yellowfin Tuna livebait.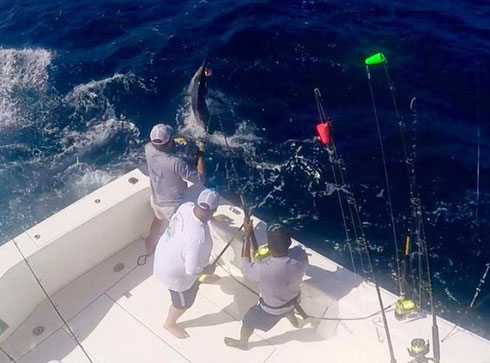 Along the following days the Southeast blew strong and steady. Only yesterday winds speed started dropping to some 15 knots so Martin (Venture) went for a half day trolling. For guests Christian and his girlfriend fro Germany this was their very first Big Game experience and they could well end their career now on a high. In still green water a first Sail was boated being of course their very first Billfish.The second was released and a third unfortunately was badly damaged so it had to be taken. On top they caught two Wahoos, a Tuna und some Bonitos in those few hours.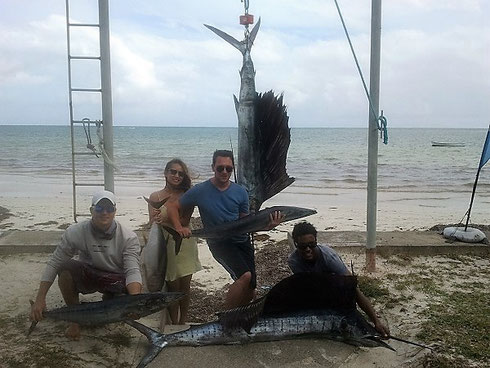 This is good motivation for the boats that will head out in the coming days. Guess there will be quite a few trips as the islands have filled up with tourists and the wind is forecast to settle at around 10 knots for all next week. Long face on my side though as I will have to jump the plane later today for a month in Germany. That`s why this update comes already a few days early and is produced sort of sitting on my suitcase. So expect no news along August but upon return probably in the first days of September a short wrap-up is already on the agenda.
Due to the Southeast July usually provides just enough for a monthly report which most of the time pretty much fits on the back of a stamp. This year though things looked much better so far and the last two weeks had a lot on offer for Seychelles´ anglers.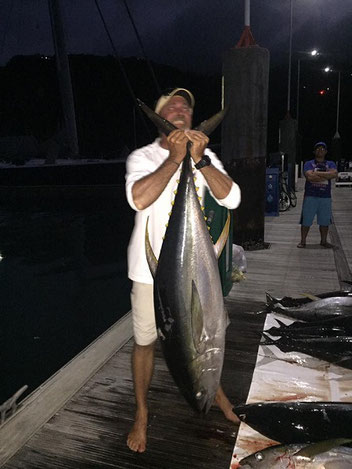 But before getting to all that I should deliver a nice bit from the final day of June as this impressive catch of Yellowfin Tuna by the 9G Sportfishing Team is definitely worth showing. 
For the  first few days of July it was really blowing hard. Mervin (Divinity) went out anyways on the 2nd at more than 20kn of wind with an obviously really seaworthy angler and they got rewarded for this little madness with a Sail. But on the 4th just perfect for the Blue Marlin World Cup conditions had improved. In this competition boats around the globe fish that day for the largest Blue Marlin with a minimum weight for boated fish at 500lb and the biggest Marlin wins. Here in Seychelles Mike`s Alati, the 9G Sportfishing Team and another large private vessel competed. The three boats raised six Blues between them but all too small. The winning fish eventually was caught off Madeira and weighed at an impressive 983lb. On the 5th Mervin reported that the meanwhile relatively calm sea off Praslin had turned all green and blackish. No real surprise that he neither caught nor even saw a Sailfish and returned with a Wahoo and a Dorado plus some large Bonitos from the trip. Also along the following days Praslin boats did not catch a single Sail and instead had to make do with smaller gamefish. Alati on the other side managed to get three Sailfish as well as pretty much the full assortment of other gamefish including Doggie at the northern Drop Off.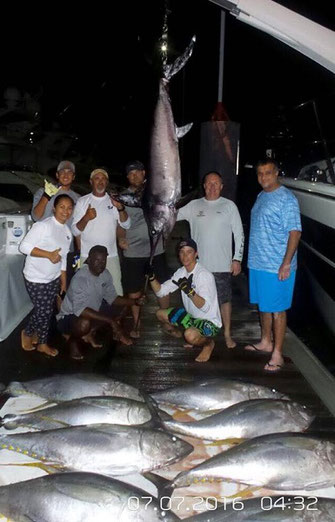 On the 7th the 9G Sportfishing Team created a stirr once more as next to another bunch of decent Tuna they had brought home a Swordfish and bettered their own Seychelles national record to 56.5kg. 
On the 8th I went for some mixed fishing and to check if the water had cleared again. It had not but a bit of jigging produced next to a few smaller fish like a Fugu (on jig!) a good size Yellowspotted Trevally of around 10kg and another hard hit that bent my jig completely. Unfortunately that fish did not get hooked. Also a Marlin of I say at least 150kg passed in some 20 meters distance. Thought of having a go with the popper but dropped the idea. Being on my own this would at best have ended up getting spooled. While changing area for some popping I picked up this Greater Barracuda instead.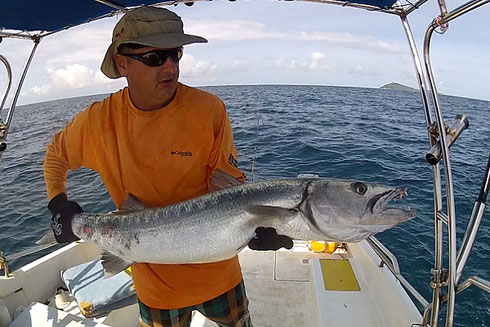 Two hours of popping produced no activity at all. But had made a mistake anyways by choosing a southern coastline where the old swell made fishing really tough. Met Greg (Pipsqueek) on the way home who had made a better decision for his guest. After also getting a Yellowspotted Trevally about same size on jig the angler raised a few GTs in a more protected area losing one to the rocks and releasing a Shark. The day before that group had already enjoyed some good jigging with many Trevallies and a Yellowfin Tuna. But on the 9th Greg with his brother and cousin made all that look like kid´s stuff. More than two dozen Trevallies, some Rainbow Runners, Barracudas along with other fish and a big Shark already made a very entertaining day. Catching this absolutely massive GT also on jig that day was the cream on the cherry on the cake. What a monster!
Lift my hat to Greg and the others not only for catching this outstanding fish but also for releasing it. Guess not many here would have done that. Along the following days we remained blessed by low winds around 10kn. Bumped into Fred Davis who was back for a holiday after having worked here as a teacher four years ago. Already in those days we had wanted to fish together but as we only met just before his departure it never worked out. This time we did not let the opportunity slip and set out on my boat on the 11th for a bit of fishing close to Praslin´s shores. I was hoping for some insight into fly fishing at which Fred is a real expert as well as some nice video shots in front of pretty backgrounds and maybe a fish on top. What happened in the following few hours exceeded all my expectations. Had only grabbed a light spin outfit and a handful of lures for myself but got this beautiful Golden Trevally after only a few casts.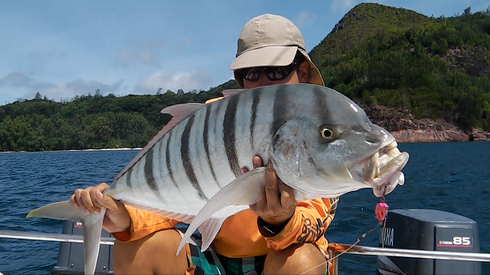 As I learned from Fred these are much more common here than most people think. Especially on the flats. With that fish under my belt I was happy to just listen, learn and film. And Fred really opened my eyes for the fly fishing potential. Not only he openly explained spots, tackle and tactics but at the same time kept catching fish upon fish in a great variety. Next to a handful of Bigeyes he landed a Bluefin and a Yellowtail Trevally, a Queenfish, a Threespotted Pompano, a small Doggie and on top two GTs. These hours were just stunning and I was especially impressed of the fights to enjoy on such light tackle.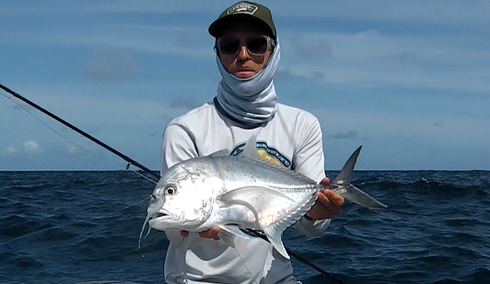 Assembled a video clip from all that just being able to show a few of the fish. Unfortunately though I missed to film the young Whale Shark that paid us a short visit but it is always great to meet one of those. That trip would have reached absolute perfection with the catch of a Milkfish as a whole school was around us for a while. In the quite choppy water Fred had a few promising shots but as most of the times they were too smart to make a mistake. After watching all this I had to go out myself to jig and pop the next day. Funny enough for a while things went very much the same as a few days before. At that identical jig spot I again caught a good size Yellowtail Trevally and a few smaller fish. Two Bonitos and a tiny Rosy Jobfish this time. On the way to a more protected popping area I got another Greater Barracuda on a Halco Laser Pro. A lot smaller though at around 5kg. Luckily the popping went a lot better than on the last trip. A small rocky reef I had never fished before within the first twenty or so casts produced me two GTs of 5 and 11kg. Not the size I was aiming for but both provided a fin clip for the DNA analysis program. Tagged the larger specimen and of course released them both.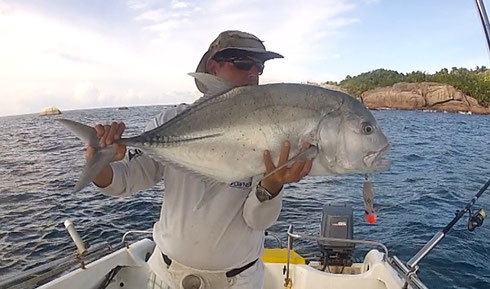 Recorded another miss of a small GT in the next half hour but as the big grim ward  did not show up to restore order I left that kindergarten and moved to somewhat deeper water a few hundred meters off. Again it took only a few casts to raise a proper 25kg or so GT unfortunately missing the popper but a while later I suddenly found myself in a hell of a fight. Had not seen the fish striking as just that moment the popper was behind a larger wave. In the beginning it semed a fairly big GT but after a few minutes the fish produced moves much more like a large Shark and then all felt totally elusive. Really wanted to at least see this fish to know what it was. Eventually to my surprise and admittedly even disappointment a not even so big Greater Barracuda of 10kg or so surfaced. This one must have been all drugged up as it had not only perforated and ruined the hard plastic Halco popper but also opened the hook and split ring. Not even the for my standards large GTs and Sharks of about four times his weight ever managed to do that. A real hooligan this one.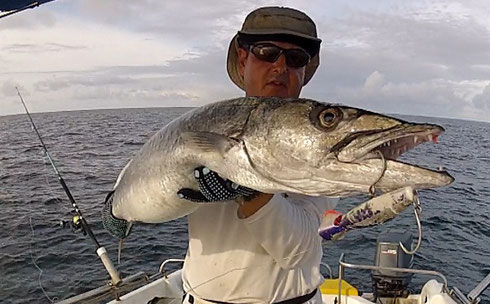 It was a stark contrast tagging along with Fred and his fly rod on a Praslin flat the next morning. My first glimpse of this quiet way to fish demanding such a high level of concentration. Conditions were far from ideal with a partly cloudy sky and the water being a bit too murky and choppy with a lot of weed floating around. So we neither saw a Golden Trevally nor a Bonefish that both like this area but still Fred managed to catch a couple small Snappers and a Yellowspotted Trevally while again providing me with a lot of information on this kind of fishing. I should be able to assist fly anglers a lot better now and also the according section on this website will be subject to an upgrade soon. Lots more valuable information, great pics and reports on fly fishing in the Seychelles´ Inner & Outer Island but also other spectacular destinations you find on the website feathersandfluoro.com ran by Fred and his friends. A very useful and entertaining read for any fly angler interested in this true paradise. Here is the direct link to the section of articles on Seychelles. Not to forget: at the end of our shared trip Fred managed to eventually tempt this beautiful Permit close to shore that he had stalked for a while.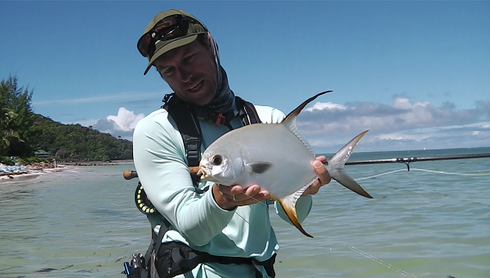 This one of course also features in the video. A huge Thank You to Fred Davis for this substantial broadening of my angling horizons. Really hope that we will fish together again on his next visit. And maybe by then I will also plopp a fly? Definitely feeling an urge to do so after having been presented the potentials in such a generous, most pleasant and impressive way. But the day after, on the 14th, I had to have it the hard way again. Ventured to an area quite a bit south of Praslin and found a bunch of three Doggies around 10-15kg that felt well entertained by my popper for a number of casts but received just two misses by those. Even dropping a jig after them when they went deep close to the boat did not help my case. Combed three submerged structures relentlessly but only raised a dozen lazy Jobfish of all sizes that came to take a look but would not eat and did not even see a single GT. After four hours of hard work I felt like a different kind of ache so switched to jigging three spots in the vicinity. On all of these the sonar showed so much bait and larger fish around it that the machine nearly tilted.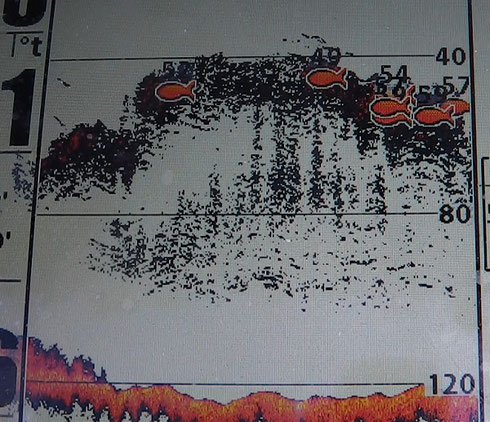 Rarely I had seen such an abundance of fish but only at the last spot I got a single bite and was suddenly on with something heavy. That very strong fish produced a few longer runs in some 50 meters of depth and pulled the boat around for nearly half an hour. Was hopeful for a Doggie but suddenly the resistance was gone. When the jig came up I saw the assist hook cord was cleanly cut so it must have been a quite big Shark. Had the urge to pop again on my former topspot that sadly lost nearly all its productivity since the algea bloom last November. Was praying for at least one big fish to save my day and funny enough was sent the biggest of all. Think I have to express myself more clearly in the future.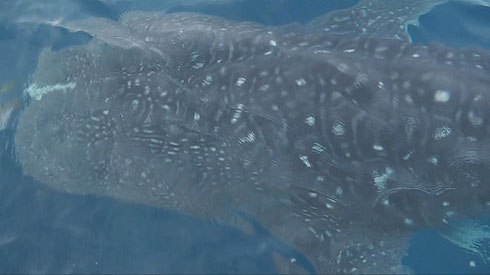 Of course there is no way doing any harm to a Whale Shark and I suspect it was the same one Fred and I saw a few days before some three miles further north as it looked same size. The beautiful creature came so close that I could have touched it and did not even fully fit the camera angle. Watch a short videoclip of it on the associated facebook site if you like. Did not make a catch after that but this always again impressive encounter pretty much made up for that. And on top the water had turned all clear and blue again obviously making the Sailfish happy as I had seen a few in the course of the day. So no surprise Mervin called that evening to inform me about three he caught and released while seeing plenty more. On top he lost a Marlin half hour into the fight after apparently something that must have been a Wahoo cut the line attacking the teaser bird. Edwin (Dan Zil) fishing another area with still murky water did not find a Sail but returned with a good bag of four Wahoos and some Dorados. The large 9G also did another trip and shone once more with two Black Marlin releases.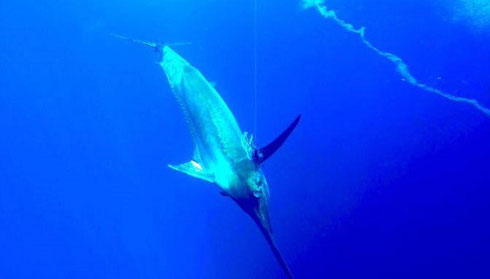 On top again they had a good catch of Tuna. Also these days Alati released a Black Marlin of 100kg and Special K a Blue of 225kg. So as usually July provided for some excellent fishing here in Seychelles as soon as the Southeast allows for going out. This was the case to a good extent along the last two weeks and we are thankful for that.
For the preceeding reports check the archive.