The day of the most recent report Mervin (Divinity) went to the northern Drop with Svante and his group from Sweden. No Doggies found and jigging all in all was again somewhat sub par but a few good Amberjacks were still in the mix.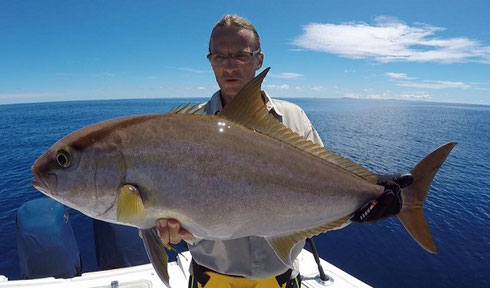 Apart from those Groupers were dominant and a few tough fights came on top. One of those ended with rod and line broken after an hour in which every few meters of line gained were pulled back inevitably. That must have been either one of the really large Groupers or maybe a huge Shark as they had to deal with a few cut offs of those. But this fantastic Tresher could be landed and eventually released.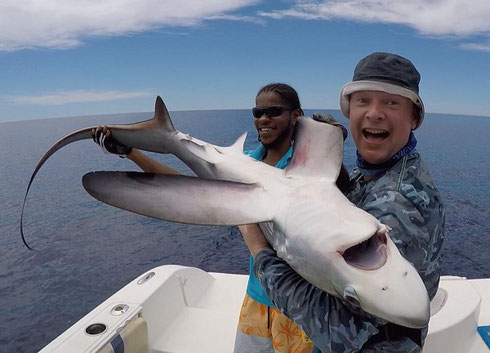 The next day I tagged along with Mervin and his Danish guest Stefan to the eastern Drop Off. Again jigging was much slower than usually. Mervin said the current changing direction every few minutes did not allow the fish to stand and feed in a steady drift so the moved around a lot rather lethargically. Pimping the assist hooks with some bait still produced Amberjacks, Groupers and Rosy Jobfish and some point Stefan really got to work having to bring um something really heavy and phlegmatic. We all hoped for a large Grouper but instead some point a large Bullshark of between 2.5 and 3 meters appeared from the depths. A few meters from the surface that brute figured something was not right and cut the leader. Had the impression that crew Steven was not particularly unhappy about that and I understand him well. Would surely have opted for a pretty long release if I had been the one to fiddle with that mean thing. We captured some underwater footage of it to watch in this month´s video and here is a still for a start.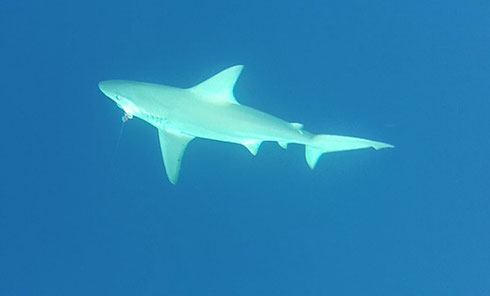 During the day we found a drifting Tuna FAD with the usual bunch of Dorados around it that gave Stefan good fun casting stickbaits at them and getting numerous strikes. Some trolling between the different spots and on the way back home rounded the day off. No Billfish raised but a nice mixed bag of Greater Barracuda, Dorados, Tunas and a Wahoo provided for entertainment.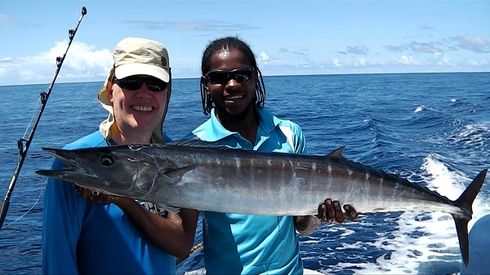 The day after which was the 16th I accompanied Mervin and Svante`s group for jigging and popping on the plateau south of Praslin. Was far from a perfect day as only early morning a few reasonable GTs could be raised without successful hook-ups. Fish caught on poppers were limited to a small GT of about 6kg and a reasonable Bluefin Trevally of maybe 8kg and even the nerdy Sharks remained a rare sight. Jigging on the pleateau was as slow as it had been recently and pretty much only pimping the assist hooks with chunks of bait produced a few not so spectacular fish. Was already late that afternoon when tirelessly fishing Torsten was rewarded. On his baitless jig he hooked a better fish that after a few minutes turned out this really nice Golden Trevally of just under 10kg or so.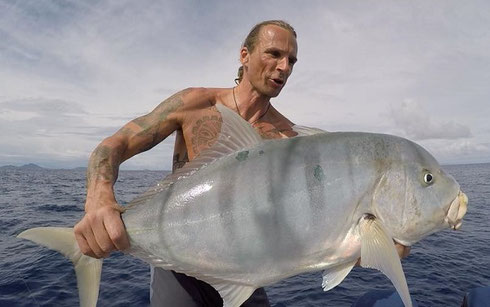 In the course of that day the weather had started to worsen and the next two days fishing was called off anywhere due to northerly winds that went really nasty in the many fronts bringing heavy rains. But Sunday the 19th conditions were okay again so off to the Drop once more with Mervin and Svante`s group. The first hour of jigging was really good for a change with lots of fish and finally some Doggies among those.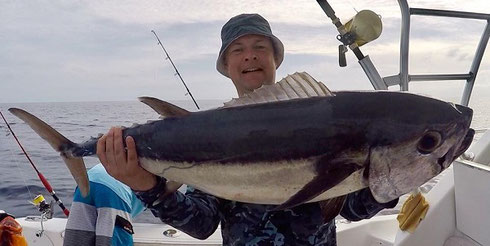 But with the turn of the tide that activity slowed. On a fleshless jig only Mervin managed to get a single Amberjack and bait on the assist hooks had to be the last resort once more. Fish were not really greedy for this offer either but a few good ones the anglers still caught in the course of the day among which were even three Emperor Snappers that else are rather rare at the Drop.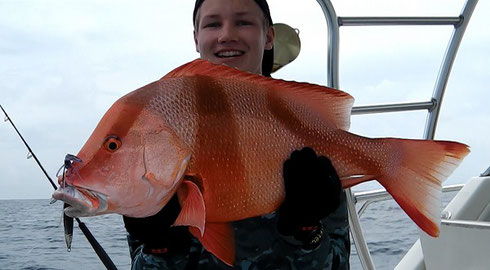 Monday the 20th US Researcher Jessica came to visit me for two days. Quite a few people here with me among them had been collecting dorsal fin clips of GTs along the last year for her as she needs DNA analysis of such samples for her Ph.D. on Trevallies in general and GTs in special. As she was looking for a GT to take a muscle sample we fished the afternoon but the only one that showed up went lost in the rocks unfortunately. Mervin on the other side had been popping with a group from France and reported five caught that day of which three were over 30kg plus a big one lost.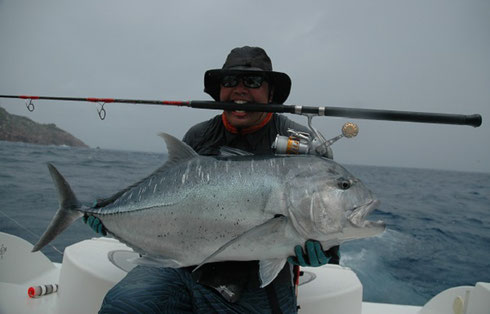 Quite motivated Jessica and I worked hard north of Praslin the next day but again to no success. She had a miss that could have been a GT and I had two of a decent Bluefin Trevally and a Doggie of around 15kg. Even my best spots would not produce and only very late I missed a tiny GT of about 2kg and a few casts later a mid size one of about 12kg. Most frustrating as this one would have been ideal for Jessica`s sample requirement.  Mervin and his group that day fished in the east and south of Praslin but also returned empty handed. The next two days in nasty weather they fished west of the island again and as it had been the case recently it went much better. On the 22nd in the evening Mervin reported three more GTs and on the 23rd he called me from sea at noon. Rather rare to find him really excited with a view to the many and big fish he is catching all the time but a GT like this one that he estimated at around 45kg did the job.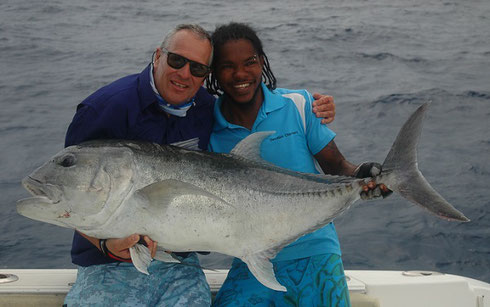 That evening I learned that they got four more that day of which only one was below 25kg. That is pretty hefty stuff while it still looks that one has to head west to catch them for now. Too bad that I live on the east side of Praslin. Along those days also Rita who had been skippering for my mentor Ton Pierre and is now running her own boat Dynamics went out several times. Her two Italian guests mainly wanted to jig but also had little success with that on the many good bottom fishing spots on the plateau while bait worked. A good amount of trolling produced next to Bonitos a few Wahoos and a released Sailfish. That looks very slow but was actually quite good when considering that other trolling trips by different boats wentno better or even without a catch at all. Only Mervin trolling on the 24th while his popping group took a break managed to hook two Sailfish. One dropped the hook close to the boat and this one they unfortunately had to boat due to massive loss of blood.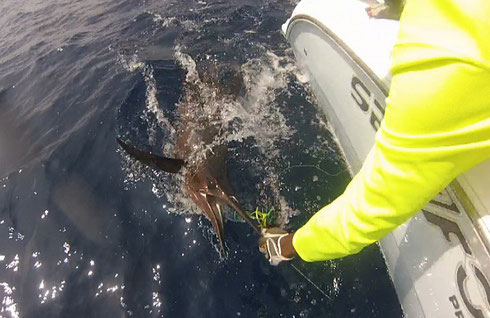 Bycatch though was also rather meager for our standards comprising of  Barracuda and a Rainbow Runner. So I held expectations low for a half day trolling with my German friend Thomas and his wife and daughter. But to end up with not even a knock in 5 hours and a single Bonito just before Lines Out was really shocking – a personal new low. Rita meantime managed to pick up a Jobfish and a Wahoo plus a handful of Bonitos but had to fish the whole day and travel nearly 20 miles north for that as the classic areas in the vicinity of Praslin just do not produce these days. Same is unfortunately still true for jigging at the eastern Drop as Mervin reported only some 20 rather unspectacular fish that again were nearly all caught only with the help of bait on the assist hooks. And popping this time again south of Praslin on Monday produced just two Jobfish. That day due to the strengthening Northeast and a bad forecast for the week to come I moved my boat back into the protection of Baie St. Anne. Worked a handful of spots with the light jigging gear on the way but once more had to make do with only a handful of smaller fish while getting many soft knocks and seeing all the larger fish just following the usually prodcutive hairjigs. So despite the video still coming with a number of spectacular catches the angler`s face expressions here on Praslin these days are pretty much like this: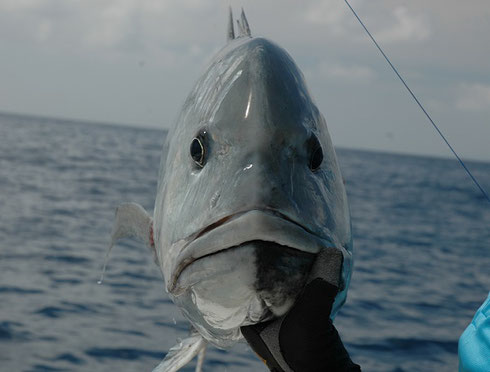 Learned from Faizal though that fishing out of Mahe is much better: more or less daily catches of Yellowfin Tuna and Sailfish around the island and really good jigging at the southern Drop Off with large Amberjacks etc. Faizal had just returned from a day out and by 11am they had lost a Blue Marlin and tagged another as well as three Sailfish. So no total fishing drought in Seychelles or even just on the plateau but still the imbalance from east to west that we Praslinois of course hope to see readjust itself the sooner the better.
This first half of February provided for relatively little fishing activity due to few tourists and changing sea conditions. But also the bite did not really match our usual standards. On the 1st being his last day of a sailing cat holiday trip German angler Fritz managed to catch this Sailfish.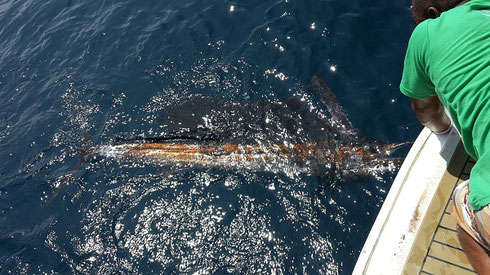 We had exchanged emails prior to his visit and met to chat a bit. Many thanks for the pic and also for the release of that fish. Again it showed even when trolling just the usual two lures between the islands a cool catch is always possible. The next day seas were relatively calm after that long spell of quite strong winds and having received my new toy (Jigging Master WIKI) I went to play around a bit just south of Praslin. My shoulder that has been somewhat buggered since December was not happy about intense popping thus I only and selectively did a few casts at different groups of Fusiliers. No GTs hunting so it resulted only in a Baracuda, a Jobfish for the kitchen and two Sharks. Still do not fancy catching these at all but my new unhooking tool makes the releases a lot easier and seems a good investment. Light jigging was better for the shoulder and this nice way to fish went fairly entertaining. Next to another Barracuda, two tiny Bluefin Trevallies and half a dozen smaller Doggies this fairly large Trumpetfish cleanly took the jig.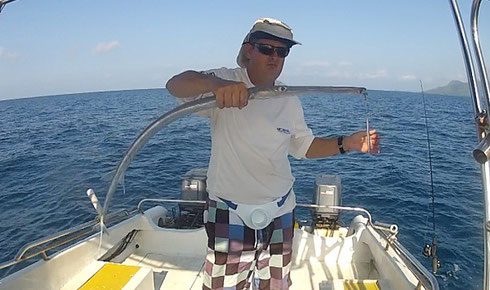 Did not measure but it must have been between 130 and 140cm long and thus much bigger than some later web research said they should become. That evening I met with swiss angler Daniel-Antonio and agreed to tag along the next day for a bit of filming. Was nice of him to bring his spare setup despite I had never fished that way. After watching him catching numerous smaller fish I started to itch so gave it a try. Was quite windy so one can imagine my first casting attempts but I produced only a single bird`s nest all day. While just untangling that little mess a bunch of about 25 Golden Trevallies in the 4-7kg range appeared right under the rod tip feeding frantically. Could do nothing but to call Daniel-Antonio over and he came running. In the meantime though a local guy in his outboard boat sped to us as to see what the excitement was about and spooked the fish away. That sucked. But a little later at least I managed to catch my very first fish on fly.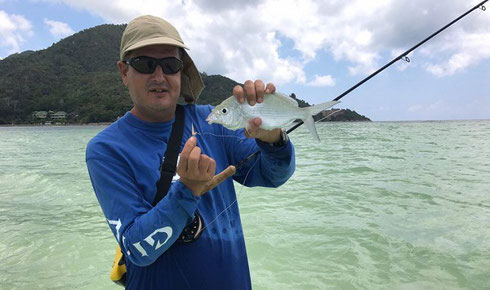 Was a bit of a cheat admittedly as I had just dragged the fly along while wading. But got another even smaller one later that took the fly while stripping after a proper cast so was happy with all that. Considering that my fishing partner caught about 30 tells me I still have way to go but it is fun. Will try to dig deeper into that and get some tackle despite this will probably open another bottomless pit. Mervin (Divinity) that same day was at the drop with his repeater guest Jean-Daniel who as well as his wife I had also got to know over the years as really nice people but neither trolling nor jigging really worked. Fish at the bottom everywhere but they were simply ignoring the jigs. For baits some point offered in frustration though they went like mad. Just check out this FullHouse caught handlining.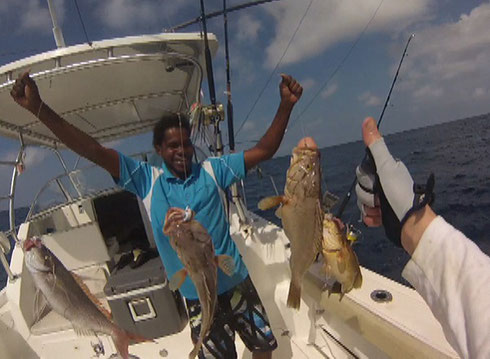 On the 04th Daniel-Antonio and Christian from Germany did a half day with Martin (Venture). For their first tryouts in popping and jigging unfortunately the conditions could not have been any worse as strong winds close to 20 knots had brought up a two meter swell. But being the only possile date for their shared trip there was no option. Even experienced popper anglers would have had troubles getting the lures to work or even just stay on their feet and having to use jigs of 300g in not even 50m of water is also tough when never done it before. Thus after about two hours they were grateful for some trolling but this also did not produce to the usual standards. A Wahoo stole a lure and a few Bonitos were caught. Daniel-Antonio managed to get one on a streamer he trolled on his fly rod and was utterly impressed by the fight this small fish put up. After that he handed the fly gear to Christian as for him perhaps to share the experience. He bravely held on to the rod in the bad seas without any action but at last already moving into Grand Anse bay the thing suddenly bent. Christian also enjoyed playing his fish and was happy about this nice Yellowspotted Trevally.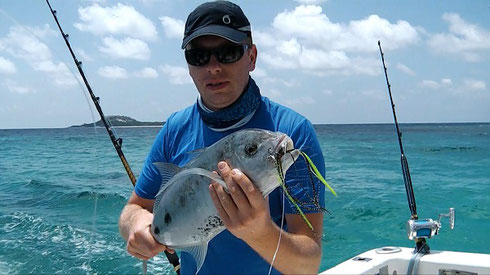 Along the following days here on Praslin and later on Mahe Daniel-Antonio continued to roam the flats catching a few dozen fish each day and keeping me informed. Quite impressive what he achieved all on his own and without any guiding. Really wished for this so nice and funny chap to have gotten on a real trophy fish but it was not meant to be. Still he enjoyed every catch tiny or bigger so much and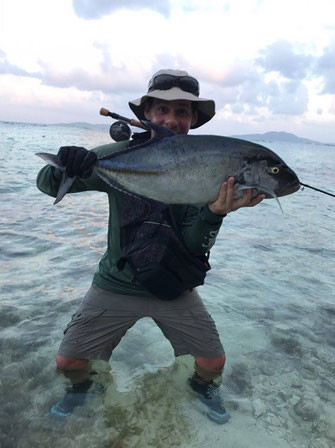 a few good ones were in the hat for him like this Bluefin Trevally. In the meantime of course also the trolling boats kept working the mostly rather rough seas. Was quite okay out of Mahe with SpecialK releasing a Blue as well as a Black Marlin and six Sailfish in as many days. Here around Praslin it was a lot tougher. The smaller gamefish were around but not as active as usually and the also plentifully abundant Sails showed up every so often but were unwilling to strike most of the time. Only one I heard of came from Christopher (Ella). Jean-Daniel doing a few more days with Mervin got some decent trolling fish like this Yellowfin Tuna of well 40kg but all in all had to make do with a lot slower fishing than during his previous visits.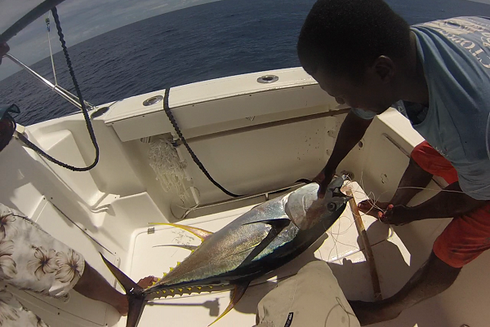 Also a half day popping that I tagged along for with the cam did not turn out too great. They raised 7 GTs altogether but none of those produced an exploitable strike. So the only catch of the day was this quite big Shark that was in an especially bad mood being hooked in an eye.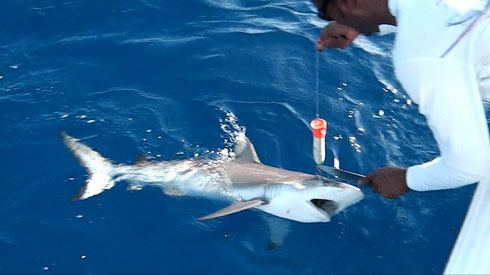 In those days a pretty big cyclone had built between Mauritius and Madagascar that moved south fast and brought us a drastic change of weather. Instead of the usual northwest we suddenly had light southerly winds created by the huge swirl sort of wrapping around Seychelles. On top came the phenomenon locally called Rad Mare which is a sort of ground swell producing big waves hammering the coasts from northeast. Would have seen this as the reason for the slow fishing as the water anywhere close to shores was extremely milky due to that fine Seychelles sand. Divers reported this also from larger depths despite the water looking clear from the surface. That would explain the very slow jigging on the plateau as well as at the Drop Off. What speaks against the theory though is that fishing was much better off Mahe and at the southern Drop. There guide Stefan from Mahe had an excellent day of slow jigging that produced great catches of Amberjacks and big Doggies exceeding 50kg. Here on Praslin only Mervin stood out once more with three GT hookups of which unfortunately only this specimen of around 28kg was caught and released while the others managed to reach the rocks and cut the lines.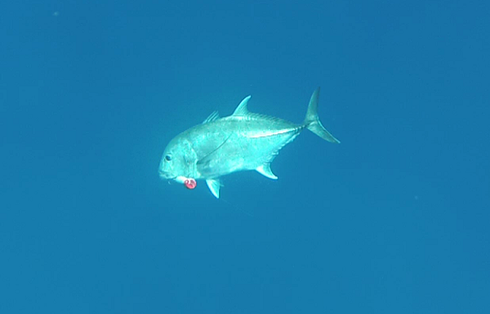 Since the 8th I was somewhat distracted by being host and island guide to my most pleasant and charming guest Grace from Hawaii. She liked to fish but jigging on the plateau remained slow and produced only a couple of lackluster knocks within an hour. Luckily when trolling two lures between some snorkel spots we got his Wahoo on that she skillfully brought to the boat.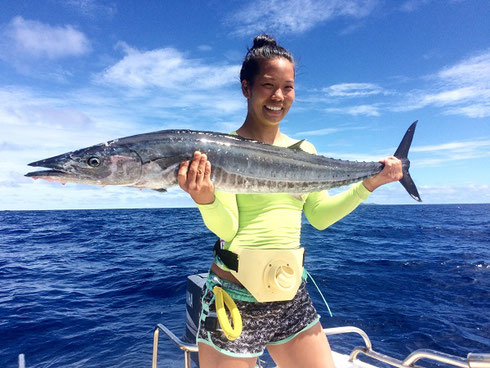 That created a bigger appetite and as buddy Ted crewing for Rita (Dynamics) the day after reported a good mixed bag of Tuna, Dorados and Wahoos the three of us were optimistic for the following day. Faithful in female intuition I let Grace chose two lures and it did not even take two minutes until the one I would have not selected in those very calm seas attracted a Sailfish but it would not take. A few minutes later another lure that had been running some twenty meters out suddenly came flying at us and nearly landed in the boat while staring in awe we just saw a bill sticking out where the lure had just been. This raised expectations obviously but for the next four hours absolutely nothing more happened. Found a small debris floating already far out with a few Dorados and after several rounds a tiny one had mercy to take but it came off close to the boat. After two Bonitos which at least delivered material for a stripbait finally around noon Grace got this Tuna.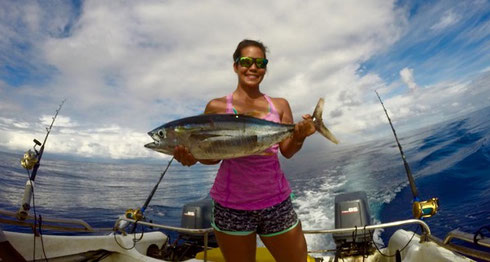 We were hopeful that like on the preceding day now with the turn of the tide activity would pick up but none of that. Another three hours passed without any strike and as we brought in the lures to try a bit of jigging the stripbait had been cut off half by a Wahoo. Not a single knock on jigs but using a bit of bait on the assist hooks as well Ted`s handline at least produced a few dozen Groupers and Snappers. Trolling back to our starting point off Sisters a few more Bonitos were caught until finally and late already a quite big Dorado was on. Had gaffed it cleanly but when lifting in it fidgeted once more getting off the gaff and the hook on top. Had announced Lines Out for 5:30 but when the time came gave it another three minutes rather as a joke. Incredibly enough right at 5:33 another Sailfish finally appeared that really wanted the new stripbait but despite multiple freespool and striking attempts over two minutes or so I was not able to hook that obviously suicidal fish. So Grace did not get to catch her very first Billfish that I had been so eager for. Now she is on the plane for the long journey home probably thinking that Seychelles is really a wonderful place but her funny German host can not fish. So I better refute that asap with a few good catches. 
For the preceeding reports check the archive.